The Latest Coronavirus (COVID-19) Updates
Updated: June 29th, 2021
There is a lot happening in the world right now. As a site focused on travel, aviation, and loyalty programs, we have necessarily had a ton of coverage as the coronavirus situation has unfolded.
Below you can find essential resources, covering everything from the latest hotel and airline cancelation policies, to updates on border closings and quarantines.
This page will be constantly refreshed, so feel free to bookmark it for an easy way to stay up to date!
Coronavirus Travel Policies & Advisories
As you can imagine, many of these things have been changing nearly constantly since March 2020. We've continued to update our mega-guide with all the various policies you need to know about.
Or, you can see high-level summaries below, or just jump ahead to our coverage on popular topics:
Latest Travel Advisories
Here's a high-level overview of worldwide travel restrictions (not Residence or Passport specific), just to provide a visual aid:
Be sure to click through and choose the details specific to your personal situation in order to see the most relevant information.
United States To Require COVID Testing
As of January 26, 2021, international air travelers entering the United States will be required to get tested prior to travel.
This will apply to all international travelers two years or older arriving into the US by air, including citizens and foreigners; foreign travel includes travel from anywhere that isn't a state, territory, or possession of the United States
Viral testing will be required, and either a nucleic acid amplification test or rapid antigen test is acceptable
The testing must be done within three calendar days of the journey to the United States departing (if you are connecting, the test needs to be performed within three calendar days of that first flight, as long as you have no layover of more than 24 hours)
As an alternative, passengers can show written or electronic documentation of recovery from COVID-19 after previous SARS-CoV-2 infection in the form of a positive viral test result and a letter from a licensed health care provider or public health official stating the passenger has been cleared to travel
Airlines must confirm the negative test results for passengers at the time of check-in
Exceptions to this rule apply for airline crews; furthermore, if the CDC determines that a foreign country lacks sufficient testing capabilities, further exceptions can be made, but no such list has been published yet
Our recommendation for US Citizens & Residents needing tests before US re-entry is to order a bundle of Abbot's rapid antigen tests and install the NAVICA app prior to your trip. The eMed package includes 6 tests for $150, along with the virtual consult to formally supervise your test-taking, and an official digital certificate. As of May 2021 this antigen test is acceptable for entry/re-entry to the United States.
Airline face mask policies
If you are outside your home and unable to maintain physical distancing (such as in an airport or on an airplane) face coverings are the best way to help reduce the number of virus particles floating around in the air.
Wearing one is responsible, yes, even if you think you are "healthy" given the long incubation period of this virus, and refusing to do so "on principle" only serves to identify you as the same kind of selfish individual who plays media in crowded spaces without headphones or has shouting conference calls on speakerphone in airline lounges. It's rude, and frankly unacceptable in the public sphere.
Additionally, refusing to follow flight attendant instructions (including to wear a face covering) can result in being banned from an airline for life. Don't let that happen to you. There are lots of great options for face coverings these days, including options that don't hook onto your ears and can be more comfortable to wear for longer periods of time. Besides, covering your nose and mouth in public is a small concession to make to allow travel and society in general to resume.
Even if you are fully vaccinated (and congratulations if you are!), wearing a mask in crowded commercial spaces will likely be recommended, if not required, until a higher % of the global population joins your vaccination status.
Airline Cancellation Policies
The various change and waiver policies for the individual airlines have shifted rapidly over the past two months, as COVID-19 has gone from a regional outbreak to a global pandemic. The situation continues to be highly fluid, and we recommend reading the fine print carefully before purchasing paid tickets. Many airlines have implemented flexible ticketing policies, but as we get further into 2021 some are returning to more restrictive policies.
Here is the current list of airline cancellation policies as of September 30, 2023.
Hotel Cancellation Policies
In general hotel bookings are more flexible than airline tickets, so unless you've booked a pre-paid reservation, you can typically cancel as little as 24 hours before arrival. The specifics will depend on the exact rate you booked, but there are also some blanket waivers due to coronavirus:
Here is the current list of hotel cancellation policies as of September 30, 2023.
Travel Insurance Policies
Many of the credit cards in the US that offer travel coverage allow you to cancel if you or a family member become ill or are quarantined, but they don't have clear language on what happens if you are scheduled to visit a place where a quorum of other people are ill.
Similarly, some of the disaster and medical evacuation plans out there won't transport you if you are the one with an infectious disease.
If you purchased a separate policy for travel booked prior to the widespread outbreak, you are likely to be covered for cancelations and expenses related to the coronavirus.
If you bought travel insurance after the outbreak spread, however, there is an implication that you understood the risk of a "known or forseen event", and you may not be covered.
So read up on all the fine print, and make sure you understand your options.
Loyalty Program Status Questions and Extensions
Many frequent travelers have expressed concern about their elite status for the 2021 qualification year. With a shortened business travel season due to the coronavirus outbreak, some people have already missed out on a month or two of scheduled travel, and that is likely to expand as the virus spreads.
Not to put too fine a point on it, but there are bigger things to worry about right now, and as the knock on effects of the pandemic hit airlines particularly hard, it is more than possible that many of these companies won't exist at the end of 2021, or be in a position to offer status extensions of any sort. Those that survive, however, will likely be courting travelers in the coming months or years, though it may take some time for programs to figure out how best to do that. As Ben noted last year:
In many cases I can't help but feel like loyalty program executives have completely forgotten that they can also use their frequent flyer programs to fill seats on planes.
So we'll add to this list as programs announce what they are doing in terms of status and benefits, but the current situation is summarized in this post.
Coronavirus FAQs
Additionally, here are some questions that frequently come up in the comments or on social media:
Masks
Why do I have to wear a mask [on the plane], [in the airport], [wherever else]?!? Healthy people shouldn't have to!
Realistically, the combination of uncontrolled community spread in the United States and the lengthy incubation period of SARS-Cov-2 means that you don't know if you are infected.
(Update as of May 2021: If you are fully vaccinated against COVID-19 it is highly unlikely that you are unknowingly carrying the SARS-COV-2 virus, but it is also impractical to verify vaccination status in commercial/public spaces at present).
Here's a graphic Johns Hopkins University is using to train contact tracers: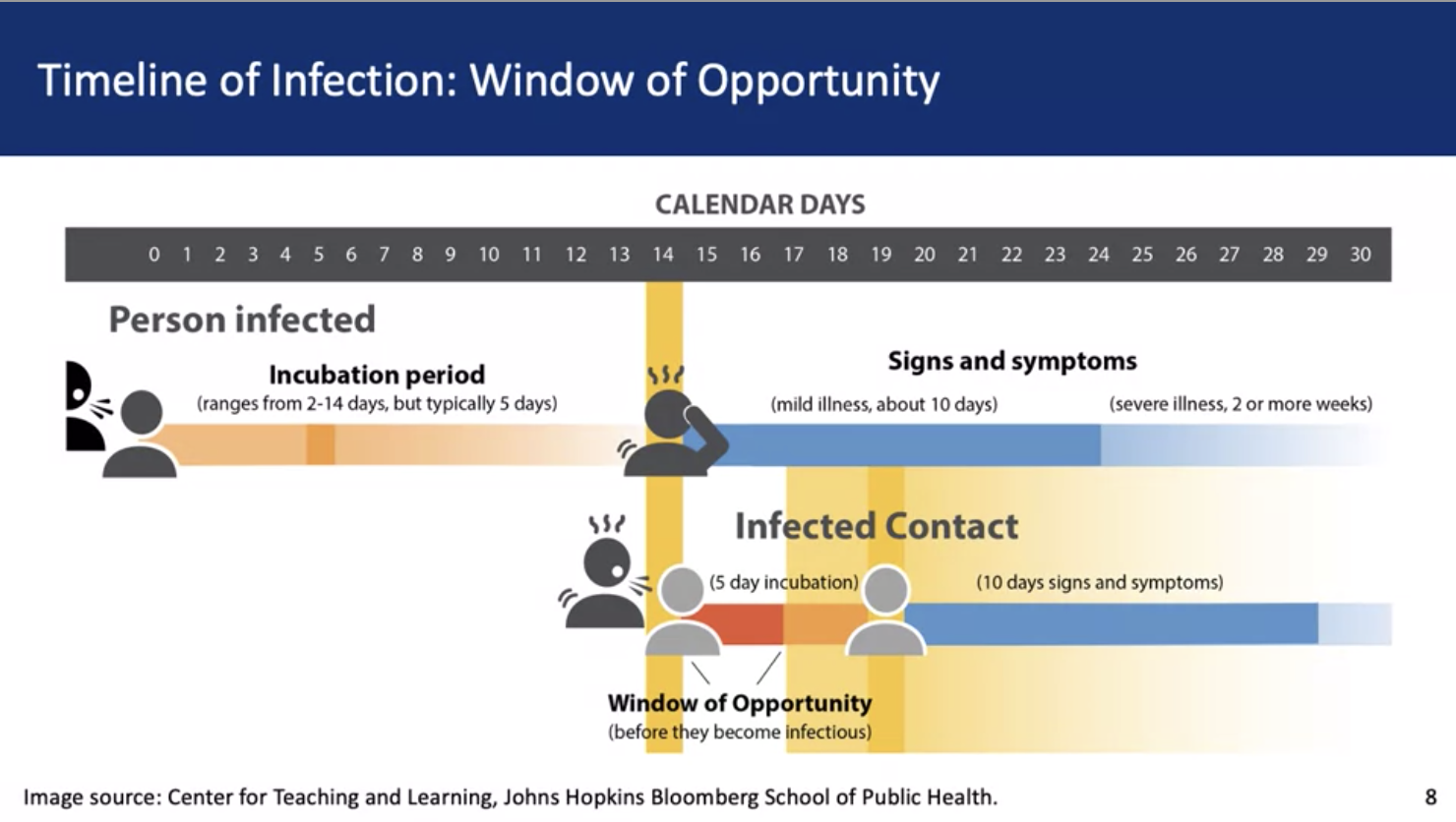 As you can see, someone who is infected with SARS-Cov-2 goes through an incubation period of anywhere from 2-14 days before they start showing signs or symptoms. In this example, the person didn't start feeling sick until Day 14 (the thick yellow line). However, they were contagious starting two days before they felt unwell, on Day 12.
Given that time window, it's critical to wear a mask when physical distancing isn't possible, especially when traveling. Otherwise, you could unknowingly be infecting others! This is why most airlines are also requiring face coverings for flights between areas with uncontrolled spread.
Scientific consensus is that face coverings help to prevent spread by reducing both the number of virus particles floating around, and the distance they can travel. Masks aren't a replacement for testing, contact tracing, or social distancing, but they are effective in supplementing those efforts and reducing overall exposure.
Temperature & Hygiene
What's up with temperature checks? Should I avoid airports, hotels, and restaurants that aren't doing them?
Not really. On the one hand, throwing the kitchen sink at COVID-19 is perhaps the right approach (as long as it doesn't create a false sense of security), but on the other — there are going to be very few (if any) cases identified via random temperature checks.
Remember that people can be contagious for two days before showing ANY symptoms, then combine that with ~25% of infected people never having any symptoms, plus ~40% of people with COVID-19 not having a consistent fever…it becomes math of very small numbers very quickly.
So in general, if a company is requiring temperature checks in addition to physical distancing, airflow management, and other sanitation procedures, that's great. But temperature checks or hygiene theater alone should not provide you with any sense of security.
Why are U.S. residents restricted from so many countries?
Fundamentally, the lack of a coordinated Federal response throughout 2020 has not only made it more difficult to combat the virus at home (leading to state Governors and labs competing domestically for resources), it also makes it impossible for other countries to properly evaluate the circumstances of entry for a U.S. resident. This would be true even if we didn't have uncontrolled community spread in most areas of the country.
By constitutional design, there are 2,684 state, local, and tribal public-health departments in the United States, all of which are implementing policies for their district in absence of Federal guidance. It clearly isn't reasonable for even a large block of countries like the European Union to keep track of 2600+ potential sets of pandemic management practices, much less a small country like Fiji.
Hence, the blanket restrictions on entry.
Latest Coronavirus (COVID-19) News
In addition to all the above resources, here are the most recent blog posts related to the impacts of the coronavirus on the travel and aviation industries:
We'll do our best to update this page as things change — please let us know in the comments if there is anything we missed!