You've probably read that the best time to book award travel is either as far in advance as possible, or absolute last minute. I usually book award travel as early as possible and then potentially improve or upgrade it last minute, as unsold inventory changes into awards.
But when you book your dream trip 11 or more months in advance, plenty of things can happen to it during that time, and here are two unfortunate examples that happened to me.
Case Study #1: My ultimate first class trip
I've written before about my fondness for Dividend Miles (RIP). For my final Star Alliance Dividend Miles redemption, I booked an epic first class jaunt around Asia with my best friend, primarily on Thai Airways.
Thai Airways is notorious for making unexpected and undesirable changes to their schedules.
And this happened to me.
As soon as the schedule opened (11 months in advance), I'd carefully booked the exact flights I wanted in first class. I would occasionally check the status of the award booking on the Thai Airways "Manage My Booking" page. All was well.
Being a points aficionado, I check multiple sites for news and updates to the world of points and miles and the unfortunate news was reported on multiple sources at the same time.
Thai Airways had decided to change the aircraft type operating the Sydney to Bangkok sectors from a three class Boeing 747 (with first class) to a two class Boeing 777-300ER (without first class). Wonderful for those passengers in Business Class as their product was upgraded from a 2-2-2 angled flat seat, to a 1-2-1 fully flat seat with direct aisle access.
Awful for me in first class because there was no first class seat or service on that flight. I was flying out of Sydney specifically to fly first class instead of my native Melbourne (which had a double daily Thai Airways service but only a two class service without first class).
I was devastated.
My carefully constructed ultimate itinerary had fallen apart overnight.
And perhaps the worst part was this aircraft change was happening a mere week before my flight departed. I wished I'd booked the trip a few weeks earlier!
My course of action
On my side was time, as there were still many months until the flight departed. I also knew Thai Airways changed their mind like the wind, and nothing was set in stone. I got on the front foot, becoming extremely friendly with the Thai Airways Sydney reservations staff, who, to their credit, were helpful and just as shocked as I was about the downgrade. Unfortunately there was little they could do about it other than allocate me the best business class seats on the two class flight, as there were no first class flights to Australia they potentially could move me to.
They did hint that the decision was not final and I should not panic. Sure enough, two months later Thai Airways reversed their decision and operated the three class 747 as normal. That was a huge sigh of relief!
And it was a wonderful trip.
I guess in hindsight if I hadn't checked the reservation I would have been saved the drama and worry. But if Thai Airways had not reversed their decision I would have been in for a nasty shock come boarding time. As it was only an equipment change and not a schedule change, neither Thai Airways nor US Airways proactively contacted me about this change despite having my contact details.
Case Study #2: My parents' first ever premium trip
Last year I offered to organize my parents' flights from Australia to come and visit me in London. They've helped me so much in my life (I would not be writing this article if it wasn't for them!), so I wanted to give something back.
I purchased Avianca LifeMiles and booked them in business class from Australia to Europe. They thoroughly enjoyed Singapore Airlines and Thai Airways to Europe and thought they were flying the same back home. What I hadn't told them was that I had actually booked them on Thai Airways first class, from Frankfurt to Sydney via Bangkok. Because, why not?
But, Thai Airways being Thai Airways meant of course there was a problem!
I booked their flights about nine months in advance and checked the booking every month or so. About four months before the flights I noticed that the aircraft type for the Frankfurt to Bangkok flight changed from an Airbus A380 to a Boeing 777-300ER. This new aircraft type did not have first class (here we go again!). I checked this against Routes Online and sure enough, Thai Airways had decided to take their A380 off the Frankfurt route.
My course of action
I could have changed the flights to a different origin that featured first class but there was no first class available and I didn't want to stuff my parents around by making them change last minute to leave from London, Paris, or Munich instead.
So, after much deliberation I decided to leave the booking as is. I hoped Thai Airways might reverse their decision, but unfortunately they didn't, so my parents had a mixed-class booking. It was still an upgrade on what they were expecting to fly and at least there were no nasty surprises at the airport because my expectations were managed.
They thoroughly enjoyed it and they sent me all sorts of funny messages like 'we have just been escorted to the FIRST CLASS lounge in Bangkok!'
Again, no one contacted me about this change.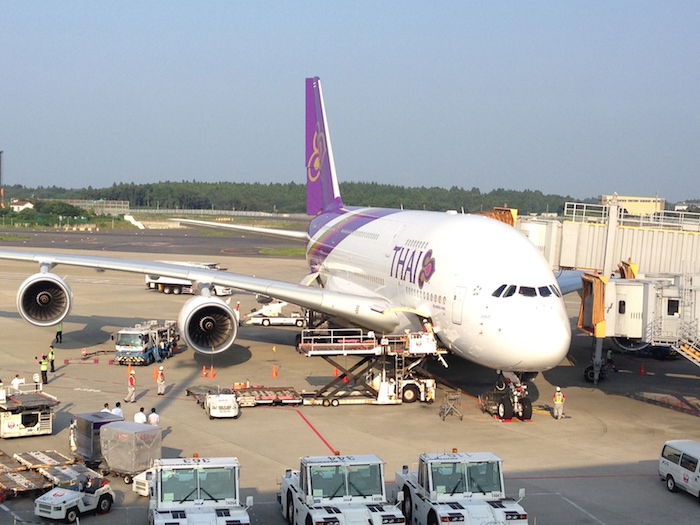 How often should you check?
No matter how excited you are for your dream redemption, don't check it every day.
You will go mad.
I would set a calendar reminder to check it once a month.
What to check
Check that there are no changes to:
Flight times, origin, or destination (including which airport in cities with more than one)
Aircraft type
Seat assignments
And make sure that your ticket number is still showing.
What to do if something has changed
This is where it can get very frustrating.
While the airline who made the change (such as changing the aircraft type resulting in a downgrading of your fare class) can easily make changes, they will usually refuse to touch the booking if you booked it through a partner airline.
So, firstly you should contact the airline you booked the award through. You may have to persuade them to contact the operating carrier, so be prepared to be patient, and always be polite.
What are your rights?
If there has been a downgrade in the class of travel for the whole journey, you should be entitled to a refund of the difference in miles to what you paid, and what it would now cost in the lower fare class.
If the changes are unacceptable to you and there is availability on other carriers or dates, the program should be able to make those changes for you, and will hopefully waive any change fees, although every program is slightly different.
There is a good chance they will tell you to call the airline who made the involuntary change and you'll then be shunted between operating airline and booking airline like a ping-pong game. This is maddening because it feels like no one will help you, and you've been abandoned with something that was not your fault.
If this happens, stand your ground with the airline you booked with and insist it is their responsibility to help you. Escalate (politely) to a supervisor if need be.
Bottom line
It's rotten luck if your carefully constructed award booking suffers an involuntary and negative change.
At least if you check the booking regularly you can be on the front foot to try and resolve it, manage expectations, and you won't be in for any nasty surprises when you go to check-in, or board.
How often do you check your award bookings?