Airlines are notorious for making changes. Sometimes they are waiting on delivery of a new aircraft, or an equipment swap changes capacity on a route. Other times the operating carrier is Thai Airways, in which case good luck. 😉
And for the most part, airlines are also quite good at handling these changes and accommodating passengers. When the 787 was grounded early last year, for example, airlines worked to swap equipment to avoid cancellations. They weren't entirely successful, so many flights were canceled, requiring many passengers to be rebooked.
With revenue tickets, this is fairly straightforward, given that most purchased itineraries tend to be fairly straightforward themselves. For award tickets, however, it becomes more complicated. There are often multiple partners involved, and award inventory and revenue inventory are vastly different.
And while airline have processes to endorse revenue tickets over to other carriers, there are more restrictions when it comes to award travel.
Alliance liaisons
So what you need — and I've written about them before in another context — is an alliance liaison. A general reservations agent will almost never proactively suggest this and often doesn't even know they exist. But basically each alliance/airline partnership has an agent that liaises between airlines when serious schedule changes or cancellations occur that can't reasonably be fixed without intervention.
In some cases, however, it can be nearly impossible to get to an alliance liaison in the first place. So I thought I'd give some tips on how to be your own liaison if you can't find a cooperative airline agent.
I actually have a great example of an award booked through US Airways, and as they're probably the most difficult airline when it comes to award ticket schedule changes I figured I'd walk through how to fix an itinerary due to schedule changes.
Schedule change: round one
US Airways Dividend Miles is the program we all love to hate — their agents are poorly trained and rarely competent, which makes things interesting to begin with. Now that US Airways has left Star Alliance and joined oneworld, life is even more interesting, and agents seem even less able to deal with changes than previously.
A reader and client of my award booking service had a particularly messy schedule change recently with an award we'd booked for him that was similar to my US Airways first class award to Australia. Qantas had made multiple, gradual, schedule changes, which completely screwed up the itinerary.
In the first round of Qantas schedule changes, Qantas retimed their London to Melbourne flight (that routes via Dubai) from an evening departure to a daytime departure to reduce ground time at London Heathrow. This created a forced overnight in Melbourne, as the connection to his final destination of Sydney wouldn't leave until the following morning.
Of course that wasn't ideal, especially since there's a "direct" London to Sydney flight on Qantas (through Dubai), though such is life sometimes, and there truly weren't any better solutions.
Schedule change: round two
However, the real trouble came in a second round of schedule changes, when Qantas canceled their London to Melbourne flight for the day he was planning to travel. Qantas rebooked him automatically, but for the day prior, which obviously wouldn't work since he'd be enroute from the US to London at that time.
As there wasn't any other first or business class award space to get him to London in time for the earlier departure date, the only real option was to get US Airways to contact their oneworld liaison, so they could get Qantas to rebook him on a more suitable flight (ideally the direct flight from London to Sydney).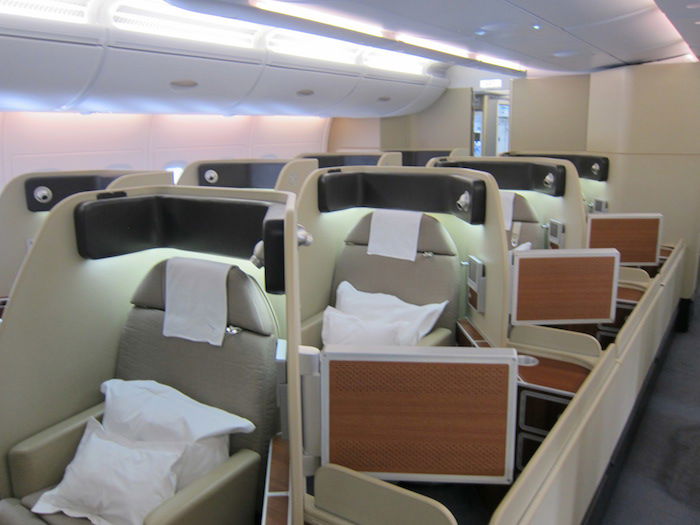 Qantas A380 first class
Know the rules
To start, there are a few general award travel guidelines to keep in mind:
All changes to award tickets need to be made with the airline that issued your ticket (meaning the airline with which you redeemed your miles)
Airlines don't typically have the ability to open up award space on other airlines
Airlines do have the ability to open up award space on their own flights

With a schedule change you should be able to cancel your award for free

Typically itinerary changes as a result of a schedule change will be an "even exchange"

Hang up and call again
And if none of that works, be your own liaison:
Ask the operating airline to open up award space
Look for creative solutions
The first several calls to US Airways were met with brick walls. No agent was even willing to contact their supervisor, let alone Qantas or a oneworld alliance liaison. The offer to redeposit the award for free wasn't an especially helpful solution, so we decided to try calling Qantas.
First off, we really lucked out, because the first Qantas agent to answer was extremely knowledgeable, helpful, and over-the-top friendly. She thought it was absurd US Airways wouldn't contact Qantas, as that's exactly what they would have done in a reverse situation. Of course, Qantas couldn't "touch" the ticket because they hadn't originally issue it, which is true. This means Qantas couldn't handle the rebooking themselves beyond the automated adjustments that had already been made.
She left notes in the reservation along the lines of:
Customer requires rebooking on LHR-SYD due to a Qantas initiated change, please re-accommodate in originally ticketed class of service accordingly.
We then called US Airways again, explaining that there was no other solution but to call Qantas. We made sure to tell the agent that there were notes on the Qantas side of the reservation stating that they'd open up award space on the London > Sydney flight, which of course didn't have any first class award space available. In fact, the flight was down to just four first class seats left for sale months out.
US Airways got Qantas on the line and in the course of about thirty minutes, they had opened up first class award space on the London > Sydney flight and booked it into the reservation. US Airways was then able to reissue the ticket in an "even exchange," which was the most ideal of situations.
Bottom line
It's not uncommon to be met by resistance when asking the airline who issued an award ticket to contact the partner who made the schedule change. It's even more difficult to get an airline to contact their alliance liason.
Given how drastic the change was, it's only reasonable to expect Qantas to accommodate the passenger. While I wouldn't usually resort directly to calling the airline operating the flights, in some cases it might be the only option.
If you can't get the issuing carrier to contact the operating carrier for whatever reason, I've had success in the past by initiating a three-way call with both airlines, so that might be an alternative.
Have you recently dealt with sticky partner award schedule changes? If so, how did you resolve them?