Australia can be a rather difficult destination to get to using Star Alliance miles, in particular in first class. Finding nonstop award availability between the US and Australia/New Zealand is difficult, given that United releases very little saver premium cabin award space. Air New Zealand is even worse, and releases virtually no premium cabin award space between the US mainland and New Zealand. It has literally been years since I've seen a business class award seat on them out of Los Angeles or San Francisco.
That's why historically the best way to redeem Star Alliance miles for travel to Australia is by routing through Asia, as there are quite a few airlines with service between the continents, and they do seem to release more award space.
There are two changes happening to Star Alliance operations to Australia this coming winter (well, Northern Hemisphere winter, Southern Hemisphere summer), which I think are worth noting:
Thai Airways is discontinuing first class to Australia
The single best way to get to Australia in first class using Star Alliance miles has long been on Thai Airways, which has released tons of space. However, unfortunately that will soon be changing, as Thai Airways has closed reservations for first class for the winter schedule between Bangkok and Sydney, starting October 26, 2014.
It looks like they'll be taking the 747 off the route, and instead putting one of their crappy 777-300s on the route, which doesn't even feature fully flat beds.
Thai Airways is notorious for equipment swaps, so I can't really say I'm surprised, as much as I'd like to be.
It's anyone's guess whether Thai Airways will resume first class operations to Australia or not. My guess is that Australia isn't in the royal family's future travel plans, which seems to be how they decide on equipment for various routes anyway. 😉
Air China adding first class to Australia
When one door closes, another door opens, I guess. Air China is increasing capacity on their Beijing to Sydney route. Between December 10, 2014, and March 4, 2015, Air China will be operating a daily 777-300ER between Beijing and Sydney.
While their A330s don't feature a first class cabin, their 777-300ERs do, so that means they're adding eight first class seats per day per direction.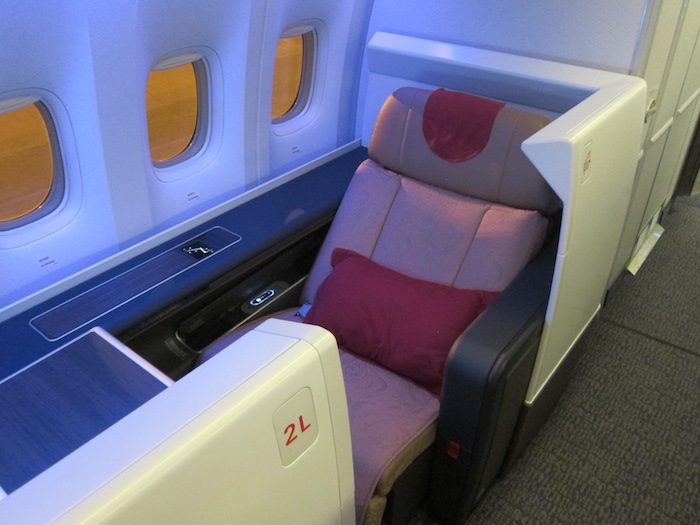 Air China first class
Award space is spectacular, as is generally the case on Air China. I see first class award seat every single day, even over peak Christmas/New Years travel dates (as you'll see below, the ANA tool still shows the flight as being operated by an A330, but that's simply because it hasn't yet been updated).
Even looking at award space for four passengers, more than half of the dates have availability. Wanna take your family of four to Australia in first class over New Years? No problem!
Of course Air China's soft product is lacking. The food and service won't be amazing. But they do have a really solid hard product.
Bottom line
This is good news and bad news. If you've already planned travel to Australia and it includes flights on Thai Airways in first class, I'm sorry. If you're a late planner and want to go to Australia over New Years but haven't yet booked, this is your gift from Air China.
(Tip of the hat to @airlineroute)