Through our award booking service I spend a fair amount of time on the phone with airlines. And by "fair amount of time" I mean roughly half my life.
So I have a decent bit of experience with talking to airline reservations agents, and there are a few things I've picked up over the years.
Be polite
In general, my approach is always to be nice and try and get the agent to feel like we're on the same "side" in booking an award.
And I truly think this makes a difference. No one wants to be bad at their job, so calling and demanding certain flights or telling an agent they're incompetent isn't going to get you very far, in my experience.
Being kind is nearly always more effective, and is certainly more rewarding — I have literally had Delta agents clap their hands and call over a colleague when a complex itinerary priced at the lowest tier.
"Hang up and call again"
This has been a mantra in the frequent flyer community for years, and for good reason. If you're not "connecting" with an agent, or they don't seem like they're going to be helpful, politely thank them for their help and end the call.
Even with long hold times you'll generally come out ahead by spending the time to find a good agent, in my experience.
Lead the call

Life will be better for everyone if you have done your research. This might be knowing what flights are available, what the potential glitches are, and are generally able to "lead" the call.
This is the same principle Gary and Ben tried to demonstrate last year at FTU Tampa — ultimately finding award space is only half the challenge.
US Airways as an example
I've talked about different strategies for booking US Airways awards in the past, partly because US Airways manually prices award tickets, so the individual agents have historically had a great deal of control over whether or not an itinerary is valid.
Rather than getting into the various ways to "maximize" a routing, since I've covered that extensively, I thought it might be helpful to give a specific example of a call with US Airways.
I picked out a moderately-complicated (but probably legal) routing, then set about trying to book it. One of my colleagues listened in on the call to transcribe the full the play-by-play, which I'll get to shortly.
The itinerary
While I've booked crazy routings in the past, for this example I wanted to work with something fairly straightforward that anyone might realistically try to book. After looking at award space, I settled on the following:
12/10 Cathay Pacific 897 Los Angeles to Hong Kong departing at 8:25AM and arriving at 4:05PM (+1 day) [First]
12/11 Cathay Pacific 791 Hong Kong to Kuala Lumpur departing at 8:30PM and arriving at 12:20AM (+1 day) [Business]
12/12 Malaysia Airlines 141 Kuala Lumpur to Sydney departing at 9:00AM and arriving at 8:15PM [Business]
12/16 Japan Airlines 772 Sydney to Narita departing at 9:15AM and arriving at 5:05PM [First]
12/17 Japan Airlines 10 Narita to Chicago departing at 11:10AM and arriving at 7:45AM [First]
12/17 American 2356 Chicago to San Francisco departing at 10:40AM and arriving at 1:25PM [First]
12/17 American 1143 San Francisco to Los Angeles departing at 2:20PM and arriving at 3:45PM [First]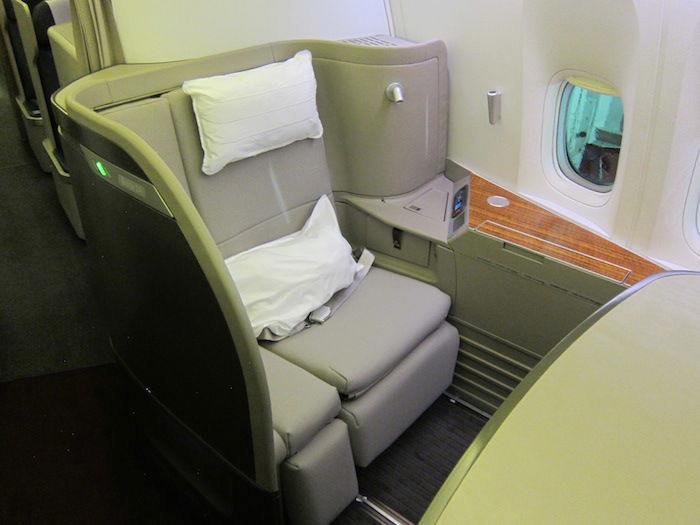 Cathay Pacific first class
The goal here was to have a good scenario rather than an awesome routing, so a few things influenced the choices here:
US Airways has been struggling with booking flights on Malaysia. I have no idea why (but have been told some interesting reasons), and on occasion have even had supervisors go into their revenue systems to find award space. That makes no sense to me, but oh well.
Japan Airlines award space has to be accessed from a different system as well, and not all US Airways agents know this.
Japan Airlines has a ton of first class award space to Sydney this winter, and people have reported challenges with booking that flight, so I wanted to try it.
On top of that, when I made this call both JAL flights were further than 90 days out, and I wanted to see if agents (or the system) had received the update.
According to US Airways "time travel" logic, the American flight leaves Chicago prior to the flight between Narita and Chicago, and I like a challenge 😉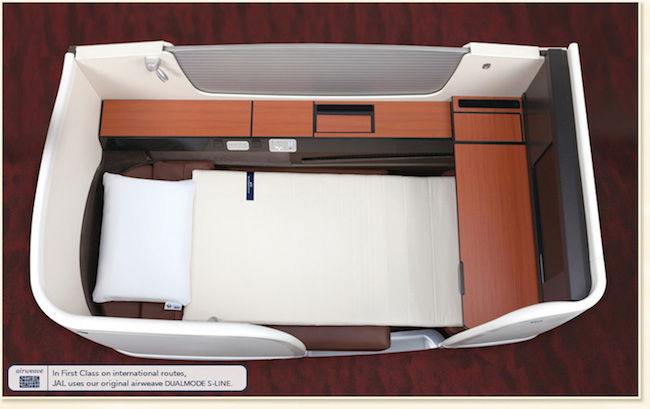 Japan Airlines first class
Call #1: Kim
Me: Good afternoon, how are you doing?
Kim: I'm fine thank you, how can I help?
Me: Good to hear, thanks. I am calling because I need to book an award ticket and I know it is going to be complicated. Is that something you can help me with?
Kim: Yes.

(not winning any points for personality thus far)
Kim: Dates and departure city?
Me: It will be roundtrip from Los Angeles to Sydney. I do have some specific flights that another agent had told me were available, would that help?
Kim: The flight information will work.
Me: Okay. Charlie X-ray 897 from Lima Alpha X-ray to Hotel Kilo Golf at 8:25AM please.
Kim: Coach or first class?
Me: First, please.
Kim: I have one seat open there, what is next?
Me: Charlie X-ray 791 from Hotel Kilo Golf to Kilo Uniform Lima.
Kim: CX?
Me: Yes.
Kim: Moving on.
Me: Mike Hotel 141 from Kilo Uniform Lima to Sugar Yankee Delta.
Kim: Okay, what carrier?
Me: Malaysia, which I realize can be a little complicated, so please take your time.
Kim: *takes longer to look* I have business class available.
Me: That's great, thanks.
Kim: So when are you returning from Sydney?
Me: Ah. Last time I did something like this the agent mentioned putting the itinerary on hold before it timed out — do we need to do that in this case?
Kim: Yes, may I have the Dividend Miles account number?
Me: Of course, it's […].
Kim: Okay, so we have that locked in.
Me: Thanks for your help so far, I really appreciate it. Can I have that record locator just in case?
Kim: Okay, it's […] For the return you're going Sydney to where?
Me: Sydney to Tokyo Narita.
Kim: Which carrier?
Me: Japan Airlines.
Kim: Okay, hold on now I have to go a different way… okay, Japan Airline is not available.
Me: Interesting. The flight at 9:15AM?
Kim: Correct.
Me: Can you take a look at one other Japan Airlines flight? I'm also hoping for 17 of December from November Romeo Tango to Oscar Romeo Delta.
Kim: Are you thinking flight 10?
Me: Yes.
Kim: Class closed — not available.
Me: That's really interesting. Have you had some issues with Japan Airlines?
Kim: Yes they are hard to get.
Me: Okay let's leave what we have on hold and try to figure out the rest later. Really appreciate the help.
I could probably have walked her through the process of manually selling in the Japan Airlines space, but to be honest she wasn't particularly friendly. I will patiently spend hours on the phone with an agent who wants to help but doesn't have the technical skills. But ain't nobody got time for agents who don't want to be on the phone in the first place.
Call #2: Tammy
Rather than calling US Airways immediately, I decided to call American to confirm the Japan Airlines flights were truly available. Occasionally the British Airways site will display phantom space, and there isn't a great way to confirm JAL availability otherwise, and I didn't want to spend hours on the phone if the space wasn't there.
Fortunately, calling the American Executive Platinum desk is generally delightful:
Tammy: AAdvantage Executive Platinum, Tammy […]
Me: Hello how are you doing this evening?
Tammy: Good, and you?
Me: Great, thanks. I just have a quick question about award availability on Japan Airlines.
Tammy: Yes, where are you going?
Me: Sydney to Tokyo on December 16th.
Tammy: You trying to use AAdvantage miles?
Me: Yes.
Tammy: First, business, or coach?
Me: First, one person.
Tammy: Let me check one moment.
Tammy: Sydney to Narita?
Me: Yes please.
Tammy: That is showing sold out on that date – are you locked in?
Me: I am flexible, but first class is my preference.
Tammy: Let me look.
Tammy: Oh, there is a first class on the JAL flight arriving at 5:05PM.
Me: Awesome. Can you look at one more from Tokyo to Chicago in first please?
Tammy: They have one flight do you want me to take that on the 17th?
Me: Perfect thank you so much — let me check a few more things and I will call back.
Even with the small hiccup of not seeing the award space initially, that is how a normal call with a competent agent should go. Kind of puts things in perspective. 😉
Call #3: Felicia
Having confirmed award space was in fact available, I called US Airways again:
Felicia: US Airways, Felicia speaking.
Me: Hi how are you doing today.
Felicia: Great! You?
Me: Can I give you a record locator?
Felicia: Sure go ahead.
Me: It's […] We need to add in the return flights. They're on Japan Airlines, which I know is a pain for you, so sorry in advance.
Felicia: **laughs**
Felicia: Alright what are we looking for.
Me: December 16 from Sydney to Tokyo Narita in first.
Felicia: Ok let's see what they have.
Felicia: You said first class – okay let's see what comes up! *long wait*
Felicia: Okay, got it. What is the connecting flight?
Me: December 17 the JL flight 10 from Narita to Chicago in first.
Felicia: Okay hold on *another long wait*
Me: Thank you.
Felicia: I have my fingers crossed and I hope it sticks.
Me: Thank you! I appreciate that you are trying to figure out how to do this!
Felicia: I remember that Japan Air is a problem child and I have to go through a different page! But I have my fingers crossed so let's see what happens.
Felicia: It's available but it is not letting it stick – hold on let me see if i can get someone else to get it to stick. It is available so hold on.
*put on hold*
Felicia: Thanks for waiting for so long. Now it is sticking – not sure how they made it happen!
Me: Can I add in the final segment as well on December 17 American from Chicago to San Francisco?
Felicia: Sure we can do that.
Me: In first, please.
Felicia: Is that the final destination?
Me: SFO to LAX on the 2:20PM flight in first please.
Felicia: Trying to get it to stick, sorry just hang on. I got really excited about Japan!
Me: And that trip from Chicago is time travel which I know your computers don't like.
Felicia: Oh, and you're leaving Chicago before you arrive. Our computers don't like that…*long wait* Okay – it is in there!
Me: Thank you SO SO much!
Felicia: Do you want me to store any fares or anything?
Me: Sure that would be wonderful.
Having a friendly and willing agent makes all the difference.
This call lasted nearly 45 minutes, even though it sounds straightforward. There was a lot of time spent waiting while she worked her systems and checked with supervisors, which is why it's so important to have an agent willing to work with you. Someone in a bad mood, or who is irritated at the call isn't going to put that much effort in.
In the end, this wasn't something I actually wanted to ticket, so I let the hold expire. The space was all confirmed though, and I don't think there would have been any issues with the rates desk on this.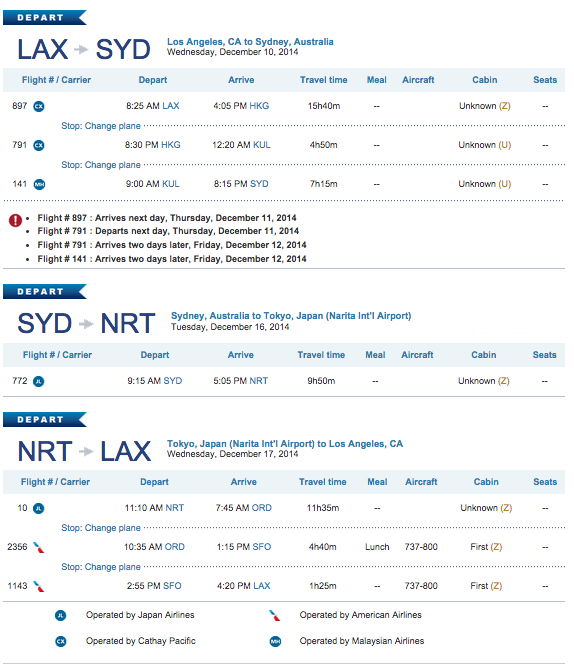 Bottom line
While I love this hobby, dealing with airline phone agents is kind of the bane of my existence. Over the years I've done what I can to apply the above tricks, and I find that it not only makes things go faster, but makes it more rewarding all around as well. Like I said, finding award space is often only half the battle nowadays, especially for complex routings.
But with some patience, persistence, and a positive attitude, you should be able to minimize your chances of running into problems when ticketing an award by phone.