One of my big focuses of 2016 was reviewing as many new airlines as possible. Given that I've flown most of the world's best first class products, this came primarily in the form of trying more business class products. Furthermore, with so many airlines having devalued their award charts, often the sweet spot for award redemptions is shifting from first class to business class.
At first I figured I'd miss products like Cathay Pacific first class, Emirates first class, Lufthansa first class, etc., which almost began to feel like second homes.
However, I've found it so enjoyable to try new airlines. In many ways, airlines reflect the cultures of their respective homes, so even if you're not visiting a country, flying a country's airline gives you a good taste of that destination. I've enjoyed flying new airlines so much, and my goal for 2017 is to review even more new airlines than I did this year.
With that out of the way, I figured it would be fun to reflect on the airlines I flew this year, and specifically the seven products that delighted me most in 2016. I'm not using any sort of specific scale to judge, but rather I'm approaching this as follows:
It has to be a product I flew for the first time in 2016
It's not necessarily which airline was the best in absolute terms, but rather which product delighted me most, which is a combination of the absolute quality of the product, and how it performed compared to my expectations
Even from reading my past reports I don't expect everyone to agree with my rankings, but I still thought it would be fun to reflect
Here are the seven airline products that delighted me most in 2016, roughly in order:
While I've flown Japan Airlines first class many times before, this year I finally had the chance to experience JAL's Apex Suite business class product. The window seats in this configuration are incredible, and extremely private.
I loved Japan Airlines business class — the food was great, the service was typical Japanese excellence, and the Wi-Fi is reasonably priced and fast. A window seat in this configuration has to be one of the best ways to fly across the Pacific.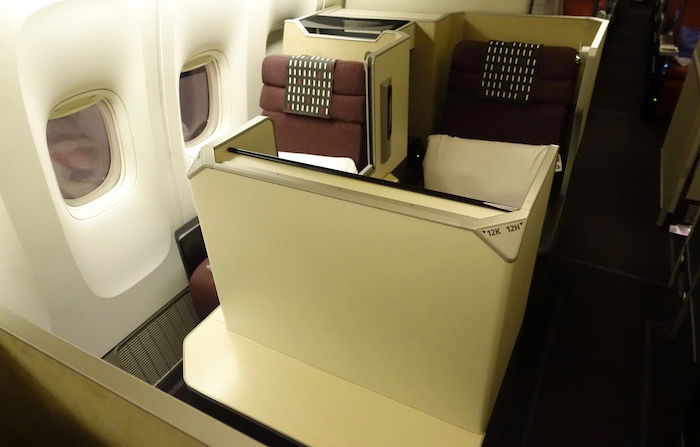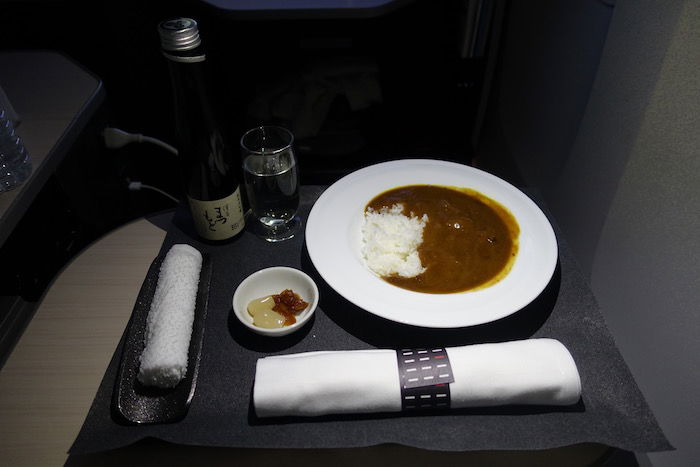 If you asked me a year ago what Air Astana was, I would have given you a blank stare. Yes, I knew they were based in Kazakhstan, but that's about it.
Well, a few months ago I flew them from Seoul Incheon to Almaty to Astana to London, and was pleasantly surprised to find myself on a solid airline. Air Astana's 767s are the newest of any airline in the world, and they have a very nice business class product on them.
The service was generally friendly, food good, and the airline had some quirk factor that I really liked. When you consider how much aviation has suffered in Kazakhstan in the past, what Air Astana has done in the past decade is remarkable. I highly recommend flying with them.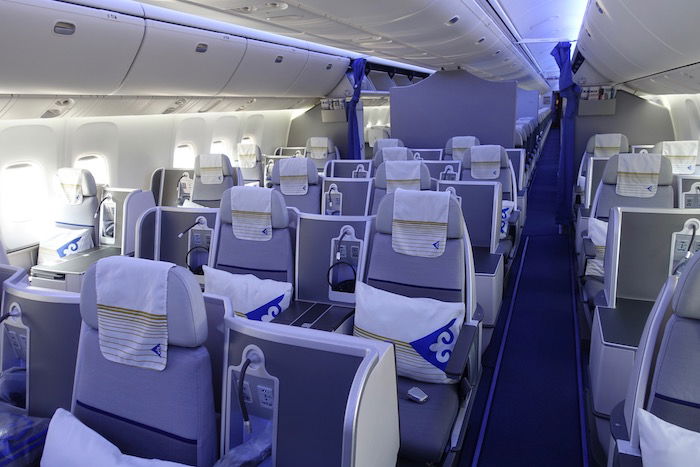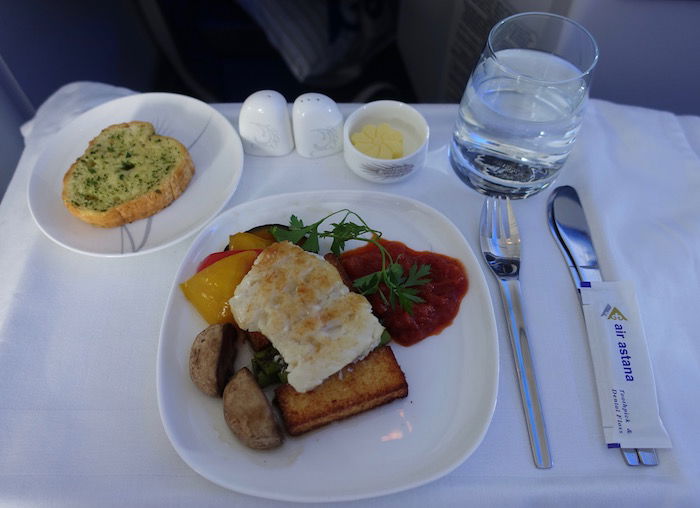 This year I had the chance to try two Chinese airlines for the first time. Earlier in the year I flew Hainan Airlines from Los Angeles to Changsha and back, and was very impressed by the quality of service, food, etc. They're the only Skytrax 5-star airline based in China.
So why am I putting Xiamen Air on the list, when Hainan is arguably just as good? Because Hainan is a widely praised airline, while Xiamen Air doesn't seem to get any credit. Prior to flying them people didn't have much to say about them one way or another.
While Xiamen Air "only" has fully flat forward facing seats, everything else about the product is great. They offer pajamas, free Wi-Fi, have top notch catering, and exceptional service. So while Hainan and Xiamen are generally on the same level, I think Xiamen Air deserves the award in this case, since I came in with much lower expectations than on Hainan.
Xiamen Air now has 787-9 aircraft with reverse herringbone seats, which will hands down mean that they have China's best business class product.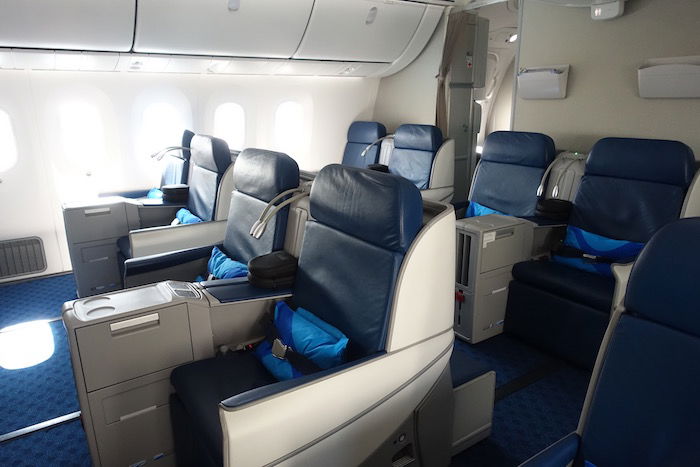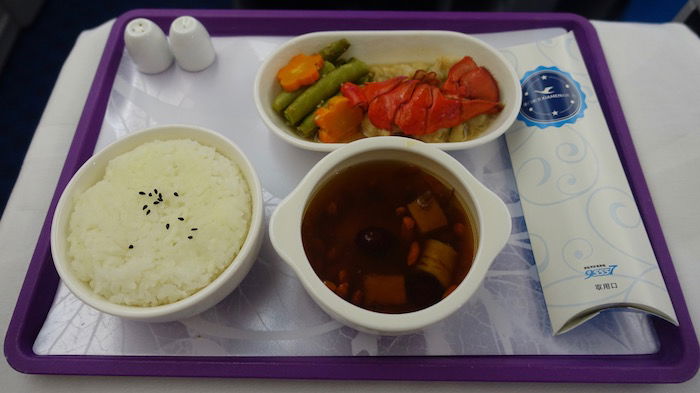 I had low expectations leading up to my Aeroflot flight from Los Angeles to Moscow. For whatever reason, most people seem to have a negative impression of the airline, without knowing much about it. Well, that's why I was so delighted by my flight with them — they have pretty standard fully flat seats, but the service and food on the flight really stood out.
The flight attendants were charming and poised. The food was tasty. Best of all, transiting Moscow Airport is easy, and Aeroflot has a legitimate business class product on intra-Europe flights, unlike most other airlines in Europe, so they're great if you're connecting as well.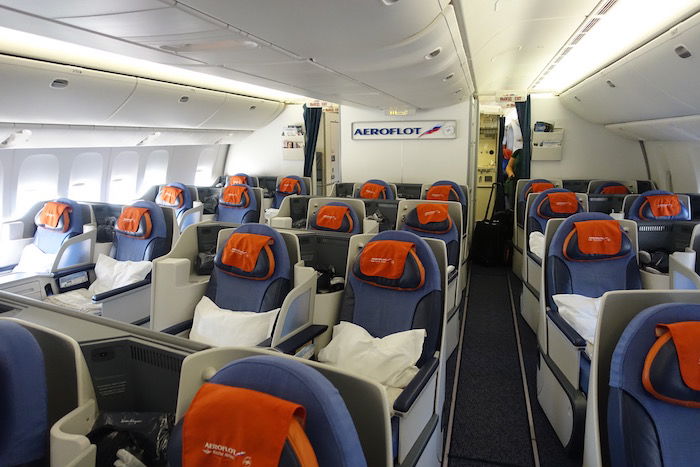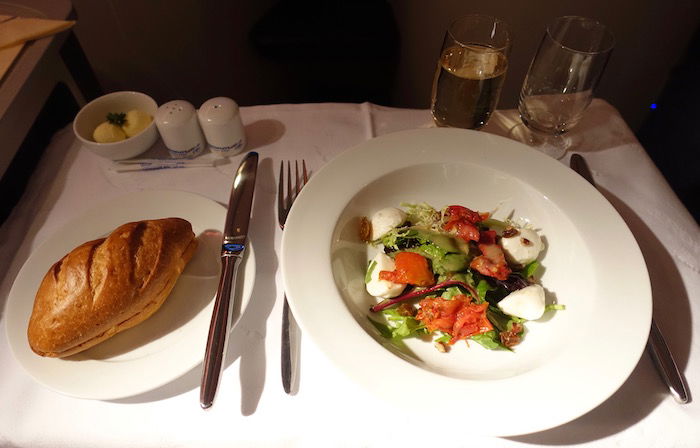 Oman is probably my favorite country in the Gulf region, and they have an airline they should be very proud of. Several of their planes feature a business class product that feels more like international first class from a decade ago, while other planes they have feature Apex Suites in business class.
Oman Air serves great Omani cuisine, and there's something about their product that feels so exotic. They consistently offer incredible business class fares, so you should be able to fly them from Europe to Asia via Muscat for under $1,500 roundtrip.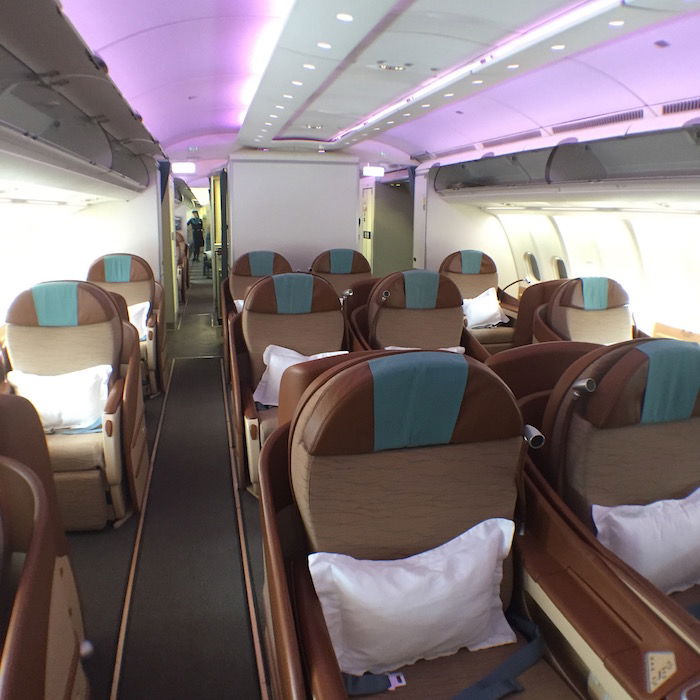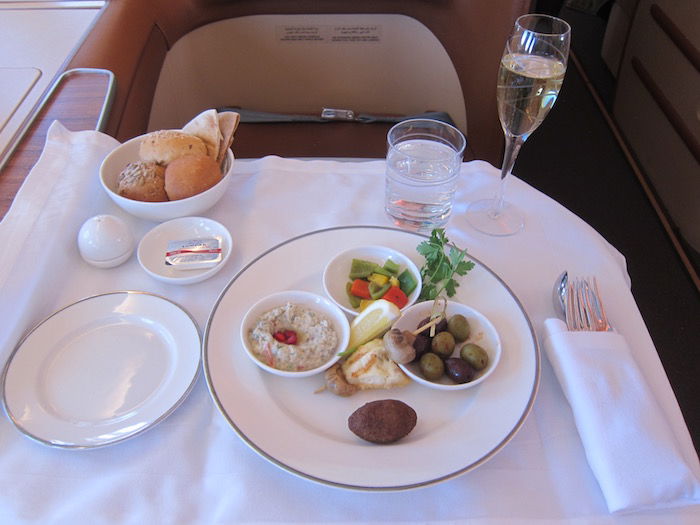 I can't help but smile when I think back to my Air Serbia flight between Belgrade and New York. Air Serbia has herringbone seats which are perfectly fine, though it's the soft product that sets them apart. The crew was so professional and personable, the food was phenomenal, and I loved how Serbian the whole experience felt, down to the selection of Serbian wine.
Air Serbia also offers dine on demand and turndown service, so overall the experience feels more like first class than business class, in my opinion. I'm so happy that they finally offer longhaul flights to the U.S. Best of all, redeeming Etihad Guest miles for that flight is a great value.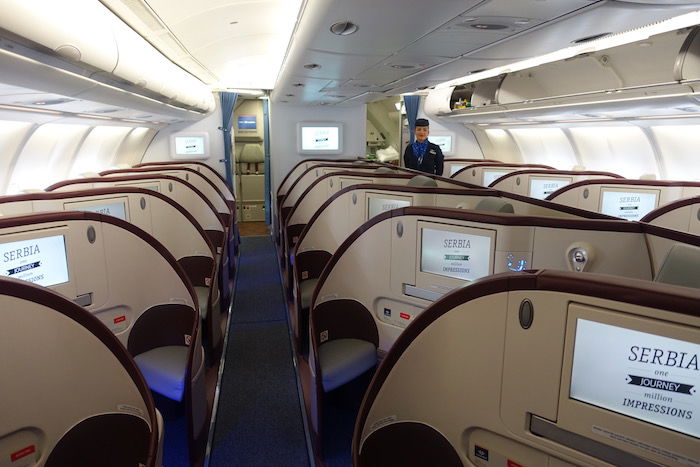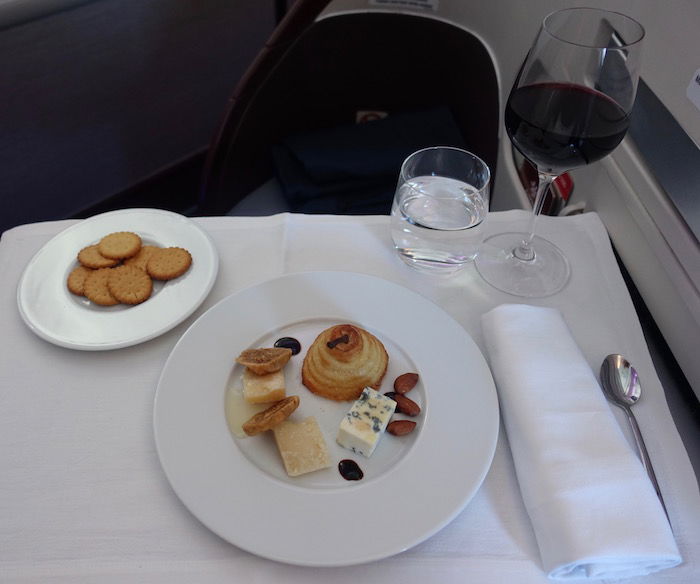 I flew Garuda Indonesia for the first time this month. I came in with high expectations, and even so, they blew me away. Garuda Indonesia first class is definitely one of the top three first class products in the world, and I might even rank them as having the top first class product.
Garuda Indonesia has fully enclosed suites in first class, which in and of themselves aren't that exceptional. However, the crews are incredible, the food delicious, they offer complimentary Wi-Fi for first class passengers, etc. Their first class product certainly lives up to the hype.
But I really can't emphasize enough how it's the people that make the difference. Every single Garuda Indonesia employee I interacted with had an infectious smile that couldn't help but put me in a good mood right away (not that it's really possible to be in a bad mood in Garuda first class).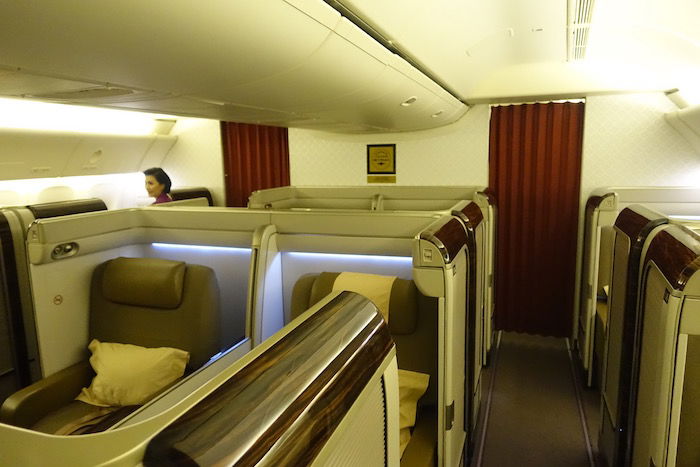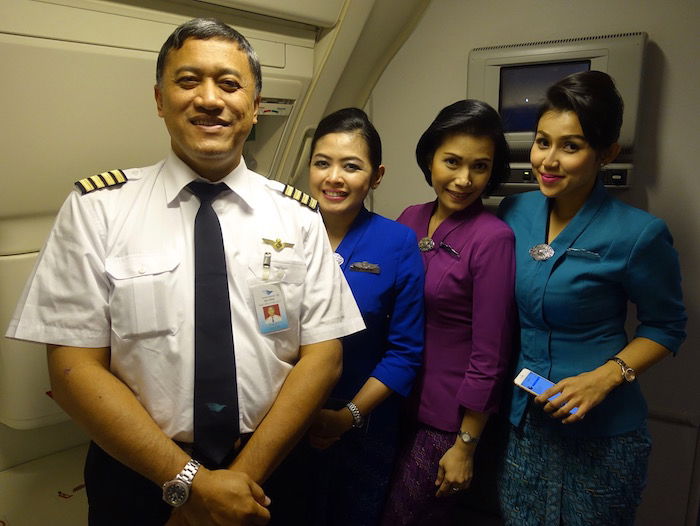 Bottom line
As I reflect on the airlines I've flown in 2016, I've come to realize that the things that really make an airline stand out are friendly and authentic service and some local "flair." I'm so fortunate to travel as much as I do, and I've really enjoyed being able to fly new airlines to new countries. I can't wait to do more of it in 2017, and appreciate all the support and ideas you guys provide.
Do you have any favorite airlines you tried in 2016?