Just yesterday I published a post with my valuation of various points currencies. Whenever I share my valuation of points, I always mention that there's no absolute correct ways to value points.
How to go about valuing points
There's generally a floor and ceiling for valuing points, but it's not unreasonable for two people to have completely different valuations of points. One person could value a currency at a cent each, and another could value a currency at five cents each.
But the logic has to add up.
One issue people often take with my approach to valuing points is that I'm not actually using a specific formula for doing so. Rather I'd like to think I'm an expert in these programs, and I go based on my overall sense of what these currencies are worth.
This is both a relative and absolute exercise. For example, I know that I value most mileage currencies around 1.2-1.5 cents each (based on the general value I get from miles), and I also know that I value United miles more than Delta miles, for example. So that's my approach to valuing miles, in a jiffy.
Are American miles worth 2.6 cents each?!
JonNYC links to a NerdWallet story about why you should start collecting American miles, and he highlights how they say that American miles have an average value of 2.6 cents per each.
https://twitter.com/xJonNYC/status/1086465277330624513
While that's way higher than I value American miles, I wasn't quite so ready to rule that out. Like I said, valuing miles is highly subjective, and if someone said "I exclusively redeem my American miles for Qatar Airways business class between the US and the Middle East, India, and Africa," I wouldn't dispute that valuation. That person may well be getting an average of over 2.6 cents of value per mile.
Why this logic is wrong
There's not a single right way to value airline miles, but there is a wrong way… and unfortunately NerdWallet's logic is very bad. While I don't have a methodology for valuing miles, they do. They have a very exact approach, it's just very flawed.
Here's how they describe how they arrived at their mileage valuation:
To determine the estimated value of AAdvantage miles, we sampled prices in both cash and points between November 2018 and April 2019 on the most popular 24 one-way domestic routes flown by American, measured by passengers enplaned, according to data from the U.S. Department of Transportation. In addition, we sampled prices in both cash and points during the same time period on 15 randomly selected international one-way routes originating in the United States, selected from the carrier's most recent route map.

For domestic flights, the average value was 1 cent per mile, with values ranging from 0.7 to 1.7 cents per mile in economy. For international flights, the average value was 5 cents per mile, with values ranging from 0.8 to 14 cents per mile in economy.
The first part of their logic is fine. Domestic one-way awards are a fair way to determine the average value of miles, since that's how a majority of members try to redeem their miles. It makes sense that based on this, the average value was about one cent per mile, with the range being from 0.7 cents to 1.7 cents per mile in domestic economy.
But the second metric is bananas… B-A-N-A-N-A-S.
They're determining the value of international redemptions by comparing one-way economy ticket costs to one-way mileage ticket costs. The problem is that while mileage redemption rates in international economy are reasonable one-way, one-way international revenue fares are generally outrageous.
For example, while you could fly roundtrip from New York to London for $588 in economy…

Booking that same outbound flight as a one-way would cost you $2,789, meaning a one-way costs roughly five times as much as a roundtrip.

By comparison, you could book that one-way ticket for 22,500 AAdvantage miles, so I guess they'd have you believe that you're getting 12.4 cents of value per mile.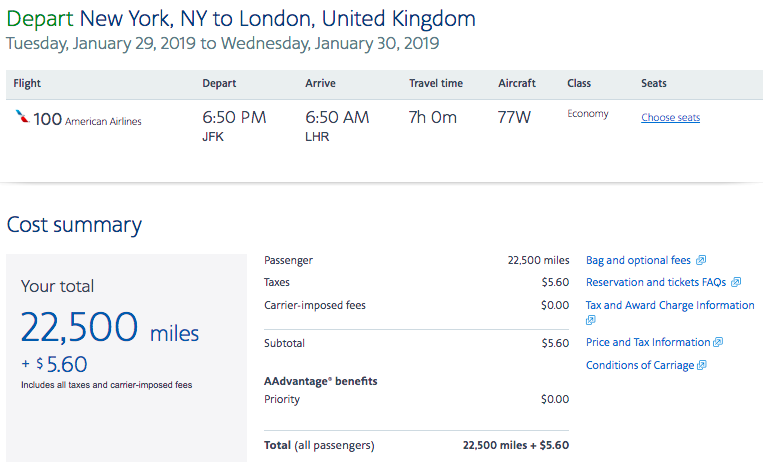 And that's not even their highest redemption rates — they say you can get up to 14 cents per mile with these redemptions!
Bottom line
Personally when valuing miles I like to consider the value of international first and business class redemptions, since I tend to think that's the best way to redeem miles. However, I also think there's nothing wrong with basing the value of miles on the economy redemptions that most people might make, whether domestic or international. I think the ideal approach is to factor in both of those things.
However, determining the value of miles by comparing the cost of one-way international economy award redemptions to the cost of one-way international economy tickets is a completely useless metric, and that's how this ridiculous 2.6 cent per mile valuation of American miles came up.