Update: Read my full Garuda Indonesia First Class 777-300ER London To Jakarta review.
Hello from Jakarta! I've spent the past 14 hours in Garuda Indonesia first class, on their nonstop flight from London Heathrow. Garuda Indonesia is the single airline I've most been wanting to try, and I'm so excited to have finally had the opportunity.
Garuda Indonesia is a Skytrax 5-star airline, and their first class is generally regarded as one of the best in the world (unfortunately there just aren't many practical ways to redeem miles for it, though I managed to snag a pretty good deal during a Black Friday offer they had). I've heard rumors that service on them in first class is deteriorating, so was excited to experience their product firsthand.
So, does Garuda Indonesia first class live up to the hype? YES.
Garuda's 777-300ER first class cabin is in a 1-2-1 configuration, with a total of eight fully enclosed suites. The cabin feels very elegant, much less blingy than the cabins on some Gulf carriers (for better or worse).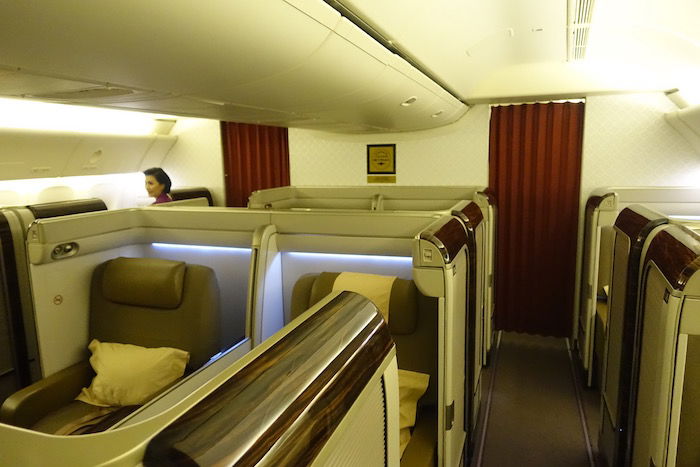 Waiting at our seats were Loewes amenity kits, menus, pajamas, a writing kit, etc. First class passengers also receive complimentary Wi-Fi passes with no data restrictions, and the internet was among the fastest I've experienced on any international flight. Even if you don't get complimentary Wi-Fi, a pass with no data restrictions costs ~$21 for the entire flight, which is very reasonable.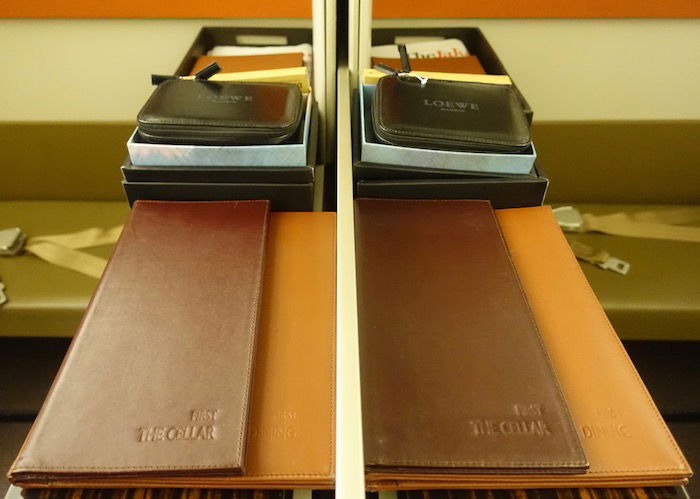 Moments after settling in the crew did what could only be described as a shoebag service, where they put on white gloves and carefully placed shoes in individual shoe bags for storage during the flight. Damn.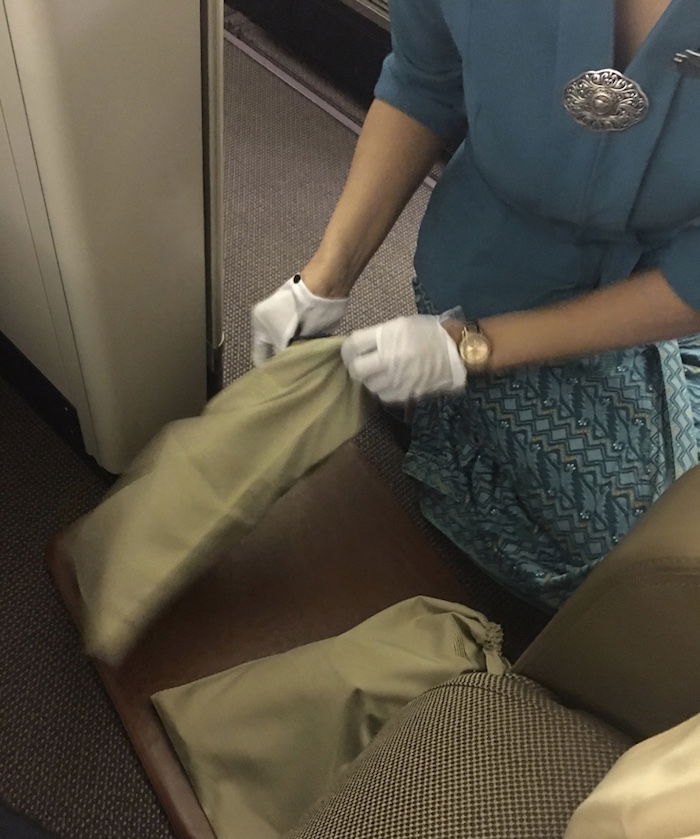 The food was fantastic. There was a caviar course to start.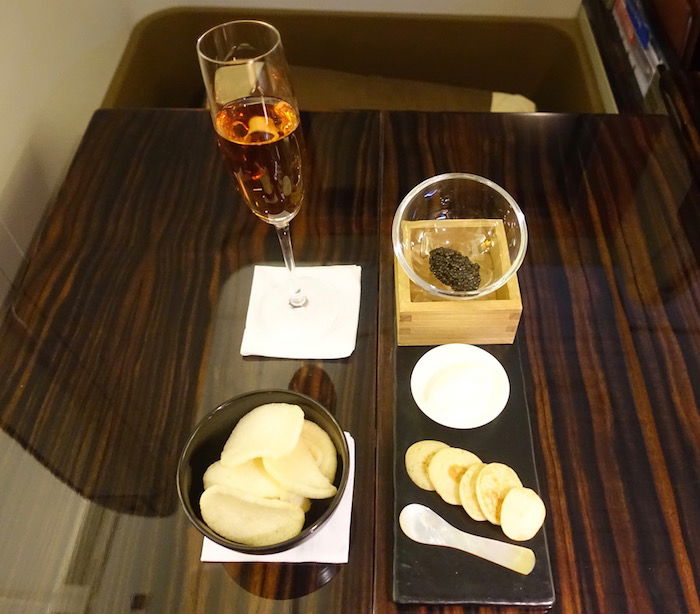 The rest of the meal wasn't quite as bougie, but the execution and quality were phenomenal. Everything tasted so good, including the crab cake starter…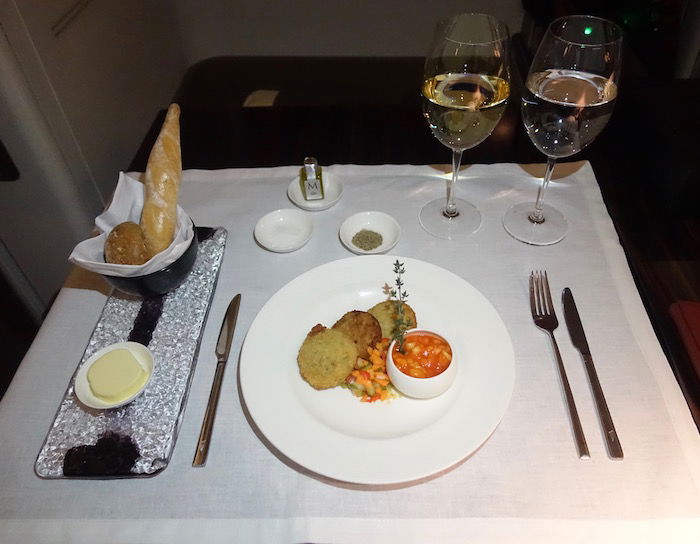 …chicken noodle soup…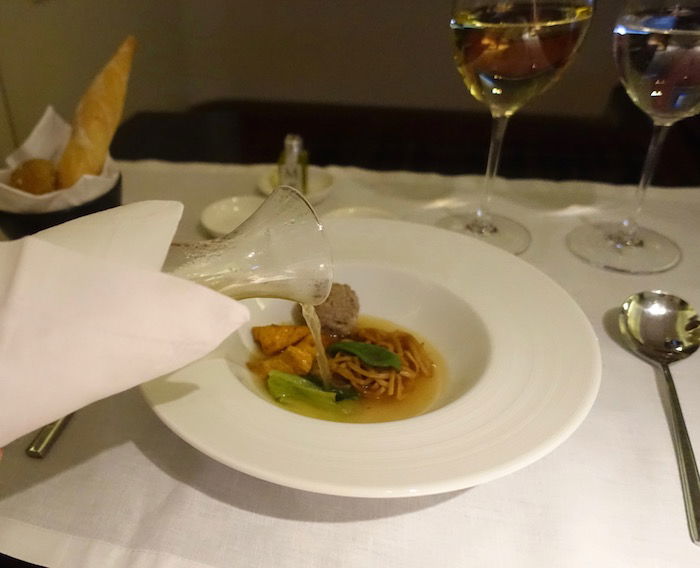 …Indonesian beef rendang…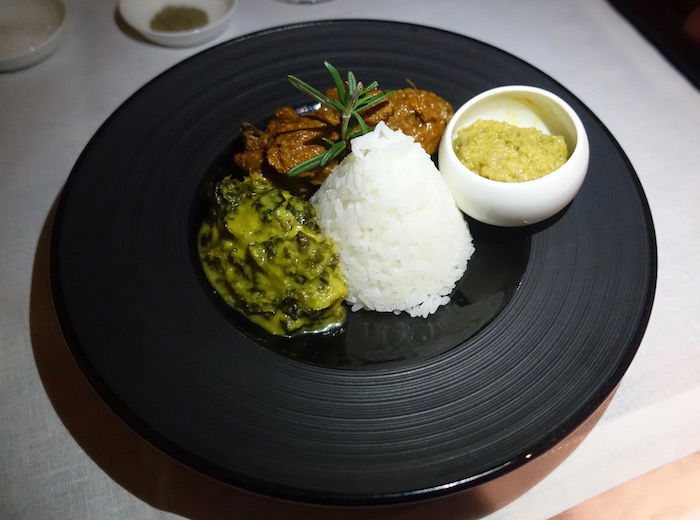 …and walnut and dark chocolate tart with vanilla ice cream.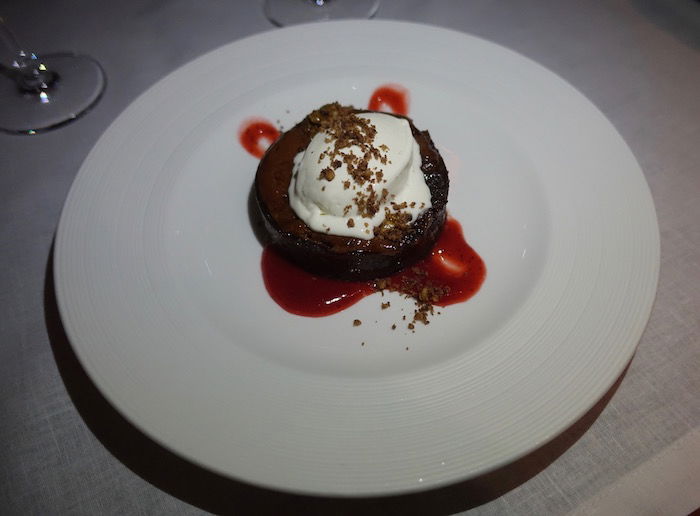 On top of that, Garuda's coffee selection is incredible. Their cappuccinos are among the best I've had anywhere (not just in the sky), and they even have french press coffee, where you can choose the type of roast you want.
But what really impressed me most was the service. I've consistently heard that service in Garuda first class is incredible, and this flight was no exception. There were four flight attendants working first class. Four of them!!! They all came by to introduce themselves by name before takeoff. There was the purser, Oktaviana, flight attendants Septi and Henny, and onboard chef Aziz.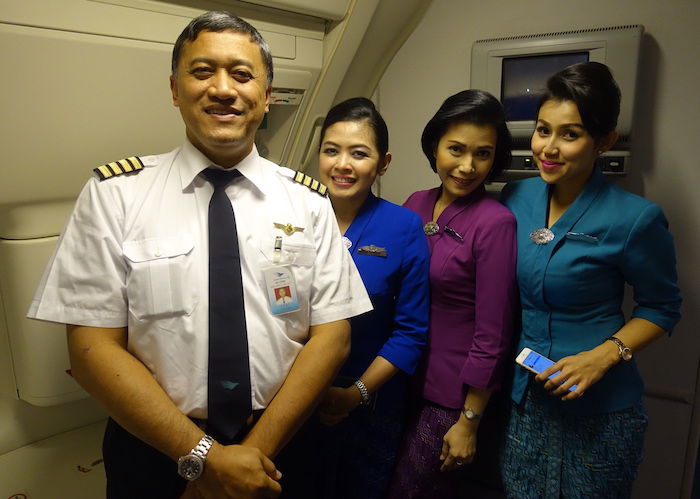 They were top notch. While this is my first time visiting Jakarta, I've been to Bali many times, and it's one of my favorite places because of how friendly the people are. This crew's warmth and sincerity reminded me a lot of service in Bali.
But it's not just that they were friendly, but they were also polished. There are a lot of airlines where service is genuine yet feels like amateur hour — that wasn't the case on Garuda. This was possibly the best set of crew I've ever had on any airline.
Now, the product isn't perfect… no product is. However, my quibbles are very minor. I thought the mattress pad could be a bit thicker, the blanket a bit bigger, the seat a bit less firm, and I wish the tray table were able to be adjusted. I still got a solid six hours of sleep, and I love the fact that the seats have doors that close.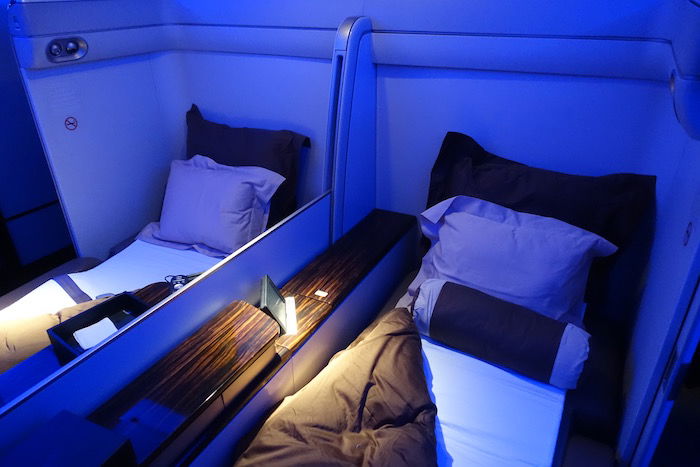 I came into my Garuda Indonesia first class flight with ridiculously high expectations, and I'd say they were met. Garuda Indonesia first class is fantastic, among the best in the world.
Where does Garuda Indonesia's first class product rank?
In the past I've shared what I consider to be the world's six best first class airline products. None of those products are perfect. So where does Garuda Indonesia rank? I'd say definitely in the top five, and possibly even in the top two or three. I'll need more time to think about it.
No, Garuda doesn't have an onboard shower or onboard bar, but I don't think there's an airline in the world that gets first class "basics" right better than them. I put "basics" in quotes because I realize that sounds ridiculous in the context of first class, but hear me out.
Garuda Indonesia has:
Fully enclosed, gorgeous suites
Delicious food
Free, fast Wi-Fi for all passengers
The most hospitable service in the sky
A customized ground experience where you're looked at every step of the journey
To me those are the "basics" of the world's top first class products, yet no other airline on the list gets all those things right. Emirates Wi-Fi is unusably slow because it's free for everyone, Emirates and Etihad service can be hit-or-miss, Cathay Pacific's seats aren't fully enclosed and don't feature Wi-Fi, Wi-Fi on Singapore's A380 is outrageously expensive, and with the exception of Lufthansa, none of those airlines offer extensive ground service for first class passengers.
All of these are very minor points, but it does lead me to believe that Garuda Indonesia may just have the world's most well rounded first class product.
What do you think — where does Garuda Indonesia rank on the list of the world's best first class products?