Avianca LifeMiles is the combined mileage program for AviancaTACA, a South American airline that joined Star Alliance a few years back. The LifeMiles program is potentially interesting even if you never plan on flying their airline, as LifeMiles can be potentially useful in redeeming for first and business class awards on other Star Alliance carriers.
There's no doubt that premium cabin Star Alliance award seats are less attainable than ever before, not due to lack of award space, but due to having fewer economical ways of redeeming for first and business class seats:
In January I wrote a post sharing my thoughts about which Star Alliance programs are best for first and business class awards in a post-United/US Airways world, and I think one program that really stands out is Avianca's LifeMiles program.
Aside from United MileagePlus (and US Airways, but they're leaving the Star Alliance next week), Avianca LifeMiles is the only Star Alliance program to not impose fuel surcharges on award tickets for travel on any airlines.
So with that in mind I figured I'd go over the Avianca LifeMiles chart, and share some of the basics of redeeming Avianca LifeMiles, as well as my thoughts on the program in general.
Avianca LifeMiles Award Chart & Regions
The LifeMiles chart is fairly straightforward award, and is region-based, with the same redemption rates regardless of which partner airline you fly.
Here's the LifeMiles award chart:
And here's a listing of which countries fall into which regions:
Best Ways To Earn LifeMiles

One of the awesome things about LifeMiles is that they frequently offer promotions whereby miles can be purchased for 1.5 cents per mile.
These promotions typically come in two forms:
100% bonus on purchased LifeMiles:
You can purchase between 1,000 and 150,000 LifeMiles per calendar year
With the 100% bonus, each mile costs 1.5 cents including tax
LifeMiles seems to offer this promotion a few times per year
Historically in order to be able to take advantage of this promotion, your LifeMiles account must be open before the promotion begins
100% bonus on shared LifeMiles:
You can share between 1,000 and 50,000-75,000 LifeMiles per calendar year (depending on which rules you're going by, as there are inconsistencies)
With the 100% bonus, each generated mile costs 1.5 cents including tax
LifeMiles seems to offer this promotion a few times per year
LifeMiles co-branded credit card:
The card is issued by US Bank
It presently has an increased sign-up bonus of 20,000 miles after the first purchase, and an additional 20,000 miles after spending $3,000 within 120 days of account opening
For what it's worth, LifeMiles isn't offering a bonus on the purchase or sharing of miles at the moment.
How To Book LifeMiles Partner Award Tickets
You can book travel on all of LifeMiles' partners directly at lifemiles.com.
The search engine is pretty intuitive. You can enter your origin and destination, dates, and preferred class of service.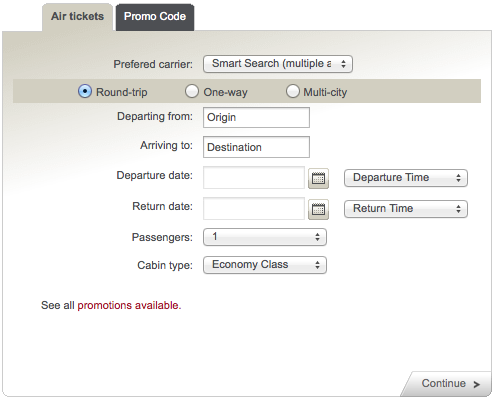 What's unique about their search engine is that you can then either specify only one airline to search, or can search availability on all partner airlines at once.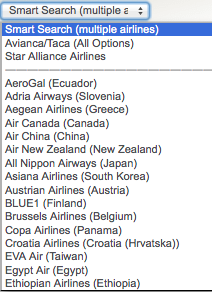 If there is availability for the route you're searching for, you'll simply get results with the desired itinerary.

If there's not availability, you'll be shown a calendar that will list which dates are available in all classes of service. Then you can easily search availability for surrounding weeks as well.

LifeMiles Flexible Payment Option
One of the greatest things about the LifeMiles program is that they have a flexible payment option, which is the equivalent of "Cash & Points" in the hotel industry.
This means that as long as you have 40% of the miles needed for an award ticket, you can purchase the remaining miles at the time of ticketing. This is awesome for a couple of reasons:
There's a cap to the number of LifeMiles you can purchase per year, though there's no cap to how many tickets you can book under the flexible payment option, so it basically increases the number of awards you can book if you're just buying miles
It kind of hedges your bets in case there's a LifeMiles devaluation (which they have a history of doing without advance notice), since you can just purchase 40% of the miles you think you'll need, and then buy the rest at the time of booking
If you use the flexible payment option, it's worth noting that the cost per purchased mile decreases the more miles you buy.
Take the following Lufthansa first class award from Detroit to Frankfurt, for example, which costs 72,500 miles without the flexible payment option:

However, if you choose to purchase 1,000 miles through the flexible payment option it will cost you $30, which is three cents per mile:

Meanwhile if you choose to purchase 43,000 miles through the flexible payment option (which is 60% of 72,500 miles), then they would cost you $672.83, which is ~1.55 cents per mile:

One other thing worth noting is that if you use the flexible payment option and have to cancel your booking, you don't get your cash back. Instead you'd get back the full miles the award would have cost. So in the above case if I made a booking for 29,500 miles plus purchased the remaining miles for $672.83, I would get back 72,500 miles if I canceled the booking.
Yes, this is a potential way to generate additional LifeMiles as well, and doesn't count towards the annual "limit" of purchased miles. However, there are some risks and drawbacks to doing so, as I'll discuss a bit later.
LifeMiles Ticketing, Cancellation, And Change Fees
As I mentioned above, LifeMiles doesn't impose fuel surcharges on award tickets, though they do charge a $25 ticketing fee per person regardless of whether your reservation is booked online or by phone.

LifeMiles also charges $50 for redepositing an unused award ticket, which can be done up until the departure date.
Lastly, they charge $150 for a change to an award ticket. Yes, it makes no sense that they charge three times as much to change a ticket as they do to cancel it, but such is life…
It's worth noting that all changes and cancellations need to be made by phone. This is not an easy process, and involves providing your passport number to the call center agent, among other ridiculous processes.
While you should get the taxes back in theory when you cancel, I don't they've ever actually posted to my account. So I would not really recommend making speculative bookings with LifeMiles, as the cancellation process is really inconvenient.
LifeMiles Routing Rules
Another ridiculous thing about LifeMiles are their routing rules. Basically you can book whatever the website will let you book. They allow one way awards at half the cost of a roundtrip, though don't allow stopovers.
You typically can't have more than an eight hour connection, or else the option won't appear online. And you can certainly try phoning their call center at (800) 284-2622 to see if they'll book you a longer connection, though that can be really time consuming and frustrating.
Typically the website will only display options with one connection, or sometimes two connections at most. They'll usually let you route from the US to Asia via Europe, for example, assuming you specify the airline you're trying to book.
Ridiculous LifeMiles Rule — You Can't Mix Cabins On An Award
LifeMiles' single most ridiculous rule has to be that you can't mix cabins on an award ticket.
That means that on a first class award you can't have a segment in business class (even if you're connecting to an intra-Europe flight where there isn't even a first class cabin), if you're on a business class award you can't have an economy class segment, etc. It's ridiculous.
Bottom Line
The LifeMiles program can simultaneously be ridiculously lucrative and ridiculously frustrating.
It's a program that's tough to beat for premium cabin Star Alliance redemptions nowadays, though just remember this isn't like a traditional program in terms of stopovers, mixed cabins, routing rules, etc.
If you're hoping for a complicated routing through multiple cities, Avianca LifeMiles is not the program for you. LifeMiles are best used for simple, hub-to-hub bookings, or otherwise straightforward redemptions.
Given all that, I would caution against making speculative purchases of LifeMiles, unless you anticipate being able to use the miles in the near future, or for a specific redemption.
However, I'd recommend signing up for a LifeMiles account so that if they do offer another 100% bonus on purchased miles you can take advantage of it (since your account has to be open before the promotion starts in order to be eligible).
And if you have any questions, please do let me know below!