While not new, I was pointed to an interesting video about Austrian's inflight catering today:
https://www.youtube.com/watch?v=yoD3QvcBAvM
Unfortunately the video is in German. As I've said a dozen times before, if there's one reason to learn German it's because of all of the awesome airline themed documentaries there are, especially about Lufthansa. I've posted lots of them over the years.
Clearly the video is at least a few years old, though it's still rather interesting. For one, it shows just how ugly Austrian's cabins and uniforms are. Austrian is one of my favorite airlines to fly in business class, though my gosh, between the colors of the seats and the colors of the uniforms, I'm happy I never flew their old cabin. At least their new cabins are less aesthetically offensive.

Austrian's new Boeing 777-200 business class cabin
Austrian isn't the only airline to have an onboard chef. Turkish has one in business class as well, and Etihad has one in first class.
And there's no doubt Austrian does have phenomenal catering, among my favorite in the sky. It's done by DO & CO, which I find to be the best catering kitchen of inflight meals. Austrian's business class service is really much like first class on other airlines, given that each course is plated at your seat to your specifications. I really enjoyed my flight on them in business class from Vienna to Tokyo Narita last year.

Austrian business class starter

Austrian business class main course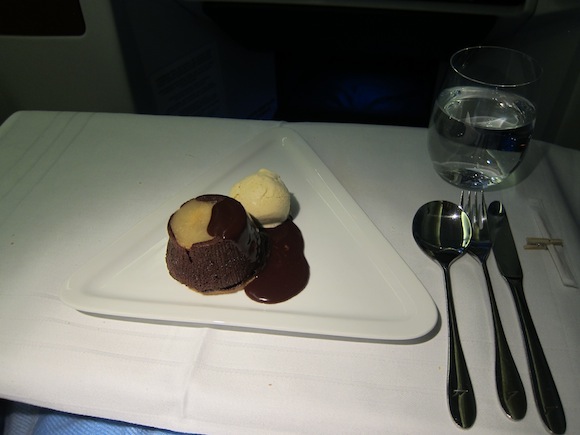 Austrian business class dessert
The irony is that while the food is great, I find it has almost nothing to do with the onboard chef. The concept as such is complete puffery, in my experience. It's not like the chef is actually "cooking" aboard, but rather he's just responsible for prepping the food, which a well trained crew could do just as well.
I've flown Etihad Airways first class twice from Abu Dhabi to New York, once with an onboard chef and once without an onboard chef. And there's no doubt that the one with the onboard chef was better, because he asked how I wanted things prepared. But still, ultimately that's no different than Asiana, where I've even been asked how I wanted my steak cooked without an onboard chef.
Anyway, I believe 90% of the credit for Austrian's great inflight catering goes to DO & CO, while maybe 10% goes to the onboard chef.
For those of you that have taken a flight with an onboard chef, what was your experience?
And for anyone that speaks German (or finds the language sexy — said no one ever) and wants to spend their Saturday watching German airline documentaries, here are a few of my favorites:
This one follows a Lufthansa Cargo MD-11 around the world in 66 hours:
This one is about a female Lufthansa A380 pilot:
https://www.youtube.com/watch?v=xGqivNQyI1s
This one is about the training for someone to become a Condor 757 pilot:
This one follows the cockpit of a Lufthansa 747 from Frankfurt to Los Angeles:
https://www.youtube.com/watch?v=nhXXjNybx6A
(Tip of the hat to @FlyingDutchBlog)