---
In the next installment I'll be reviewing my Oman Air first class flight from Muscat to London. It's going to be a long review, so I wanted to write a separate post first about Oman Air's unique "Service by Design" concept.
There are quite a few airlines that let premium passengers pre-order their inflight meals.
This comes in different forms. For example, Singapore Airlines offers "Book the Cook," where first and business class passengers can choose their meal in advance of their flight, and they can choose from a much more extensive menu than what would be available onboard.
Other airlines, like American Airlines, let you pre-order your meal if you're in first or business class, but you can only choose from what would otherwise be available onboard, in addition to a few special meals for those with dietary restrictions. The primary benefit there is simply that you can be sure you get your first choice, rather than actually getting anything different.
On paper, Oman Air's Service by Design concept is the most impressive program I've ever seen for being able to customize your first or business class inflight meal.
On June 29 I received the following email from Oman Air:
Thank you for choosing Oman Air. We would like to introduce to you our new initiative "Service by Design" crafted exclusively for our discerning First Class passengers originating from Muscat.

With "Service by Design" you can now pre-order your in-flight meal up to 24 hours prior to flight departure from Muscat with a flight duration of more than 5 hours. Simply select your meal preference online and our cabin crew will be happy to serve it to you at your convenience.

We hope you enjoy our new service and we wish you a pleasant flight with us.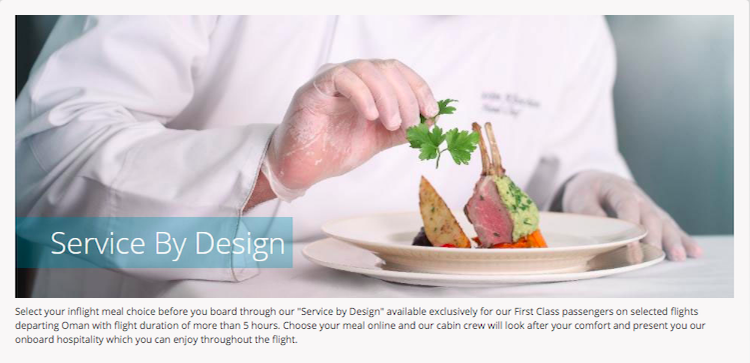 It's cool that they proactively reach out to customers about this, though reaching out on June 29 for a July 1 flight seems like pretty short notice, especially since you have to select your meal at least 24 hours in advance. In other words, I had less than 48 hours to select my meal. You'd think this would be something they'd send out a couple of weeks prior to the flight.
Anyway, the email directed me to this webpage. I entered my last name and confirmation number, and was blown away by how many choices I had.
I could literally customize every little aspect of my meal, including a soup, salad, appetizer, main course, dessert, cheese, and even pre-landing refreshment.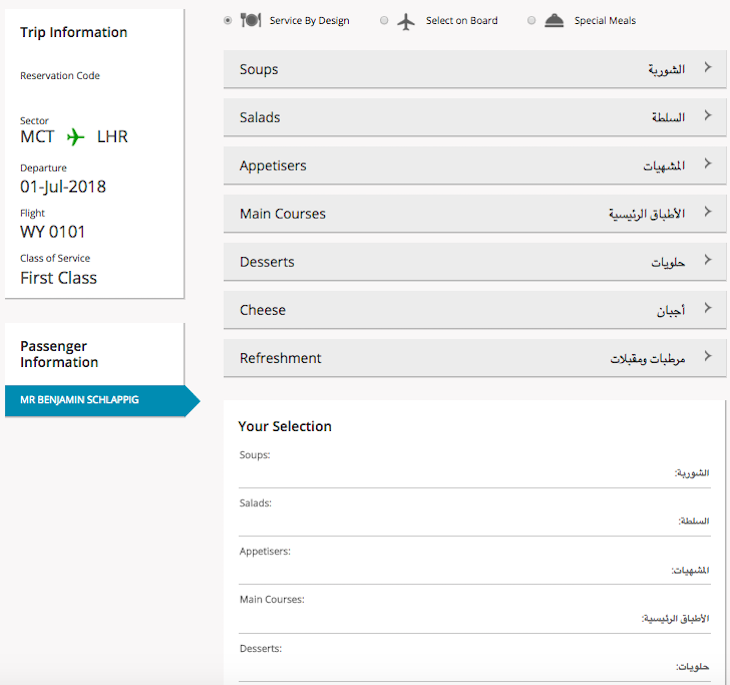 The selection was really, really impressive. There were four soups to choose from.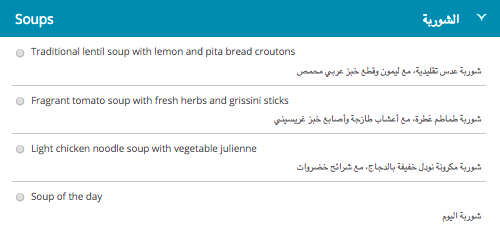 Then there were two salad options.

And seven appetizer options.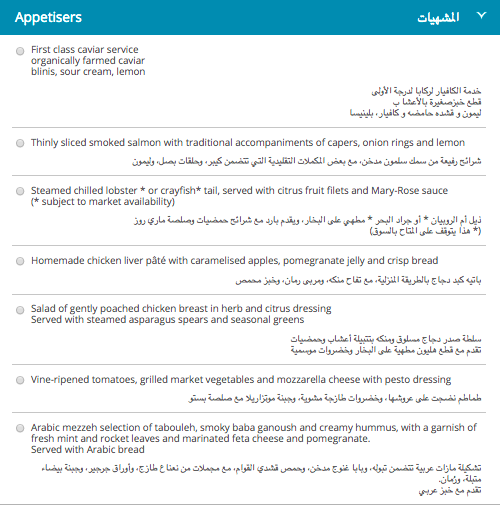 And 18 main course options.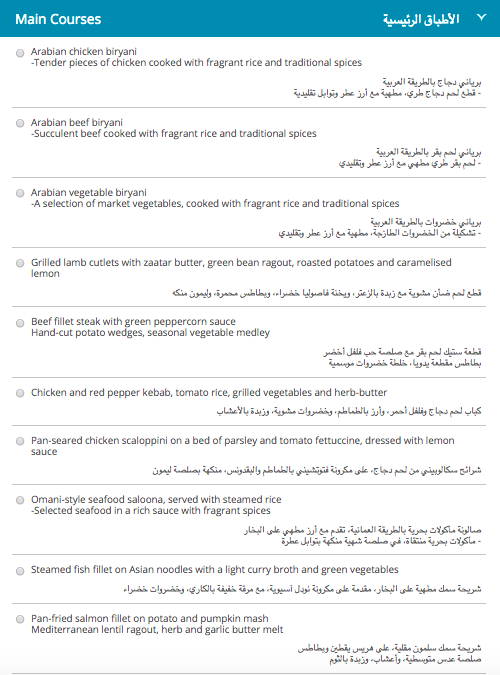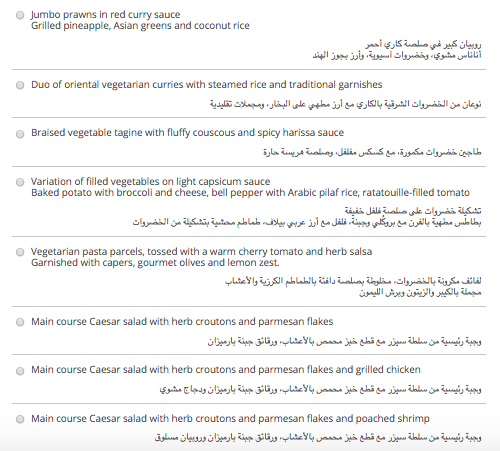 And eight dessert options.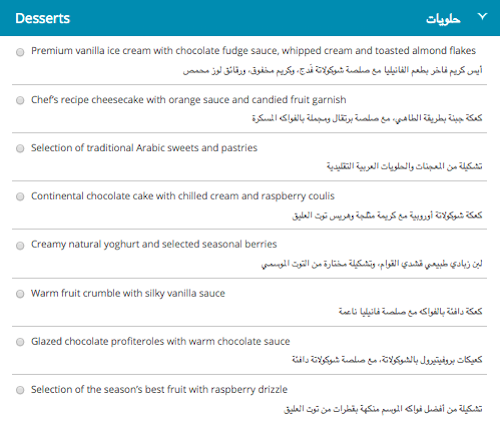 And one cheese option.

And four pre-landing refreshment options.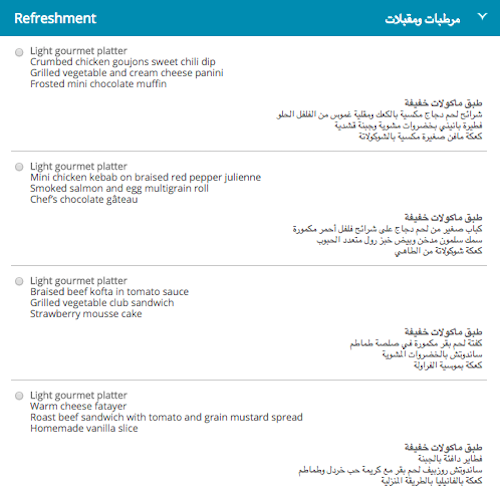 Here's the selection I chose (though there was no way I was going to be able to finish everything):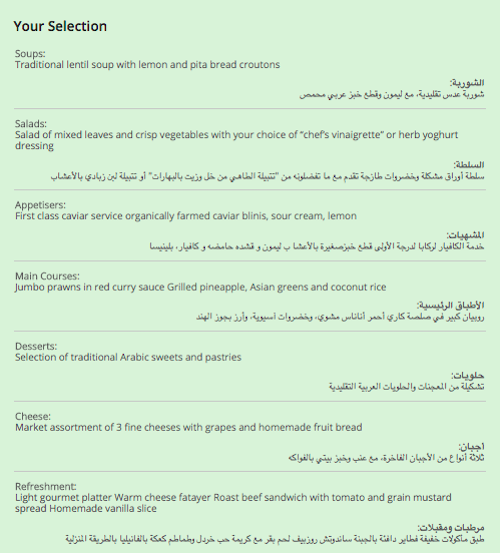 Bottom line
On paper Oman Air's first class "Service by Design" concept is the most impressive I've seen from any airline. This is only available in first class (and not in business class), so very few passengers will be eligible for this.
I've never seen an airline that lets you choose from such a huge selection with every course in advance quite like this, and it seems like an area where other airlines could match Oman Air.
How was their execution of this onboard? Well, you'll have to wait for the next installment…