Earlier we learned about some major changes coming to the AAdvantage program in 2017. I was disappointed by the changes American announced last year which kick in as of this year. I wrote a post at the time about whether the changes impacted my loyalty to American, and my conclusion was as follows:
With these changes to AAdvantage, I view the program as competitive rather than industry leading. I'll continue to have to fly a fair amount, and getting status with an airline still makes sense. In my case that will continue to be American, simply because it's easy to qualify for Executive Platinum status, and I still value their partners for award redemptions, even if prices are significantly higher.

But I certainly won't be telling people "oh, you have to fly American, they have a fantastic loyalty program."
Now we're seeing even more negative changes to the program, especially the new revenue requirement, without an opportunity to get it waived through credit card spend (at least as of now). While I wasn't ready to drop American last time, I'm at the point now where I'm seriously considering it.
I'm considering either switching to Delta SkyMiles (which I now think offers the best elite program of the "big three"), or simply becoming a "free agent," and buying the tickets I want, be it in cash or miles.
The way I see it, American's loyalty program has gone from industry leading, to merely competitive, to being the least rewarding of the "big three" US programs. That doesn't even address their inconsistent and disappointing onboard product, especially compared to Delta.
Here are 10 reasons I'm seriously considering dropping status with American:
American's onboard product is uncompetitive
We're now several years into the merger, and the "new" American still hasn't announced plans to reconfigure the former US Airways A320s and A321s. This isn't just a minor subfleet, but rather represents 170 planes.
These are outdated planes without power ports, entertainment, or Main Cabin Extra.
Not surprisingly American quickly announced plans to reconfigure the US Airways A319s, because they saw an opportunity there to add more seats by eliminating a row of first class.
I don't mind flying these planes when I'm getting easy upgrades and earning valuable miles, but why would I choose to fly them if I don't have to? The worse the program gets, the less likely I am to put up with American's subpar onboard product.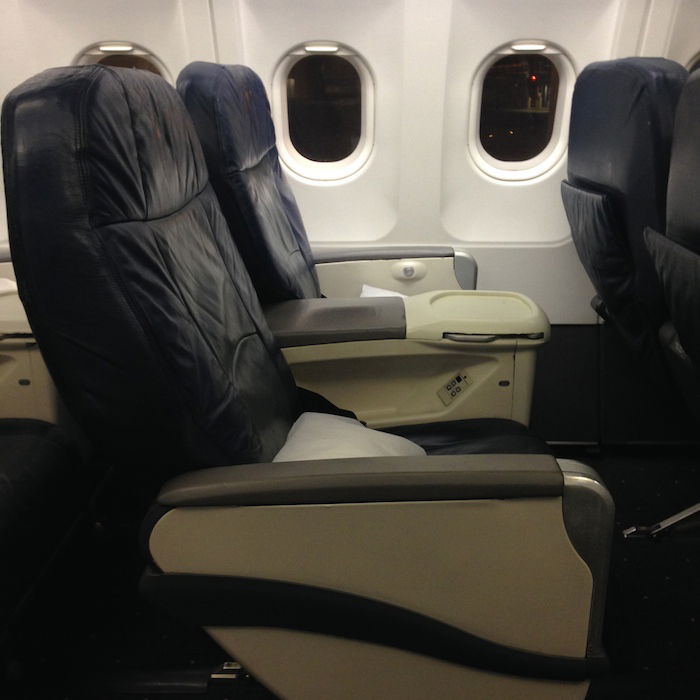 American's outdated ex-US Airways first class
Upgrade benefits have been decreased significantly
This year we're seeing the number of systemwide upgrades which Executive Platinum members receive decreased from eight to four. On top of that, airlines are selling significantly more first class seats than before by lowering premium cabin fares.
So not only are we getting fewer upgrades internationally, but our chances of upgrades clearing on domestic flights have decreased as well.
Nowadays if you want a premium seat, find a way to pay for it directly, either with cash or miles.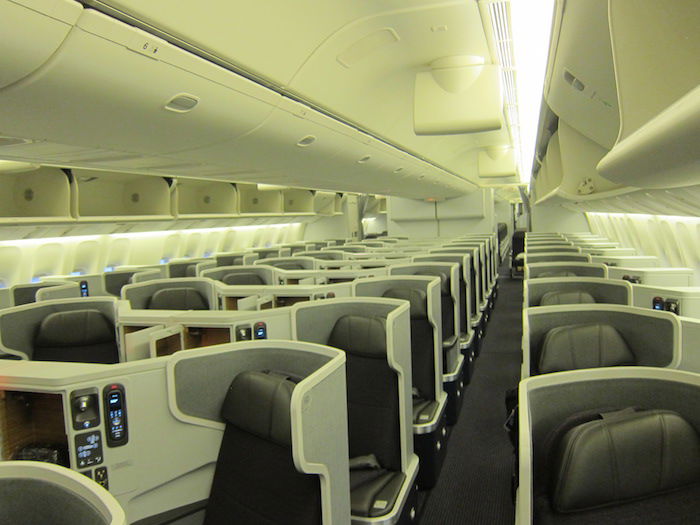 American's 777-300ER business class
Executive Platinum lounge benefits are being decreased
In February of this year I wrote about the changes American is making to their Flagship Lounges. Rather than having them be international first class lounges, they'll instead be open to all business class passengers. Objectively it's great news that they're improving these lounges, but ultimately it's another benefit of status which is being removed.
Previously if I was flying business class I'd have an advantage as a oneworld Emerald since I'd get access to the Flagship Lounge, which was better than the Admirals Club, which business class passengers otherwise get access to.
With the Flagship Lounges being rebranded, it doesn't matter whether I have status or not, since I get the same lounge access in business class regardless.
The future of the program is uncertain
As members I feel like we've put up with a lot of uncertainty and inconsistency during the merger, and then finally last year we got information on all the negative changes coming for AAdvantage members. Now we get (mostly) more negative changes, before the previous negative changes are even fully implemented.
American has announced these negative changes with only partial information, though. They announced an elite qualifying dollar requirement without announcing whether there will be the opportunity to get a waiver through credit card spend. We've learned about the date the AAdvantage program is going revenue based, while we don't actually know what partner mileage earning will look like after August 1, 2016.
I think reader RCB summed it up perfectly in a comment on a previous post:
The most frustrating part is that AA can't seem to announce all of these changes at once. Stop making big changes every 6 months, announce some big changes and let them go into effect before you make more big changes. When the ball is constantly moving you are only going to frustrate your good customers and you are shattering our loyalty.
Premium economy is on the horizon
Soon American will be introducing premium economy internationally. As it stands, systemwide upgrades are valid for a one class upgrade, and I doubt we'll see that change anytime soon. In other words, soon systemwide upgrades may only be valid for upgrades from economy to premium economy, or from premium economy to business class.
So not only have Executive Platinum members had systemwide upgrades cut in half, but potentially they'll also become significantly less valuable.


American's new premium economy seats
Business class is becoming affordable for leisure travelers
I have access to pretty easy upgrades, but I've still found myself pretty consistently paying for business class internationally. In the past year, I've twice paid under $1,200 for roundtrip business class between the West Coast and Europe.
With such low fares, and upgrades otherwise tough to confirm, it's a no brainer.
Airlines are trying to change consumer behavior and get people to pay for the cabin they want to fly, even if it's at a steep discount. With these kind of prices, it's sort of the best option.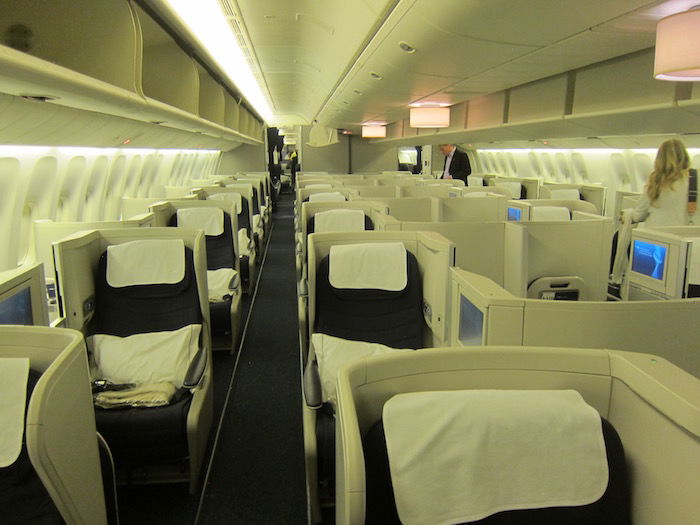 British Airways' 777 business class
Revenue based mileage earning changes how I view loyalty
Nowadays earning miles based on dollars spent rather than miles flown is the new norm. While we can argue the merits of it all day long, I think it's tough to argue with the fact that this transforms loyalty programs into discount programs.
As an Executive Platinum member I earn 11 miles per dollar spent on base fare. I value those miles at 1.5 cents each. In other words, the way I see it, I'm getting a flat 16.5% discount on the pre-tax/fee cost of my travel on American.
Just as airlines try to turn loyal consumers into individual transactions, my loyalty to an airline becomes transactional as well.
American's phone service has deteriorated horribly
It sounds silly, because I avoid getting on the phone whenever possible, but American's Executive Platinum phone customer service used to be incredible. Like, absolutely amazing and industry leading. The agents were friendly, competent, and made exceptions without batting an eyelash.
Back in the day the agents would even waive change fees on revenue tickets without issue. Then American closed their call center in Tucson, where most Executive Platinum agents were based.
Phone service for Executive Platinum members nowadays is hardly any better than what general members receive. For the most part the agents aren't especially competent, and many are even rude. It's not that I expect them to waive change fees, but even simple tasks take them a long time to complete.
I used to look forward to getting on the phone with American (it sounds crazy, but the agents used to be so friendly and good), while now I dread it.
It's tough to earn miles, and there are no transferable points
Much like Delta and United, American AAdvantage now awards miles based on revenue rather than distance flown. Whatever.
One benefit of top tier status is that if you have waived change and booking fees on award tickets. It's much tougher to rack up miles through flying nowadays, but at least you can transfer American Express Membership Rewards points to Delta SkyMiles, and can transfer Chase Ultimate Rewards points to United MileagePlus. The way I see it, your elite status adds value to being able to transfer points, since I value miles with unlimited free changes more than I value miles without that option.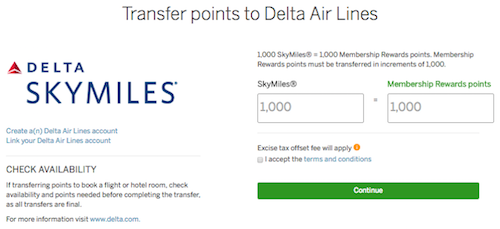 Meanwhile there aren't easy ways to transfer miles to American from one of the three transferrable points currencies. Citi ThankYou points can't be transferred to AAdvantage yet. I've speculated that this will happen eventually, but it still hasn't.
Delta is a better airline, and SkyMiles is a better elite program
I've long given Delta credit for being the best US carrier, in terms of their route network, onboard product, service, etc. Seriously, Delta is the airline of the business traveler.
They have friendly employees (for the most part, though of course there are bad apples like every other airline), a great on-time record, planes which consistently offer entertainment, Wi-Fi, and power, superior lounges, and much more.
But now I'd argue that their elite program is also the best of the "big three" US carriers, as I'll explain in a follow-up post.
Bottom line
There was the story years ago of American saving tens of thousands of dollars a year by removing one olive from each salad. No one is going to leave an airline over one individual change, which is how these cuts happen. But collectively they can add up.
American: with these changes you've removed one too many olives from your salad, to the point that I think consumer behavior is about to change.
Sorry American, but as much as you'd like to be, you're not Delta. On the most basic level, you have an outdated and inconsistent onboard product which lacks entertainment outlets and power, and a mixed bag of employees. Many of your longhaul planes don't yet feature flat beds in business class.
Your frequent flyer program was something which differentiated you. That's simply not the case anymore, as I'll show in a follow-up post.
It's not even a topic which can really be debated anymore. Some could argue American's program is as good as the competition under certain circumstances, but on the whole I don't think anyone can argue they still have a superior program.
I hope that American introduces an opportunity to get the minimum spend requirement for status waived with $25,000 of spend on their co-branded credit card, including for Executive Platinum members. That might convince some people not to leave American, but on the whole I still think the program is now sub-par.
Where do you stand — does anyone objectively still actually think AAdvantage is better than MileagePlus or SkyMiles? Will these changes impact your loyalty to American?