American's Flagship Lounges are their equivalent of international first class lounges, with locations in Chicago, London, Los Angeles, and New York.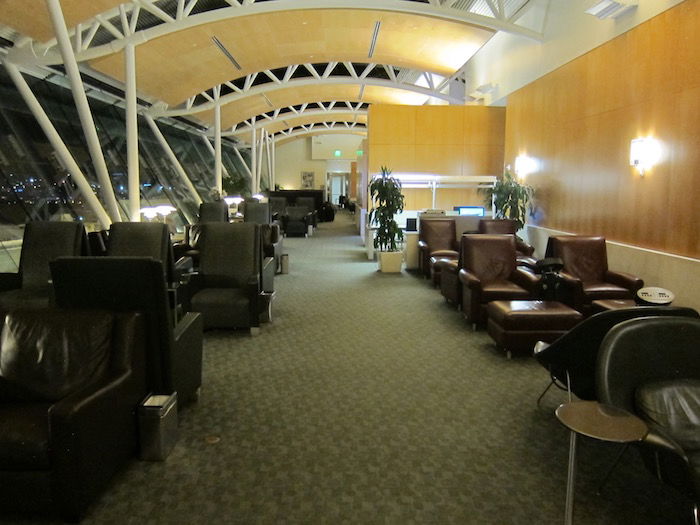 American's Flagship Lounge LAX
The following passengers get access to these lounges:
Passengers traveling in oneworld longhaul international first class same day
Passengers traveling in first class on American's A321 between New York and Los Angeles/San Francisco
American Executive Platinum members traveling on a longhaul international itinerary, regardless of the class of service
All non-American AAdvantage oneworld Emerald members traveling on any oneworld flight, even if it's domestic
American is in the process of significantly reducing the number of international first class seats they have in their fleet, as they're reconfiguring their 777-200s without a first class cabin. That means American's fleet of 47 777-200s will go from having 16 first class seats each to having no first class seats. That leaves only their much smaller 777-300 fleet with a first class cabin, consisting of just eight first class seats per plane.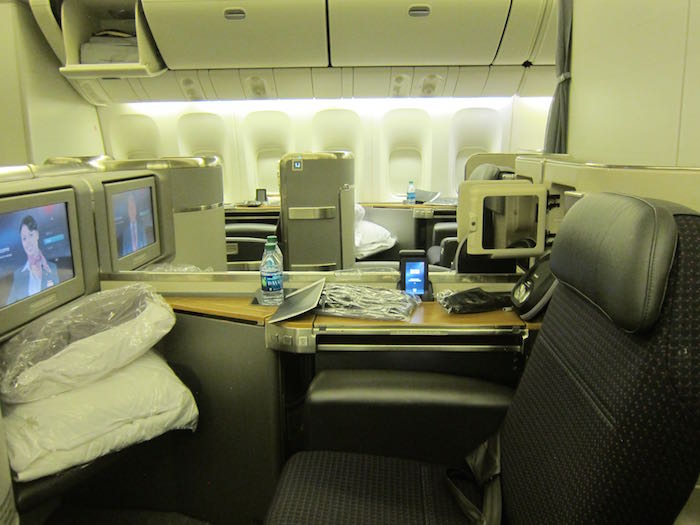 American's 777-300ER first class
American has been investing in their product lately, and as part of that they've announced some radical changes to their Flagship Lounges.
Here's a video highlighting some of the changes:
American is expanding and renovating Flagship Lounges
As mentioned above, right now American has Flagship Lounges in Chicago, London, Los Angeles, and New York.
To start, American will be renovating and expanding their Flagship Lounges in Chicago, Los Angeles, and New York. Beyond that, American is also adding Flagship Lounges in Dallas, Miami, and Philadelphia. That's fantastic news, given what big hubs those are.
Dallas and Miami both used to have Flagship Lounges, though over the years they were cut, so it's nice to see them being brought back. There's not an exact timeline on when those will open, though. Come to think of it, they've been talking about reopening the Flagship Lounge for as long as I can remember.
The renovations are long overdue, as the decor in the Flagship Lounges was getting tired.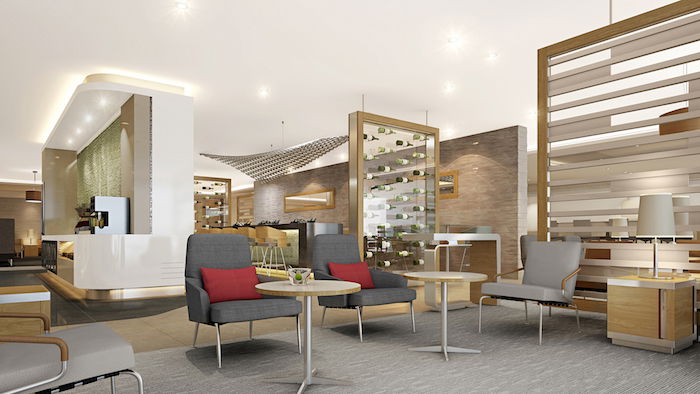 Rendering of a renovated Flagship Lounge
American is expanding Flagship Dining
A couple of months ago American opened a Flagship Dining facility inside the DFW Admirals Club, which eligible international passengers had access to. It was apparently meant as a test, given that American didn't have enough space to build a whole Flagship Lounge.
The concept was that you can hang out in the Admirals Club, and then if you want to eat something you can go to the dining area.
However, the selection looked rather abysmal, as they were't offering true meals, but rather things like hummus and dip, veggies, etc. It was basically a bigger buffet full of Admirals Club snacks.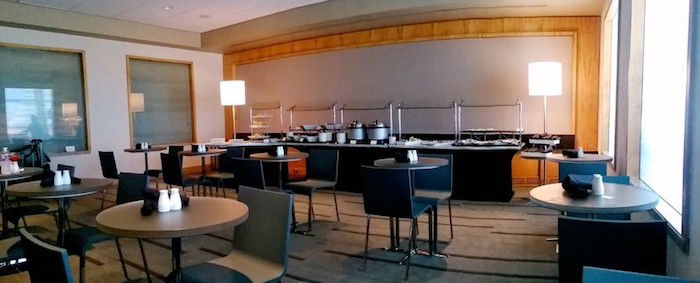 American's Flagship Dining DFW
American will be expanding upon and improving the Flagship Dining concept starting early next year. Here's how it's described:
Scheduled to open in early 2017, the Flagship Dining experience will debut at JFK, offering complimentary, full-service tableside dining with seasonal menus. Fresh, locally-sourced ingredients will be curated by a New York-based Executive Chef.

Throughout 2017, Flagship Dining will be introduced at gateway cities that deliver American's award-winning international three-class service on its Boeing 777-300ER – DFW, LAX and MIA. While Flagship Dining will provide the same personalized service, each location will reflect the personal flavors of its own Executive Chef.

"We want our customers to have a luxurious escape no matter the reason for their trip," said Fernand Fernandez, American's vice president – Global Marketing. "Our goal is to deliver chef-driven creations and local flavors, giving customers a five-star restaurant experience when they travel. The only thing left to do is board the plane."
So American is adding a Flagship Dining facility at New York JFK, and will expand the concept to Los Angeles and Miami.
What's interesting is that the Flagship dining facility will exclusively be available to three cabin first class passengers on international and transcontinental flights; it seems like oneworld Emerald members won't have access to Flagship Dining.
While as an Executive Platinum I might not love that, I actually think it's a really smart move. If American is going to introduce something like this, they should do it right and there's no way they can do that with hundreds of passengers using such a dining facility every day; instead it would end up like the Flagship Dining facility in Dallas.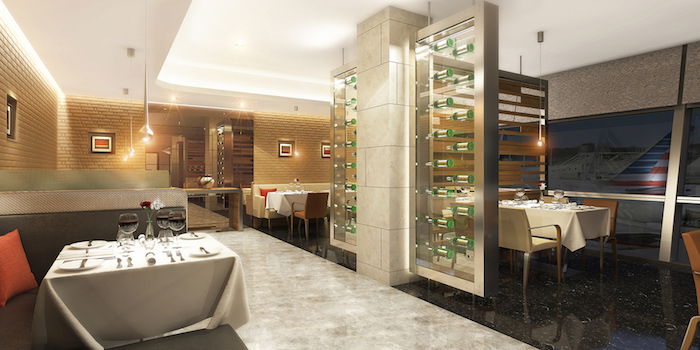 Rendering of American's Flagship Dining concept
Business class passengers will get Flagship Lounge access
Earlier I wrote about the current entry requirements for Flagship Lounges. Starting in 2017, Flagship Lounge access will be expanded to business class passengers as well.
Given the evolution of the industry, that sort of makes sense. Long term only very few planes will feature international first class cabins, so American should also be focusing on the business class experience. Admirals Clubs really are an embarrassing offering for international business class passengers.
The major concern here is making this happen without overcrowding the lounges. Flagship Lounges are for the most part already way overcrowded, so hopefully the expansion of these lounges are significant. In practice I'm guessing they may be, since they'll be taking some of the "real estate" from Admirals Clubs and giving them to the Flagship Lounges. At least that's my hope.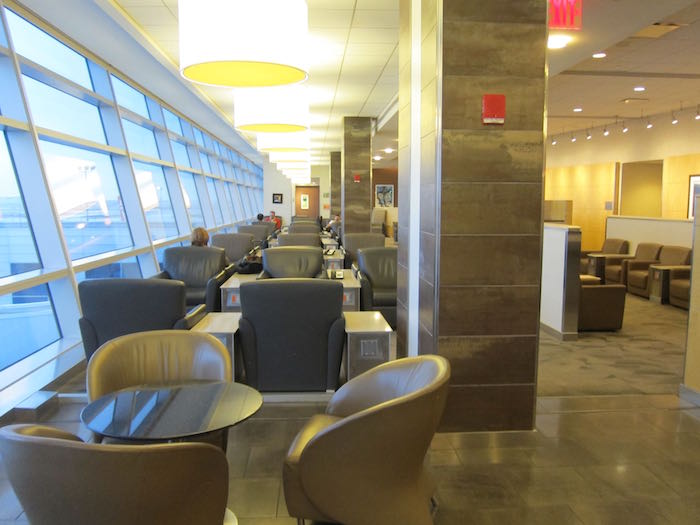 American Flagship Lounge New York JFK
Bottom line
If executed properly (and that's a huge "if," having seen the Flagship Dining facility in Dallas), these changes have the potential to be really positive. I think American thought this out really well:
The Flagship Lounges are desperately in need of a refresh, so it's great that they'll be renovated
A proper Flagship Dining facility is a great concept, and realistically can't be offered to everyone who has Flagship Lounge access, or it would just disappoint everyone; this is a smart way to differentiate first class from business class, and hopefully offer a more differentiated experience, much like American has on their Sydney to Los Angeles flight
American needs better offerings for business class passengers than what they have now, so giving them Flagship Lounge access makes sense, assuming they can expand the square footage of the lounges sufficiently; I'd say Flagship Lounge offerings are on par with most international business class lounges
This is great news for business class passengers and first class passengers. Oneworld Emerald members basically get access to renovated Flagship Lounges, so as long as they're not more overcrowded than they are now, this seems like a win-win-win.
What do you make of American's Flagship Lounge changes?