---
We had taken a 5AM flight from Los Angeles to Dallas, and only had a 65 minute connection in Dallas. Since we had to switch concourses, we headed straight to our departure gate. Our flight was departing from the international terminal, which is Concourse D. This is where the Amex Centurion Lounge and American Flagship Dining are located, though we didn't have time to use either in this instance.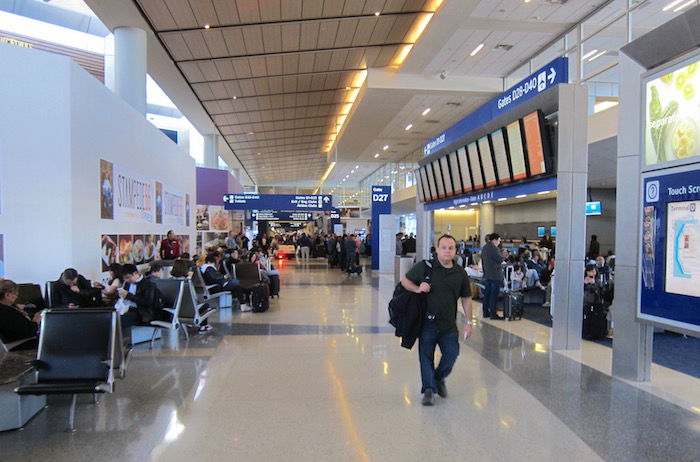 DFW Airport D Concourse
Our 787 was parked at gate D33, located towards the end of the concourse. While the 787 is a nice enough looking plane, it's not nearly as sleek as the A350, in my opinion, as it doesn't have the same sharp lines.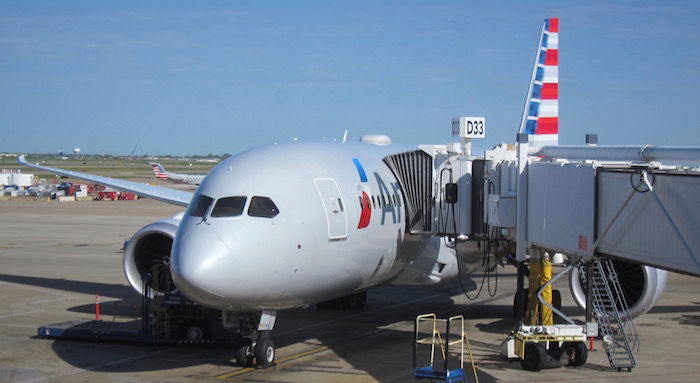 American Airlines 787 at DFW
We met our friend Alex at the gate, who was coming in on a different flight, but would be joining us from Dallas to Beijing.
Boarding for our flight was called at around 10:40AM, which was 35 minutes before departure. Boarding began with business class, and upon presenting our boarding passes and passports (oddly they didn't actually look at the insides of our passports, but rather just verified that we had them), we were admitted onboard.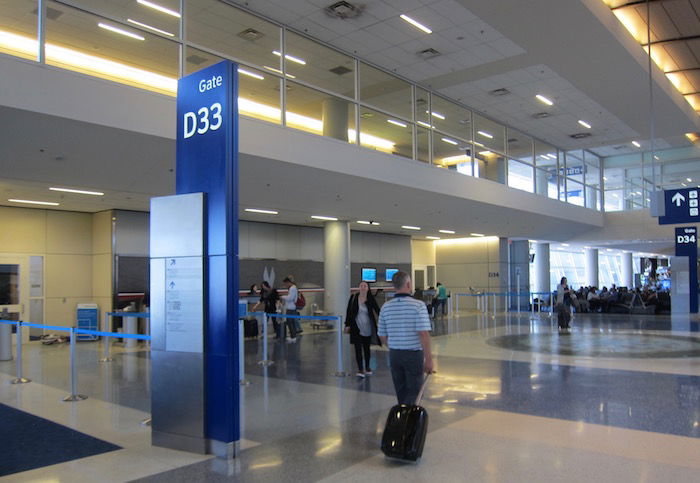 Departure gate at DFW Airport
Having flown the business class products on American's 777-300, 777-200, 767-300, and A330, I was excited to finally check out the 787.
American 263
Dallas (DFW) – Beijing (PEK)
Thursday, March 31
Depart: 11:15AM
Arrive: 2:15PM (+1 day)
Duration: 14hr
Aircraft: Boeing 787-8
Seat: 3A (Business Class)
Upon boarding through the second door we were greeted by the purser and the Chinese speaking flight attendant, who pointed us left towards the forward business class cabin. American's 787 business class cabin consists of a total of 28 seats, spread across seven rows in a 1-2-1 configuration. There are five rows in the forward cabin, and then two rows in the rear cabin, behind the bathrooms and walk-up bar.
I recently wrote a guide to the seating in American's 787 business class, so see that post for my thoughts on the best seats to select.
While the business class seats on American's 777-300ERs are in a reverse herringbone configuration, on the 787-8 they alternate between being forward facing and rear facing. There are pros and cons to each type of seat, which I outlined in the previous post, so I won't get into that in great detail here.
Ford was seated in seat 2A, which is a rear facing business class seat.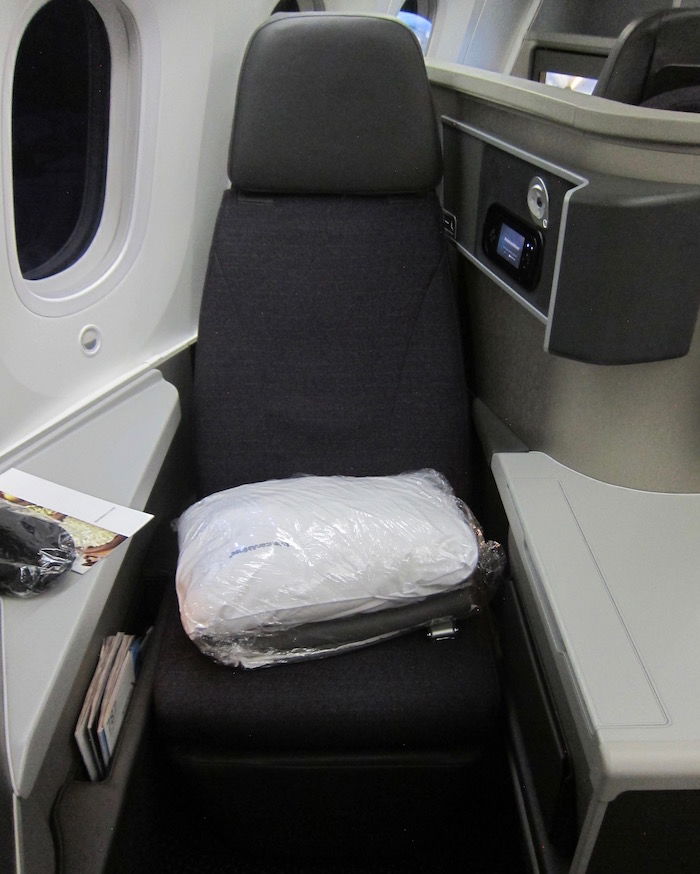 American rear facing business class seat 787
Meanwhile I was in seat 3A, which was the forward facing seat immediately behind him, and Alex was in 4A, a rear facing seat behind me.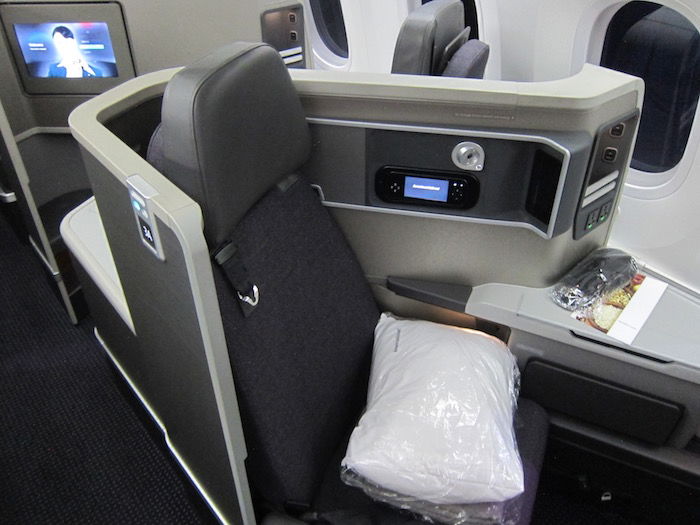 American 787 business class seat
Every other set of center seats has the barrier permanently raised (due to problems with the seats, which is why American is looking for a new seat vendor), which really pissed off two of the people in center seats across from me. They had selected the center seats because they wanted to sit together, so were pissed when they found out there would be a shield between them. American really could do a better job communicating that at the time of seat selection.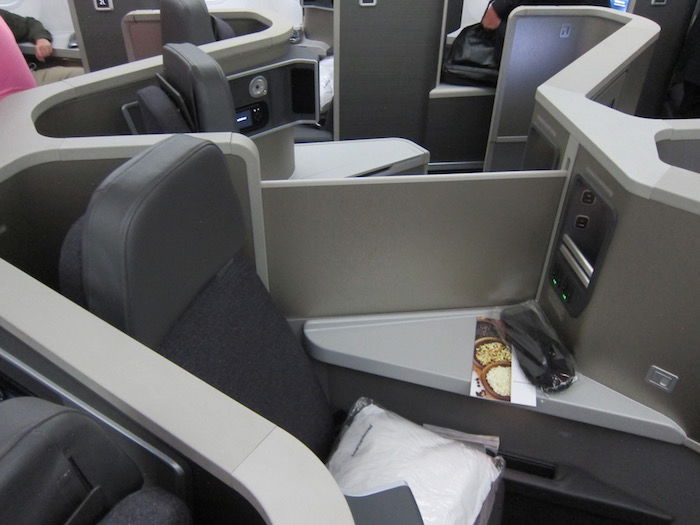 American 787 business class center seats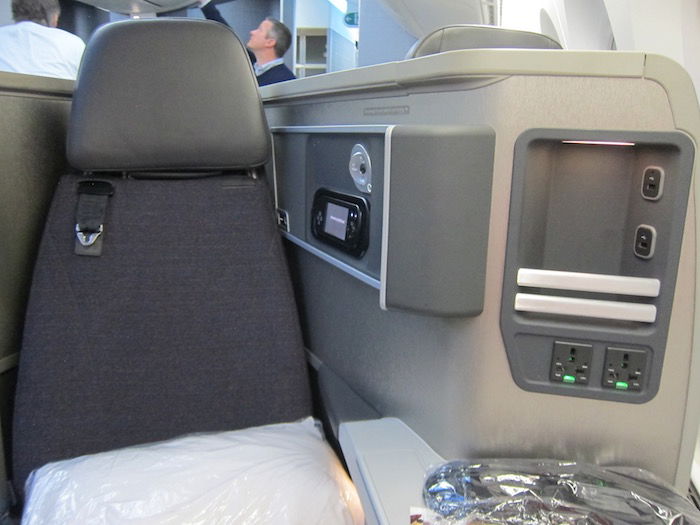 American business class seat 787
American's new business class seats are clearly designed with the tech-savvy passenger in mind. There are two USB outlets and two 110v outlets at each seat. In addition to that there's an exposed storage compartment where you can put a pair of headphones, glasses, etc.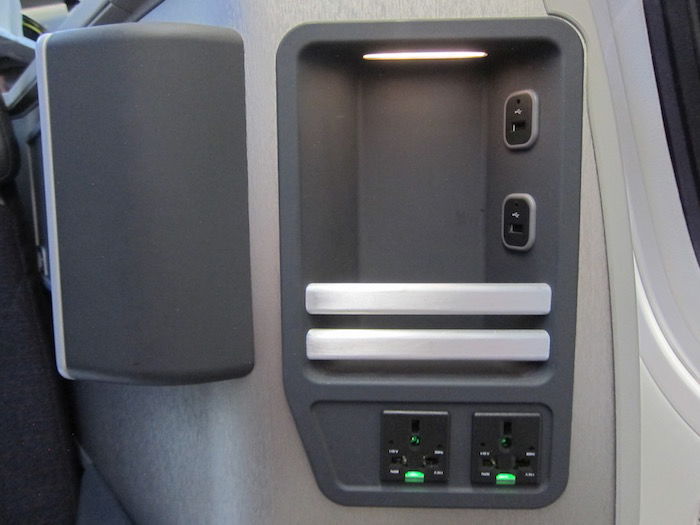 American business class seat storage and power ports
Then next to that are the entertainment controls and seat controls, as well as a reading light. The seat controls are easy to use, as you simply push buttons on the small screen which display what you'd like to do with your seat.
However, I find the entertainment controller to be a pain to use. I just can't figure out what any of the buttons are for, though fortunately the entertainment screen is touchscreen, so I could do everything I wanted without using the controller. I'd also note that the controller is very poorly placed. It's right next to where your shoulder usually is, so I kept accidentally hitting the controller with my shoulder, causing my entertainment selection to fast forward, rewind, etc.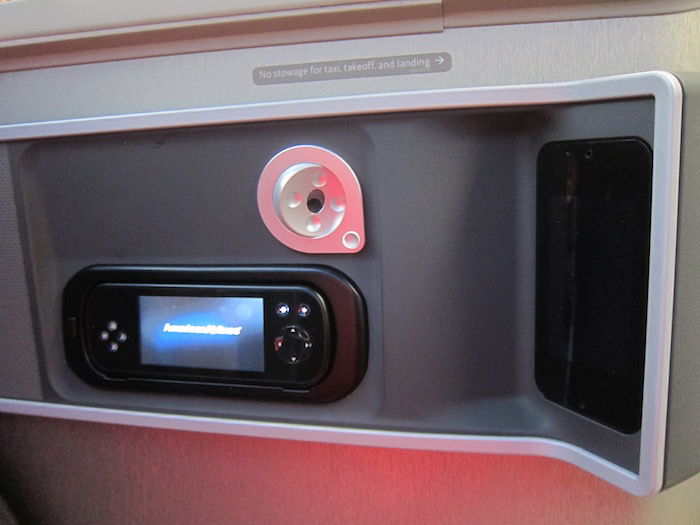 American business class seat controls and entertainment controls
On the bottom left of the seat is the magazine pocket, as well as an area where you can theoretically store more items, though there's nothing really holding the items back there.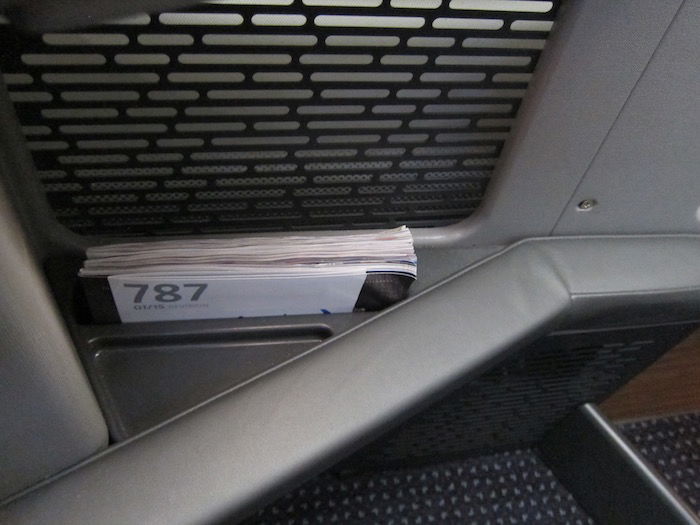 American business class seat storage and magazine pocket
The entertainment screen was attached to the same area of the seat as the ottoman. With the push of a button it would swing out so you could watch it head on.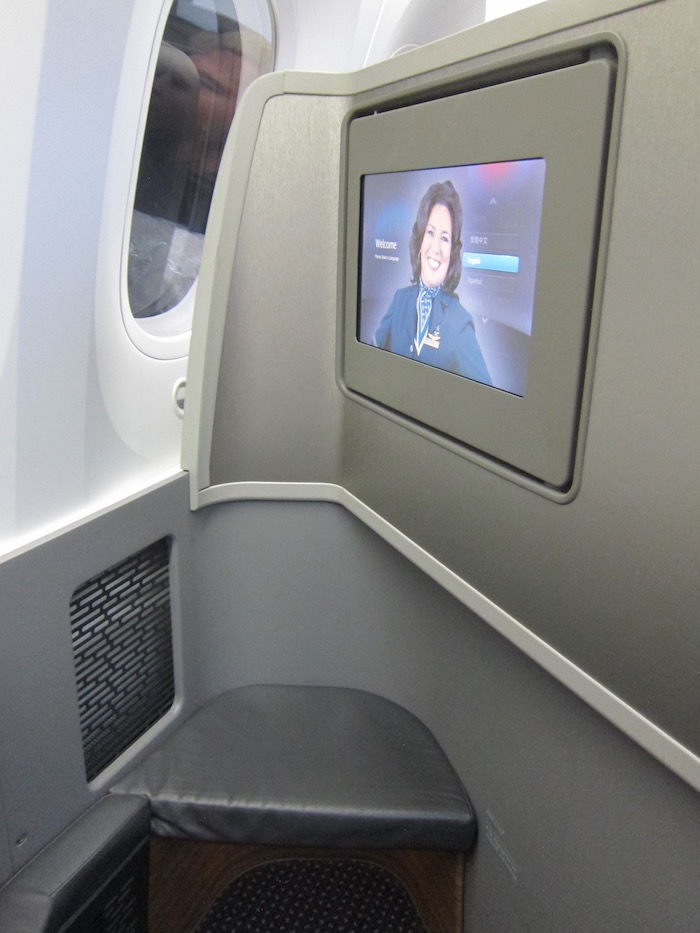 American business class seat ottoman
The one thing that's awkward about the seat is that for the most part someone is staring right at you, or you're staring right at someone, depending on whether you have a forward or rear facing seat.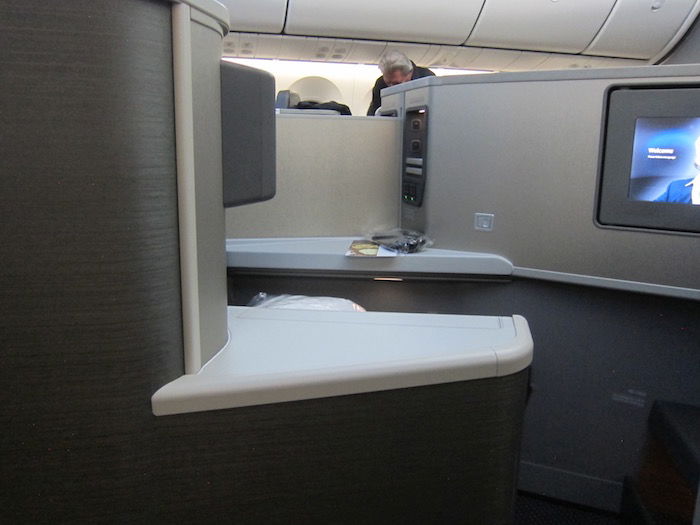 View from my seat in American business class
Already waiting at my seat upon boarding were a pillow and blanket. American's pillows and blankets are fine. They're not as bad as the paper thin pillows which British Airways or Iberia offer, but also aren't as good as the Westin Heavenly Bedding which Delta offers.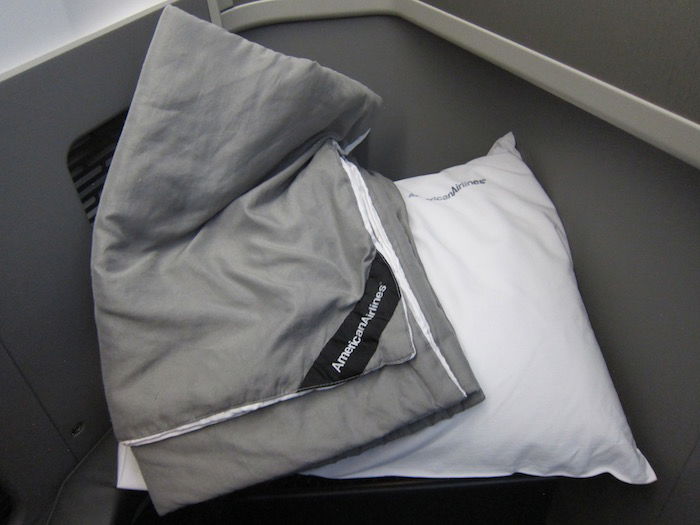 American business class blanket & pillow
There was a bunch of stuff already waiting at my seat on boarding, including headphones, an amenity kit, slippers, and the menu.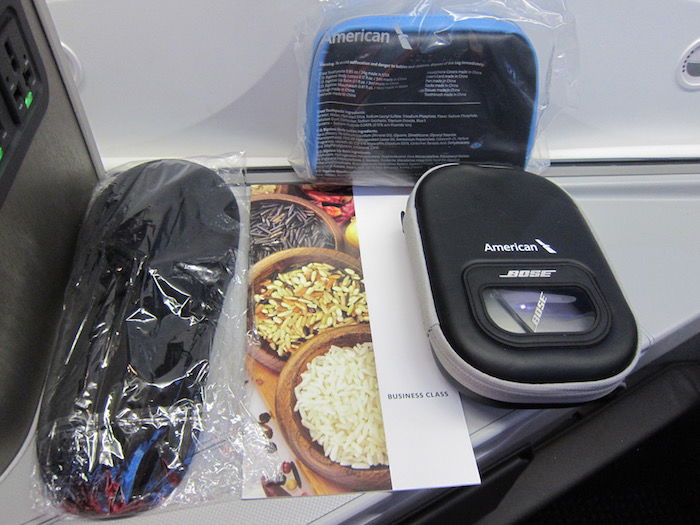 American business class slippers, menu, headphones, and amenity it
American offers Bose headphones in business class, which are fantastic. This is an area where American really excels, as there are plenty of top airlines which offer crap headphones even in first class.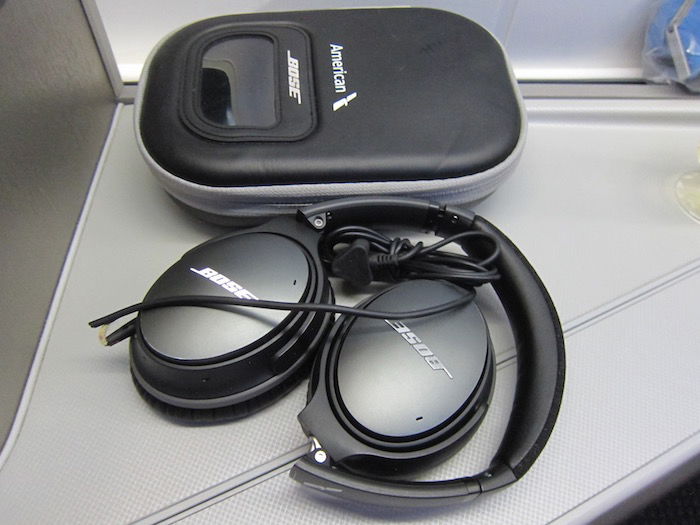 Bose headphones in American business class
The slippers American offers are a nice touch as well. They're not the thickest slippers out there, but they do the trick for walking around without having to put on your shoes.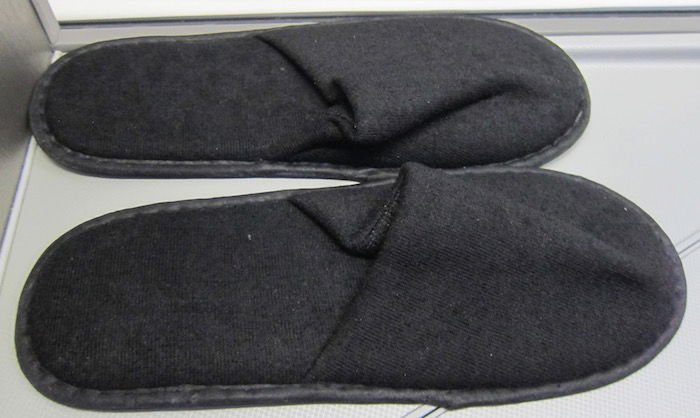 American business class slippers
American has a new partnership with Cole Haan for their amenity kits, so I got one of their international business class amenity kits on this flight. In the past I've reviewed the kits they offer in premium transcon business class and premium transcon first class, though these are a bit different.
The amenities come in a dopp kit designed by Cole Haan. The business class kits have C.O. Bigelow Apothecaries products, including lip balm, body lotion, mouthwash, tissues, a pen, and foam headphone covers. On top of that there are coupons for discounts on Cole Haan and C.O. Bigelow products, which is a nice bonus.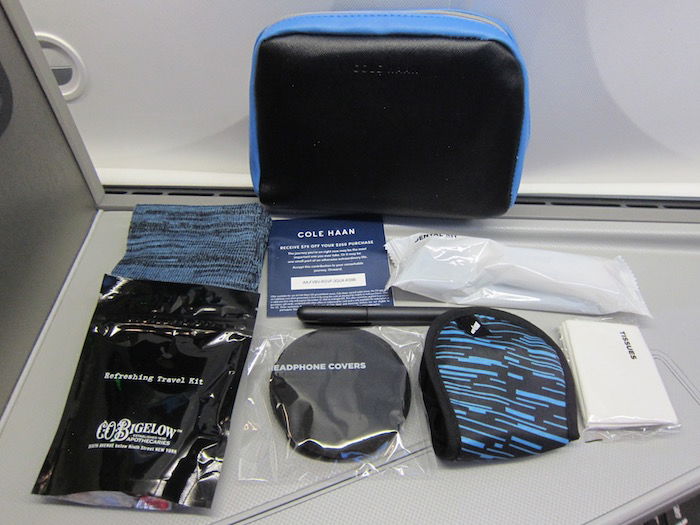 Cole Haan amenity kit in American business class
Dallas to Beijing is a very senior route for American (Dallas is American's most senior base, and these trips to Asia with one day layovers are very desirable for crews, since they only have to work 3-4 of these per month, meaning they get to spend a vast majority of their time at home). As a result, I find the crews on these routes to Asia to be a mixed bag, ranging from American's worst to American's best.
This crew was definitely above average, and quite friendly. Working our aisle was Pam, a big haired Texan who was hilarious. The purser was a slightly younger lady who was every bit as nice.
Once settled in they offered us pre-departure beverages. American serves cheaper champagne on the ground than in the air, since they have to pay taxes on it. So in general I'd advise waiting until after takeoff for the "good stuff" (in relative terms).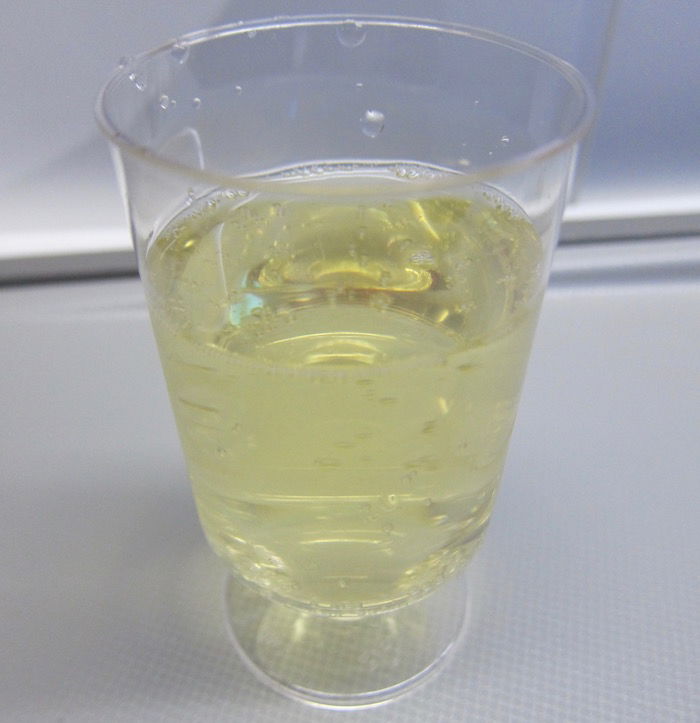 American business class pre-departure champagne
Boarding was efficient, probably because the 787 is a pretty small plane, and this flight was only about two thirds full in economy.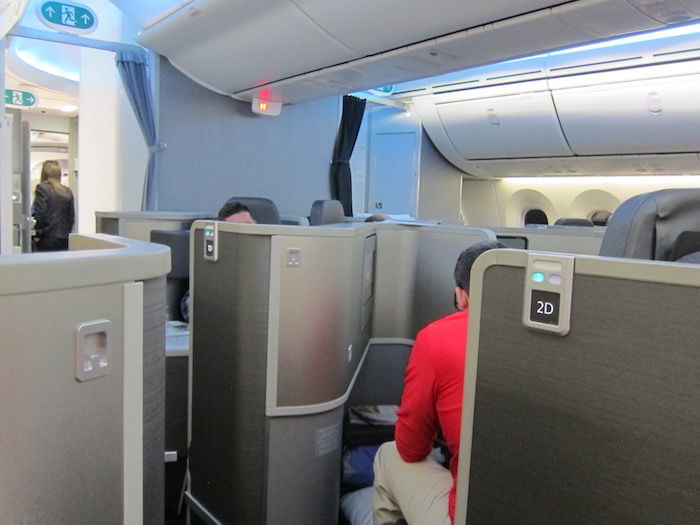 View from American business class, seat 3A
At 11:10AM the door closed with a full business class cabin, at which point the purser (who referred to herself as the inflight service coordinator) made her welcome aboard announcement. She informed us that our flight time was 13hr37min, that we had four pilots (one captain and three first officers), and nine flight attendants (two were Mandarin speaking).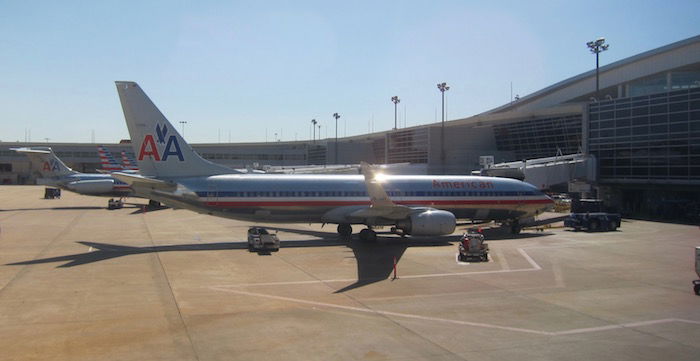 View on pushback at DFW Airport
Moments after the door closed we began our pushback, and by 11:15AM our engines were started and we were taxiing to the runway, at which point the safety video began to play.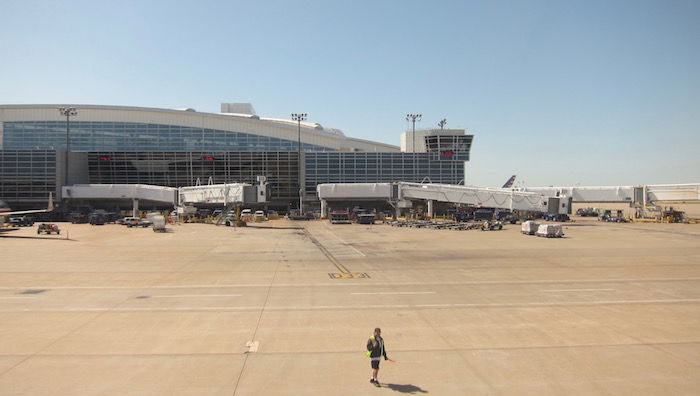 DFW Terminal D
We taxied out past some of the other American widebodies, and also past an Emirates 777 (this flight was recently downgraded from an A380), Korean 777, and Japan Airlines 787.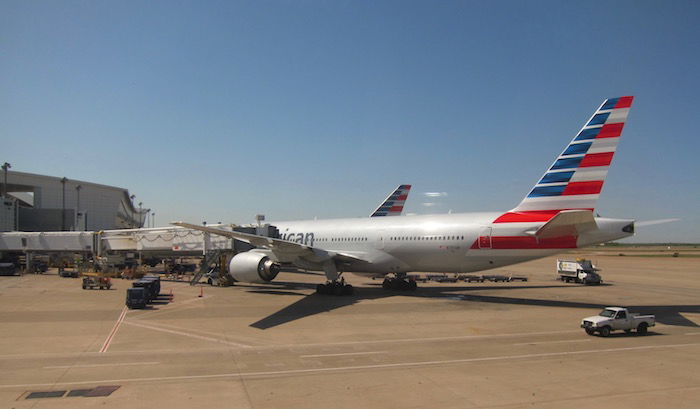 American 777 at DFW Airport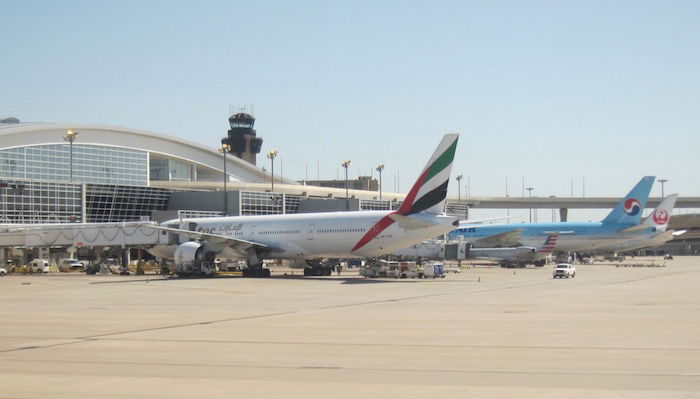 International terminal at DFW Airport
As many of you probably know, the 787 doesn't have window shades. Instead it has a built-in dimmer, so you can select which setting you want it at. Personally I'm not a fan of this (it's one of the reasons I prefer the A350), partly because it never gets completely dark, and partly because I find the dimmer a pain to use. For example, during the taxi out, the window kept auto-dimming. I kept trying to make it brighter, but after a few moments it dimmed again.
I brought this attention to the crew, though they weren't of much help. I should have known better than to ask, much like I know better than to ask my mom for help with my iPhone. 😉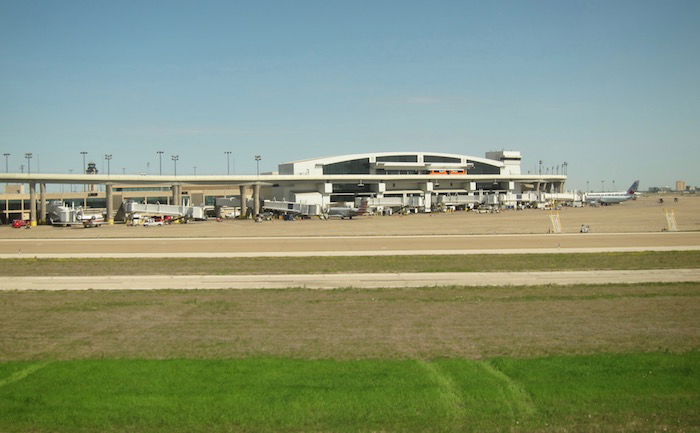 Taxiing at DFW Airport
We had a fairly quick taxi, and as we approached the runway the very Texan captain made his welcome aboard announcement. His announcements were adorable, as he clearly loved making them, which is refreshing after him having presumably been with American for 20+ years (based on him being a captain on a widebody).
"Laaaaaadies aaaaand genttttttllllleeeeemen…"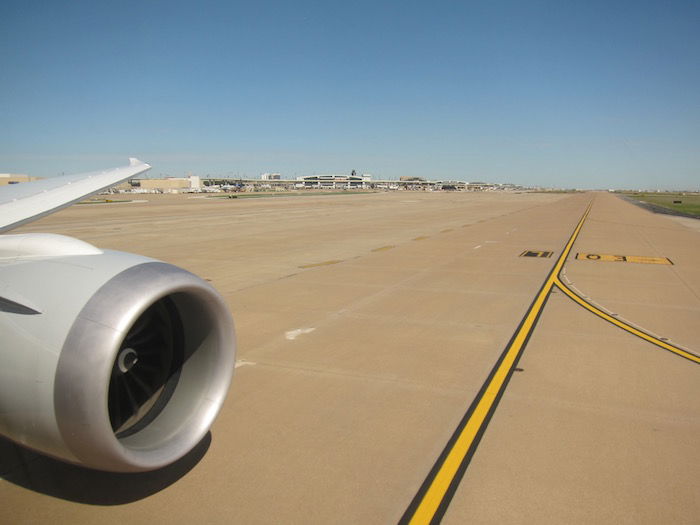 Taxiing at DFW Airport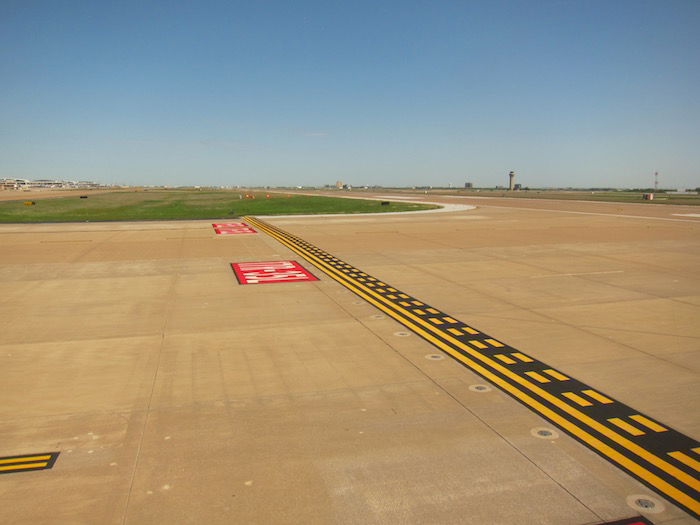 Holding short of departure runway at DFW
We made it to runway 17R at 11:30AM, at which point we were immediately cleared for takeoff.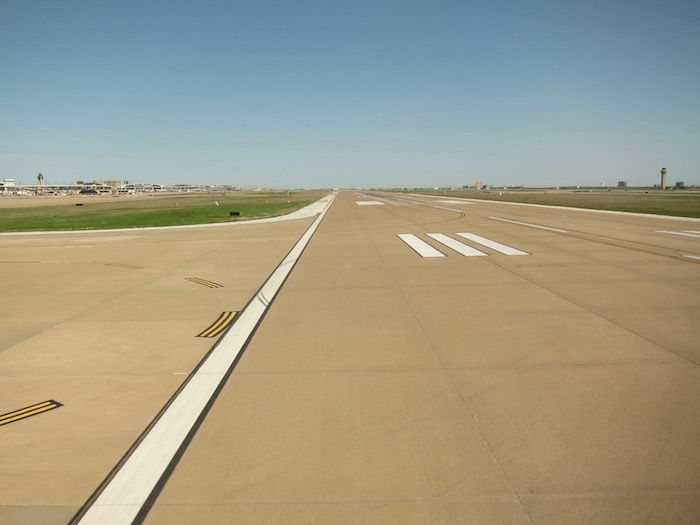 Taking off from DFW Airport
Our takeoff roll was quick, and it was awesome to watch the 787's wing flex as we gained speed.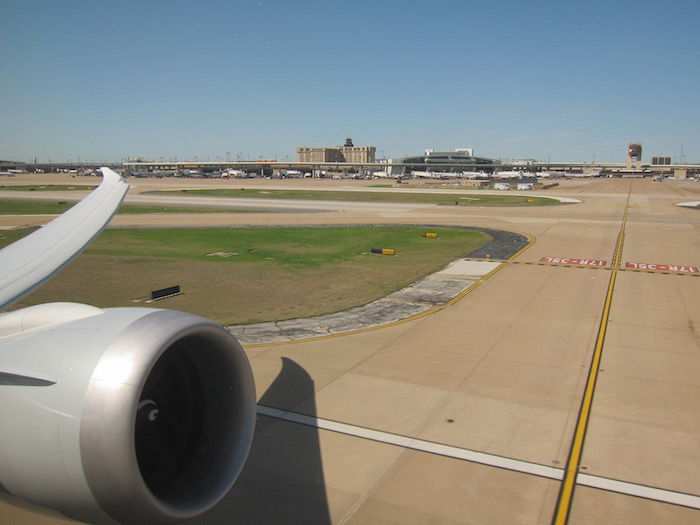 Taking off at DFW Airport
We had a great view of the airfield shortly after takeoff.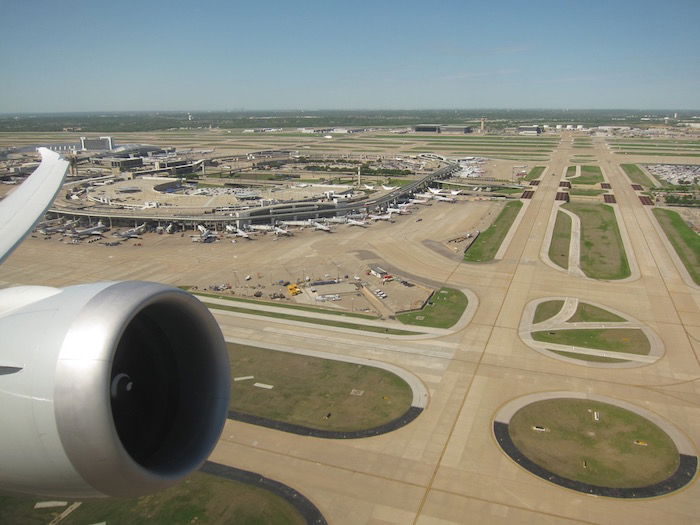 View after takeoff from DFW Airport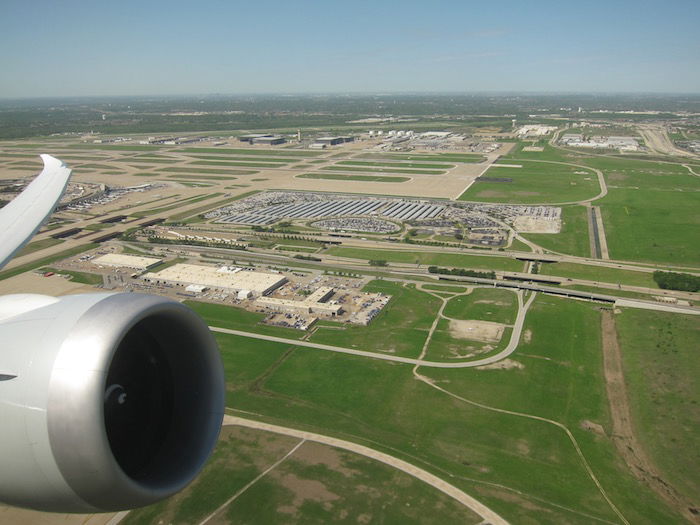 View after takeoff from DFW Airport
Our climb out was smooth and gradual, though within about 30 minutes we reached our initial cruising altitude of 30,000 feet.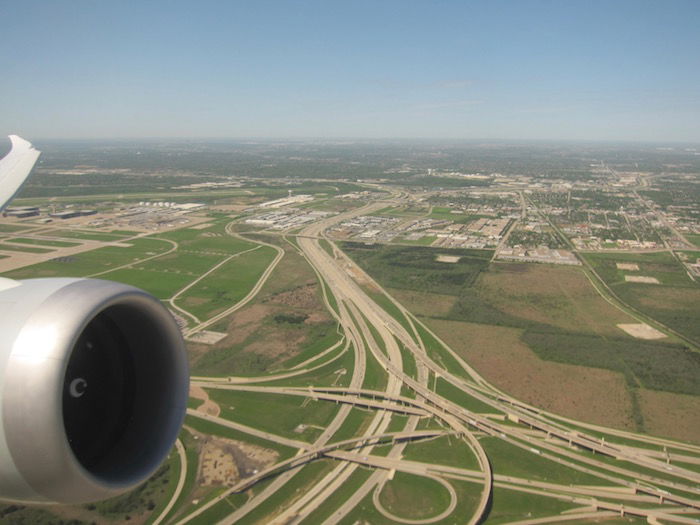 View after takeoff from DFW Airport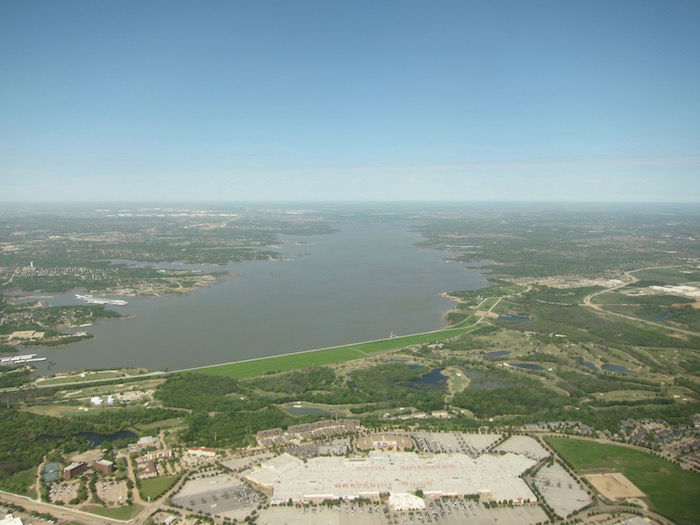 View after takeoff from DFW Airport
I turned on the airshow, which I kept on in the background for the next few hours.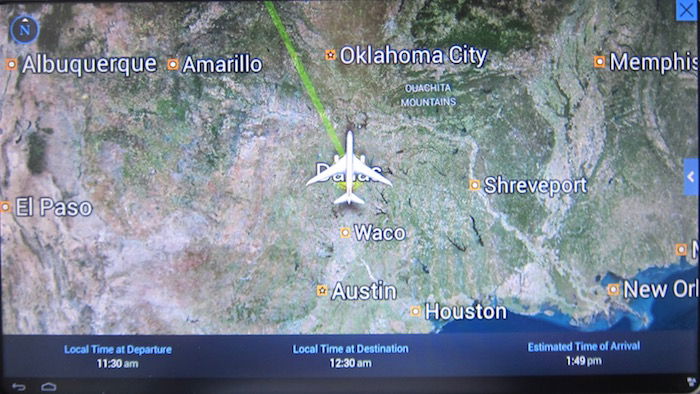 Airshow enroute to Beijing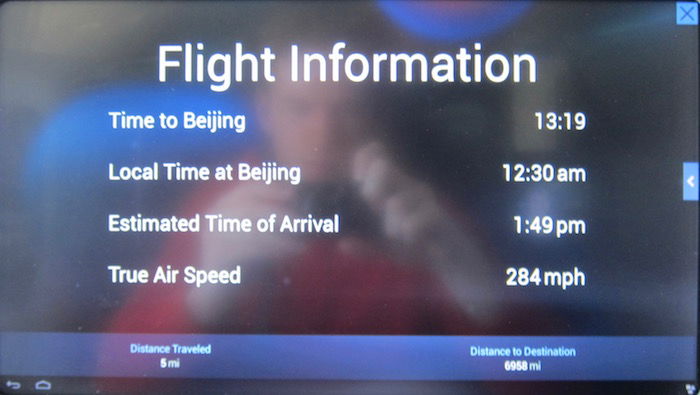 Airshow enroute to Beijing
American has Wi-Fi on their 787s, which is a service offered through T-Mobile. A pass for the entire flight costs just $19, with no data caps. The quality of American's Wi-Fi is fantastic, among the best of any carrier. Don't get me wrong, it's by no means high speed, but it's better than OnAir.
American has the best value international Wi-Fi of any airline I know. $19 for an entire flight with no data caps is great.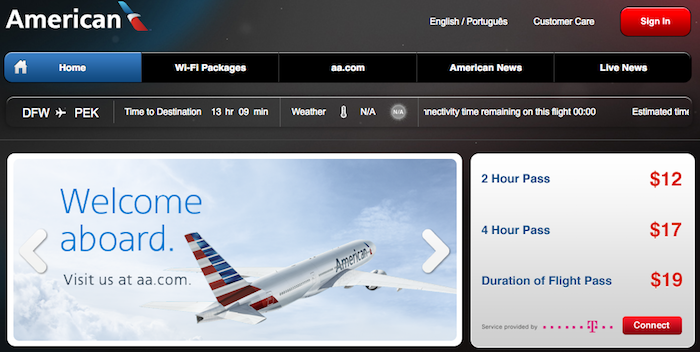 American Wi-Fi on the 787
As we climbed out the flight attendants dimmed all the windows. Since the windows have dimmers and not shades, the crew can centrally control the brightness of the cabin. It's a blessing and a curse, since they'll almost always make it as dark as possible so that people sleep. That's great when you want to sleep, but not so great when you're on a 14 hour flight and want to stay awake and feel adjusted to daytime.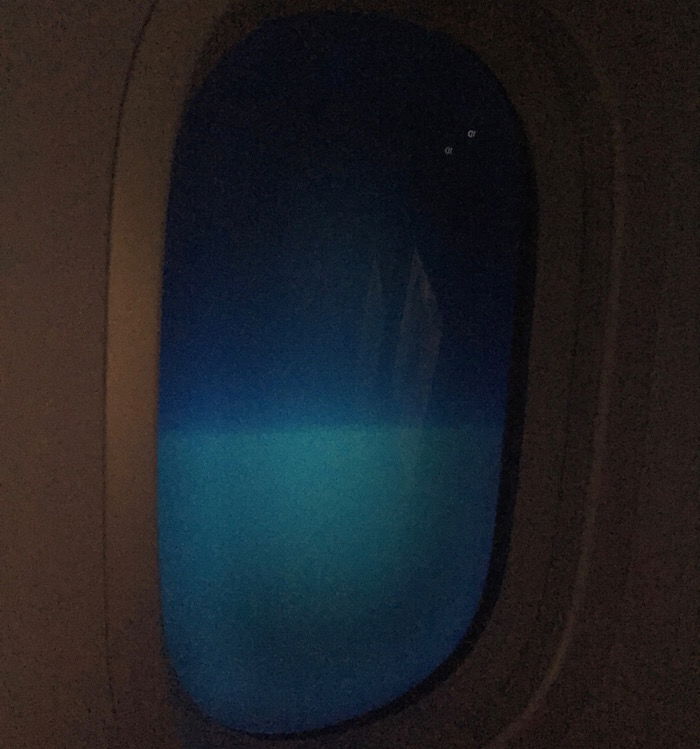 American 787 dimmed windows
The flight attendants distributed hot towels, and then tablecloths. At that point the meal service began. The lunch menu read as follows: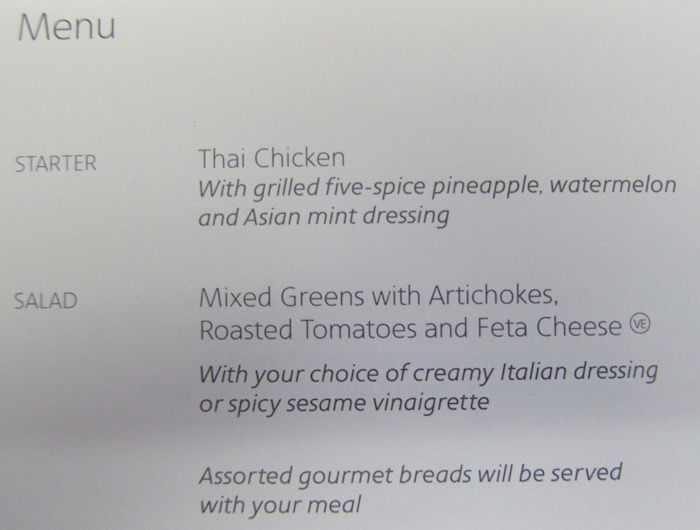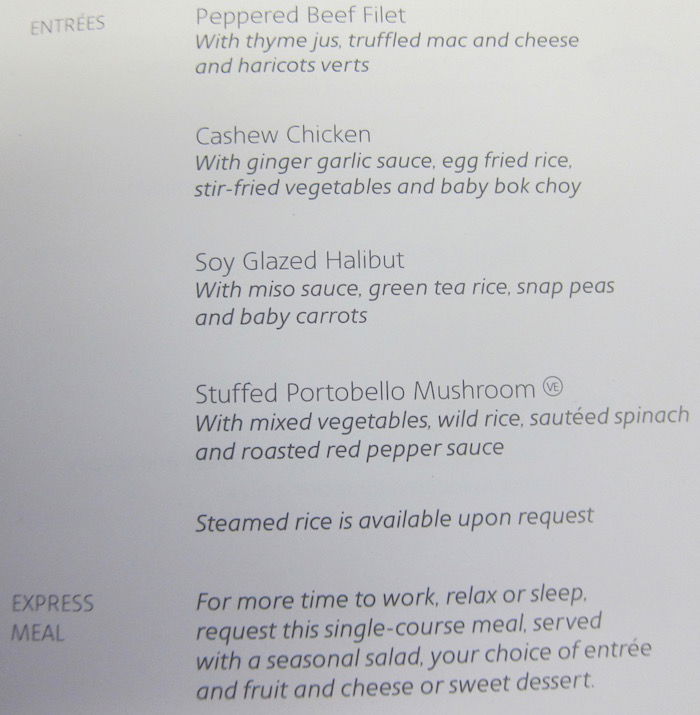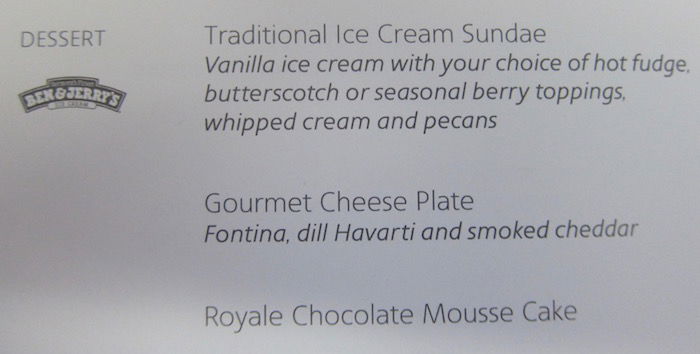 And the wine & beverage list read as follows: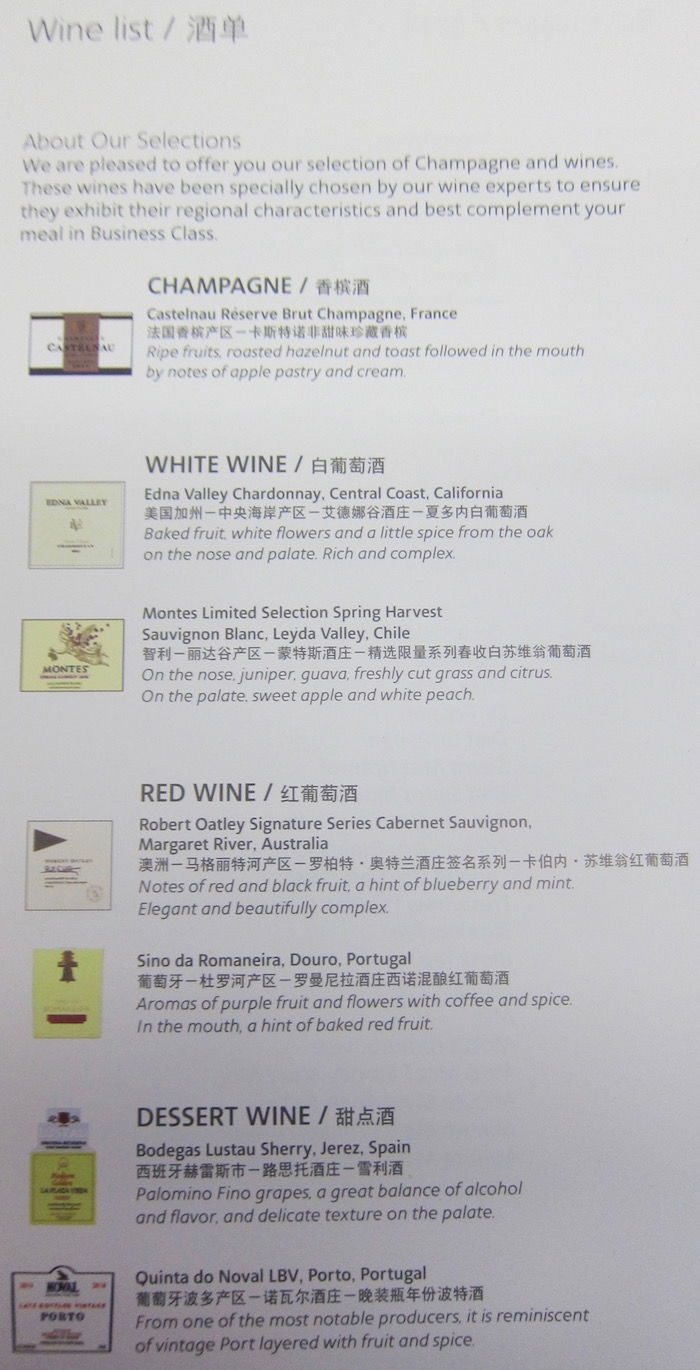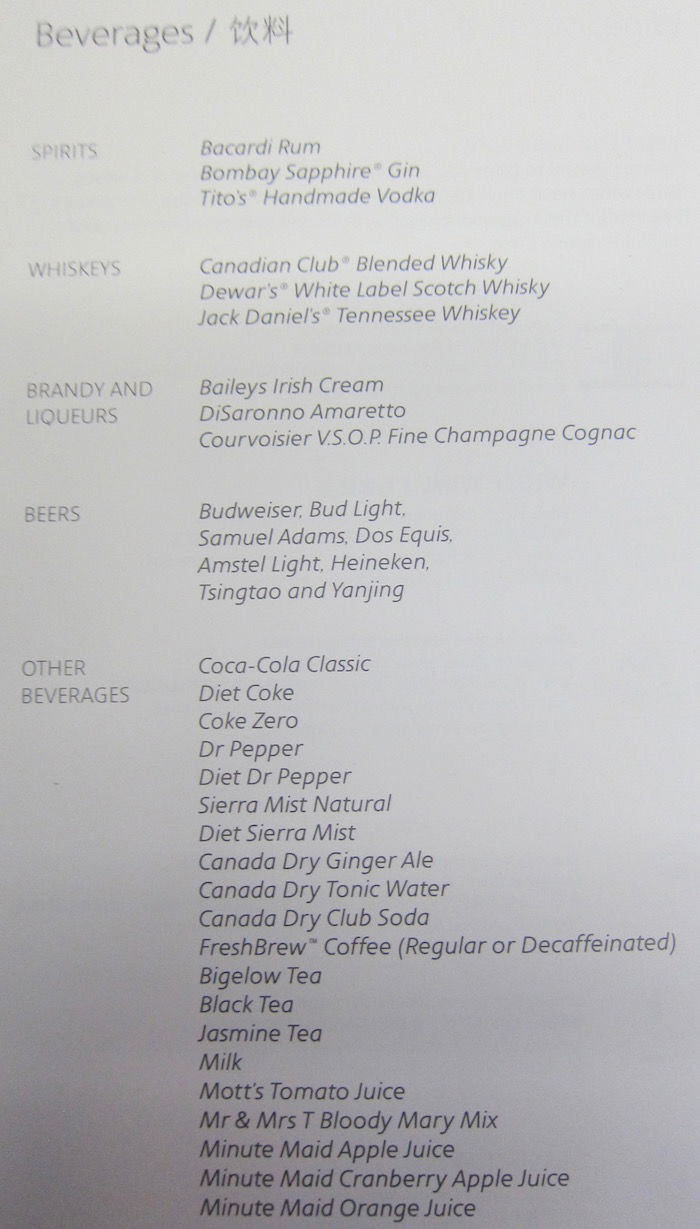 The flight attendants rolled through the cabin with the drink trolley. I just had an ice water, which was served with warm mixed nuts.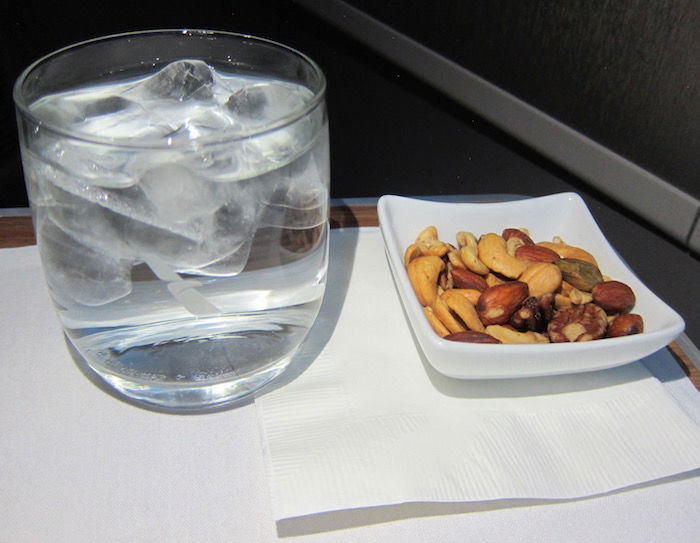 American business class lunch — water & warm mixed nuts
About 15 minutes later they rolled through the appetizer cart. On a single tray I was served the appetizer and salad, and also offered a selection from the breadbasket.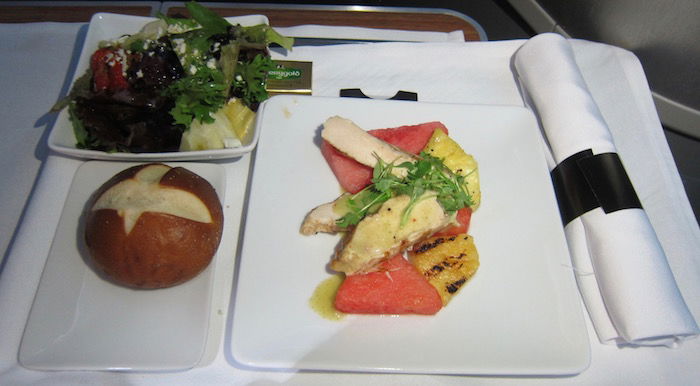 American business class lunch appetizer, salad, and bread
The appetizer consisted of Thai chicken, pineapple, and watermelon. It was a good concept, but the execution was rather bland, in my opinion.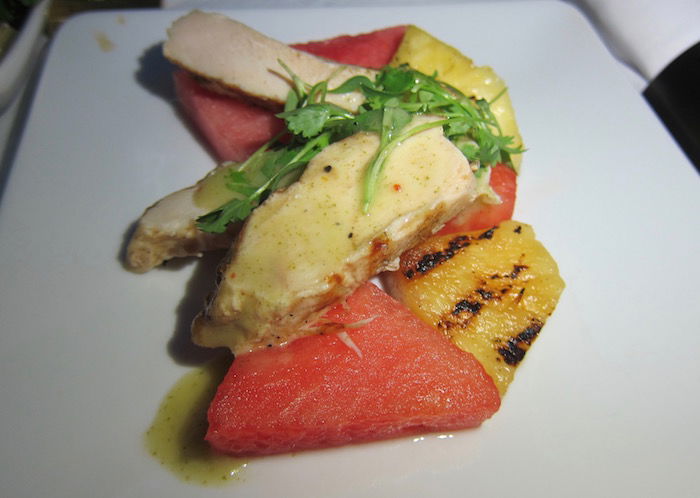 American business class lunch appetizer — Thai chicken with pineapple and watermelon
The salad was small but tasty, especially with the spicy sesame dressing I had with it.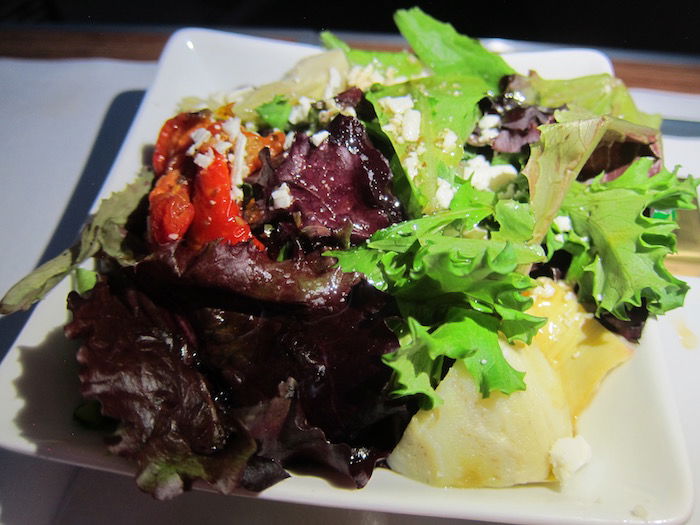 American business class lunch — mixed greens with artichokes, roasted tomatoes and feta cheese
The highlight of the starter was the pretzel bread, as usual. 😉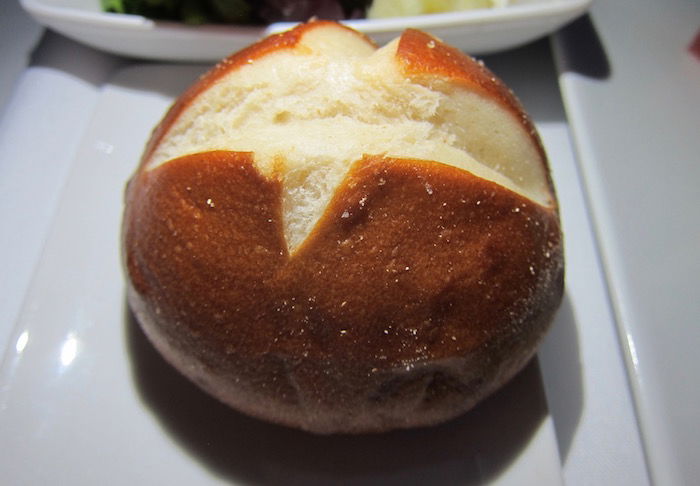 American business class lunch — pretzel bread
For the main course I ordered the cashew chicken, which was surprisingly good. The chicken itself was moist, the sauce was flavorful, and the rice wasn't hard-as-a-rock for once.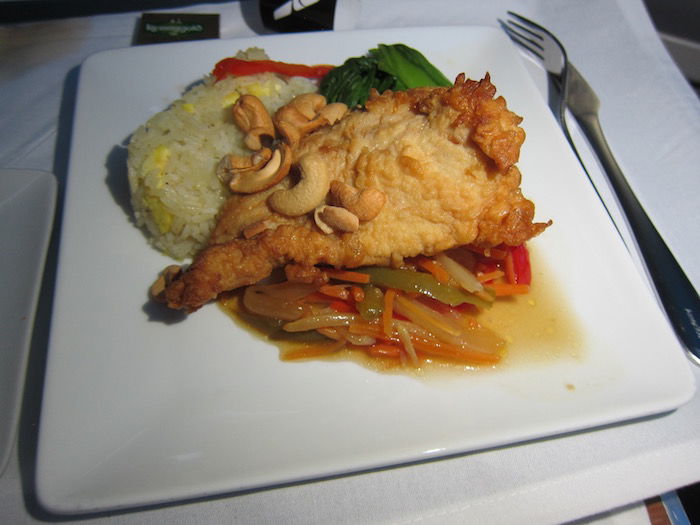 American business class lunch main course — cashew chicken
Alex had the halibut, which looked decent as well.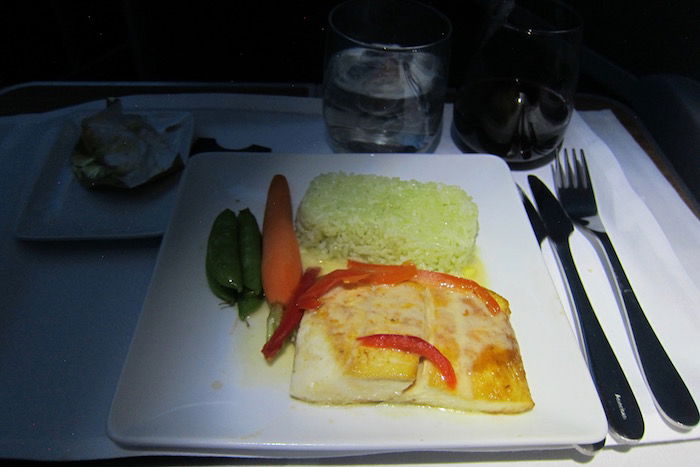 American business class lunch main course — soy glazed halibut
For dessert I had a sundae with berries and nuts. What's not to love?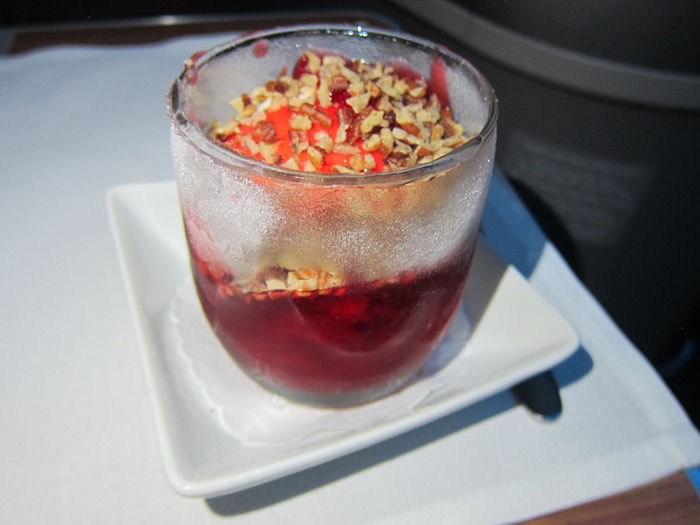 American business class lunch dessert — ice cream sundae
The entire meal service took about two hours, and was quite good. The food wasn't memorable, but it was perfectly edible, and the crew was efficient and attentive.
I worked for about an hour after lunch, and eventually we were already three hours into the flight, approaching the state of Washington.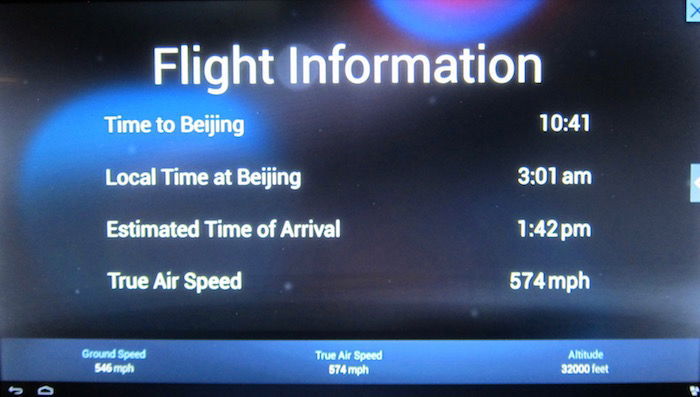 Airshow enroute to Beijing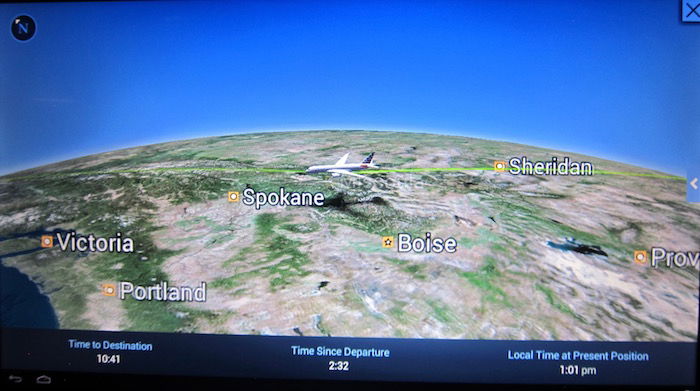 Map enroute to Beijing
At this point I napped for a bit, and ended up waking up several hours later, as we were approaching Asia. I have to say, I slept extremely well, though that may have been a function of just how tired I was, due to the 5AM flight that morning. Aside from the shaking issue with these seats, they're quite comfortable.
I like that the forward facing seats have more shoulder room, and also that there's unlimited vertical space on the ottoman, so your feet aren't confined to some small area. I can even bend my knees while in the reclined position, which isn't possible in most business class configurations.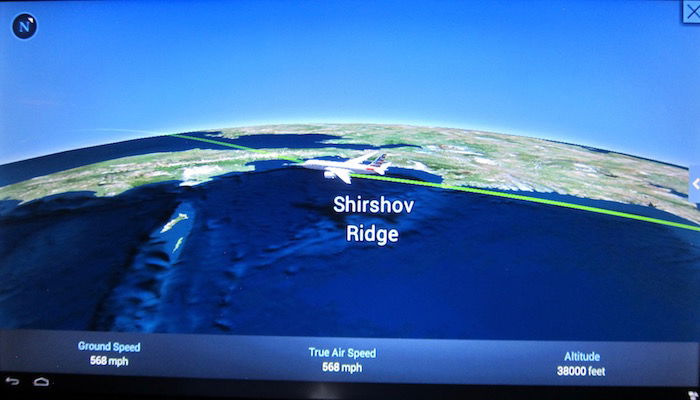 Airshow enroute to Beijing
I should note that there was a mid-flight snack on offer, though I didn't have it. The options for the snack were as follows: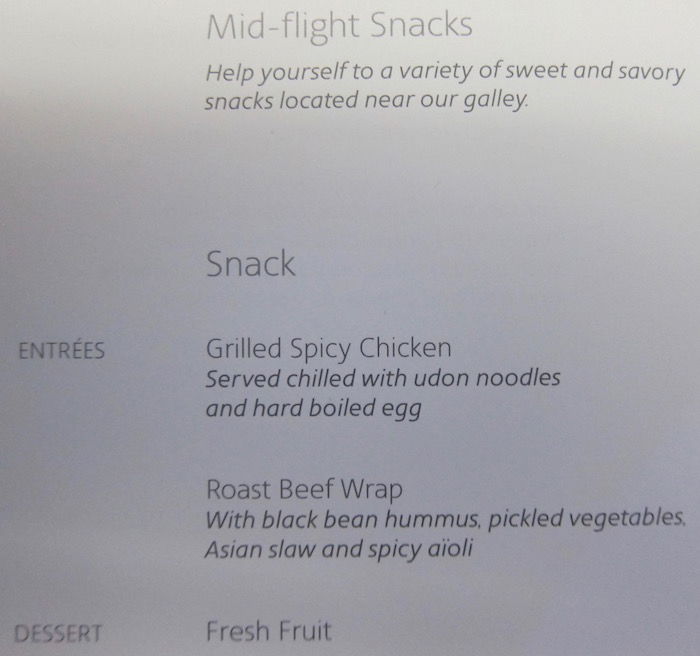 Instead I grabbed a few things from the walk-up bar, which is located between the forward and rear business class cabins. This is a very nice offering on the part of American, as they have all kinds of packaged snacks (similar to what you'd find in the snack basket on a domestic flight), fresh fruit, sandwiches, wraps, sweets, etc.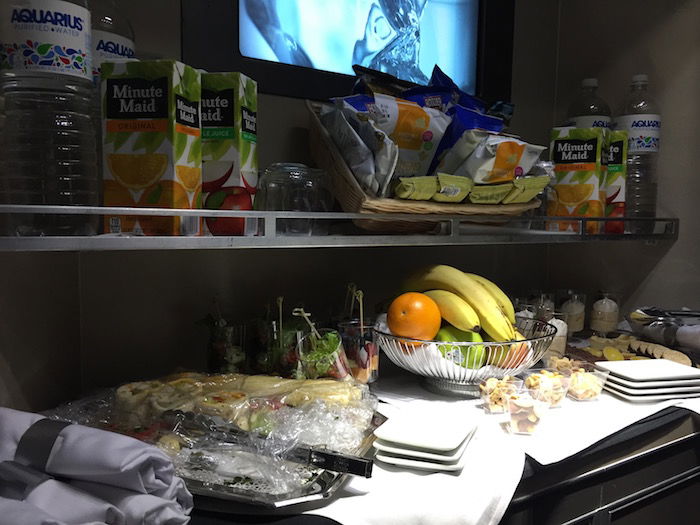 American business class walk-up bar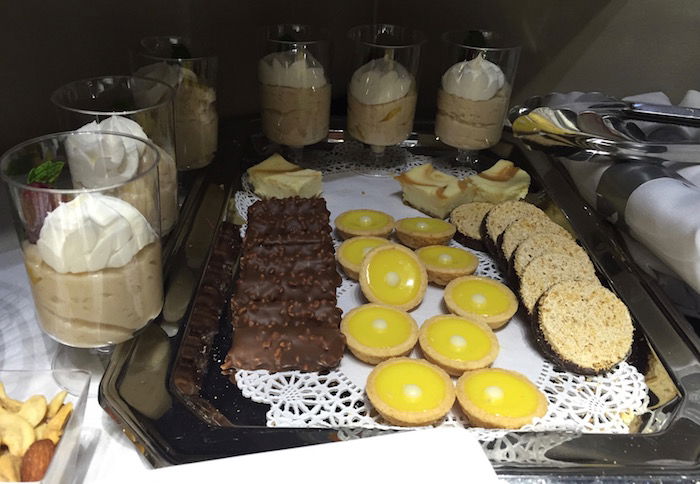 American business class walk-up bar
There are two lavatories in the center area of the cabin. The one on the right side of the cabin is significantly more spacious.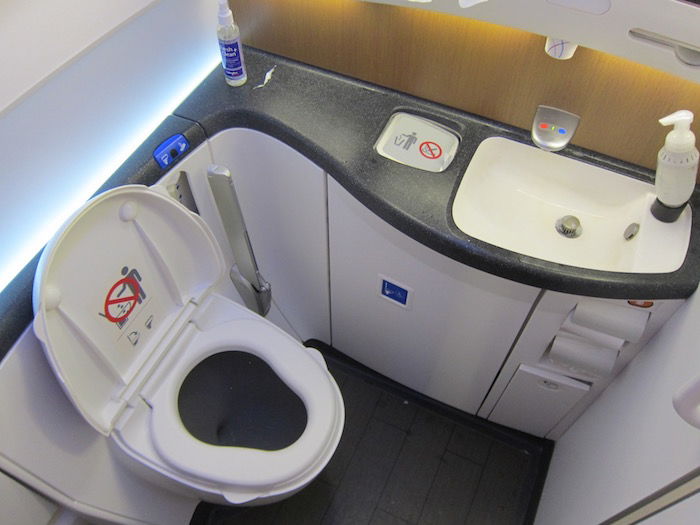 American 787 business class lavatory
After waking up I ordered a cup of coffee and also worked a bit longer. While the crew was friendly, they didn't really come around much between meals. However, the second the call button was pushed they'd respond quickly. I'm perfectly fine with that system, since it minimizes the noise and movement in the cabin.
Once I finished some more work I browsed American's entertainment selection, which was extensive. The 787 has a ton of movie options, more than what I've found on other planes.
There's a certain type of movie I like watching on planes (nothing too serious), so after browsing the selection I figured "Sisters," starring Tina Fey and Amy Poehler, was the best bet. The movie was… perfect for an airplane.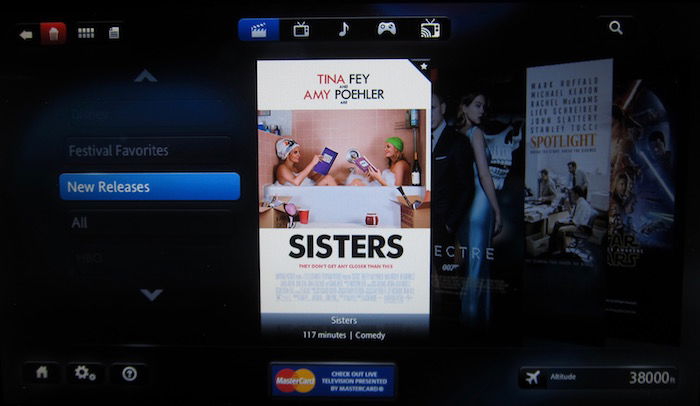 American 787 business class airshow
After that I decided to watch "San Francisco 2.0," a documentary about the evolution of San Francisco over the years. It was a fascinating show which highlighted the ups and downs of the tech boom.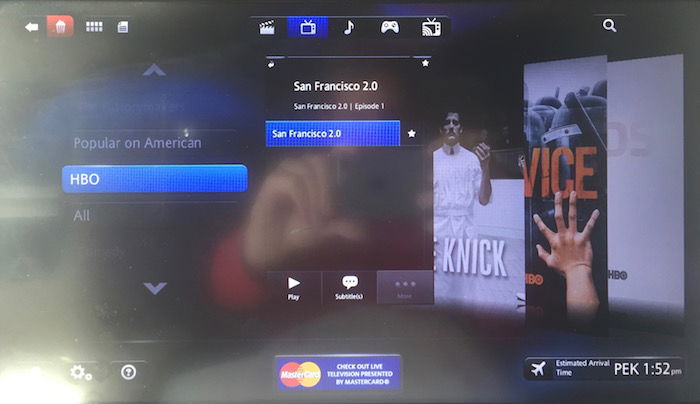 American 787 business class airshow
I worked for a bit longer, and before I knew it we were about 90 minutes outside of Beijing, at which point the next meal service began. The pre-arrival menu read as follows: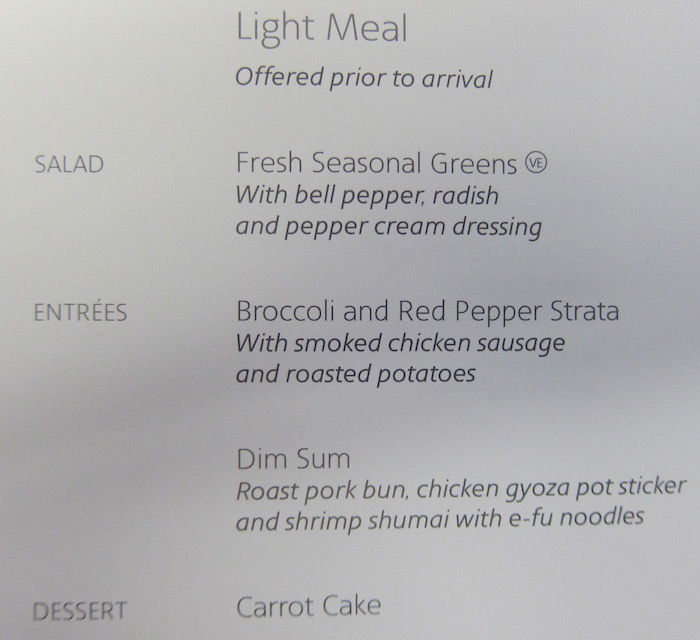 Pre-arrival meals on transpacific flights are always a bit confusing, to say the least. This flight was arriving in Beijing in the early afternoon, though based on our body clocks it was around midnight. So there's not really a "right" meal to serve. So instead they give you a little bit of everything. In this case that included a strata, salad, and carrot cake.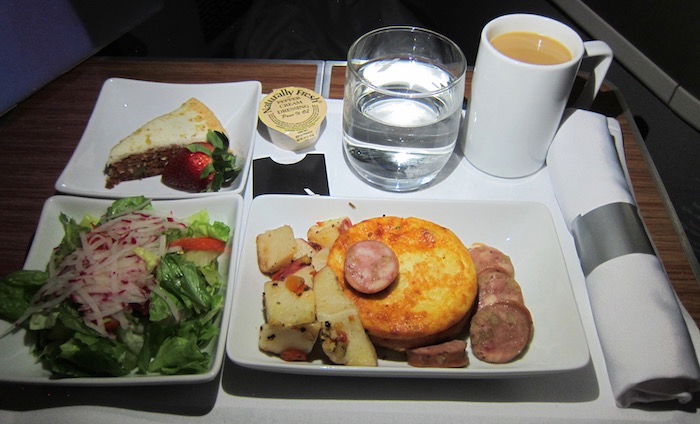 American pre-arrival meal — breakfast, salad, and dessert
The strata itself was quite good, as it's also part of the normal breakfast rotation on domestic American flights. It's light and fluffy, unlike some of American's omelets, which are filled with an endless amount of cheese (I didn't have the sausage, though).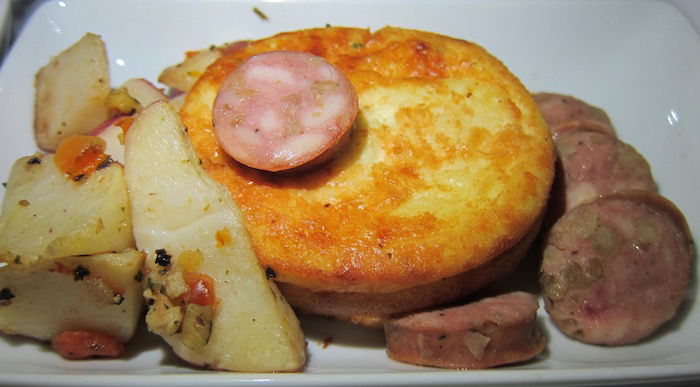 American pre-arrival meal — broccoli and red pepper strata
I skipped the salad since they only offered a creamy dressing with it. I really wish airlines would more consistently offer a choice of dressing, or if they're not going to offer a choice, that they at least don't go with the unhealthiest type imaginable.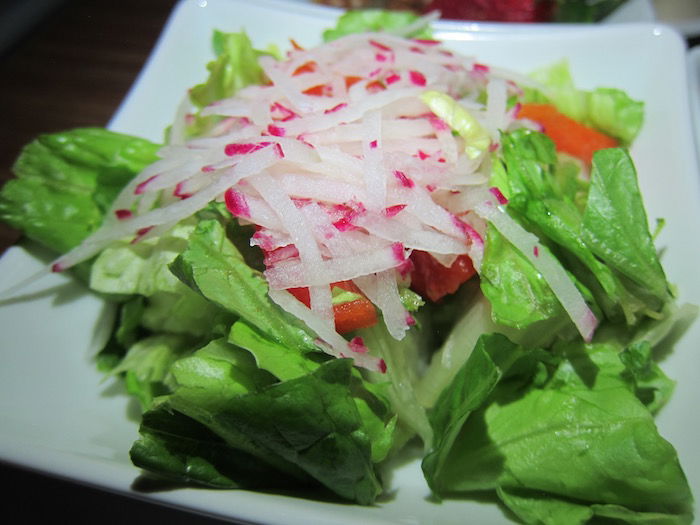 American pre-arrival meal — fresh seasonal greens with pepper cream dressing
The carrot cake for dessert was tasty… and probably not healthy either. 😉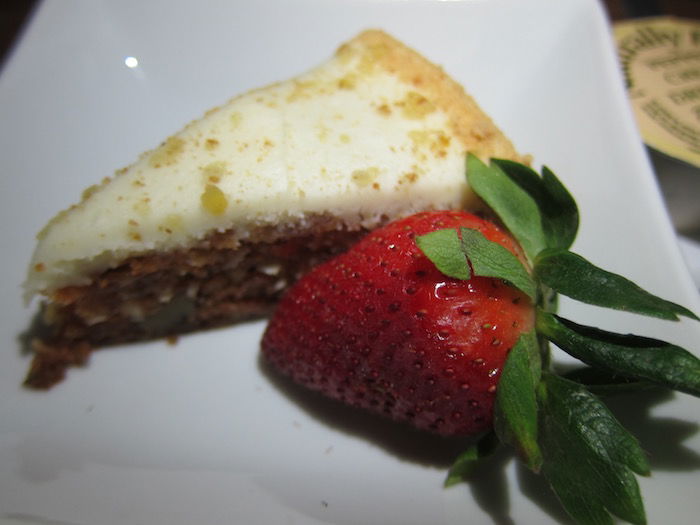 American pre-arrival dessert — carrot cake
Eventually we were entering Chinese airspace, at which point the Wi-Fi cut out (China blocks this feature, unfortunately).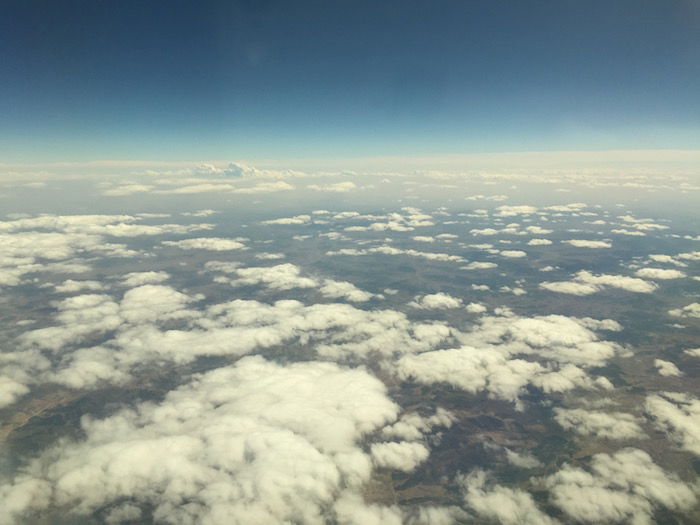 View enroute to Beijing
At around 1:20PM in Beijing the captain came on the PA to give us updated arrival information, informing us we'd be landing at around 2PM, which was a bit ahead of schedule.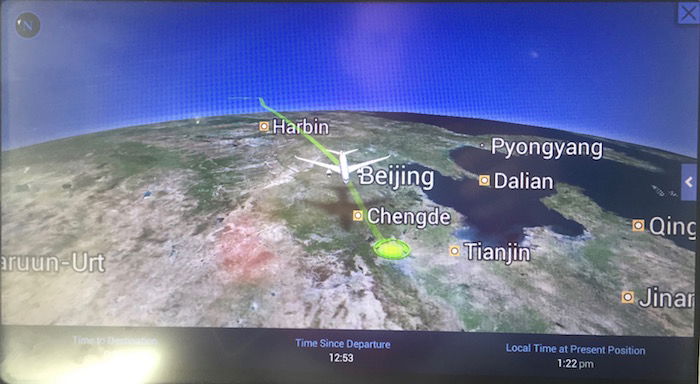 Airshow enroute to Beijing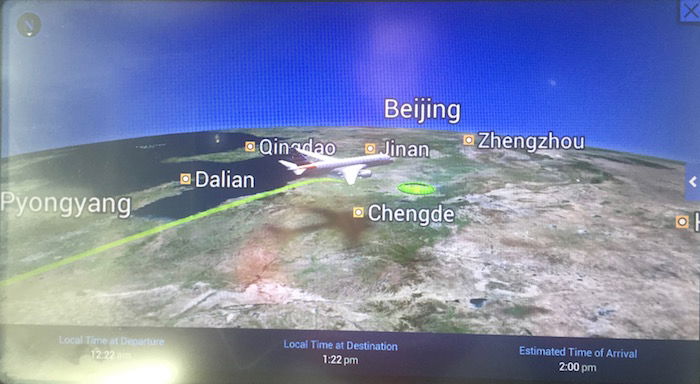 Airshow enroute to Beijing
The views on approach were pretty cool. In this instance we flew past the airport for about 20-30 miles, and then made a 180 degree turn to line up for our approach to the airport.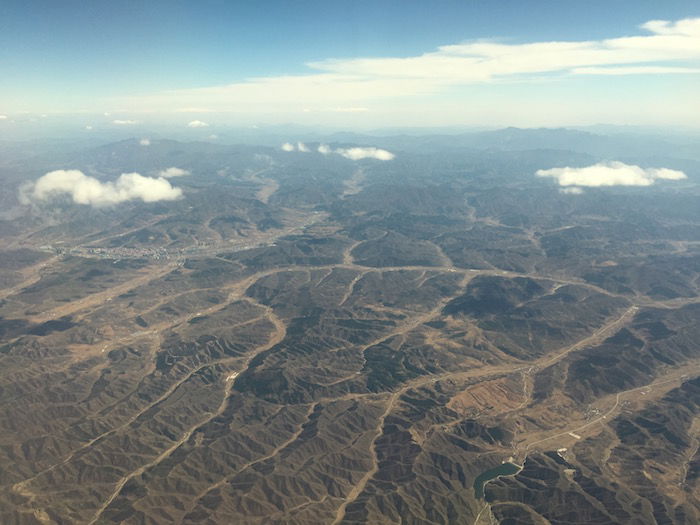 View on approach into Beijing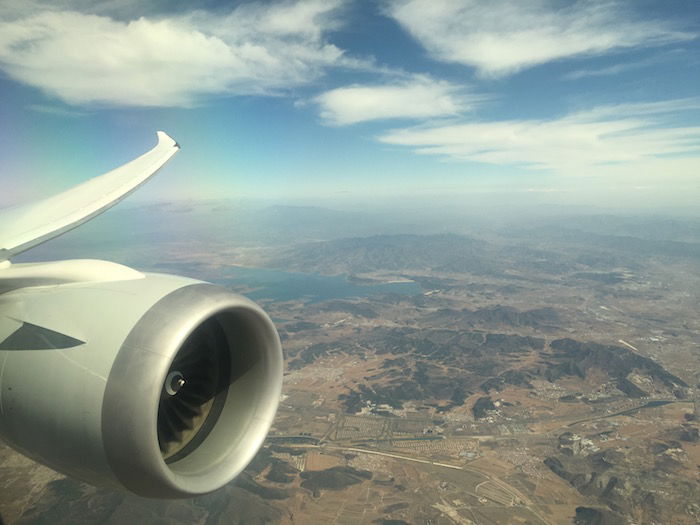 View on approach into Beijing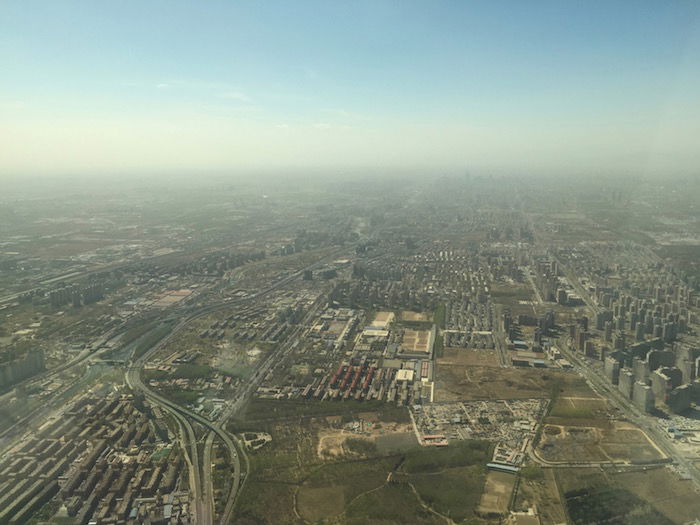 View on approach into Beijing
The flight was exceptionally smooth, and the first bumps we hit were on our final approach, shortly after the landing gear was lowered. It was a windy day in Beijing, so we were swaying side to side a bit on our approach.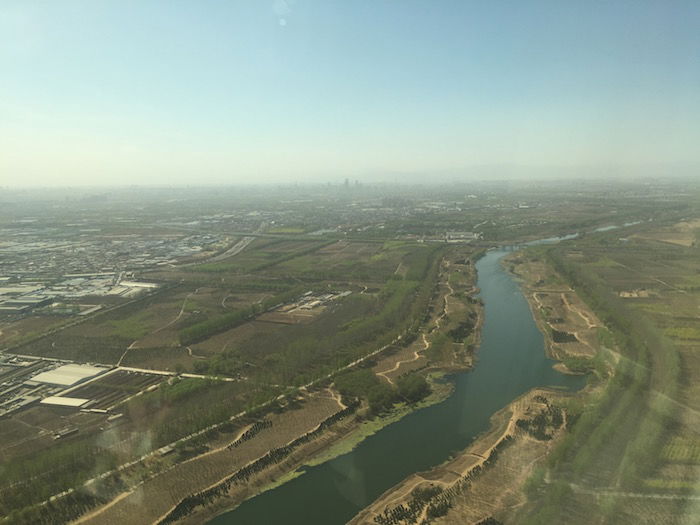 View on approach into Beijing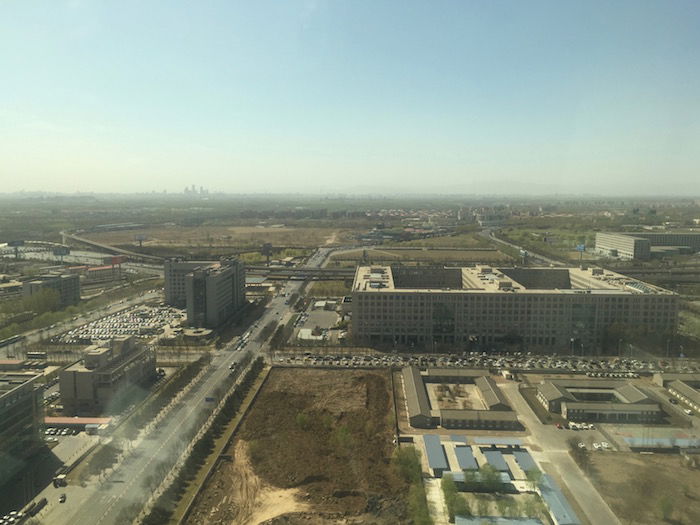 View on final approach into Beijing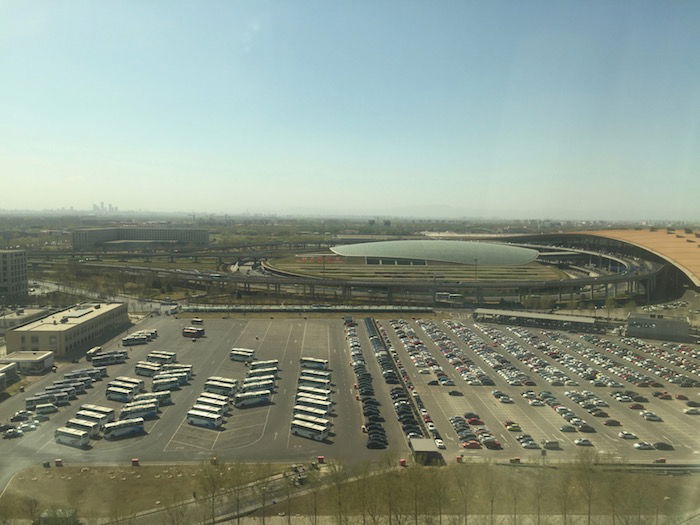 View on final approach into Beijing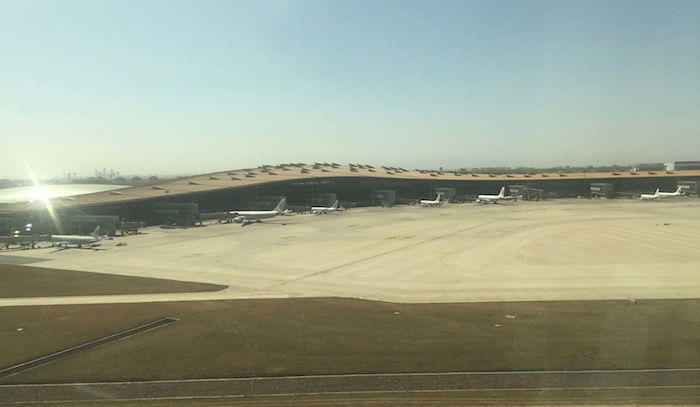 View on final approach into Beijing
Our touchdown at 2PM sharp was smooth, and we even lucked out with which runway we landed on. Beijing Capital Airport is huge, and if you're assigned one of the far runways it can be a 15-20 minute taxi to the terminal.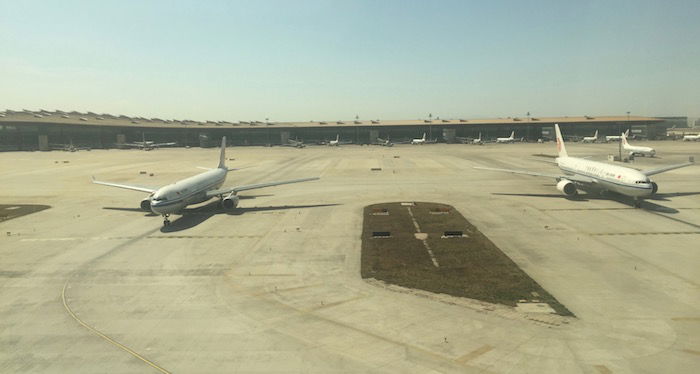 View on landing in Beijing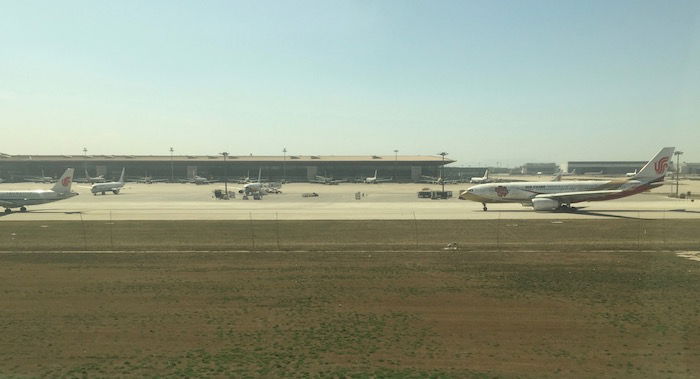 View on landing in Beijing
In this instance we slowed down not far from the terminal, so it was just a five minute taxi to our arrival stand.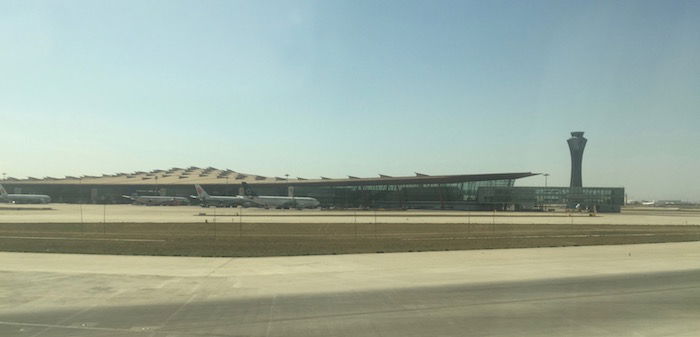 Taxiing at Beijing Capital Airport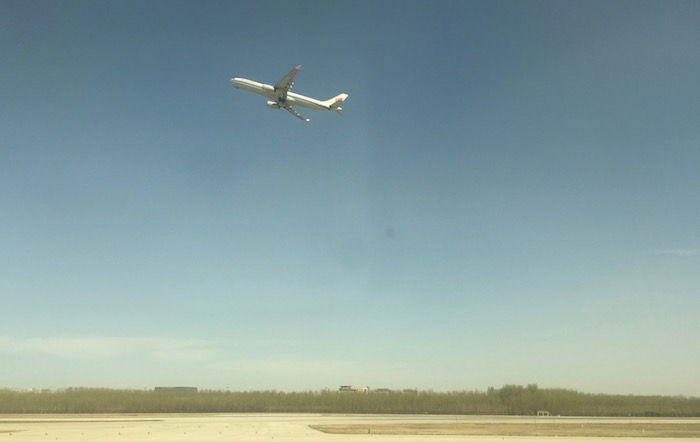 Air China A330 taking off Beijing Airport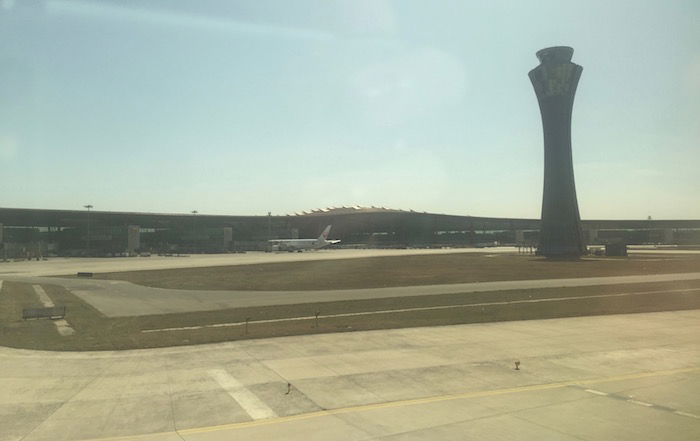 Taxiing Beijing Airport
Our side of the terminal wasn't too busy, aside from a Japan Airlines 787, and an ANA 737, which we parked next to.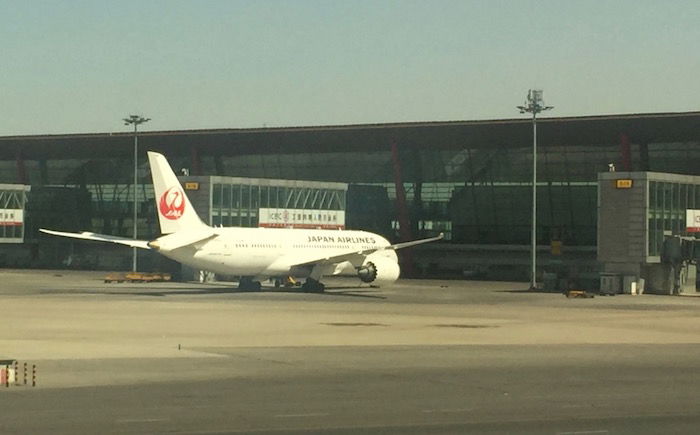 JAL 787 Beijing Airport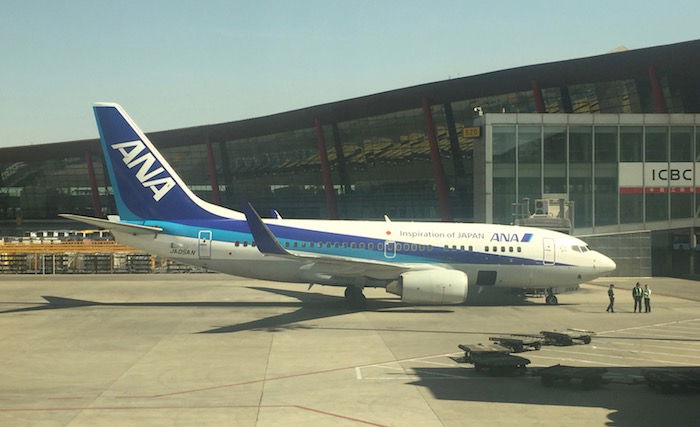 ANA 737 Beijing Airport
We made it to the gate at around 2:05PM, a bit ahead of schedule.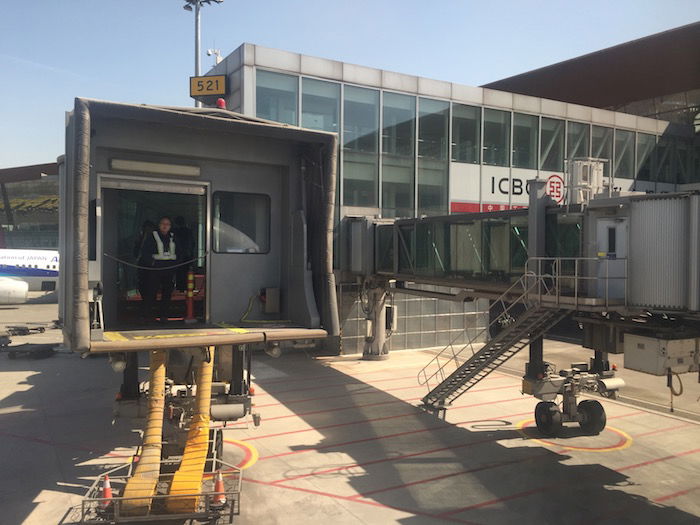 Arrival gate Beijing Airport
We headed towards customs, where there was just a very short queue, and we were through within about five minutes.
American 787 business class bottom line
This was an enjoyable flight on American. I've long said business class is all about the hard product, and that's an area where American does well.
I like the forward facing seats in this configuration, though the issue is that the seats shake. Aside from that they're great, and the shaking can even be avoided by selecting the right seat.
The crew on this sector was very good as well. They weren't the best I've ever had, but they were friendly, and definitely above average.
Wifi is very important to me on international flights, and it's an area where American excels. Just $19 for Wi-Fi with no data caps represents a great deal. However, I realize not everyone cares about Wi-Fi. For the time I wasn't working, American's entertainment system kept me entertained.
As far as the food goes, it was fine. There's room for improvement there, but at least the food isn't actively bad… well, at least on this flight (stay tuned for the return report).
If you've flown American's 787 business class, what was your experience like?