---
Our flight was scheduled to depart at 4:25PM, so we got to the airport at around 2PM, given that immigration and security lines can be quite long in Beijing. I won't be reviewing the ground experience much this time around, given that I reviewed my flight out of Beijing in American's old first class last year.
American uses the mediocre Cathay Pacific/Dragonair Lounge in Beijing, though if you have a Priority Pass membership you can also access the Air China First Class Lounge… not that it's any nicer.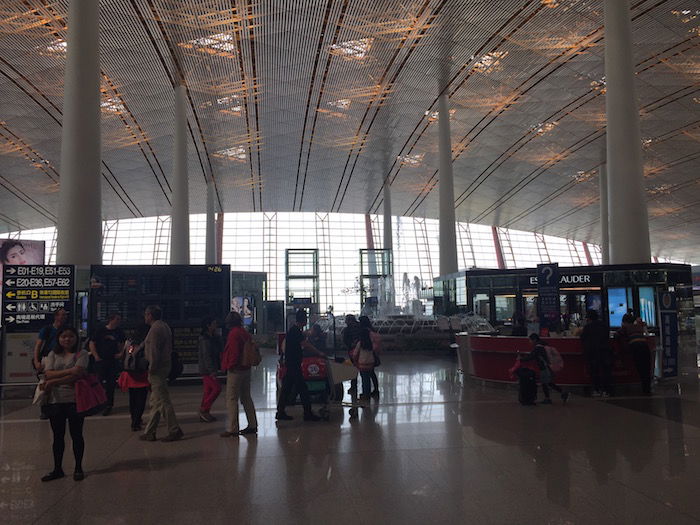 Beijing Airport Terminal 3
Our flight was departing from gate E21, and boarding started at 3:35PM, a full 50 minutes before our scheduled departure time.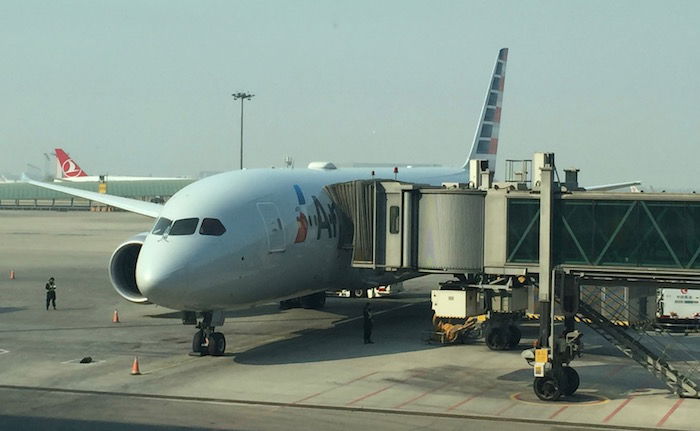 American 787 Beijing Airport
American 262
Beijing (PEK) – Dallas (DFW)
Monday, April 4
Depart: 4:25PM
Arrive: 5:30PM
Duration: 14hr5min
Aircraft: Boeing 787-8
Seat: 7A (Business Class)
Once onboard we turned right into the business class mini cabin. American's 787 has a total of 28 seats, spread across seven rows in a 1-2-1 configuration. On the way out we sat in the forward cabin, while on the way back we reserved seats in the rear cabin.
I wrote a separate post about my favorite seats in American's 787 business class, and the rear mini cabin is definitely my preferred place to sit.
The downside is that it's to the right of the main entry door, meaning that all the economy passengers walk past your seat, so it's busier during boarding.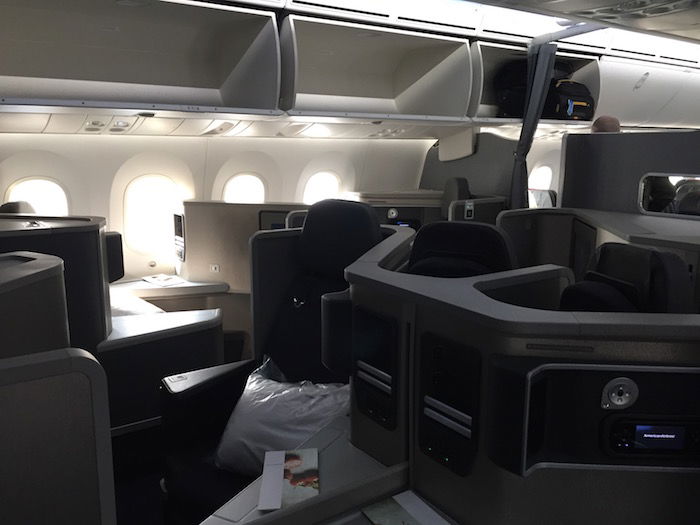 American 787 business class mini cabin
Furthermore, the curtains between business class and economy aren't especially thick, so you may get some light or noise from economy.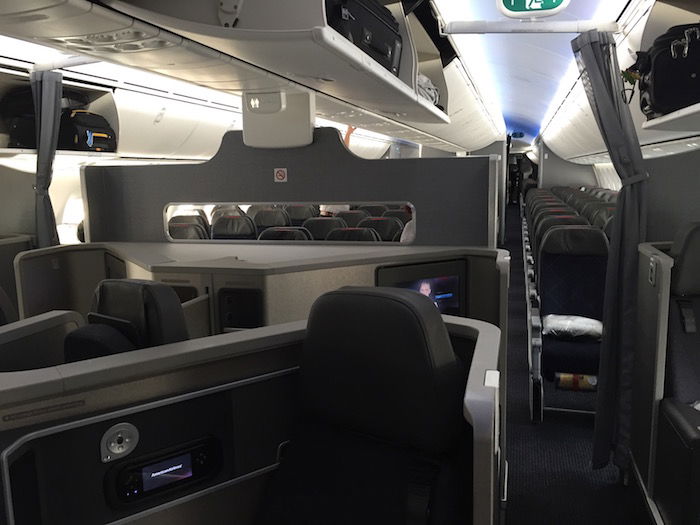 American 787 business class mini cabin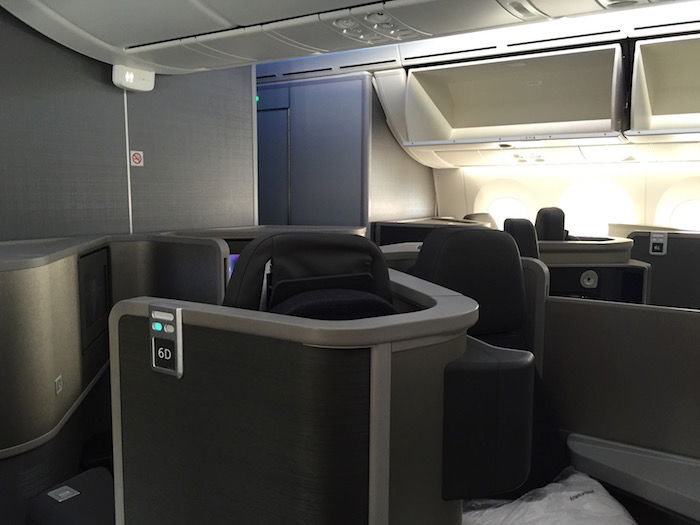 American 787 business class, view from seat 7A
However, everything else about these seats is fantastic. I was in seat 7A, a forward facing seat in the last row of business class. What's great about the window seats in rows six and seven is that they're independent, meaning that you won't experience any of the issues with the wobbliness of the seats, which is ultimately causing American to switch seat vendors.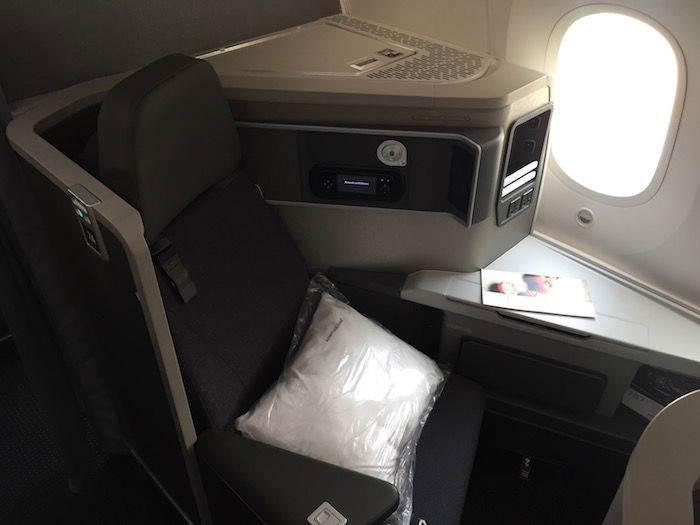 American business class 787, seat 7A
Ford was in seat 6A, which is rear facing, and also isn't connected to any other seat.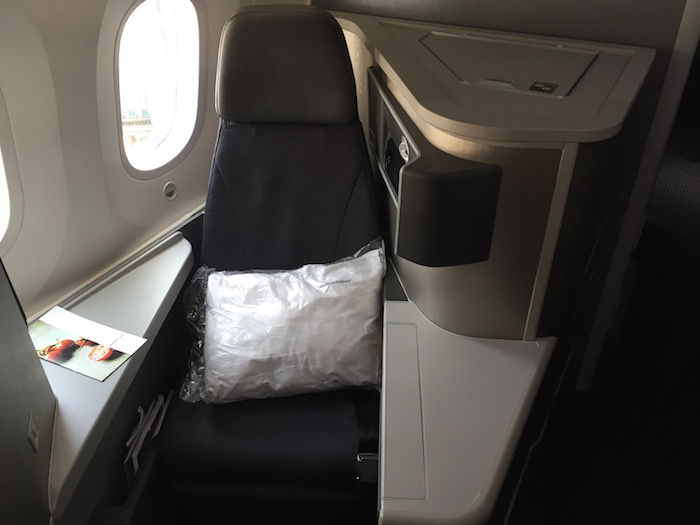 American business class 787, seat 6A
As normal there was plenty of legroom, and I love how you can extend your feet without having to deal with the space limitations of a small cubby for your feet, or anything.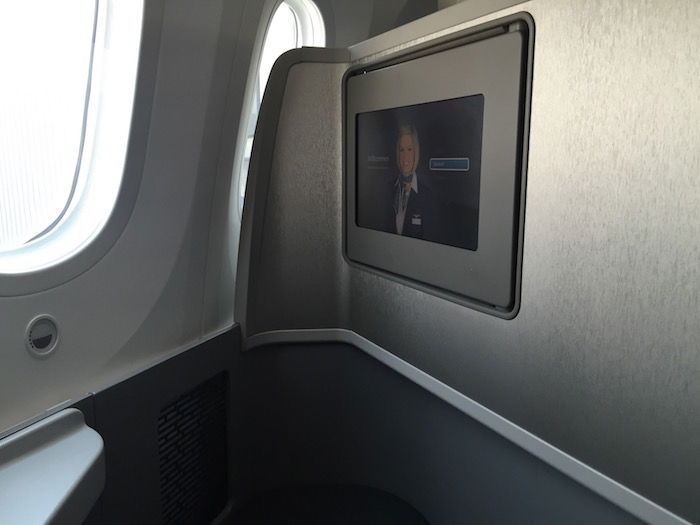 American business class legroom and entertainment screen
Already waiting at my seat were a pillow and blanket.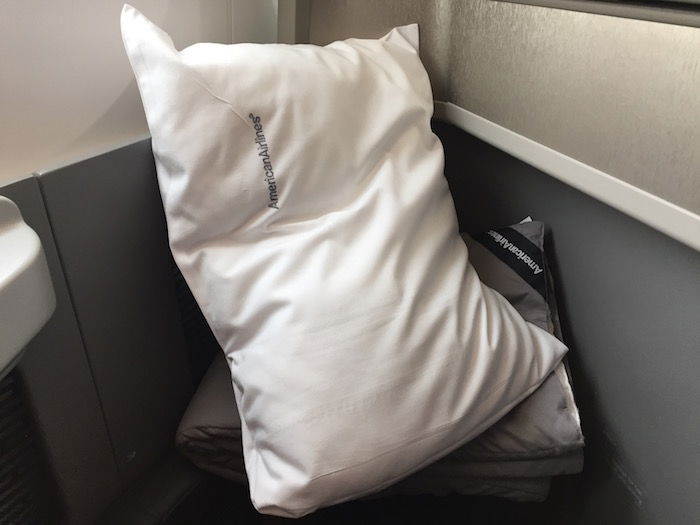 American business class pillow & blanket
Also waiting at my seat was a bottle of water, the menu for the flight, slippers, and the new Cole Haan amenity kit.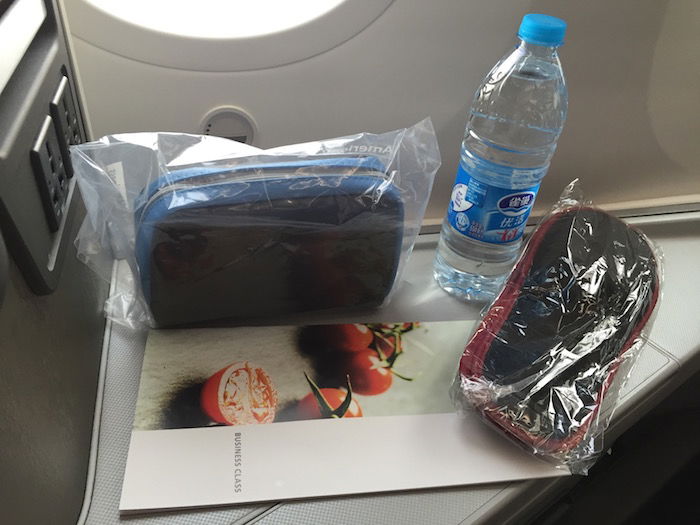 American business class 787, amenity kit, slippers, water, and menu
Shortly after settling in one of the business class flight attendants, Vicki, came by to offer me a pre-departure beverage. I just had a glass of water.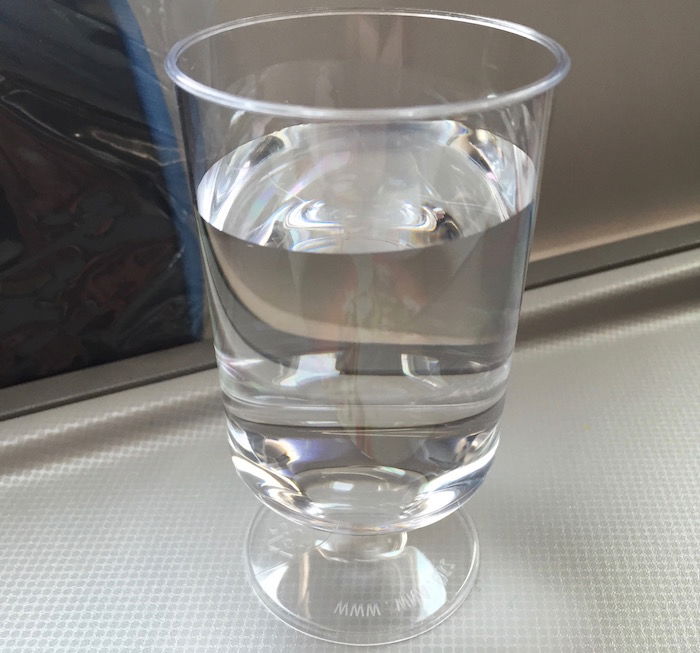 American business class, pre-departure water
Boarding was extremely efficient, despite the fact that the flight was full in both business and economy. The door closed at 4PM, a full 25 minutes before our scheduled departure time.
Shortly after the door closed the captain came on the PA to welcome us aboard on behalf of himself and his three first officers. He informed us of the flight time of 12hr43min, and that we were scheduled to land on time. He said we were just waiting on our pushback clearance, and should be departing shortly.
I figured we'd be significantly earlier than his "on time" estimate, given that our flight time was 80 minutes under our block time, and we got an early start.
We pushed back at 4:10PM, with an Air Macau A321 to our left. At that point the safety video began to play.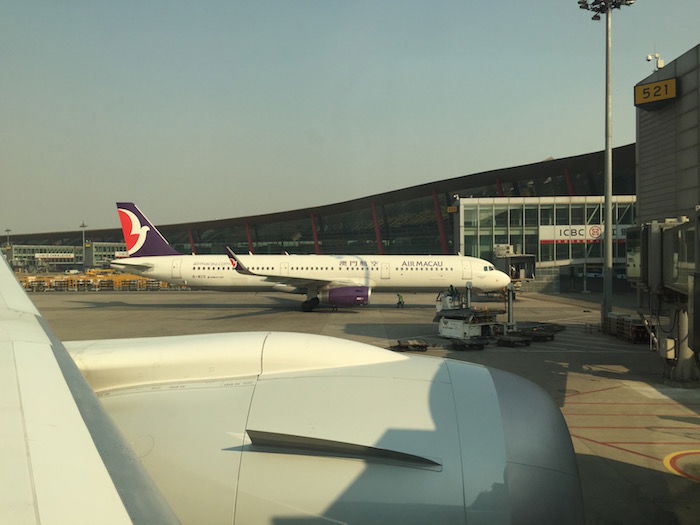 Air Macau A321 Beijing Airport
Once the video was done the purser, Rebecca, came around to take meal orders. She was a delight, if not a bit crazy in terms of the "insight" she had into the airline (more on that later).
The traffic on our 15 minute taxi to the runway was interesting. I was especially intrigued by the Mahan Air A310 parked next to the Japan Airlines 787.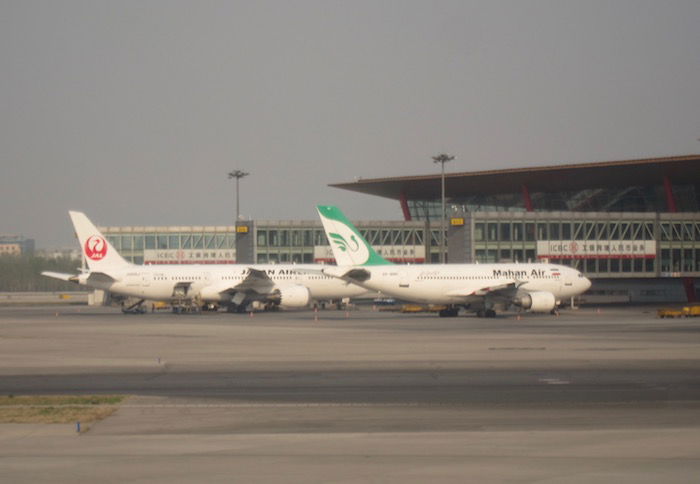 Japan Airlines and Mahan Air Beijing Airport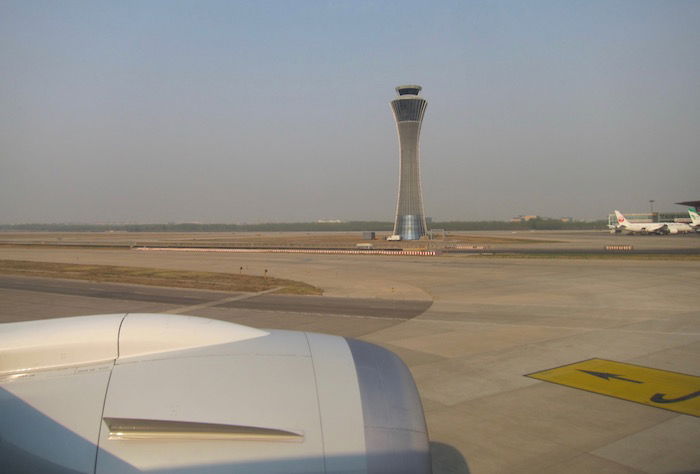 Taxiing to departure runway Beijing Airport
Then there were several planes headed to the US, including a United 747 and Hainan A330.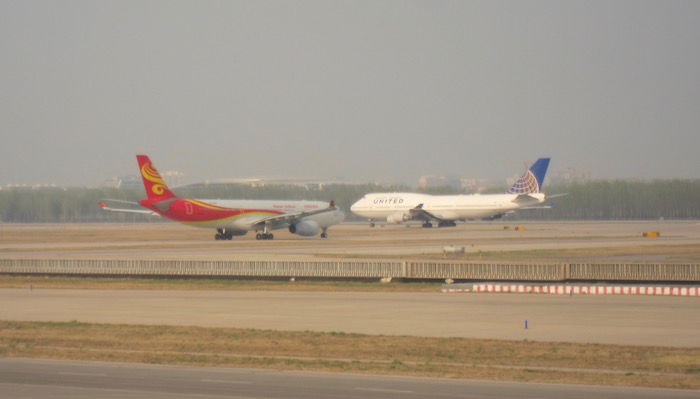 Hainan A330 and United 747 Beijing Airport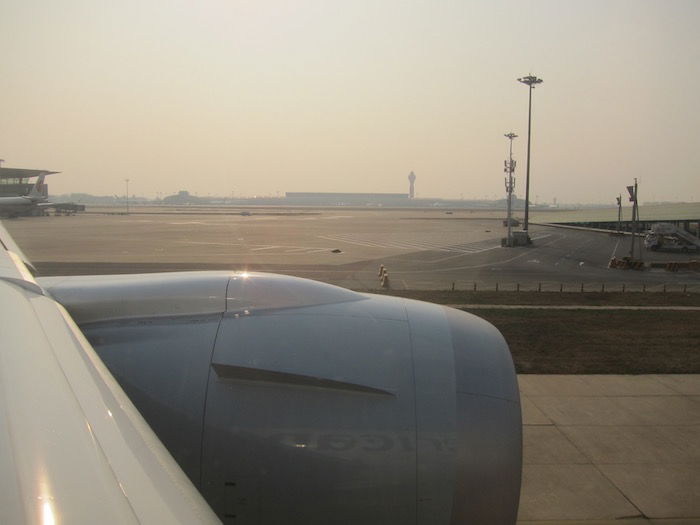 Taxiing Beijing Airport
There was a special livery Air China 777.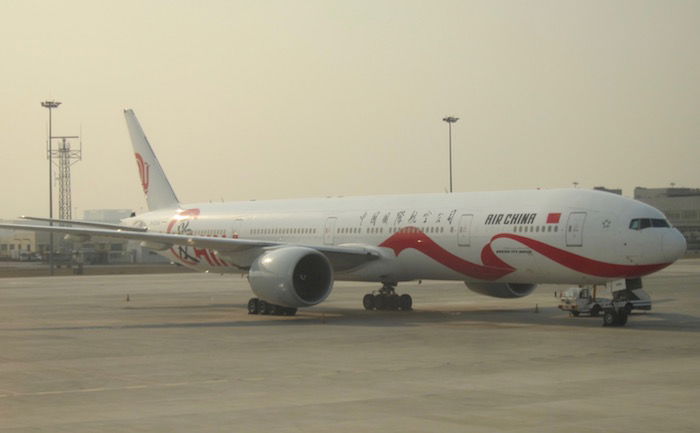 Air China 777 Beijing Airport
And I saw the Ameco hangar, where I believe United does (or at least did) heavy maintenance on some of their planes.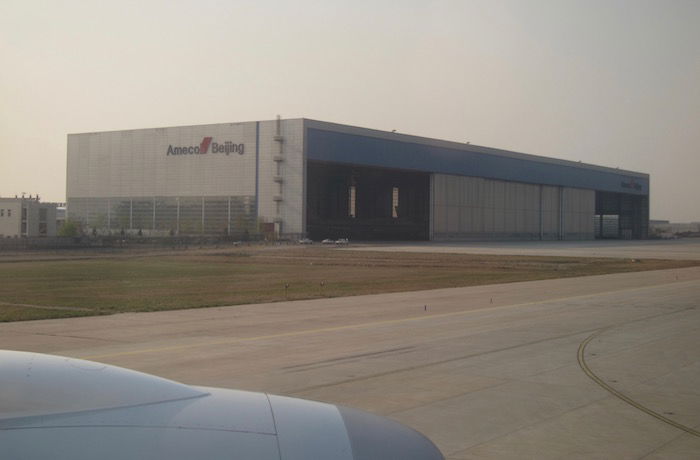 Ameco maintenance hangar
We held short of runway 19 waiting for an Asiana plane to land.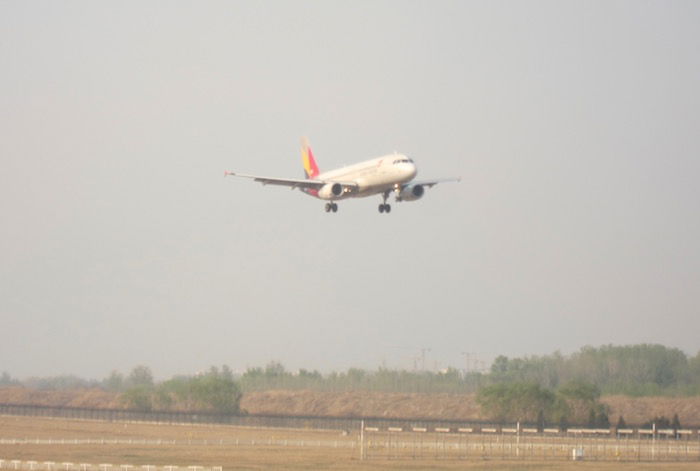 Asiana plane on final approach Beijing Airport
Once it touched down we were cleared for departure, at around 4:25PM. You can't beat taking off right around the time you were scheduled to pushback.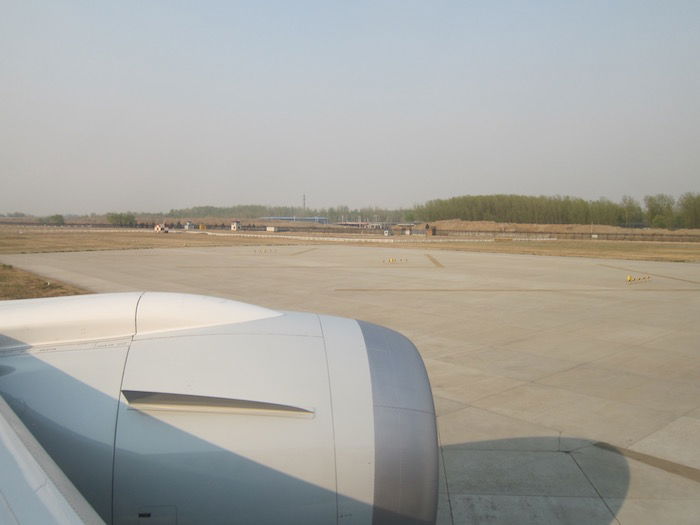 Taxiing onto runway Beijing Airport
We had a fairly long takeoff roll, and some decent views on the gradual climb out.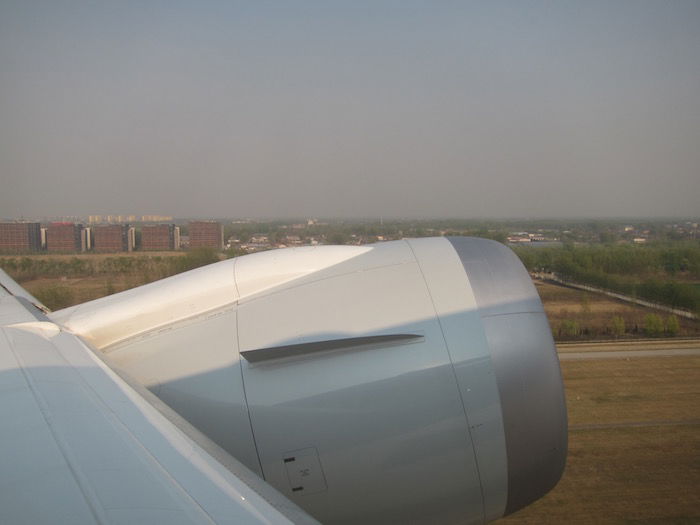 View after takeoff from Beijing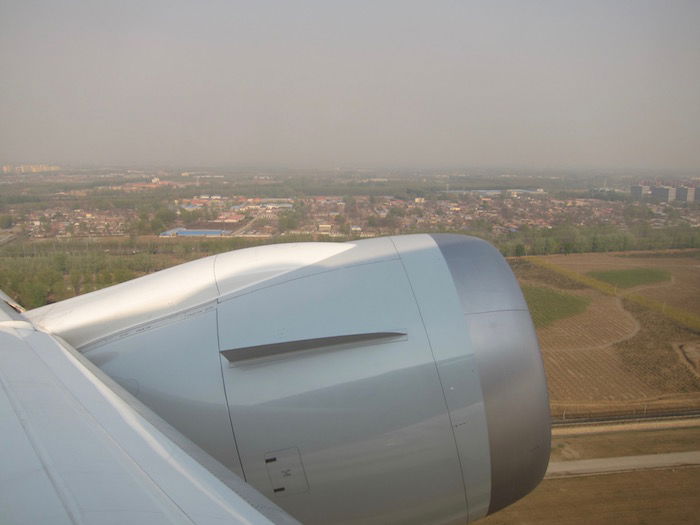 View after takeoff from Beijing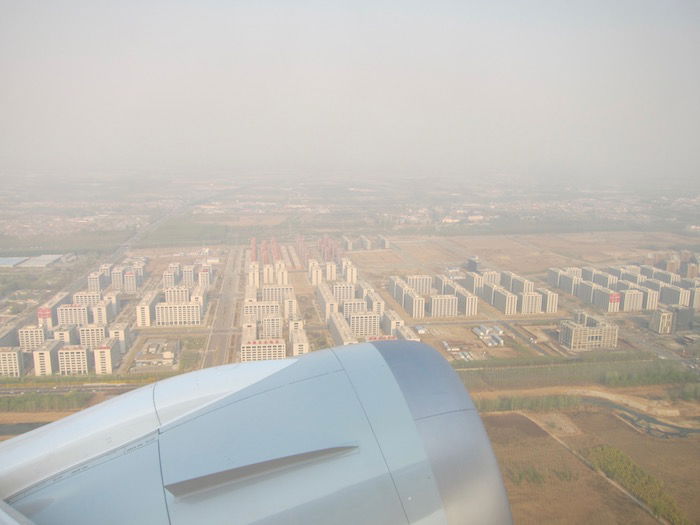 View after takeoff from Beijing
Shortly after takeoff the purser made her welcome aboard announcement. I always cringe when they refer to the meal service (especially in economy) as the "international flagship dinner service." Based on the pictures I've seen of American's economy food, that's not something I could say with a straight face.
The purser also announced that while Wi-Fi would be available on the flight, it would only begin working about 90 minutes after takeoff, due to Chinese restrictions on the service. Since Wi-Fi wouldn't be available initially I browsed the entertainment selection, and decided to watch "Daddy's Home," starring Will Ferrell and Mark Wahlberg. It was amusing enough for an airplane movie.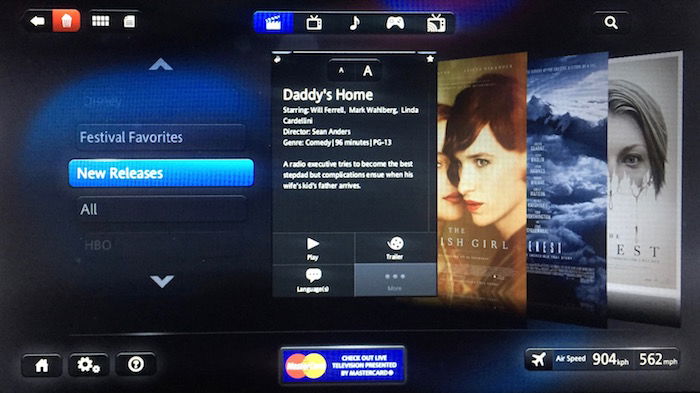 Entertainment selection in American business class
The windows were also dimmed throughout the cabin shortly after takeoff.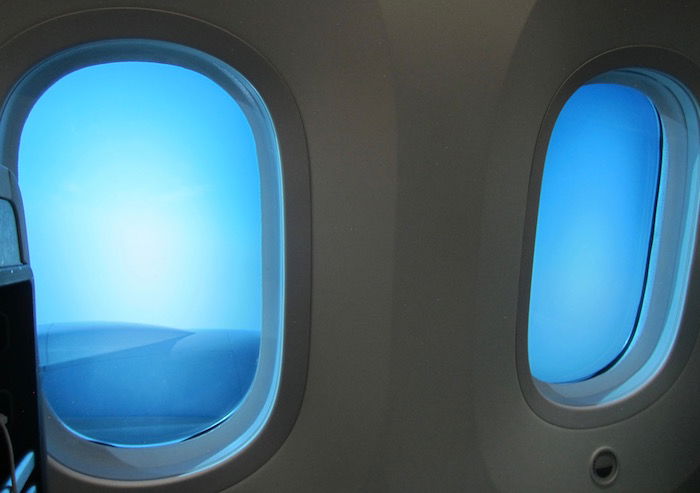 Boeing 787 windows
About 20 minutes after takeoff the cabin crew began their service, starting with hot towels being distributed, followed by tablecloths being placed on trays.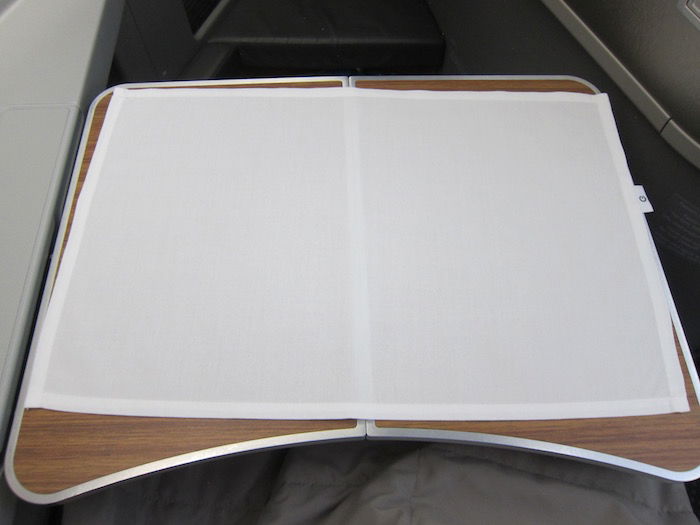 Dinner service table setting
The dinner menu read as follows: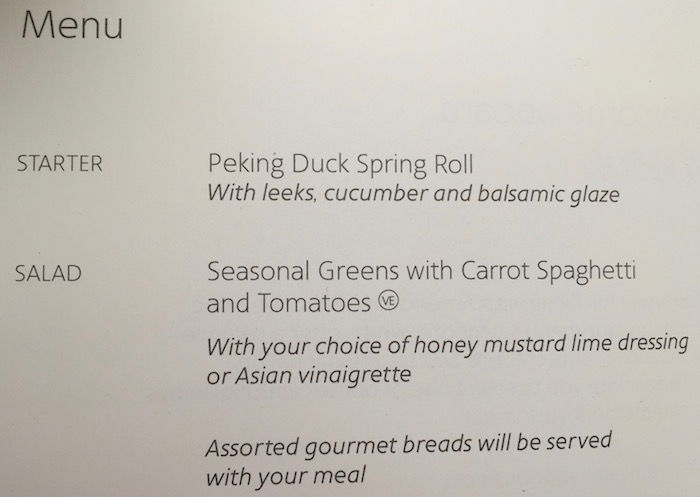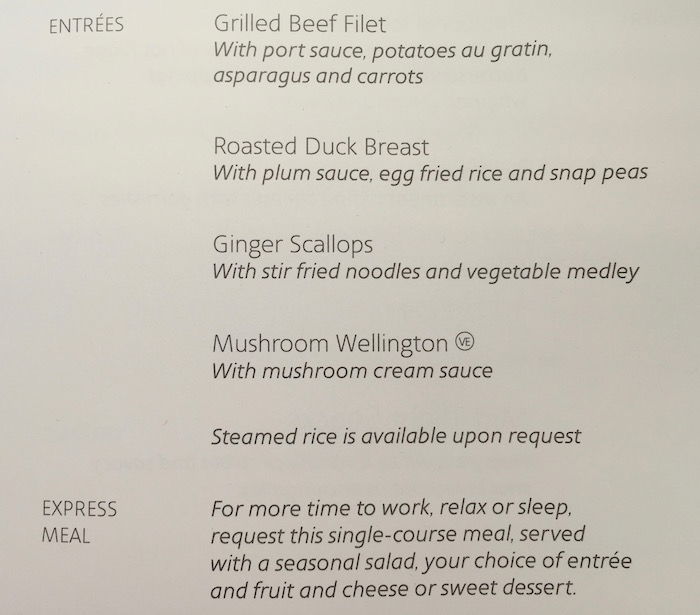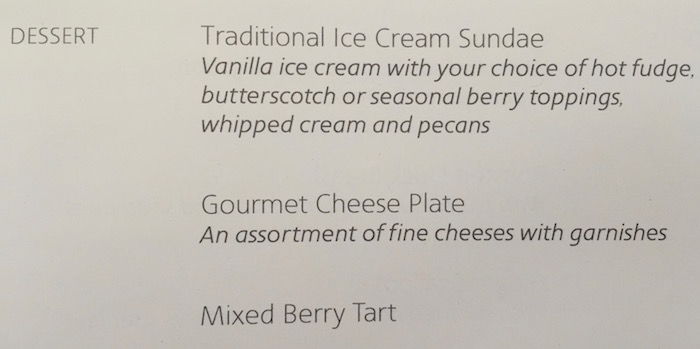 And the wine/beverage list read as follows: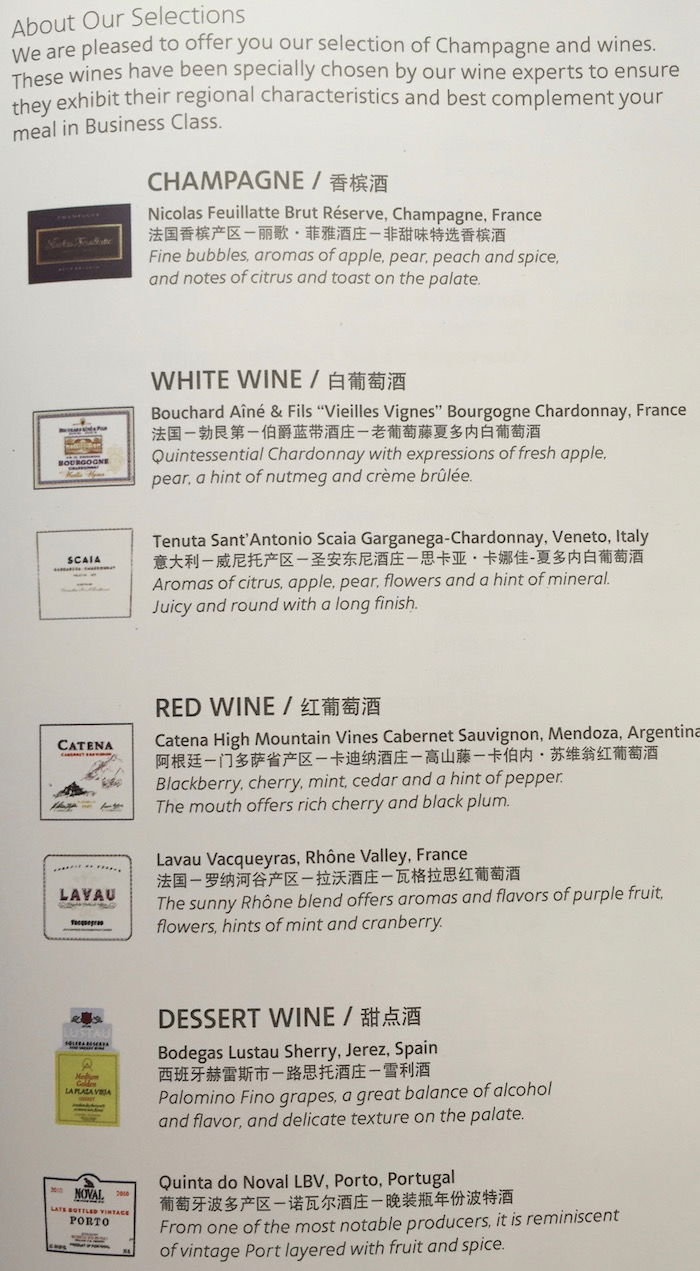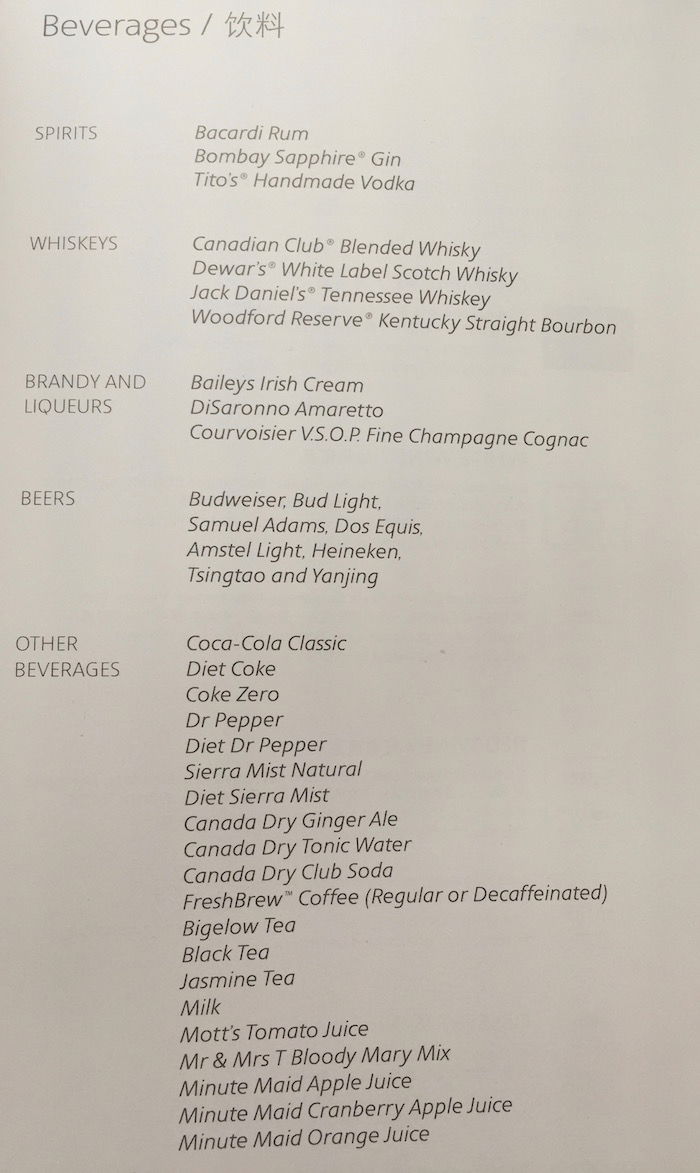 The cart was rolled through the aisle with drinks and warm mixed nuts. I just had a glass of water. The purser tends to work the left aisle on the 787, so she was serving me throughout the flight.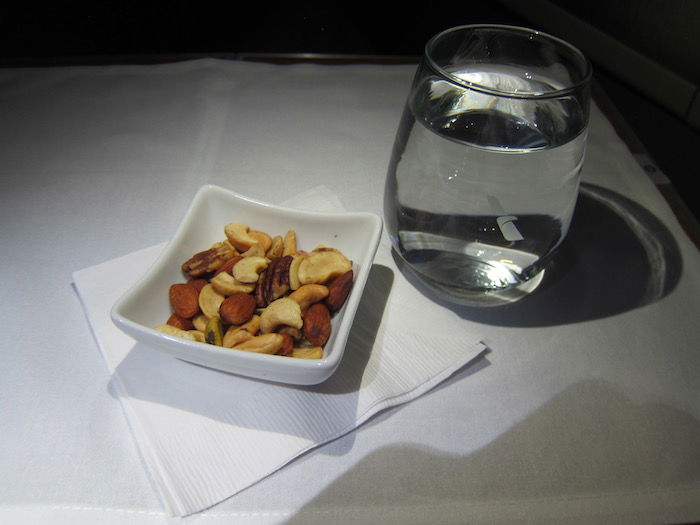 Dinner service — hot nuts and water
She was a gem, and we'd briefly talk every time she came through the aisle with her service. She explained she only flies to Asia out of Dallas, which she has no problem holding thanks to her seniority. I thought it was funny that she claimed that American will soon be upgrading their routes between Dallas and Beijing, Seoul Incheon, and Shanghai, to the 777-300ER. She said it was a sure thing, and should be announced any day.
Yeah, I don't see that happening…
Next I was served a tray with the salad and appetizer. In the past I've found American's catering out of Beijing to be horrible.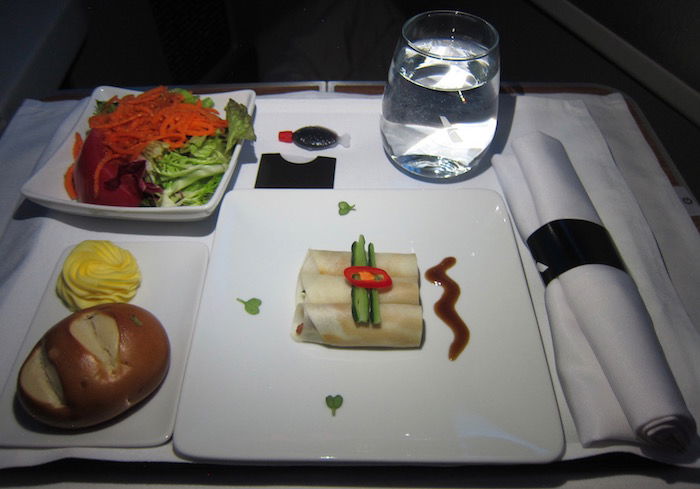 Dinner service — starter, salad, and bread
In this case the appetizer consisting of duck spring rolls wasn't half bad.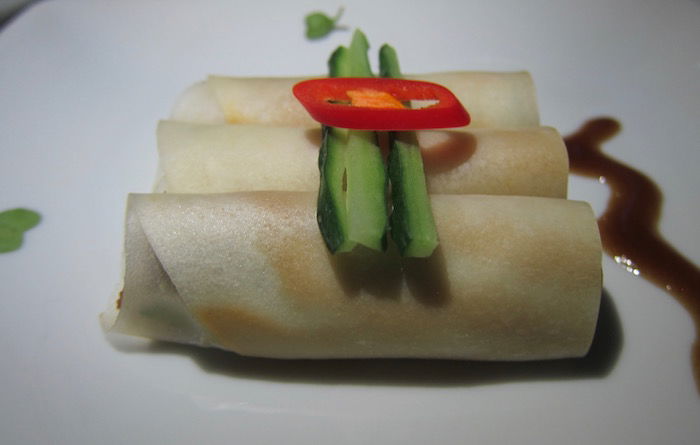 Dinner service starter — Peking duck spring roll
Neither was the salad.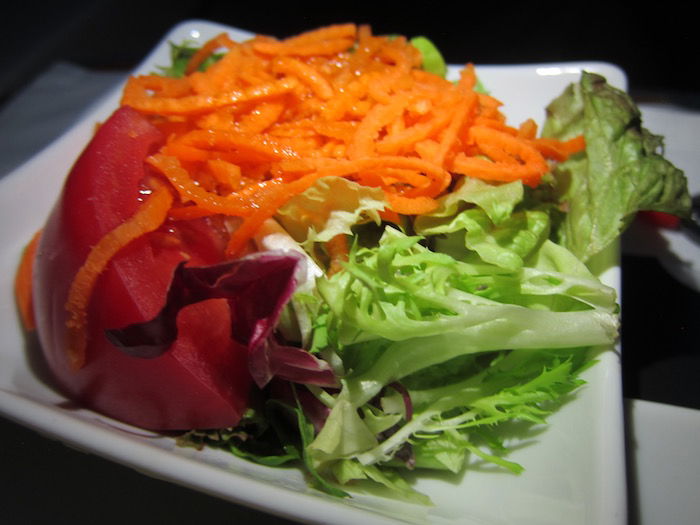 Dinner service salad — seasonal greens with carrot spaghetti and tomatoes
However, the pretzel roll was hard as a rock. Apparently this is because American now roundtrip caters most things out of Dallas (supposedly since they realize the quality out of Beijing is terrible). Unfortunately that leads to really hard bread, though.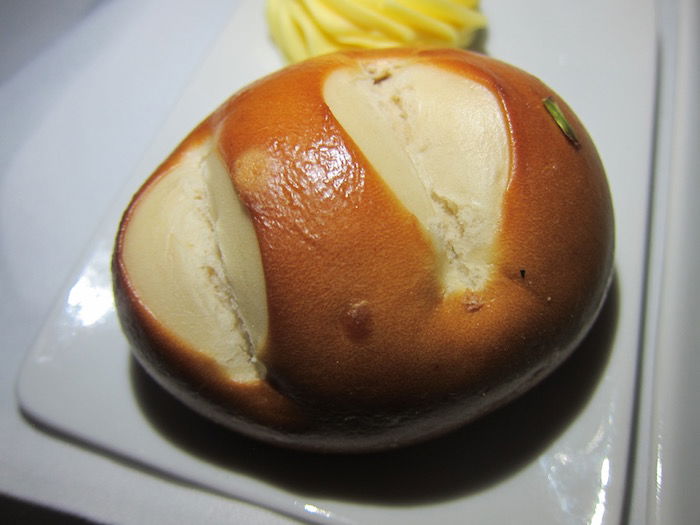 Dinner service bread — pretzel bread
For the main course I ordered the ginger scallops. I'm not sure what I was thinking ordering scallops out of Beijing, but it was possibly the worst main course I've ever had on a plane. Usually I love scallops, but the texture of these was so bad.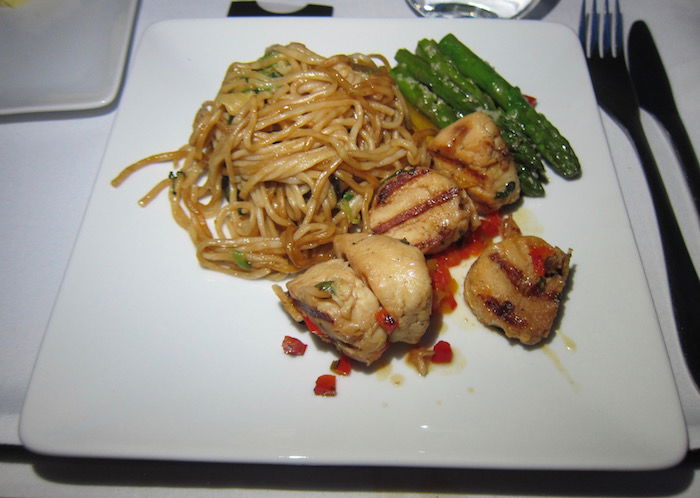 Dinner service main course — ginger scallops with stir fried noodles and vegetables
The roasted duck breast seemed like it might have been the better option.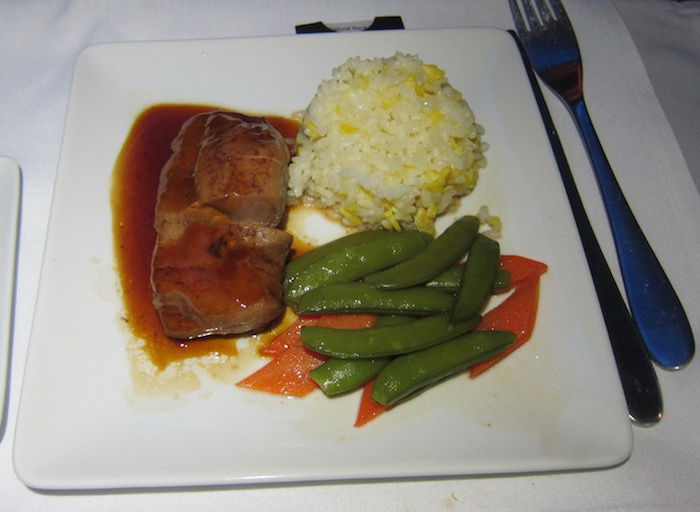 Dinner service main course — roasted duck breast with egg fried rice and snap peas
For dessert I had the sundae, which was good as always.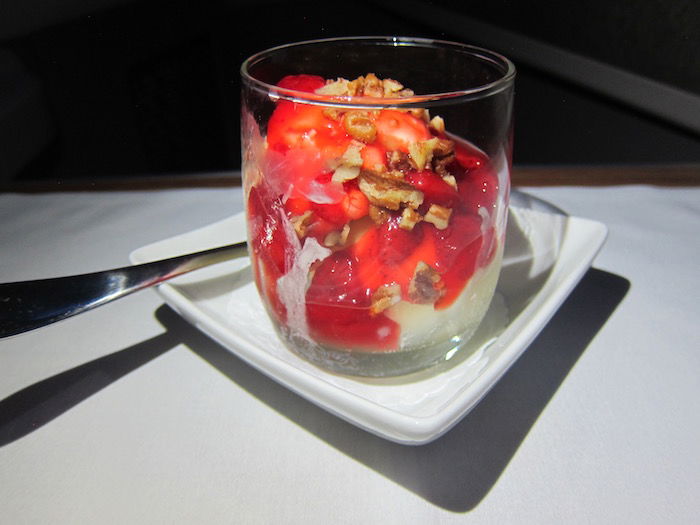 Dinner service dessert — ice cream with berries and nuts
All things considered it wasn't an especially good meal, but then again, that's exactly what I was expecting out of Beijing.
The meal service was done about 80 minutes after takeoff, as we were passing over Harbin (which I'd really like to visit).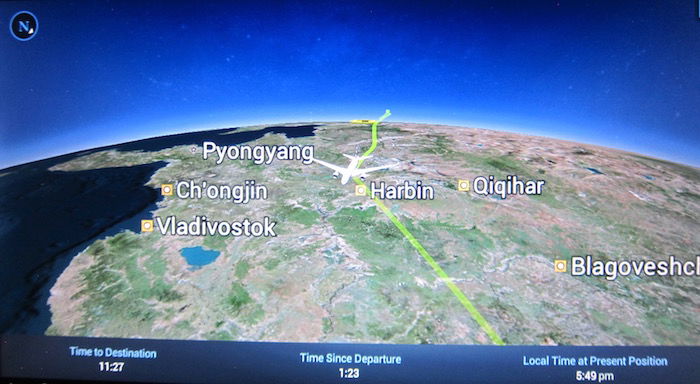 Airshow enroute from Beijing to Dallas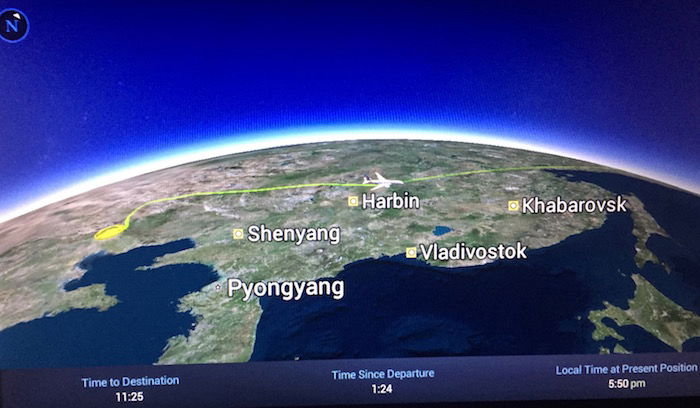 Airshow enroute from Beijing to Dallas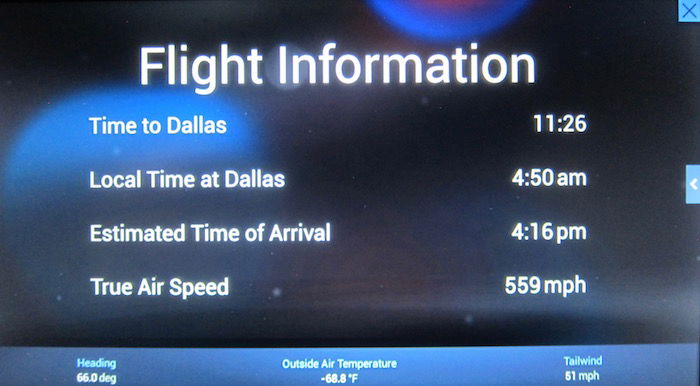 Airshow enroute from Beijing to Dallas
After dinner I decided to sleep, given that it was approaching my bedtime in Beijing. I managed to get a solid six hours of sleep, and woke up feeling really refreshed. It was great to not have a seat which shook when the person in front or behind you moved, so I highly recommend seat 7A.
Upon waking up I was offered a mid-flight snack, from the following menu: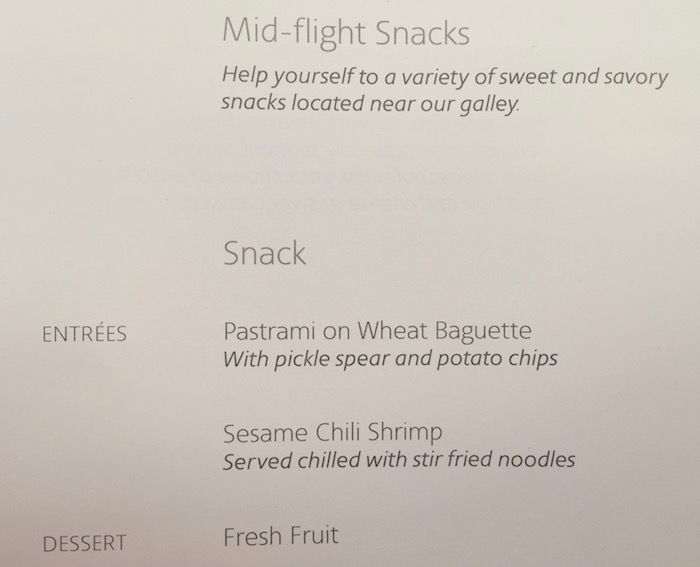 I passed, as I wasn't very hungry. However, I did check out the snack setup they had across from the lavatories and between the two cabins.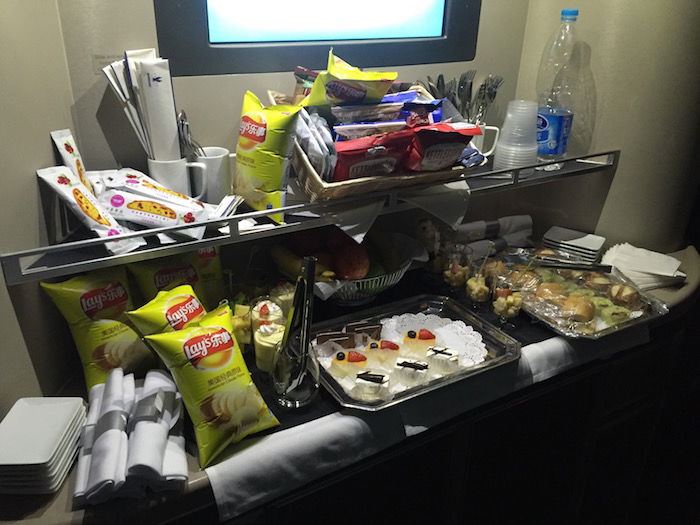 American business class snack bar
Much to my surprise, most of the people in the forward cabin seemed to be awake.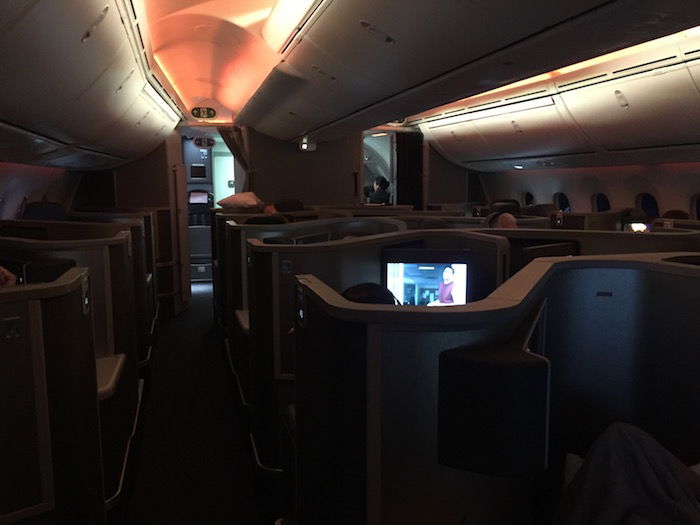 American 787 forward business class cabin
I connected to the Wi-Fi and worked for a few hours. The Wi-Fi speeds were excellent, and at only $19 for the entire flight, the Wi-Fi plan was a bargain. Eventually the sun began to rise. I have to say that the flight was exceptionally smooth throughout — I don't recall hitting a single bump.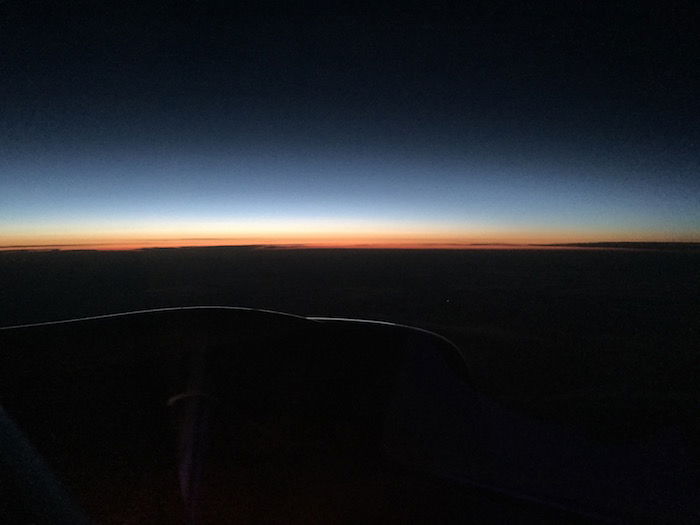 View enroute to Dallas
I worked all the way until we were about 90 minutes out of Dallas, at which point the pre-arrival meal service began. The menu read as follows: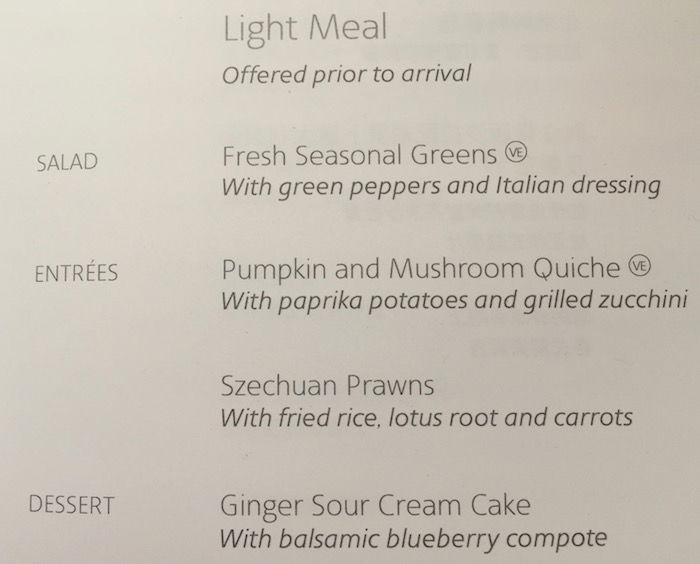 Much like on the Dallas to Beijing flight, the pre-arrival meal offering is a bit confusing. Around this time it's early morning in Beijing, while it's afternoon at our destination. I ordered the quiche, which was small, though surprisingly tasty.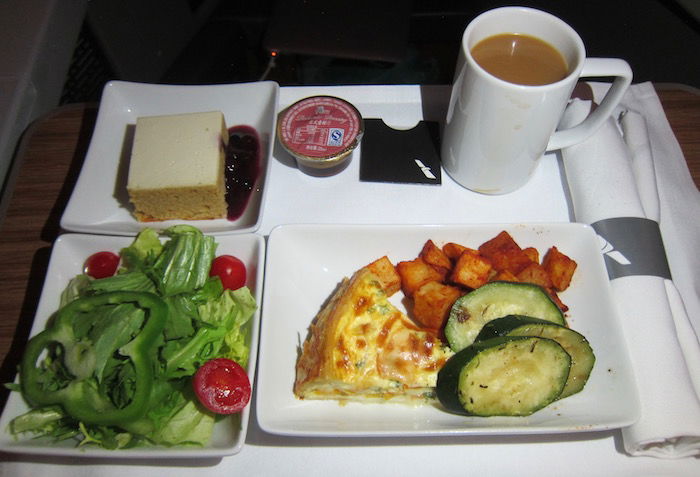 Pre-landing meal service — salad, main course, and dessert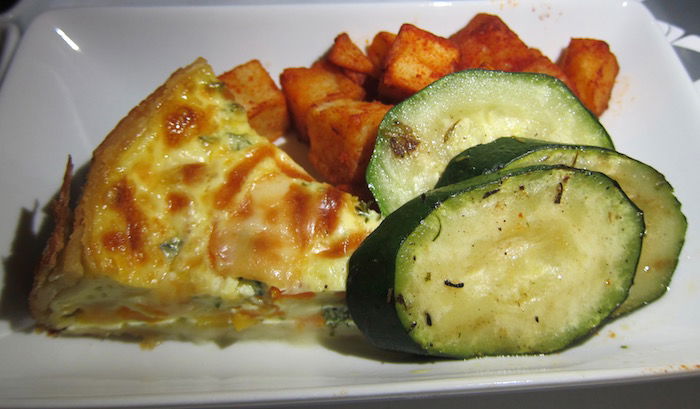 Pre-landing meal service — pumpkin and mushroom quiche
The side salad was decent as well, and more than anything I was happy to see it wasn't served with some creamy dressing.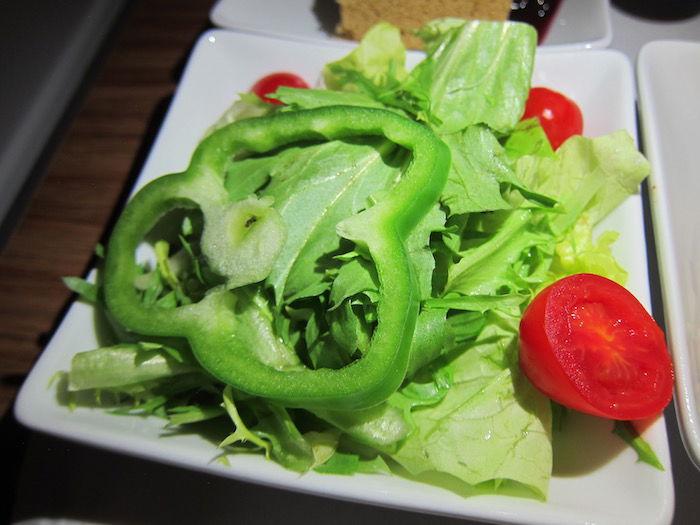 Pre-landing meal service — fresh seasonal greens with green peppers and tomatoes
The ginger sour cream cake was a nice contrast to the normal overly sweet desserts which American usually serves.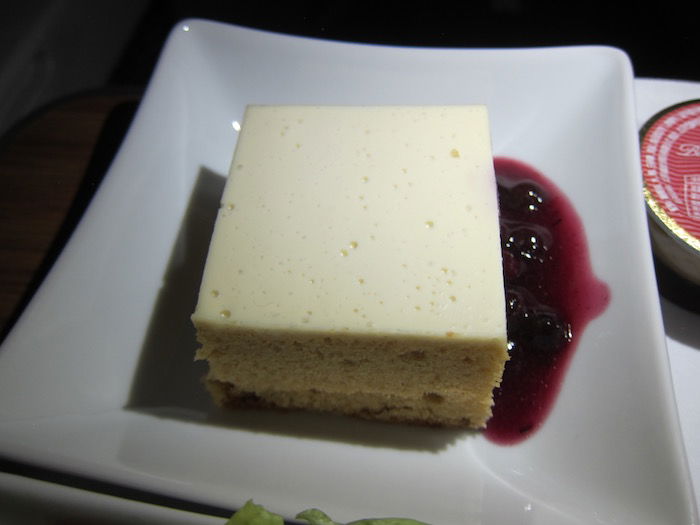 Pre-landing meal service — ginger sour cream cake
About 30 minutes before landing the captain came on the PA to inform us that we'd be landing at around 4PM, which would be almost 90 minutes ahead of schedule.
The seatbelt sign was turned on shortly after the announcement, at which point the crew began their landing preparations.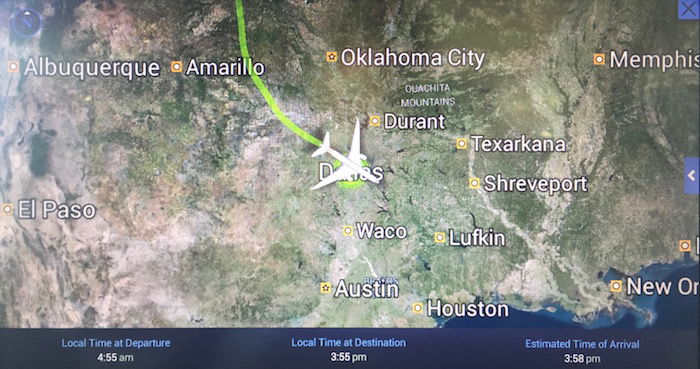 Airshow on approach into Dallas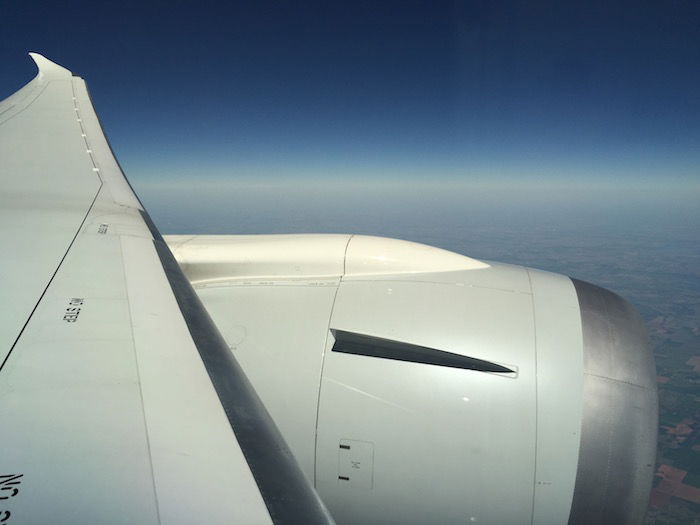 View on approach into Dallas
Our descent was smooth, and as usual there weren't especially exciting views on the approach.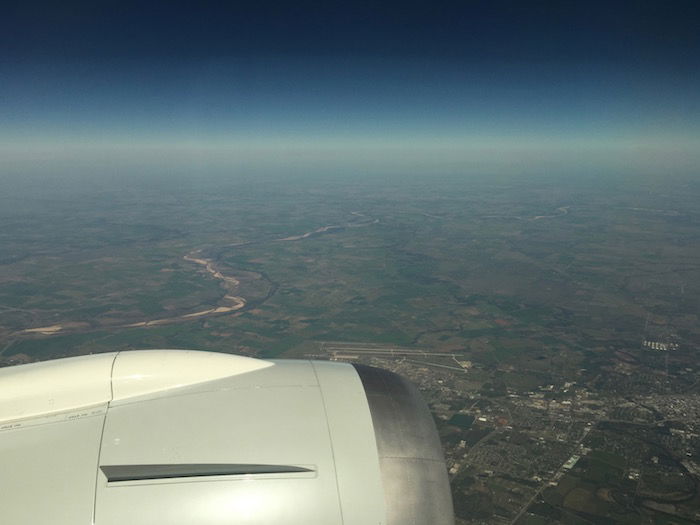 View on approach into Dallas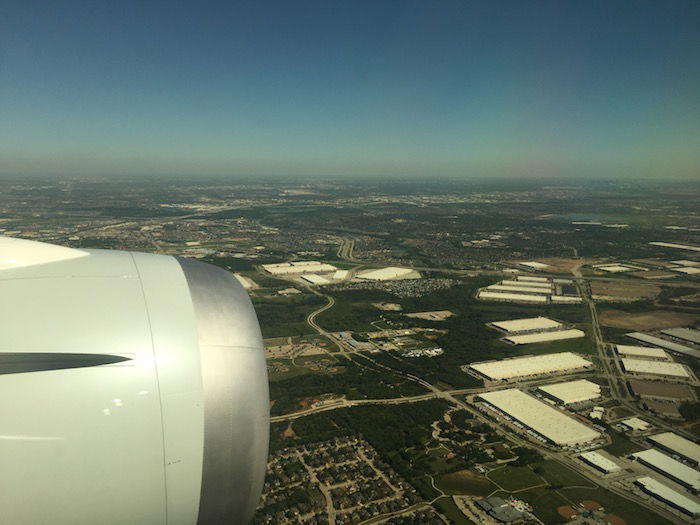 View on approach into Dallas
We had a smooth touchdown on runway 18R at 4PM sharp.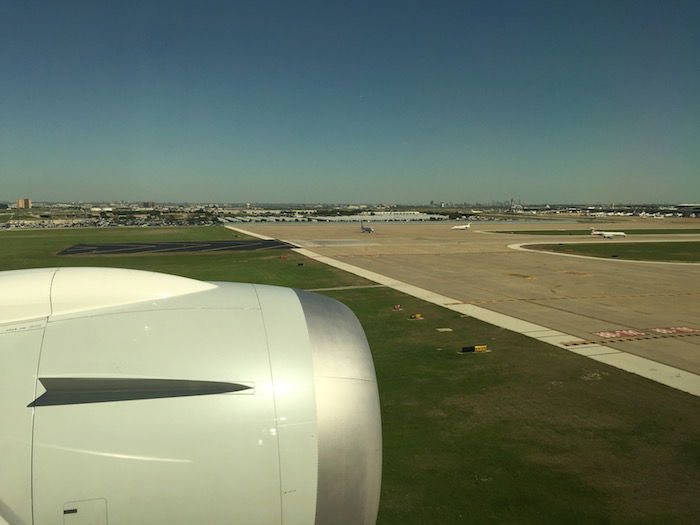 View on final approach into Dallas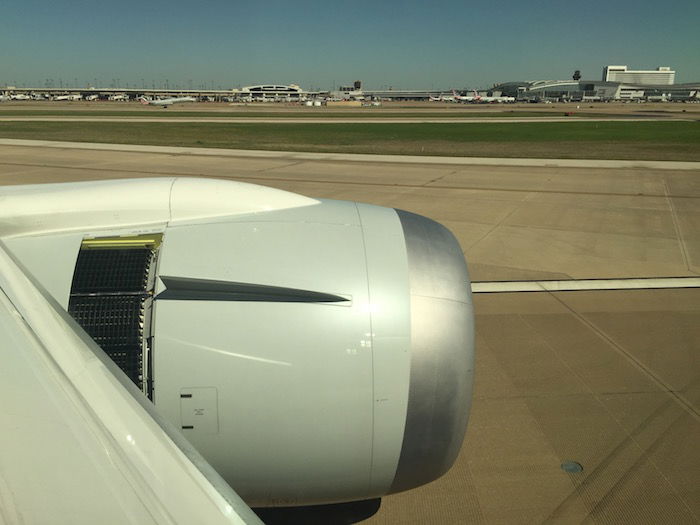 Touchdown in Dallas
From there it was a short five minute taxi to our arrival gate at the international terminal, and a couple of those minutes were spent holding short of runway 18L.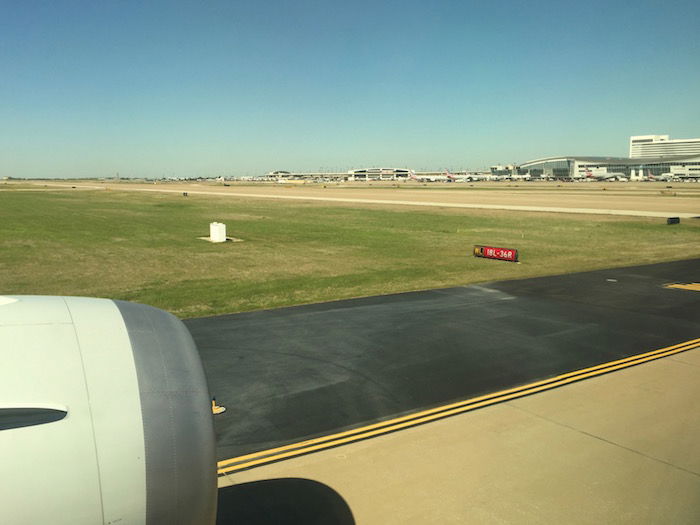 Taxiing Dallas Airport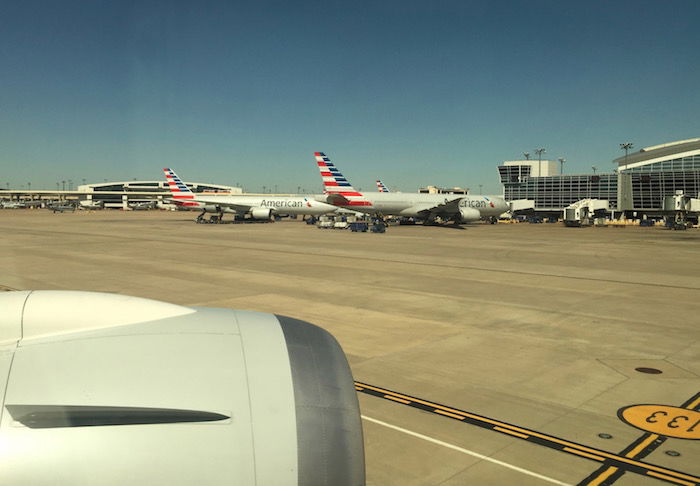 Taxiing Dallas Airport
We pulled into gate D25 at 4:05PM.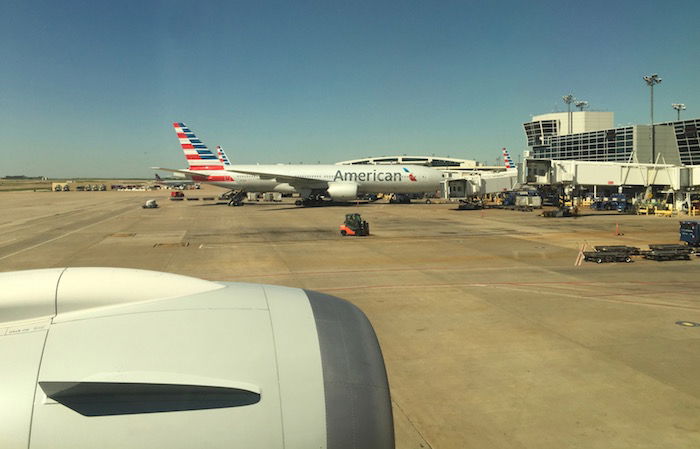 Taxiing Dallas Airport
American sometimes has employees waiting with "Express Connection" boarding passes upon arrival. This is typically for passengers who have tight connections, as the orange boarding pass cover allows them to get expedited back to their departure gate. I'm not sure why they had someone with these boarding passes waiting on arrival, given that we were over an hour early. Presumably no one was at risk of missing their flight.
As we deplaned I grabbed a quick picture of the plane. I know you're not supposed to take pictures in the customs hall itself, but in this case we weren't even in the hall, and I was just trying to grab one picture of the plane. The guy with the "Express Connection" boarding passes yelled at me. I said "sorry," and then he proceeded to get on his walkie talkie to report me — "there's a guy in a blue sweatshirt with a big camera taking pictures." I was wearing an orange sweatshirt and was taking a picture with my iPhone, so unsurprisingly, I wasn't arrested on arrival. 😉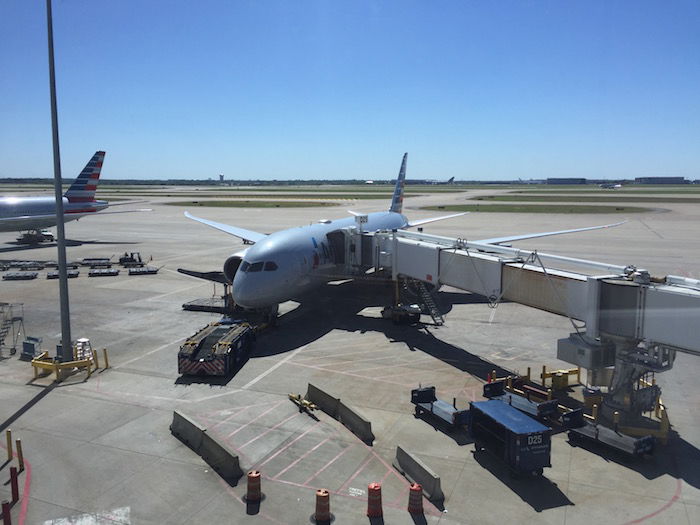 American 787 on arrival in Dallas
Thanks to the early arrival we managed to get on standby for an earlier flight back to Los Angeles.
American 787 business class bottom line
This was another very pleasant flight on American. I sat in seat 7A for the first time, which is definitely my "go to" business class seat on this plane, as it feels quite private and doesn't shake like some of the other seats.
I slept really well on this flight, and also got a good amount of work done thanks to the fast (and reasonably priced) Wi-Fi. The crew on this sector was friendly, in particular the purser. Actually, all four of my recent American flights to and from Asia have had excellent crews, while in the past I've found them to be more of a mixed bag. The food was pretty bad, though I've come to expect that when flying American out of Beijing.
All-in-all this was a very nice experience on American. Their 787s are a huge upgrade over the old 777s they used to fly on the route.