---
I've been to Beijing many times, and at least five or so times have done a day tour including Tiananmen Square, Forbidden City, and The Great Wall. I did it the first time because I was genuinely interested in it, and then over the years I've come back with many different people (parents, friends, etc.). Not surprisingly, everyone who goes to Beijing wants to see those three things, so I go with them.
The thing is, of the five or so times I've done the tour, I've never had a tour guide I'd recommend, and that's despite going off the TripAdvisor recommendations. The guides I've had have consistently taken smoking breaks, talked about girls the whole time ("I want to date Megan Fox, do you know her?"), fell asleep several times during the tour, and sort of just plopped down and let us explore on our own.
So when we organized this tour I asked the concierge at the Sheraton Grand Beijing for help, since I didn't have one specific tour company I felt like returning to. As you might recall from that review, the concierge told me that they only had one tour company they can work with, and that they couldn't do the tour the way we wanted (which was the most standard possible tour, visiting three of the biggest landmarks in the vicinity of Beijing). Eventually I convinced them it was possible, and the tour began at 7AM.
I should have known it would be a bad tour when the guide started with "your tour purchase includes me, the driver, and admission to everything. However, gratuity, which should be about 10%, isn't included." They're not even that obnoxious in the US…
Then he proceeded to talk to us about sunglasses, and how he doesn't wear them during tours because it would be "disrespecting his guests." Ironically he told us this while in the car, smoking a cigarette, with the window rolled down. Right, it's you wearing sunglasses which would make us feel disrespected…
We then did a drive by of Tiananmen Square, rather than actually visiting it. He explained that it was very busy so wasn't worth walking around in, but that we could see it all from the car… alrighty then.
Then we found ourselves in the Forbidden City by around 7:20AM. Rather than being dropped off at the front gate he had a "shortcut," which involved us walking about an extra mile.
We got to the gate at around 7:40AM, and after standing there for 20 minutes he informed us that he couldn't buy tickets for another 30 minutes, until 8:30AM. Why the hell start a tour at 7AM if the gate doesn't open until later?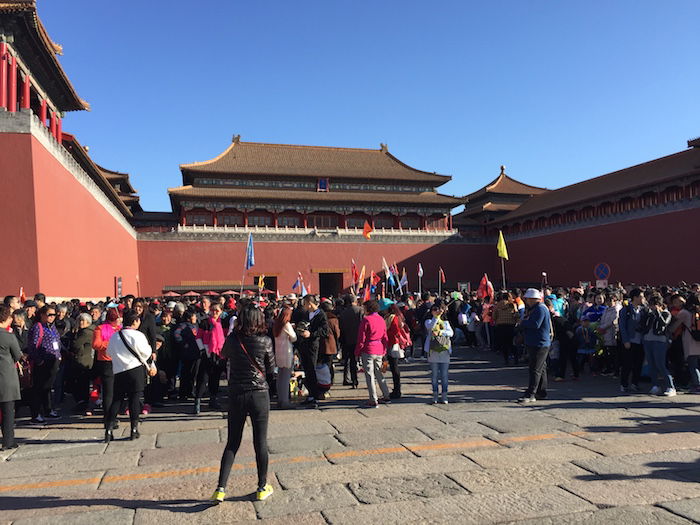 This was perhaps the most amusing part of the tour, which I think westerners aren't prepared for when they come to these major tourist attractions in Beijing. People assume that these attractions will be full of western tourists, when in reality most of the tourists are from rural areas in mainland China, who may have not seen many westerners before.
So without exaggerating, for the next 30 minutes people lined up to take pictures with us, as if it was a meet-and-greet with Justin Bieber. We must have taken pictures with over 100 groups. It was insane.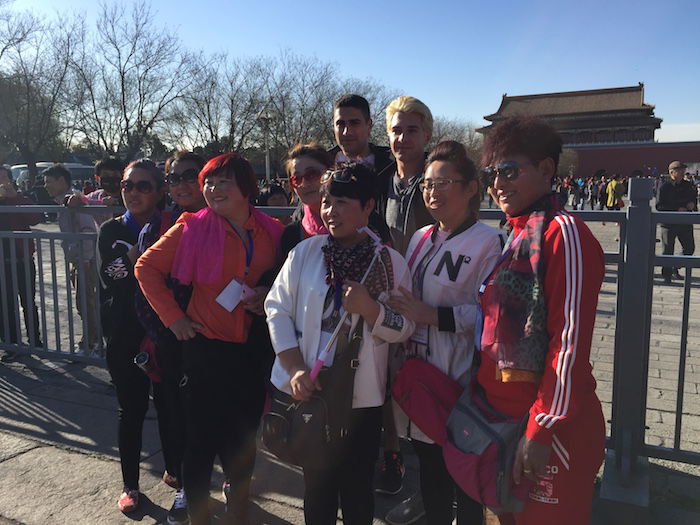 The Forbidden City has a fascinating history and is massive, and I consider it to be the most enjoyable part of these tours.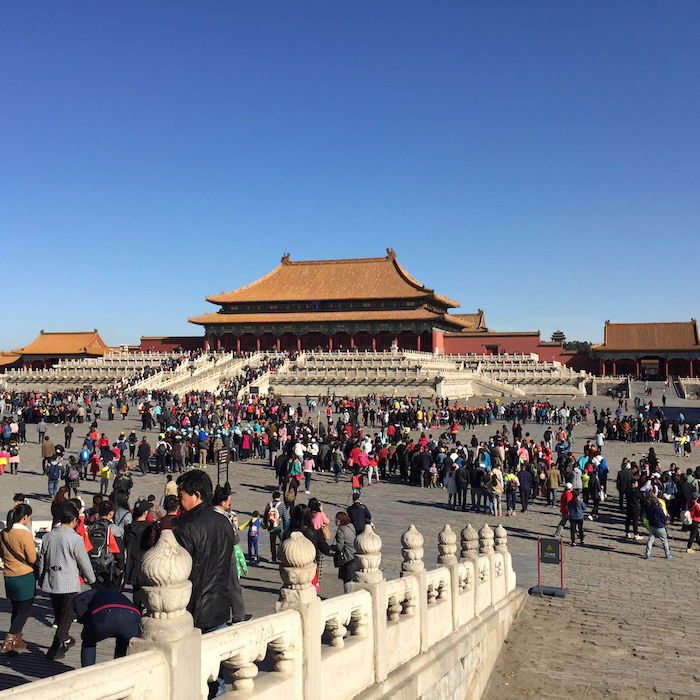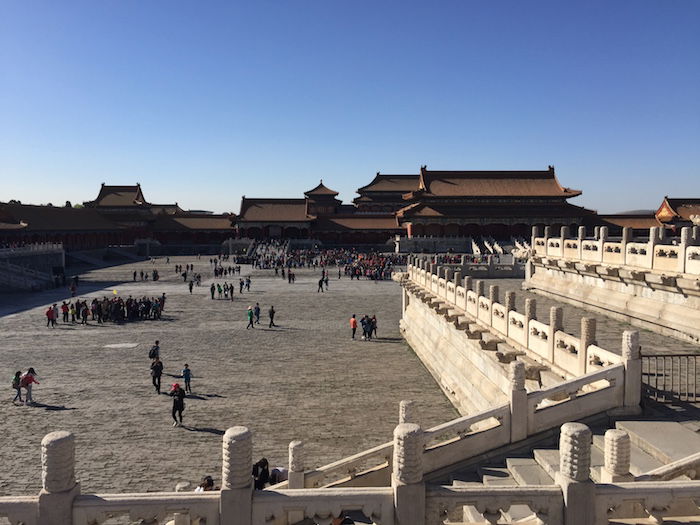 After wrapping up at the Forbidden City it was time to drive to the Great Wall. Our guide asked if we wanted to stop at a jade factory first, which was "included with our admission." When we declined, he asked if we wanted to stop at a teashop. No thanks as well! I've done enough tours around the world that I always say no to these intermediate stops which are complete tourist traps where they try to sell you crap. It reminds me of that one time in Bangkok…
He suggested we go to one specific section of the Great Wall which would have less traffic, because he said traffic would be very bad otherwise. Two hours into the drive (which is significantly longer than it has taken for me to get to any other part of the wall), he asked if we wanted to stop for lunch.
It was almost noon at this point, and we started our tour at 7AM. We were hungry, so we agreed. When we pulled up to what looked like a massive factory with probably two dozen buses parked out front, I thought to myself "oh crap." Sure enough we had to walk through a huge showroom before we got brought to a dining room with probably a thousand tourists in it.
It's not that I'm opposed to having a lunch at an authentic/cheap restaurant, but this was anything but authentic. It was the equivalent of a cafeteria meant to serve thousands and thousands of tourists a day. No thanks. The food looked really unappetizing, and we ended up buying some ice cream from the cooler downstairs. Somehow even the ice cream tasted like cardboard.
Then we finally made it to The Great Wall, which is of course impressive.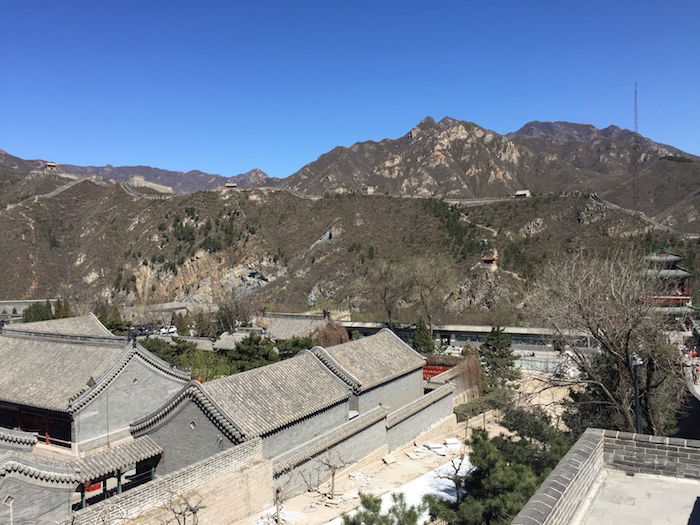 It reminds me a bit of this scene from the movie "The Guilt Trip:"
The history of it is fascinating, but once you're there, you sort of wonder how far you're supposed to walk. It's not like you'll be able to walk any significant distance of it, given how steep the steps are. At the same time, the first half mile or so is super crowded. So while I've always enjoyed seeing The Great Wall, I enjoy reading about the history of it more than I actually enjoy visiting it repeatedly in person.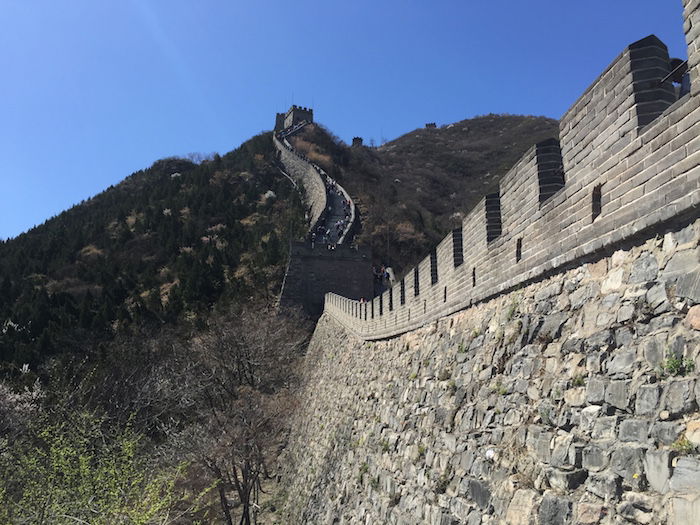 After that it was a roughly 90 minute drive back to the hotel.
Bottom line
There are of course certain sites people want to see when they first visit a city, which is why I've ended up doing this tour so often. This one was especially bad in terms of the guide, though I think in the end we all still enjoyed it.
Generally I'm someone who's more interested in the vibe of a city than in the actual landmarks. I like to call many of them "Wikipedia/Google Images landmarks," because viewing them online and reading about the history online is more enlightening to me than actually visiting repeatedly.
I do think that the Forbidden City is interesting to actually see.
Meanwhile Tiananmen Square is really just a square with a fascinating history, but isn't actively interesting to visit.
As far as the Great Wall goes, I think most people envision the below, when in reality there are thousands and thousands of people in close proximity, which probably takes away from the charm a bit.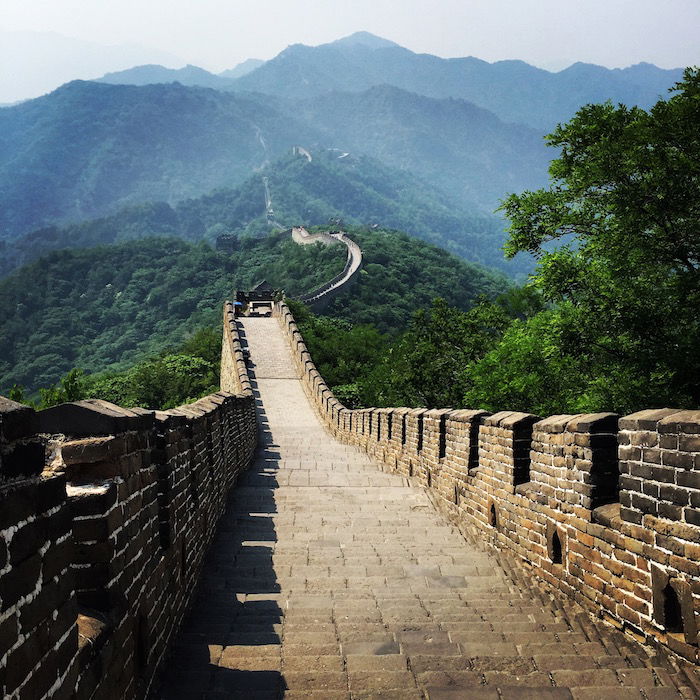 It sort of reminds me a bit of this Bored Panda piece with 20 pictures of "Travel Expectations Vs Reality."