Earlier this year American introduced a new booking interface, though their rollout has been slow. This new interface has been especially bad for award tickets, as the calendar function with the new interface mostly hasn't been working properly.
Recently American has seemingly rolled out the full functionality of this new award search, including the calendar feature. This seems to have introduced some interesting opportunities.
American Has Award Charts, But Dynamic Award Pricing
American has historically been known for how stingy they've been with saver level award availability on their own flights. American still publishes award charts (unlike Delta and United), though for travel on their own flights pricing is still rather dynamic:
Since American rarely has saver award availability, the pricing we see above that can vary significantly
While American has a distance based award chart, they seem to use married segment award logic for many awards, which can impact pricing and availability
American's First & Business Class Web Special Awards
It's interesting to note that recently we've seen some instances of very attractive award redemption rates on American flights, significantly below the standard saver level award costs.
For example, they have some first class awards between the US and Hong Kong for just 61,000 miles one-way in first class, compared to the usual saver cost of 110,000 miles.
The best way to find availability is to search your origin and destination, and then click on the "calendar" button on the right of the page.

Then you'll see a calendar that shows you pricing across a variety of dates.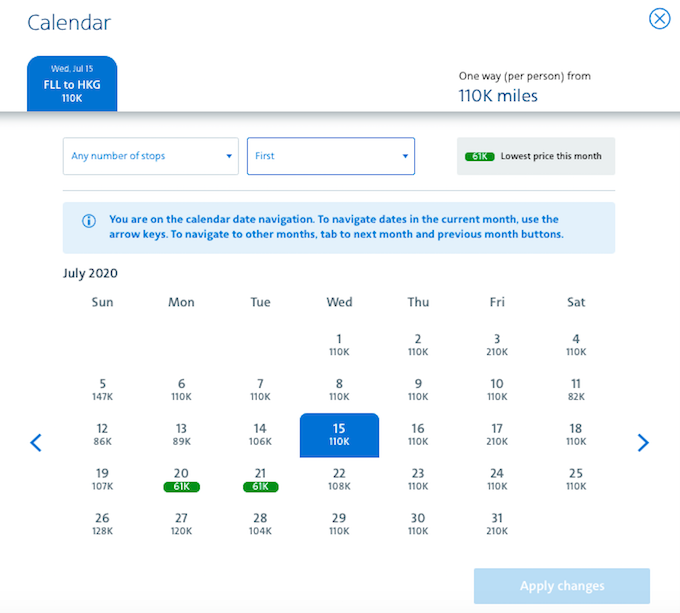 Then when you select the date you should see the lower pricing, though you may need to do some scrolling (since filtering by price only seems to go based on economy pricing, best I can tell).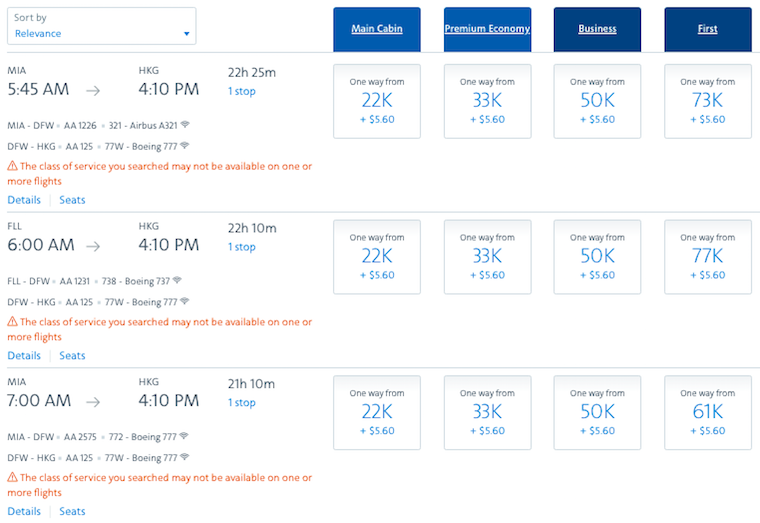 There are similarly attractive priced awards in other regions, like flying business class one-way from the US to Europe for just 50,000 miles, compared to the normal lowest cost of 57,500 miles.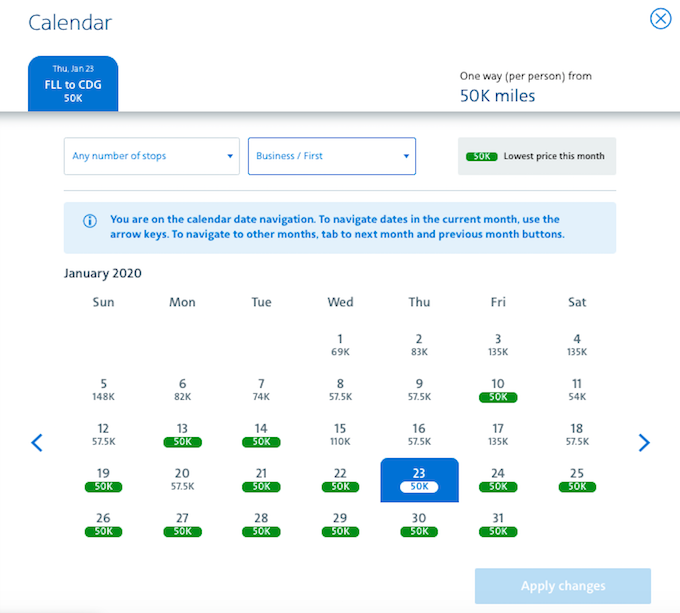 For the most part I think this is exciting, though there are some things I find particularly noteworthy, and in some cases concerning.
Restrictions On Web Special Awards
When you book a web special award, you can't make free changes. But don't worry, this isn't like a basic economy ticket:
You can still pay to redeposit the award (and if you're Executive Platinum that's free)
The only thing you can't do is change the dates and times for free, but in practice that would probably not be possible otherwise anyway, since you'd need to find another date with saver space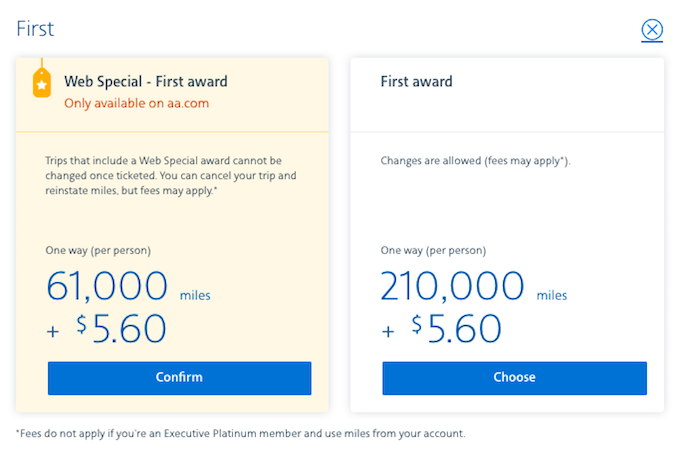 These Awards Aren't Even Bookable At The Saver Level?!
This is the part I find the most bizarre. See the above screenshot? You can book the flight either as a web special for 61,000 miles, or the normal award cost is 210,000 miles.
So while I totally get the concept of discounting some awards below the normal cost, I find it really strange that these aren't even otherwise priced at the saver award level. You'd think that if the award were bookable for 61,000 miles, it would also be bookable for the standard 110,000 miles, rather than a higher award rate, no?
American Is Aggressively Using Married Segment Logic
American nowadays is very aggressively using married segment logic on award tickets, and that's kind of frustrating.
For example, in the above cases that 61,000 mile first class award to Hong Kong isn't available if you just want to fly from Dallas to Hong Kong, but it is available if you want to originate in Fort Lauderdale, with that same Dallas to Hong Kong flight. The same is true in the Europe example.
Married segment logic is widely used in the airline industry. The concept is that airlines will make different inventory available depending on where you're originating, where you're connecting to, whether you're traveling nonstop or with a connection, etc.
However, it's only in recent years that we've seen this widely used on award tickets, and it sure makes things tougher.
So with awards you'll consistently find a lot more availability if you're on a connecting itinerary, rather than flying nonstop. That's worth being aware of, since it can have a huge impact on availability.
What This Means For The Future Of Dynamic Award Pricing
Even though American hasn't gone as far as Delta and United in fully eliminating award charts, there's no denying that American is headed the direction of dynamic award pricing. We're increasingly seeing awards priced below the lowest published costs, and we're also seeing awards priced above the highest published costs.
The writing is on the wall…
Bottom Line
It's cool to see American offer first & business class award tickets below their published saver award costs, since usually I'd be thrilled just to see any saver award space, but that rarely even happens.
The way American is going about this is odd, though it seems like it definitely pays to use American's award calendar feature to see if you can find any of these promo.
Unfortunately, though, long term this no doubt points to dynamic award pricing.
What do you make of American's new first & business class web special awards?