Even though I work almost exclusively online, I'm pretty bad with technology. I love practical technology, which can help simplify my life. Nonetheless I'm usually behind on tech stuff, and am more of a trend follower than anything else in that regard.
Early last year Starwood announced that they would be introducing SPG Keyless (now known as Mobile Key in the new Marriott program). Through SPG Keyless, your smartphone can act as your room key, allowing you to skip the front desk altogether.
https://www.youtube.com/watch?v=e4d3NmO4-_k
As of now SPG Keyless is available at select W, Element, and aloft properties.
My experience using SPG Keyless
I stayed at the W Chicago Lakeshore for the first time this weekend, and finally had the chance to try SPG Keyless for the first time.
I was skeptical of the concept, but found it to be brilliant.
So how does SPG Keyless work? A few days before my stay I saw that the SPG app showed an "SPG Keyless Invitation" on the main reservation page.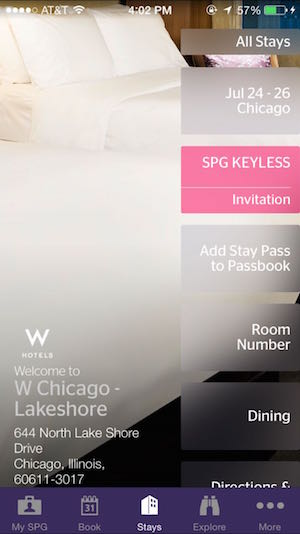 I clicked the pink "Invitation," and then was brought to a page which asked me if I wanted to participate in SPG Keyless.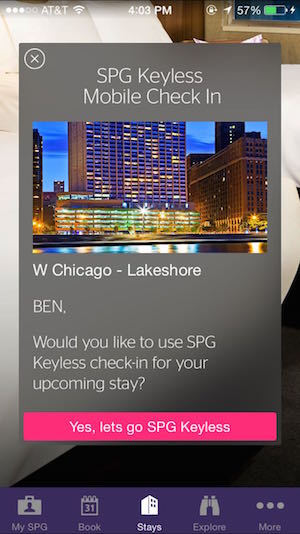 What surprised me the most about the SPG Keyless process was how thorough it was. Once you start the process you can select many preferences for your stay.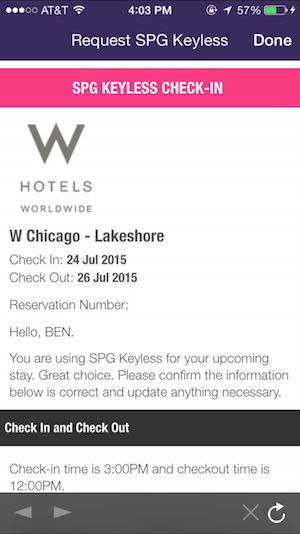 This includes your anticipated check-in and check-out time.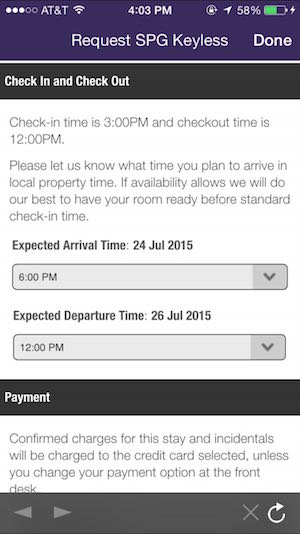 Then you can confirm that you want to use the card you had on file for the reservation for any incidentals. Then you can even select if you want to take part in the "Make A Green Choice" program, to earn 500 bonus Starpoints.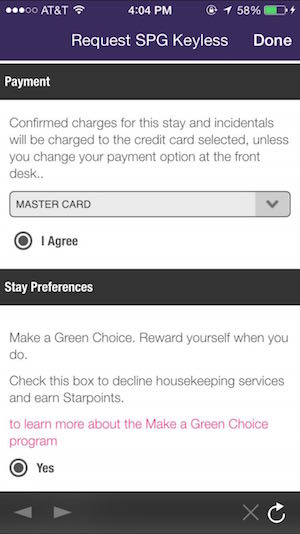 Then you can select your SPG Platinum amenity (whether you prefer bonus Starpoints, continental breakfast, or the local gift), as well as indicate whether you want to receive your folio for the stay by email.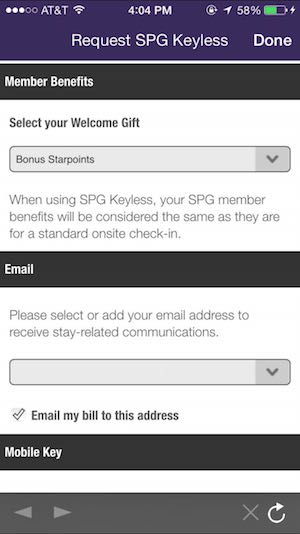 And it's that simple — at that point you're all set up.
Then on the day of arrival you'll eventually see the "SPG Keyless" section of the reservation page switch from "Requested" to "Active," which means your room is ready (you should also receive a push notification).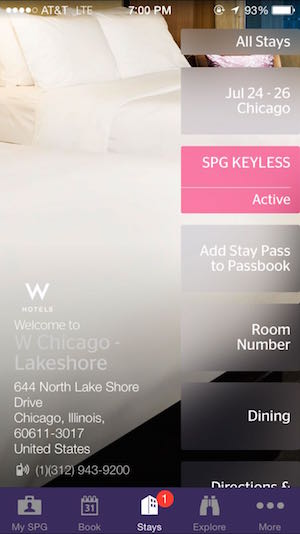 When you click on the "Active" section you'll be brought to a page which will display your room number (which you can also hide, if you want). You have to turn on Bluetooth to use SPG Keyless, as you'd expect.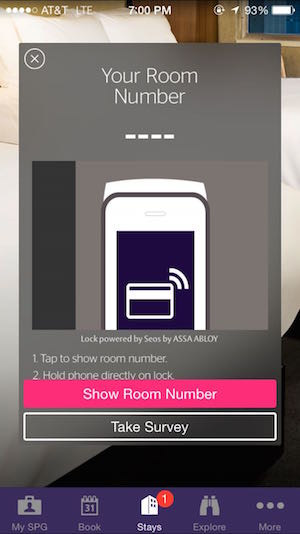 So I headed straight up to my room. I'm not going to lie, as I walked up to the door I was convinced it wouldn't work. Like I said, I'm a bit behind the times when it comes to technology, and I just figured something would go wrong (most likely user error, in my case).
Much to my surprise it worked without a hitch, both when I checked in and throughout the stay. If I'm perfectly honest, I even giggled a little bit the first time it worked. I was that impressed.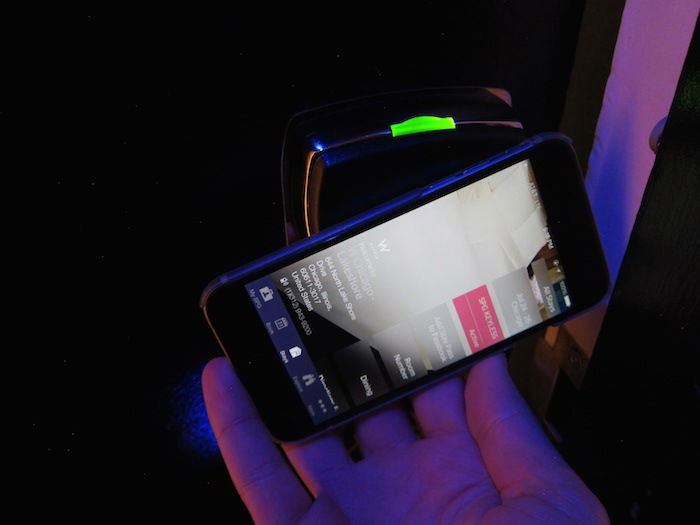 And I had a beautiful room with a view of Lake Michigan (for what it's worth, all suites were actually sold out over the weekend).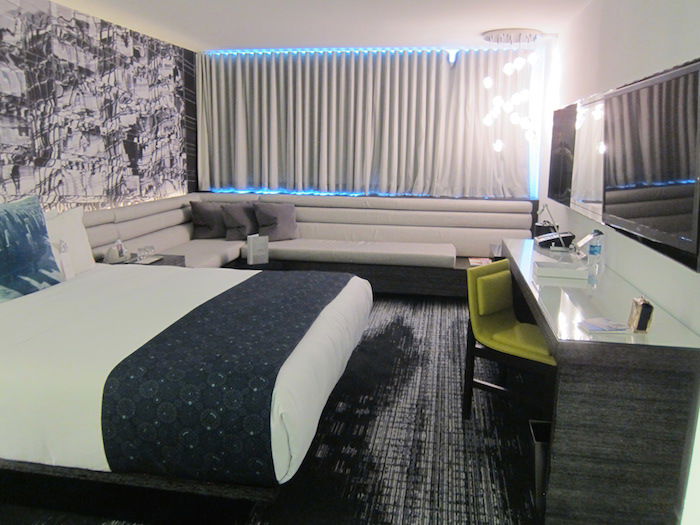 Would I use SPG Keyless in the future?
SPG Keyless exceeded my expectations. For a vast majority of stays I'd use it, as being able to skip the front desk is awesome.
That being said, for the stays that matter most — those where you're traveling with friends/family — I'd probably still go to the front desk. That's because I care much more about what type of room I'm assigned when I'm traveling on trips with others, and there's still some value to seeing what options are available.
Furthermore, this gets considerably more complicated when multiple people are staying, since presumably you want multiple keys — at that point I think it's easier to just go to the front desk and get "real" room keys.
But I think that's the beauty of SPG Keyless — they're not eliminating the front desk, but rather giving an alternative.
SPG Keyless bottom line
I was really impressed by my first stay using SPG Keyless. I thought the information requested in advance was useful to ask (preferred Platinum amenity, check-in and check-out time, whether you want your folio by email, whether you want to do "Make A Green Choice," etc.), and in the over dozen times I accessed my room, the feature worked perfectly.
Of course I don't want to judge a whole program based on one stay, but I'm looking forward to using it again.
If you've used SPG Keyless, what has your experience been?