Update: United Airlines plans to resume JFK flights as of 2021; as of February 2021 the airline will fly to LAX and SFO, though this service has now been delayed by several weeks.
United has just announced a radical change to their p.s. transcontinental service, which is their premium product between New York's JFK Airport and Los Angeles/San Francisco.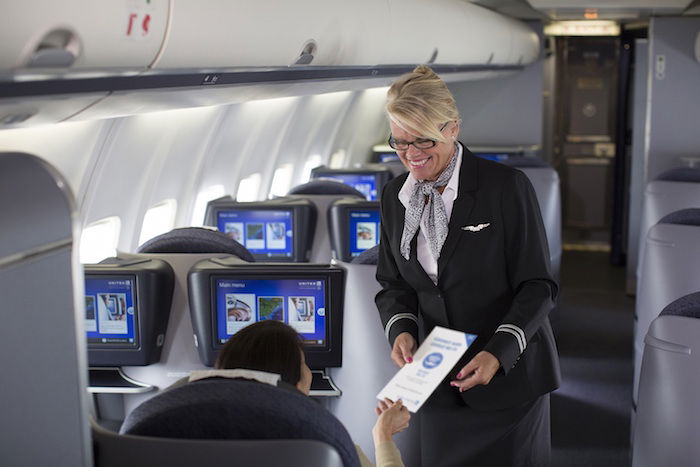 As of October 25, 2015:
United will move their p.s. flights from New York's Kennedy Airport to Newark Airport
With this, United will completely withdraw operations from JFK Airport
Furthermore, all flights between Newark and Los Angeles/San Francisco will be operated by p.s. configured 757-200s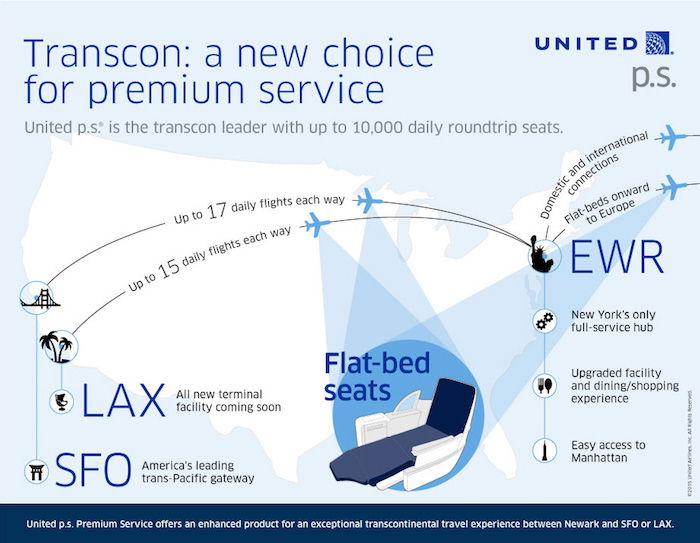 This move makes a lot of sense, as radical as pulling out of JFK Airport is. By making this move:
United will be offering even more frequencies, up to 15x daily between Newark and Los Angeles, and up to 17x daily between Newark and San Francisco
In order to operate exclusively 757-200s between Newark and Los Angeles/San Francisco, United will be reconfiguring some transatlantic 757-200s for p.s. service, and will instead replace those transatlantic routes with 767s
Ultimately United will be significantly improving the experience for passengers who normally fly out of Newark to the west coast, since all of these flights will be getting flat beds
United offers better ground services and connectivity at Newark, given that it's their hub
United really had no reason left to operate the p.s. flights out of JFK, perhaps other than that JFK is considered "New York's airport," while many associate Newark with not being as convenient.
Given that United has very little connecting traffic at JFK which couldn't be served elsewhere, this seems like it's ultimately more convenient for passengers. If you're leaving from Manhattan using public transportation, traveling to Newark Airport isn't significantly more unpleasant than getting to Kennedy Airport.
And if you're taking Uber, then the flat rates are similar to Kennedy and Newark.
I suspect this has partly been caused by transcon fares out of Kennedy being driven down substantially, due to JetBlue's introduction of Mint Class, which has put pressure on the legacies. Meanwhile out of Newark, United has a fortress hub, so I wouldn't be surprised to see them raise transcon fares.
What's also interesting here is what will happen to United's presence at Terminal 7 at Kennedy Airport, which is primarily occupied by British Airways and United. Per the press release:
With its launch of p.s. services at Newark Liberty, United will cease operations at Kennedy International Airport on Oct. 25. United has entered into two separate transactions: Delta Air Lines plans to acquire United's JFK slots, and United plans to acquire slots from Delta in Newark. Each transaction is subject to regulatory approval.
So Delta will pick up United's slots at JFK, though I'll be curious to see what happens with the gates. I could potentially see Terminal 7 being transformed into a full on oneworld terminal, given the limited gate space American has at Terminal 8. British Airways, Cathay Pacific, Iberia, Qantas, etc., already operate their flights out of there, so maybe we'll see even more oneworld carriers over there, including Qatar Airways (given their gate dispute with American at Terminal 8).
Bottom line
This is an extremely logical move on the part of United. They seemed to operate the p.s. routes from JFK out of legacy, though given their situation, operating them out of Newark makes a lot more sense. And I wouldn't be surprised to see transcon fares on them increase substantially as well, which is probably another motivation for the move.
What do you make of United switching p.s. flights from Kennedy to Newark?