With space on planes at more of a premium than ever before (just look at how many economy seats some airlines are adding to planes), there's something amazing about still having an onboard space for passengers to mingle and hang out. In a way, having an onboard bar is like the "good old days" of aviation, when the upper deck of a 747 was a lounge for passengers.
But despite airlines cramming in more economy seats, it's not stopping them from adding more amenities for premium passengers, in an attempt to win them over. For example, I've written in the past about five of the best A380 amenities out there, ranging from showers to double beds.
With that in mind, I thought it would be fun to look at five airlines with the coolest onboard bars, ranked starting with my favorite:
Qatar Airways has perfected the onboard bar on their A380. The bar is available to first & business class passengers, and is located behind the business class cabin (in front of the small upper deck economy cabin). The bar is gorgeous, spacious, and has plenty of seating.
Furthermore, there's virtually no foot traffic, given that the flight attendants don't have to walk past the bar to provide their service.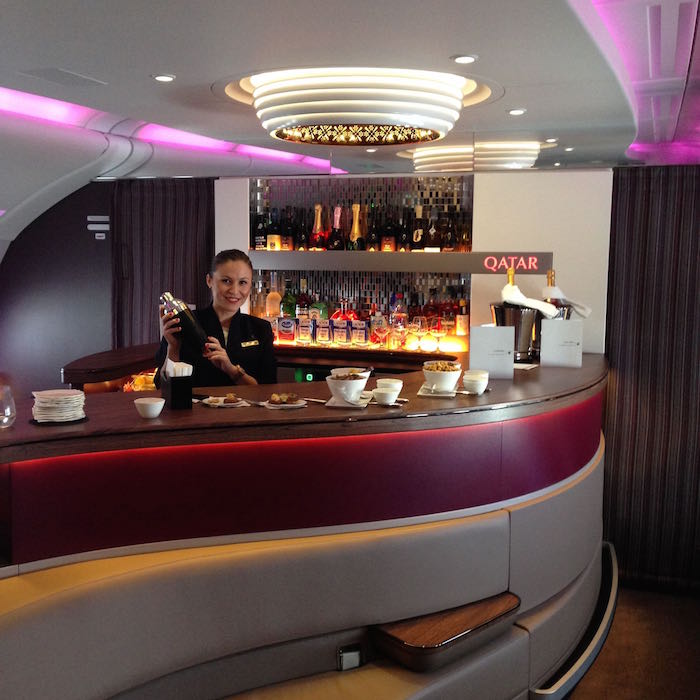 But the best part of the bar? They serve Krug, even to business class passengers. Krug is typically reserved for first class passengers, but since the bar is shared between the two cabins, everyone at the bar can drink Krug. So when you're flying Qatar Airways A380 business class, be sure to go to the bar for your champagne, regardless of whether or not you want to mingle!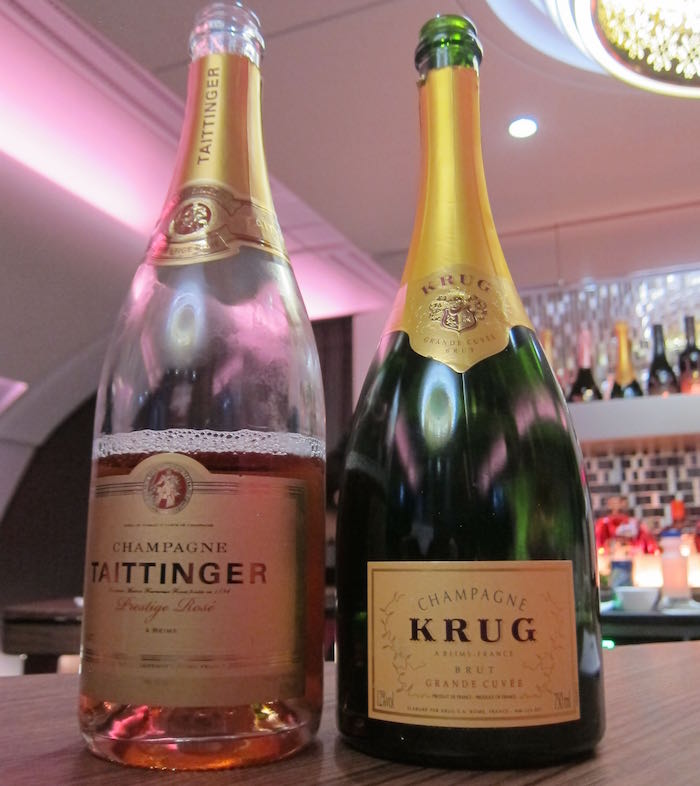 While Qatar Airways' bar might not be especially well known, I'm sure most of you have seen pictures of Emirates' onboard bar. It's located at the very back of the upper deck, and is available to first & business class passengers. Heck, Emirates even used this as a selling point in their recent ad campaign featuring Jennifer Aniston:
The lounge isn't quite as spacious as the one on Qatar Airways, and there's also a lot more foot traffic, given that the business class flight attendants are constantly walking through the bar to get between the galley and cabin. That being said, it's also one of the liveliest onboard bars, and if you have a fun/sassy flight attendant, you're sure to have a good time.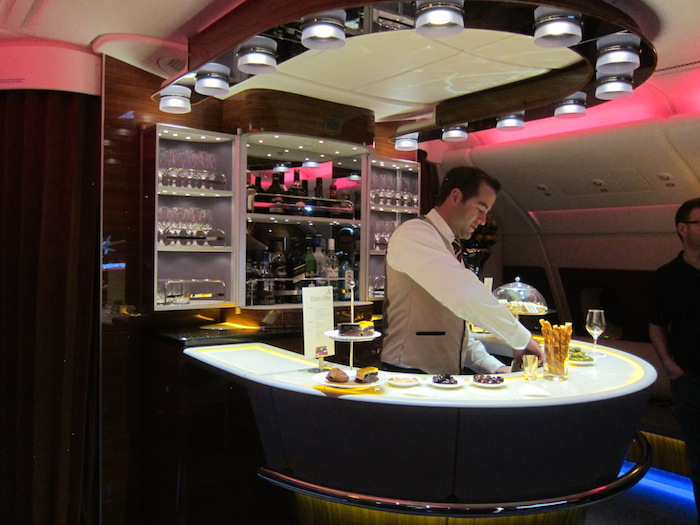 Korean Air has a business class lounge at the back of the upper deck, which is called the Celestial Bar. It's extremely inviting, with a good amount of seating. It's operated in conjunction with Absolute vodka, and they've created some signature aviation-themed cocktails.
What's a bit odd is that they just serve the signature cocktails at the bar, and not other drinks. So if you want something else to drink you explicitly have to ask the crew to fetch it from the galley.
Still, the space itself is gorgeous, and who doesn't love a vodka-based aviation-themed libation?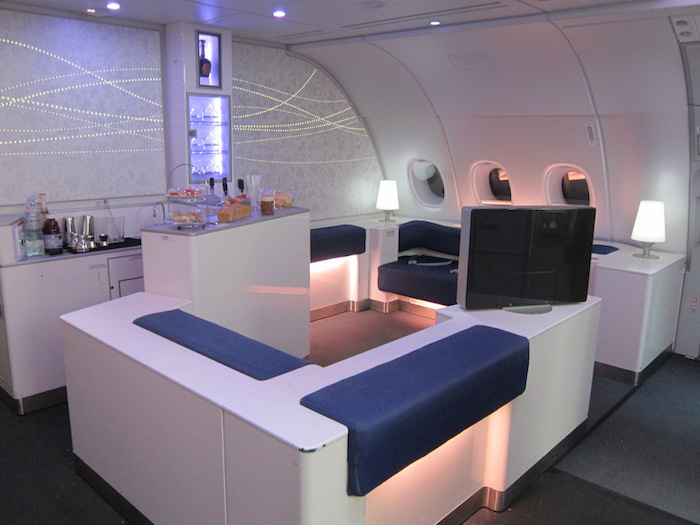 This bar is in addition to the lounge at the front of the upper deck on the Korean Air A380.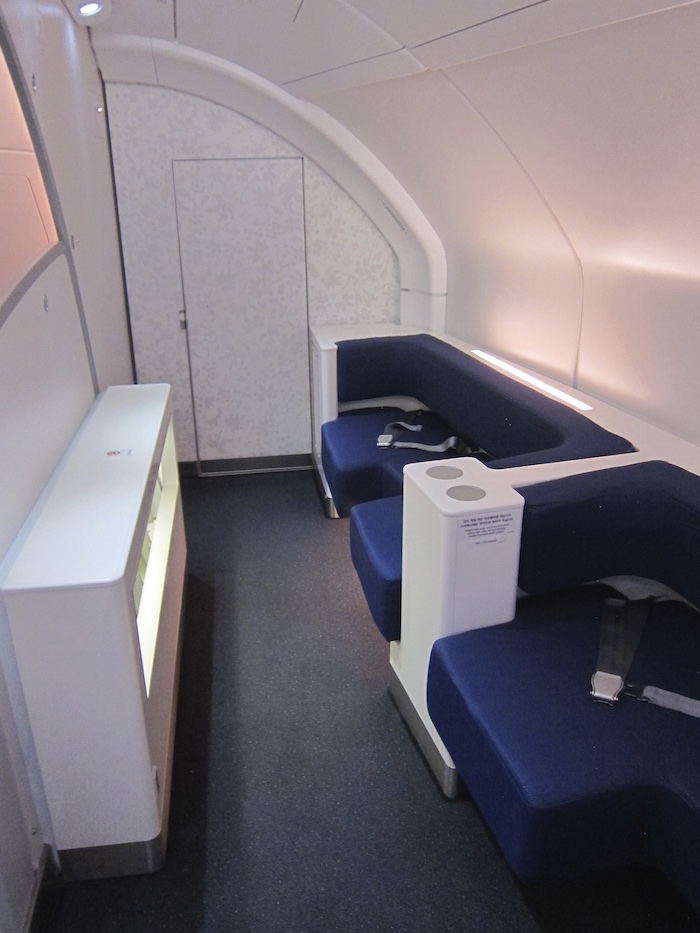 Etihad Airways has a lounge on their A380, located between the first and business class cabins. The lounge is known as "The Lobby," and features a circular seating area with six seats.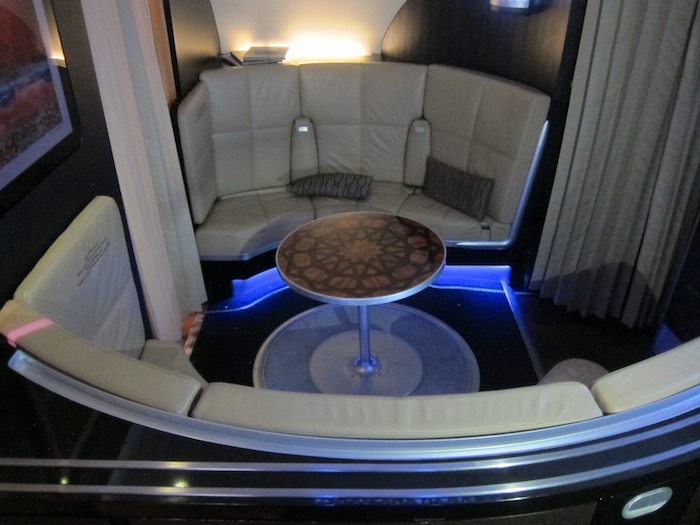 This isn't a traditional onboard bar, in the sense that there's not a bartender. But a good crew should be attentive and serve you whatever you want to have in The Lobby… even afternoon tea!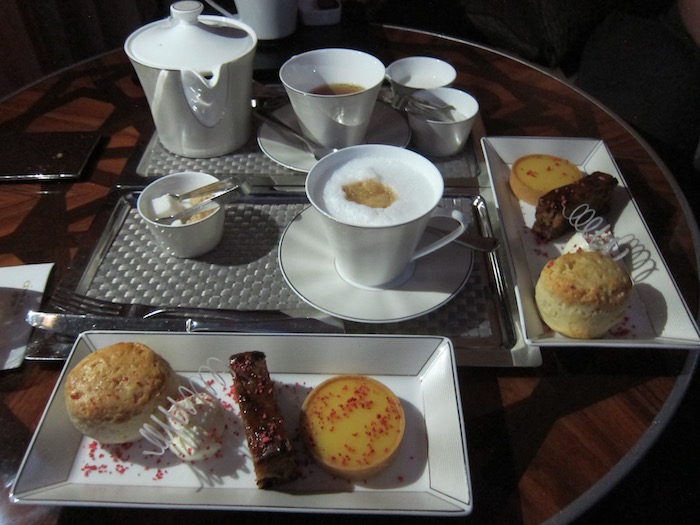 No doubt the airline most well known for their onboard bar is Virgin Atlantic, which has a bar for Upper Class (business class) passengers on all their aircraft. I suppose it should come as no surprise that a British airline has one of the largest fleets of onboard bars.
While bars are of varying popularity on Emirates, Qatar, etc., I find the Virgin Atlantic onboard bars to consistently be packed on daytime flights, to the point that they have to turn people away. And passengers can get so loud that it can disturb other passengers, especially since there's not much separation between the bar and the cabin. I've written a post asking if Virgin Atlantic should get rid of their onboard bars, given how disruptive they can be.
But hey, I guess that means people are just having fun!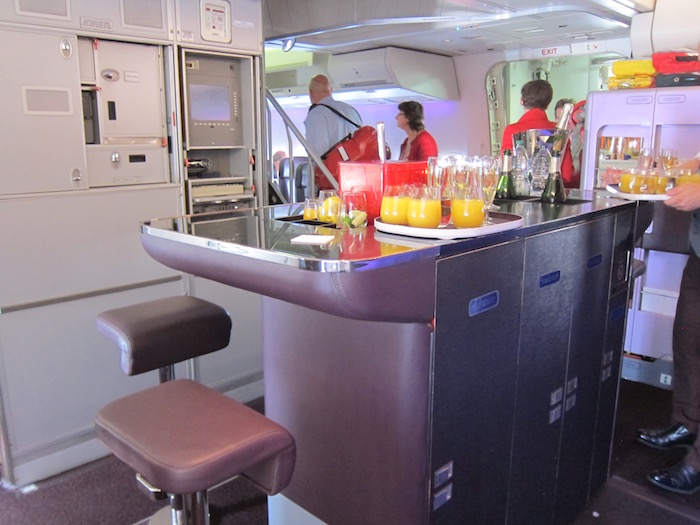 Bottom line
What's not to love about having a place to stretch your legs on a longhaul flight? I commend the airlines which use up "real estate" on planes for amenities like onboard bars.
Which airline has your favorite onboard bar?