Virgin Atlantic has just introduced a new onboard lounge concept on a subfleet of Airbus A350s, and I think I like it…
Virgin Atlantic is getting "leisure" A350s
In the long run Virgin Atlantic's flagship aircraft will be the Airbus A350-1000. The airline has a total of 12 of these on order, and the London-based carrier has already taken delivery of seven of these planes.
The seven A350-1000s that Virgin Atlantic has already taken delivery of feature a total of 335 seats, including:
44 Upper Class business class seats
56 premium economy seats
235 economy seats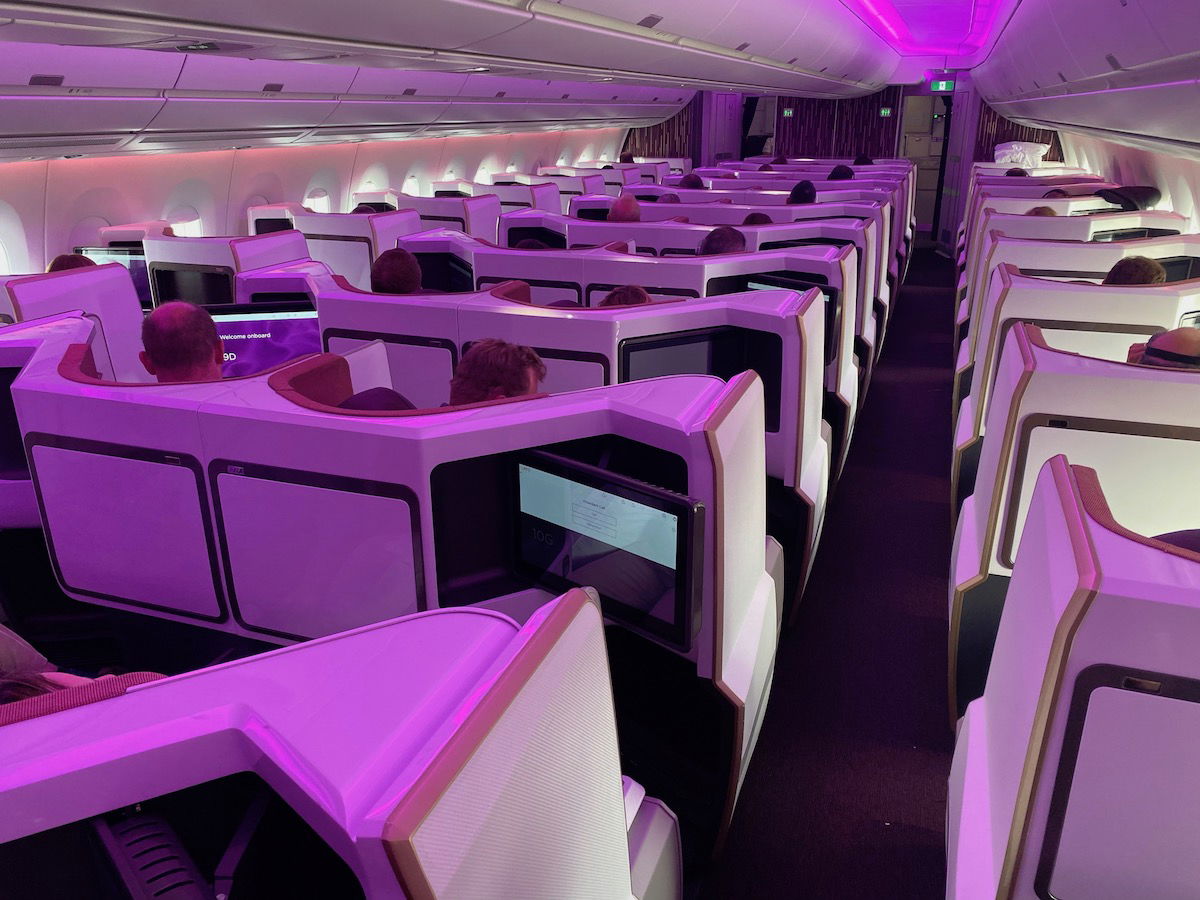 Later this year, Virgin Atlantic will be introducing an all new A350-1000 configuration, intended for leisure routes. The remaining five A350 deliveries will feature a total of 407 seats, including:
16 Upper Class business class seats
56 premium economy seats
335 economy seats
As you can see, the major difference is that business class seats are being traded for economy class seats. The leisure configured A350 features 28 fewer business class seats, but features 100 more economy class seats.
So while the standard configuration flies to destinations like New York and Los Angeles, you can expect the leisure configuration to fly to destinations like Orlando and the Caribbean.
To be clear, this new configuration has nothing to do with coronavirus, and potentially reduced business demand. Rather these two different configurations had been planned all along, as Virgin Atlantic had similarly split up its 747 fleet (which has now been retired) — some 747s featured 44 business class seats, while others had just 14 seats.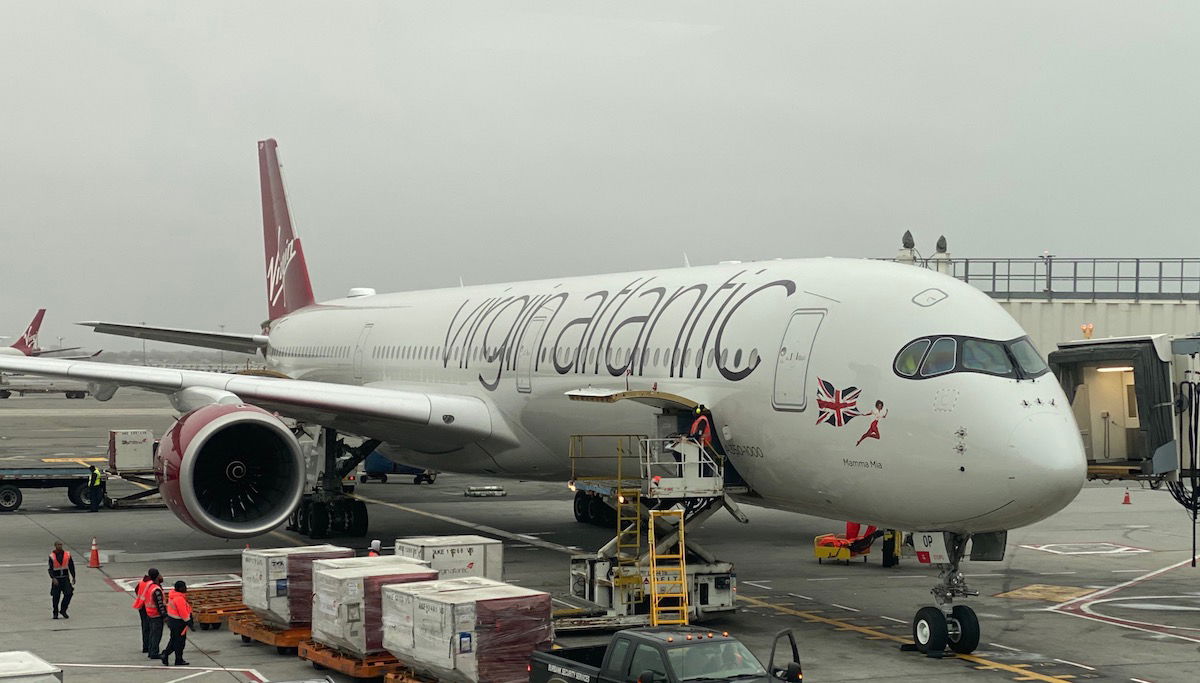 New social space on leisure Virgin Atlantic A350s
Virgin Atlantic is known for long having had social spaces on its planes. In the past, the carrier's fleet consistently featured a (small) onboard bar.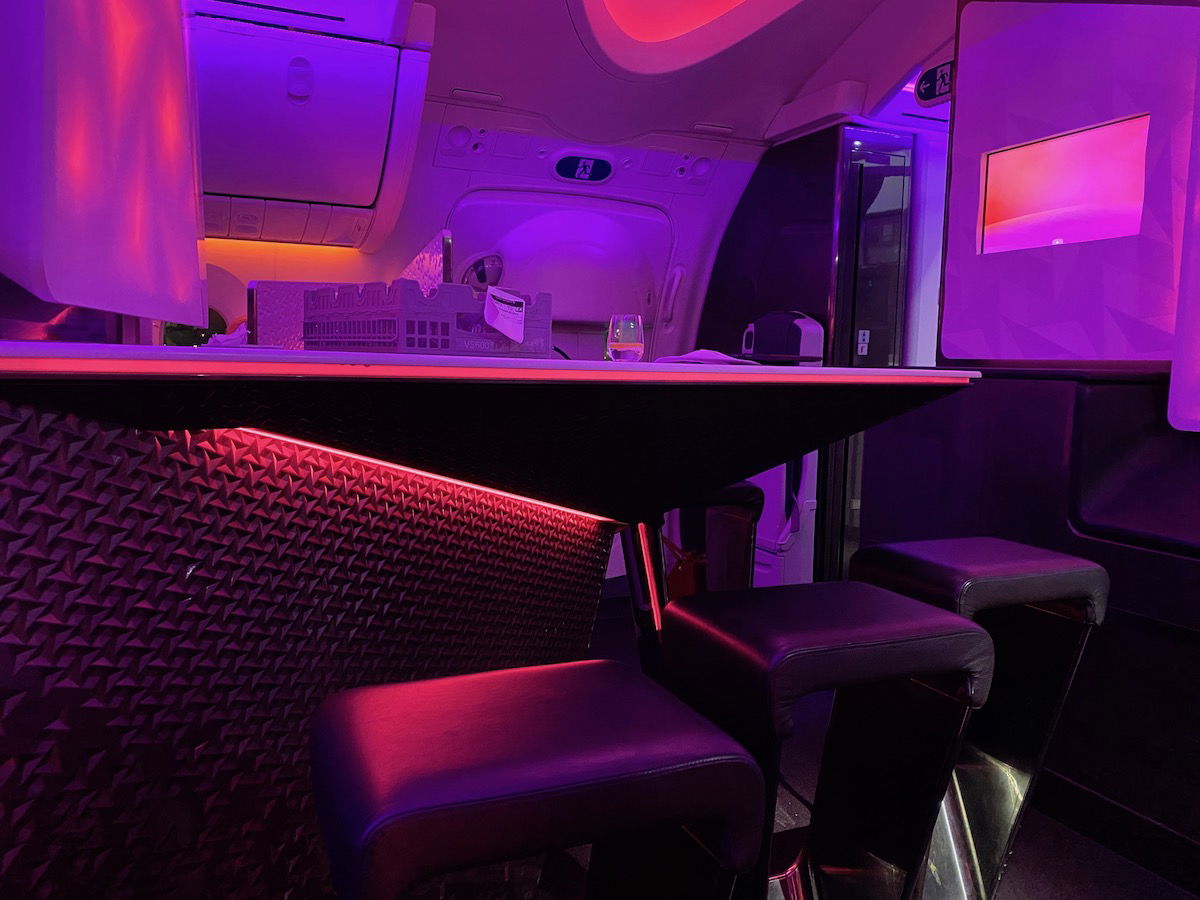 Then with the introduction of the A350, Virgin Atlantic introduced "The Loft," intended as a gathering place for business class passengers. While not a bar, the idea is that you could have drinks here, chat with fellow passengers, etc. This is located right at door two, behind business class.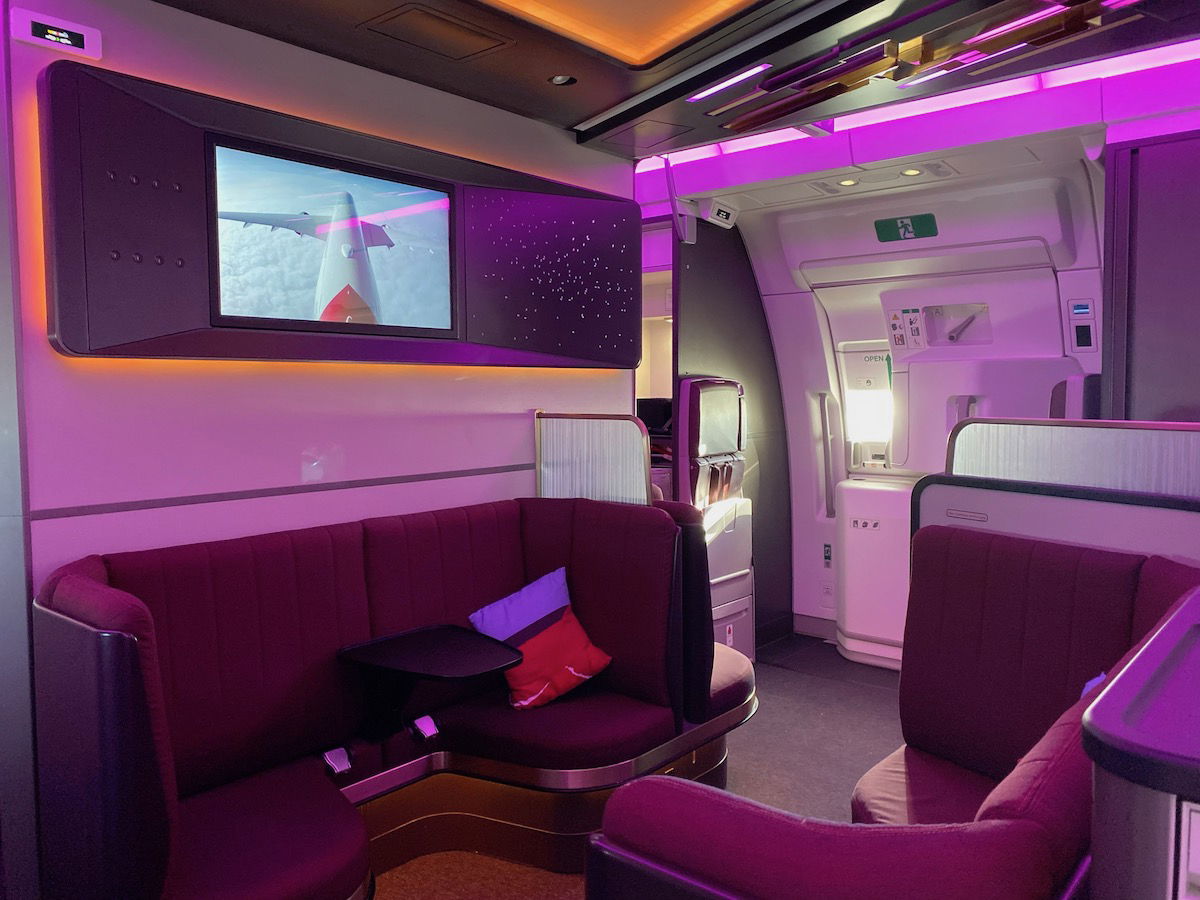 With Virgin Atlantic's new A350s, the concept isn't as practical:
That would be quite a big social space for just 16 passengers
The business class cabin will no longer take up the entire space between doors one and two, so the social space would actually be in the middle of the premium economy cabin, and that doesn't make sense
Therefore Virgin Atlantic is introducing a new concept on leisure A350s, known as "The Booth." Rather than having a full lounge, the leisure A350s will instead have a small area with a single table and two seats, so travelers can hang out together. This area will feature two 27″ touch screens, along with bluetooth audio connections, should passengers want to watch something there.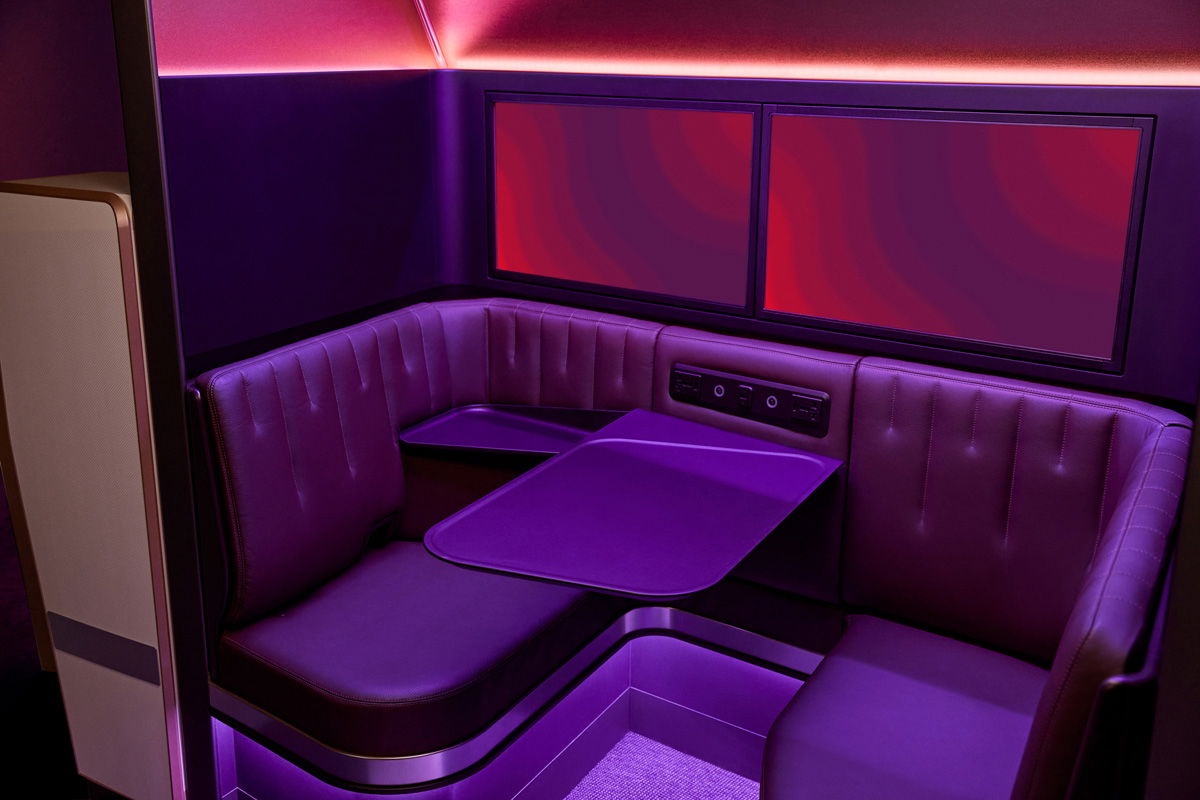 For those wondering, "The Booth" will be located at the forward left door, where you might otherwise usually find a bathroom.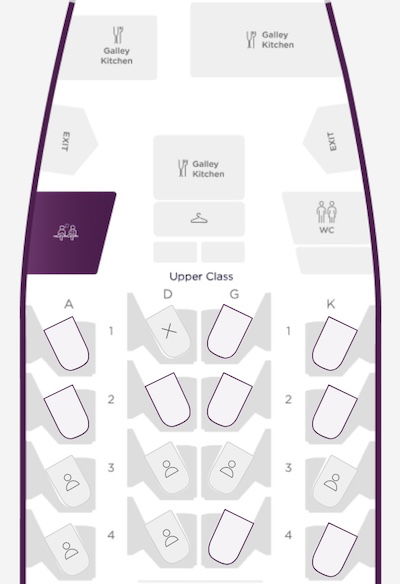 What's cool with this concept is that Virgin Atlantic may get innovative with what it does with this space. While no exact details have been announced, the airline may allow passengers traveling together to reserve this space for a certain amount of time, and then offer them special experiences.
This could be an opportunity to enjoy afternoon tea face-to-face with your travel companion, or perhaps even have a (fake) candlelit dinner. Since Virgin Atlantic's new business class seats don't allow people to dine together, this area could be an opportunity to offer that.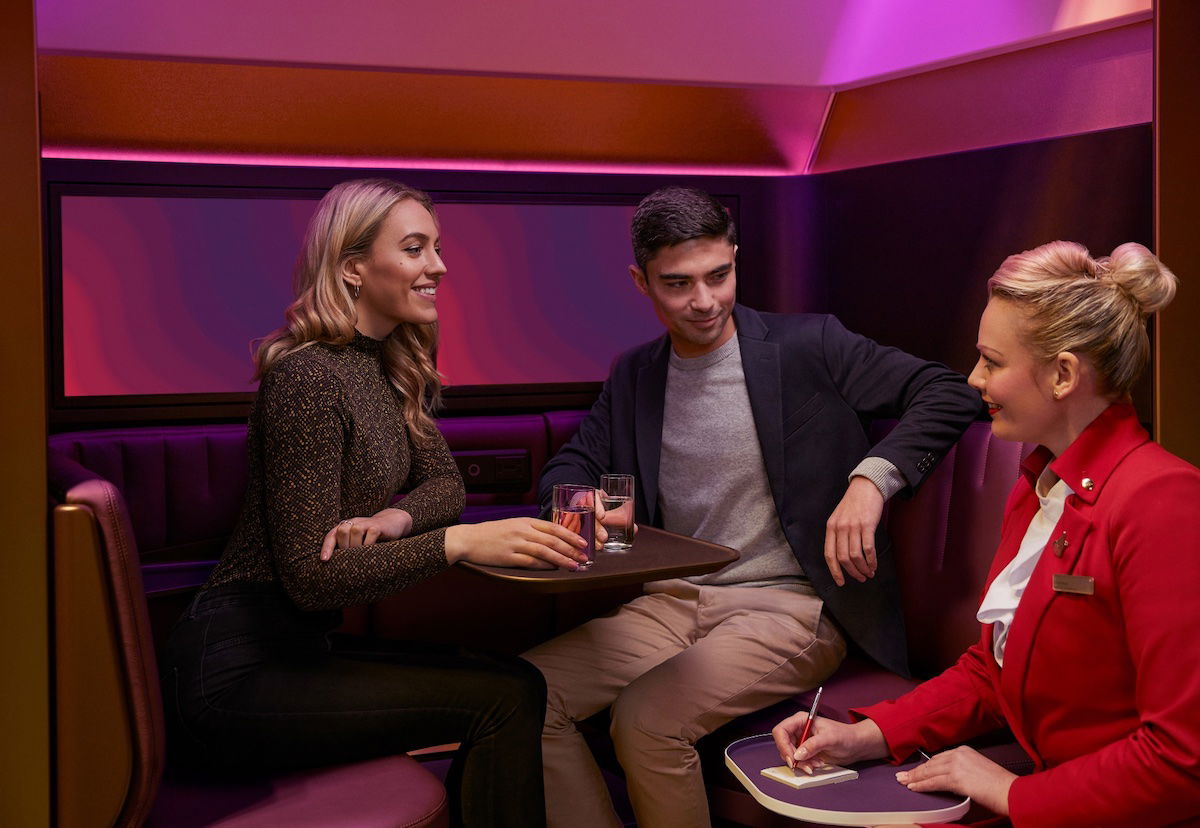 Bottom line
Virgin Atlantic will soon start taking delivery of five leisure oriented A350s. The planes will feature a significantly smaller business class cabin (and a significantly larger economy cabin), and as a result, the airline is also changing up its onboard lounge concept.
Rather than having "The Loft," the airline will instead have "The Booth," a smaller space that can seat just two people. This makes sense, both given the logistics of the location of the Upper Class cabin, as well as how few seats there are.
Personally I think this concept could be really cool if executed properly. Currently "The Loft" is simply a social space with no real concept beyond that, while "The Booth" could be awesome for people traveling together to dine face-to-face, which otherwise isn't possible in Virgin Atlantic's A350 Upper Class.
What do you make of Virgin Atlantic's new "The Booth" concept?
(Tip of the hat to God Save The Points and Head for Points)