---
I know, I know, this report is way overdue. And I know I promised I'd write a trip report on my trip to India, though it'll be such a monster of a report that I want to make sure I've written a good chunk of it before starting to publish it, since I want to post the installments in fairly quick succession. The past couple of months have been very busy for me, and writing this trip report first will be much more manageable and lead to less disappointment. So forgive me, because I promise India is still coming, though I hope you enjoy this one as well.
Planning for this trip started back in January. As a diagnosed points addict, I'm always looking for my next high. I've overdosed on Cathay Pacific, Lufthansa, and Thai, and they just don't give me the same high anymore. I needed a new drug, and that came in the form of carefully examining the award charts of just about every airline I have miles with. I've always been mystified by Middle Eastern airlines, probably because they seem so unattainable for award tickets because they mostly don't belong to the three major alliances.
I flew to Doha on Qatar Airways in first class back in March, and while the experience was good, I can't say I was blown away by them. They certainly didn't live up to the title of being "the world's five star airline," as their slogan suggests.
That being said, I had heard great things about Etihad Airways and have always wanted to visit the UAE, so I quickly got digging. I noticed that ANA (All Nippon Airways) is partners with Etihad Airways, so I headed over to Etihad's website to check on award availability. Surely enough they had excellent award availability in first class, much to my surprise. So my assumption was that ANA wouldn't have access to all that award space, since it was just too good to be true. The other issue is that ANA doesn't let you check award space on their non-Star Alliance partners unless you have miles in your account.
So I took a shot in the dark and transferred 140,000 Membership Rewards points to ANA. That was the cost of the award given that they have a distance based award chart, and that's the cost of a first class award for up to 14,000 miles of travel (and I'm proud to say that the distance of these flights was 13,734 miles).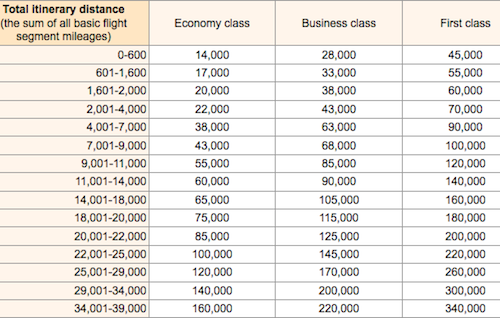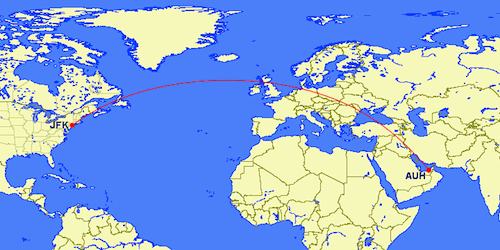 ANA is one of the few airlines to which Membership Rewards points don't transfer instantly, so I had to wait for about three days after my transfer was made before being able to make the booking.
I phoned up ANA and gave them the flights I was interested in, and was delighted to hear that they did in fact have access to the same award availability. 10 minutes, 140,000 miles, and $40.40 in taxes later, I was confirmed for my first flight on Etihad. The last awesome thing worth mentioning is that All Nippon Airways does impose fuel surcharges on award redemptions when the partner airline imposes them on revenue tickets — fortunately Etihad doesn't, making this an even better deal.
My itinerary would be as follows:
10/31 Etihad Airways 100 New York to Abu Dhabi departing at 10:45PM and arriving at 7:45PM (+1 day)
11/06 Etihad Airways 101 Abu Dhabi to New York departing at 10:30AM and arriving at 4:30PM

In terms of positioning flights to/from New York, I booked revenue tickets on American. On the outbound I spent a bit of time in New York, while on the return I connected straight to Tampa. Those flights were boring, so I'll skip them for this report.
For those of you not too familiar with the UAE or their airlines, they have two major airlines — Etihad and Emirates. Etihad is based in Abu Dhabi, while Emirates is based in Dubai. The cities are only about 60-75 minutes apart by car, so you can really fly into either airport regardless of which city you actually intend to visit.
In my case, I decided to visit Dubai for three days at the beginning, and Abu Dhabi for two days at the end. I booked the Park Hyatt in Dubai using 18,000 Hyatt Gold Passport points per night, while I stayed at the InterContinental Abu Dhabi using one of my "buy one get one free" weekend night certificates.
The last thing worth mentioning is that American actually extended their partnership with Etihad as of a couple of months ago, so it's now possible to earn and redeem American AAdvantage miles for all Etihad flights. You can read more about that and how to search for Etihad award space here.
Anyway, stand up sit back, yell at me relax, and critique enjoy. We'll pick up tomorrow in New York.