---
Etihad Airways offers their first and business class passengers chauffeur service, both on departure and on arrival. I had made the request for the chauffeur service two days before my departure, and the morning of my departure got a call from the limo company confirming my 7PM pick-up.
The driver arrived on time and we made it to JFK by around 7:45PM, with plenty of time to spare before my flight.

Limo
I've always found Terminal 4 at JFK to be one of the most exciting, given that it houses Swiss, Singapore, Virgin Atlantic, etc. I still get the "butterflies" when departing JFK T4, much like I got whenever I flew when I was younger.

Some of the T4 airlines
Etihad check-in was located in "aisle" 4, and when I arrived at Diamond First check-in there was no line.

Terminal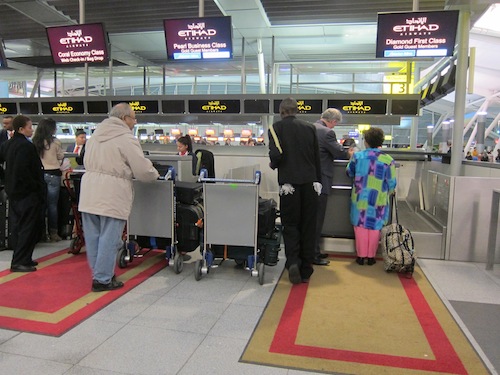 Diamond First Class check-in
They had some contract workers dressed up in Etihad uniforms (including a gold rope around their shoulder!), who helped first and business class passengers with checked bags.
Check-in was efficient, and within a few minutes I was issued an invitation to The Lounge (yes, that's the name of the lounge).
I do find it a bit disappointing that Etihad uses The Lounge at JFK for both first and business class passengers, given that it's also a Priority Pass lounge. I was already missing the Virgin Atlantic Clubhouse I had visited just a couple of months prior when flying Singapore Airlines first class to Frankfurt, as this lounge was right next door.

Terminal 4
While The Lounge was small, it was actually really decent for a contract lounge. I was welcomed at the entrance and handed over my invitation.

The Lounge entrance
The Lounge features one main room and then a smaller TV room off to the side, in addition to a self serve bar and small buffet area.

Buffet/bar

Seating

Booze

Snacks
The snacks themselves weren't much better than what you'd get in the lounge of a US airline, consisting mostly of packaged chips, fruit, etc.

Snack
After being in the lounge for about an hour, one of the employees presented me with a menu, asking if I wanted something to eat. I hadn't eaten since breakfast, so went with a chicken caesar salad.

Menu
It was served in pita bread and was actually really good.

Chicken caesar salad
I spent the next couple of hours in the lounge catching up on emails before the long flight to Abu Dhabi. While this lounge is by no means up to international first class standards, I didn't find it half bad. The Wi-Fi was fast and they had plenty of drinks and snacks, so what more could I possibly ask for (other than a Porsche to the plane or an hour-long massage)?