---
Little did I know my flight was leaving from gate 35, which is the furthest gate from the lounge.
After walking past what must have been a hundred duty free shops I found myself in the gate area, where I started the long hike towards gate 35.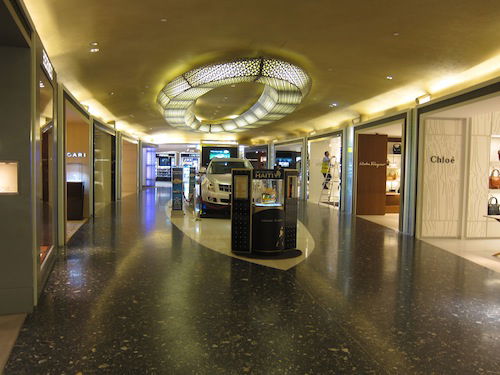 Duty free shops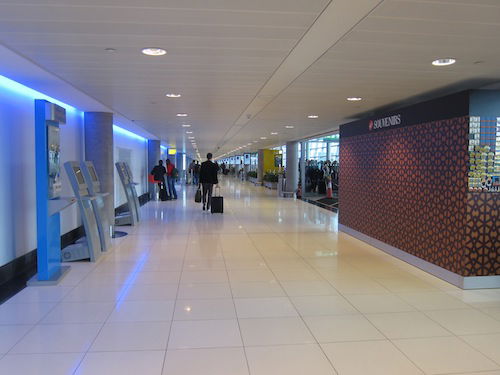 Gates
After a roughly 15 minute walk I made it to gate 35, where there was yet another security checkpoint since this was a US-bound flight. Once at the gate I was one of the last people to board, so had to wait in the jet bridge for about 10 minutes because of how backed up it was.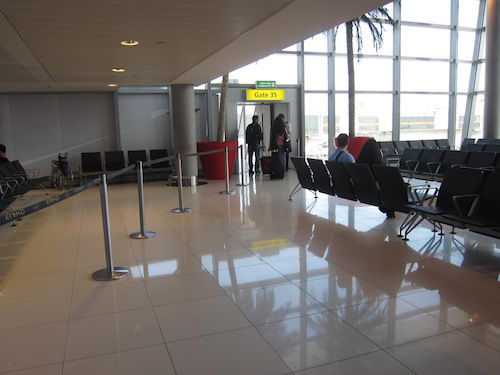 Departure gate

A340-500 bound for New York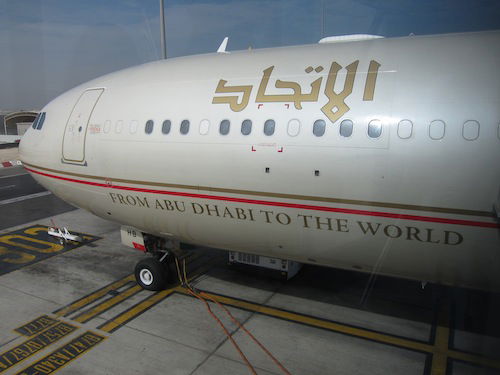 Not gonna lie, I kind of like the slogan
Etihad 101
Abu Dhabi (AUH) – New York (JFK)
Sunday, November 6
Depart: 10:30AM
Arrive: 4:30PM
Duration: 15hr
Aircraft: Airbus A340-500
Seat: 2A (First Class)
Once aboard I was welcomed by the German purser (amazingly enough she assumed I was German, probably based on my name, and greeted me as such), who had her colleague direct me to my suite, 2A. I was pleasantly surprised to find that there was only one other passenger, meaning this would be a much more private experience than the outbound.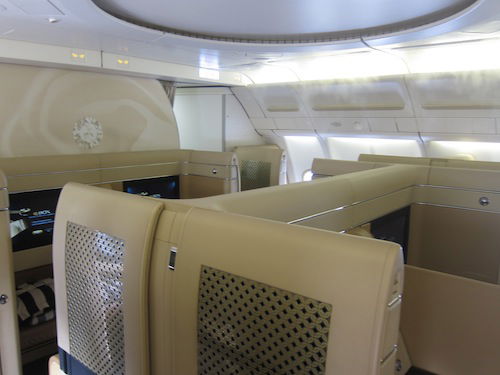 First class cabin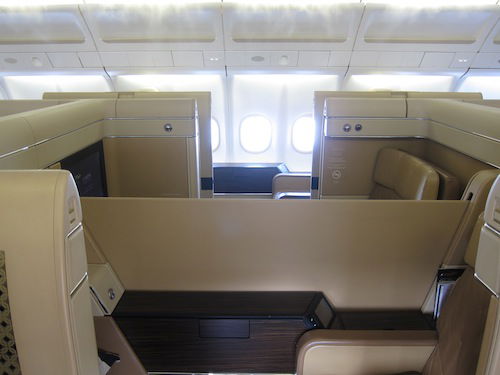 Center seats in row two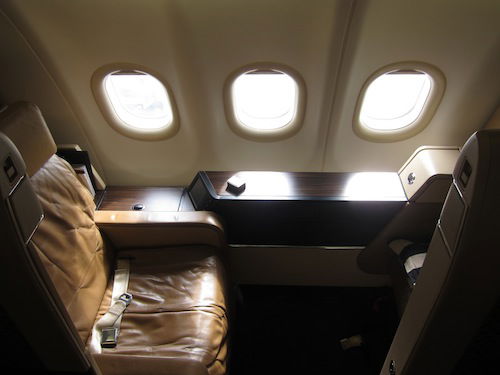 My suite, 2A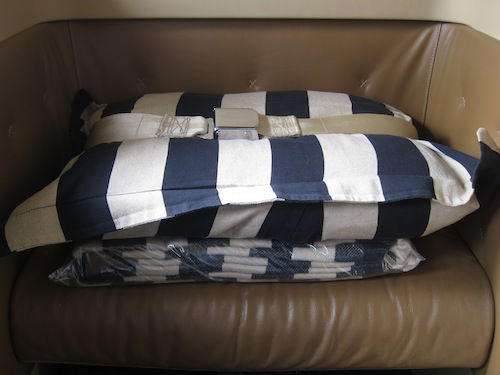 Pillow and blanket
As I said last time, I find Etihad's cabins to be stunning, among the nicest out there. I love everything from the colors, to the design, to the amazing entertainment system.
Within a minute of settling in I was welcomed aboard by "my" flight attendant, Adrian, a French-Italian guy in his mid-20s who was also the food and beverage manager. I guess the benefit of having only two passengers is that you get a 1:1 crew to passenger ratio in the cabin — that's pretty tough to beat!
He offered me a drink to start off the flight, and I ordered a mimosa. Much like on the outbound flight, there was a box of pralines already at my seat.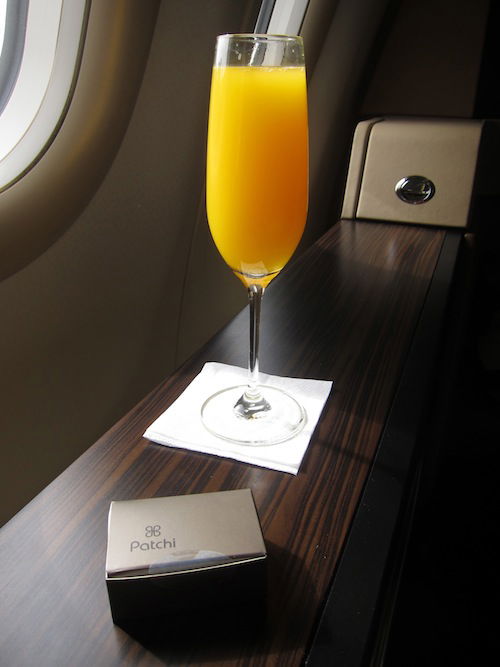 Mimosa
Shortly thereafter Adrian and his colleague came around offering Arabic coffee and dates.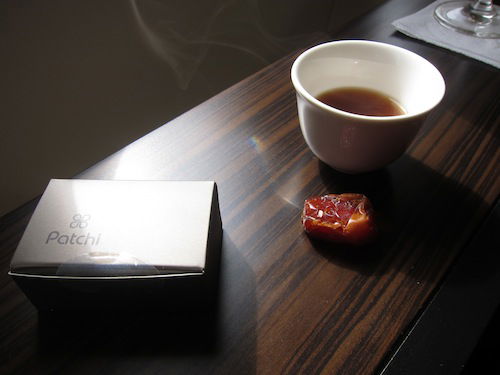 Arabic coffee and dates
I was then offered headphones, an amenity kit, and pajamas (this time I went with a medium, having learned how big the pajamas are on the outbound flight).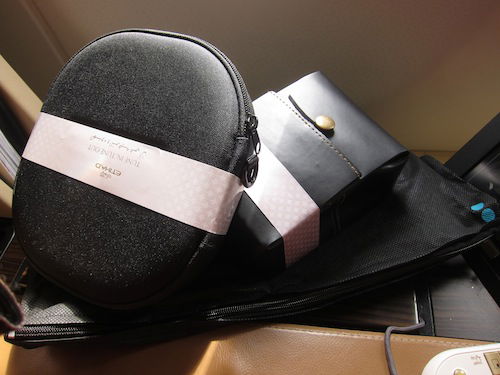 Amenities
I was then offered a hot towel.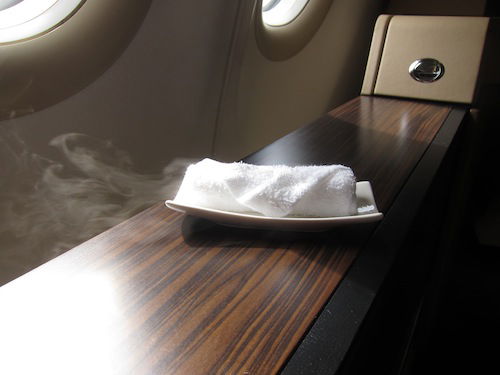 Hot towel
Shortly before pushback the captain came on the PA to welcome us aboard. While the captain on the outbound seemed to be a "local," this one was a Brit. As part of his announcement he said "here at Etihad Airways we have a very unique way of showing our Arabic hospitality, and we hope you enjoy it." He estimated our flight time at 14hr30min, and anticipated we would arrive on schedule (pronounced "shed-jewel," like any good Brit, of course).
After pushback we began our quick taxi to the runway, past a bunch of interesting traffic, including a V Australia 777, Antonov 124 (I think?), and several Etihad widebodies.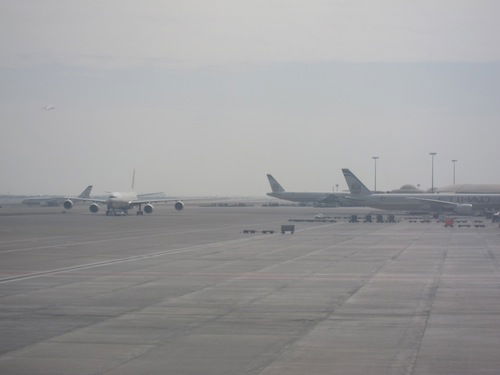 Pushing back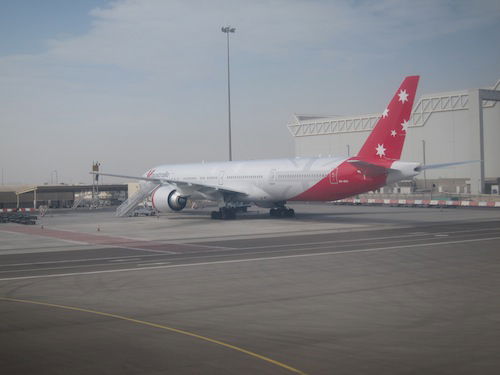 V Australia 777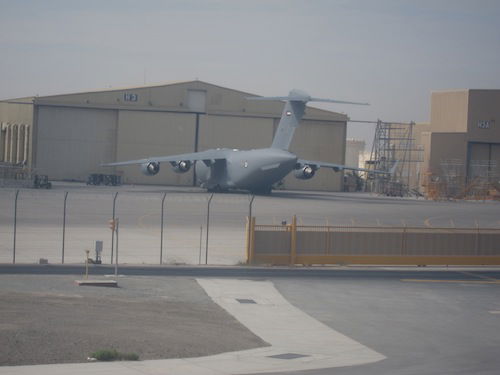 Antonov 124 (I think?)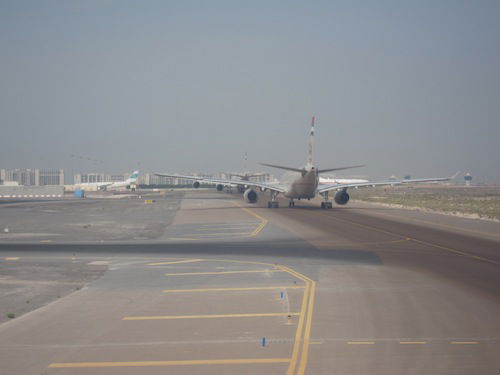 Taxiing to our departure runway
There was no queue for takeoff, so we were airborne in no time, taking off near the funky looking air traffic control tower.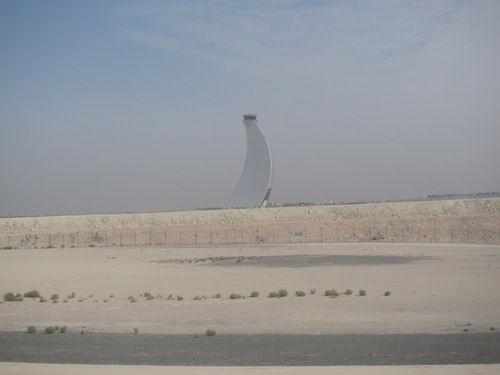 ATC tower
I loved the views on takeoff as they're so different than what I'm used to, since it was just desert as far as the eye could see.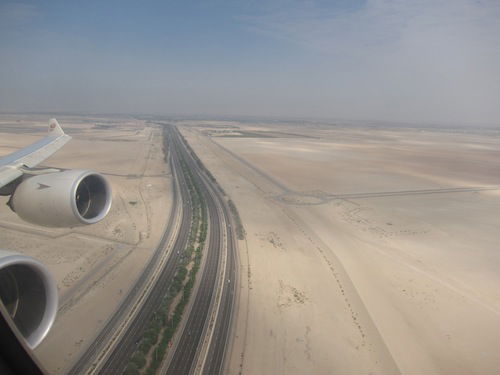 Views after takeoff
About 15 minutes after takeoff the seatbelt sign was turned on and service began. First the purser came by my seat to welcome me aboard once again, and we briefly talked about Abu Dhabi, working for Etihad, etc. She really loved her job, and was happy to be working for Etihad and living in Abu Dhabi.
Then Adrian came by to take my beverage order, and I went with a Diet Pepsi. This time it was promptly served, along with a starter. I asked Adrian what it was, and he said "I think it's cheesy balls." Hmm, okay…

Diet Pepsi and starter
He then took my meal order. The lunch menu read as follows: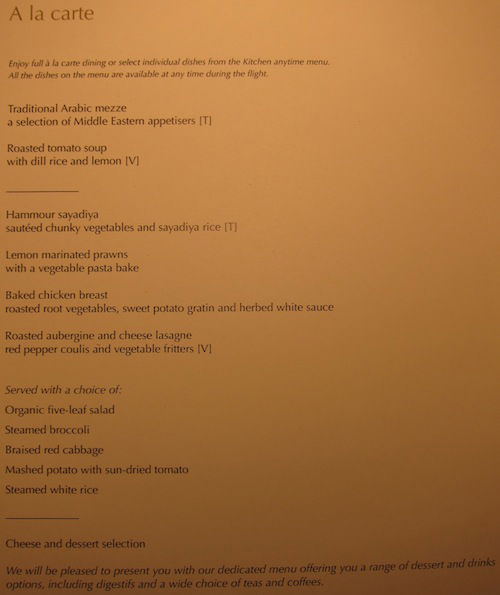 And the tasting menu read as follows: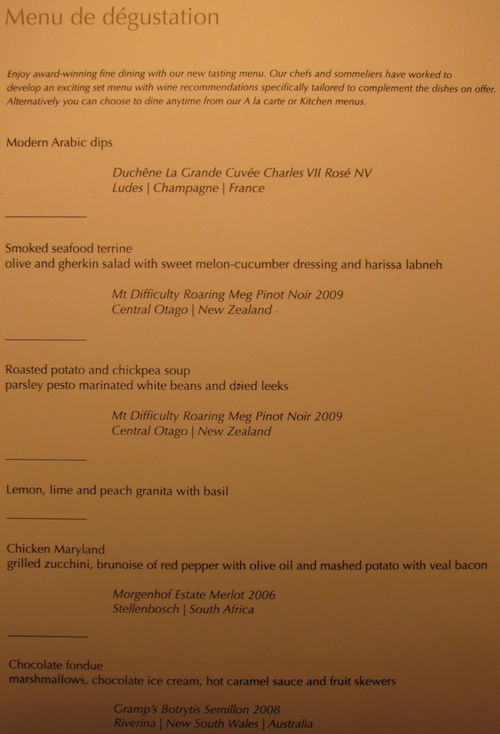 And for those of you that are interested, the wine/drink menu read as follows: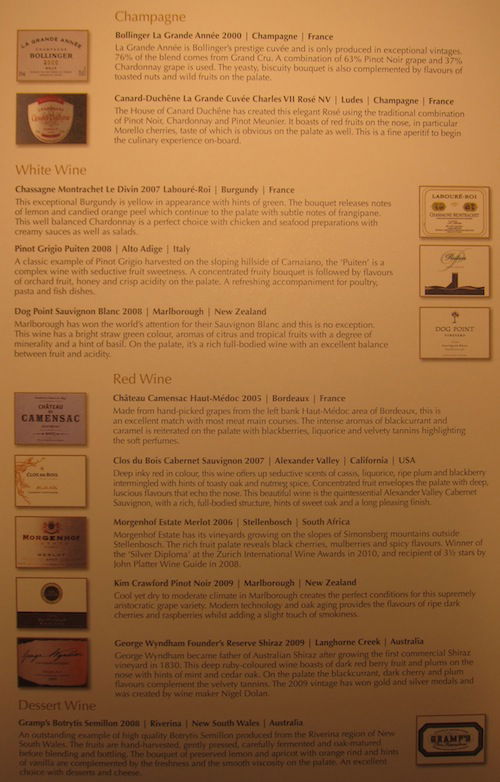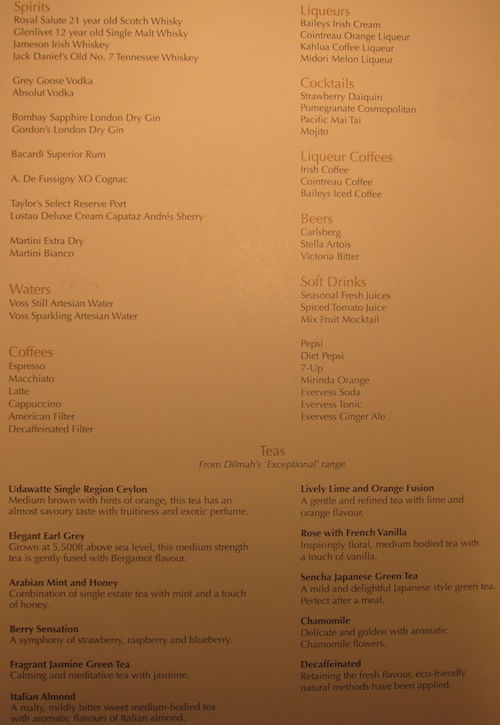 Before being served the starter my table was set, including a bread basket and water. I was offered another starter with it that wasn't on the menu.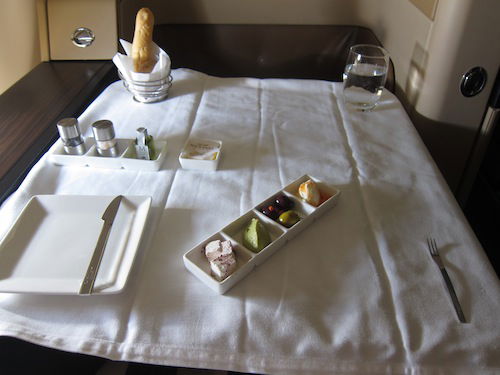 Table setup
For the main starter I went with the Arabic mezze, which was tasty.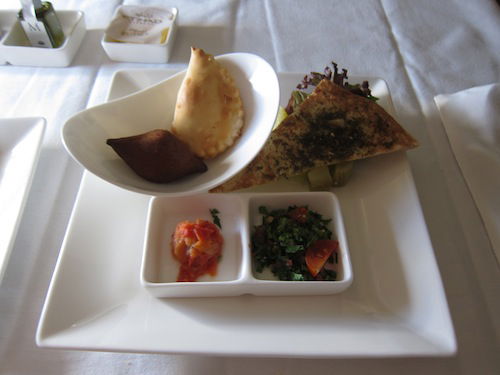 Arabic mezze
Then I went with the roasted tomato soup, which was pretty bland tasting.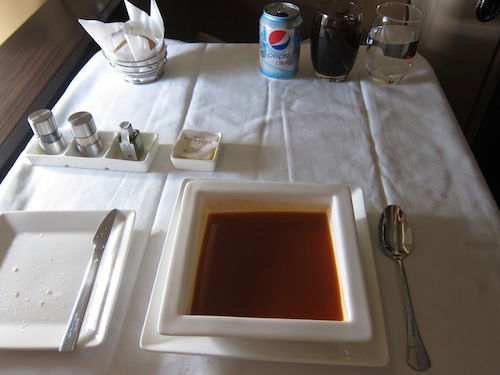 Roasted tomato soup
After that I was offered some sorbet.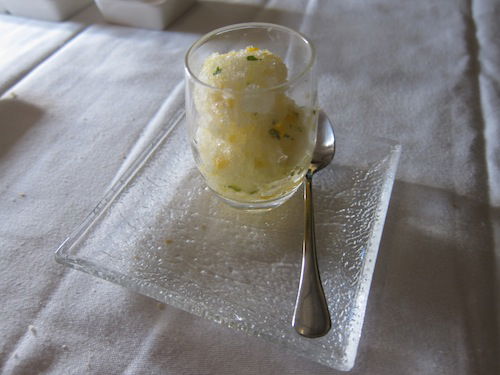 Sorbet
Then for the main course I went with the lemon marinated prawns, which were good, though not memorable.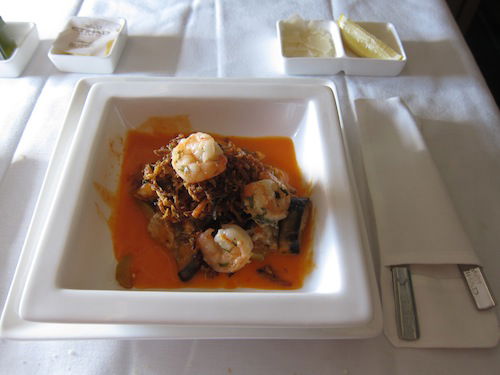 Lemon marinated prawns
The dessert was a chocolate fondue, which I thought was really unique (not to mention tasty).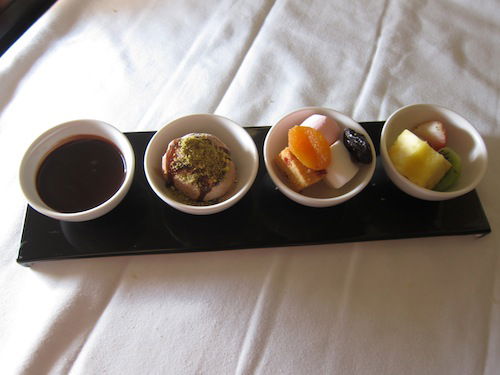 Chocolate fondue
On the whole I thought the lunch service was good, much better than the supper service on the flight over from New York. It was also nice to have one flight attendant looking after me, compared to the outbound, where I had a hard time getting a refill on a drink.
After lunch we had about 12 hours to go to New York, so I asked for turndown service so I could get some sleep. That was promptly taken care of, and I got a solid seven hours of sleep. As I said on the outbound, Etihad has some of the most comfortable seats and bedding of any airline I've flown.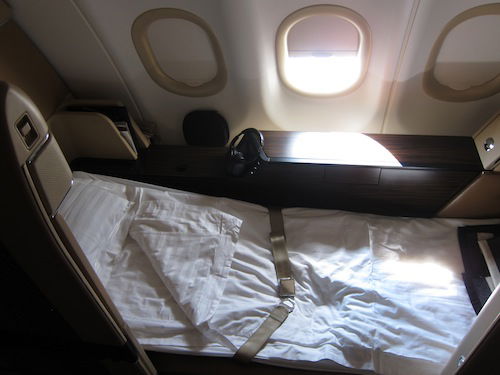 Seat in bed mode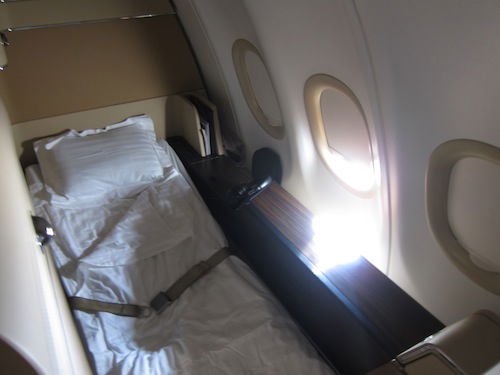 Seat in bed mode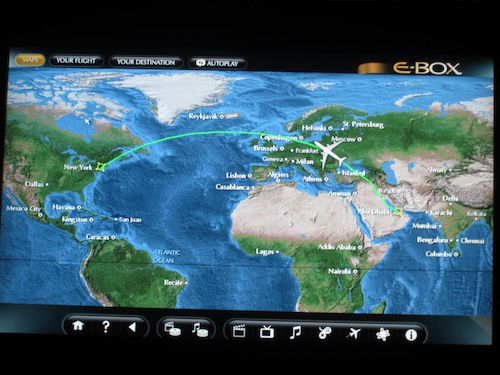 Airshow
I woke up with about five hours to go to New York, and decided to watch a movie. I went with "Everything Must Go," which was pretty funny.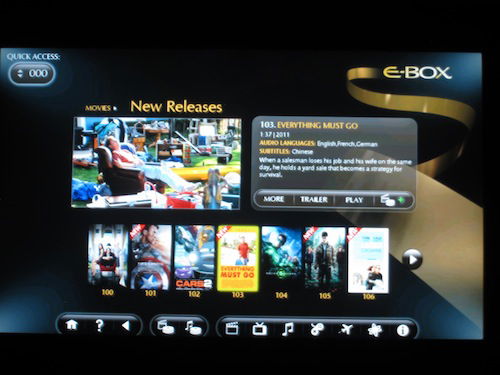 Entertainment selection
During the movie I got a bit hungry, so ordered a bagel with smoked salmon off the kitchen anytime menu, which read as follows: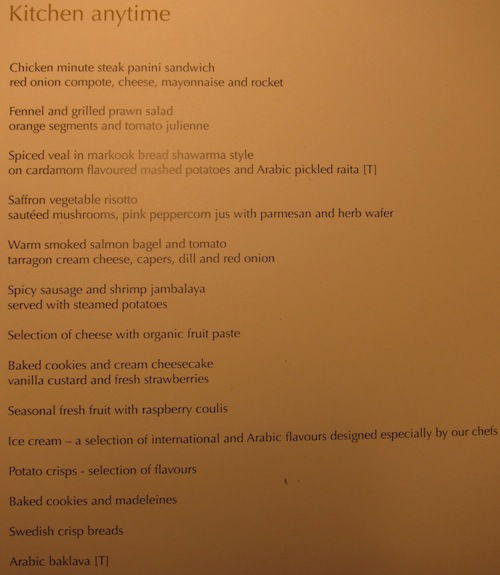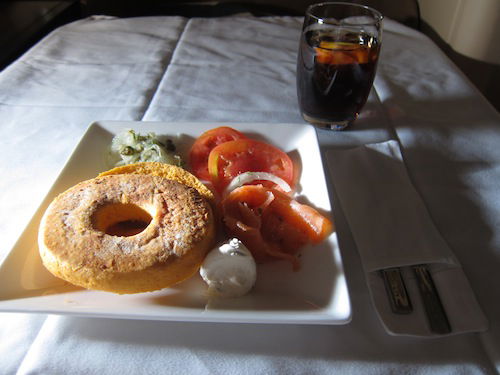 Bagel with smoked salmon
After the bagel I went with a slice of the cheesecake, along with some coffee.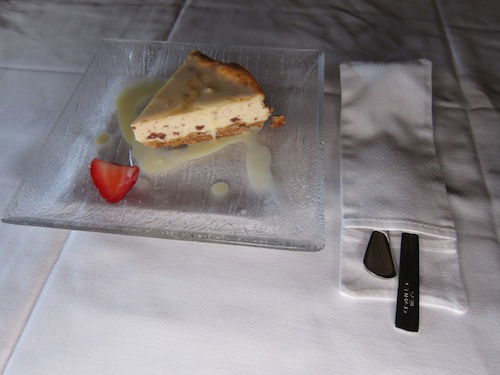 Baked cookies and cream cheesecake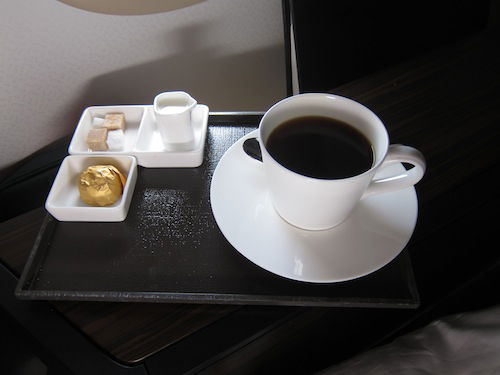 Coffee
After that I settled back into my comfortable bed and decided to watch "Larry Crowne," which was also entertaining enough.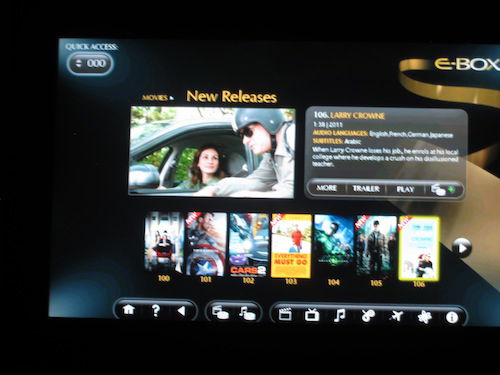 Entertainment system
About an hour before landing I ordered a chicken and steak panini off the Kitchen Anytime menu.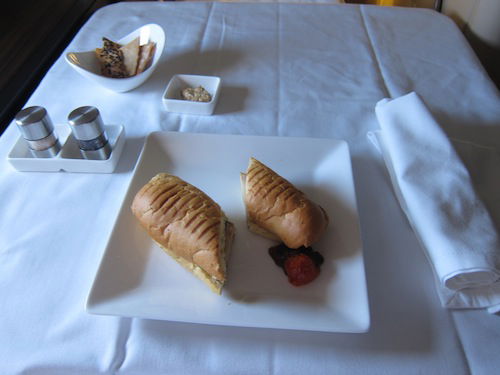 Chicken minute steak panini sandwich
For dessert I ordered some ice cream, though per Adrian's suggested topped it with some Baileys.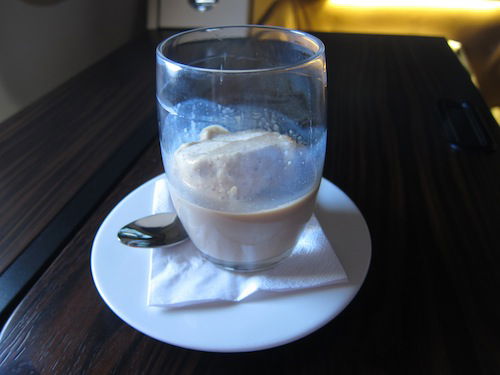 Ice cream with Baileys
About 30 minutes before landing the captain came on the PA to advise us of our on-time arrival and wish us a pleasant stay in New York.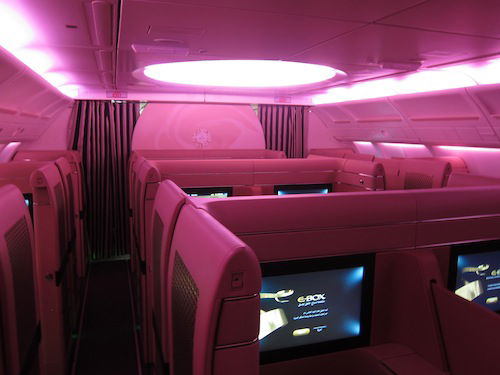 Mood lighting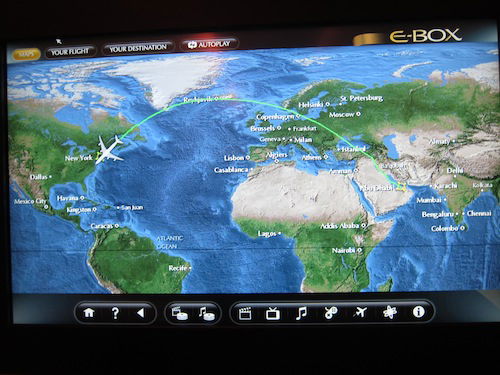 Airshow
As we passed through about 20,000 feet the seatbelt sign was turned on and the flight attendants prepared the cabin for landing.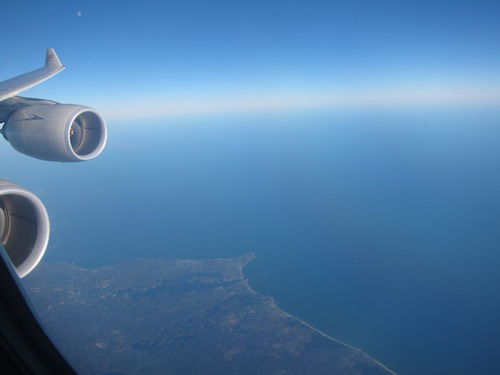 View on approach
I was surprised to see that Etihad actually has the option of viewing a nose camera during the flight, which I found out just 15 minutes before landing. I quickly turned it on, just in time for touchdown on runway 31R at JFK. I wish I would have known about this earlier!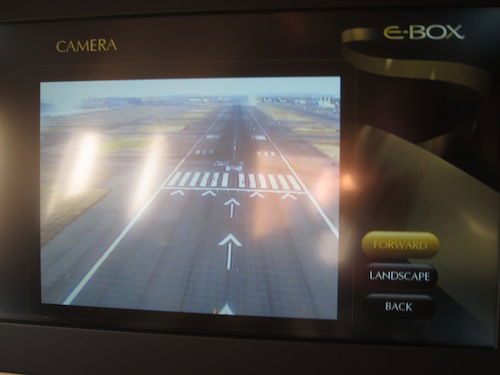 Nose camera
After a smooth touchdown we had a long taxi to our gate, before eventually parking at a remote stand. Booo!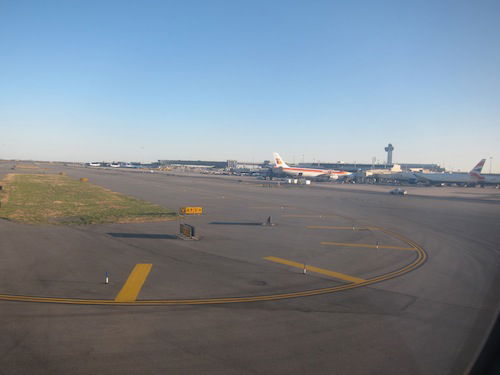 Taxi in
The only cool thing about a remote stand is being able to get so close to the plane on the tarmac, though I prefer to just do that in Frankfurt when being driven to my plane in a Porsche or Mercedes from the Lufthansa First Class Terminal. 😉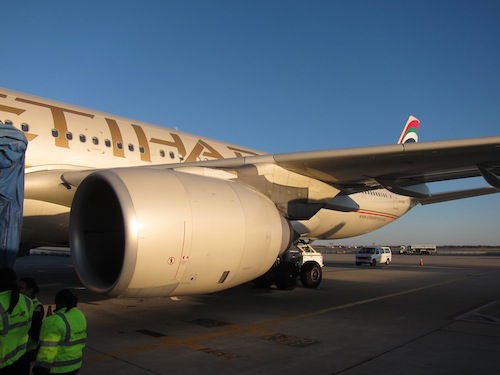 Plane upon arrival
Fortunately the view on the bus was quite good, as we taxied by some Emirates, Swiss, Egypt Air, and Aer Lingus planes. At the same time I couldn't help but wonder why they got gates while we didn't. I mean, surely Etihad is a more full service airline (and therefore willing to pay more to park at a gate) than Aer Lingus, no?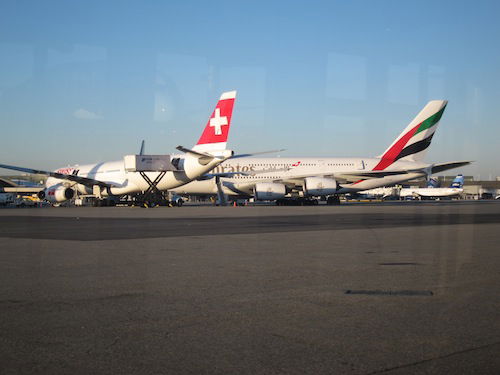 View from bus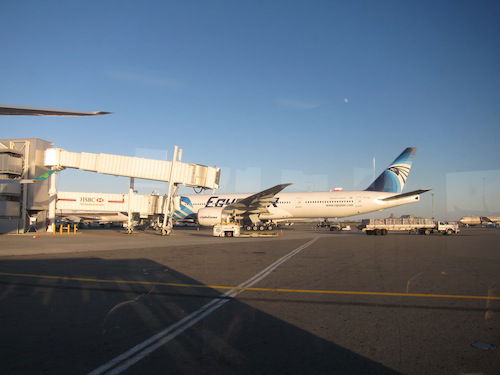 View from bus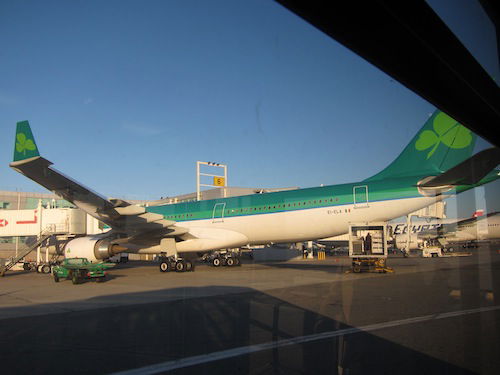 View from bus
Immigration queues were horrible, though thanks to Global Entry I didn't have to wait. I can't even begin to say how much I love Global Entry. It's not just that it saves me time, but it makes my international flights so much more relaxing. Previously I would stress about whether or not I'd make my connection due to immigration lines, while it's a non-factor now. It's a guaranteed way to get from your plane to a cab in less than 10 minutes.
And with that my Etihad journey ended. Stay tuned for the conclusion for my final ratings of the airline based on my experience.