As I blogged about yesterday, I'm currently in Dubai and got here in Etihad Airways first class, having flown from New York to Abu Dhabi in Diamond First.
While I'll have a full trip report in a few weeks, I figured I'd share a few quick observations for now. Let's keep in mind that all of these observations are made within the realm of comparing international first class products, so all negative observations should be be tagged as #FirstWorldProblems. I've flown over a hundred segments in international first class, so it's the little things that set airlines apart, and that's why I focus on the details. Let's break the experience down into four parts — the seat, entertainment, food, and service.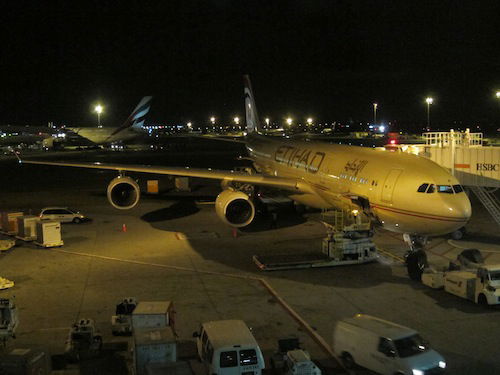 To make the post slightly more enjoyable, here's Etihad's boarding music, which I quite like:
The Seat
Amazing. Quite possibly the best first class seat in the sky. The seats are fully enclosed with sliding doors, and I really like the color scheme. There's plenty of personal space and the seat has sufficient storage. I got over eight hours of sleep, which is probably a first for me on an airplane.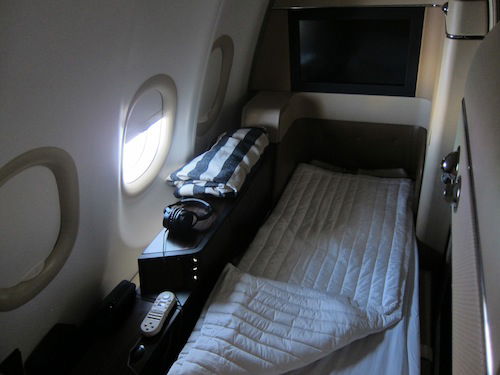 The Entertainment
Amazing. The entertainment system had as much selection as just about any other system I've seen.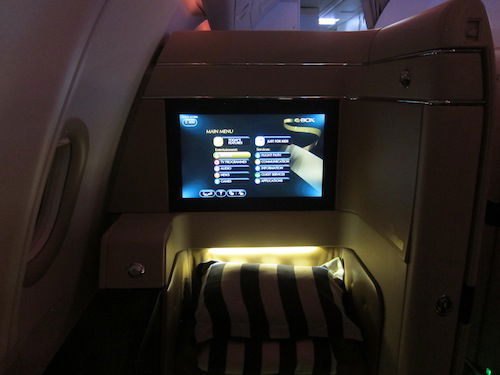 The Food
Disappointing. The flight left New York at 10:45PM. While that's a late night departure, I was expecting to at least have the option to have a "complete" international first class dining experience, given that the flight is 12 hours long. Instead the entire meal service was done on trays, which is an absolute first for me in international first class. There wasn't even any bread. Beyond that, the food was actually not that great at all, with the exception of the bread pudding dessert. Hands down the most underwhelming international first class dining experience I've ever had.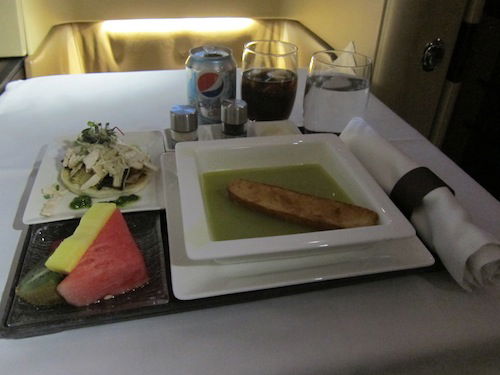 The Service
This is what really disappointed me. The service I received was probably the worst I've had in international first class. Ever. It's not that the flight attendants were rude, because they weren't. They were just so indifferent and rushed that I would have rather had the folks working the local DMV staffing my flight. Just a few observations:
When I boarded it took 20 minutes before I was offered a beverage; I've never waited more than a couple of minutes on every other flight I've taken in international first class
As we taxied to the runway I was asked what I wanted to drink after takeoff and I requested a mimosa. Despite being offered nuts and an appetizer after takeoff, my drink was never brought out. My first drink was a Diet Coke, which was served over an hour after takeoff.
Not once was I addressed by name
Every time I was brought anything I said "thank you." Not once did they respond with "my pleasure" (or the like), or for that matter even smile.
Etihad Airways has a "food and beverage manager" aboard that takes meal orders and is supposed to help with meal selection. To try it out I asked her which appetizer she recommended. Her response? "One's hot and one's cold, that's what I usually tell people." Happy to see she's so well versed in helping with meal selections!
Instead of having napkins in the lavatory, they have "proper" towels. When I went to use the lav mid-flight, they had no more towels, so I had to dry my hands on my PJs. Compare that to Singapore Airlines first class, where they service the bathroom after every passenger (literally).
Upon deplaning the flight attendants weren't even there to say bye
Anyway, those are just a few observations. Here's to hoping the return flight is a bit better, both in terms of food and service. Otherwise I at least have a really comfortable bed to make the flight pass quickly in!