It's no secret that Emirates first class is one of my favorite products in the world. While there are many great first class products (and Etihad's first class hard product is almost unarguably better than Emirates'), I consistently have the most fun in Emirates A380 first class, between the bar, shower, and all the other little touches.
I've taken many flights in Emirates first class, and figured I'd share some of the more interesting aspects of Emirates first class, which you may or may not know. So while I'm sure some of you will know some/all of the below, I'm guessing most people won't.
In no particular order, here are 12 secrets to Emirates first class:
1. Smile — you're on camera
Emirates first class might be extremely private in the sense that you have a fully enclosed suite, but don't get any ideas based on that.
If you look at the very back of the cabin you'll see a camera, which can be viewed from the purser's office and from the flight deck.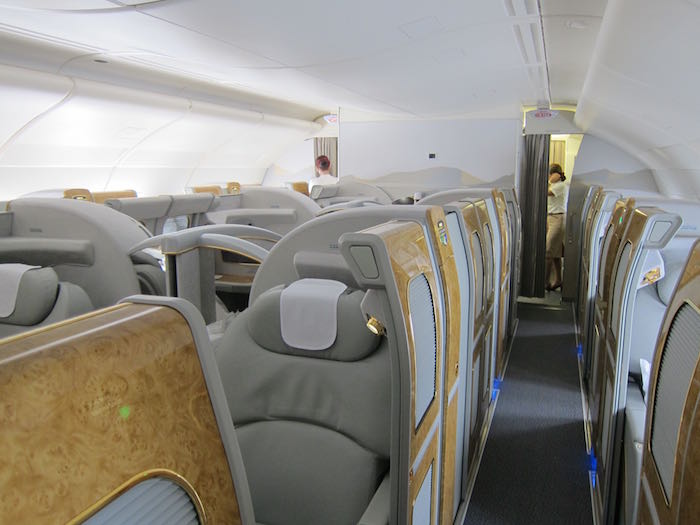 Chances are that they're not spending their free time watching the camera, but you never know…
2. The crew doesn't know if you redeemed miles for your ticket
Not that there are any practical implications to this, but it is a question I often get asked. Emirates crews can't tell if you paid cash for your ticket or redeemed miles.
So to them there's no difference whether you paid $21,000+ for a one-way first class ticket…
Or redeemed 90,000 Alaska miles…
The purser can tell if you upgraded, though. It seems a bit odd that they can see if someone upgraded but not if someone redeemed miles, but hey, it works for me. 😉
3. About those shower attendants…
Not only does Emirates have the most amazing shower spas on any commercial plane, but they have dedicated shower attendants. On shorter flights you can expect one shower attendant, while on longer flights you can expect two shower attendants.
These aren't flight attendants, and they actually sit in passenger seats for takeoff and landing. You can tell them apart from the rest of the crew based on the fact that they wear trousers rather than the usual skirts.
For what it's worth, the shower attendants aren't treated especially well, so be extra nice to them. They make a fraction of what the other crewmembers make, and they even share rooms at their accommodations in Dubai and in hotels (as opposed to other crew, who have their own rooms in all instances).
4. Don't drink champagne on the ground in the US
Emirates is well known for their Dom Perignon, and right now they're pouring the 2006 vintage, which is nice (though I prefer the 2005 vintage).
However most of us have some limit to how much we can drink, and you don't want to "waste" that limit on sub-par champagne. So when you're on the ground in the US you can expect they'll only be serving the business class champagne, which is usually Moet. That's because Emirates has to pay taxes on alcohol served on the ground in the US, so they only offer a limited selection.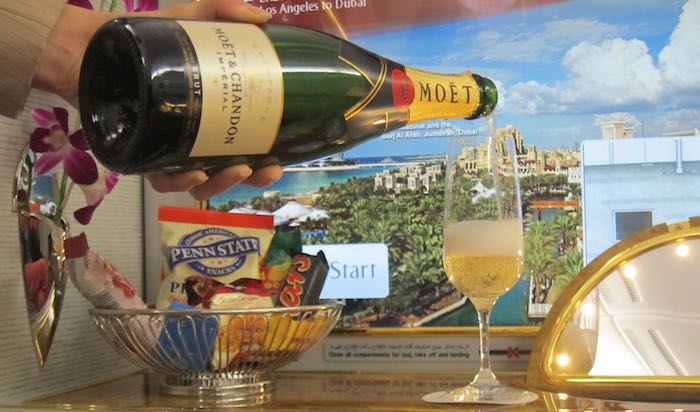 The second the door closes, however, the bottle of Dom can be popped. 😉
So if you're only going to drink a few glasses of champagne, wait until after takeoff before you indulge, assuming you're departing the US or another country which taxes on alcohol served on the ground.
5. If you've got a problem…
On US airlines the purser is simply a flight attendant who gets paid an extra couple of dollars per hour to do the paperwork and coordinate the crew.
On Emirates the purser's responsibilities are much greater, as is their accountability. They have to email the crew before the flight to introduce themselves and assign positions, they do a crew briefing before the flight, and they're also responsible for evaluating other flight attendants.
If there's something you're not happy with on your Emirates flight, let the purser know. If you're in first class I guarantee they'll take it seriously. They're in trouble if there's a problem on the flight they're not aware of, so they'll do everything they can to make it right, and will also write a report after the fact sharing what the issue was and what they did to resolve it.
So if you're unhappy with the flight, engage the purser.
6. So, you want pajamas and an amenity kit?
Emirates has among my favorite first class amenities, as they have pajamas, slippers, BVLGARI amenity kits, and even a beach bag (exclusively available on the A380).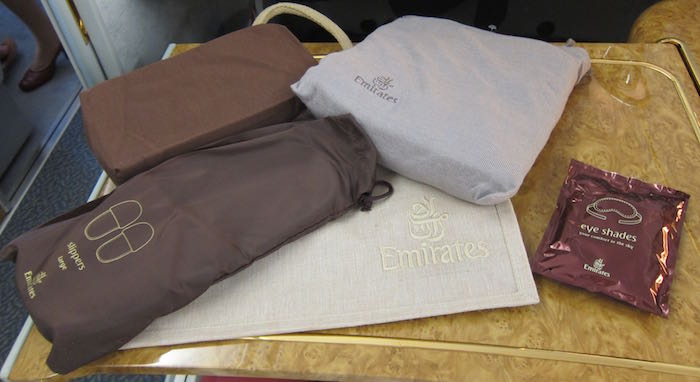 While you should proactively be offered this on longhaul flights and nighttime flights, on daytime flights which aren't longhauls (like to most destinations in Europe or Asia), the crew isn't supposed to proactively offer these amenities to you. However, they should be available on demand.
7. You can request a cake
Are you traveling around your birthday? You can request to have a cake onboard at no additional cost. Just phone up Emirates and you can make the request — you don't have to be traveling on your actual birthday to take advantage of this.

8. You can order room service
It's one thing to have a dine on demand concept, though being able to order room service on a plane is next level, in my opinion.
If you're on one of Emirates' older planes you'll notice a phone in your armrest, and in it you'll see a button which looks like a flight attendant with a telephone. Push it and you can call the flight attendant to place your order.
In practice people usually misuse it and assume it's the call button, so you may find that the crew just shows up at your seat instead. But the phone does in fact ring in the galley when you push that button.
9. Coffee snobs rejoice
If you're a caffeine addict like I am, you'll love Emirates. Their cappuccinos are fantastic, and even come with the Emirates logo stenciled on the foam.
If you're into regular coffee, you can even choose between filtered and french press coffee. Getting your own french press on a plane is pretty darn awesome!
10. The capacity of the shower is two
At least that's what the sign above the doors says. Apparently the crew handbook says a second passenger is only permitted as necessary to provide assistance. How they define "providing assistance" is up to your friendly crew. 😉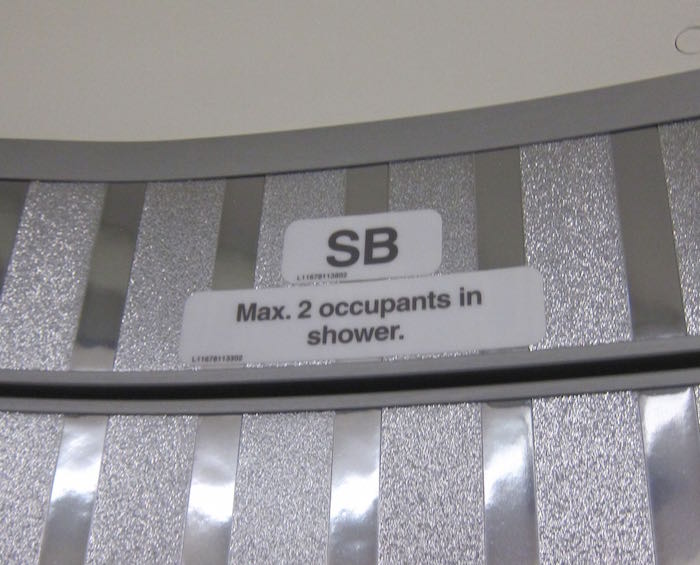 11. You might need to request lounge access
If you're redeeming Alaska miles for a ticket on Emirates, it shows up internally as a staff ticket (though oddly not to the crew). As a result, if you try to visit a lounge you may be asked if you're an employee, in which case you wouldn't be allowed to access the lounge.
Just explain to them you booked through Alaska, and you should be let in. At the Dubai lounges they know of this issue given the volume of passengers booked on Alaska tickets, though at outstation lounges it might take some explaining. Regardless, this is a glitch, and you should be allowed lounge access even on mileage tickets.
12. The purser has an onboard office
Speaking of the Emirates purser, they actually have an onboard office on the A380. Go to the lower deck and under the staircase you'll see a door. That's where the purser's office is. How much time they spend in their office probably depends on how much they like people.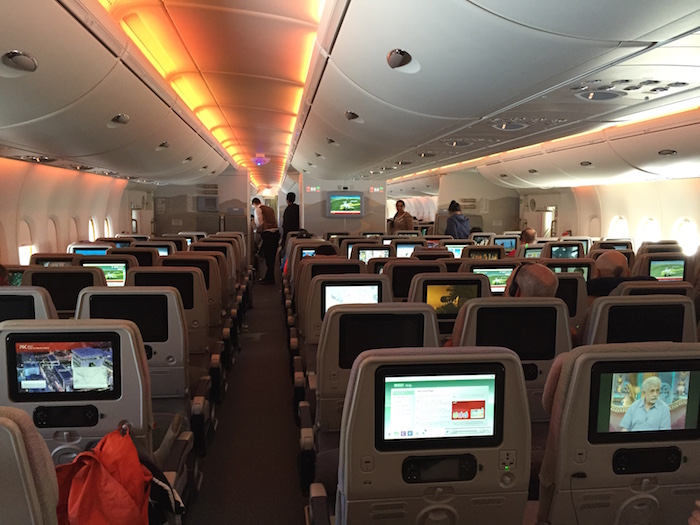 Bottom line
If you haven't yet flown Emirates first class, I highly recommend it, as there's no airline in the world which is more fun to fly with in first class, in my opinion. While I'm sure many of you knew the basics of Emirates first class either from having flown it or from having read reviews, hopefully some of the above is new and interesting information.
Do any of the above facts surprise you?