---
My trip reports are typically exclusively focused on hotels and airlines, though I decided to write two installments about our time in Bhutan, given how much I enjoyed visiting the country. I don't want to do a minute-by-minute recap of what we did, but ratherw share my overall impressions, what I'd do differently next time, etc.
I already wrote about our visit to the Tiger's Nest in the previous installment, which is how we spent the last day of our trip.
During our trip I also wrote two installments about our time there, so check out those posts if you haven't read them yet:
Bhutan's tourist fee
Bhutan has a very high tourist fee, which initially made me reconsider visiting. For us the fee was $165 per person per night, plus a $40 one-time visa fee. This includes the following:
Roundtrip airport transfer
Daily sightseeing with an English-speaking guide
All applicable government taxes
All museum and monument fees
The $65 tourism royalty, which goes towards free education, healthcare, infrastructure, and more
So for the two of us staying for five nights, we paid a total of $1,730 between the $165 per person per day tourist fee, plus the one-time visa fee.

That's a lot of money, though at the same, in the end I saw the logic of this fee, and think it wasn't that bad of a deal when you consider everything that's included.
Our itinerary for Bhutan
When we arrived at Paro Airport we were greeted by Sonam and a driver, who would be spending the next five days showing us around the country. So with that fee you get a full time guide and driver, as well as a nice SUV, and they spend all day with you.
I was expecting we'd maybe discuss what we'd do when we got there, thought they already had an itinerary all mapped out for us, based on where we had booked hotels. For reference, here's the itinerary they prepared for us:
Day 01 Arrival in Paro — Thimphu (1.5hr)
Early morning flight to Paro, Bhutan. The flight from Delhi/Kathmandu is considered as one of the most scenic flight offering the view of the world's top 10 highest peaks. Upon your arrival in Paro airport our guide will be there to welcome you and transfer to Thimphu. After lunch visit the Memorial Chorten (temple) built in memory of the late 3rd King. This place now happens to be a get together point for the elderly people, who spend their whole day chanting prayers and meeting their friends. After 5PM, visit the fortress of Thimphu, Tashichho Dzong, which houses the throne of the king. Evening walk around the happening town, the largest and most crowded town in Bhutan.

Day o2 Thimphu
Morning visit the happening weekend market (Friday, Saturday, Sunday) where the locals from the surrounding villages come to sell their produce. They sell their goods and in return they buy their basic necessities. in olden days, bata system was practiced by everyone. Visit the traditional Hand Made Paper Mill. Visit the School of Arts and Crafts where students learn 13 different arts used predominantly in Bhutan. Visit Changangkha Lhakhang, the oldest temple in the galley offering a beautiful view of the valley. Drive to visit the largest and newly built statue of Buddha offering magnificent view of entire Thimphu valley. Later visit the National Library which houses the collection of Bhutanese rich religious texts and contemporary Buddhism teachings from master all around the world. Drive further up to visit the Dechenphodrang monastic school and meet the young monks. Later continue to Zilukha nunnery to meet the nuns and interact with them.

Day 03 Thimphu-Punakha-Thimphu (3hr one way)
Morning drive to Punakha crossing over Dochula pass. If the weather permits one can enjoy a spectacular breath taking view of the highest mountain peaks of Bhutan at a sight that stretches almost 180 degrees. Take a break and walk around the newly built 108 Stupas and continue to sub tropical valley of Punakha offering a different vegetation. En route just before arriving the hotel, take a nice hike through the paddy field and old village to visit Chimi Lakhang, the temple of fertility associated with religious art of phallus. Later after breakfast drive to Punakha Dzong (fortress), which houses the most elaborate temple in the country. This is a must see fortress in Bhutan and also a fine example of Bhutanese rich art and architecture.

Day 04 Thimphu-Paro (1.5hr)
Morning could go for walk right below your hotel and meet the school children who all walk for hours to reach their nearest school. Later after breakfast retract the drive back to Paro. Upon arrival in Paro, visit Paro Dzong (Fortress) on foot and continue walking through the oldest wooden bridge still in use. Continue further to stroll around the old Paro town and peep into some local handicrafts stores. Could get some opportunity to see the traditional game, Archery match.

Day 05 Paro
Morning drive to the base for the hike (3hr uphill) to Tiger's Nest, the most revered temple in the country that literally hangs on the granite cliff overlooking the Paro valley. Most of the day will go on the hike. On the way back, if you have the energy and time visit the Kichu Lakhand, one of the oldest temples in Bhutan which marks the beginning of Buddhism in the country.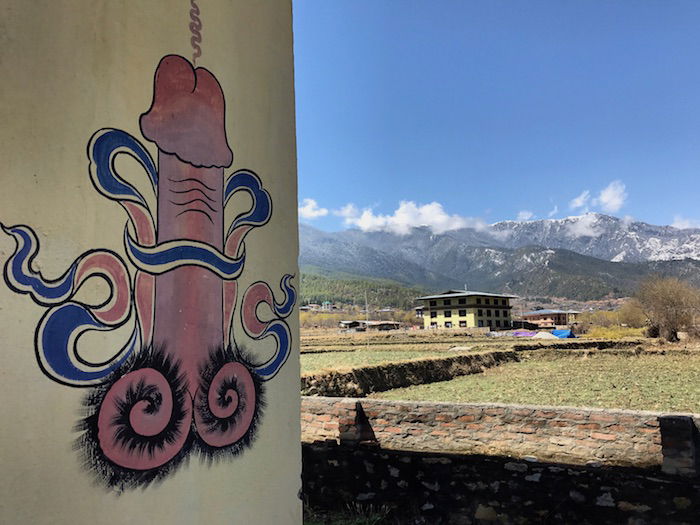 It seems that most people with a limited amount of time in Bhutan (let's call it less than a week), split their time between Paro, Thimphu, and Punakha:
Paro is close to the airport, and also a good starting point for visiting the Tiger's Nest
Thimphu is the biggest city in Bhutan, and there are lots of day trips you can make from there to cool sites
I've heard Punakha is gorgeous, and I really regret we didn't plan on spending a night there
Punakha is apparently the most scenic part of the country, so if I were to plan a trip there again, I'd try to spend a night there.
However, we had booked three nights in Thimphu and two nights in Paro, so our plan was to do a day trip to Punakha. Unfortunately that was pretty ambitious, as it would involve driving three hours each way. In the end we didn't make it to Punakha at all, because Bhutan had a massive snowstorm.
The snow we witnessed in Bhutan
Bhutan doesn't get a lot of snow (at least outside the mountain peaks), and apparently the snow we saw was the first snowfall they had in about a year. It didn't just snow a little, but rather for two days straight it snowed nonstop.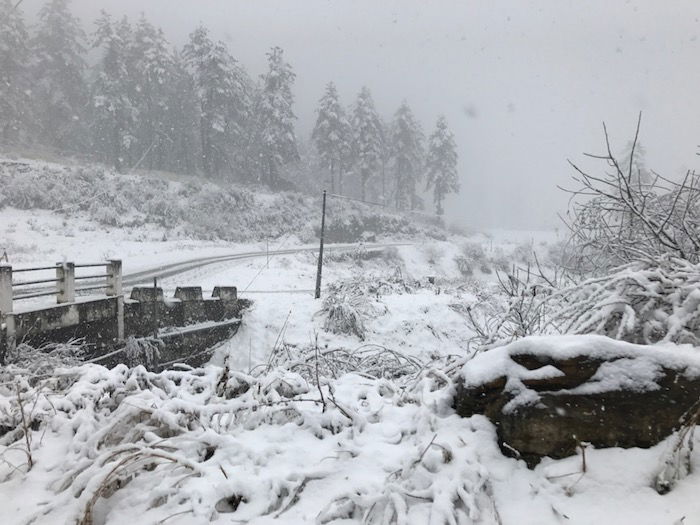 This hugely limited what we were able to do:
The first day of snowfall in the country is a holiday, so everything was closed
Due to the terrain in Bhutan, many roads and attractions were closed for a couple of days
For the first two days we were limited in what we could do. At the same time I'm happy we were here when it snowed, because it was such a cool thing to witness. All the locals were in the streets having snowball fights and building snowmen. I don't remember the last time I've seen a group of people so happy. It was amazing to watch. I even got hit in the face by a snowball thrown by a nun. That was a first for me.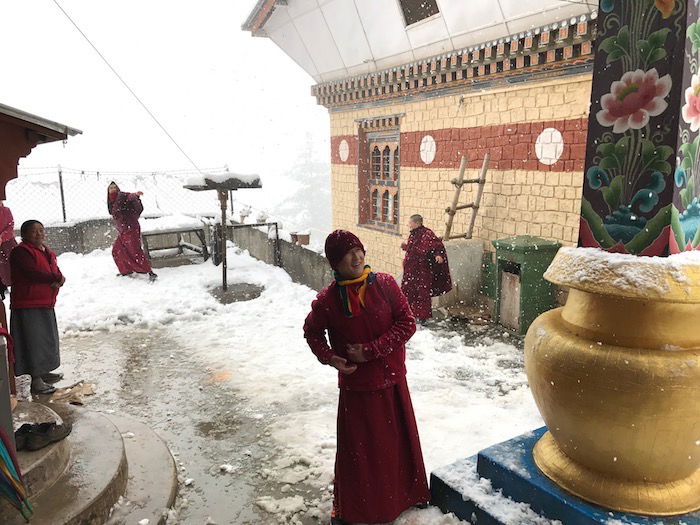 How did we spend our time in Bhutan?
There's so much to love about Bhutan. The landscape is incredible. The country is immaculately clean. The people are so friendly. Everyone just seems happy. The country isn't at all overcrowded with tourists, given how much they limit tourism.
Just being in Bhutan made me happy, between the incredible landscape, the fresh air, and the nature.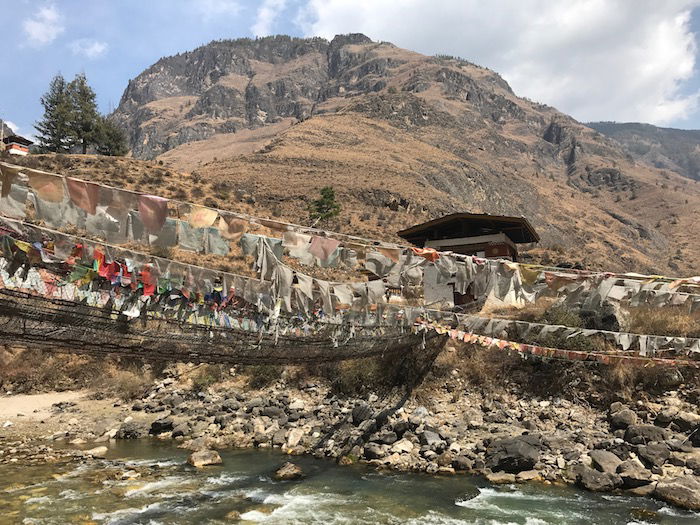 I knew that Bhutan was all about hiking, but wasn't sure whether to expect casual hiking (aka brief walks) or more serious hiking that lasts several hours, requires proper footwear, etc. For the most part I found the former to be the case.
We'd get in a car and then drive somewhere for 15-45 minutes. In some cases we'd be we'd be able to drive right up to the attraction we were visiting, while in other cases we'd take an hour-long hike to get there.
Most of the places we visited were temples, monasteries, etc. (I don't have many pictures of the insides, since photography is typically prohibited). One thing that makes Bhutan so special is that it's not overrun by tourists, so you get some incredible access to things. Furthermore, since every visitor has a guide, there's not as much concern about knowing the boundaries of what you can visit, since your guide will let you know when you can take pictures, when you have to take off your shoes, when it's time to leave, etc.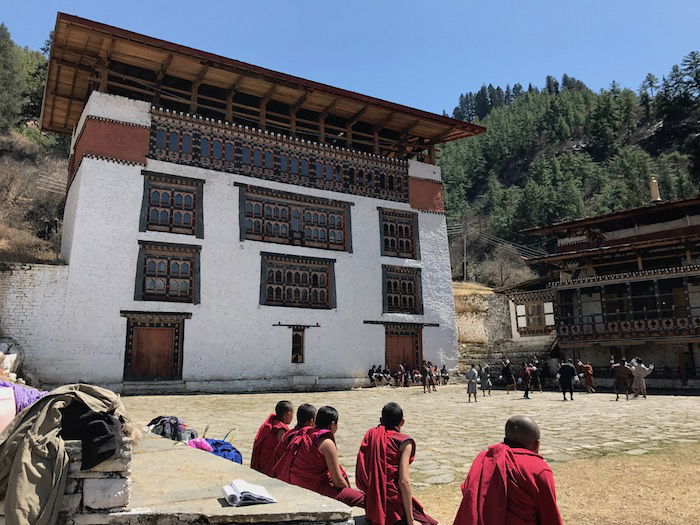 We really felt like we were visiting "active" places, unlike many other destinations, where certain sites are clearly just intended for tourists, and haven't been used in years.
By the way, I've become sort of obsessed with Bhutanese music, and have been playing it in the background since we visited. It's great music to work to, and for me has replaced Etihad boarding music for those purposes. 😉
Bottom line
Bhutan is a very special place. It's unlike anywhere I've been, thanks to a combination of factors. The landscape is stunning, among the nicest I've ever seen. The country has such a peaceful spirit. The people are so nice. Best of all, you get the combination of that without the country being overrun by tourists, which otherwise often takes the charm out of places.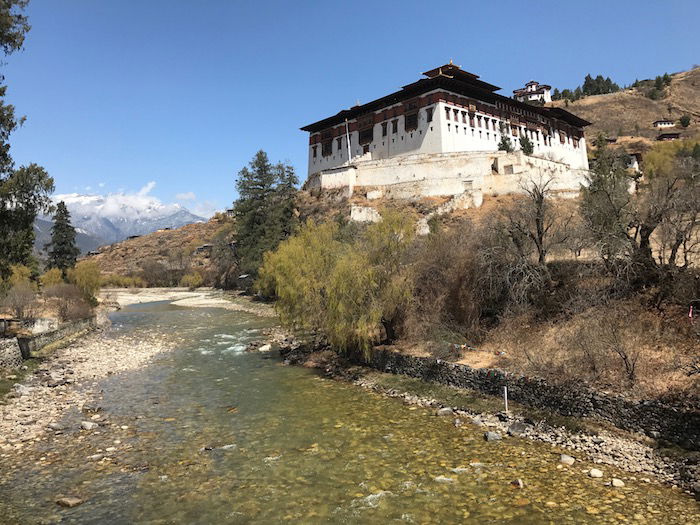 Going to the Tiger's Nest and having the whole place to ourselves was surreal. Almost everywhere we went, we were the only tourists. That's an experience that money can't buy in other places.
Visiting Bhutan isn't cheap, but if you can swing it, I highly recommend it. This is one of the most memorable places I've ever been.
Since I've done nothing but rave about Bhutan, there is one other somewhat undeveloped thought I still feel the need to share. Bhutan almost seems too perfect. In the same way, tourists visit North Korea and are made to believe that everything in the country is perfect (clearly it isn't), Now let me be clear — I'm not attempting to suggest that Bhutan is anything like North Korea, but it does seem a bit too perfect. I'd love to dig below the surface and see what life is really like for the people. It's said that locals are the happiest people on earth, etc. At the same time, that's the big tourism draw of the country. Is that really the case, or are they just putting on a good act? There's no doubt it's an all around good place — everyone has free healthcare and education. But is it as good as it seems? In the back of my mind I wonder.
Again, if you have the opportunity, I can't recommend a visit to Bhutan enough.