---
Our flight from Paro to Dhaka was at 8AM, so our guide suggested that we leave the hotel at 6AM. That's what we did, and we got to the airport around 10 minutes later.
Paro Airport is quite small, and there's a security check as you enter the terminal, where all your bags have to be scanned, and you have to go through a metal detector. Given how small the airport is, there are two small check-in areas for the two airlines operating out of Paro.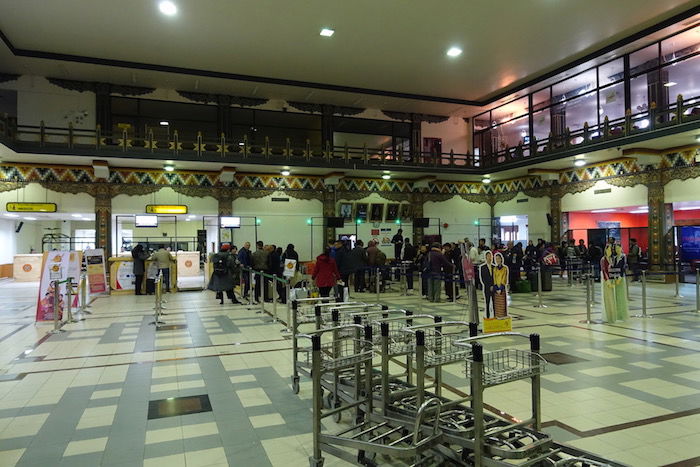 Paro Airport check-in hall
We got in the Drukair line, where there were maybe a couple of dozen people ahead of us. Fortunately the line moved quickly, and within about 10 minutes we had our boarding passes and headed towards immigration and security.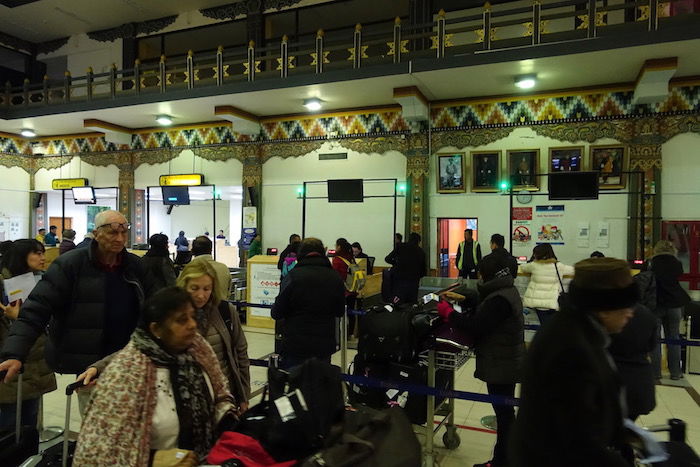 Paro Airport Drukair check-in
There's a departure card you have to fill out to get through immigration, which we only found out about after going to the counter and being asked for our form. So we had to go back and fill those out, though fortunately there was no line at immigration. We were through a few minutes later.
Then we had to go through security, which was also painless, as there wasn't a wait. The security check was thorough, though.
Past that was a sitting area, and across from that a small duty free shop and a coffee shop.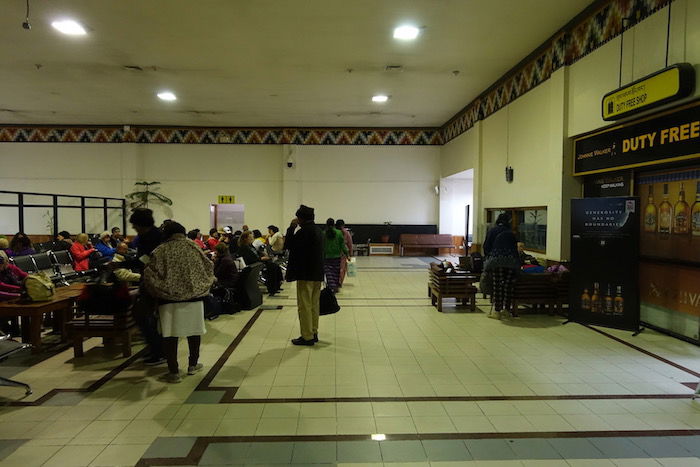 Paro Airport sitting area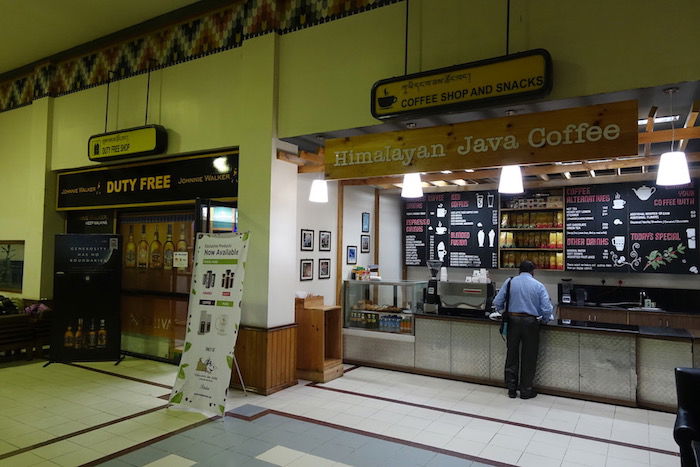 Paro Airport shops & restaurants
Then there was the main departures hall, with several dozen seats. It was still empty when we arrived, though quickly filled up. At this point we still had about 90 minutes until departure.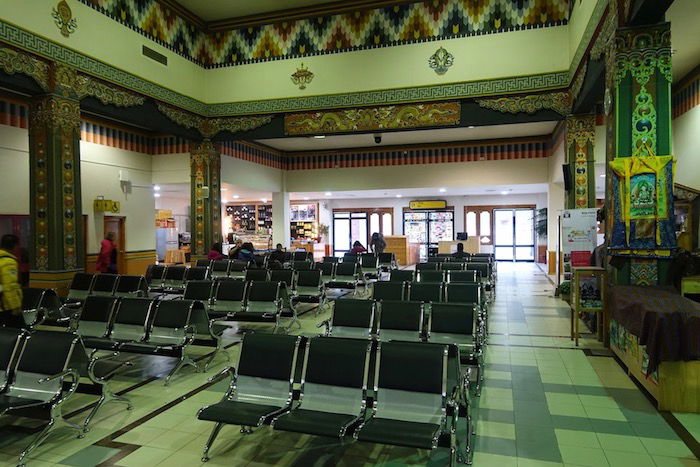 Paro Airport departures hall
At the far front left of the departures area was another coffee shop. Since we had time to kill (and there are no Priority Pass lounges at Paro Airport) we ordered some coffees, which ended up being really good. However, the place only took cash, so that's something to be aware of. I try to spend all my local currency before going to the airport, though this place also took USD.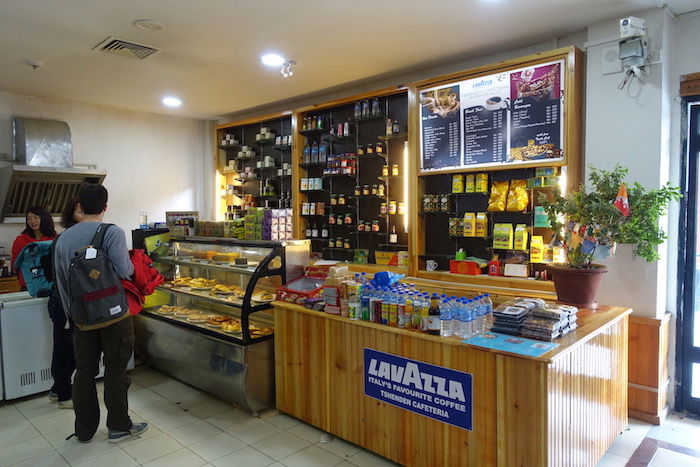 Paro Airport departures hall coffee shop
The coffee shop had a small sitting area, so we sat there for a bit while working on our computers thanks to the airport's free Wi-Fi (which was fairly slow).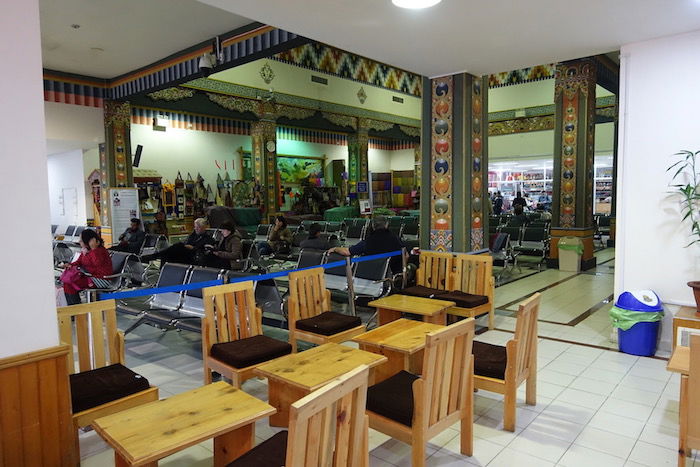 Paro Airport departures hall coffee shop
Paro Airport doesn't have any gates, so there are two sets of doors through which passengers are called for boarding, and then they walk to their plane on the tarmac.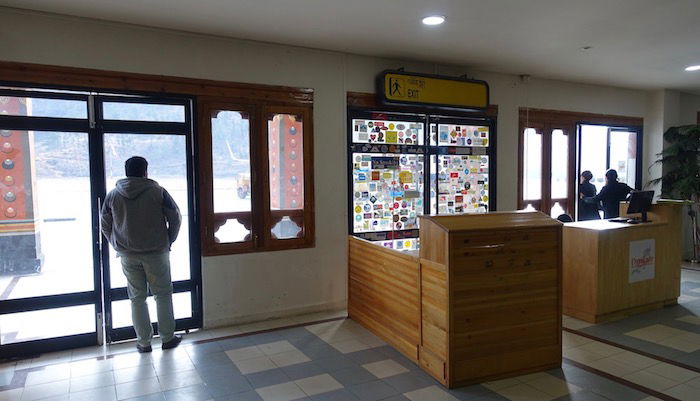 Paro Airport departures area
Boarding was scheduled for 7:30AM, though a few minutes before that I didn't see an ATR42 anywhere on the tarmac. However, shortly after 7:30AM I saw one being towed, and moments later the crew boarded.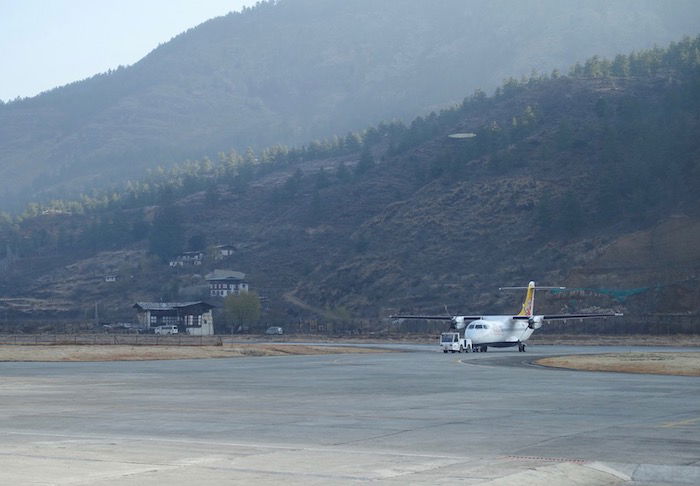 Our plane to Dhaka
Finally at 7:55AM boarding for Dhaka was called.
Drukair 300
Paro (PBH) – Dhaka (DAC)
Wednesday, March 15
Depart: 8:00AM
Arrive: 9:05AM
Duration: 1hr5min
Aircraft: ATR42-500
Seat: 10E (Economy Class)
After our passports and boarding passes were verified, we were directed onto the tarmac, and walked past a Drukair A319 on the right (with the sun shining in the background).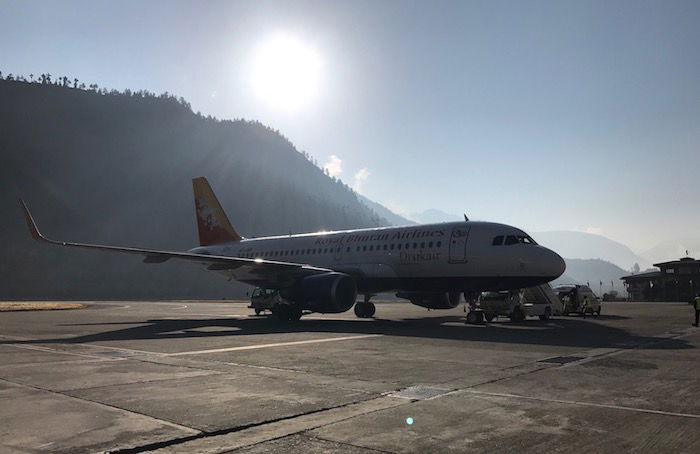 Drukair A319 Paro Airport
Our ATR42 was to the left.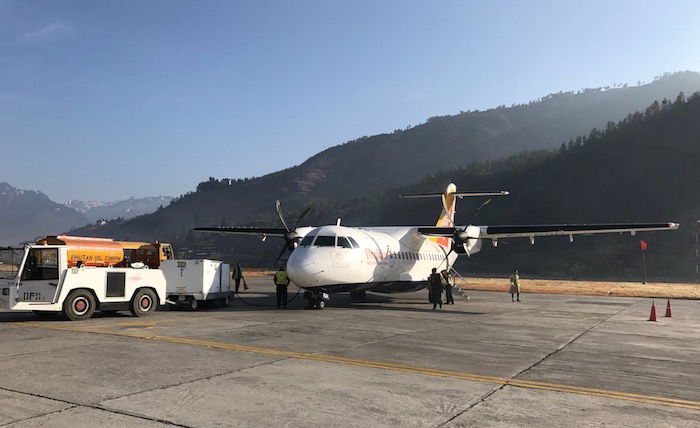 Drukair ATR42 Paro Airport
On the ATR42 the cargo hold is in the front of the plane right behind the cockpit, while passengers board through the rear.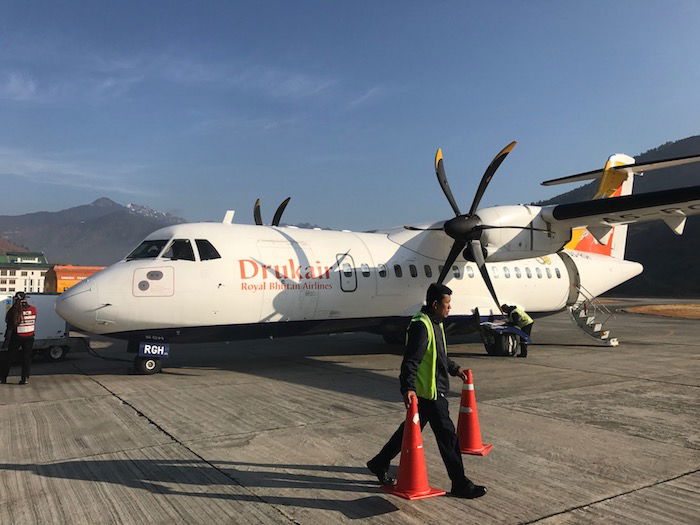 Drukair ATR42 Paro Airport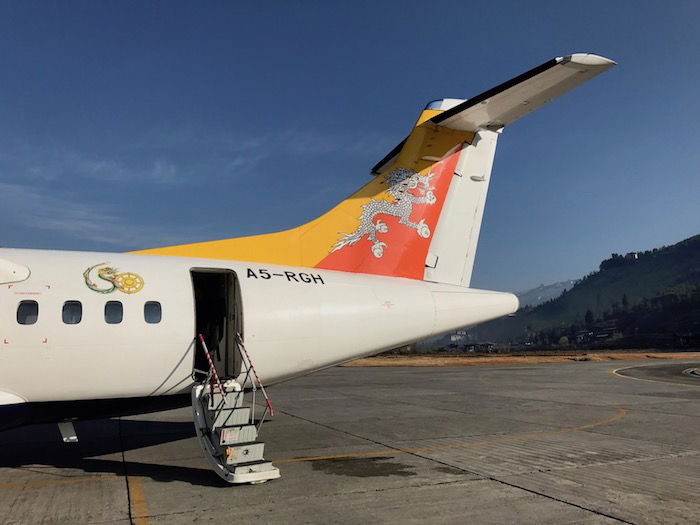 Drukair ATR42 Paro Airport
The plane had about 50 seats, in a 2-2 configuration.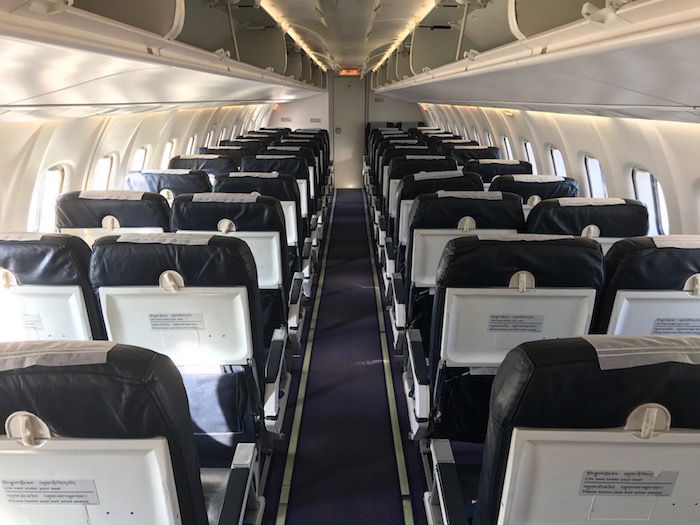 Drukair ATR42 cabin
We were in row 10, which was a few rows from the back.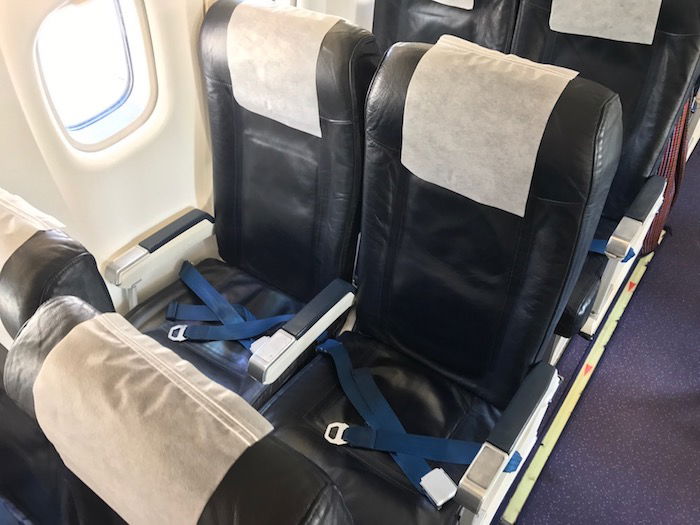 Drukair ATR42 economy seats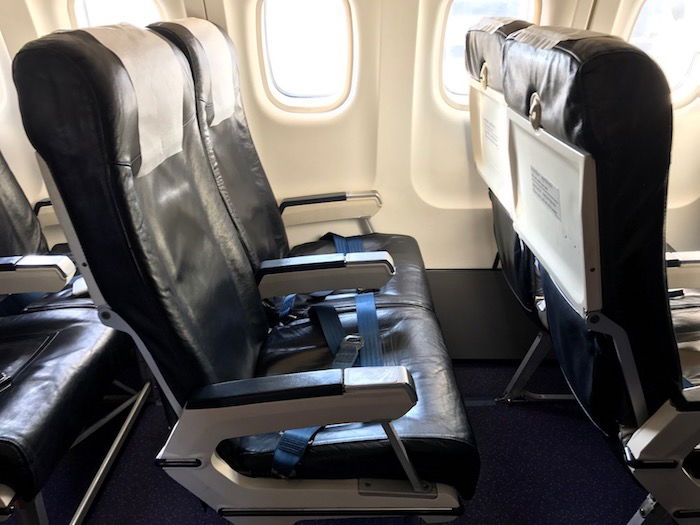 Drukair ATR42 economy seats
That was towards the back of the wing, which made for some good views, especially given that the wing is mounted to the top of the fuselage.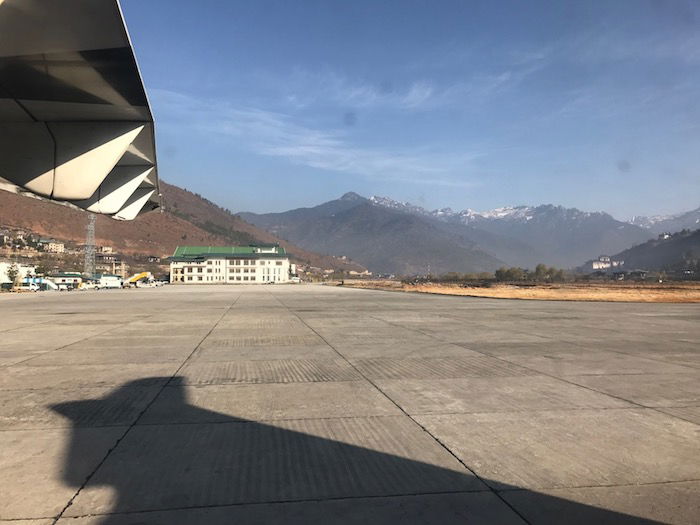 Drukair ATR42 view
Boarding was done within 10 minutes, and by 8:05AM the door closed. That's despite the fact that there was widespread confusion about who was supposed to sit where.
There were maybe a handful of empty seats on the plane. There wasn't a single female passenger, and best I could tell, we were the only non-Bangladeshi passengers. Everyone was screaming around the cabin talking to one another. Once the doors were closed the two flight attendants came through the cabin with packaged refreshing towels.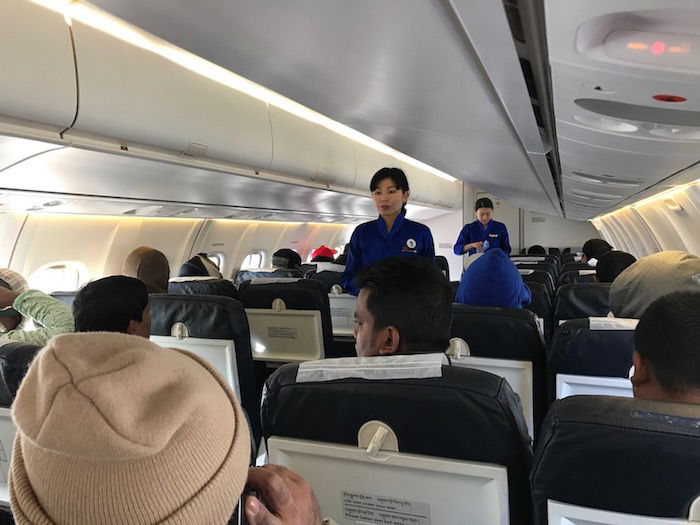 Drukair economy service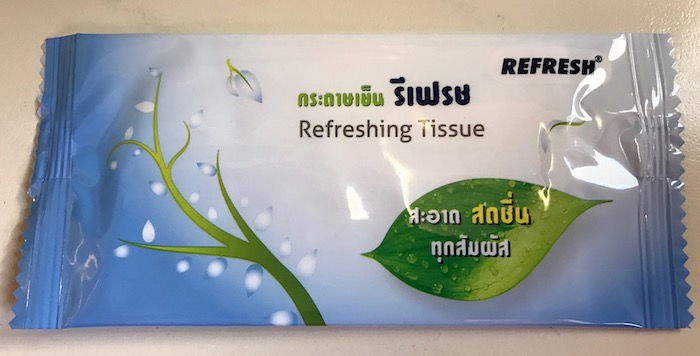 Drukair economy refreshing towels
After that the flight attendants performed a very quick safety demonstration, and we were informed that the flight time would be an hour. Paro Airport has a single runway, and you enter the tarmac from near the center of the runway.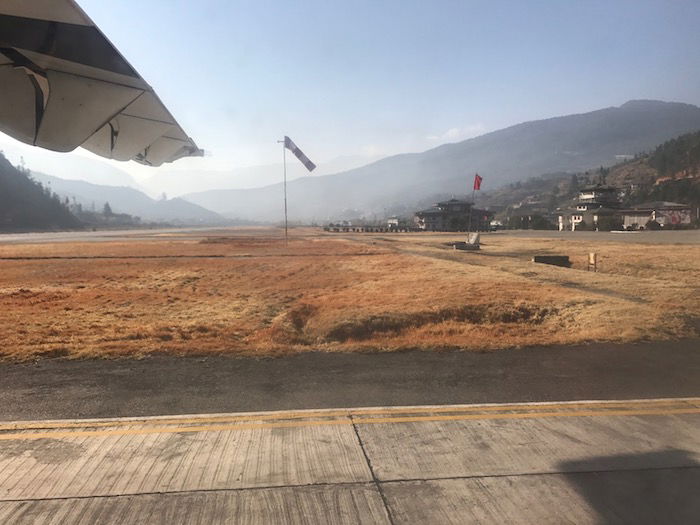 Taxiing Paro Airport
As a result we entered the runway around the middle, and then taxied to the far end of the runway, and then turned around before taking off.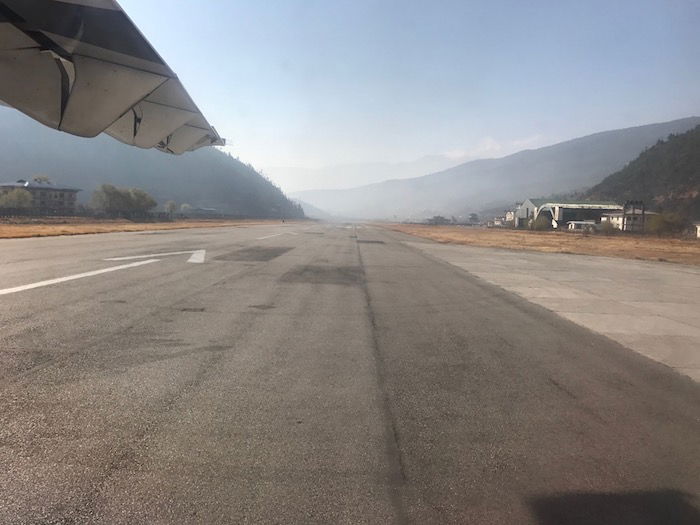 Taxiing Paro Airport
By 8:10AM we were cleared for takeoff.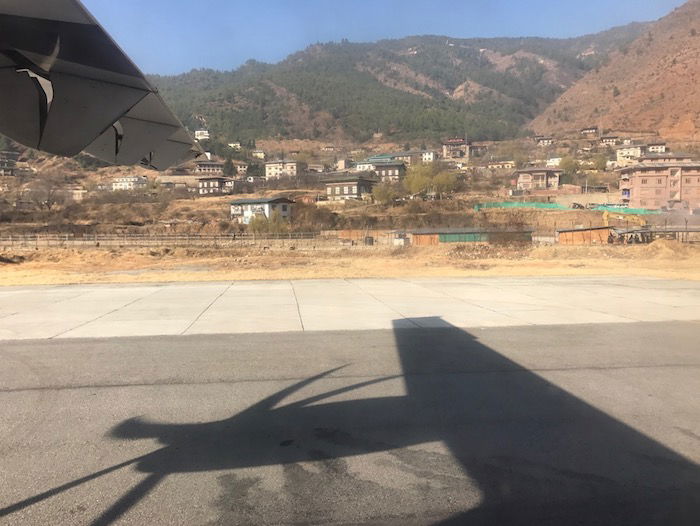 Taking off Paro Airport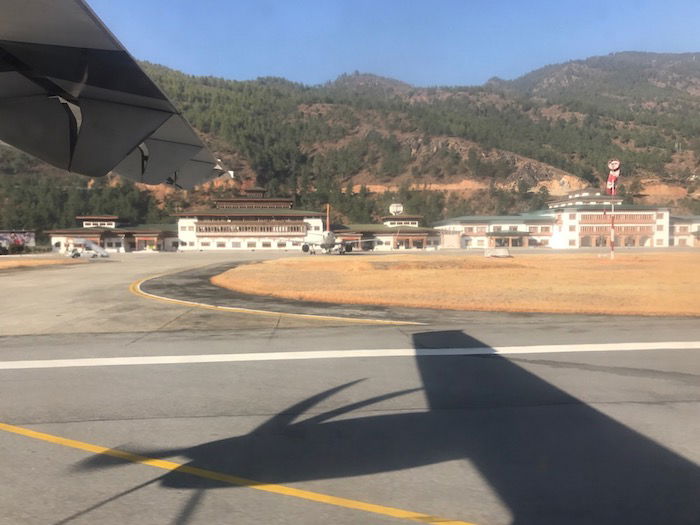 Taking off Paro Airport
Our takeoff roll was long, at least for an ATR42, and our climb out was steep. While the landing in Paro is dramatic, the takeoff wasn't quite as exciting. Perhaps that's also a function of us being on a smaller and slower plane.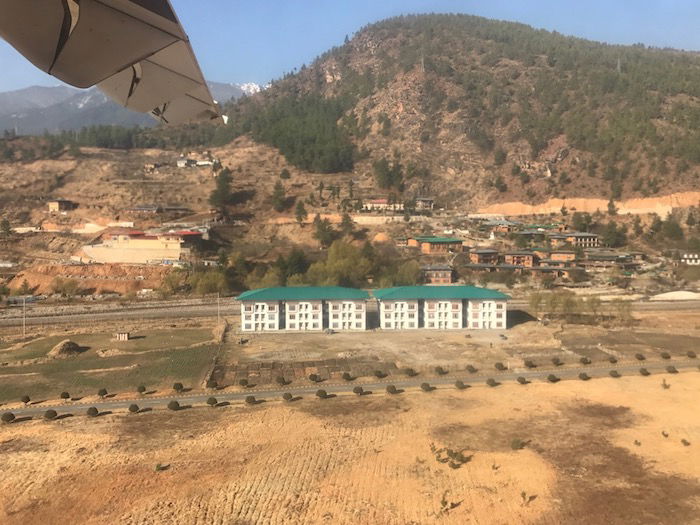 Taking off Paro Airport
However, the views on the climb out were still beautiful.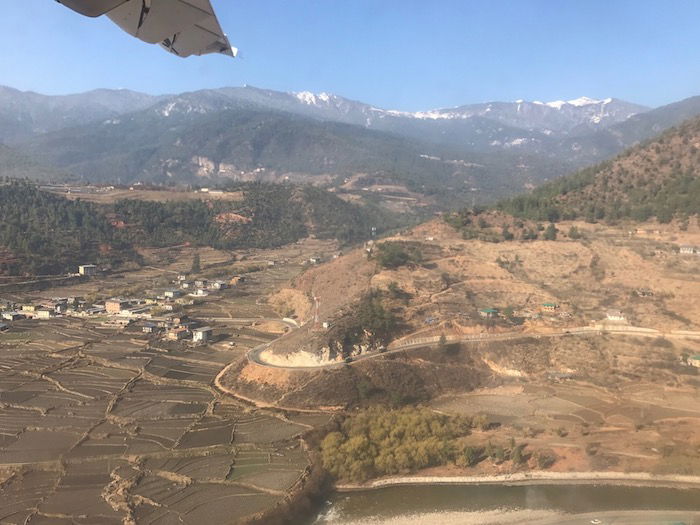 View after takeoff from Paro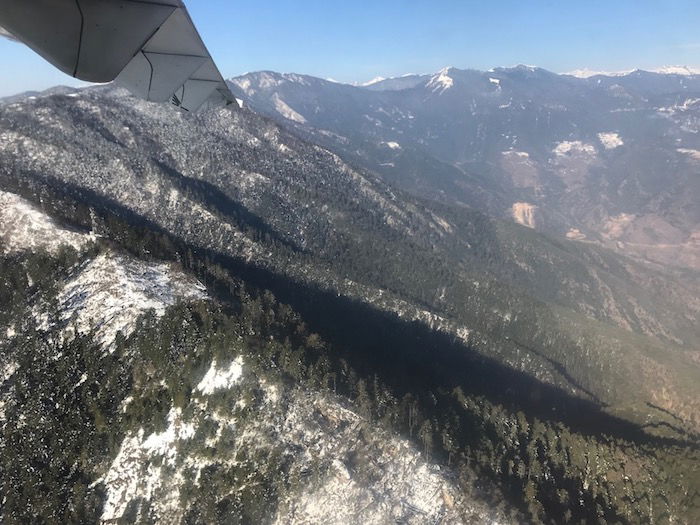 View after takeoff from Paro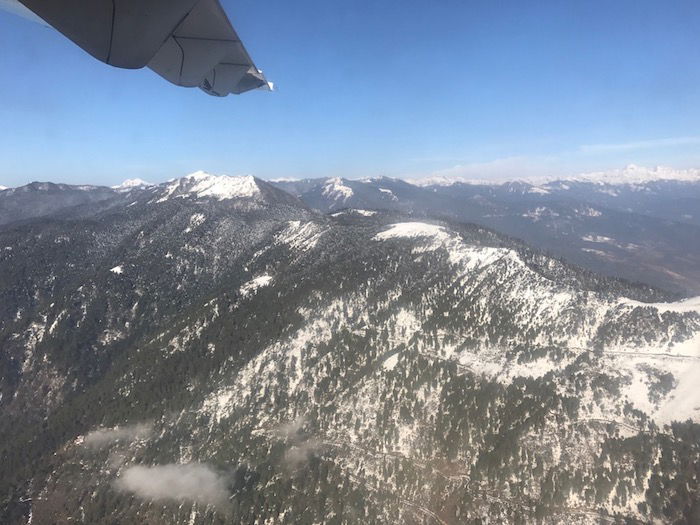 View after takeoff from Paro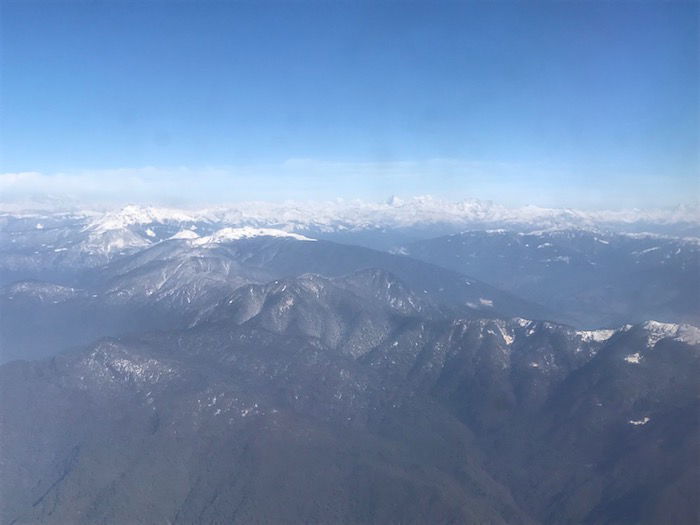 View after takeoff from Paro
About 10 minutes after takeoff the seatbelt sign was turned off, and landing cards for Bangladesh were distributed.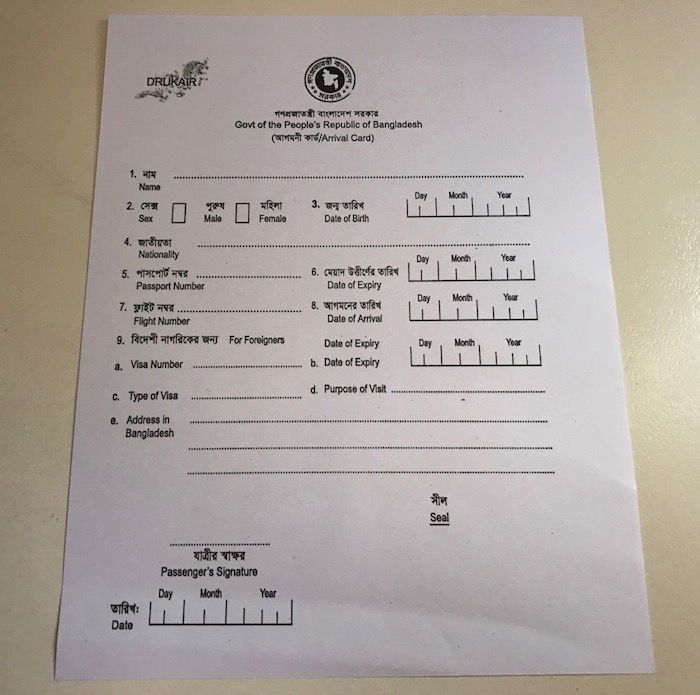 Landing card for Bangladesh
After that each passenger was served a snack box.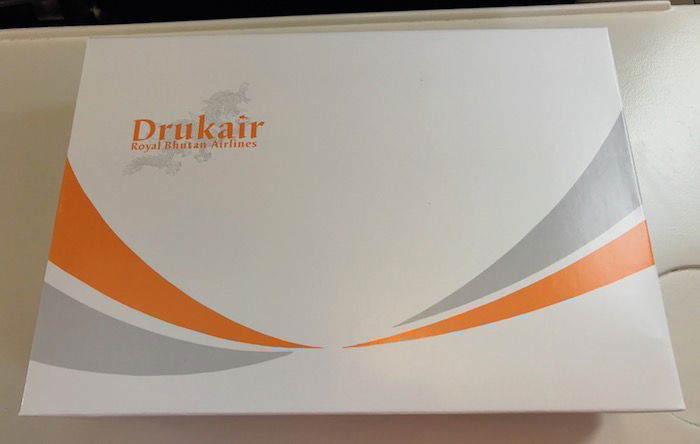 Drukair economy snack service
That consisted of a small sandwich, roasted peanuts, and two breadsticks of sorts. There was also some packaged mango juice.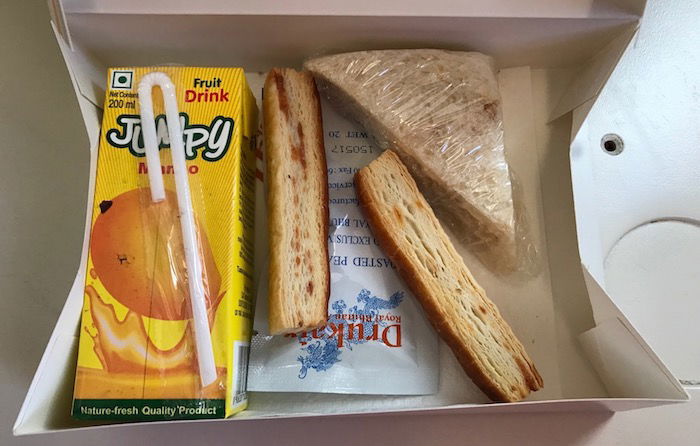 Drukair economy snack service
The crew then came around with a trash bag to collect the snacks, and then distributed candy.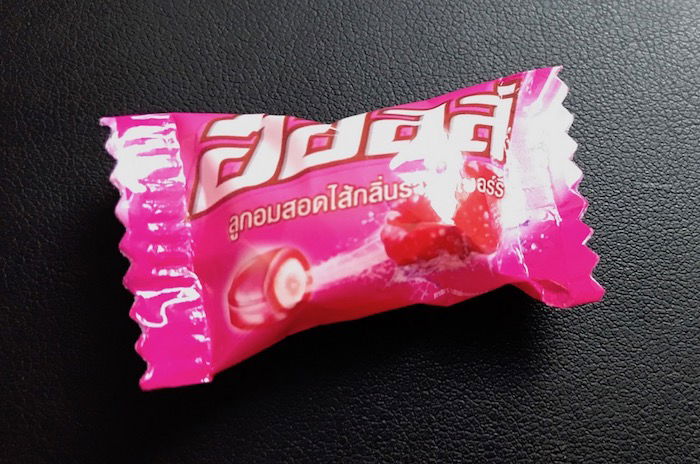 Candy in Drukair economy
The crew was friendly, though not overly so, and they simply sat down for the last half hour of the flight.
As I wrote about in a separate post, it was enjoyable to watch the passengers on this flight. Almost everyone was looking out the window the whole flight in amazement. It's nice when people don't take the miracle of flight for granted.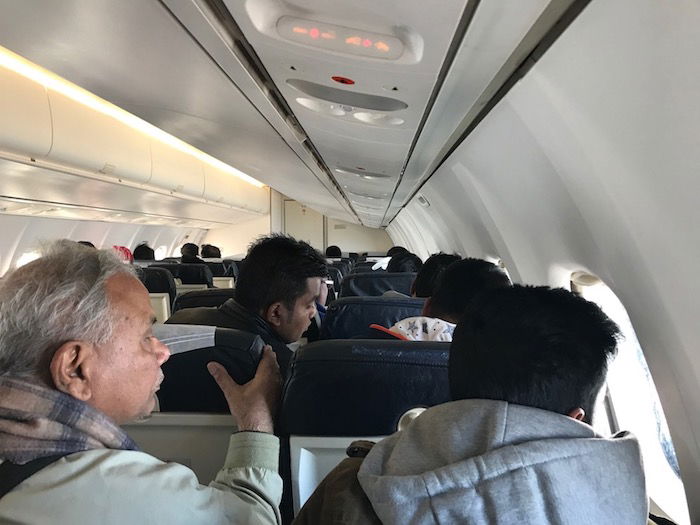 Cabin view enroute to Dhaka
The landscape outside became significantly less mountainous about 20 minutes into the flight.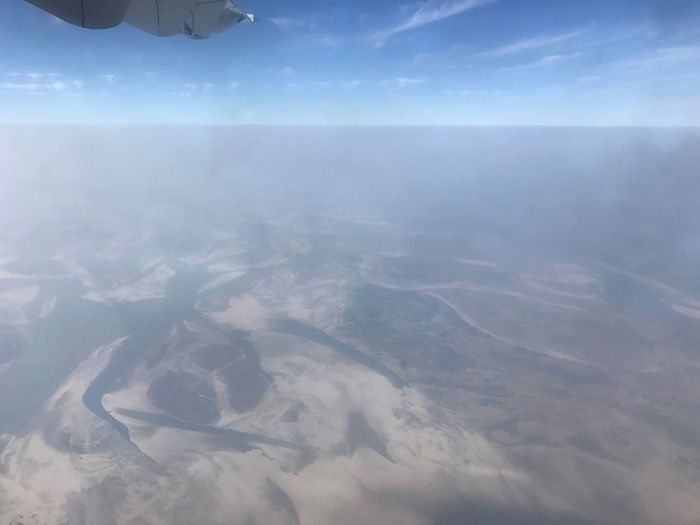 View approaching Dhaka
About 20 minutes before landing we began our descent. Not having been to Dhaka before, I was enjoying the views.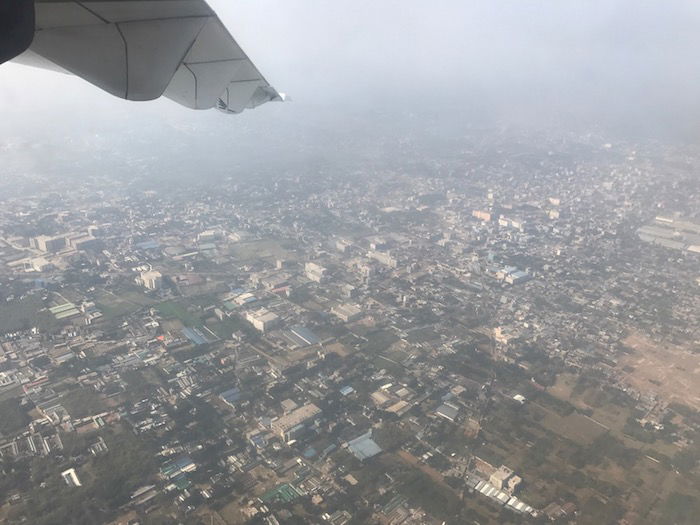 View approaching Dhaka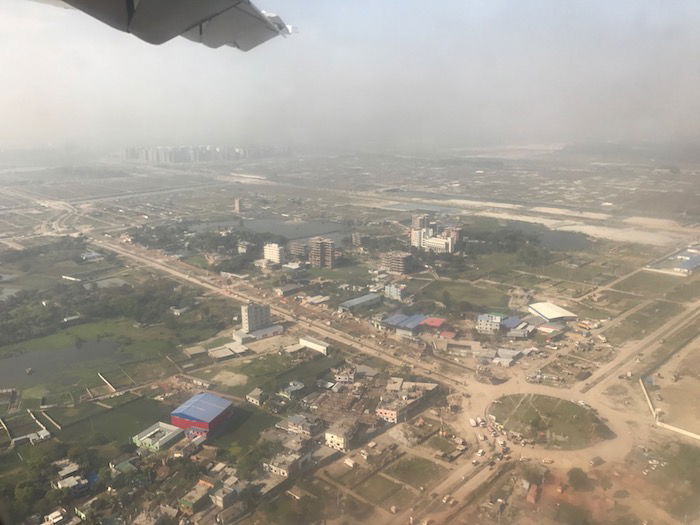 View approaching Dhaka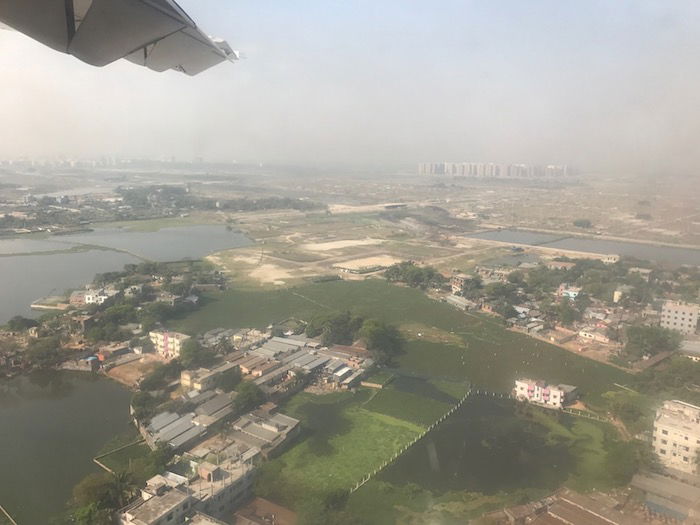 View approaching Dhaka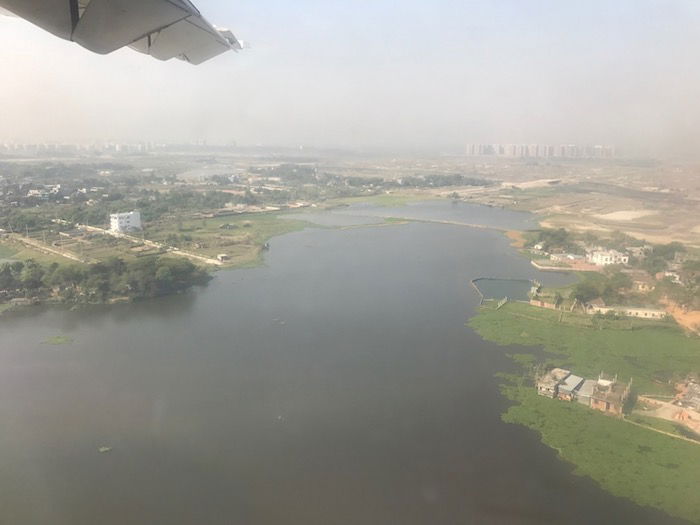 View approaching Dhaka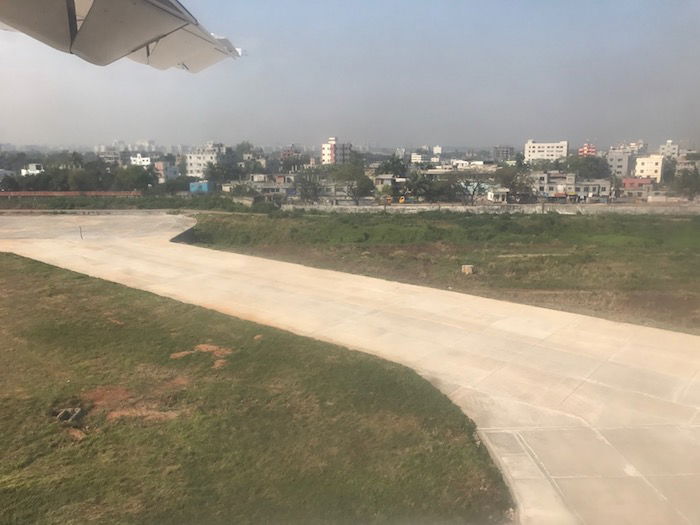 Short final to Dhaka
We had a smooth touchdown in Dhaka at 9:10AM, about an hour after we took off.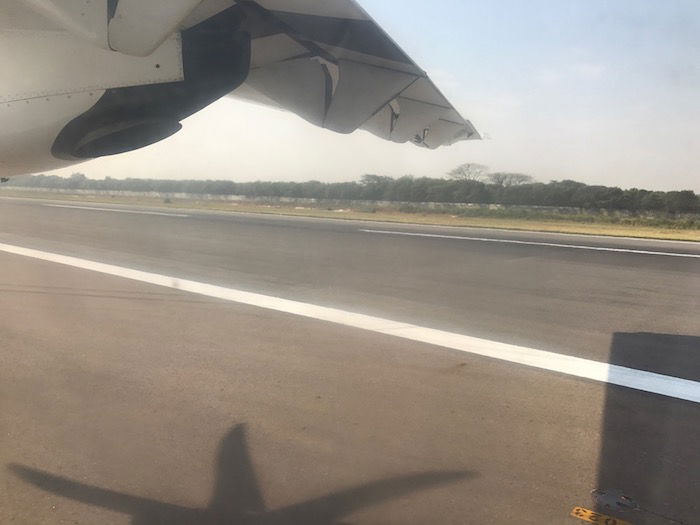 Taxiing Dhaka Airport
The second we touched down a guy got up and started making phone calls. The crew asked him to be seated, but he was genuinely confused as to why. It was only after some other passengers explained that he finally sat down.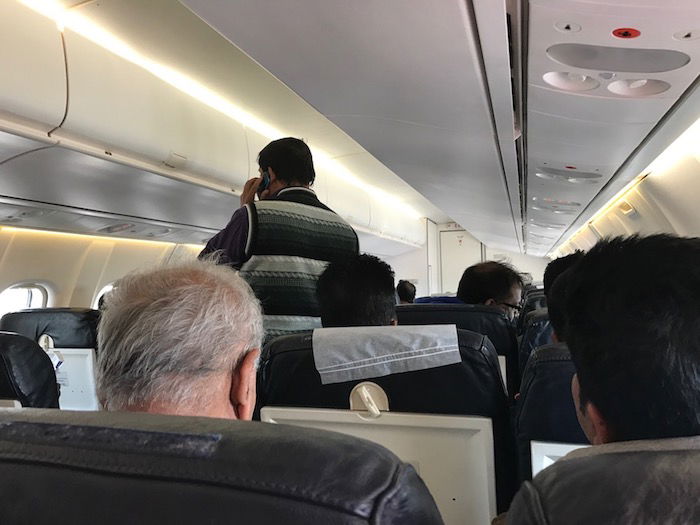 What seatbelt sign?
Our taxi to our arrival stand took about five minutes.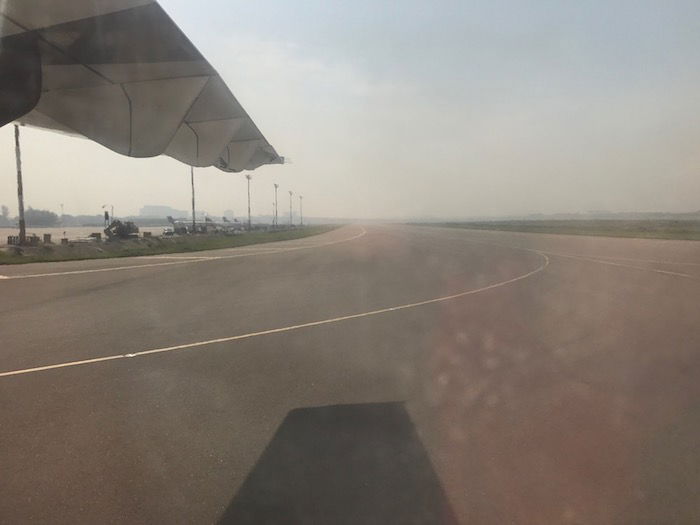 Taxiing Dhaka Airport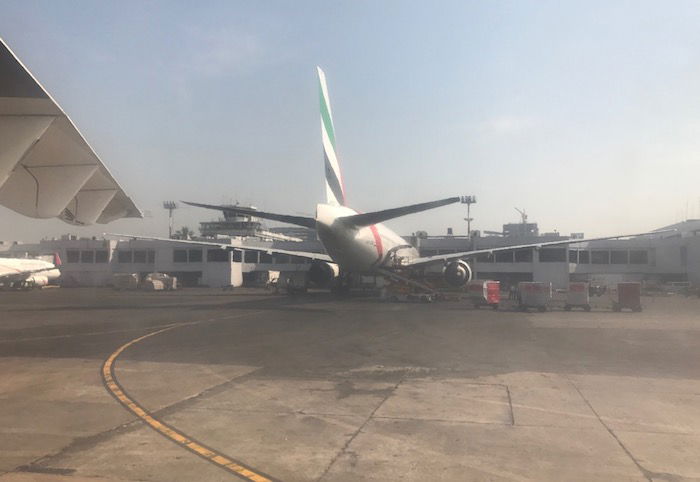 Taxiing Dhaka Airport
We pulled into our stand at 9:15AM, right next to a Regent Airways 737.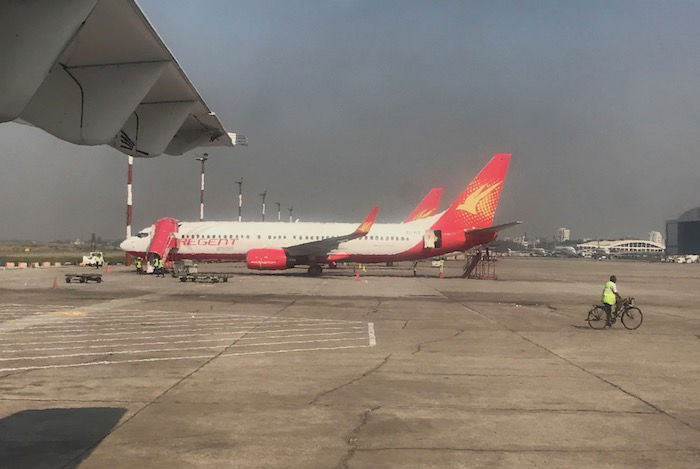 Arrival stand Dhaka Airport
Deplaning was quick, and everyone on the plane got on a single bus.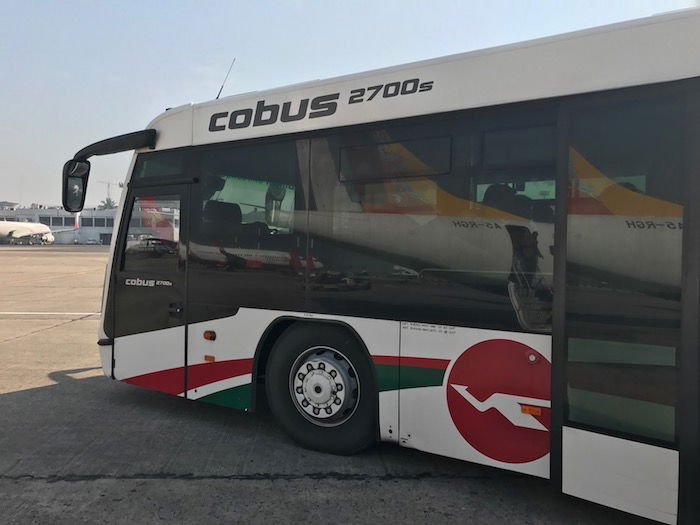 Being bused to terminal at Dhaka Airport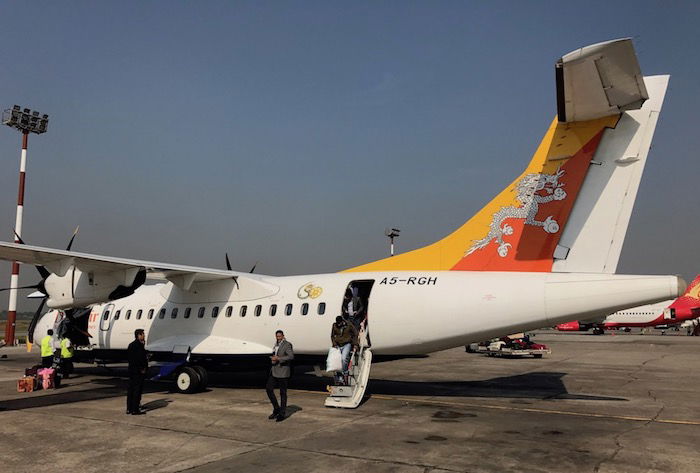 Bye bye Drukair!
It was quite a long ride to the terminal, though I enjoyed the views, given all the airlines I don't think I've ever before seen in person.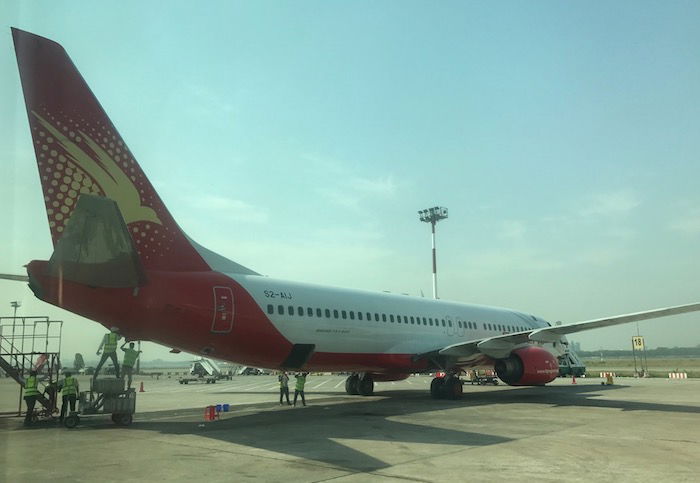 Regent Airways 737 Dhaka Airport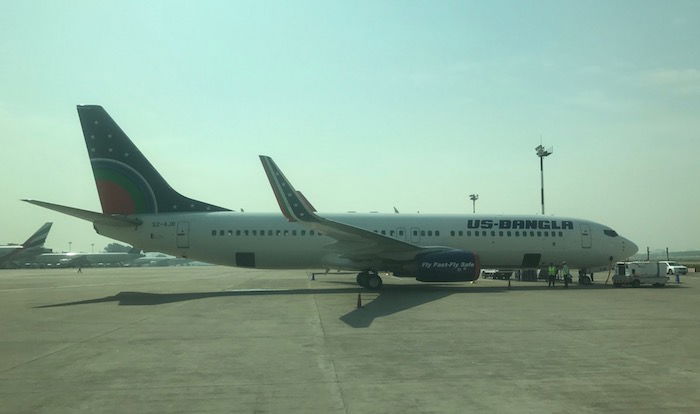 US-Bangla 737 Dhaka Airport
Eventually we drove by what appeared to be the airport's cargo storage facility, or something, which was a bit… disorganized-looking.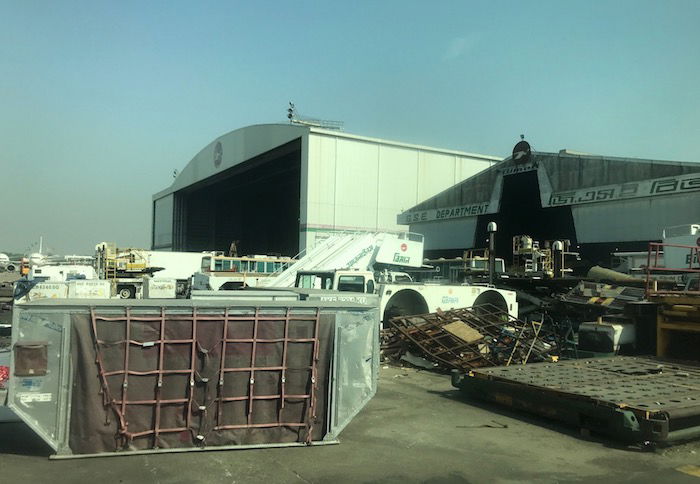 Dhaka Airport tarmac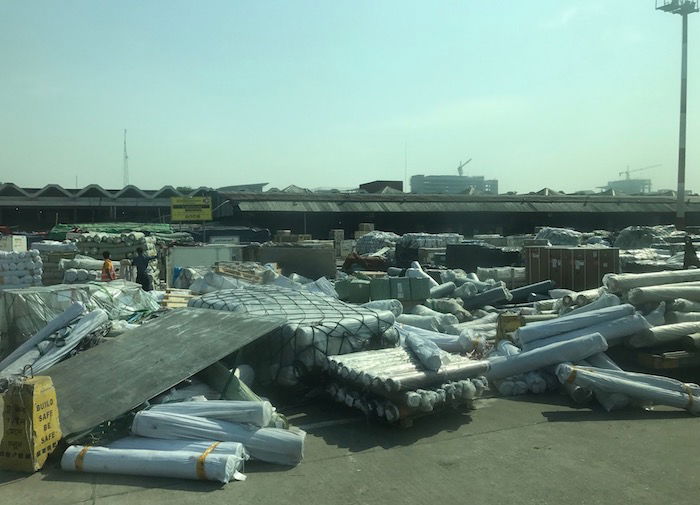 Dhaka Airport tarmac
Once inside the terminal we had to get visas on arrival, which took over 30 minutes, even though there was no line. First we had to fill out forms, then we had to pay at a separate counter, and then it took them about 20 minutes to process the applications. The visa wasn't cheap either, at $50 per person, especially since we were only in Bangladesh for one day. They insisted there was no transit visa option (since we were only there for less than 24 hours), so whatever.
Since we were on a small plane we had to check our bags for the flight. I guess I'm grateful it took a while for the bags to arrive, as they showed up a few minutes after we arrived (despite how long our visa on arrival took). There was even someone there to verify our claim tags against the bags themselves, which is a nice additional security measure.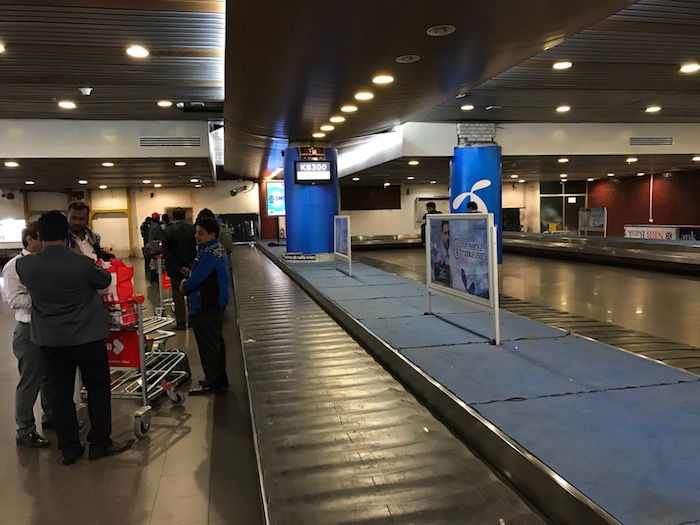 Dhaka Airport baggage claim
Just past immigration we were greeted by someone from the Le Meridien, who took us out a side exit. For what it's worth, I felt that security at the airport was really tight. I don't think I've ever seen so many machine guns at an airport between getting off the plane and getting into a car.
Bottom line
Drukair is one of the only ways to fly to/from Bhutan, so it's not like you have many options. 😉 Regardless, I found the experience to be pleasant overall. The outbound on the A319 was of course nicer, but the ATR42 for the hour-long flight was perfectly comfortable as well.