---
Drukair 401
Kathmandu (KTM) – Paro (PBH)
Friday, March 10
Depart: 9:45AM
Arrive: 11:00AM
Duration: 1hr30min
Aircraft: Airbus A319
Seat: 1A (Business Class)
They were boarding passengers on this flight through two sets of stairs — people seated in the front half of the plane boarded through the forward door, while people seated in the back half of the plane boarded through the rear door.
Drukair's A319s have a total of 16 business class seats, spread across four rows in a 2-2 configuration.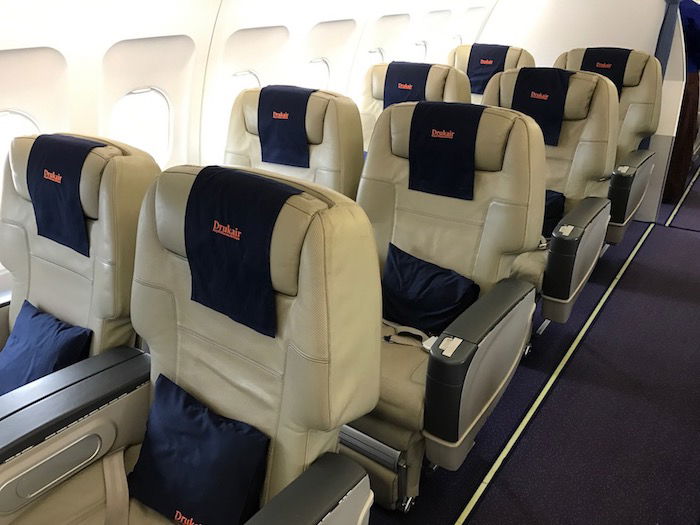 Drukair A319 business class cabin
Since I managed to be the first onboard, I took a quick glance into the economy cabin, which looked reasonably comfortable, at least in terms of the headrests.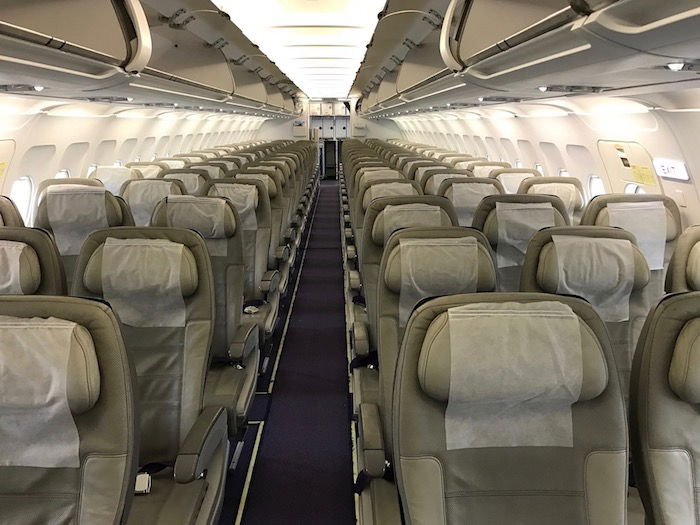 Drukair A319 economy class cabin
The business class seats were fairly spacious, with probably marginally more pitch than what you'd find in domestic first class in the US.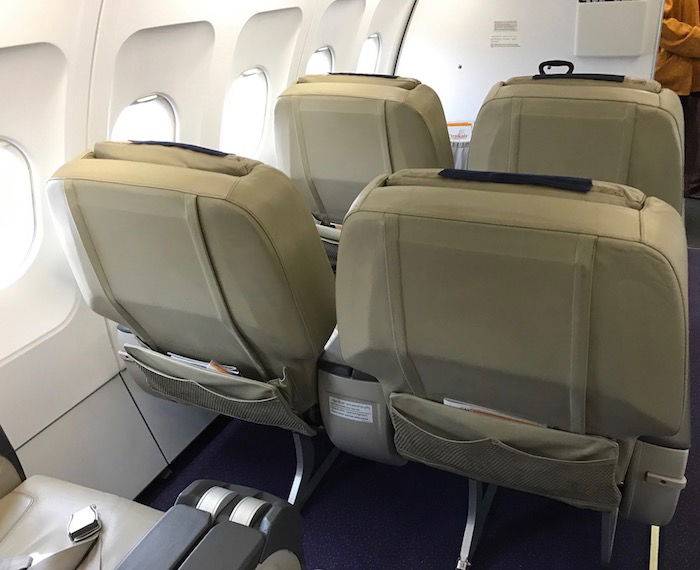 Drukair A319 business class seats
We had been assigned seats in the bulkhead row, which had the advantage of having extra legroom, though you also couldn't store anything there for takeoff and landing.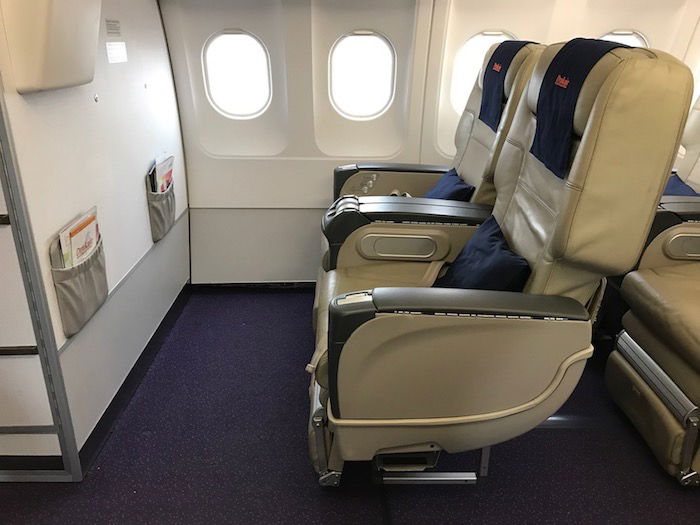 Drukair A319 business class seats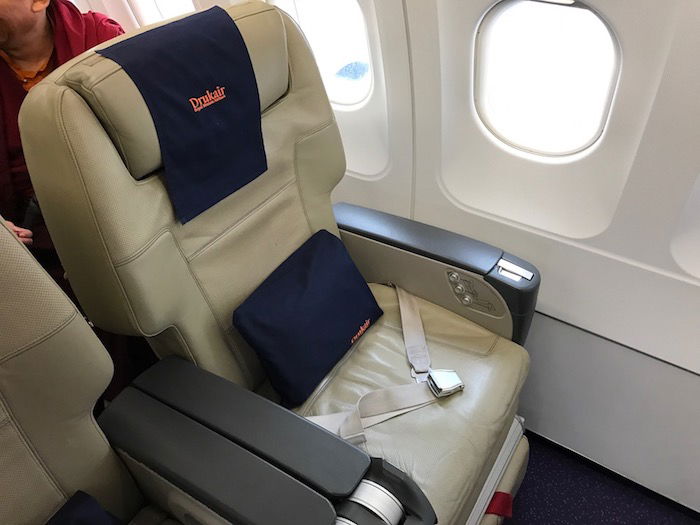 Drukair A319 business class seat
The seat's controls were at the bottom left of the seat, and were manual. The seat even had a legrest, which seemed a bit unnecessary.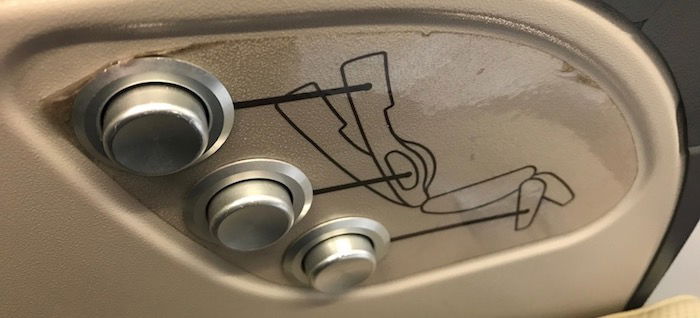 Drukair A319 business class seat controls
The tray table could be folded out from the side armrest, and flipped over, if you just wanted to use half of it.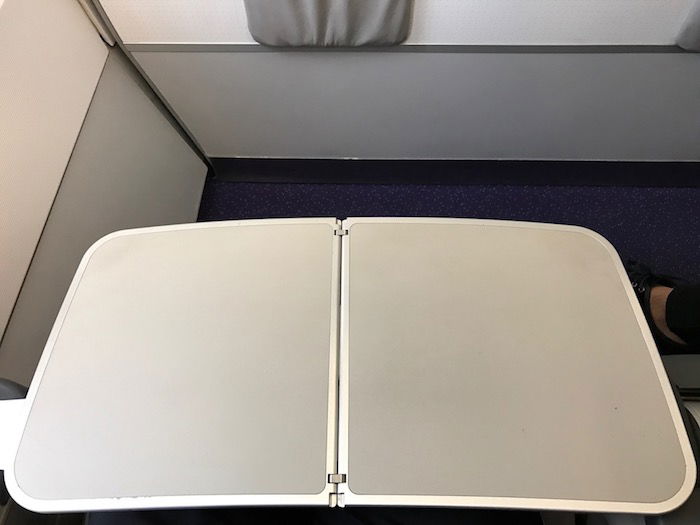 Drukair A319 business class tray table
At first I thought there were personal televisions based on how the center console looked, but as it turns out there wasn't actually anything there. Odd.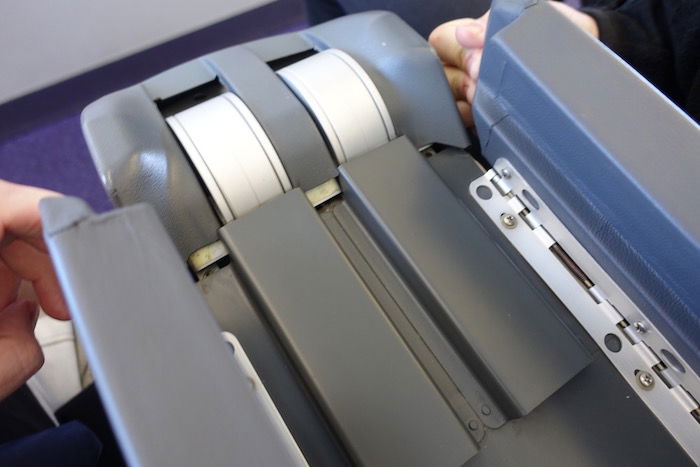 Drukair business class (lack of) TVs
There was also a pillow waiting at my seat, which was pretty basic (not that I'd hope to get much rest on such a short flight).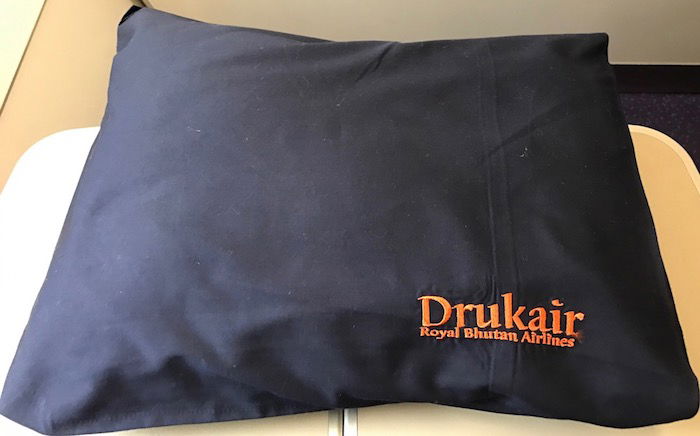 Drukair business class pillow
Boarding was extremely efficient, and everyone was on board within about 10 minutes of when boarding began. In the end, seven of the 16 business class seats were taken, and I'd say economy was maybe two thirds full.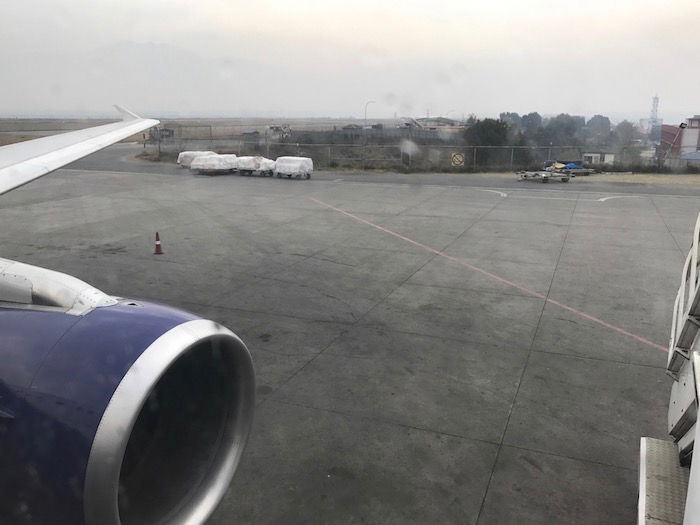 View before pushback at Kathmandu Airport
Once everyone was on board, the friendly flight attendants offered each business class passenger a warm towel.

Drukair business class warm towel
That was followed by the choice between water or apple juice.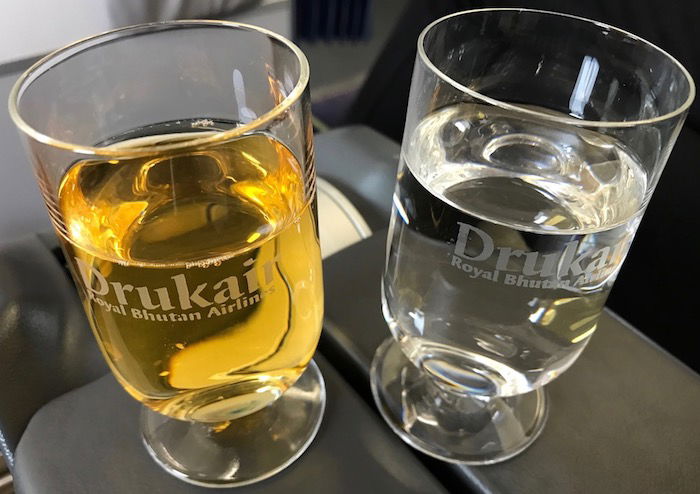 Drukair business class pre-departure drinks
After that the crew distributed newspapers.
Once the door closed, a pilot came and sat across from us in the window seat on the opposite side of the cabin. There were also two pilots in the cockpit, so I'm not sure why Drukair has a relief pilot on such a short flight.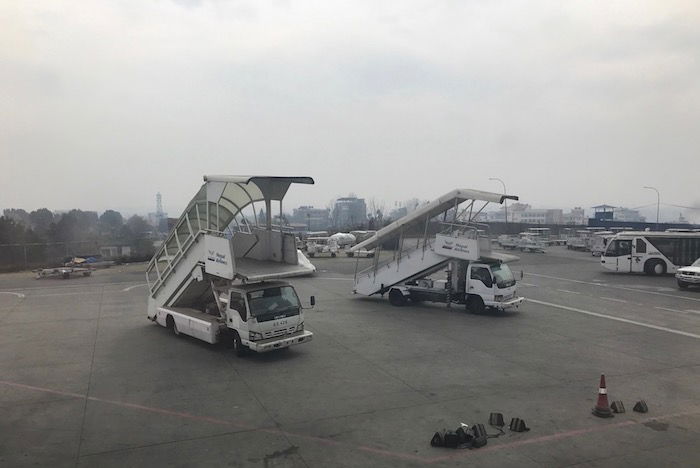 Pushing back Kathmandu Airport
Speaking of the other business class passengers, there was a monk seated behind us, who chanted for nearly the whole flight. He did so from the moment he sat down in his seat, until about 10 minutes before landing. The only exception was that he took about a minute-long break to eat.
While it's usually annoying when other passengers make loud noises the whole flight, this was sort of calming, and a very nice introduction of what was to come in Bhutan.
At 9:40AM we began our taxi, at which point the manual safety demonstration began. The demonstration was super quick.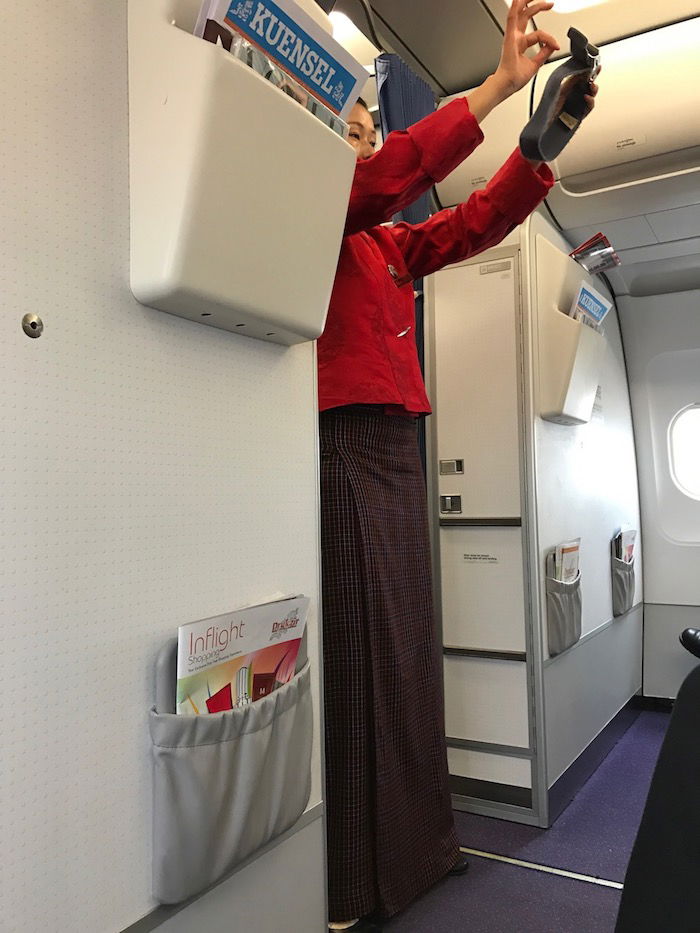 Drukair safety demo
After the demo the lead flight attendant announced our flight time of 45 minutes, and that we should arrive on-time.
Within a few minutes we found ourselves holding short of runway 20. Once there we had to wait for a few minutes, as a Flydubai 737 and then a smaller prop both had to land on the runway.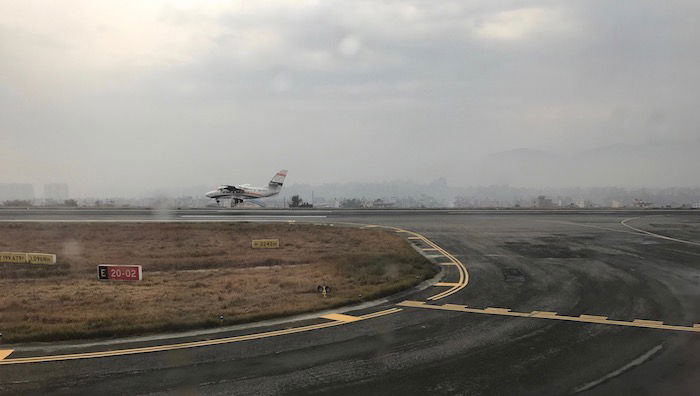 Approaching the runway Kathmandu Airport
At 9:50AM we were cleared for takeoff. The takeoff roll was rather long for an A319 on a short flight, though I guess that doesn't come as much of a surprise, given Kathmandu Airport's high altitude.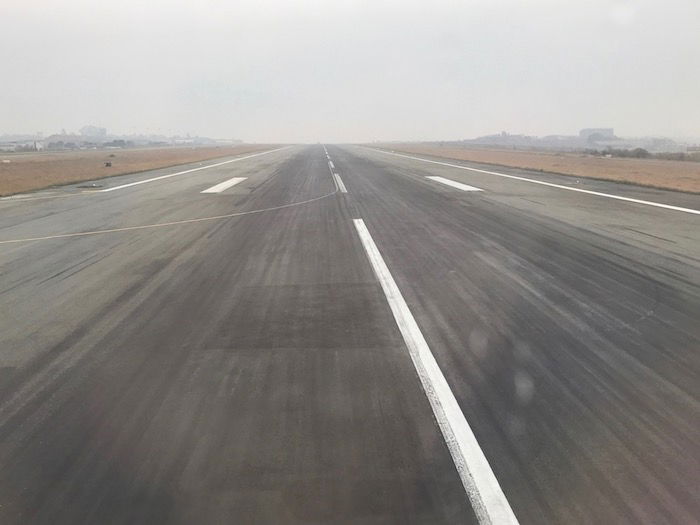 Taking off Kathmandu Airport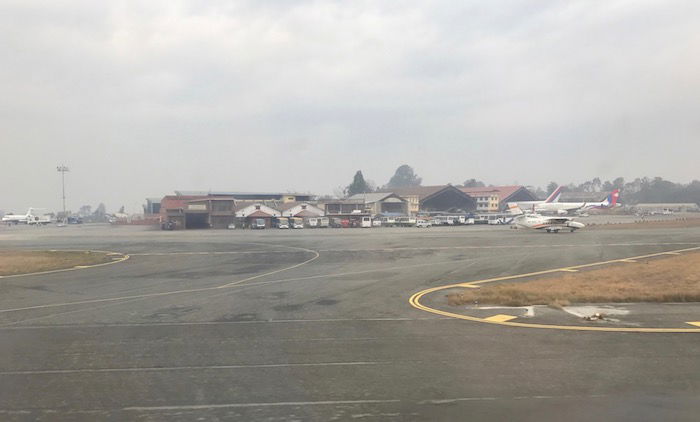 Taking off Kathmandu Airport
As we took off I gazed at the city, which looks about as chaotic from the sky as it looks from the ground.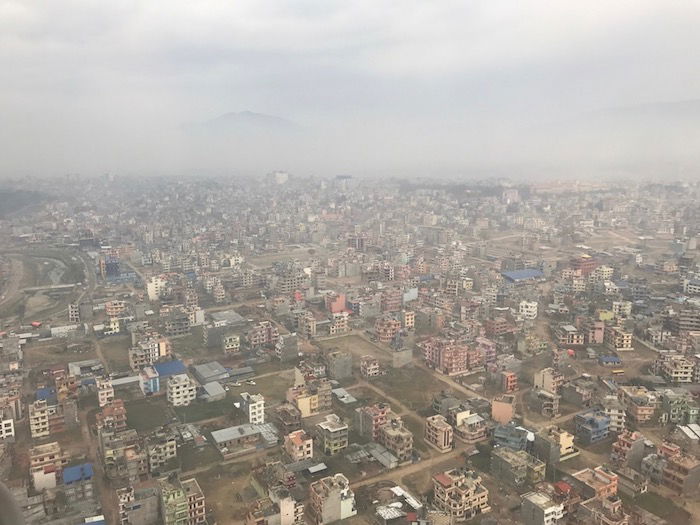 View after takeoff from Kathmandu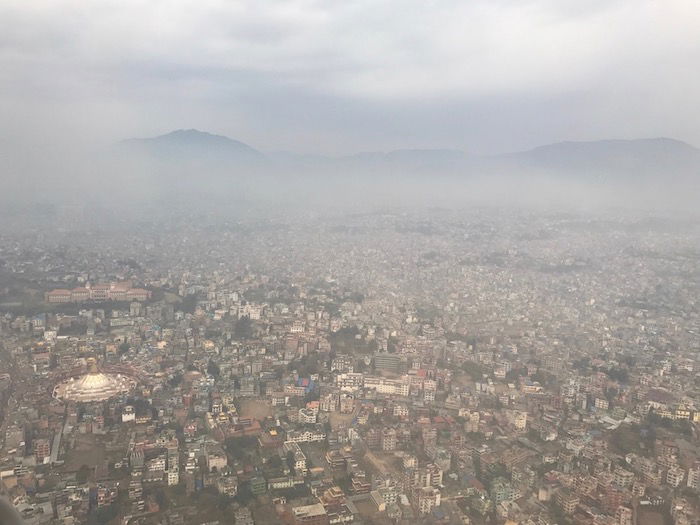 View after takeoff from Kathmandu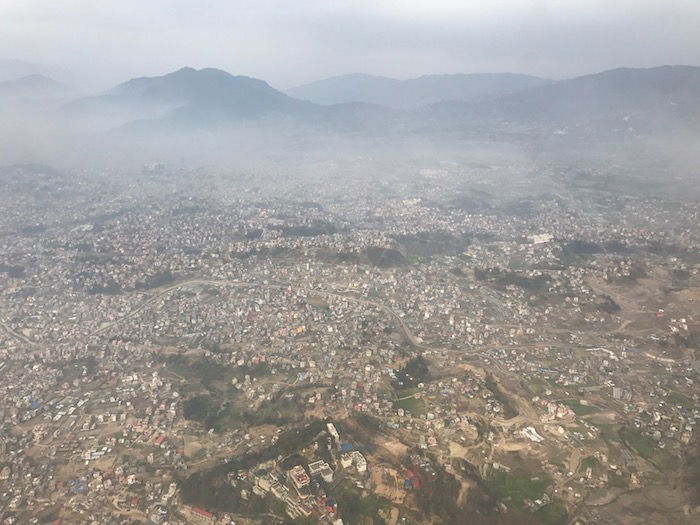 View after takeoff from Kathmandu
Eventually we made a sharp turn in the direction of Paro.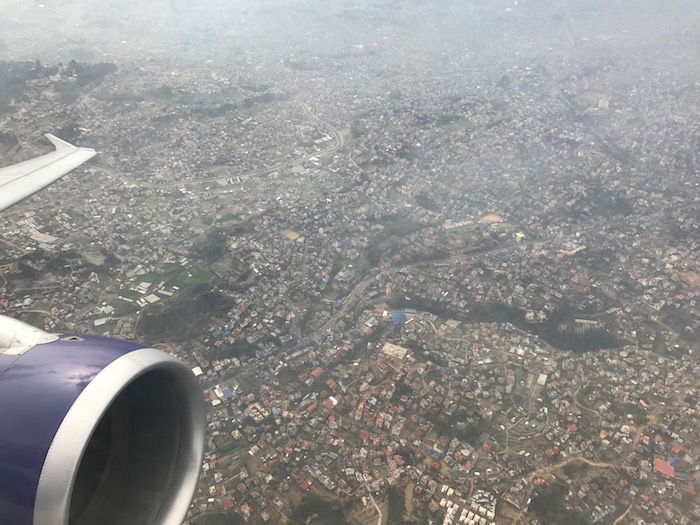 View after takeoff from Kathmandu
The seatbelt sign was turned off just two minutes after takeoff, and a couple of minutes after that tablecloths were distributed, followed by landing cards for Bhutan.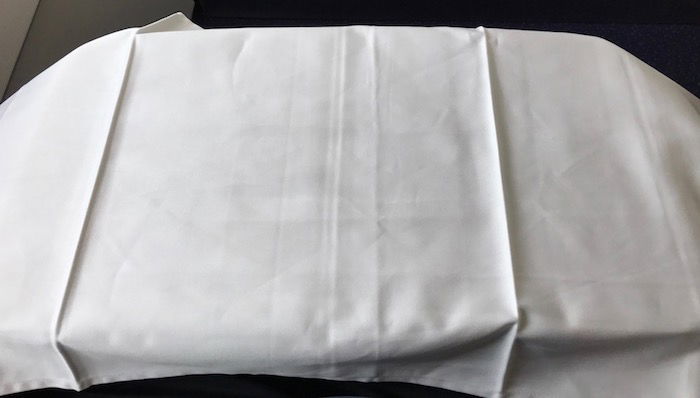 Drukair business class tablecloth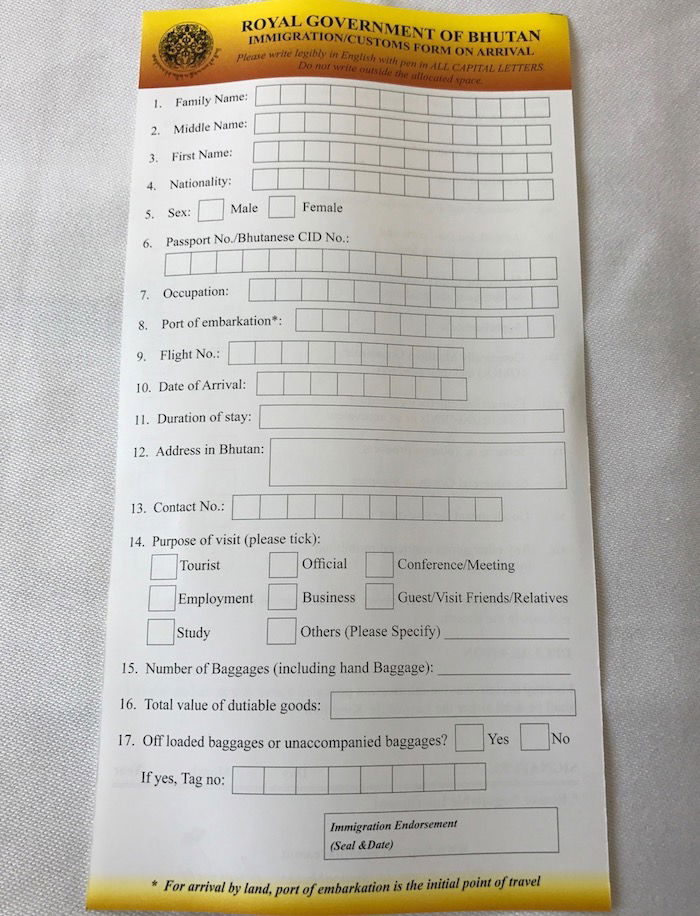 Bhutan landing card
There was no choice of snack. Instead the snack consisted of a croissant with warm cheese, a meat pastry, and a chocolate cake. It wasn't the healthiest or tastiest snack, but it was better than nothing. Funny enough, I overheard the lady behind us (seated next to the monk) say to the flight attendant "we want Chinese food, not this." The flight attendant had to apologize and explain this was the only option.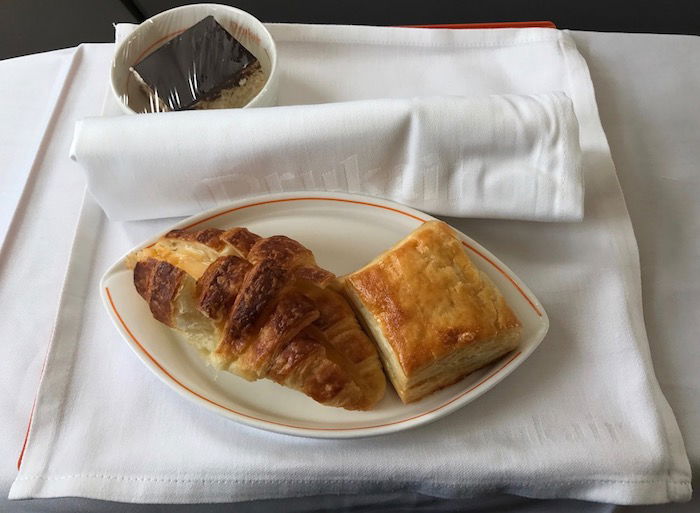 Drukair business class snack
After the snack was served, the crew offered drinks, including water, coffee, and juice.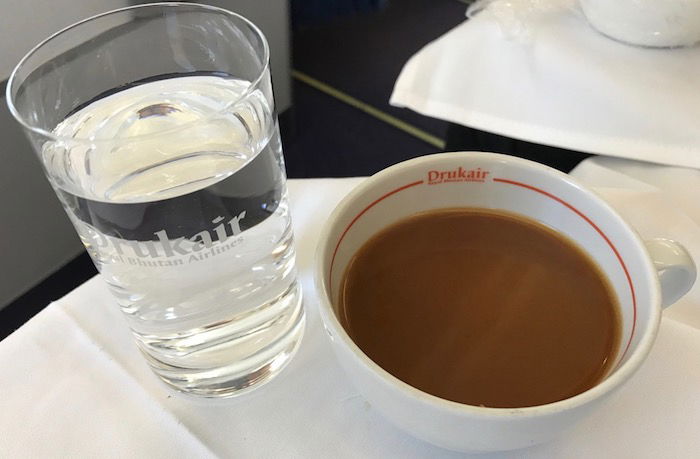 Drukair business class coffee & water
Given the short flight time, I just gazed out the window for the remainder of the flight. I had been told before I took the flight to request a window seat on the left side, because that way you can see Mount Everest on a clear day. Unfortunately it wasn't an especially clear day, but I believe the below is Mount Everest? It was cool to see, even from a distance.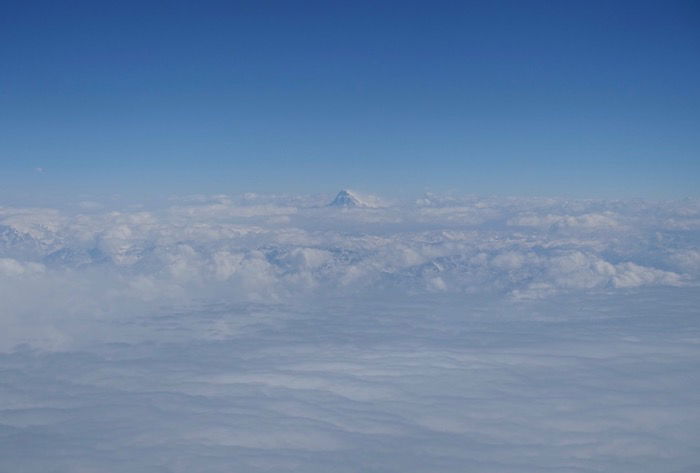 Mount Everest enroute to Paro
Shortly after passing Mount Everest we began our descent. The seatbelt sign was turned on about 20 minutes before landing, at which point they turned on "boarding" music throughout the cabin.
I was super excited about the approach, given that Paro Airport is allegedly one of the most dangerous and challenging approaches in the world. To me it didn't seem actively dangerous or challenging (at least from the cabin) with good conditions. However, the second there's any sort of weather, the airport shuts down.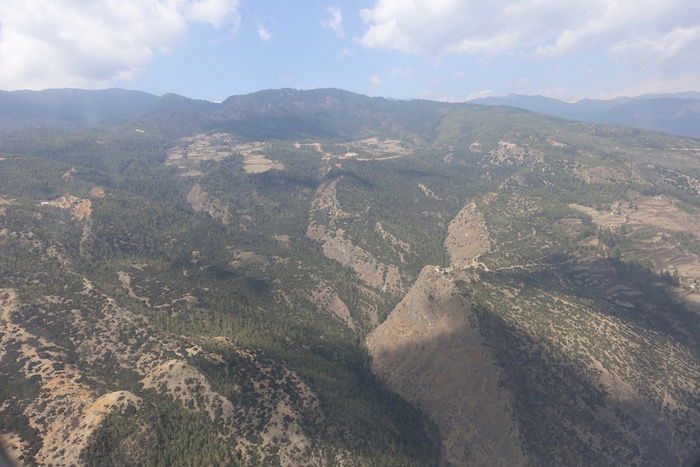 View approaching Paro
The views on approach were beautiful.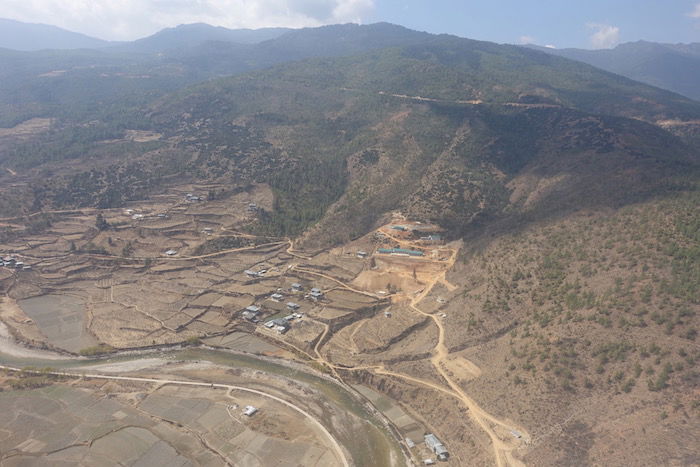 View approaching Paro
Here's the video I took of the approach into Paro (my apologies for the quality of the video — trying to take pictures with one hand and video with the other isn't as easy as I hoped it to be):
And if you're interested in learning more about why Paro Airport is so challenging, here's an explanation:
We had a smooth touchdown at Paro Airport at 10:45AM local time (there's a 15 minute time change from Kathmandu).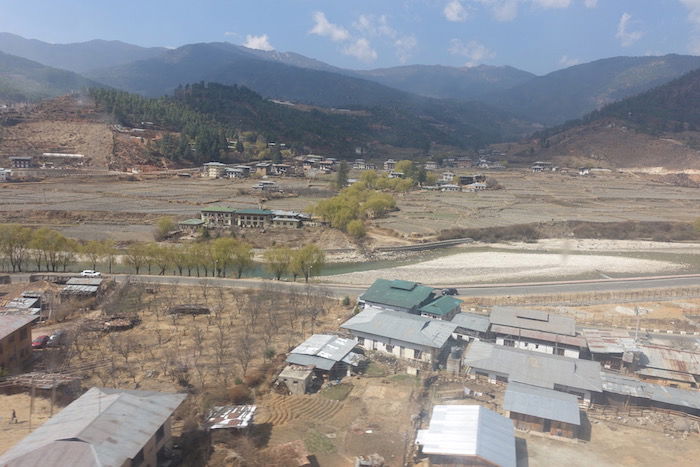 View approaching Paro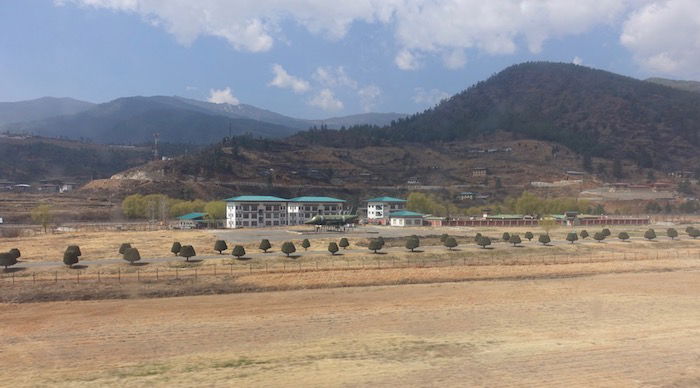 Final approach into Paro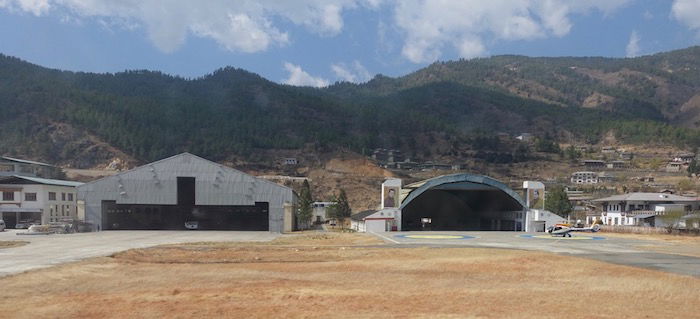 Touchdown Paro Airport
Paro Airport is tiny, so you taxi to the very end of the runway, then turn around, and then enter the tarmac near the center of the runway.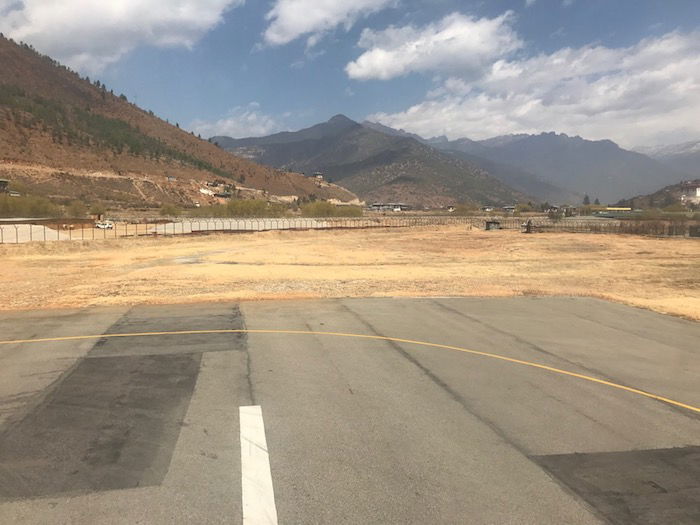 Taxiing Paro Airport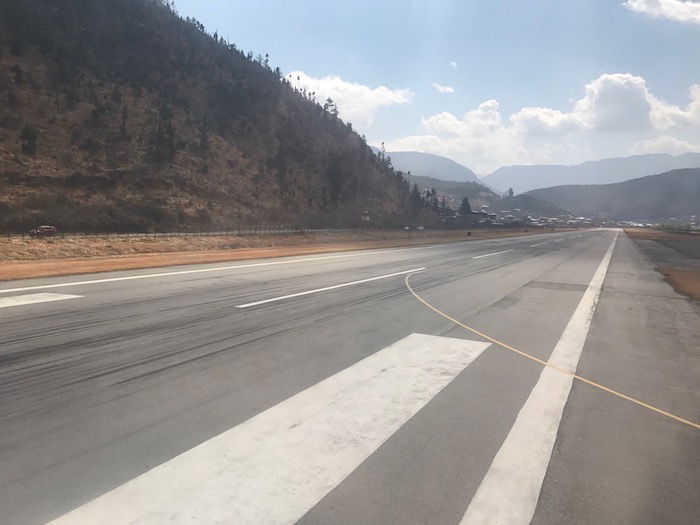 Taxiing Paro Airport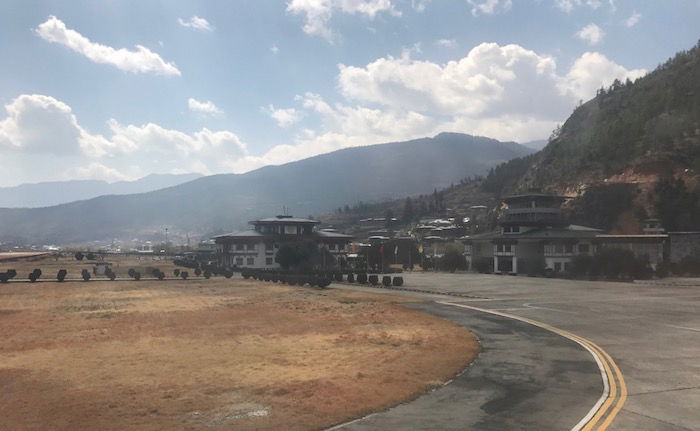 Taxiing Paro Airport
We parked between two Drukair planes — an A319 and an ATR turboprop.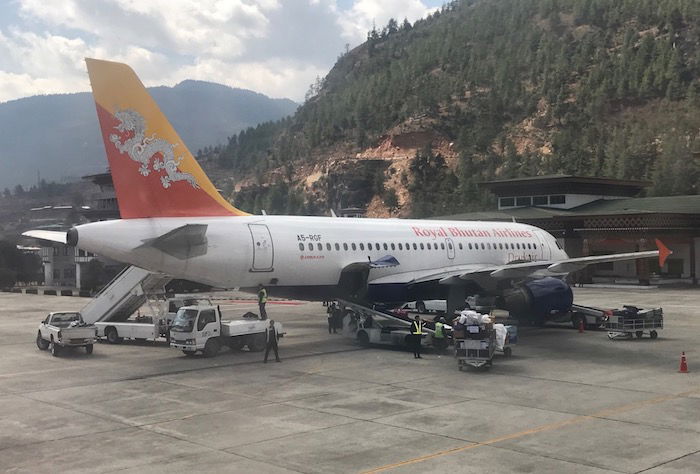 Drukair A319 Paro Airport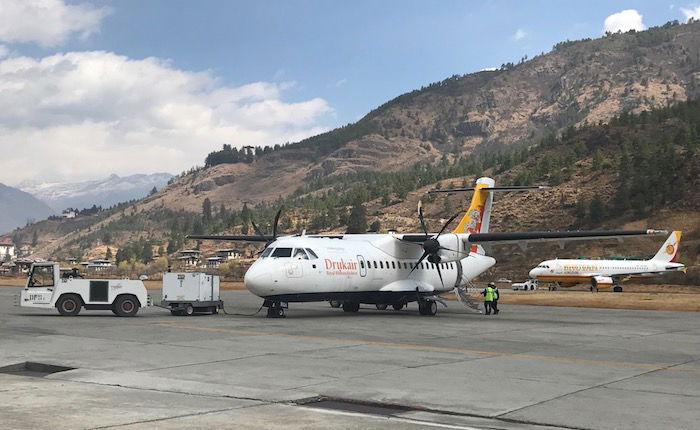 Drukair ATR turboprop Paro Airport
After experiencing the pollution and craziness in Kathmandu for a few days, I can't say how good it felt to step off the plane and smell the fresh air. Even the airport was peaceful.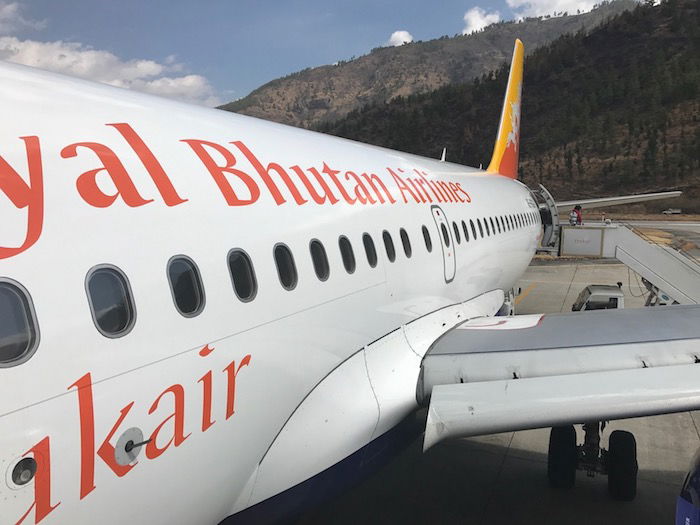 Plane on arrival in Paro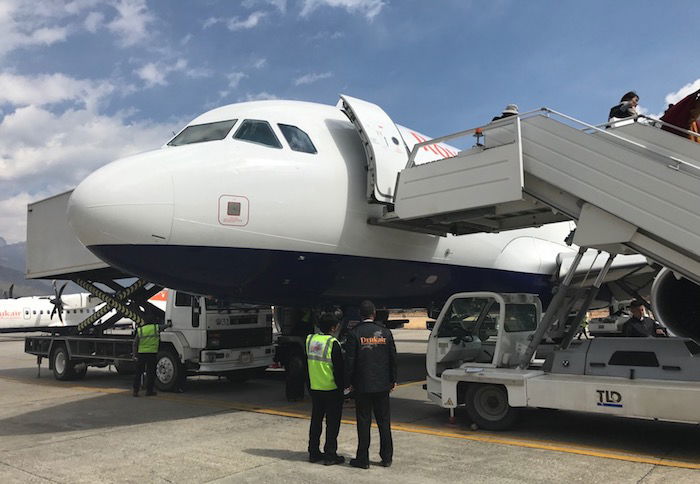 Plane on arrival in Paro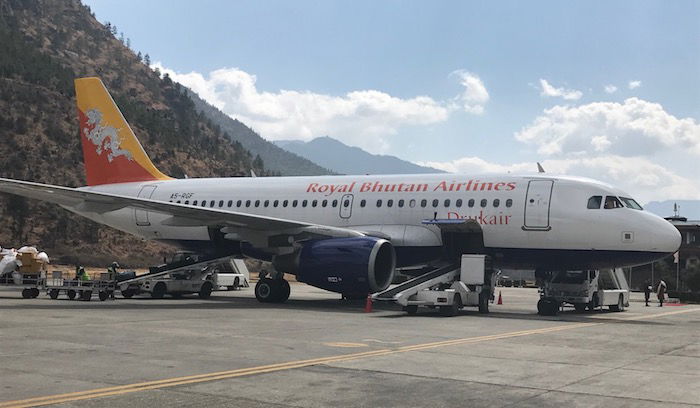 Drukair A319 Paro Airport
Once off the plane we walked towards the terminal, which had the traditional Bhutanese design.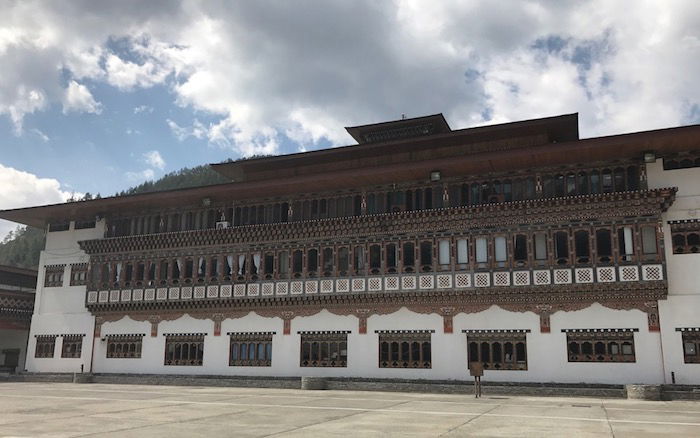 Paro Airport terminal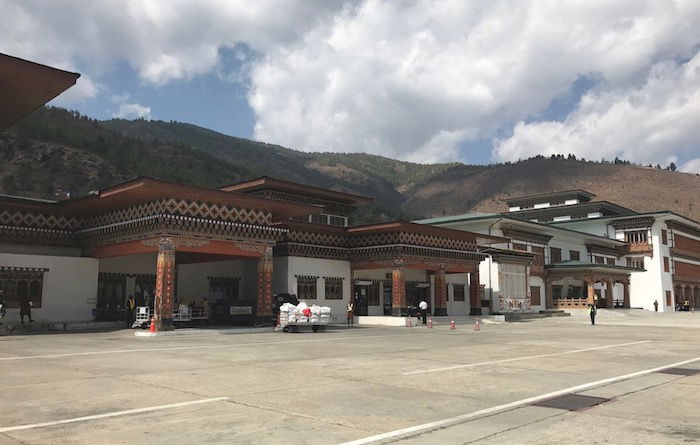 Paro Airport terminal
The immigration officers couldn't have been friendlier, and we were out of the airpot just a few minutes after our flight arrived. Once in the arrivals area we were greeted by Sonam, who would be our guide for the next five days.
Drukair A319 business class bottom line
Drukair is a cute little airline with friendly staff and (clearly) well trained pilots. They even have a proper business class cabin, even if it's probably not worth it for such a short flight. Drukair is the biggest airline in Bhutan, so if you're going to Bhutan, I'd recommend them in a heartbeat.