---
Upon arriving in Shannon we were all directed to get off the plane and reclear security. As we deplaned we were each given a transit card and our name was checked off a list.
Since I had "SSSS" on my boarding pass in Kuwait (which means I was selected for additional screening), I was ushered to a separate area. Once about a dozen passengers requiring secondary screening had deplaned, we were escorted to a separate area for screening.
One of the other business class passengers flipped out. "I WANT TO TALK TO A KUWAIT AIRWAYS SUPERVISOR, THEY DID NOT TELL ME I NEEDED TO GET OFF THE PLANE." He said that he refused to go through security, etc. Then he turned to me and said "did you know we had to get off the plane here?" "Yeah, actually." Then he stopped talking.
While the secondary screening process is thorough, the agents couldn't have been nicer. I love the Irish, and they were in an especially good mood, as it was St. Patrick's Day. The process took about 20 minutes, at which point I was back in the main part of the terminal, and met up with Ford, who hadn't gone through the more intensive screening.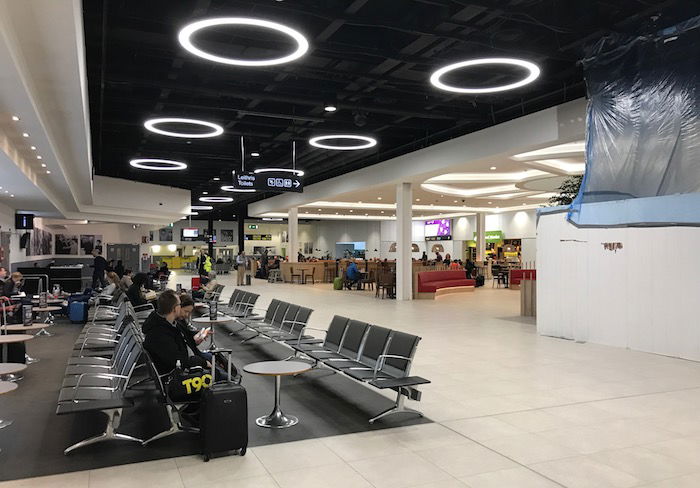 Shannon Airport terminal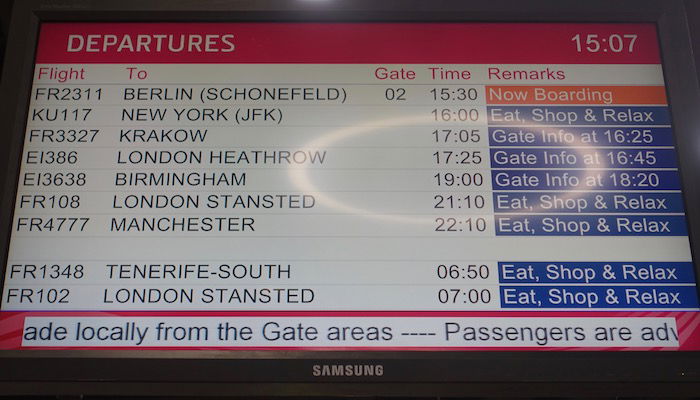 Shannon Airport departures board
Shannon Airport has a US Pre-Clearance facility, though Kuwait Airways doesn't use it. However, keep in mind that British Airways also flies from Shannon to New York (as part of their Club World London City service), and they use the facility.
Given that we were flying a dry airline, we decided to stop by the pub for a glass of wine. First of all, we were the only people there not drinking beer. Second of all, basically everyone at the airport was at the pub. My gosh, I really do love the Irish.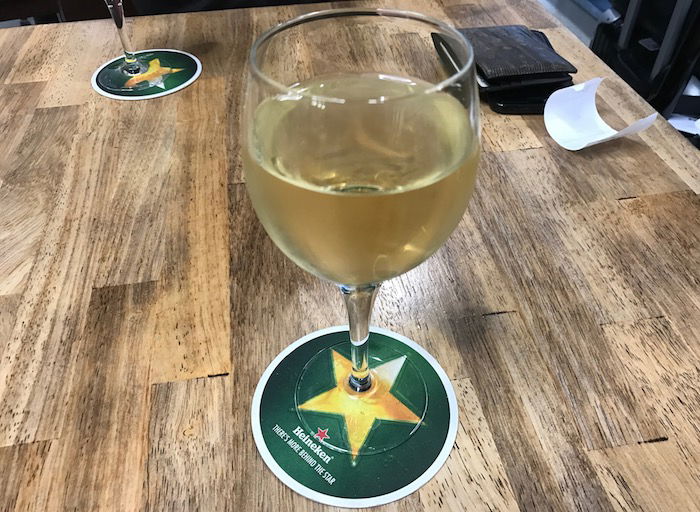 A glass of wine at Shannon Airport
We also stopped by the duty free store to buy a bottle of wine, so we could test something out onboard.
We headed back to our departure gate at around 3:20PM, in anticipation of our 3:30PM boarding and 4PM departure. Shannon Airport is quite small, so it was only a short walk to gate 7.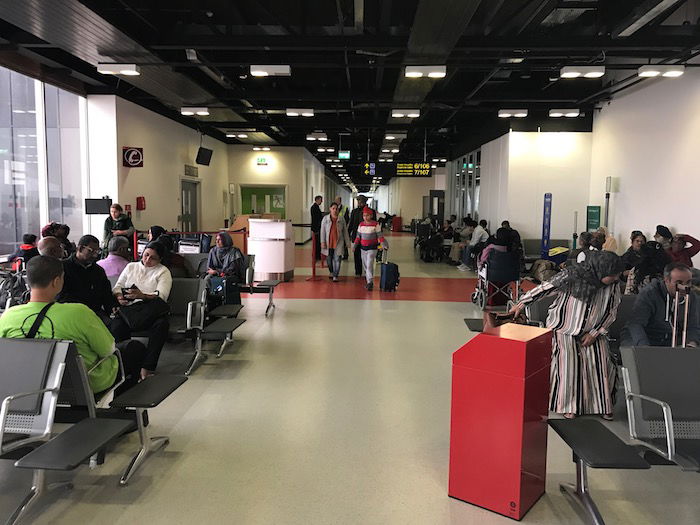 Shannon Airport departure gate
There we had a great view of the gorgeous Kuwait Airways 777-300ER.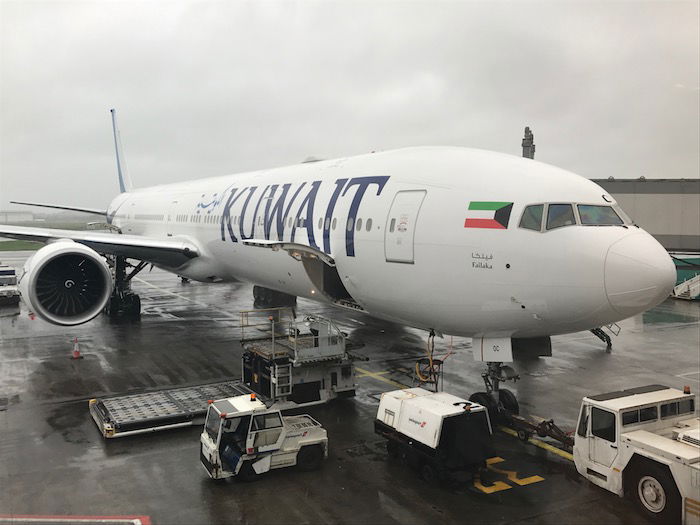 Kuwait Airways 777 Shannon Airport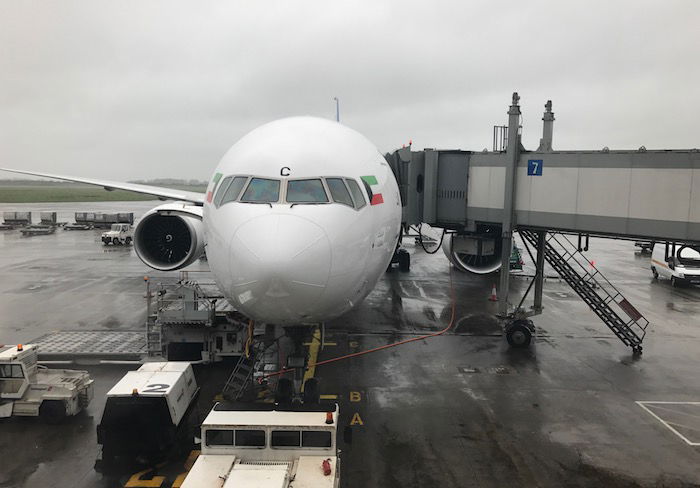 Kuwait Airways 777 Shannon Airport
Sure enough, at 3:30PM boarding was called, starting with first and business class.
Kuwait Airways 117
Kuwait (KWI) – New York (JFK)
Friday, March 17
Depart: 9:00AM
Arrive: 8:00PM
Duration: 17hr
Aircraft: Boeing 777-300ER
Seat: 9H (Business Class)
I won't talk much about the seat, etc., in this installment, since I covered that in detail in the last installment.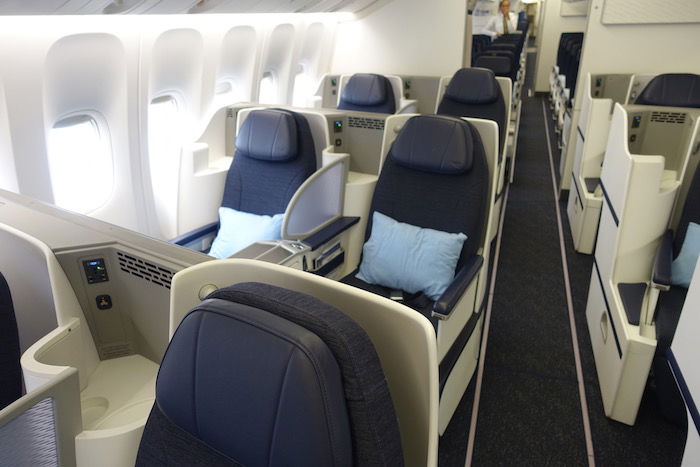 Kuwait Airways 777 business class cabin
We headed back to our seats, in the third row of the rear business class cabin.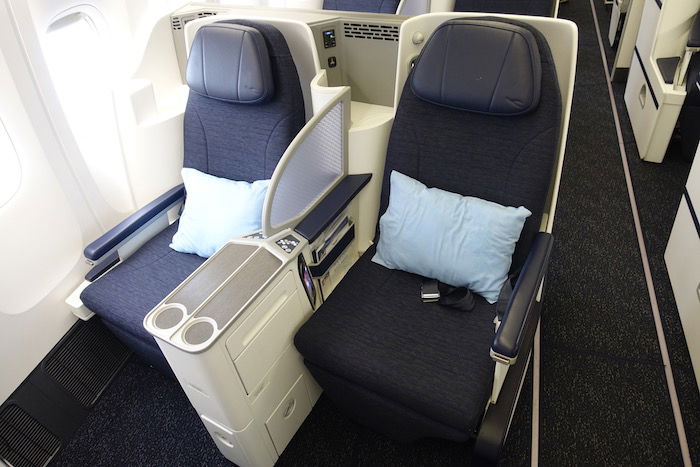 Kuwait Airways 777 business class seats
About 10 minutes after settling in we were offered pre-departure beverages, with the choice between apple and orange juice. We were also offered a choice of either hot or cold towels, which was a nice touch you don't often see in business class.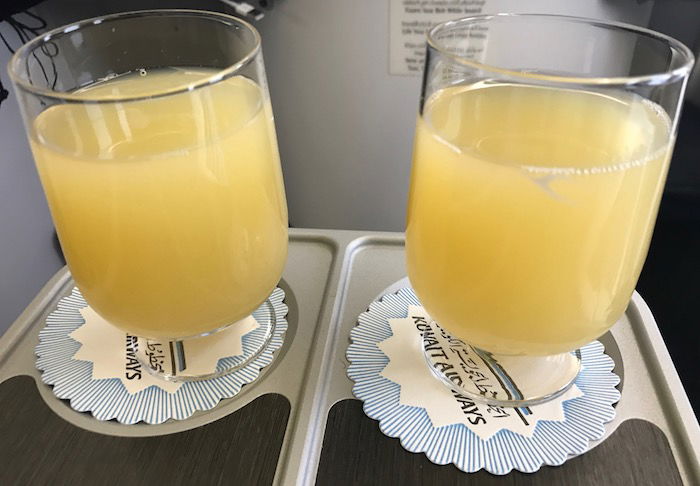 Kuwait Airways business class pre-departure beverages
Another 10 minutes later we were offered Arabic coffee and dates.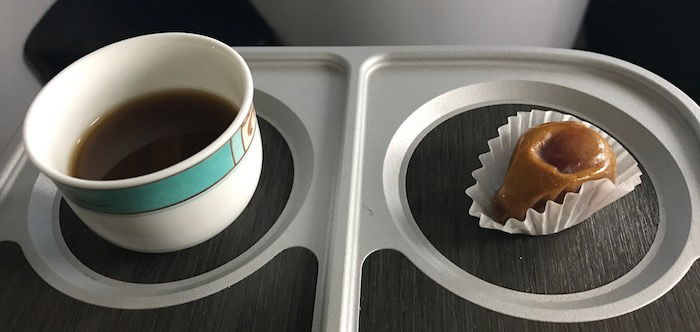 Kuwait Airways business class Arabic coffee & date
This crew was really quite solid, and the lead flight attendant seemed to run a tight ship. The entire crew constantly referred to him as "chief."
At 3:55PM we began our pushback, at which point the "chief" informed us of our flight time of 6hr40min. Shortly thereafter he screened the prayer and safety video.
I turned on the nose camera for our taxi out and takeoff, given how high resolution the video is.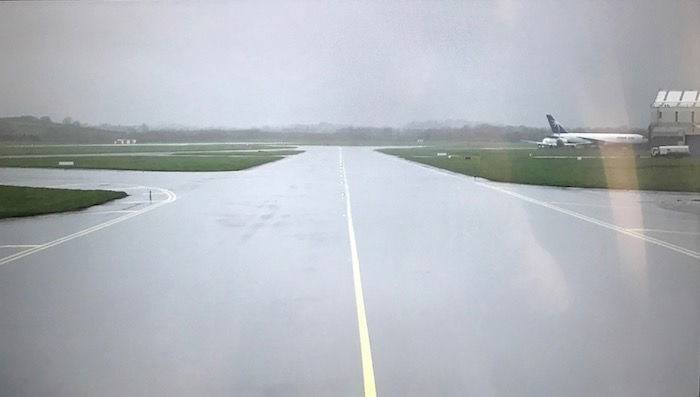 Taxiing to the runway
It was a rainy day, which made it tough to take pictures out the window.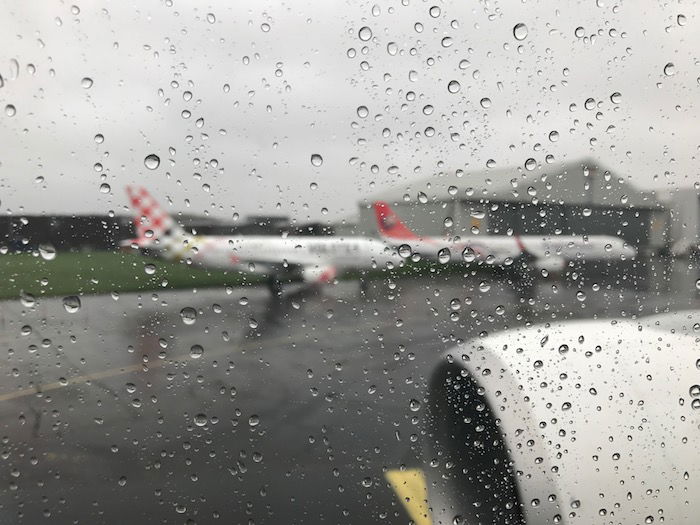 Rainy day in Shannon
By 4:10PM we reached runway 24, and held short for a couple of minutes, waiting for a Ryanair 737 to land.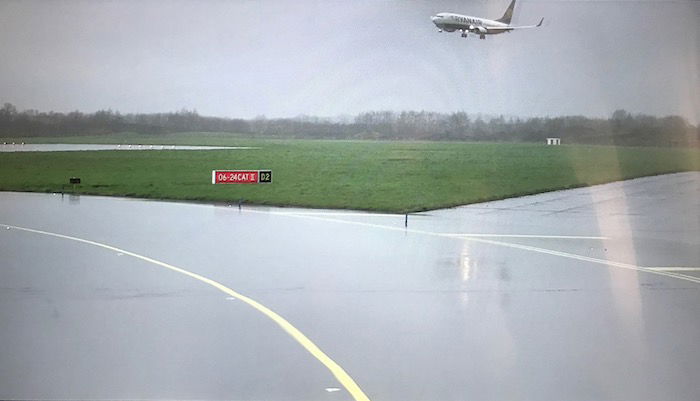 Ryanair on final approach in Shannon
After that we were cleared for takeoff.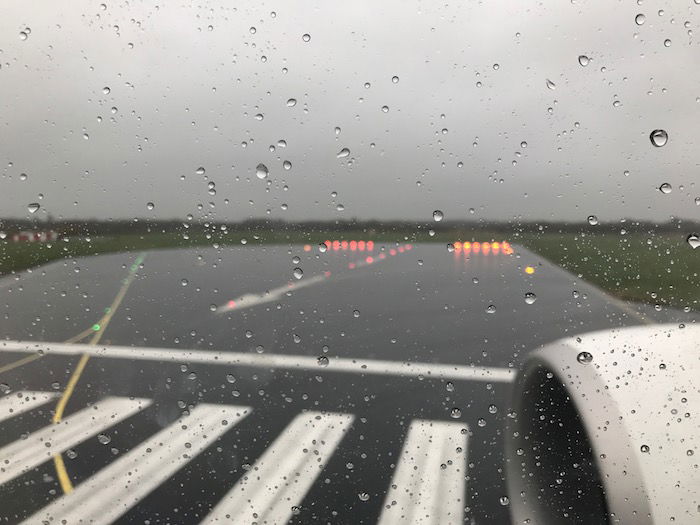 Taking off Shannon Airport
What a view!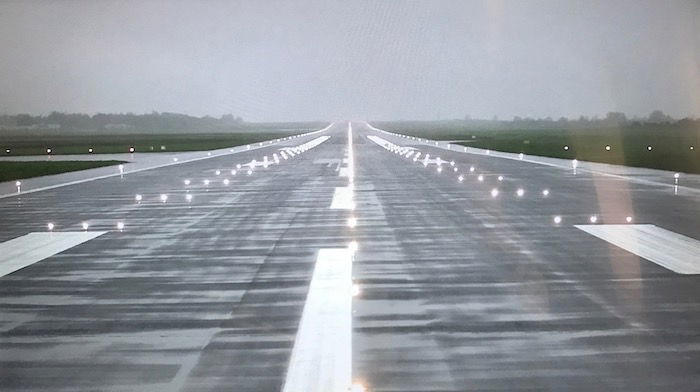 Taking off Shannon Airport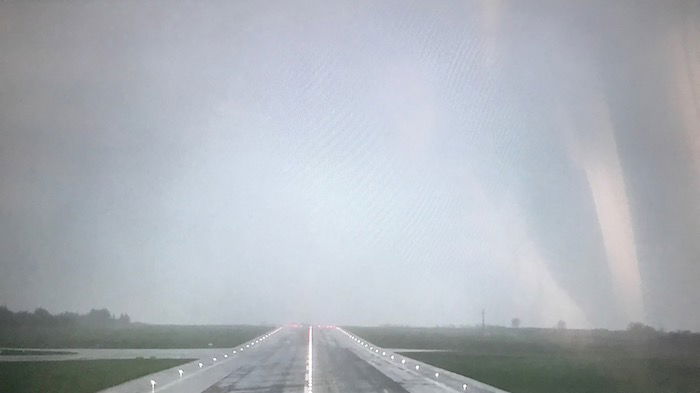 Taking off Shannon Airport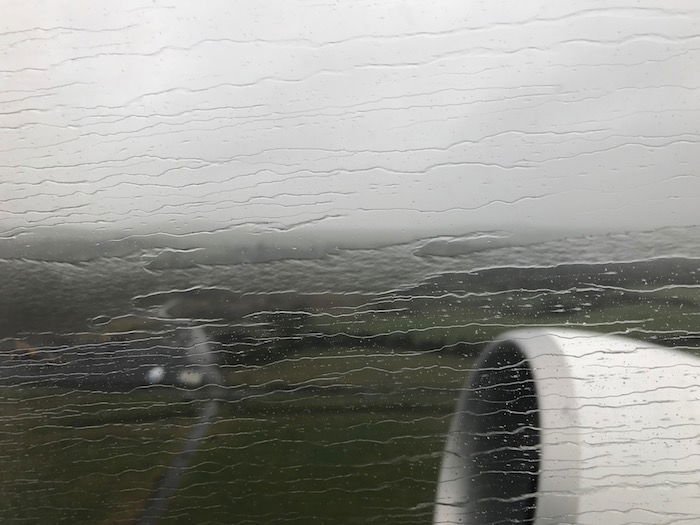 View after takeoff from Shannon
After takeoff I turned on the airshow, to take a look at our path to New York.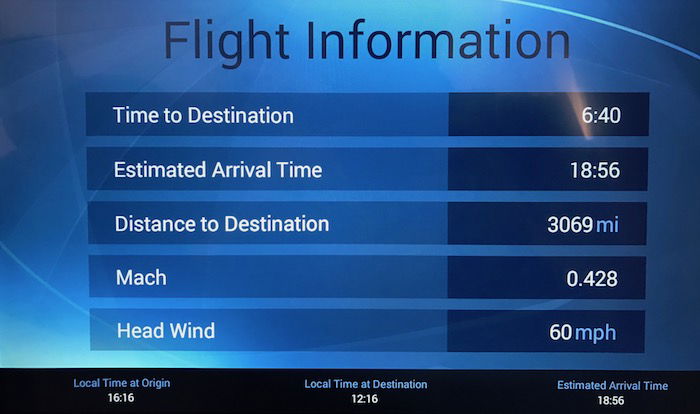 Airshow enroute to New York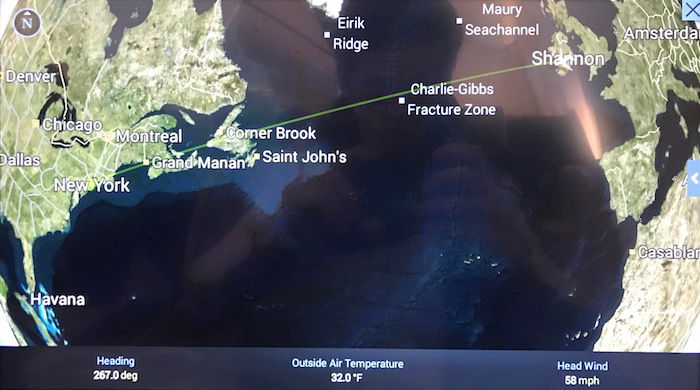 Airshow enroute to New York
The service procedure on this flight was virtually identical to the last flight — there was a small snack after takeoff, and a bigger meal before landing.
So about 30 minutes after takeoff the crew distributed tablecloths and served a very light "afternoon tea." This consisted of four tiny sweets with coffee and tea.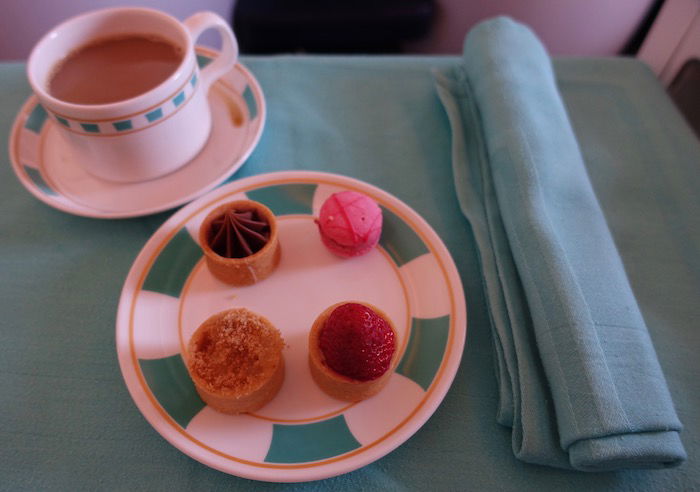 Kuwait Airways business class snack
As I mentioned above, we bought a bottle of wine in duty free at Shannon Airport. That's because I wanted to test out something I had heard. A few commenters mentioned that "dry" airlines aren't actually dry, and that you can in fact bring your own alcohol onto the flight. So we tested it out by bringing our own bottle of sauvignon blanc. Sure enough, the flight attendant said it was totally fine if we consumed it, and apologized that they didn't have the proper glassware. See this post for more on that incident.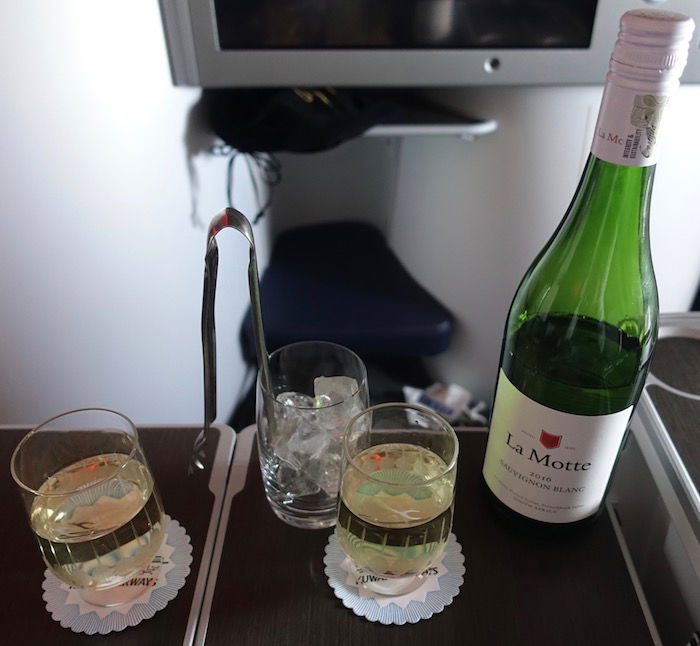 BYOB on Kuwait Airways
After lunch, a couple of drinks, and getting a bit of work done, I decided it was time to get some rest, with just under 4hr30min left to New York.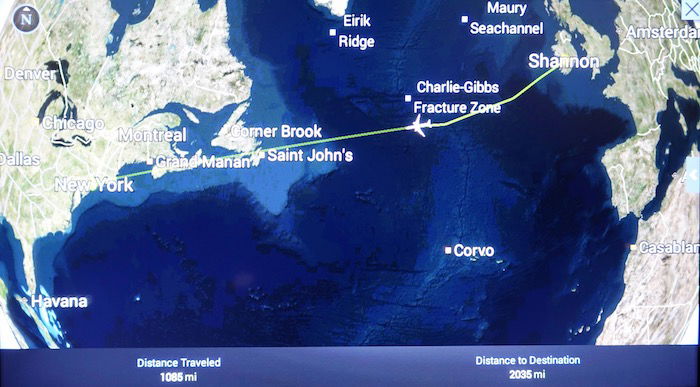 Airshow enroute to New York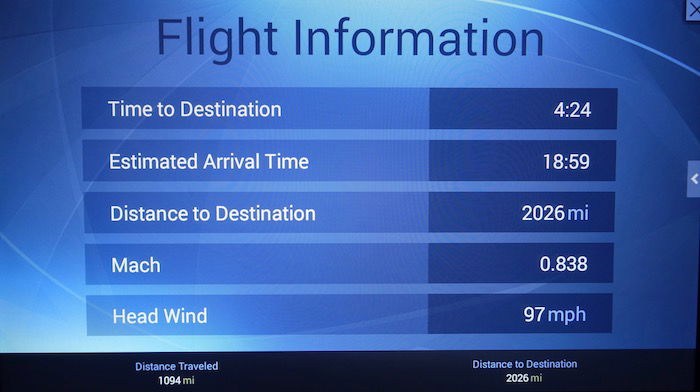 Airshow enroute to New York
Since the center section across from us was empty, I decided to recline that seat and get some rest over there. Fortunately I managed to get a solid two hour nap. I fell asleep almost right away, and woke up as they were turning on the lights for the dinner service.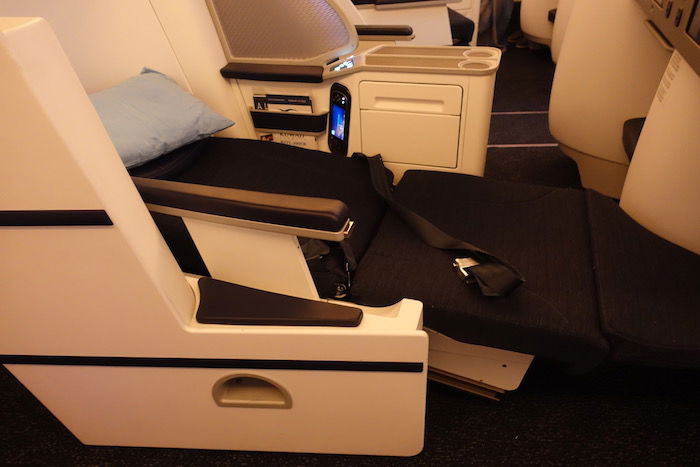 Fully flat bed in Kuwait Airways business class
At this point we were just passing Gander.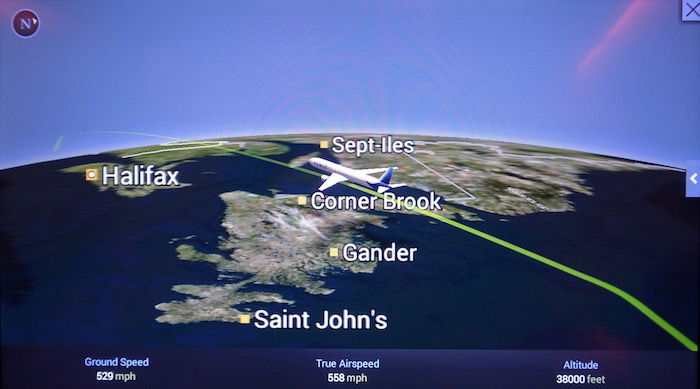 Airhsow enroute to New York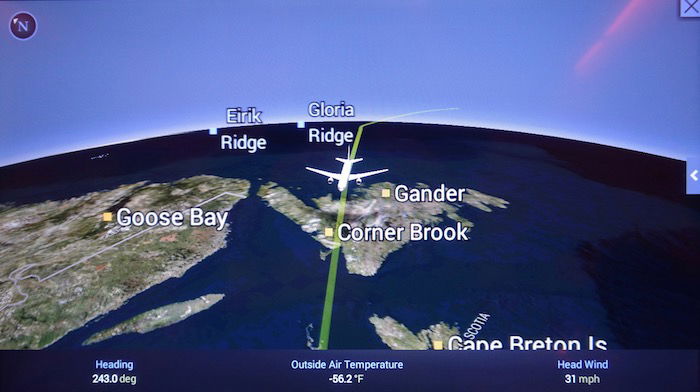 Airhsow enroute to New York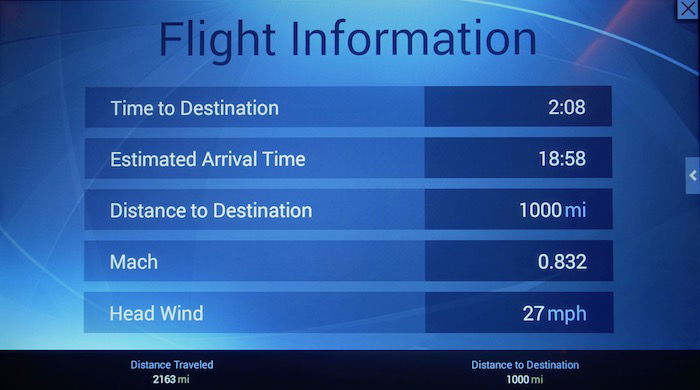 Airhsow enroute to New York
The cabin lights were turned up, drinks were served, tablecloths were presented, and menus were distributed.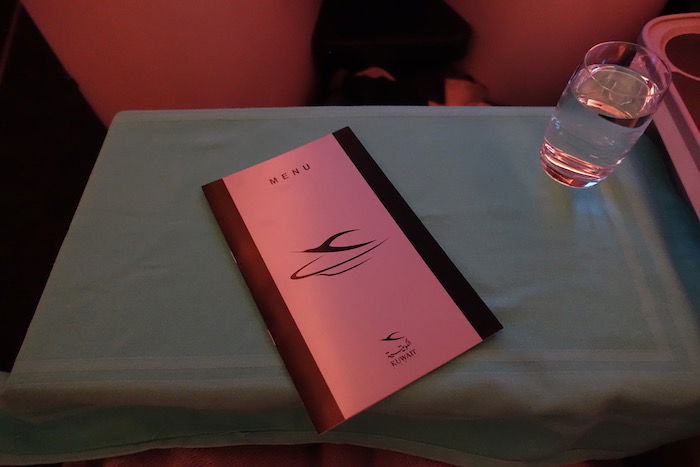 Kuwait Airways business class menu
The menu read as follows: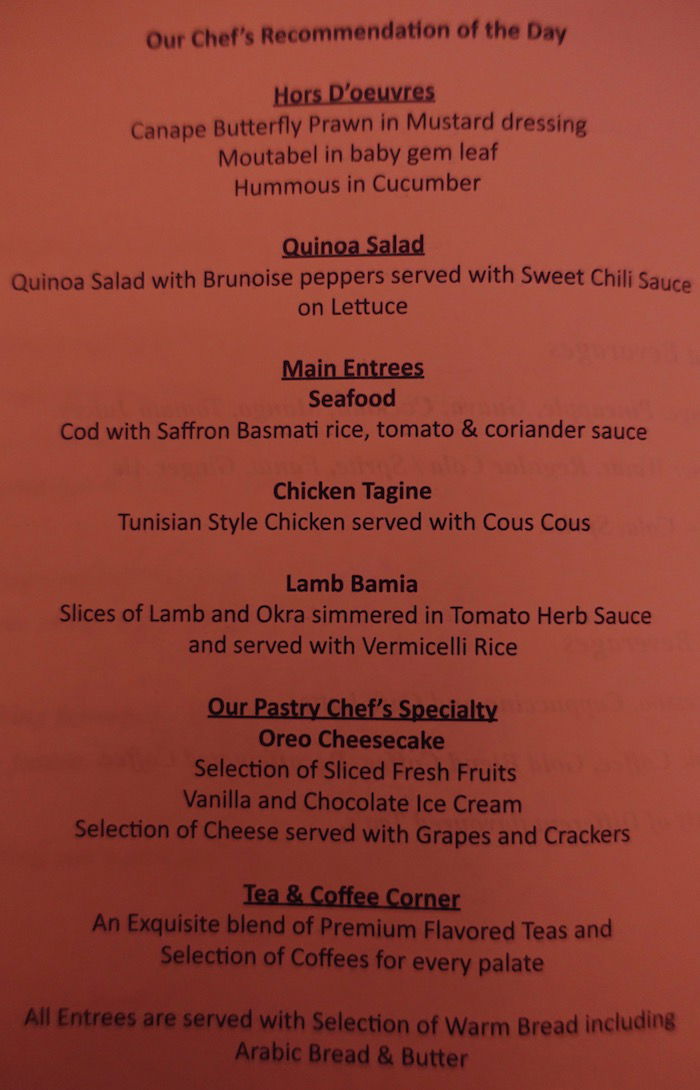 The meal service was remarkably similar to the one on the previous flight. There was a tray with a salad and appetizer.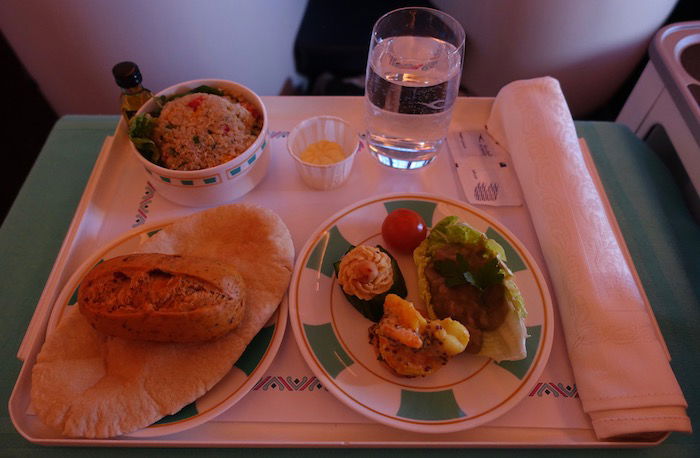 Kuwait Airways business class dinner — appetizer and salad
This time around the salad consisted of a quinoa salad with peppers and sweet chili sauce on lettuce.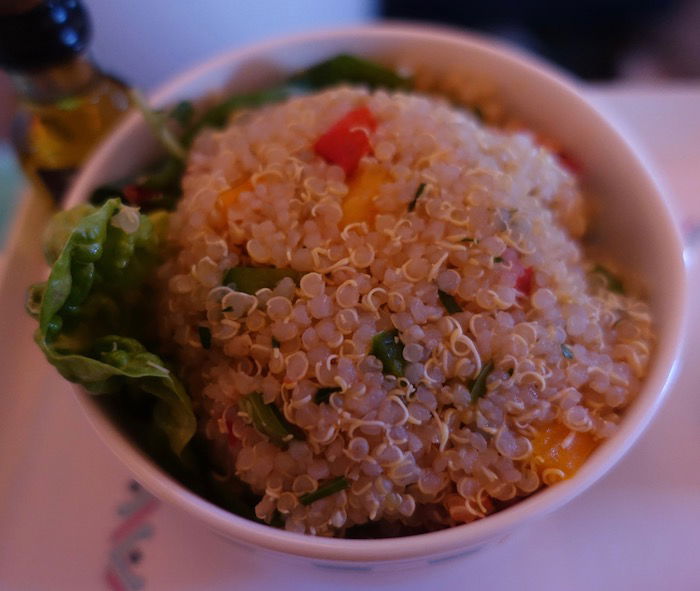 Kuwait Airways business class salad — quinoa salad with peppers on lettuce
The appetizer consisted of a butterfly prawn, moutabel, and hummus.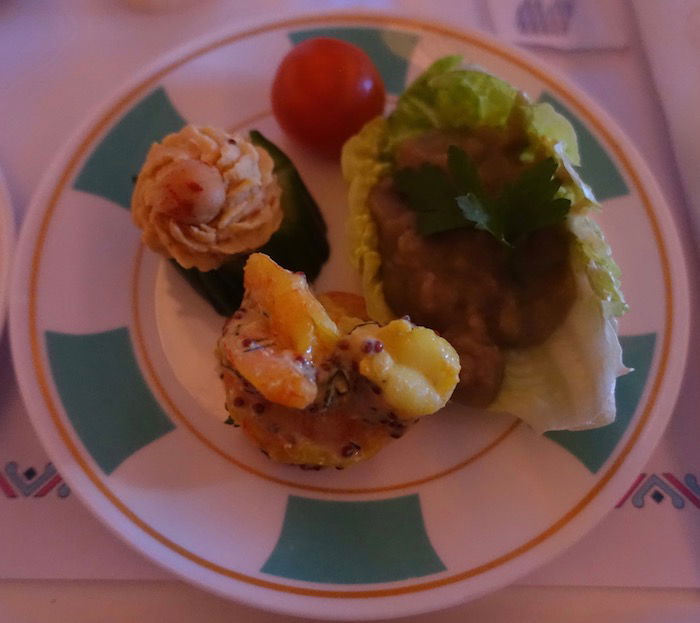 Kuwait Airways business class appetizer — prawn, hummus, and moutabel
I was also offered a selection of bread.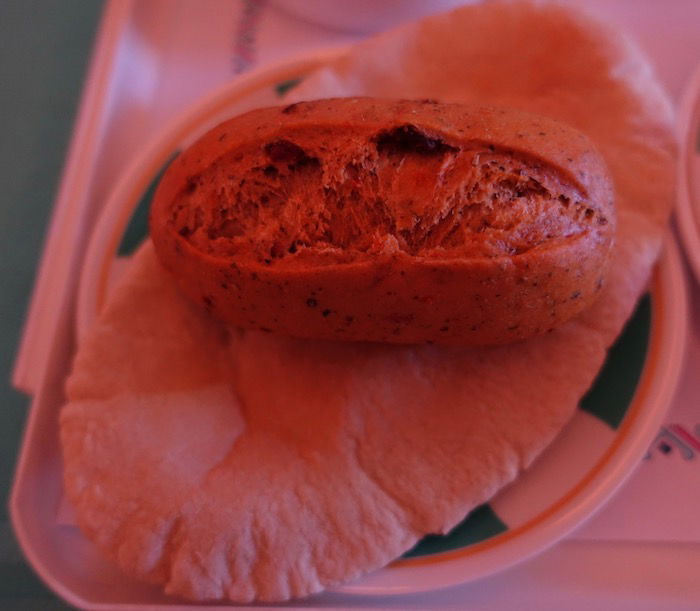 Kuwait Airways business class bread
Once that was cleared, the crew came through the cabin with a cart displaying the main courses. I had the seafood option, which consisted of cod with saffron, basmati rice, and tomato and coriander sauce. Unfortunately this seafood dish wasn't as good as on the previous flight, as the cod was extremely dry.

Kuwait Airways business class main course — cod with saffron basmati rice
Ford had the chicken, which he enjoyed.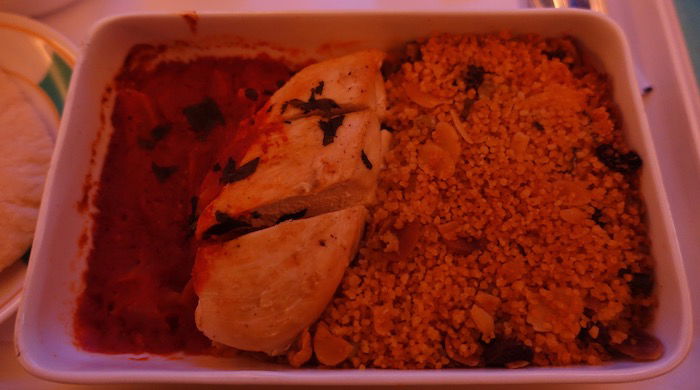 Kuwait Airways business class main course — chicken tagine
For dessert I had the Oreo cheesecake, while Ford had ice cream. I also had a cup of coffee to accompany dessert.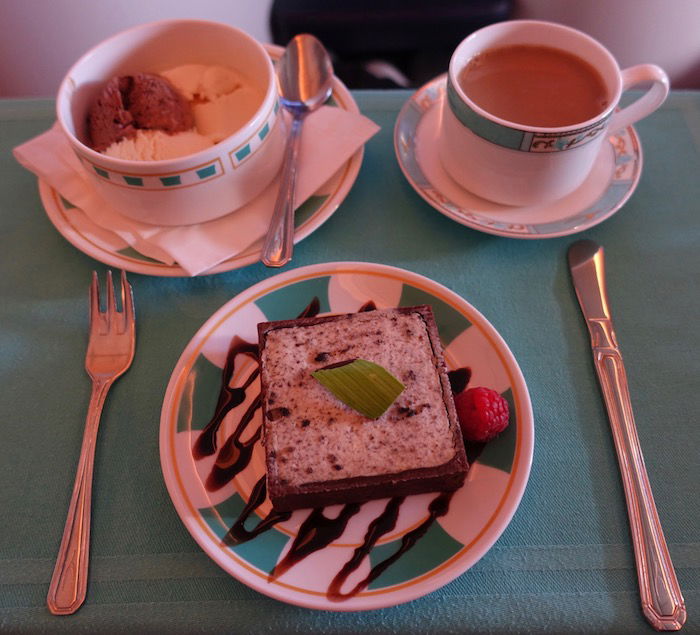 Kuwait Airways business class dessert course — Oreo cheesecake, ice cream, and coffee
The service was done about an hour after it started. I have to say the crew on this sector was friendly. They weren't over the top attentive, but were well intentioned and genuinely seemed happy to be there, which was nice to see.
I still find the service procedure on Kuwait Airways to be a bit odd. You have two seven hour flights, but they design them so that you can't have more 2-3 hours of interrupted rest due to how they schedule the meals. That's a shame.
At 6:30PM local time we began our descent, and I turned on the tail camera. The sun was slowly starting to set, and the views were incredible.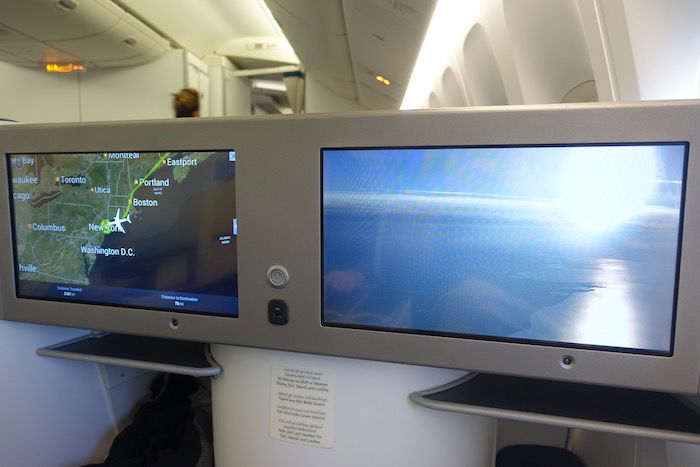 View approaching New York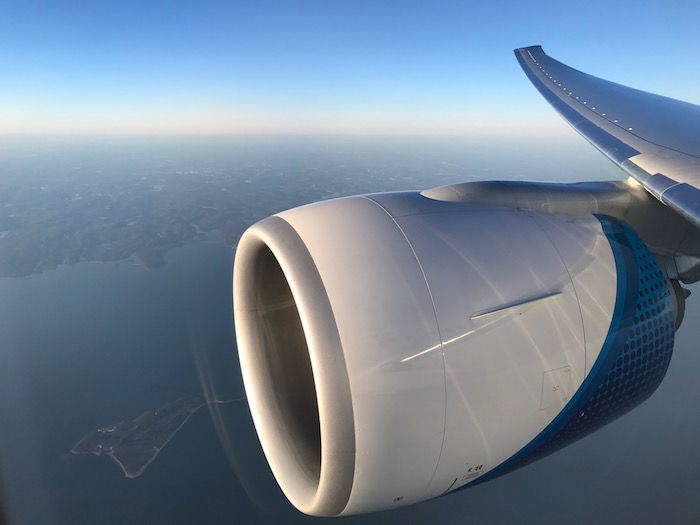 View approaching New York
I'll let the pictures speak for themselves….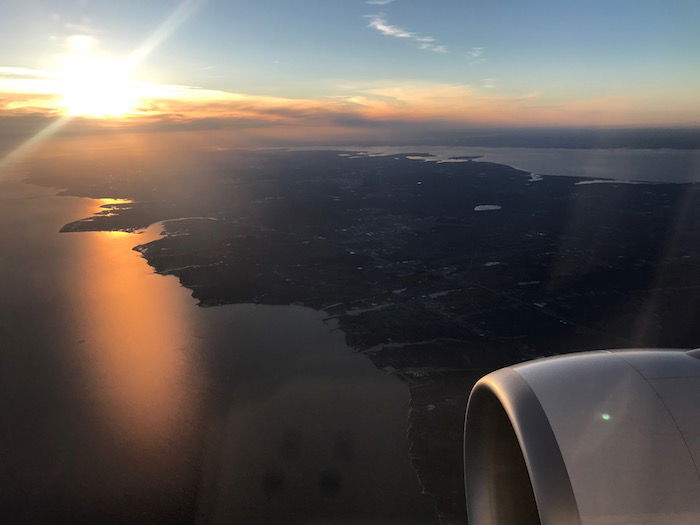 View approaching New York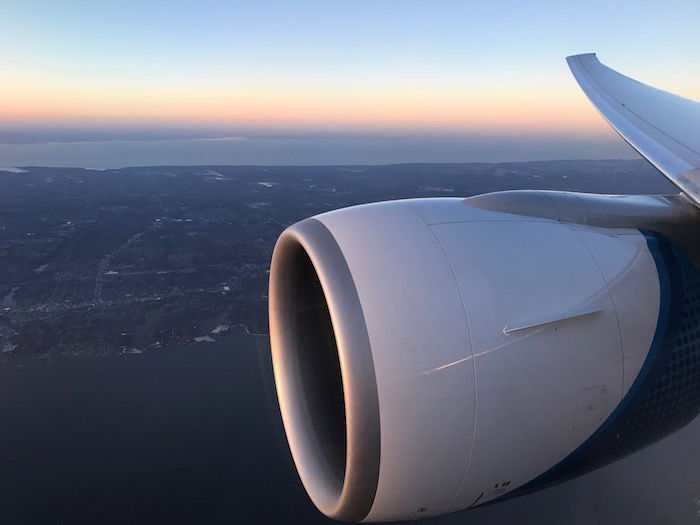 View approaching New York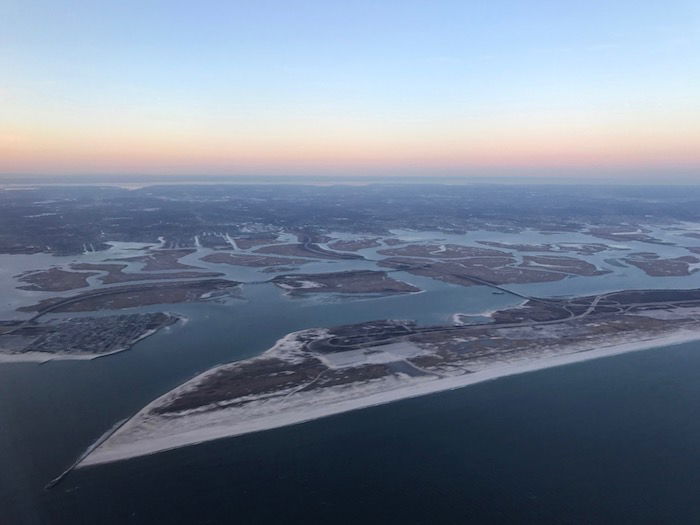 View approaching New York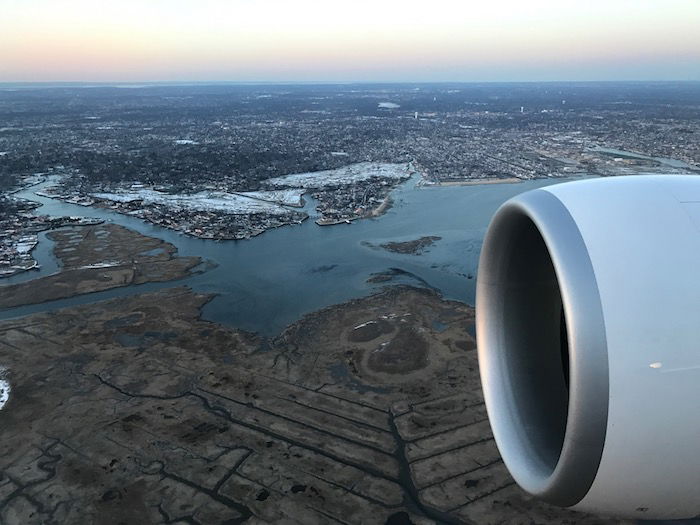 View approaching New York
Okay, seriously, how cool is Kuwait Airways' nose camera?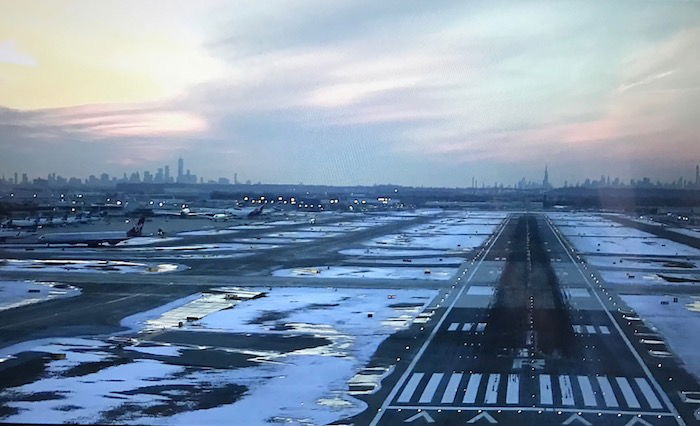 Final approach into New York
We had a smooth touchdown at 7PM sharp on runway 31R.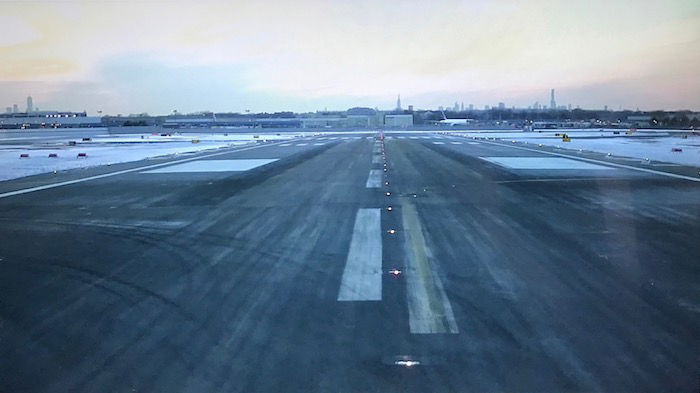 Touchdown New York
From there we started a very slow taxi to Terminal 4.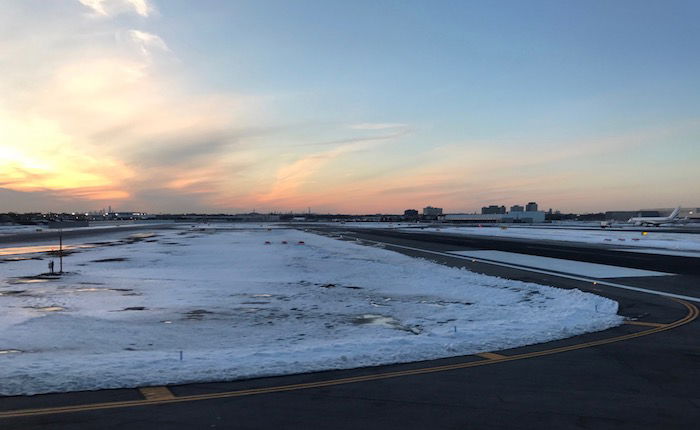 Taxiing JFK
We taxied past Terminal 7, where I spotted a Ukraine 767, which I had flown a few months prior.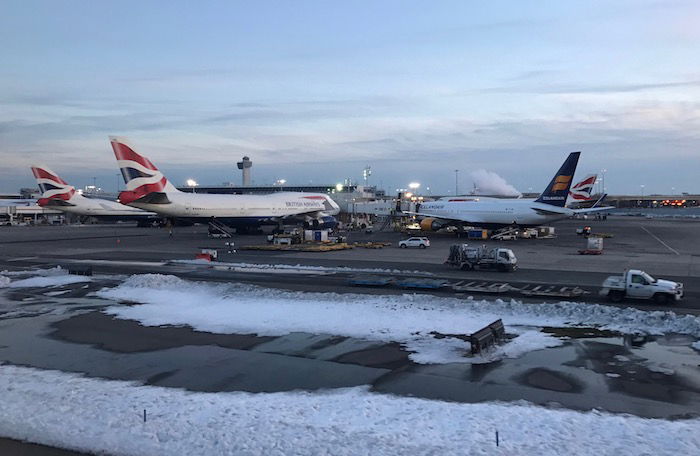 Terminal 7 JFK view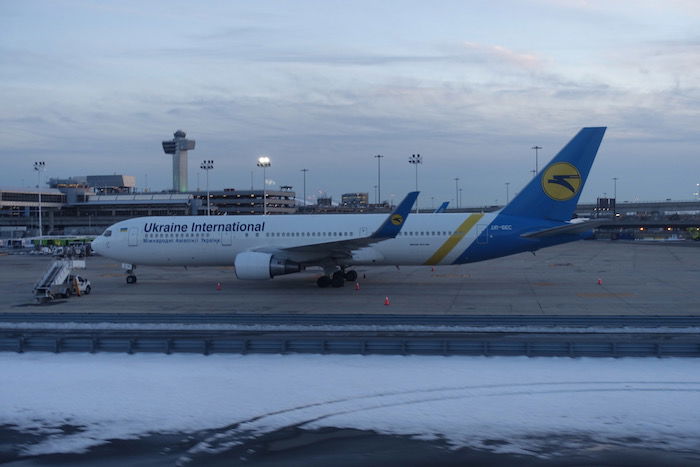 Ukraine 767 JFK
The sunset views were just incredible.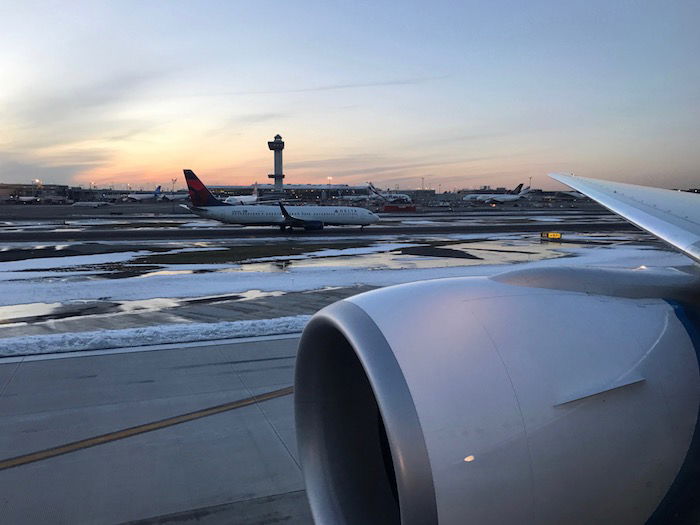 JFK at sunset
By around 7:15PM we taxied onto a non-active runway. At this point the captain announced that our gate wasn't quite ready, and that we'd be waiting for a bit until it opened up. We stood there for about 20 minutes, and eventually a Turkish 777 joined us to "park" on the runway in front of us.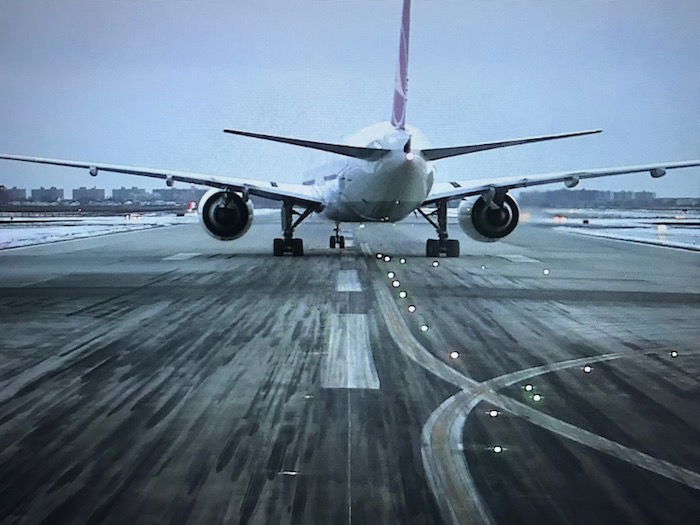 Turkish 777 ahead of us on runway
By 7:40PM we were cleared to taxi to our arrival gate at Terminal 4. I suspect we were waiting for the EgyptAir 777 to push back, since it was just leaving as we arrived.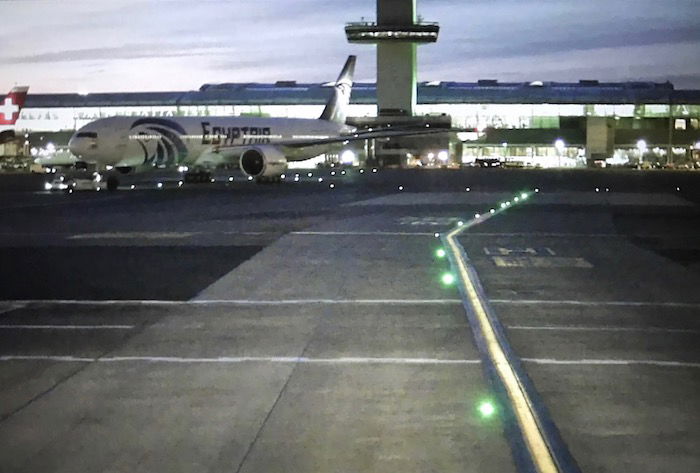 EgyptAir 777 JFK
We pulled in next to an Emirates A380, which had the awesome animal livery.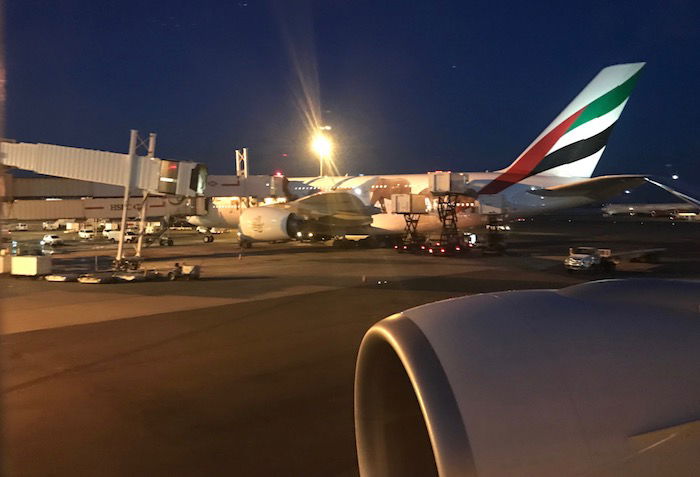 Emirates A380 JFK
Kuwait 777 business class bottom line
Our flights on Kuwait Airways were pleasant. Both their new A330 and 777 represent a very nice improvement over what they used to offer, so kudos to them on that. I found the service on this flight to be friendly and well intentioned, and the food to be pretty decent overall.
However, as I mentioned in the last installment, there's certainly room for improvement. They could improve the bedding offered in business class, and I also found the schedule for the meal service to be annoying, given that it minimized the amount of rest you could get.
But overall I wouldn't hesitate to fly Kuwait Airways again if the price is right.