---
I reviewed Virgin America's first class product between Newark and Los Angeles a few months ago, so I'll keep this review shorter, as I just want to touch on a few aspects of the Virgin America experience. This time around I was flying a midcon rather than a transcon, so I was curious to see how the service differed for the shorter flight.
As a Virgin America first class passenger flying to Chicago I got free access to the Alaska Lounge, though I didn't have much time to use it. Boarding started at 4:45PM for my 5:25PM flight.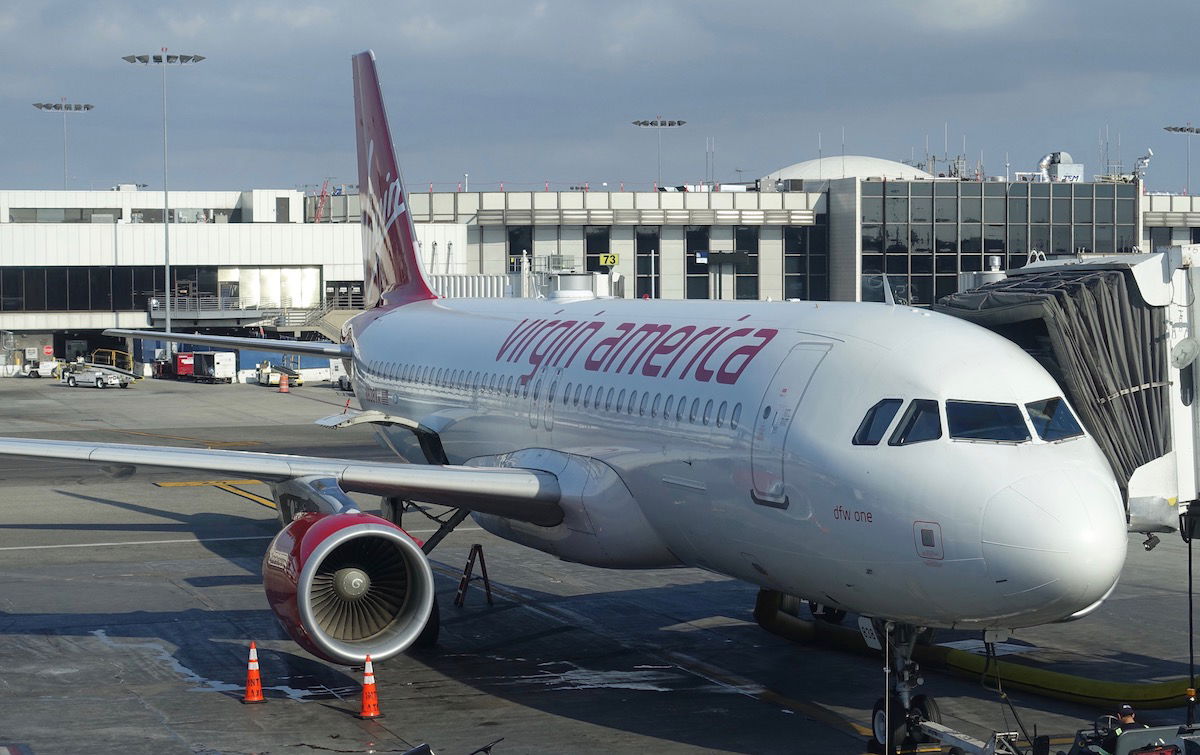 Virgin America A320 at LAX
Virgin America 1236
Los Angeles (LAX) – Chicago (ORD)
Wednesday, September 20
Depart: 5:25PM
Arrive: 11:35PM
Duration: 4hr10min
Aircraft: Airbus A320
Seat: 2A (First Class)
Virgin America's first class cabin has just eight seats, and since I upgraded day of, my only seat choice was 2A, which worked for me. While Virgin America's first class isn't terribly competitive in premium transcon markets (like New York to Los Angeles and San Francisco, where the competition has flat beds), it's a fantastic product in other markets, as it's significantly better than what you'll usually find in domestic first class. Too bad Virgin America's current first class product will be discontinued in 2019.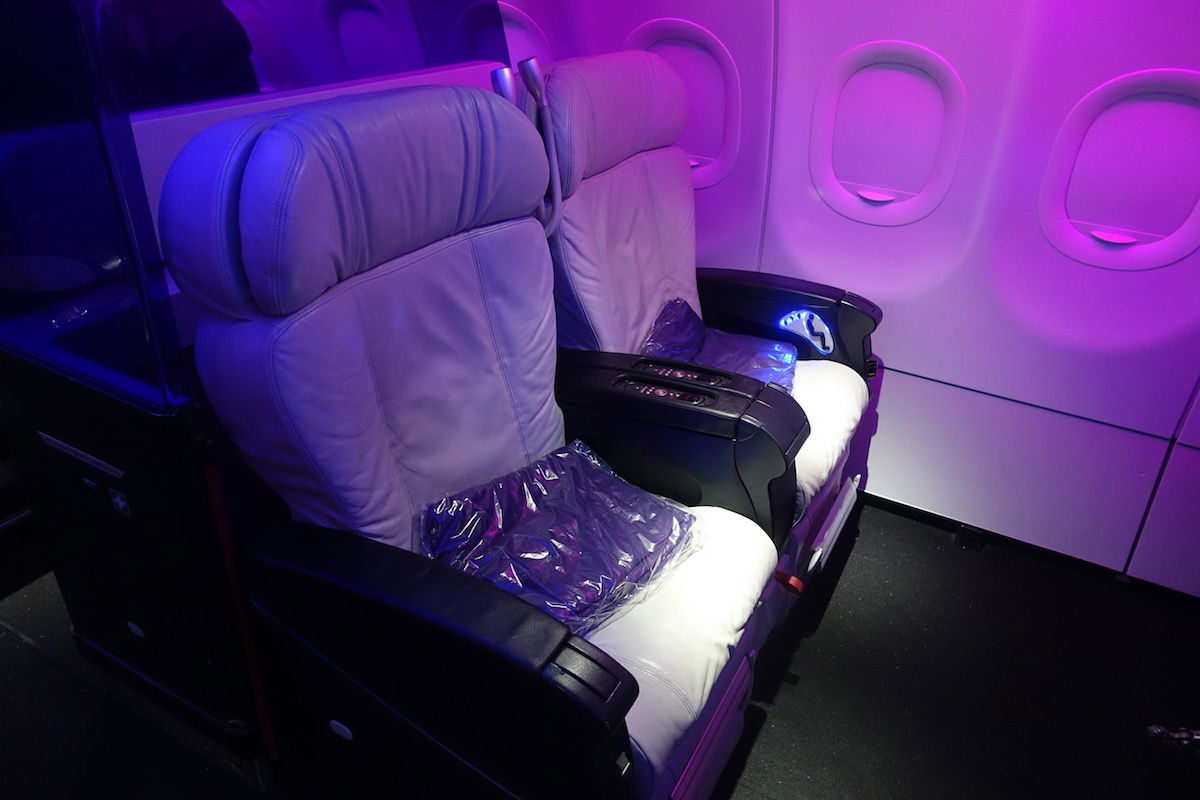 Virgin America first class seats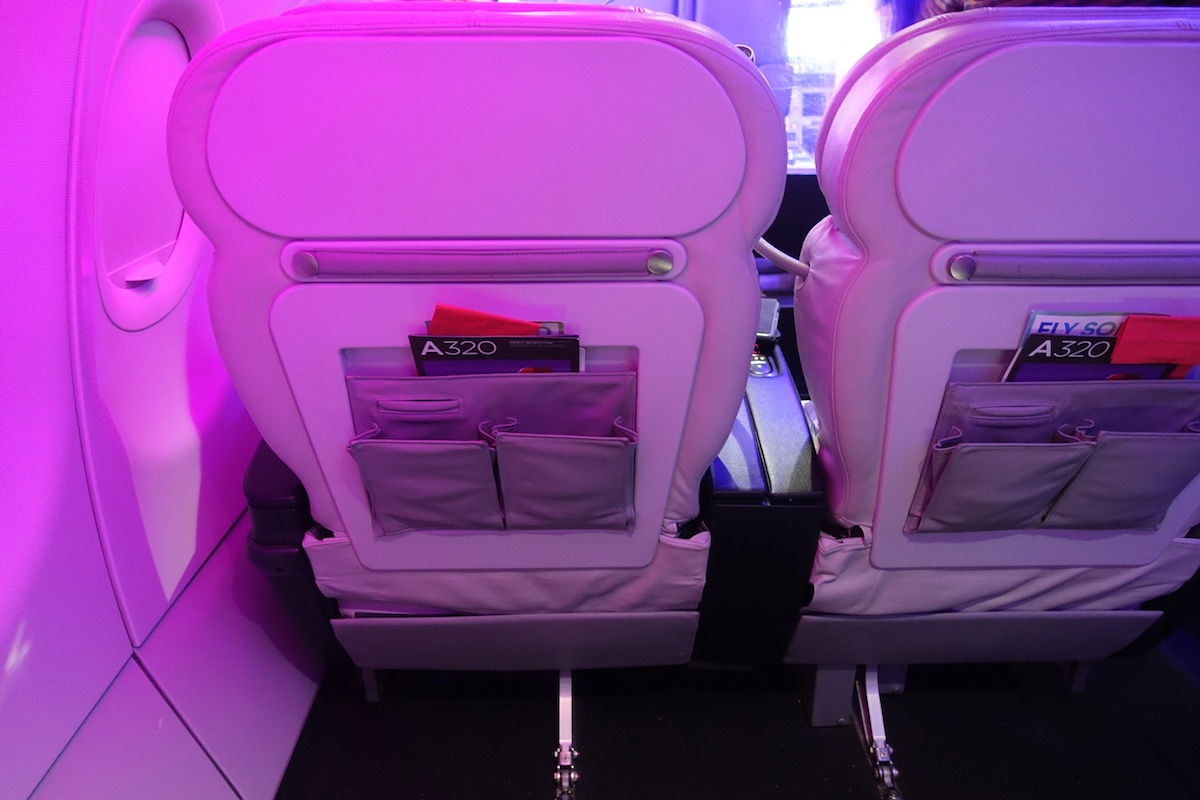 Virgin America first class legroom
Virgin's cabins are gorgeous. They intentionally close window shades during boarding (partly to keep the plane cool, and partly to create a cool ambiance). It's not often you board a US airline and overhear a countless number of people talk about how cool the plane is. Almost everyone, from tweens to senior citizens, said something like "wow, look how cool this plane is" as they walked by.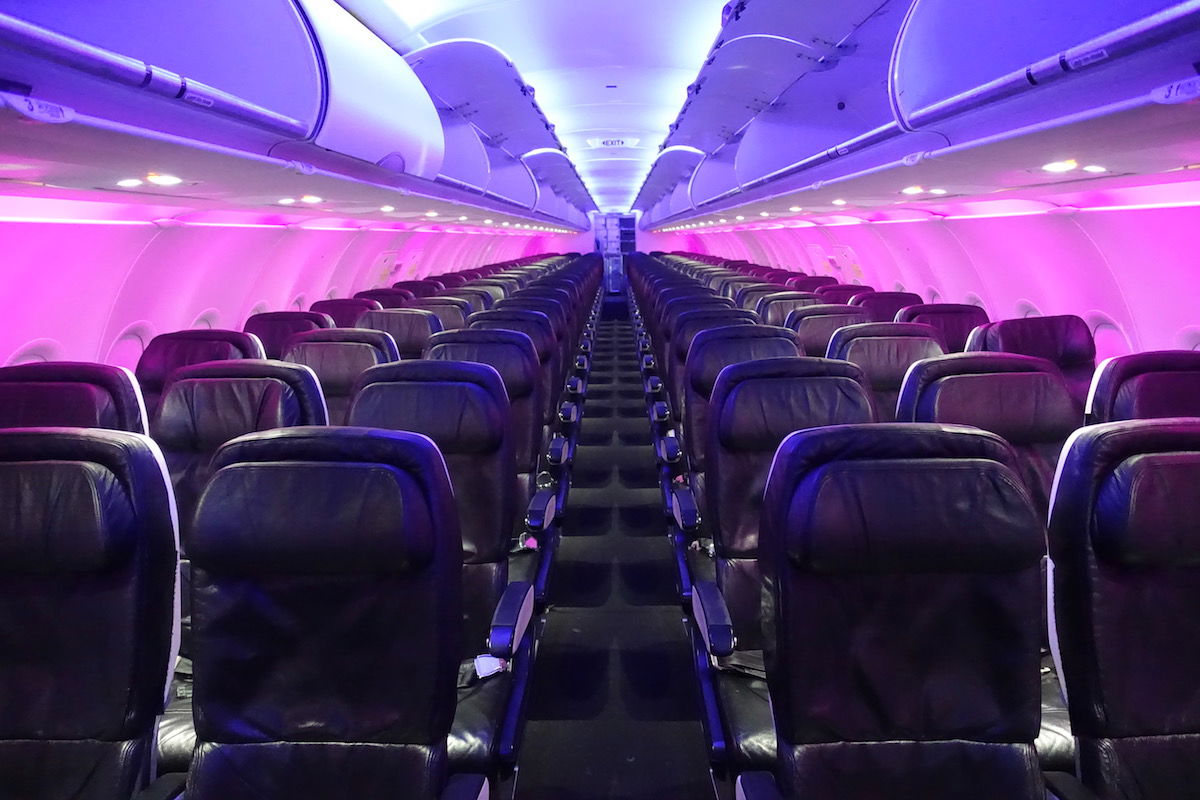 Virgin America economy cabin
Waiting at my seat was the same blanket I had on my Newark to Los Angeles flight, though there was no pillow this time around. I guess they only offer those on transcons.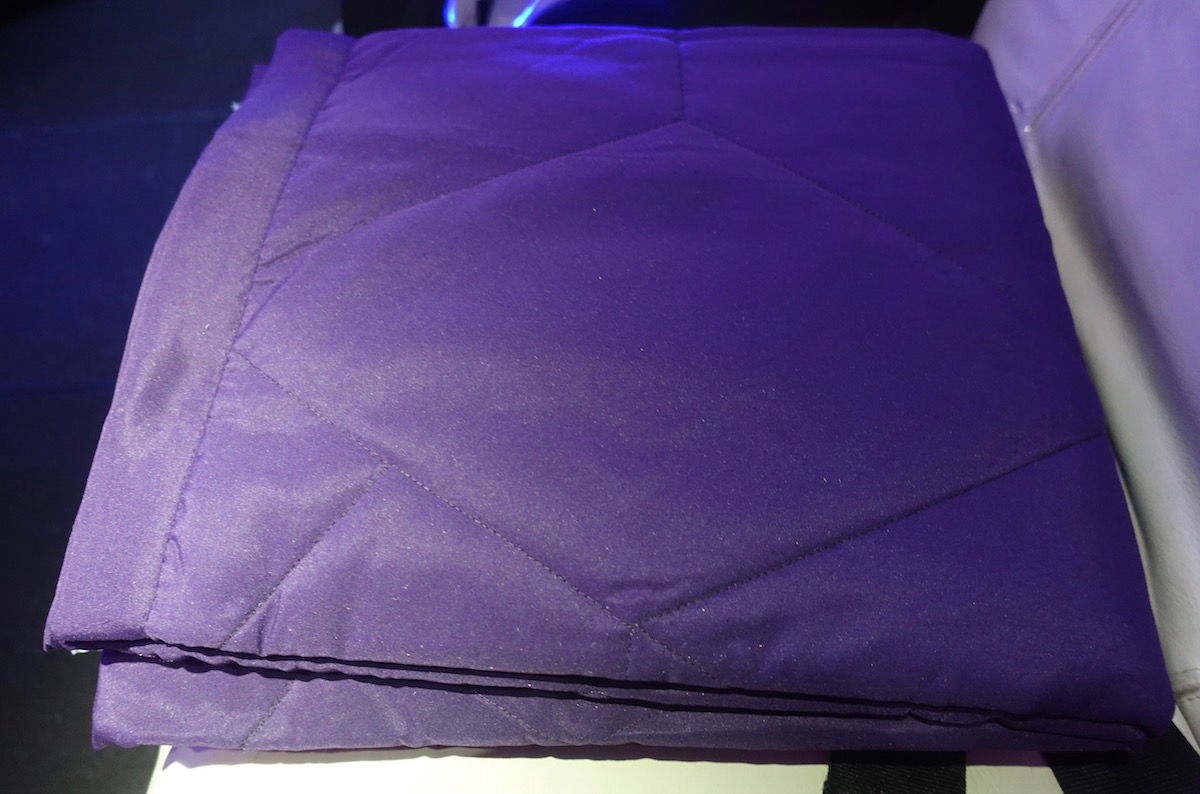 Virgin America first class blanket
During boarding the friendly inflight team leader came through the first class cabin to take drink orders. I just asked for water, and was offered a small bottle, which I quite appreciate (given my tendency to spill things on laptops).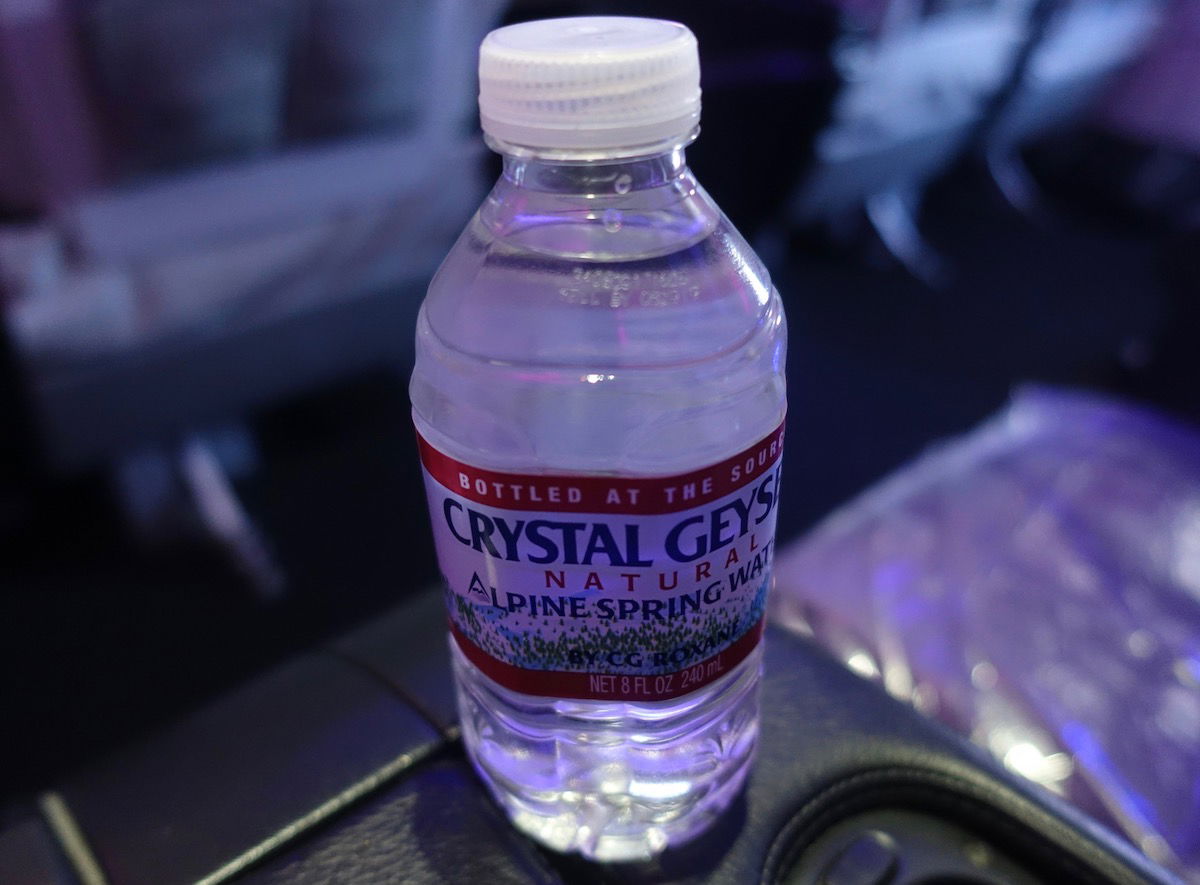 Virgin America first class pre-departure drink
The next thing I want to comment on about Virgin America is how fantastic their announcements are. On some airlines I feel like their announcements are made in an authoritarian way. Virgin America's announcements actually make you feel welcome — they refer to passengers as "guests" rather than "customers," they phrase safety announcements in a fun way ("we know how tough it is to get off those phones, but we're going to have to ask you to put them in airplane mode"), etc. I know it's subtle, but I find it makes a big difference in terms of how the crew communicates with passengers.
About 20 minutes after takeoff the inflight team leader passed through first class with warm towels.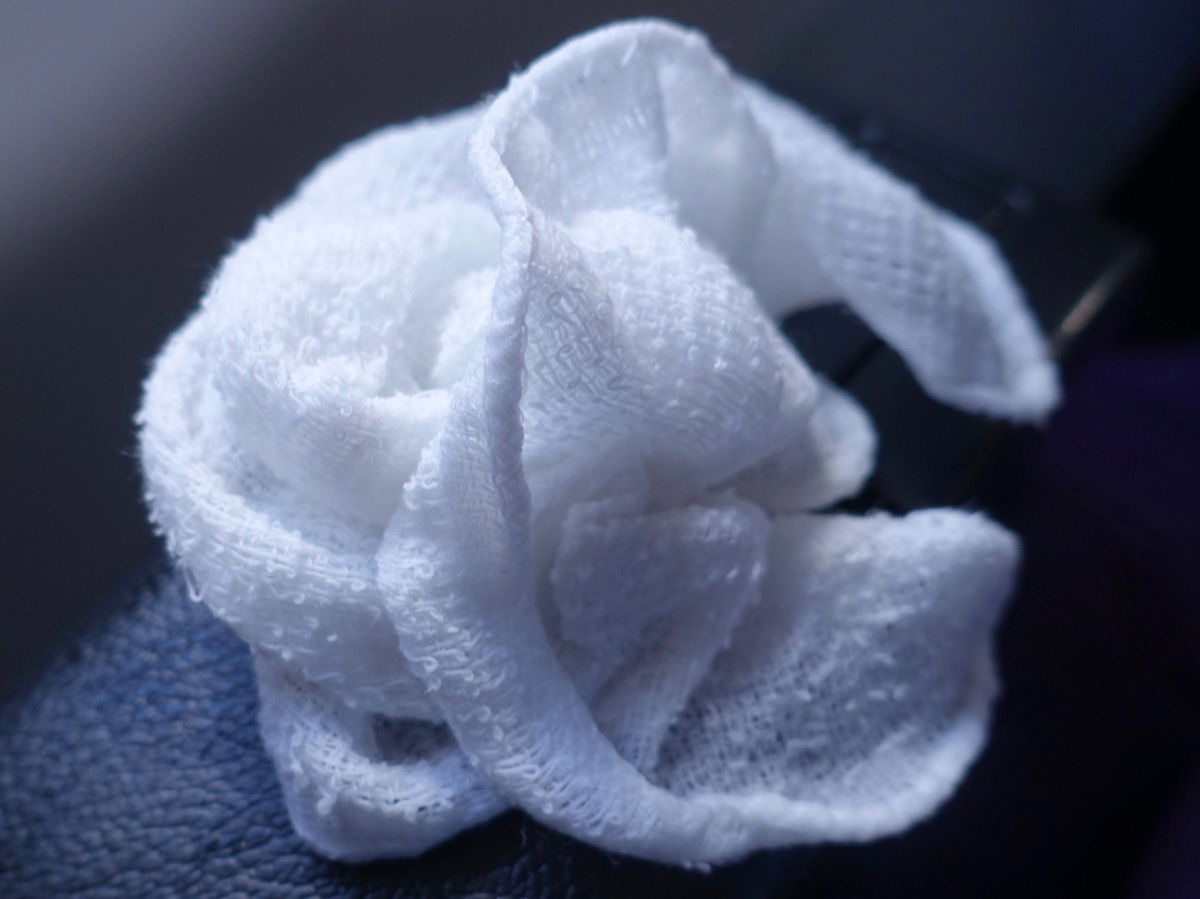 Virgin America first class warm towel
He then presented the menus. Virgin America has a single menu they hand out on all flights, and then you can figure out which one applies to you based on your flight: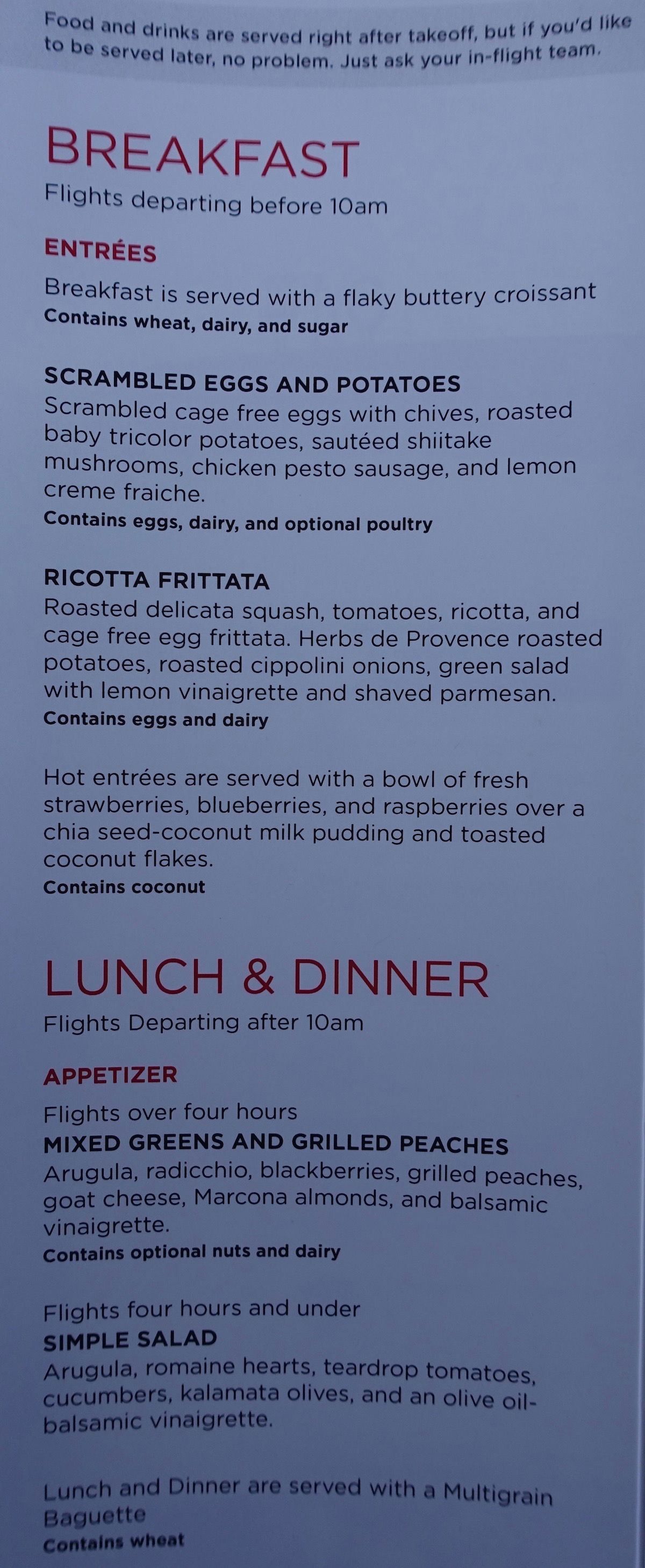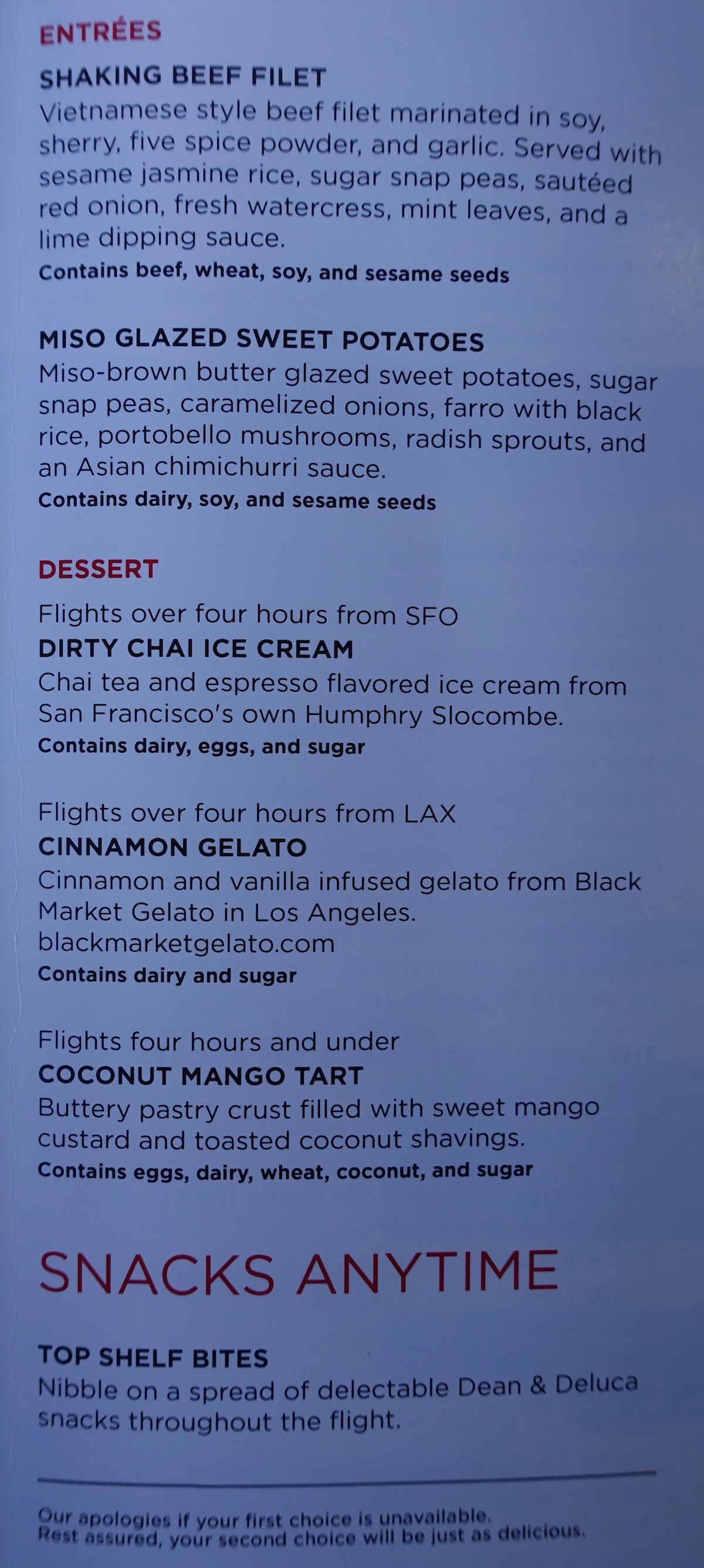 The drink list read as follows: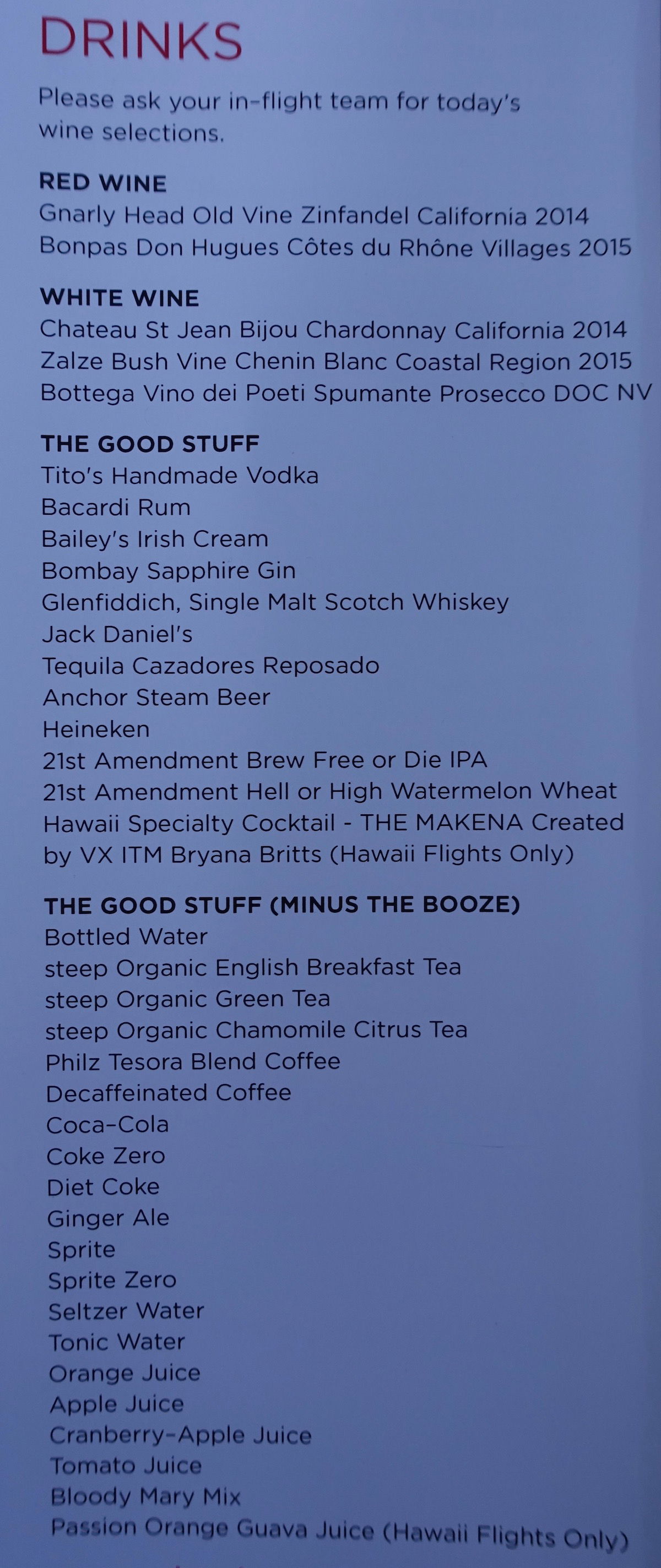 I was expecting we'd get the "under four hours" service since the flight time was 3hr24min, but to my surprise, we got the "over four hours" service.
While I don't usually drink domestically, it was one of those days, so I had a glass of the white wine (specifically, they had the second white wine on the list onboard, and it was okay). I got an unnecessarily large pour. While my Newark to Los Angeles flight had mixed nuts with the initial drink service, this flight didn't.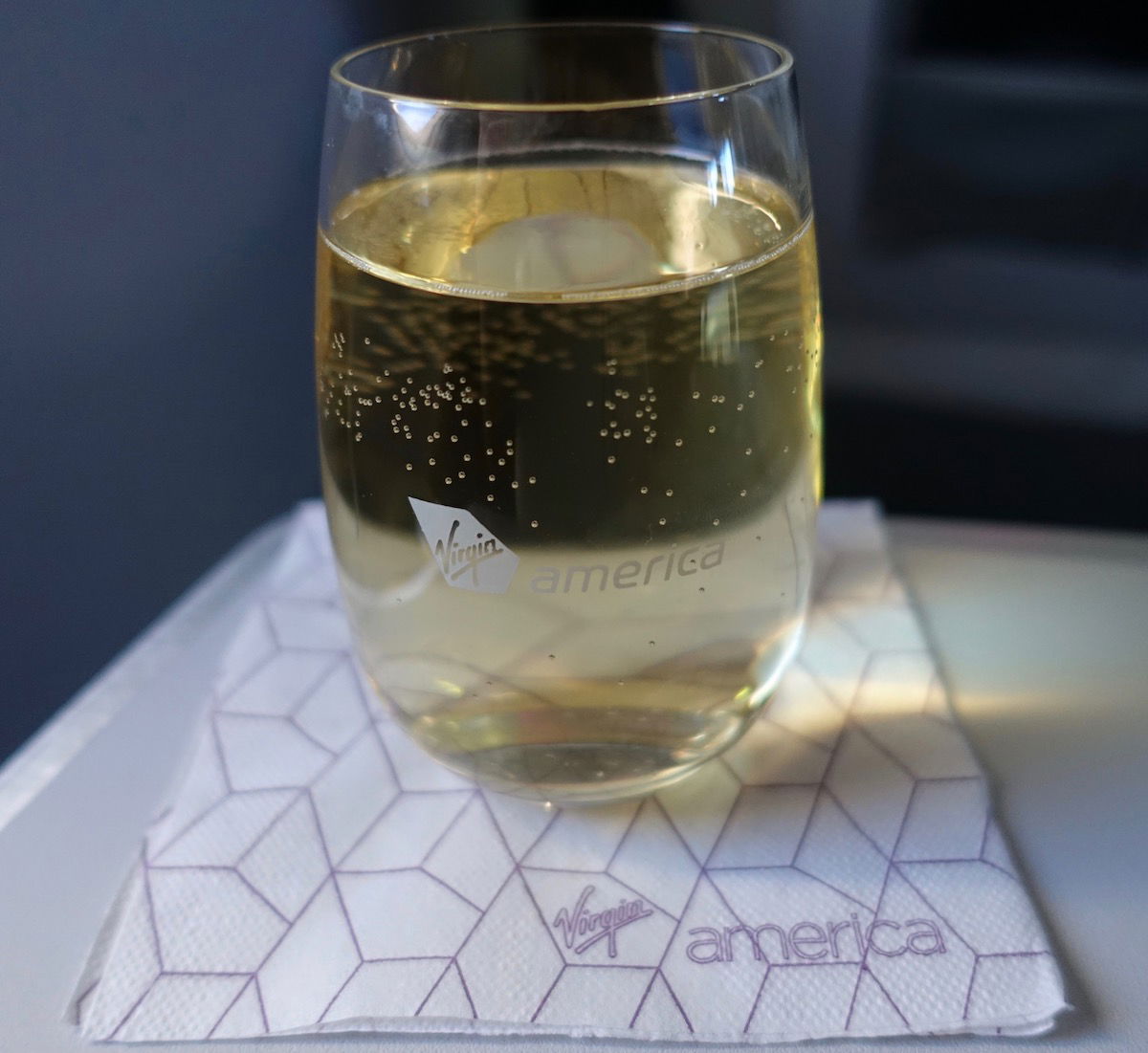 Virgin America first class wine
After drinks were served the meal orders were taken, and by the time they got to my row, they only had one beef left. I left it up to my seatmate, and he chose the beef, so that left me with the miso glazed sweet potatoes. The salad, main course, and bread, were served on one tray.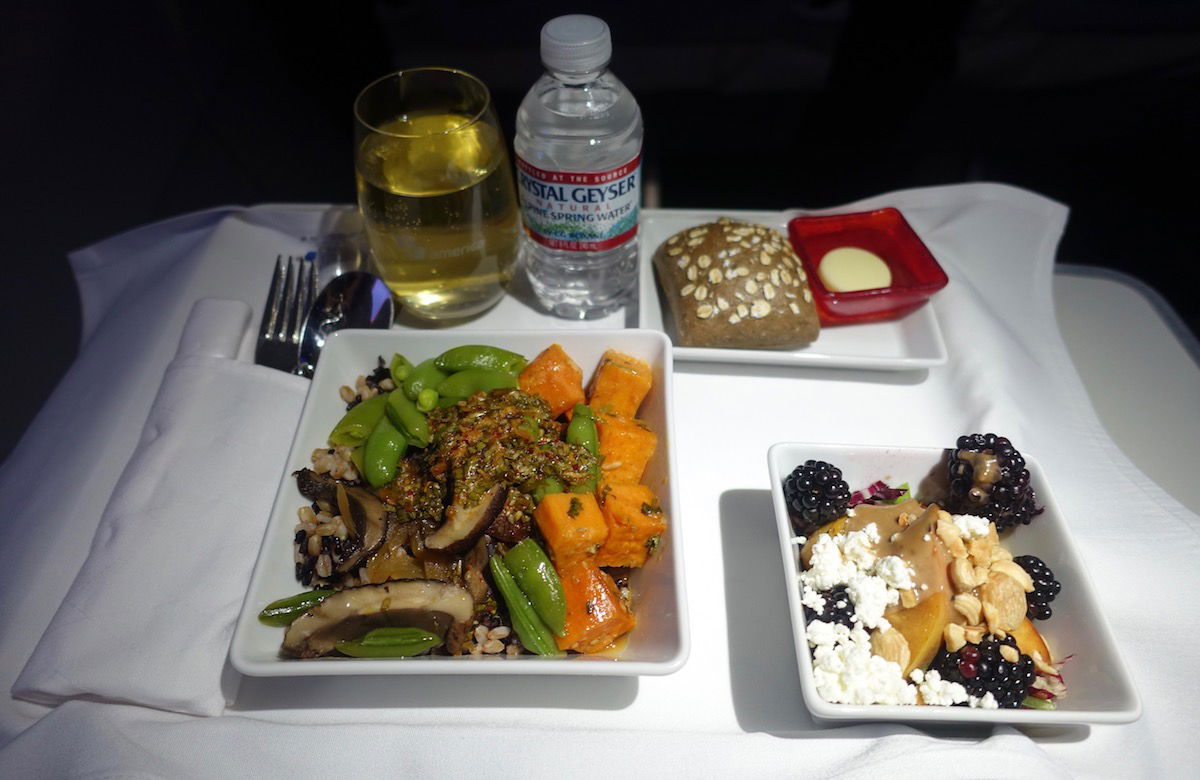 Virgin America first class dinner service
Originally I wasn't looking forward to the miso glazed sweet potatoes, but it was actually really, really good (thanks mainly to the sweet potatoes only being a small part of the dish). The dish had sweet potatoes, sugar snap peas, caramelized onions, farro with black rice, portobello mushrooms, radish sprouts, and chimichurri sauce, and tasted great.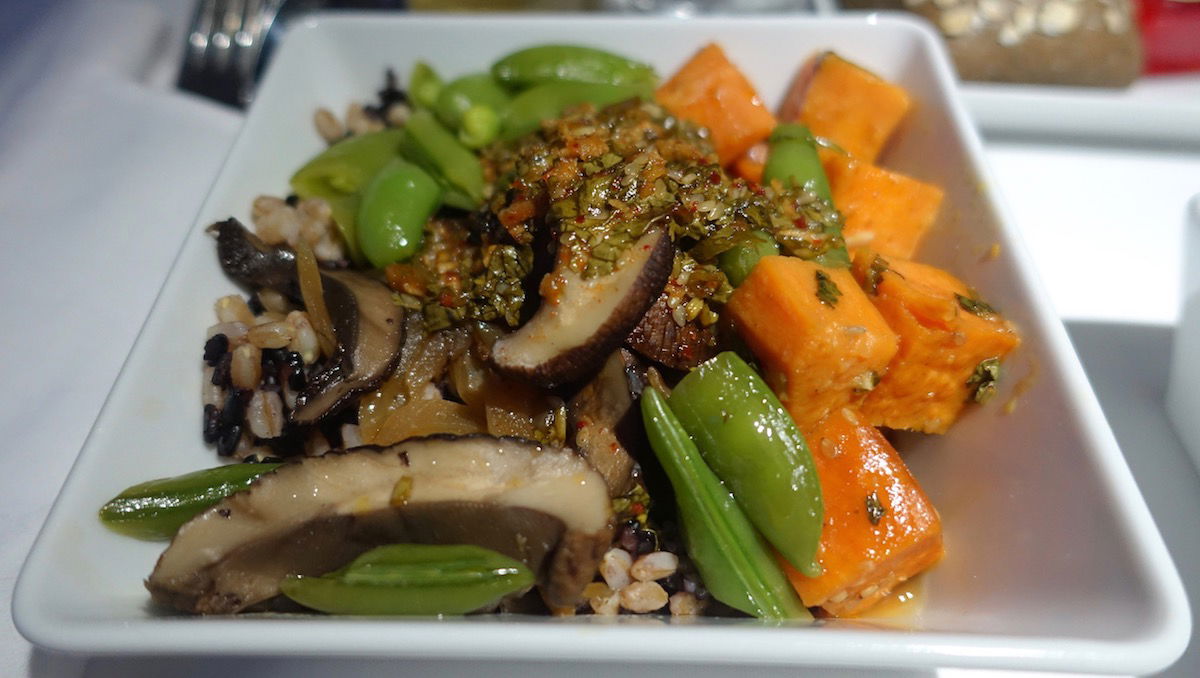 Virgin America first class dinner main course — miso glazed sweet potatoes
The side salad was also so much better than what I usually get on any other US airline.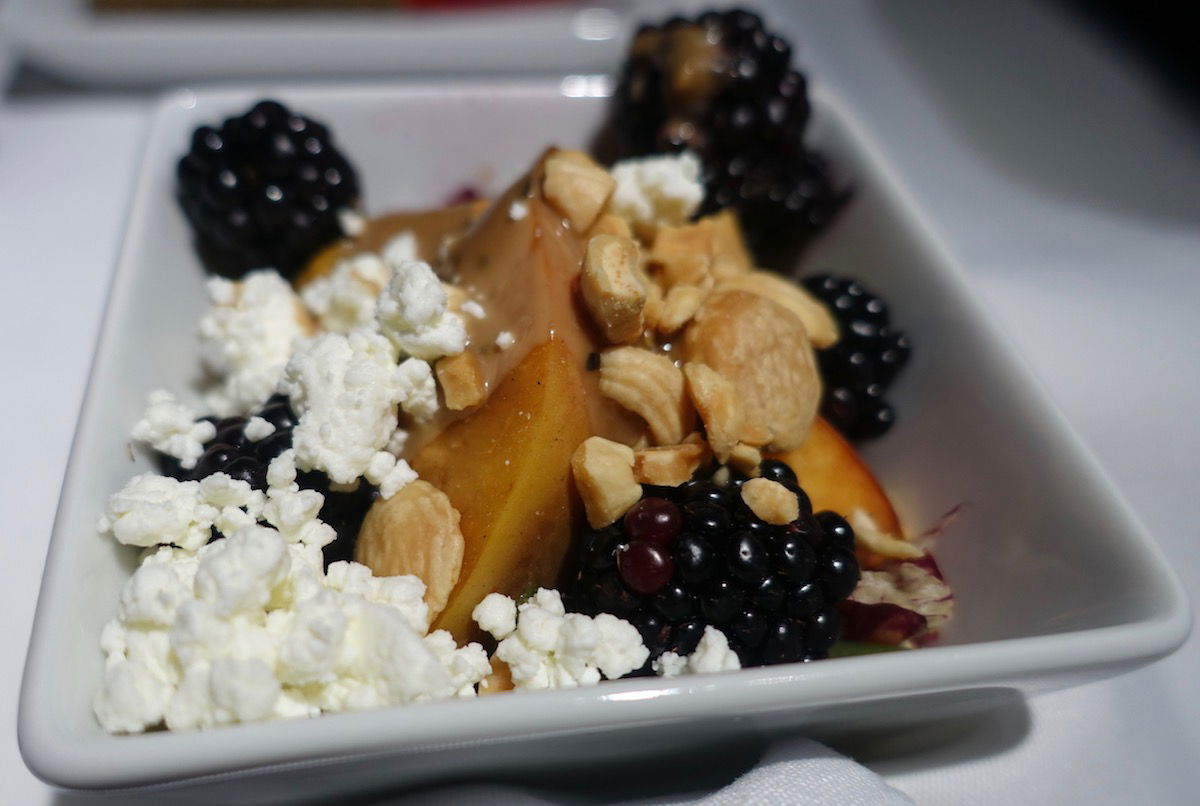 Virgin America first class dinner salad — mixed greens and grilled peaches
Cinnamon gelato was for dessert, and it was tasty as well. I had a coffee to go along with it.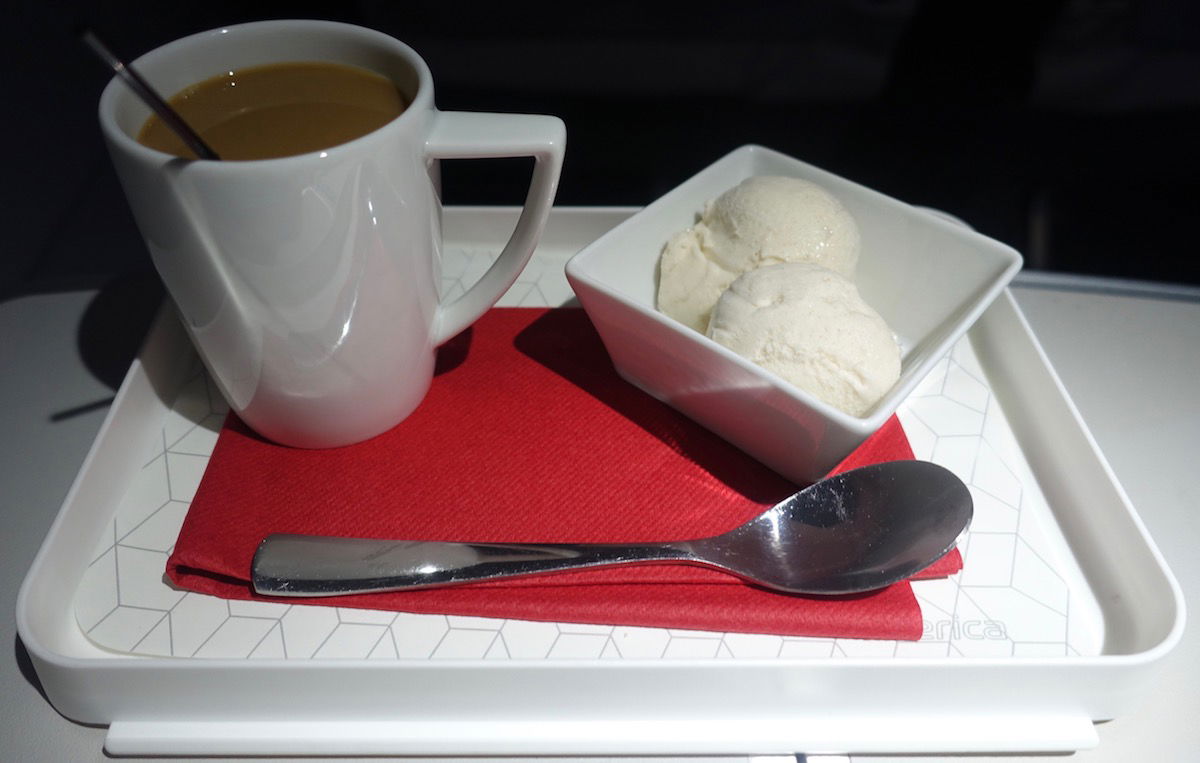 Virgin America first class dinner dessert — cinnamon gelato
The meal was done about 90 minutes after takeoff, though the inflight team leader constantly came around to see if anyone needed anything. About an hour after the meal he came around with a snack basket, though I was full at that point, so didn't have anything. Another set of warm towels was also offered before landing.
The flight was smooth, I worked for most of it, and we landed in Chicago about 15 minutes early.
Virgin America first class bottom line
While there are some minor ways Virgin America could improve (it would be nice if they had something to nibble on with the initial drink, and it's not fun when they run out of your main course choice), all around Virgin America offers a fantastic first class product. The quality of their food and service is a cut above the rest, and their seats are especially comfortable on non-transcons, where the competition offers significantly less spacious seats.