Alaska's takeover of Virgin America closed in mid-December, though we haven't seen much in the way of integration so far. The two brands are very different, and their marketing campaigns have been based around that, acknowledging the differences between the brands, but arguing that "different works."
One of the biggest remaining questions has been what the future of the Virgin America brand will look like. Will the entire airline be named "Alaska," will they somehow run two brands side-by-side given their relative strengths, or…? They said they hoped to decide on that in early 2017, and it looks like they've now made those decisions.
Alaska has just shared a huge amount of information about the future of the combined airline. To sum it up, expect the Alaska brand and product to stick around, with a few small Virgin America elements.
So, what have we learned?
The Virgin America brand will disappear in 2019
The combined company will be adopting Alaska's name and branding, and the Virgin America brand will be retired sometime in 2019. However, the combined airline will adopt many elements from Virgin America, including "enhanced in-flight entertainment, mood lighting, music and the relentless desire to make flying a different experience for guests."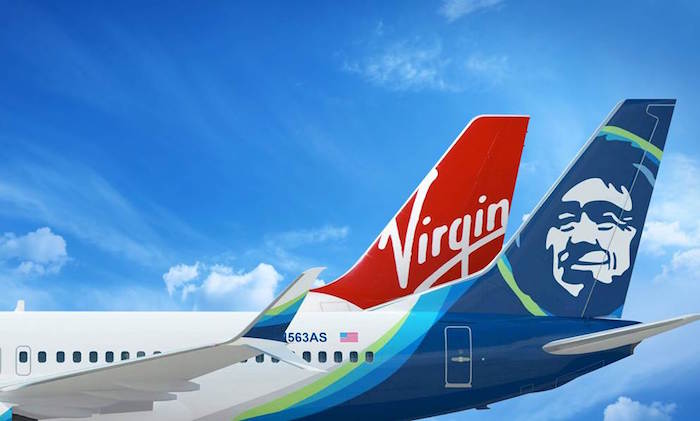 Virgin America planes will get more first class seats
Starting in late 2018, Virgin America planes will be equipped with an additional four first class seats. Presently Virgin America has eight first class seats per plane, while going forward they'll have 12 first class seats. These seats will feature 41″ of pitch, "improved seatback storage pockets, cup holders, footrests, and personal power outlets throughout the cabin."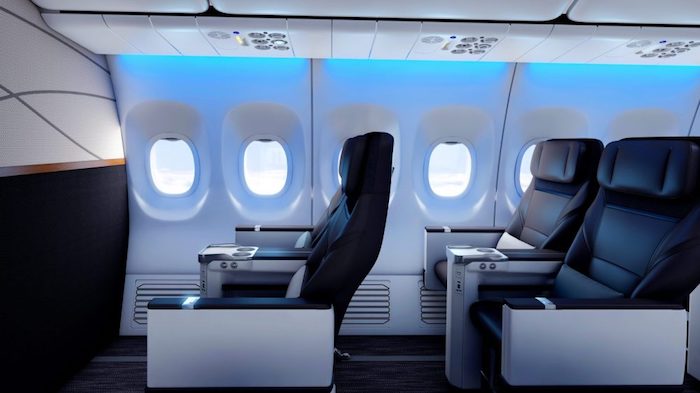 Virgin America's new first class

Unfortunately this is very bad news for Virgin America first class. Virgin America first class seats presently have 55″ of pitch, and are like old-style international business class seats. Going forward they'll just have slightly more legroom than traditional domestic first class seats.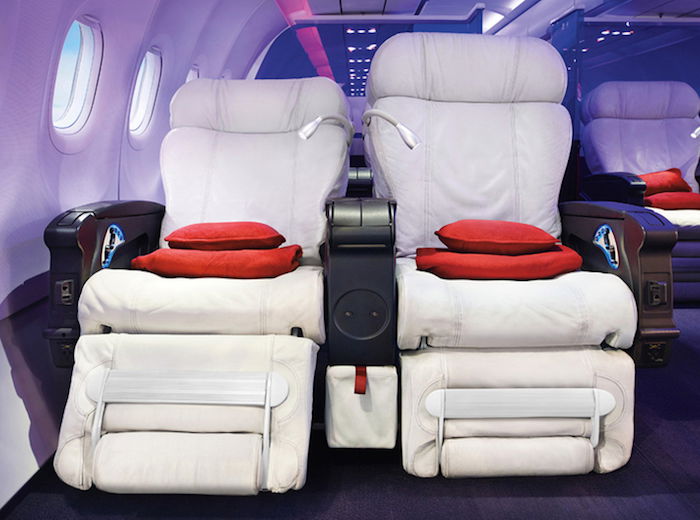 Virgin America's current first class
Elite members will get free upgrades on Virgin America
Historically Virgin America hasn't offered complimentary upgrades for elite members. That's not surprising, given that they only have eight first class seats per plane, and it's better than domestic first class on other airlines. As of late 2018, elite members will receive complimentary upgrades on Virgin America. That's not too surprising, given that Virgin America's first class is being brought in line with Alaska's, and not the other way around.
Virgin America will get extra legroom economy seats
Alaska has been working on installing Premium Class seats on their planes, which are extra legroom economy seats with free drinks and snacks. Starting in late 2018, Virgin America planes will feature 18 Premium Class seats, with 35″ of pitch, and complimentary beer, wine, and cocktails.


Alaska's Premium Class
Virgin America's Elevate program will be retired
In 2018, Alaska Mileage Plan will become the sole loyalty program for both Alaska and Virgin America. Alaska has said that the program will continue to be distance based rather than revenue based. This is very good news, as it's "business as usual" for Mileage Plan.
A redesigned Alaska cabin is coming in 2018
In 2018, Alaska will debut a redesigned cabin with new seats and amenities.
But beyond that they'll be making all kinds of branding updates. Over the next year, Alaska will be working to "create a warm and welcoming West Coast vibe throughout the guest journey." In 2019 they'll also introduce new employee uniforms.
Expect high-speed satellite wifi
Alaska will begin equipping their 737 fleet with satellite Wi-Fi starting in fall 2018, and both the Airbus and Boeing fleet should have satellite-equipped Wi-Fi by the end of 2019.
Free messaging is coming to Virgin America
Earlier this year Alaska introduced free messaging on their flights, where you can use your device to message people for free through Facebook Messenger, WhatsApp and iMessage. This will be expanded to Virgin America planes in August 2017.

Food & drink changes
By June 2017, Alaska will allow first class passengers to pre-select meals before they fly. By early 2018, Alaska economy passengers will be able to pre-pay for their food before they fly. This will extend to Virgin America sometime in the future.
Alaska is opening lounges in New York and San Francisco
By early 2019, Alaska will be opening lounges in New York and San Francisco. On top of that, they'll refresh their lounges in Los Angeles, Portland, and Seattle.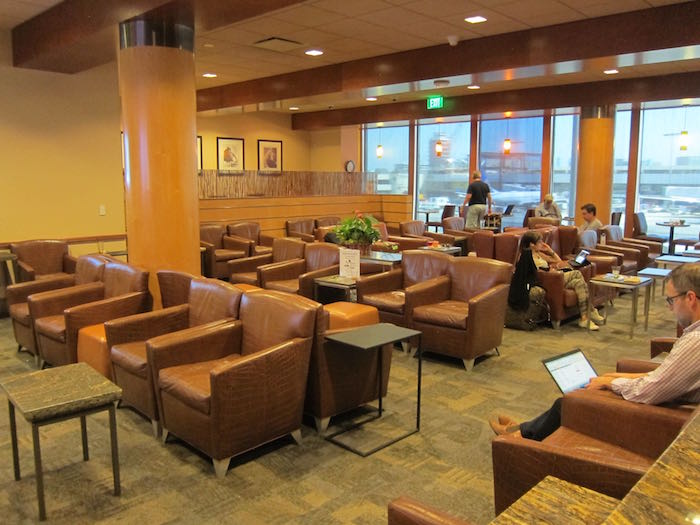 The Alaska Lounge LAX could use a refresh…
Bottom line
Ultimately this is exactly what I expected. It's more or less business as usual for Alaska, except we'll see a few "hip" touches to the product. Meanwhile Virgin America's onboard product will be brought down to the level of Alaska's.
On one hand it's a shame that Virgin America's superior first class is being eliminated, given that it was by far the best short-haul first class in the U.S. As an elite member I still view that as a net positive, since I'll take free upgrades to a mediocre first class over no upgrades.
Meanwhile Virgin America's first class product has long been sup-bar in the New York to Los Angeles/San Francisco market, where other airlines have flat beds. Now they'll have an even less competitive product in those markets. I have to imagine they'll still consider installing some special product on those flights, as they really can't compete with other airlines there.
What do you make of these Alaska & Virgin America updates?