This past Friday I needed to get from New York to Los Angeles pretty last minute. There are five airlines operating nonstop between Newark/Kennedy and LAX — American, Delta, JetBlue, United, and Virgin America.
I've reviewed American's first class and American's business class, and I've reviewed JetBlue's incredible Mint product. Nick has reviewed Delta's business class. Based on the last minute fares and award availability, I decided to mix things up this time around. Virgin America had first class award availability through Alaska Mileage Plan between Newark and Los Angeles on a flight that perfectly met my needs.
The flight cost 25,000 Alaska Mileage Plan miles, which is a heck of a deal, given that any last minute nonstop one-way business class fare was over $1,000. Given that you can buy Alaska miles for about two cents each, that's also the equivalent of paying ~$500 for the one-way ticket, which isn't too bad last minute. I haven't reviewed Virgin America first class before, so was excited to review it before Alaska changes the product that's offered on these planes.
Virgin America operates out of the "A" concourse at Newark. I thought I could use the Air Canada Maple Leaf Lounge, which belongs to Priority Pass and is also in the "A" concourse, though as it turns out, it's actually in a different pier past a separate security checkpoint. The only lounge in the same concourse as Virgin America is the American Admirals Club, which I didn't have access to.
So I just sat in the gate area and worked. The inbound flight arrived around 75 minutes before departure.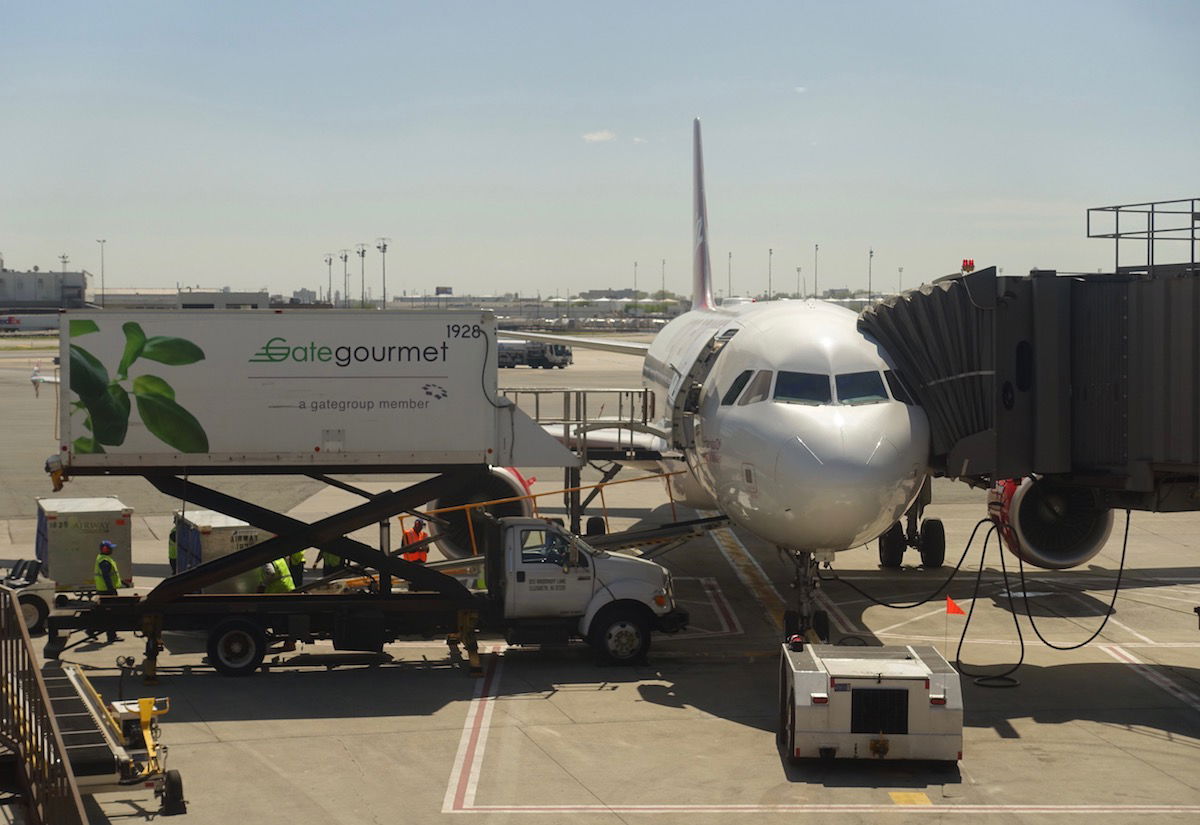 Virgin America A320 Newark Airport
At 3:30PM boarding was called for our flight at gate A32, starting with first class.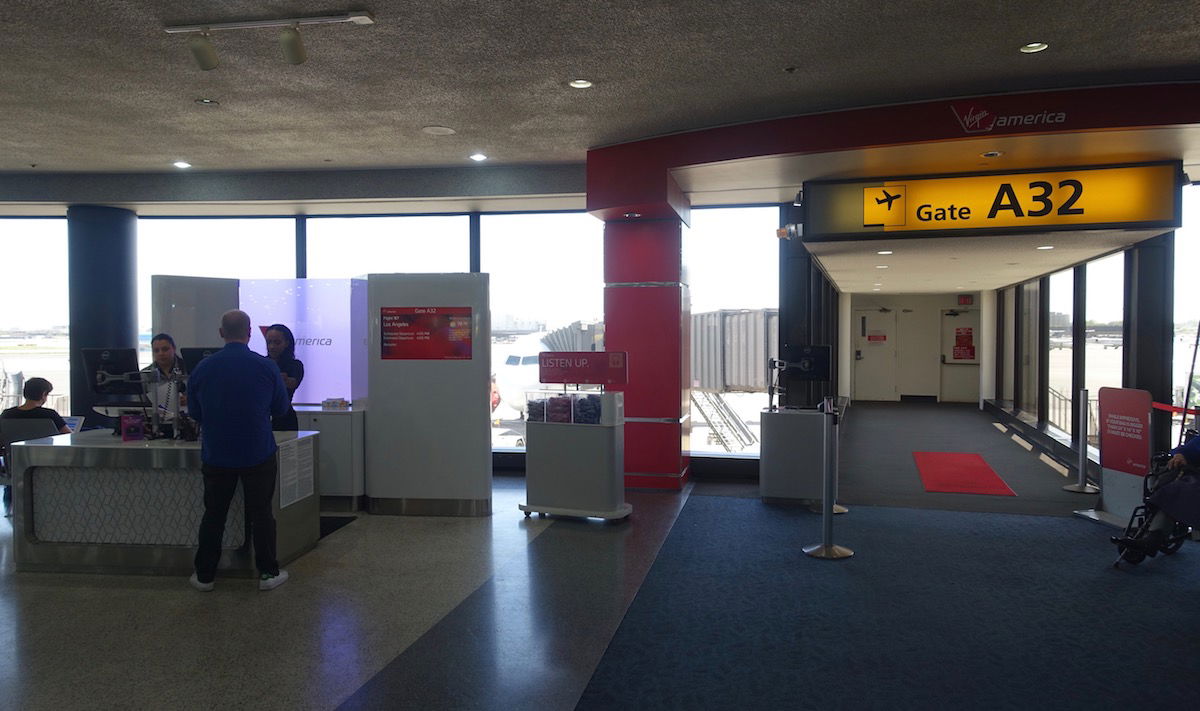 Virgin America departure gate Newark Airport
Virgin America 167
Newark (EWR) – Los Angeles (LAX)
Friday, April 28
Depart: 4:05PM
Arrive: 7:20PM
Duration: 6hr15min
Aircraft: Airbus A320
Seat: 2D (First Class)
Virgin America's first class cabin is quite intimate, with just a total of eight seats. They're spread across two rows, in a 2-2 configuration.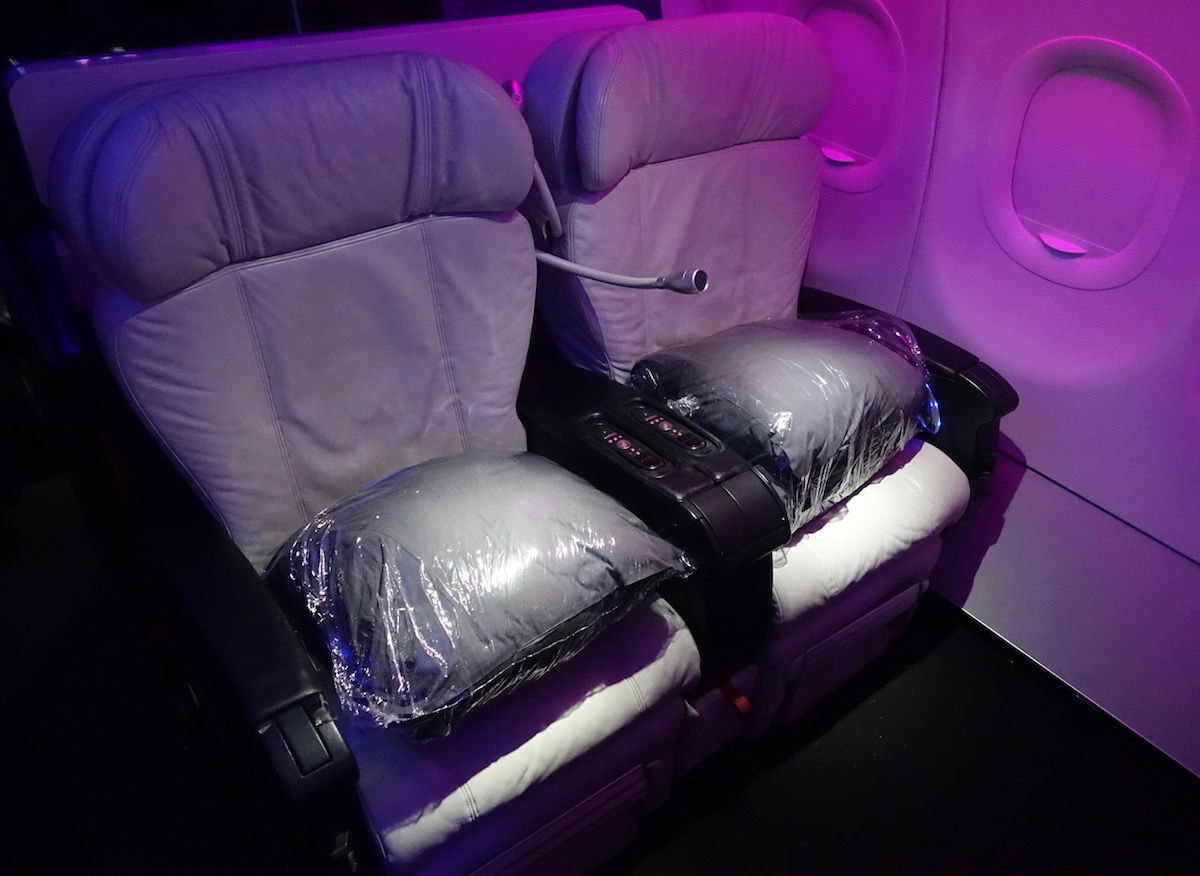 Virgin America A320 first class seats
The seats have roughly 55″ of pitch, so they're comfortable recliner seats. They're similar to what most airlines had in international business class 10-15 years ago. What makes Virgin America unique is that they're the only airline not to offer flat beds up front between New York and Los Angeles. At the same time, they have exactly the same configuration on all their planes, so this is a much better product than you'd otherwise have in domestic first class.
So the configuration is great for non-premium transcon markets, while in premium markets it's a bit disappointing not to have a flat bed.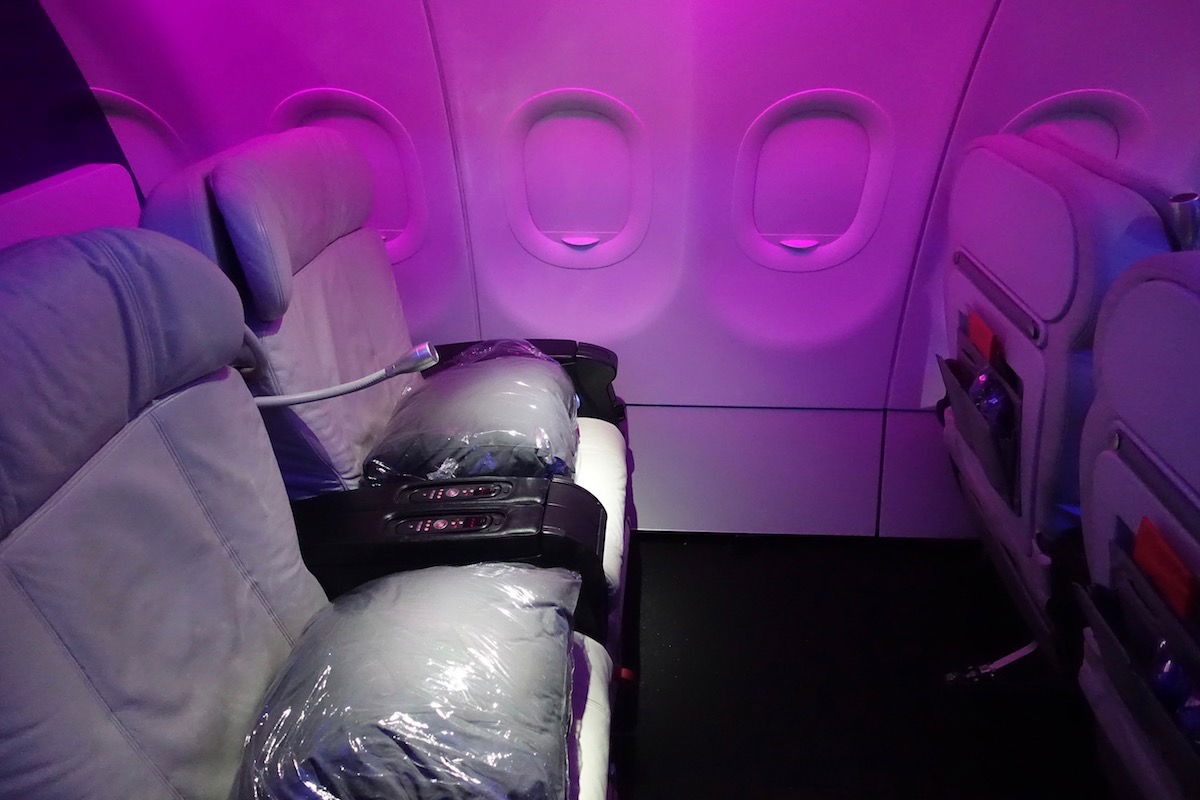 Virgin America first class legroom
I had assigned myself seat 2D, the aisle seat on the right side in the second row.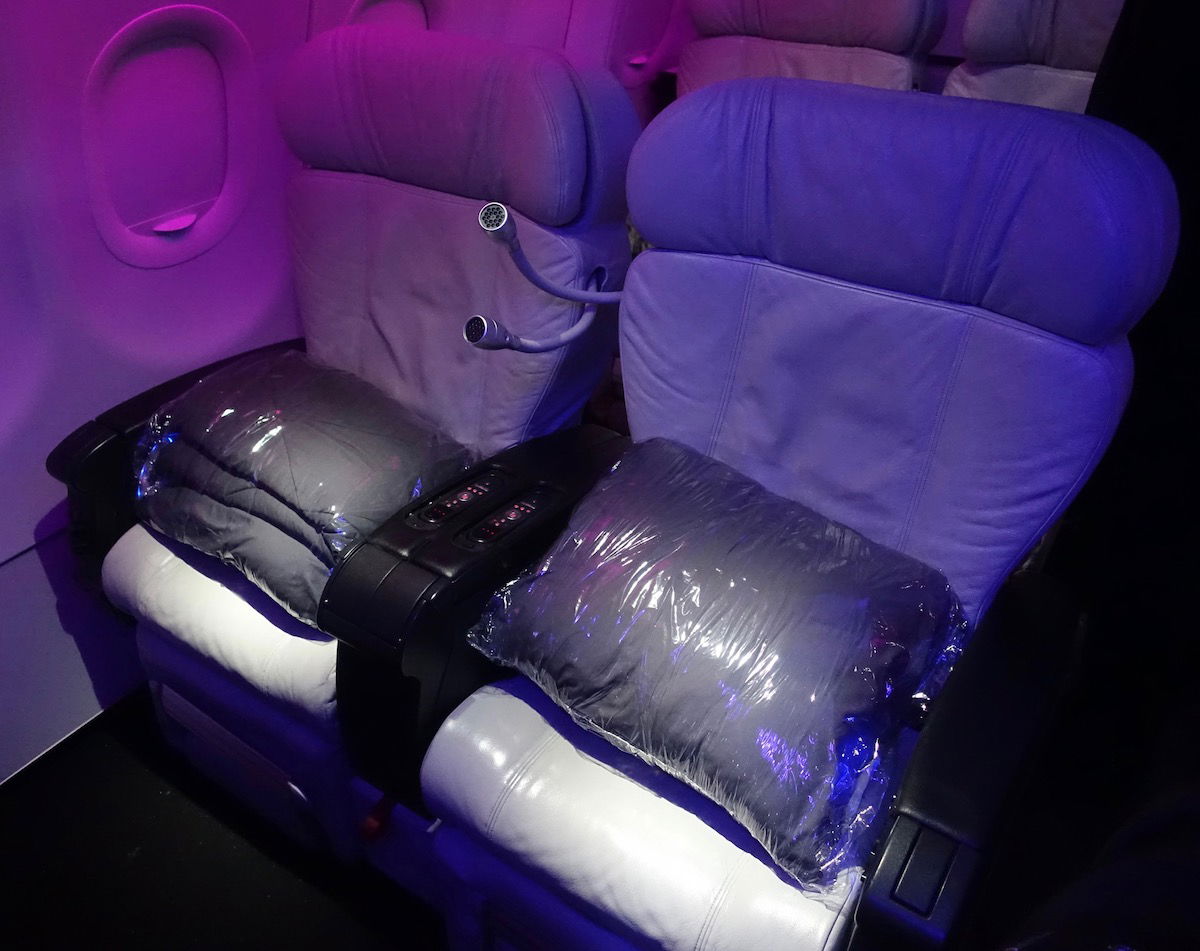 Virgin America A320 first class seats
Virgin America's first class seats are a cream colored leather. Fortunately Virgin America uses mood lighting and generally keeps the cabin pretty dark, so you can't see how worn the seats are. 😉 In all honesty, the seats looked pretty good given how long they've been around.
However, I found the padding in the seats to be awful. I'm sure the seat had good padding at some point, but I imagine that goes back several years.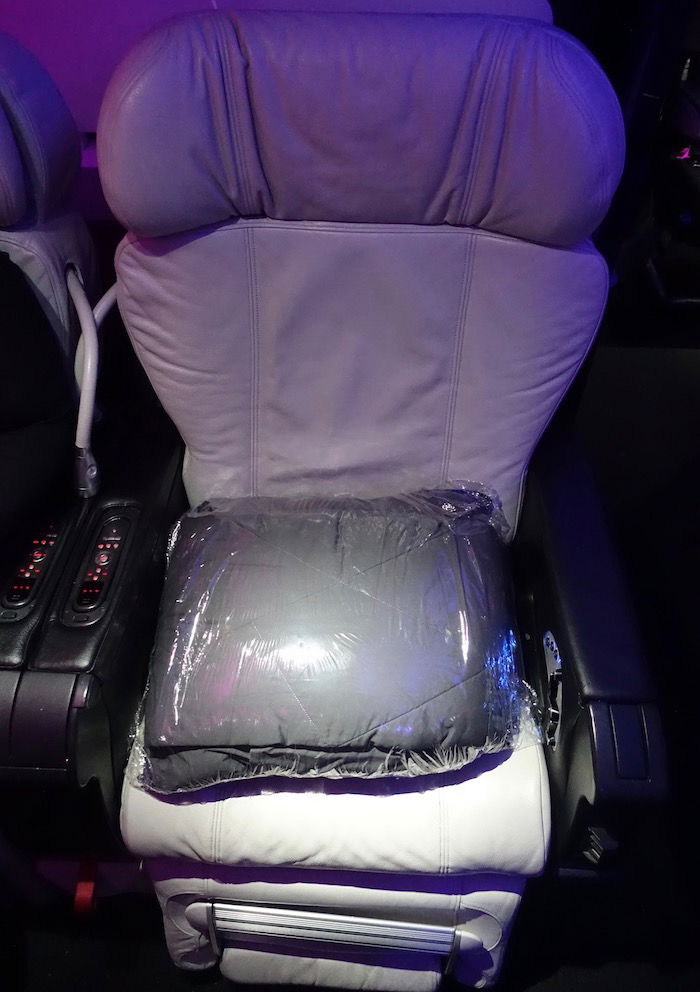 Virgin America first class seat
On the seatback in front of me were three well designed pouches.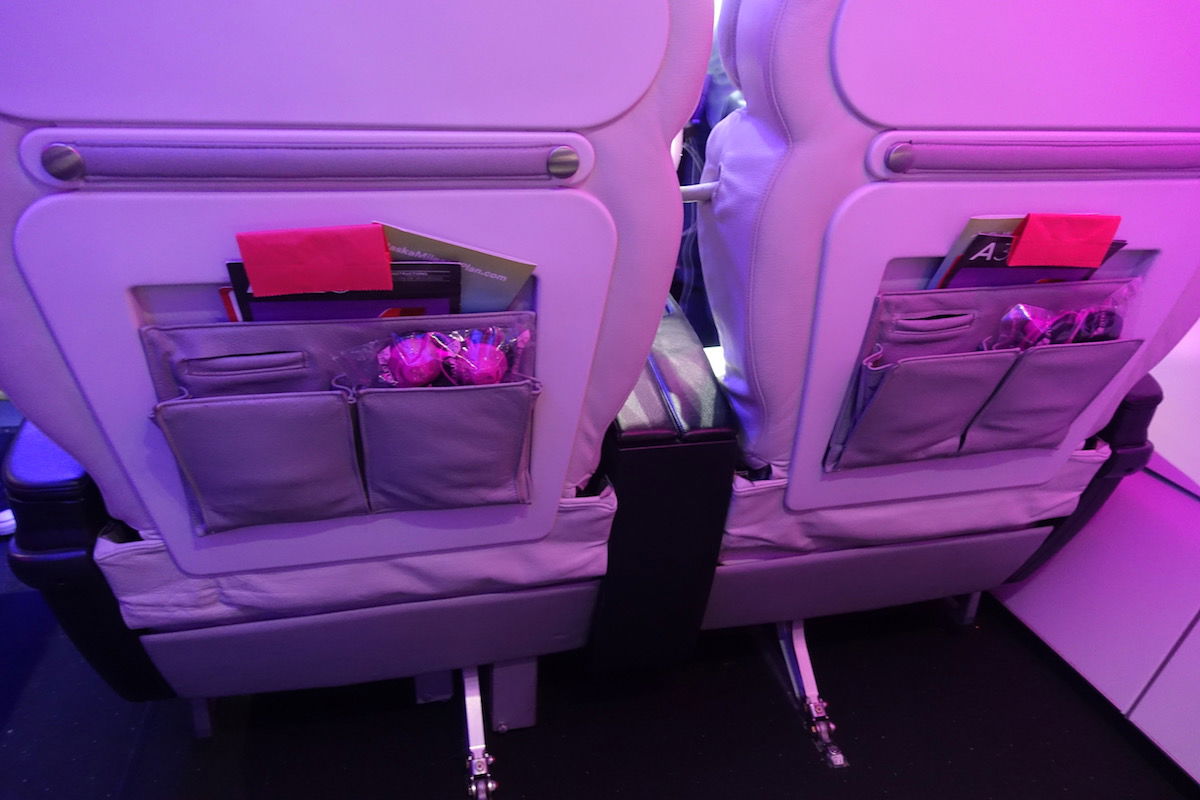 Virgin America first class legroom
Under my left armrest were the easy to use seat controls.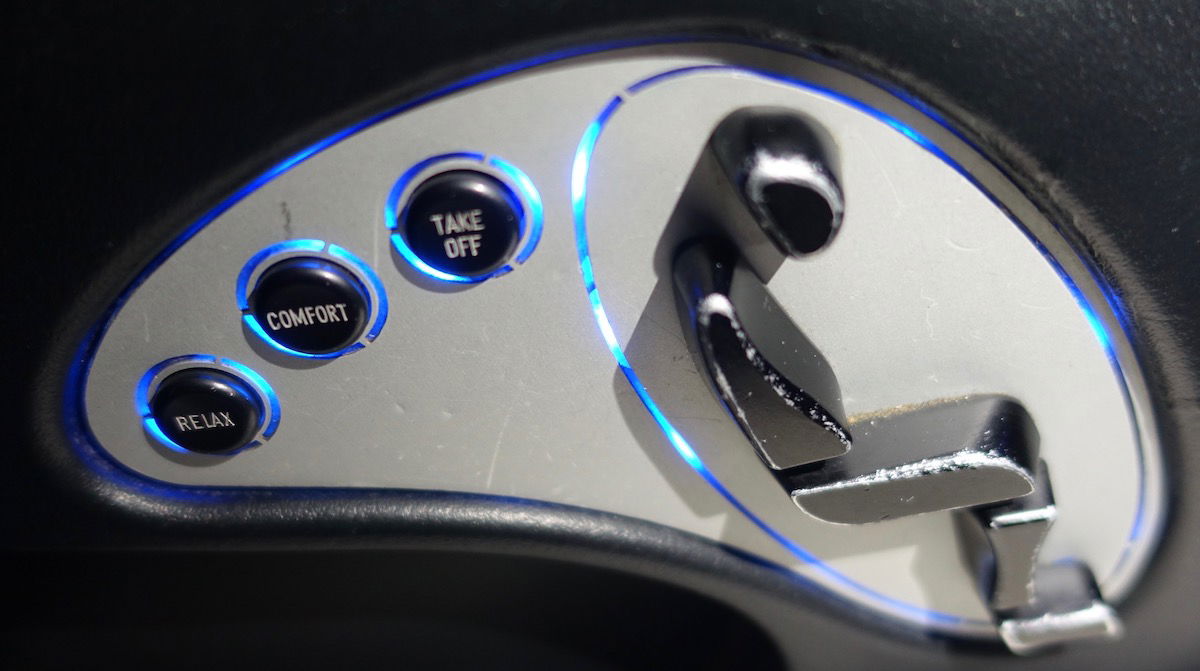 Virgin America first class seat controls
The tray table could also be extended from the left armrest. The tray table could be folded in half, in case you just want it for a drink, or something.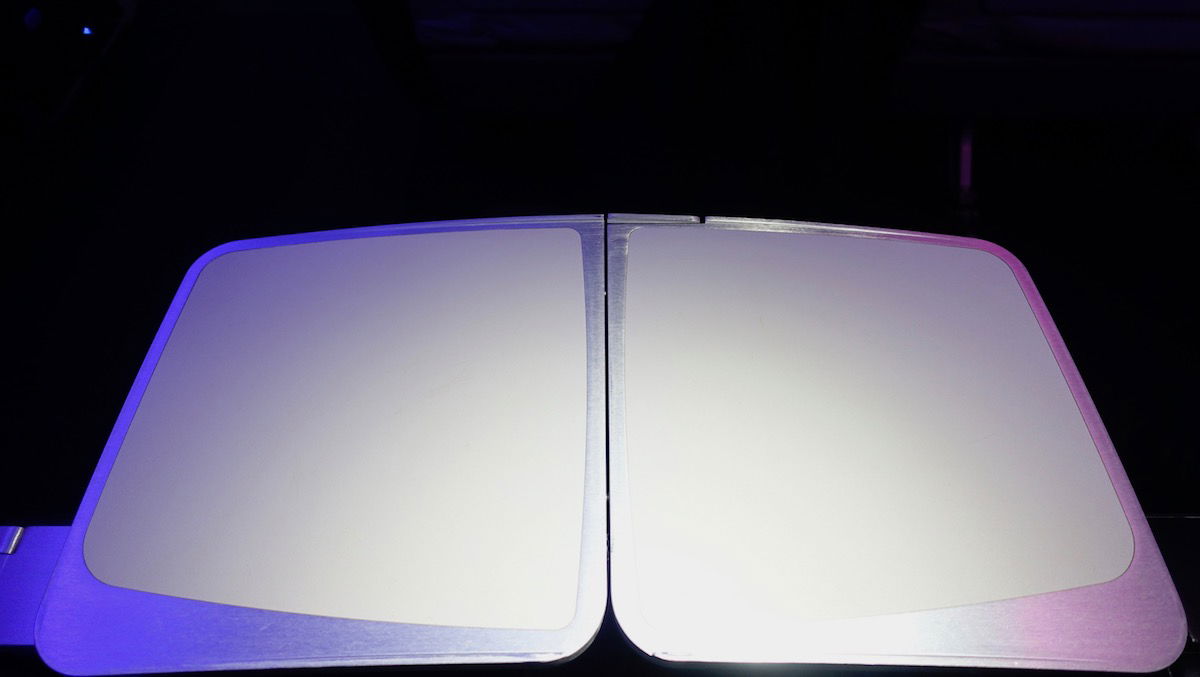 Virgin America first class tray
Then between the two seats was a small shared tray for drinks.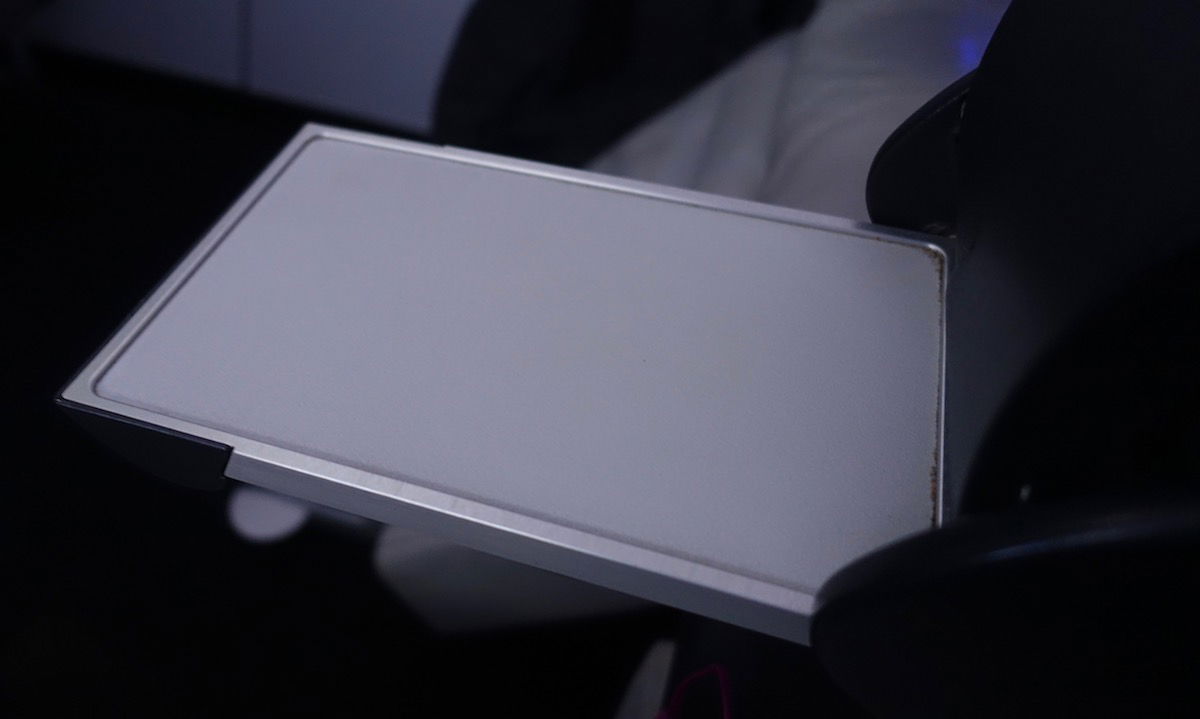 Virgin America first class tray
Underneath the left armrest was the power outlet.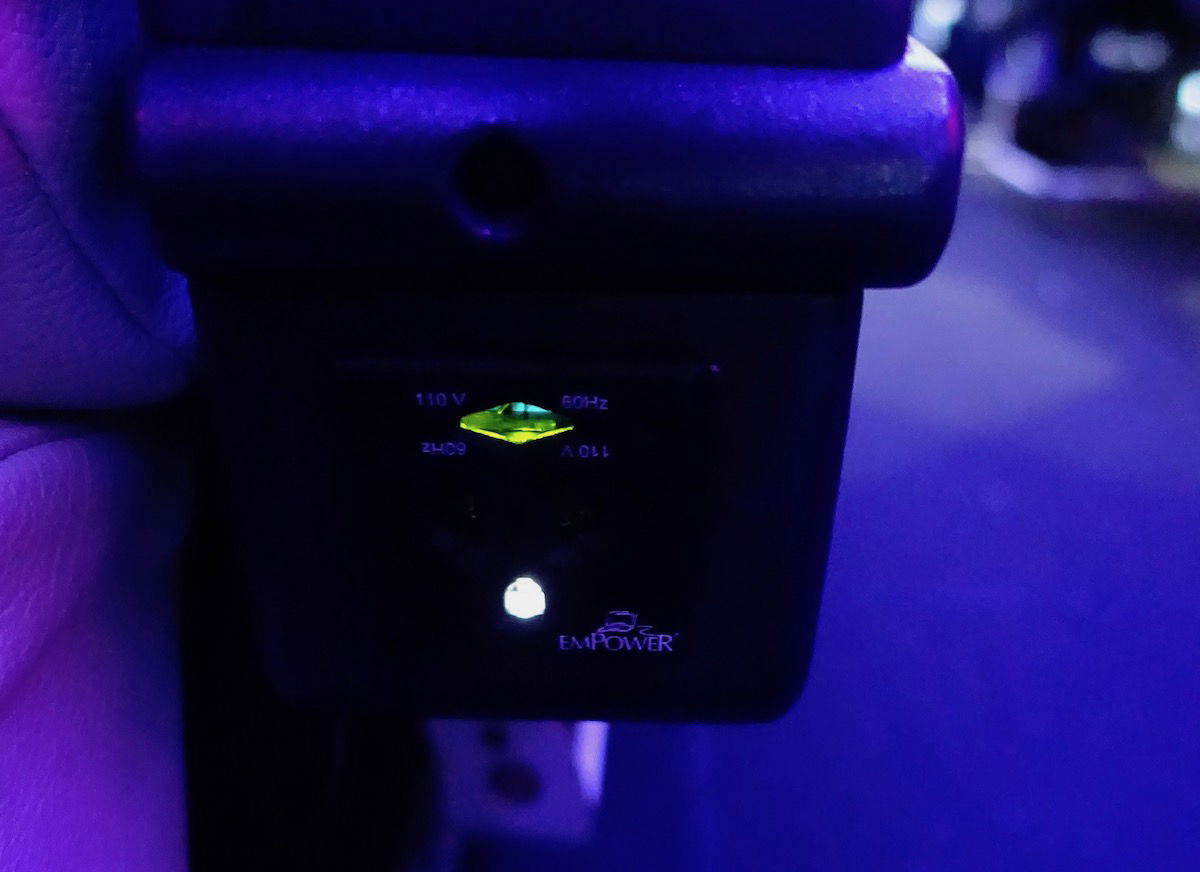 Virgin America first class power outlet
The entertainment controller could be extended from the center armrest. I never used it though, since the entertainment device was touchscreen.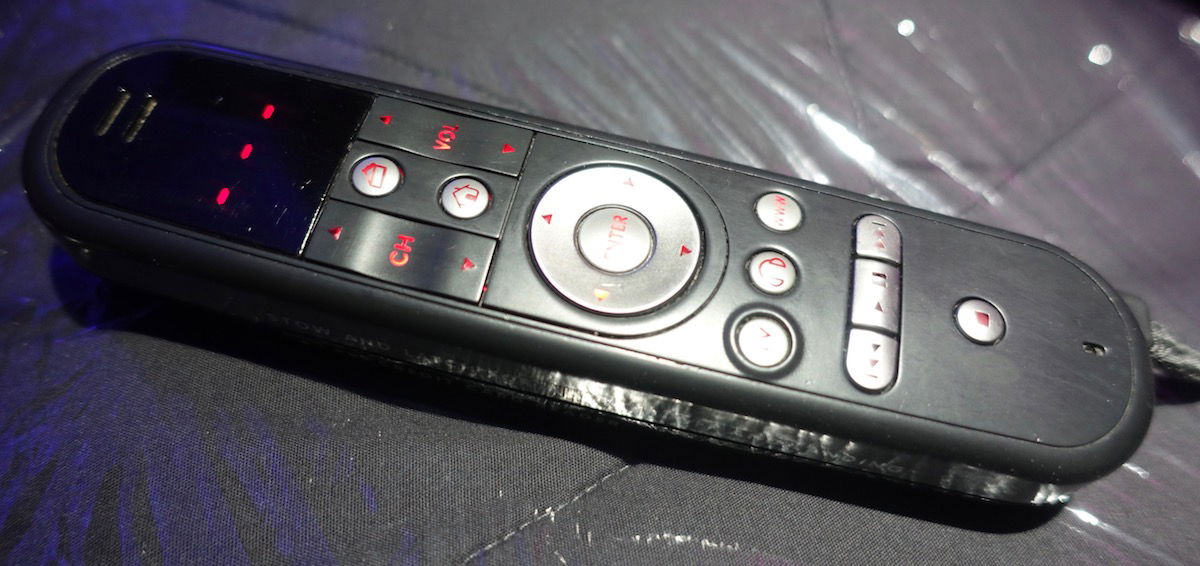 Virgin America first class entertainment controller
In the seatback pocket were some really low quality headphones. That's probably not an issue since most people bring their own headphones.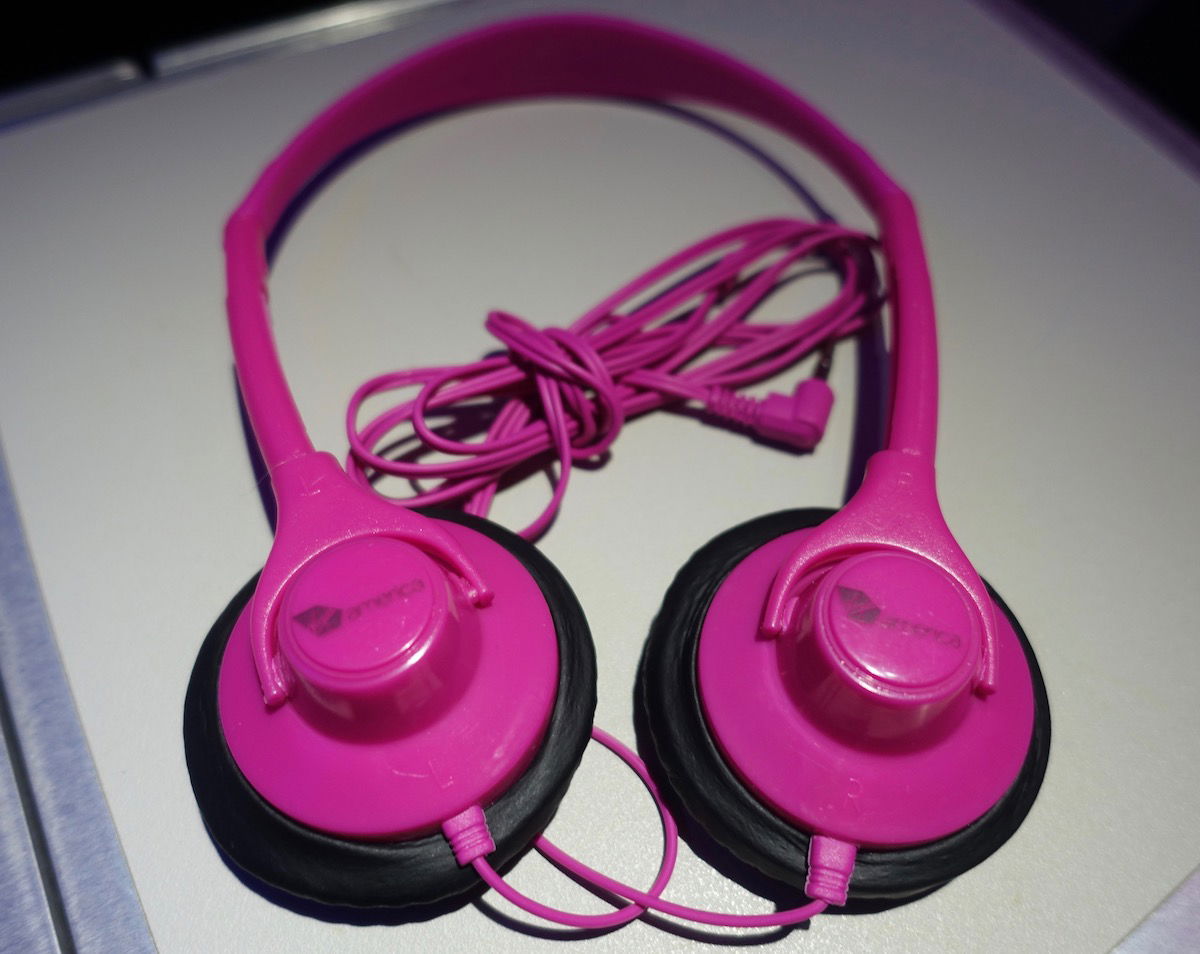 Virgin America first class headphones
Waiting at each seat on boarding were a comfortable pillow and blanket, both of which were nice and thick. For a domestic flight I was quite happy with this. I believe Virgin America only has this bedding in transcon markets, so don't expect to get this on a flight between Los Angeles and San Francisco.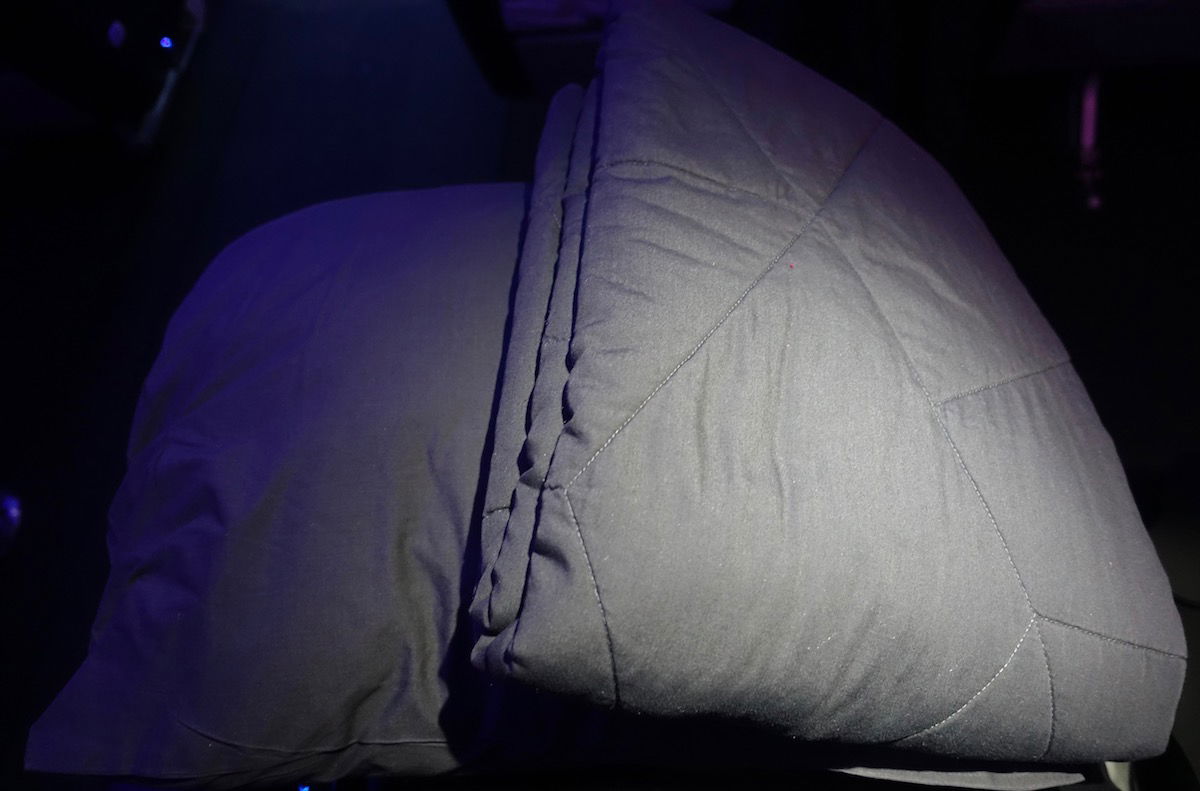 Virgin America first class pillow & blanket
The inflight team leader, Tina, came by during boarding to offer pre-departure beverages of choice. I asked for some water, and was given a small bottle of Crystal Geyser water.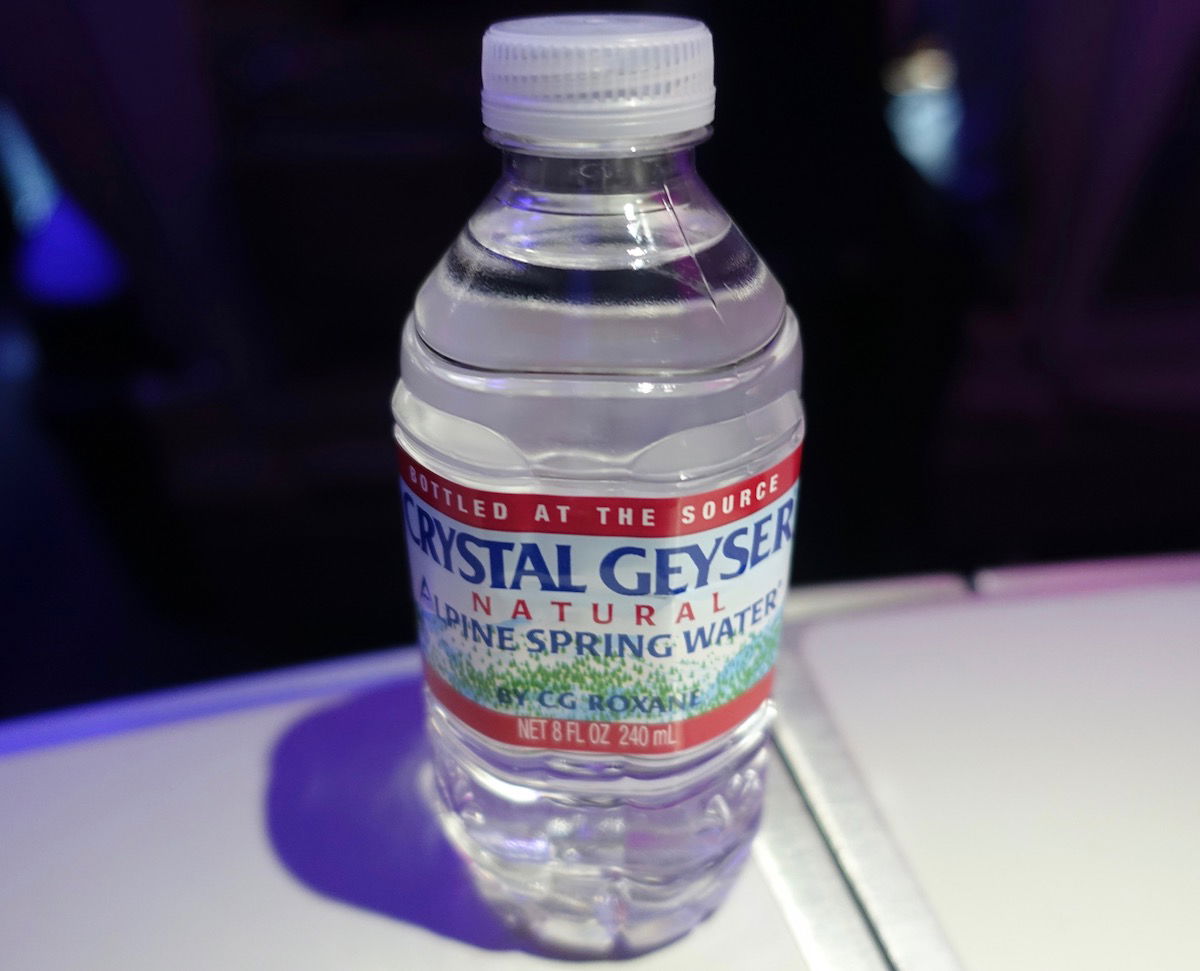 Virgin America first class bottled water
Virgin America has interesting boarding music. It's sort of house music, which I guess fits in with their mood lighting, etc. Unfortunately any vibe that Virgin America was trying to create was ruined by the lady seated next to me, who had six different business calls during the boarding process with her colleagues, clients, etc. She was talking loudly. It amazes me how little discretion people use, since just based on sitting near her I could figure out exactly who she worked for, that they were doing some shady things, and they were discussing things you wouldn't want to be publicly known.
The boarding process was done by 3:50PM, but it seems like there was some sort of small mechanical delay, as maintenance people kept coming into the cockpit. The captain didn't make an announcement during this time — actually, she didn't make any announcement during the whole flight, which is the first time I ever recall that happening on a US airline.
By 4:10PM the door closed, at which point Tina made an announcement informing us of our flight time of 5hr40min. A few minutes later the safety video was screened. Virgin America has quite a unique safety video, which they call the "VX safety dance." It's a cute concept, though if I were a frequent flyer on Virgin America I can imagine it would drive me nuts, especially since it has been around for years.
https://www.youtube.com/watch?v=DtyfiPIHsIg
You don't actually watch the safety video if you're in first class, since the monitors are in the armrests. Instead there's a flight attendant in the aisle who does the safety demonstration in first class. It's a bit weird to hear the super enthusiastic video while the flight attendant goes through the motions without much emotion. I was hoping for this guy, at least:
A few minutes after pushback we began our taxi, and by 4:30PM we were cleared for takeoff.
As we climbed out I extended my personal television and checked out the selection.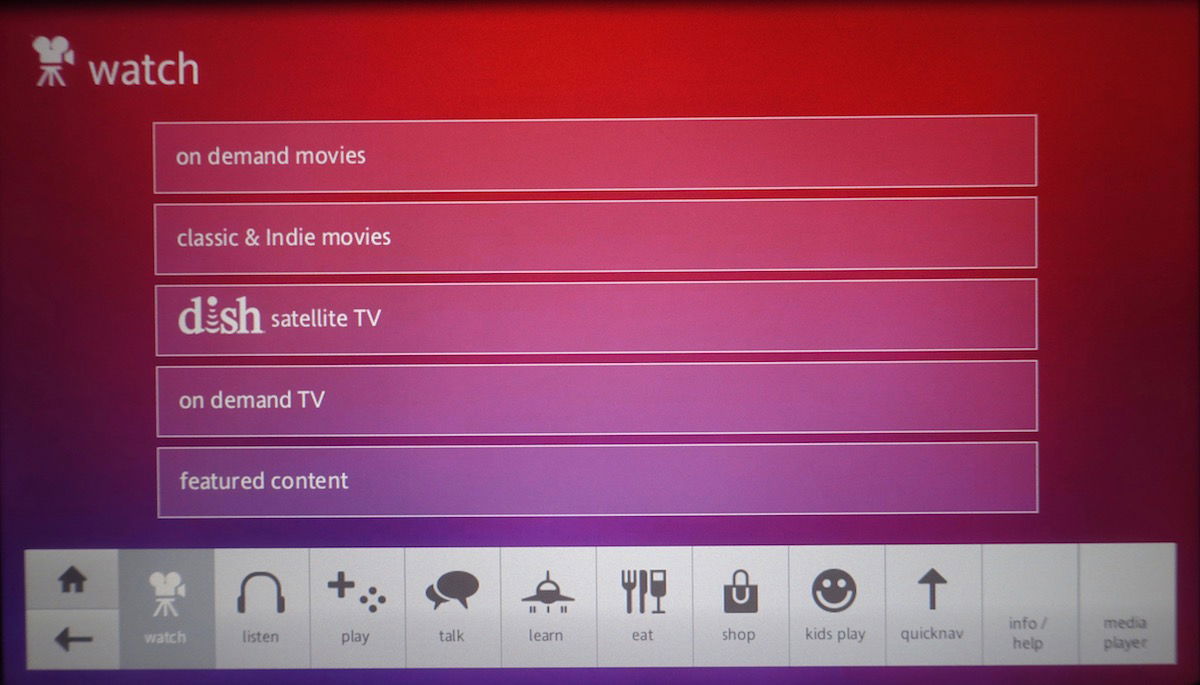 Virgin America entertainment system
There were a good number of movies available — there were 20 "on demand movies," plus 17 "classic & indie movies."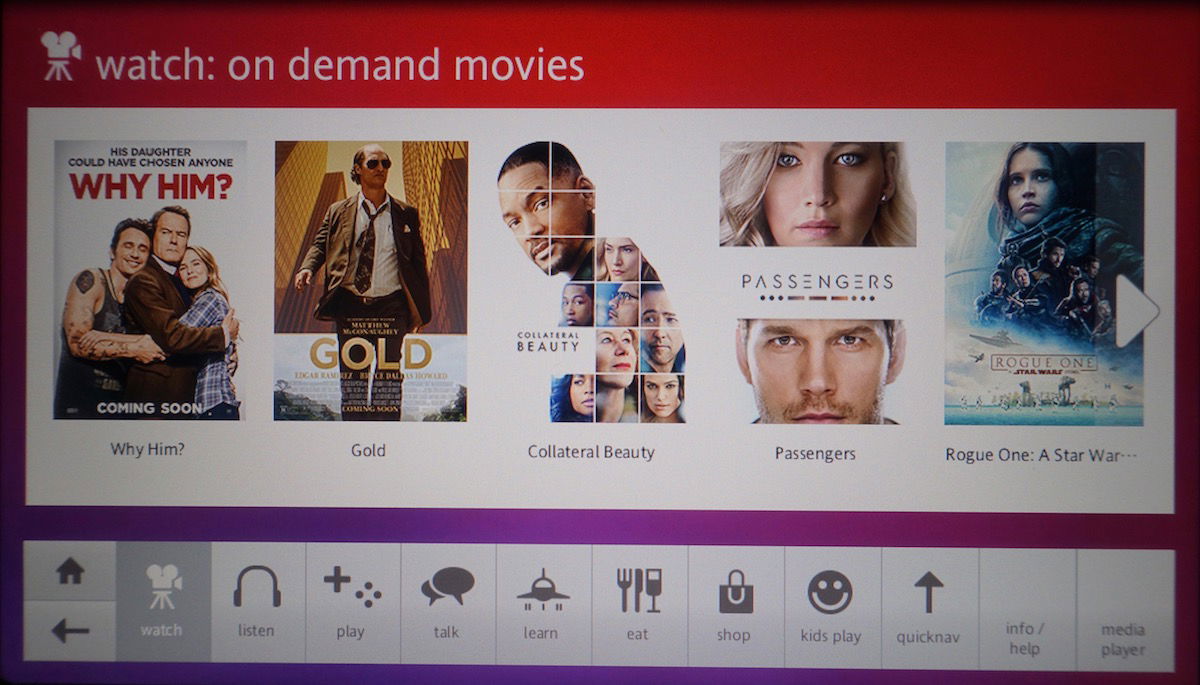 Virgin America entertainment selection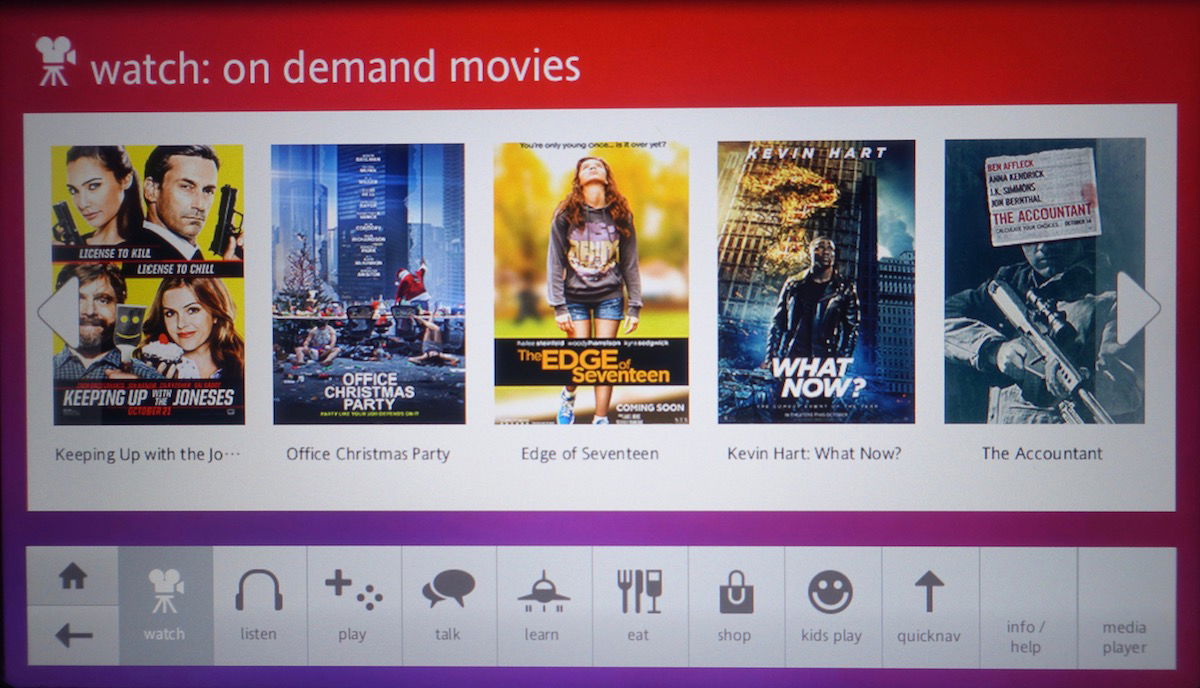 Virgin America entertainment selection
There were also quite a few sitcoms.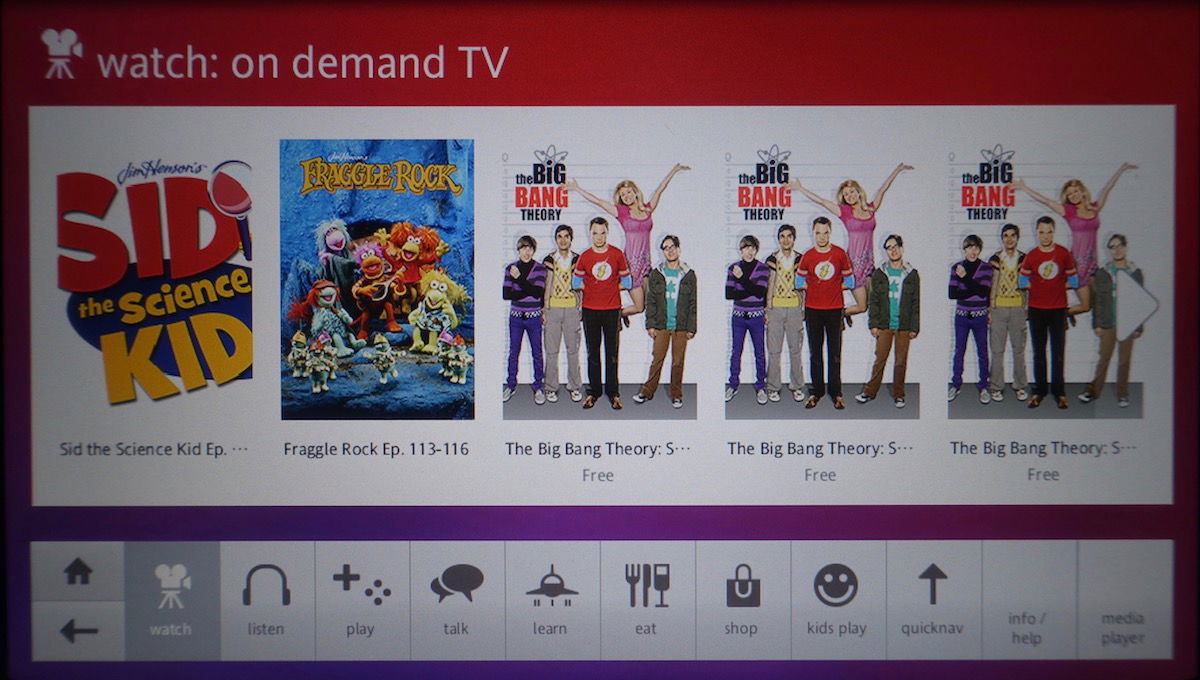 Virgin America entertainment selection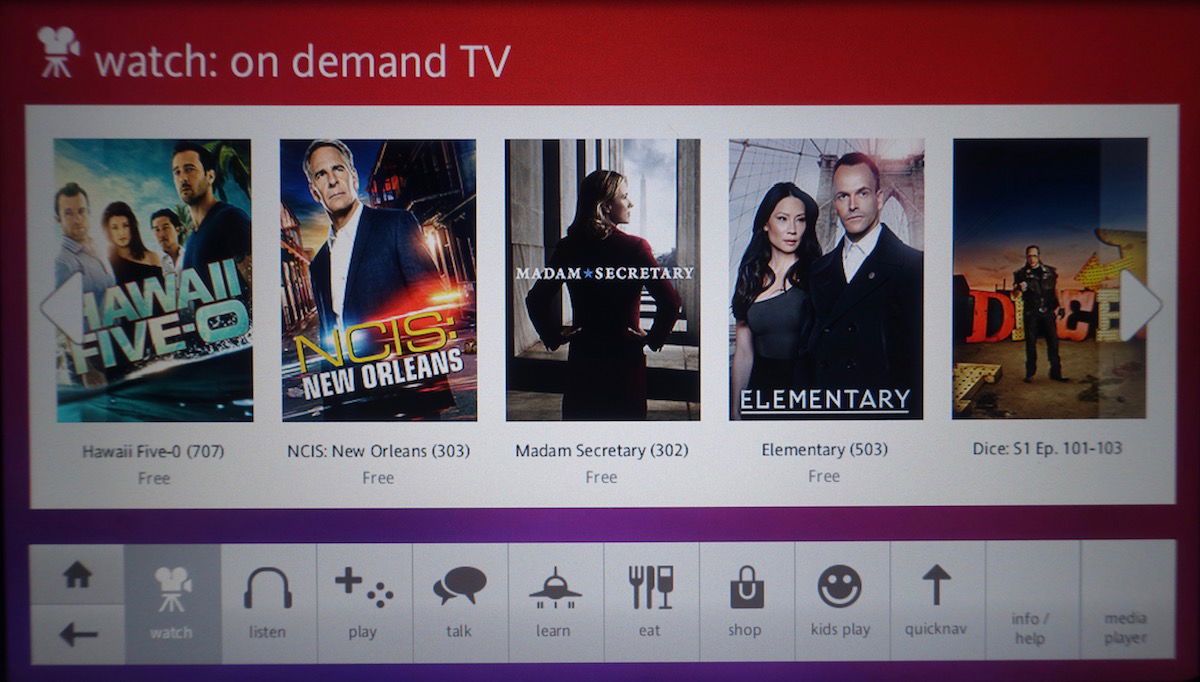 Virgin America entertainment selection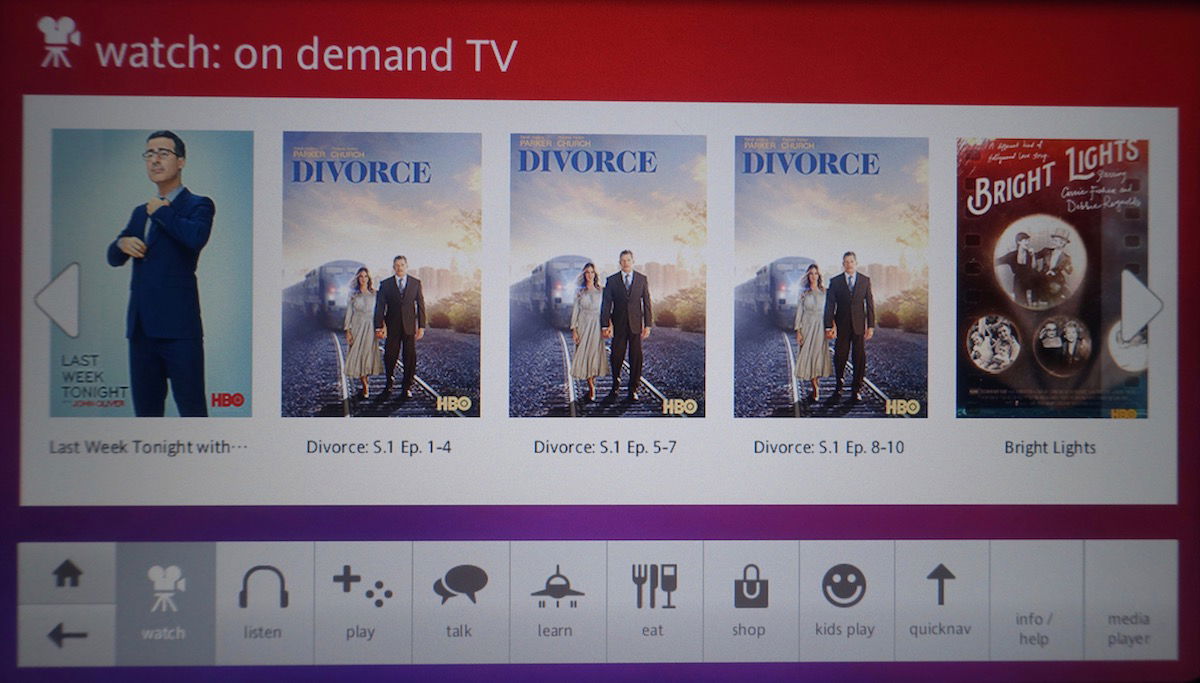 Virgin America entertainment selection
However, I found the quality of the selection a bit underwhelming. For example, they had Big Bang Theory, but from season two.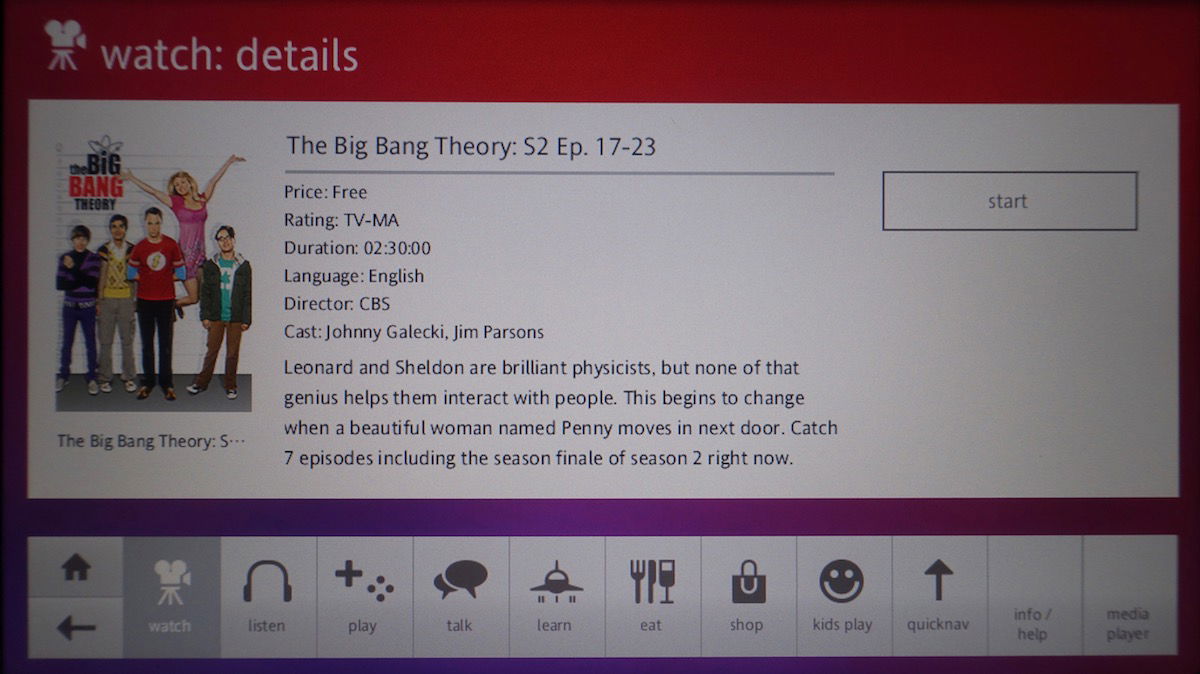 Virgin America entertainment selection
While economy passengers can order food & drinks, that option isn't available in first class.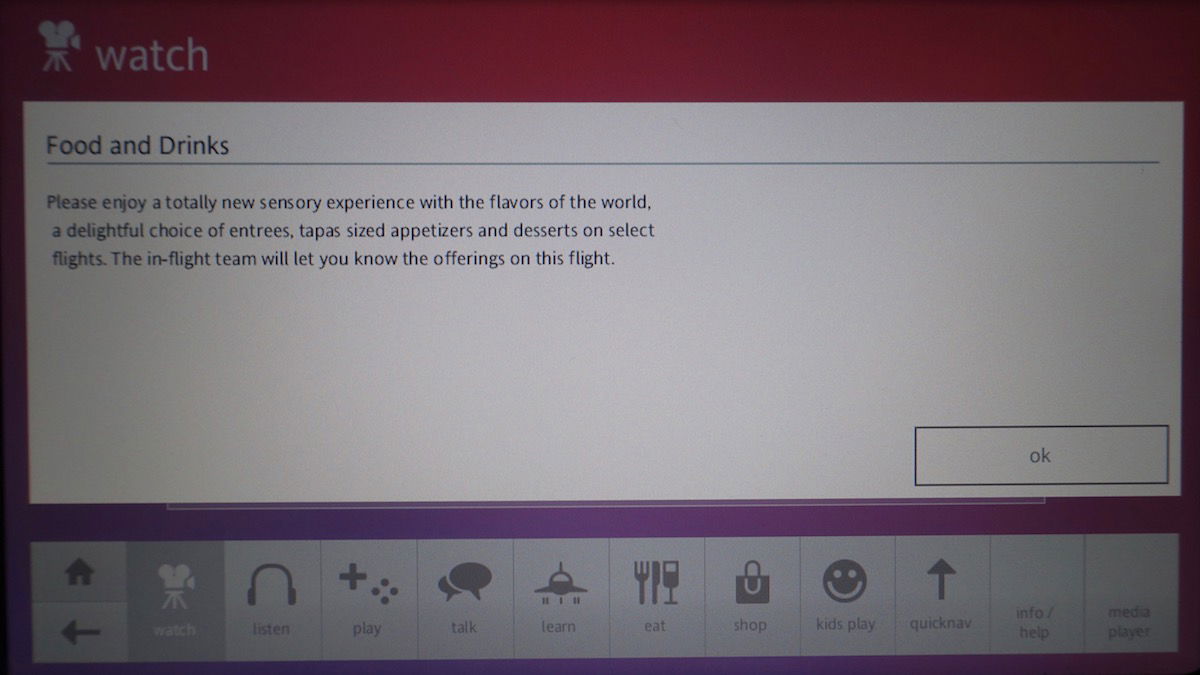 Virgin America food & drink selection through the entertainment system
Virgin America also has an onboard chat room. My days of using location based social networking applications are behind me, so I didn't enter.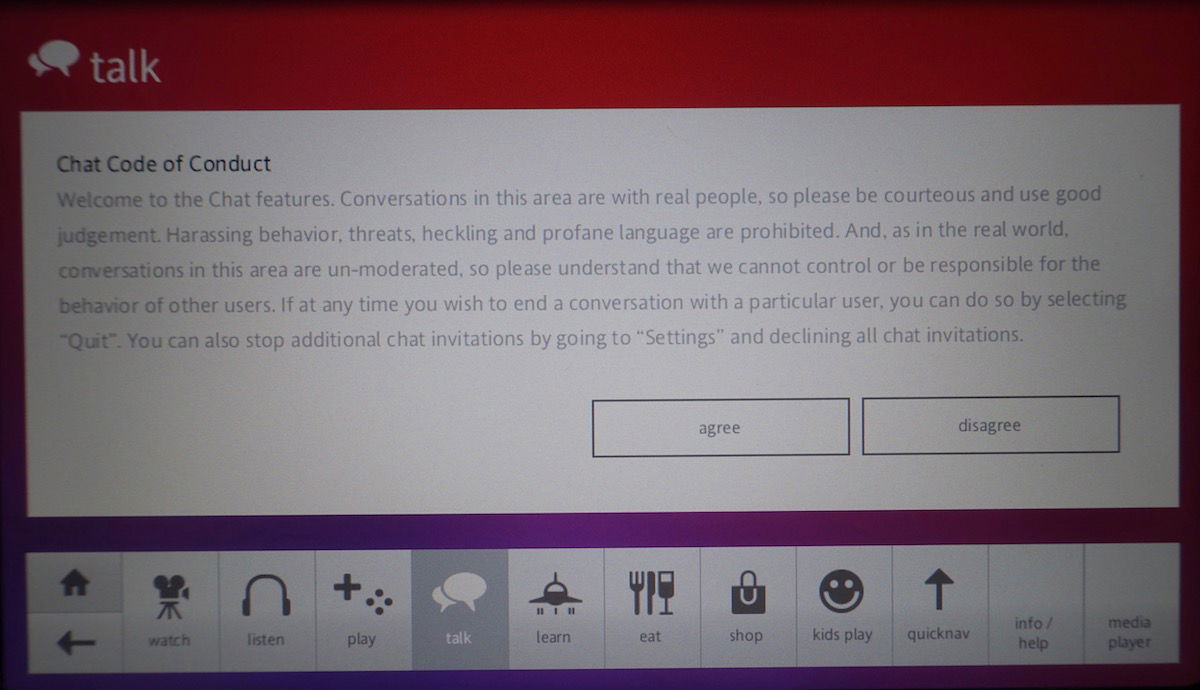 Virgin America chat room
Interestingly you can apparently also upgrade during the flight through the entertainment system, though I'm not sure exactly how that works.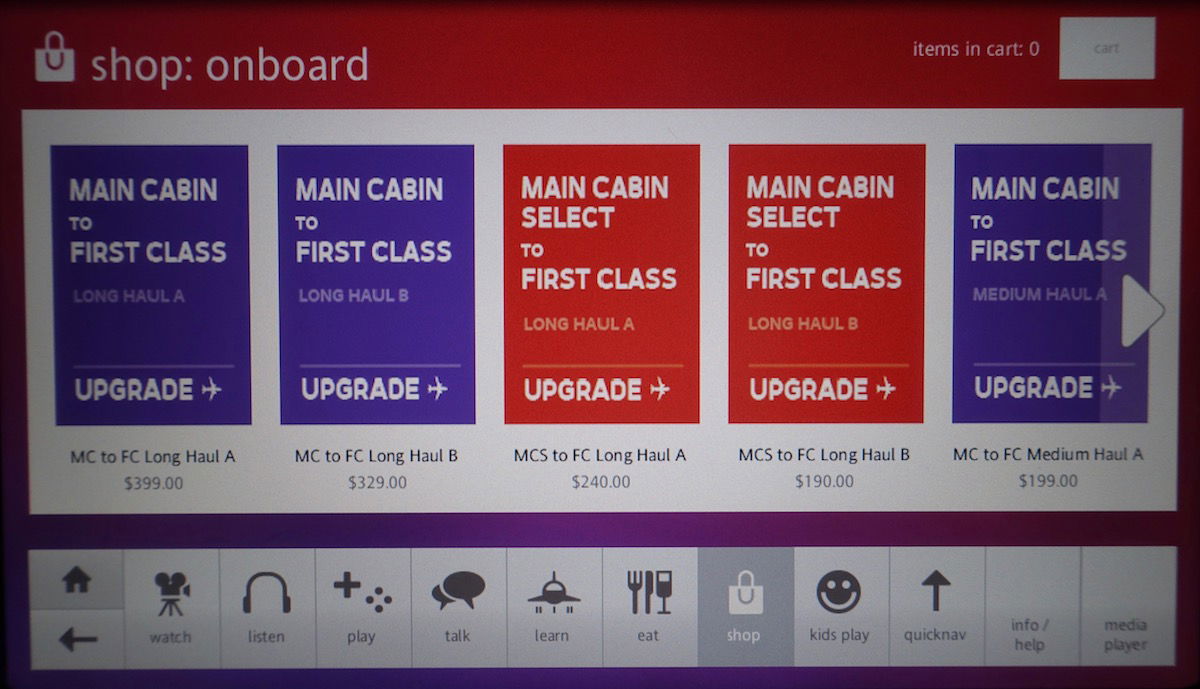 Virgin America upgrades through the entertainment system
I don't usually watch much TV on planes as I'd rather work when there's Wi-Fi, though I was exhausted after a long week, and wanted a break. So I decided to watch "Becoming Warren Buffett." I'm not exactly sure why, but the documentary made me cry. Like, I actually shed tears. It has been years since I've cried. The documentary was incredible, though I'm still not exactly sure why I cried.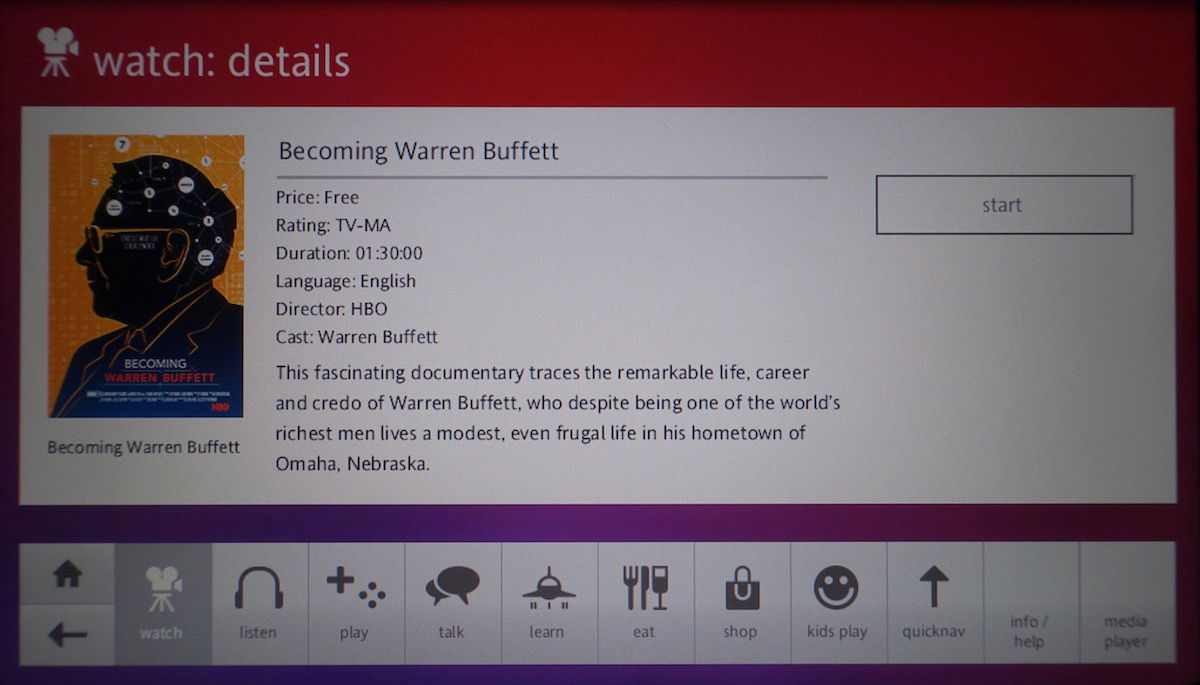 Virgin America entertainment selection
About 20 minutes after takeoff the seatbelt sign was turned off. Virgin America has see-through partitions separating the galley from first class, and separating first class from the main cabin. Personally I find that to be a bit odd, and I wouldn't want to sit in row one, since the partition is somewhat reflective, so you'd basically be looking at yourself the whole flight.
The only curtain on the plane is around the galley on the right side.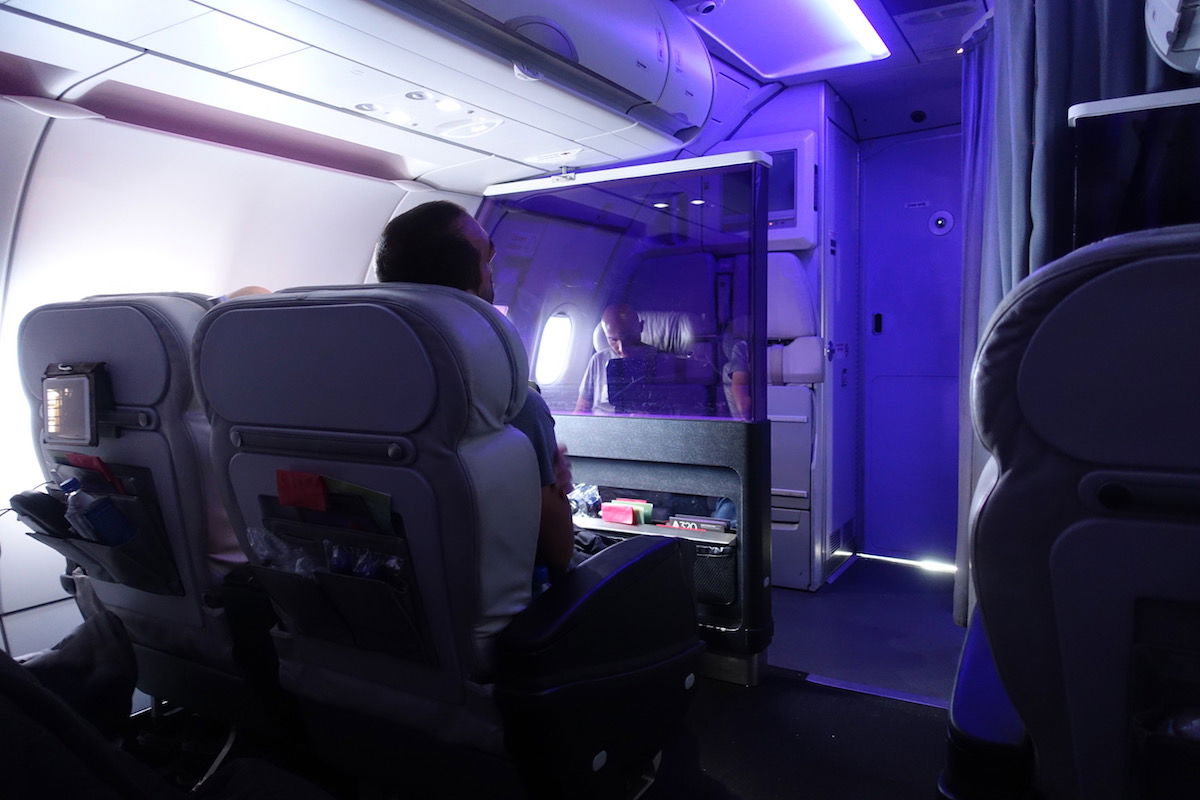 Virgin America first class cabin
After takeoff I checked out the lavatory, located at the front of the first class cabin. It was pretty basic, though I appreciated that they enforced that it was only available to first class passengers. There was even a rope separating first class from the main cabin.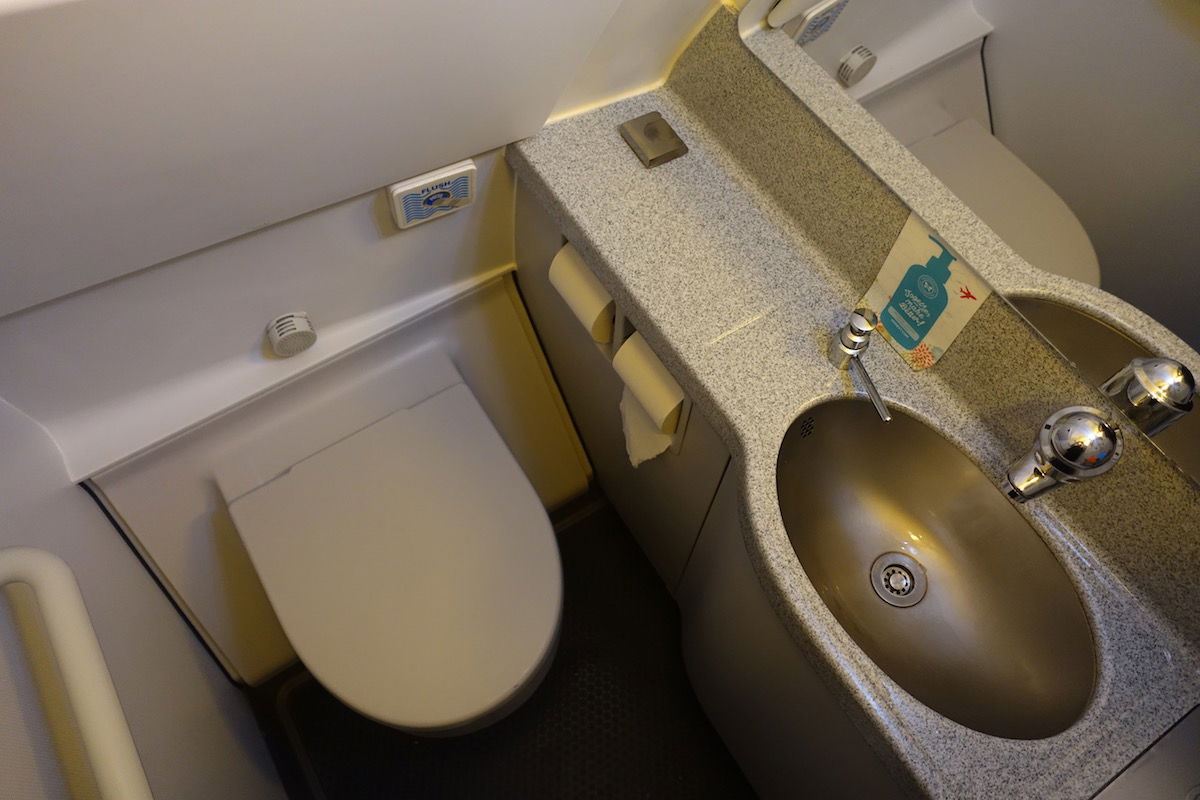 Virgin America first class lavatory
After takeoff the inflight team leader distributed the menu for the flight. Virgin America seems to just have a single menu, so it had both the breakfast and lunch/dinner options, even though we'd just have lunch/dinner on our flight.
The menu read as follows: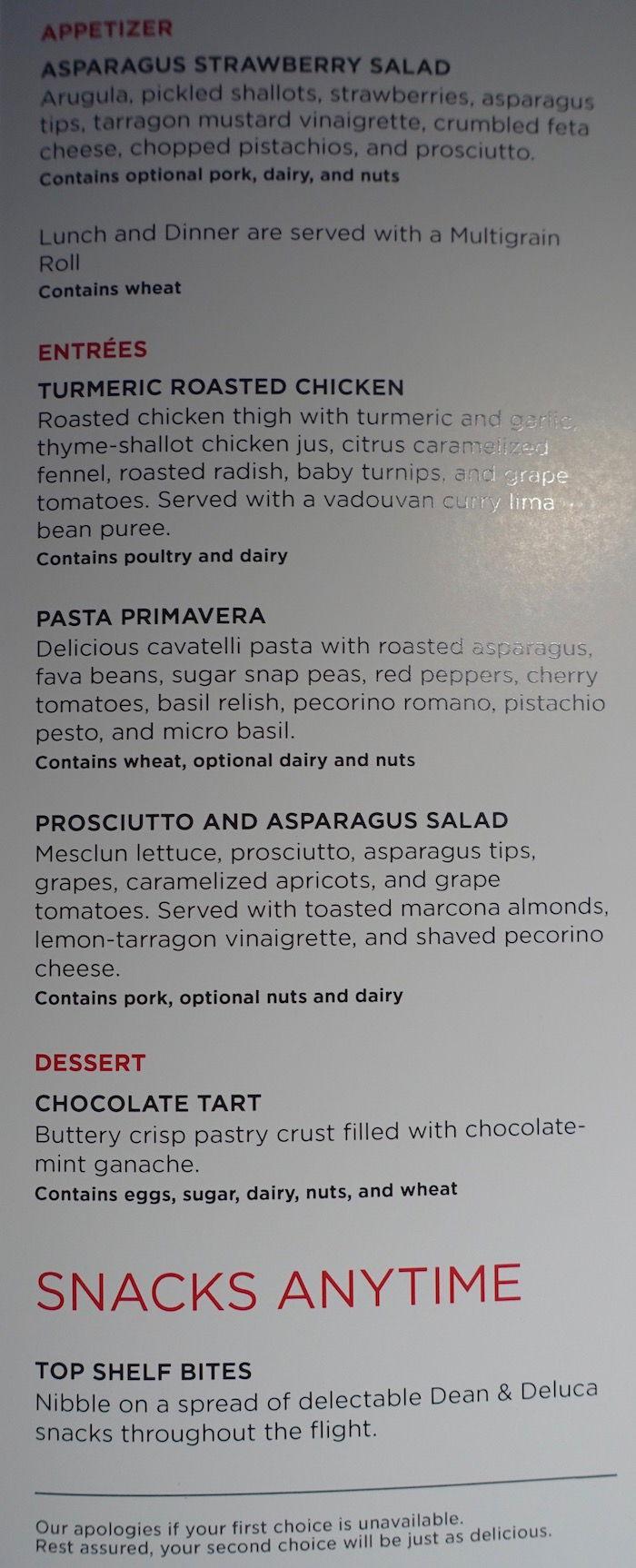 The drink list read as follows: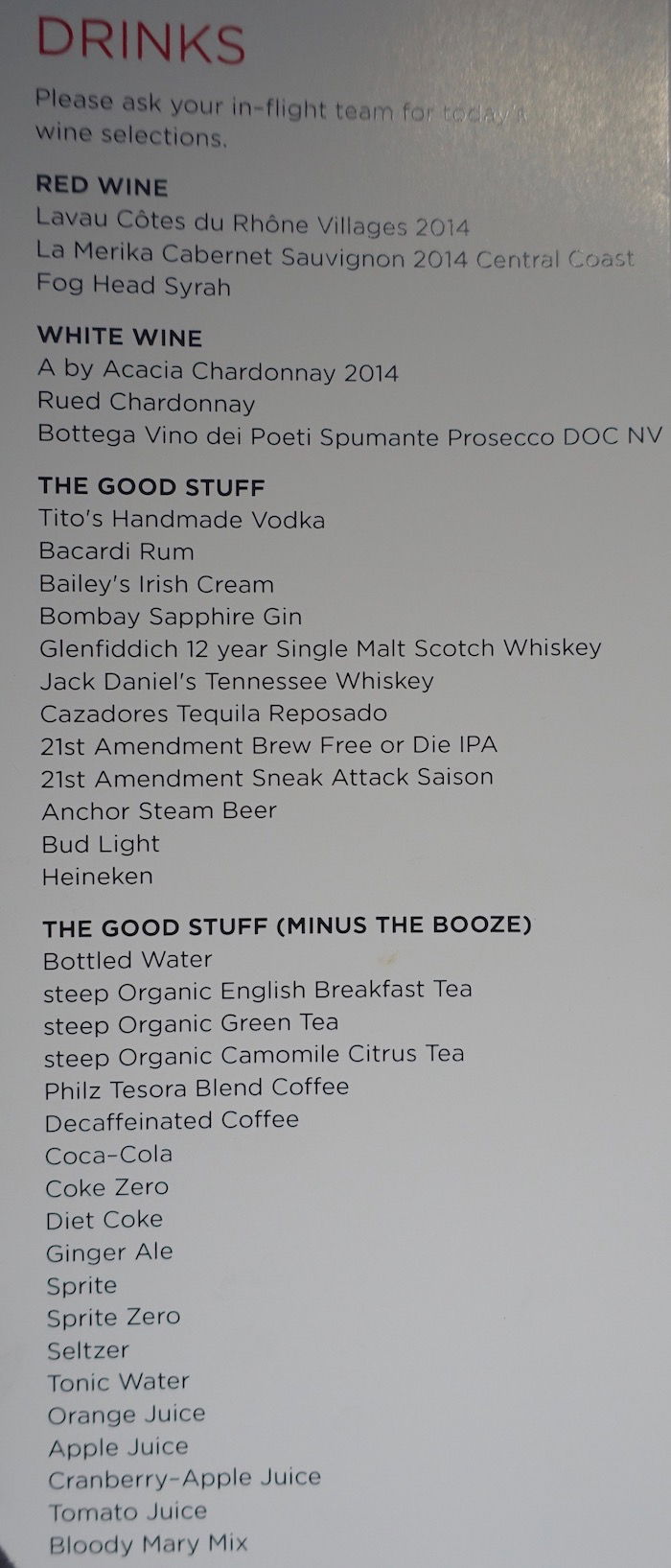 About 45 minutes after takeoff, the flight attendant took meal orders. All the service, including taking orders, seemed to start from the back right of the cabin, where I was seated.
Service began with warm towels, which were the same quality you'll find on most airlines.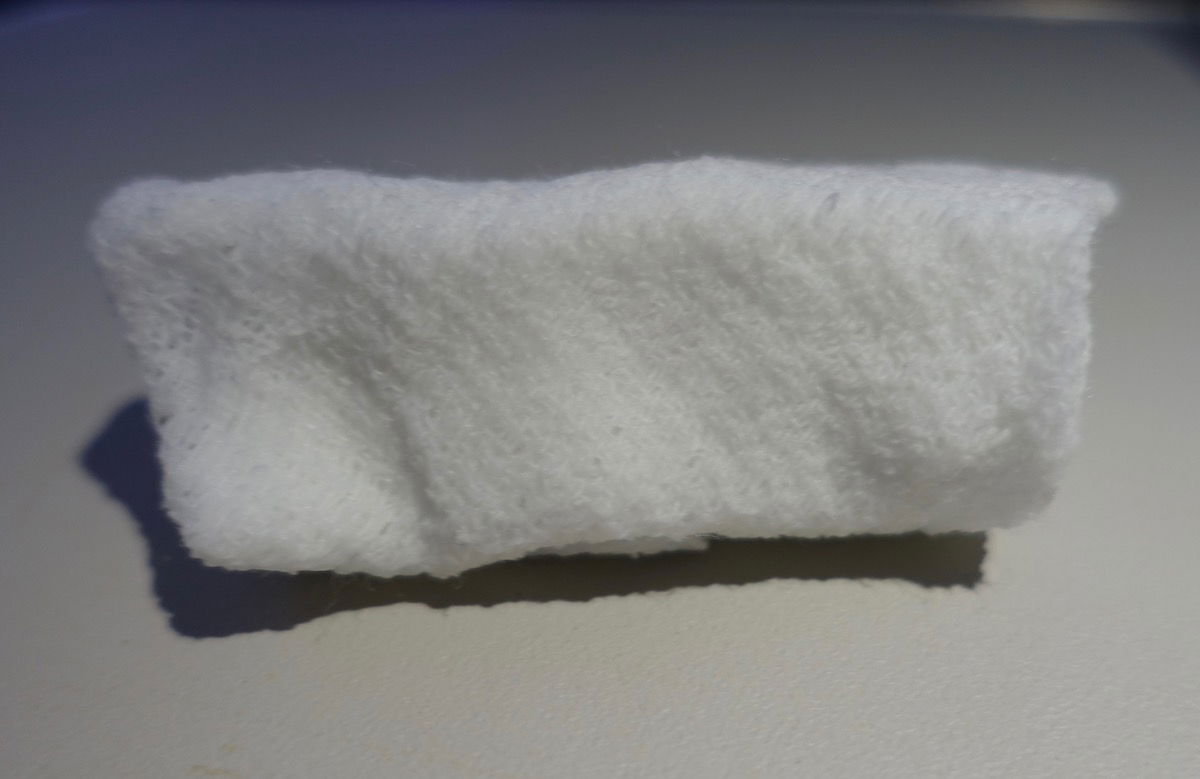 Virgin America first class warm towel
Service was really slow to get started. It was an hour after takeoff before warm mixed nuts and drinks were served. I decided to have prosecco, which was light and refreshing.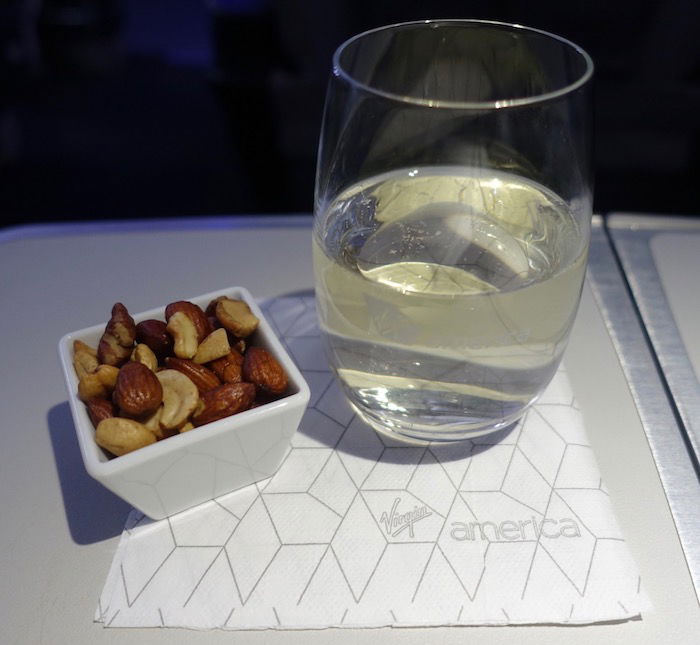 Virgin America first class dinner — prosecco & mixed nuts
The meal service finally began 90 minutes into the flight. I'm not sure why it took so long to get started, but fortunately Warren Buffett was keeping me plenty busy.
The tablecloth was placed on my table, and I appreciate that they don't use trays for the meals in first class.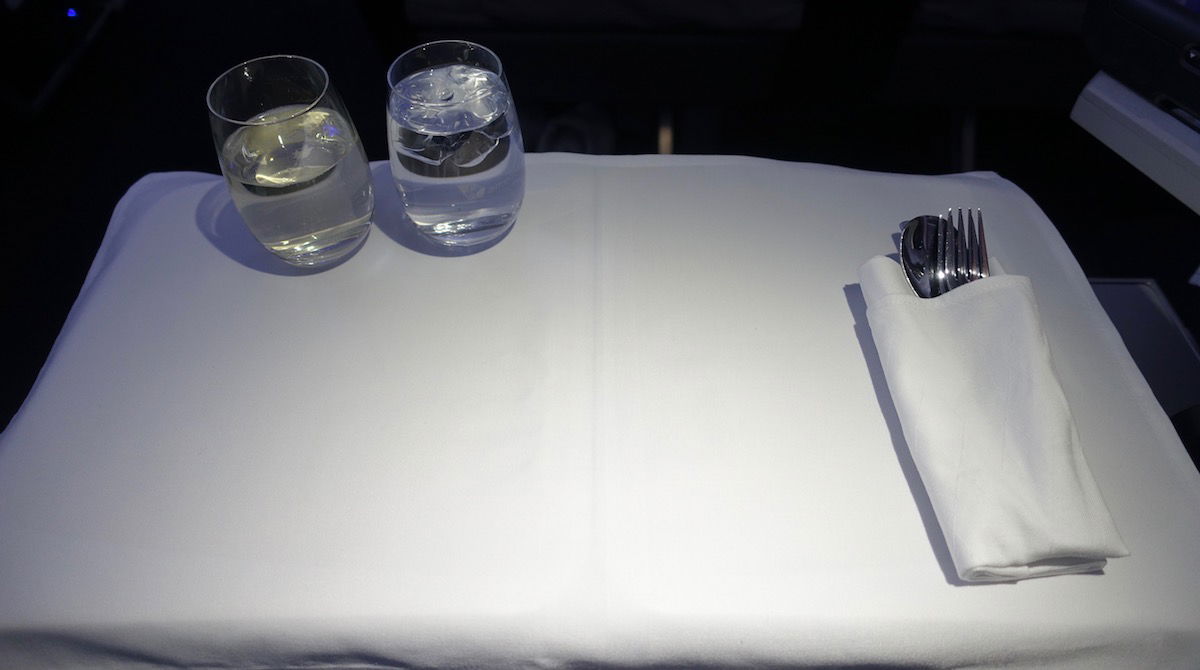 Virgin America first class dinner — table setting
First I was served the appetizer and some bread.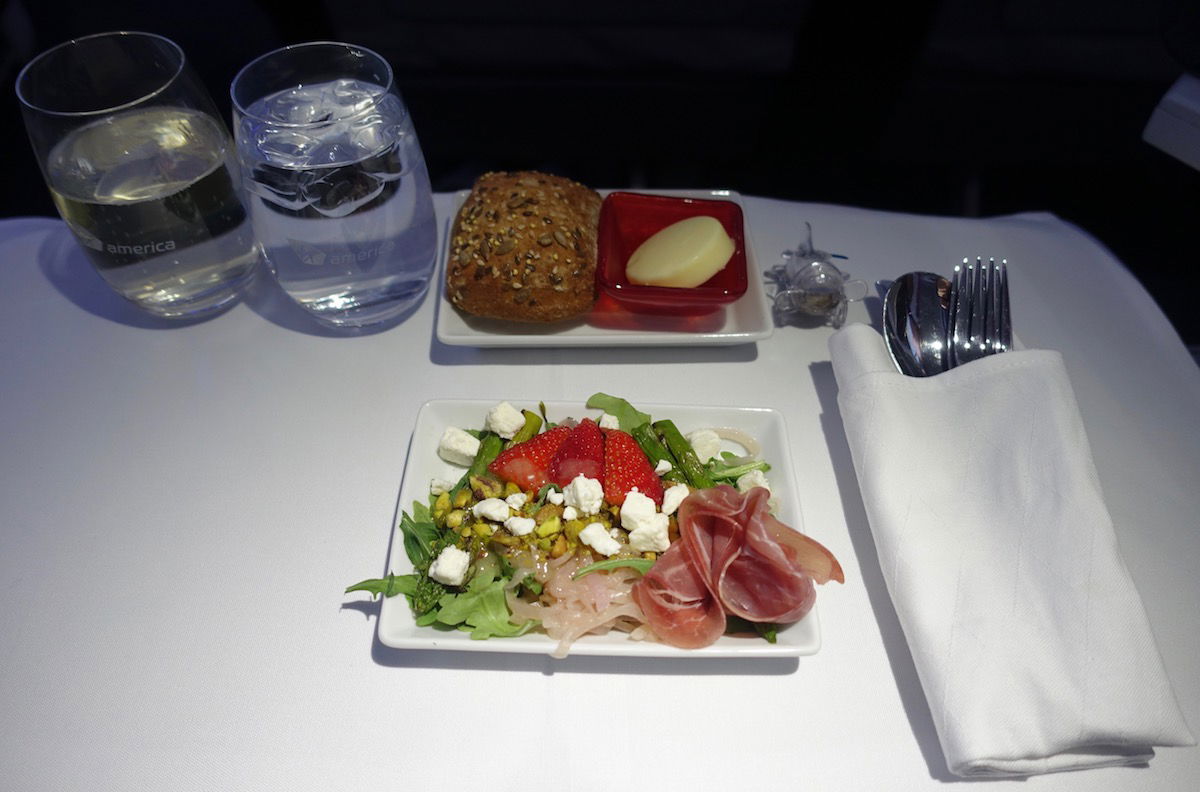 Virgin America first class dinner — appetizer & bread
The appetizer consisted of an asparagus strawberry salad with with arugula, pickled shallots, feta, and prosciutto. It was pretty good, though a very small portion.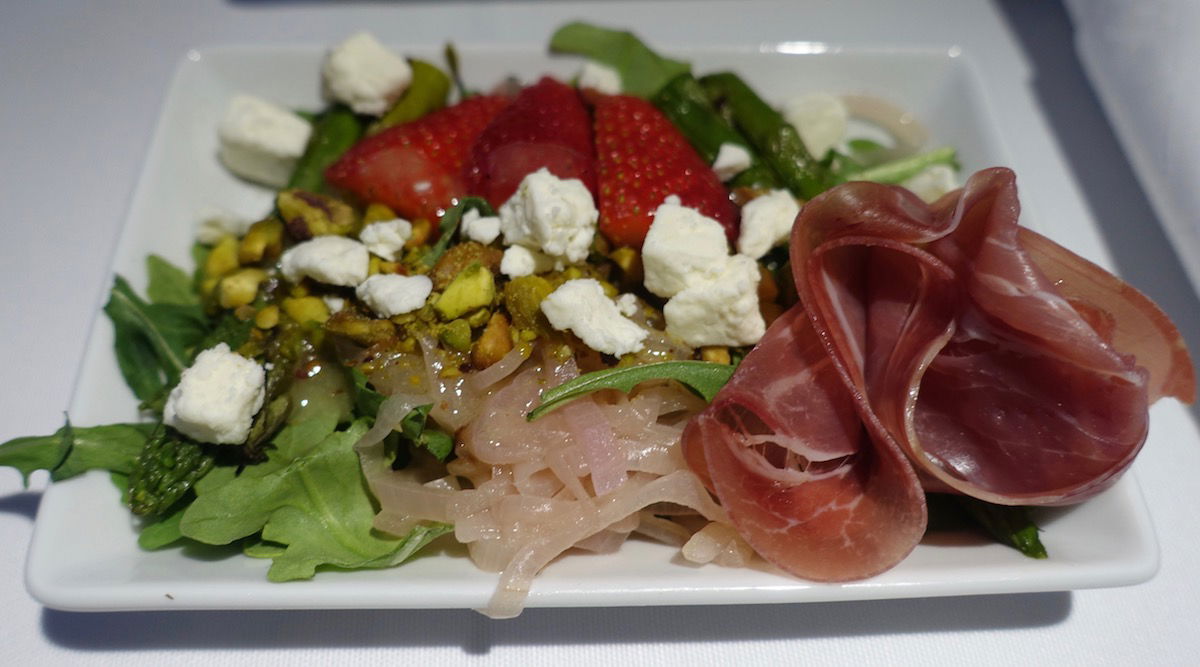 Virgin America first class dinner — asparagus strawberry salad
I was also offered a multigrain roll. There was no bread choice, but at least the bread I was served was pretty good.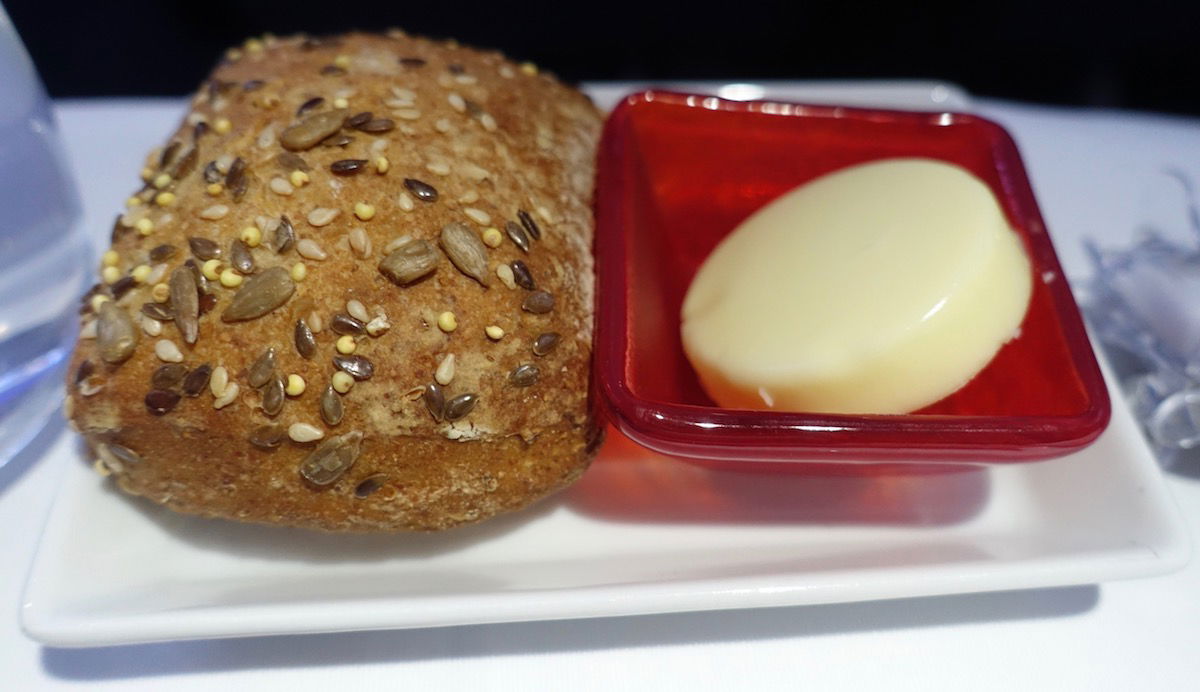 Virgin America first class dinner — bread and butter
I loved the airplane salt & pepper shaker — how cool!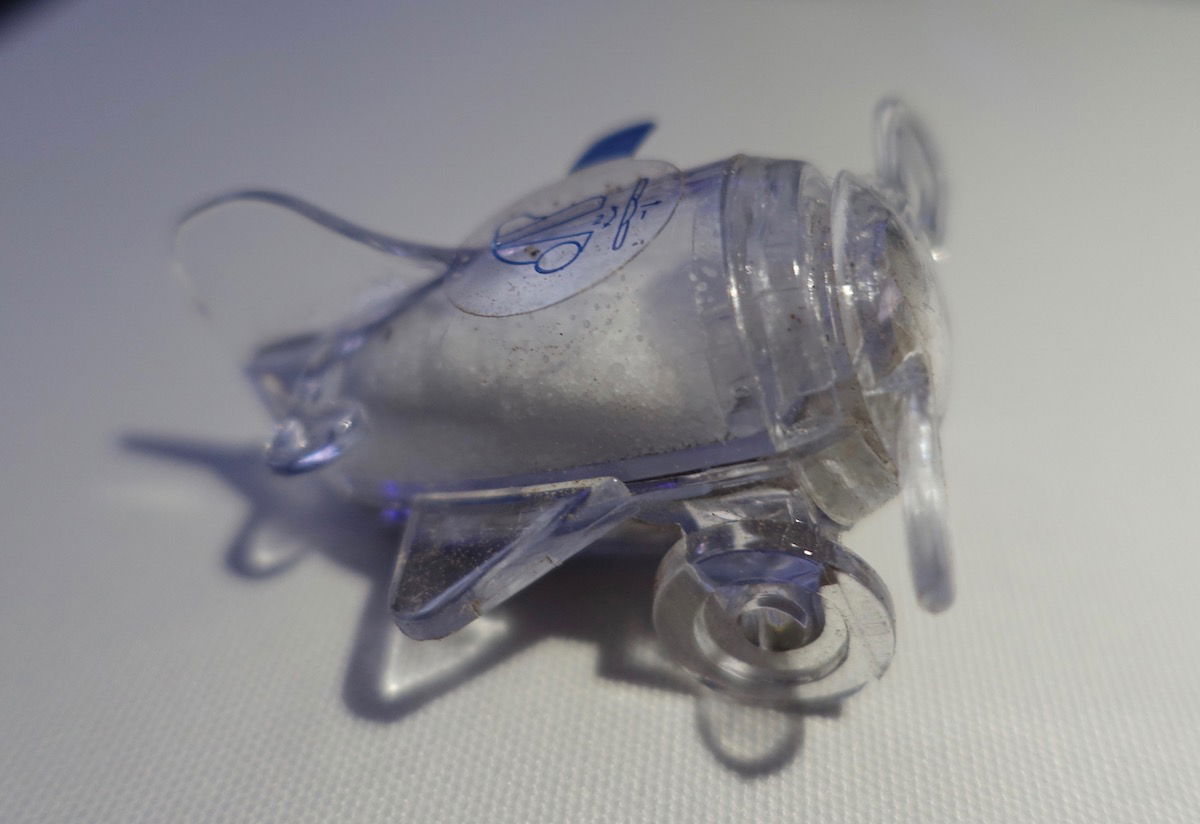 Virgin America first class salt & pepper shaker
For the main course I ordered the pasta, which I rarely do. As far as airplane pasta dishes go, it was surprisingly good, and one of the better pasta dishes I've had on a plane. I appreciated the effort that was put into the presentation, including the basil and cheese that was put on it after it was heated.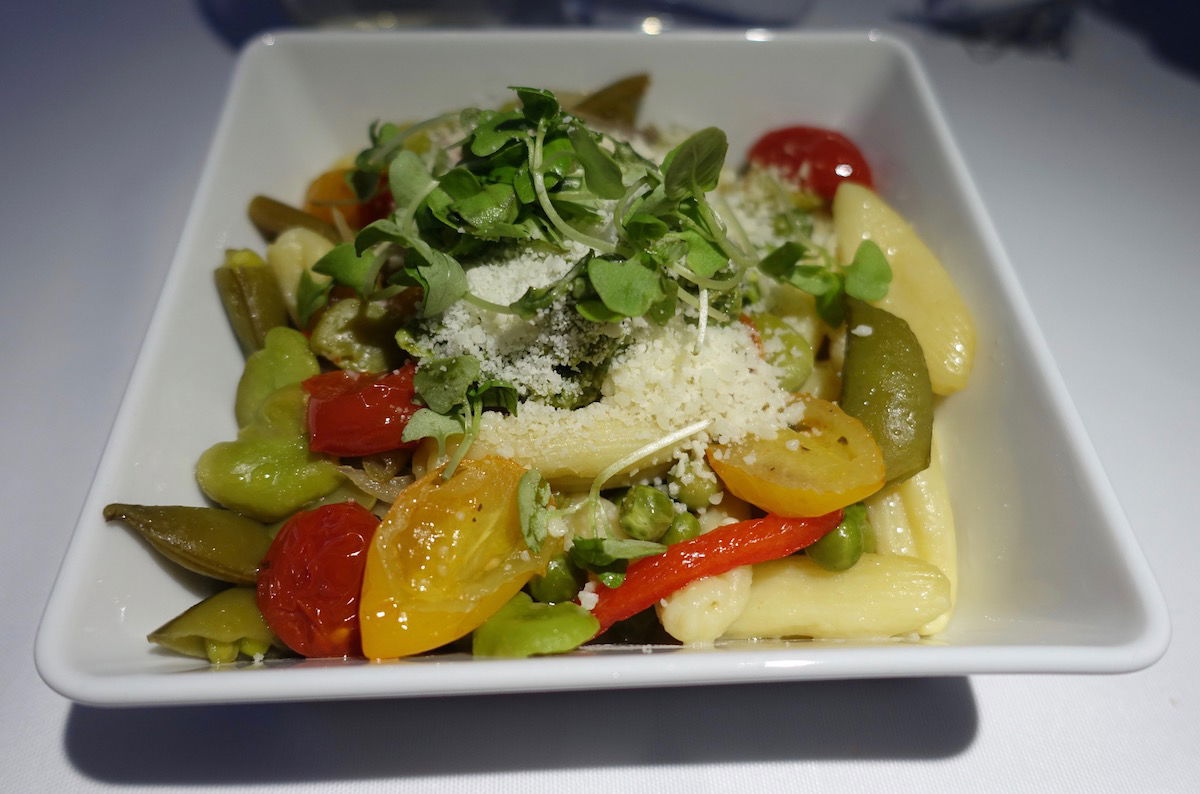 Virgin America first class dinner main course — pasta primavera
Dessert consisted of a chocolate tart, which was simple but tasty.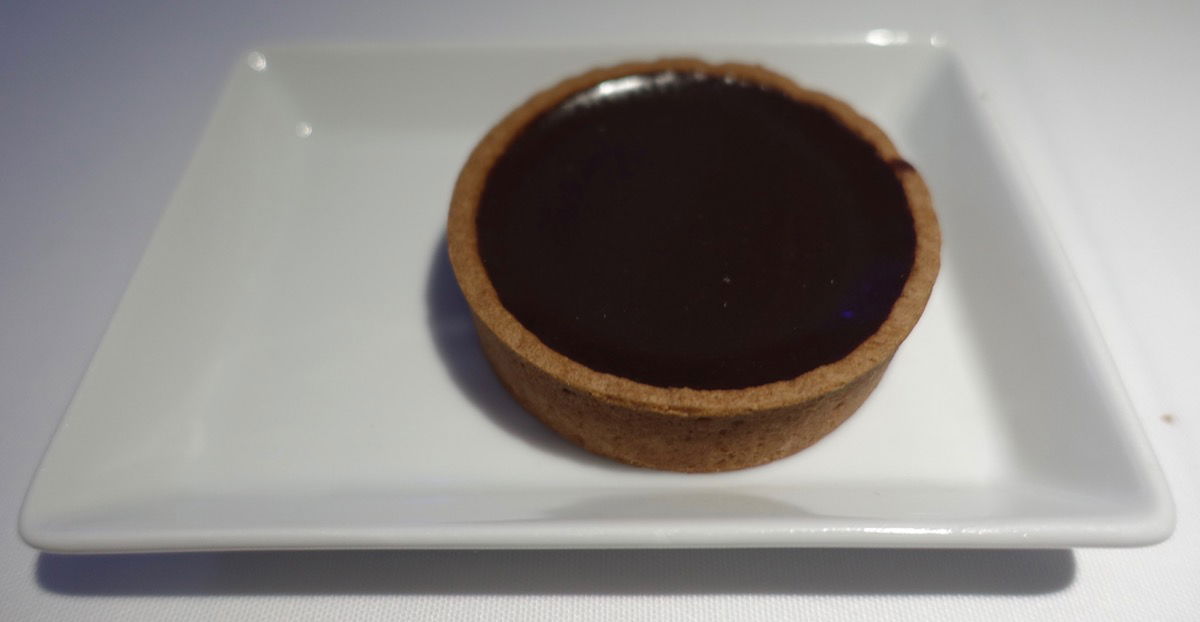 Virgin America first class dinner dessert — chocolate tart
I had a cup of coffee to accompany the dessert.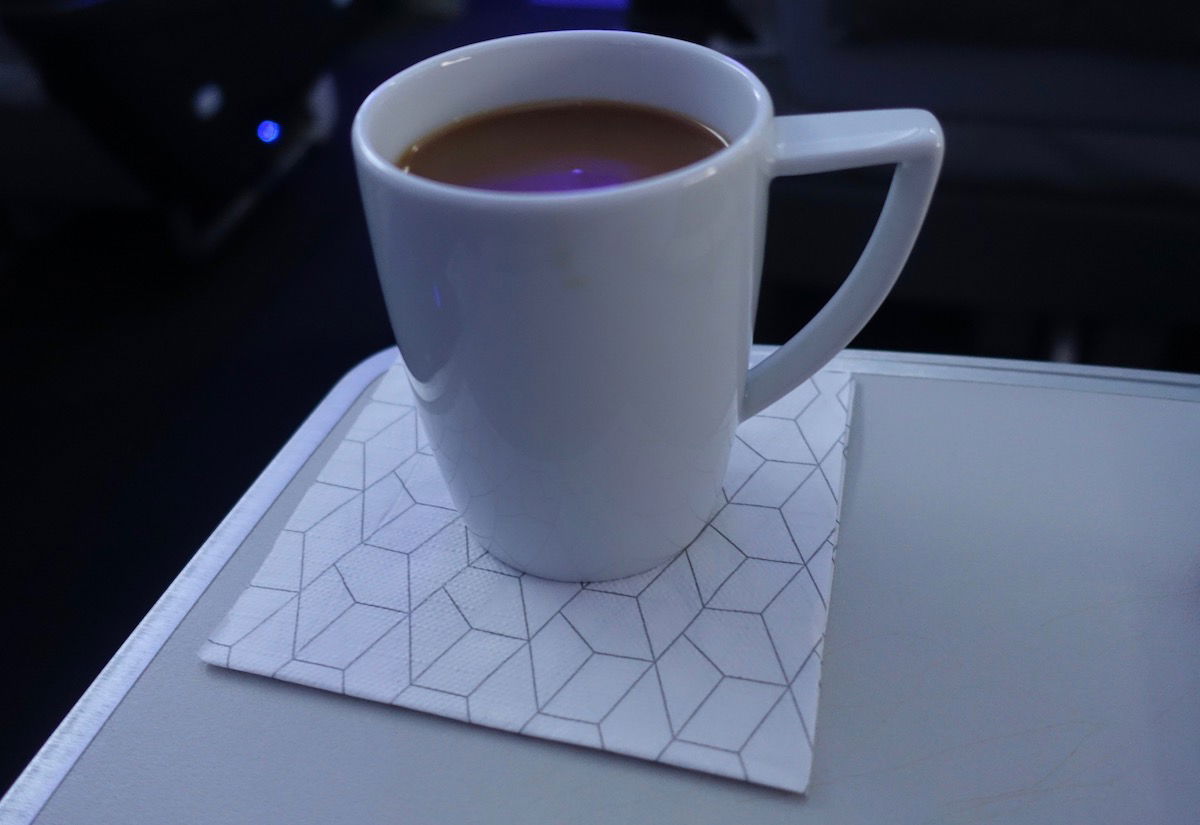 Virgin America first class dinner — coffee
Overall I thought the meal was solid. On one hand I appreciated that the emphasis was on quality over quantity, which isn't the case on many airlines. I also appreciated that everything was served directly on the table. At the same time, the meal service was really drawn out, and the food was only served about 90 minutes after takeoff.
After dinner I decided to get some work done. I have a Gogo monthly membership, which I'm happy about, because the pricing on this flight was insane. $44 for an all-day pass, and $34 for a flight pass? OUCH! You can buy a Gogo day pass for $19 in advance, so I feel bad for those who spent $34 for Wi-Fi on the flight.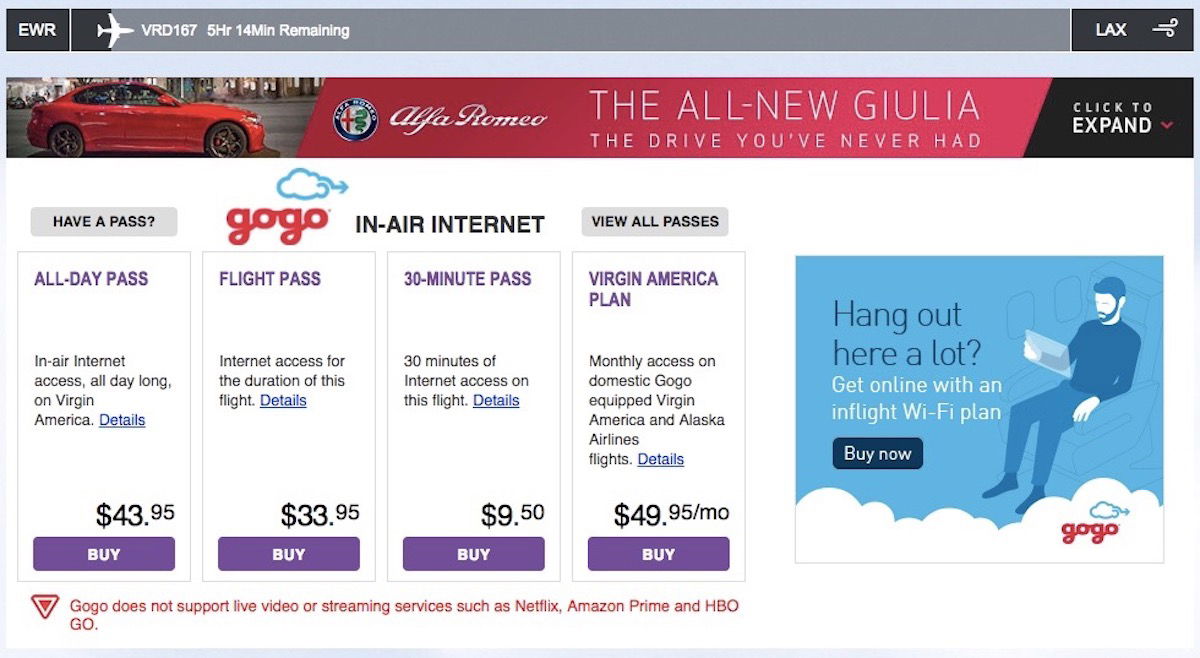 Virgin America Gogo pricing
After working for a bit I decided to watch "Why Him?" which was much more lighthearted than the Warren Buffett documentary. It was a pretty dumb movie, but whatever…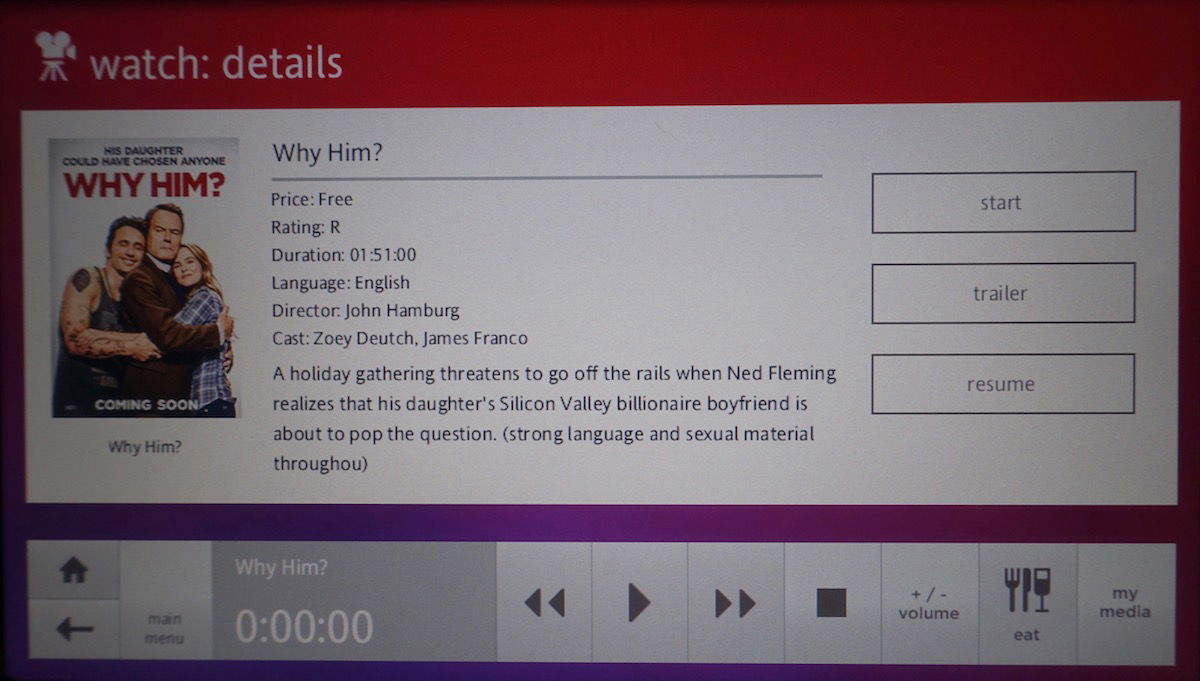 Virgin America entertainment selection
I reclined my seat as far back as it would go, which really wasn't very far back at all. For a daytime flight there's not really a huge difference between a flat bed and a reclining seat like this, but there's a huge difference on a redeye, in my opinion.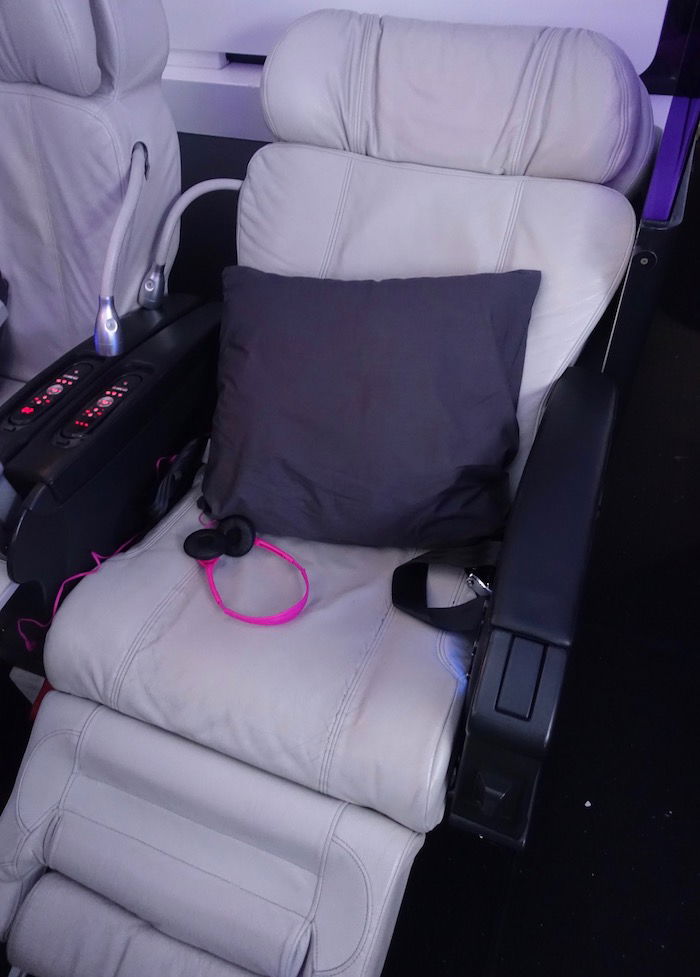 Virgin America first class seat recline
About 75 minutes before landing the flight attendant came through the cabin with a few Dean & Deluca snacks. I selected some nuts and popcorn. Someone correct me if I'm wrong, but didn't Virgin America used to let you order from the economy snack selection when in first class? I assume that was discontinued at some point.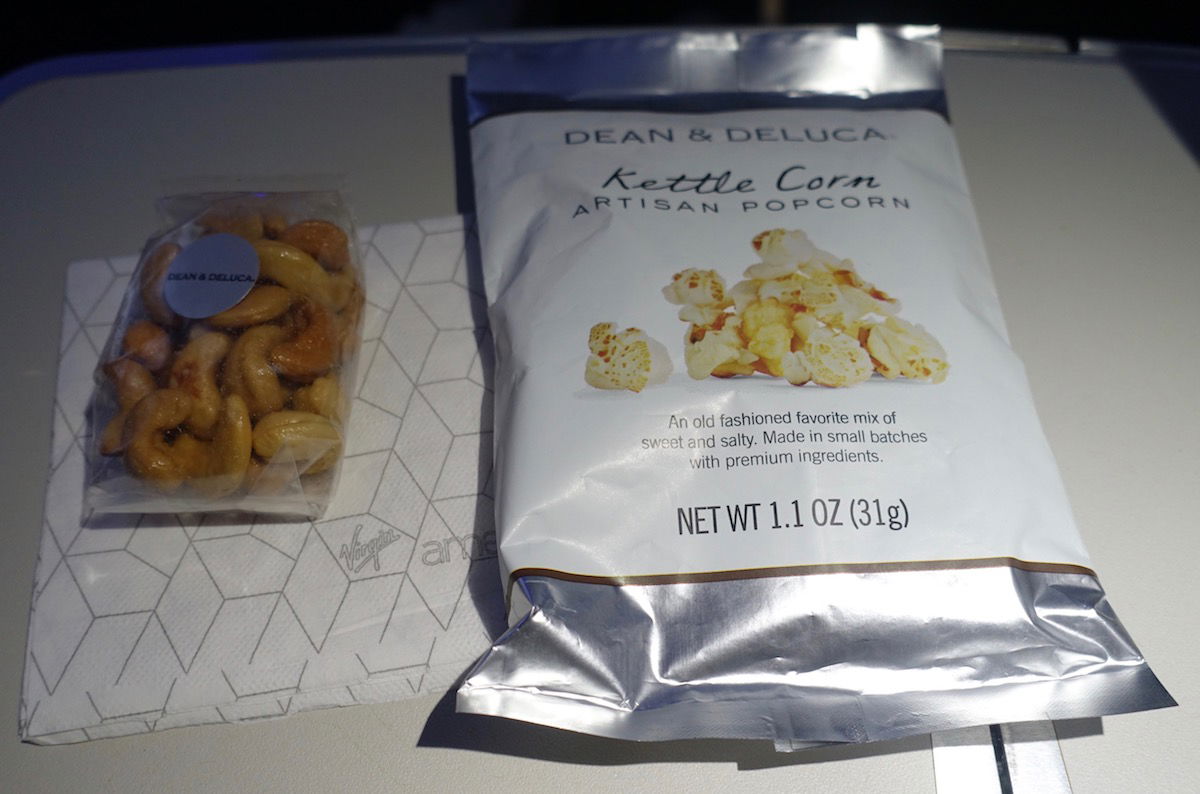 Virgin America first class Dean & Deluca snack
About an hour before landing we were offered warm chocolate chip cookies.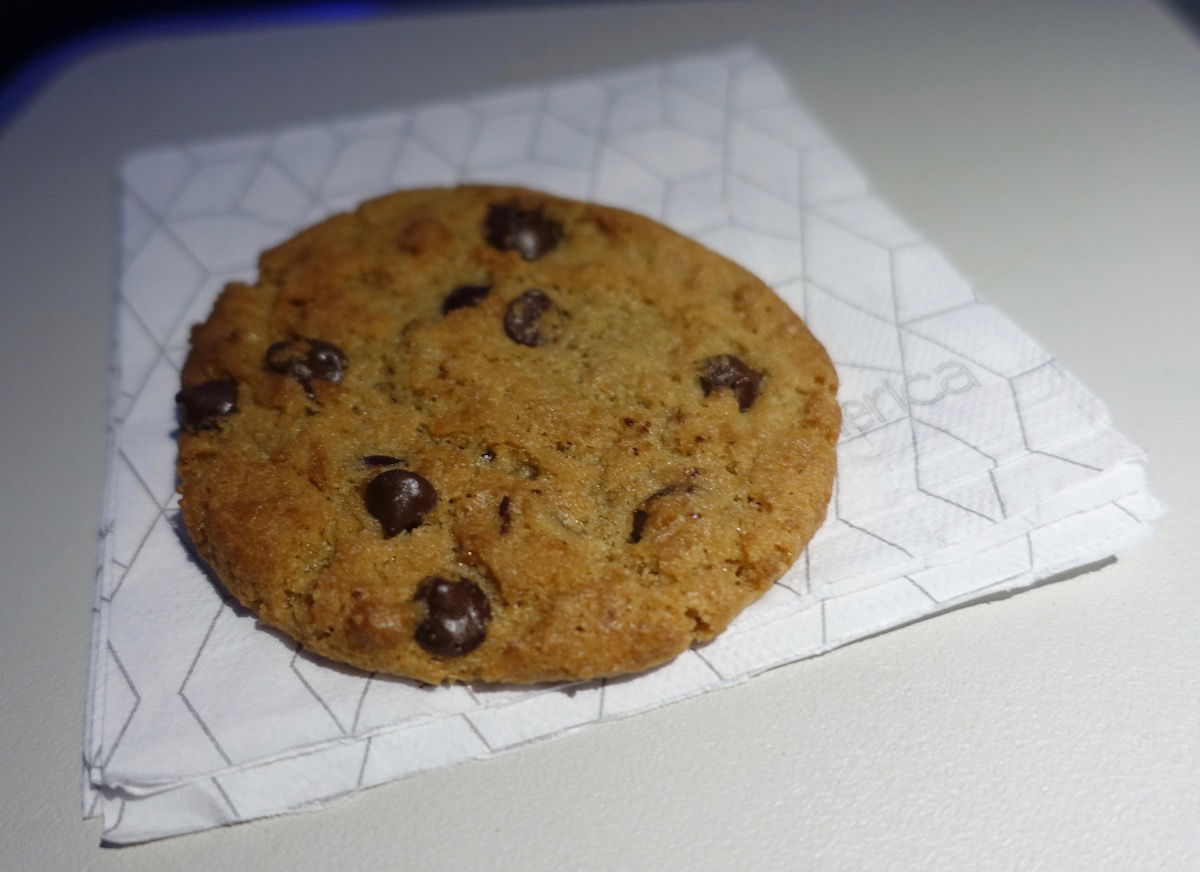 Virgin America first class warm chocolate chip cookie
45 minutes before landing we were offered little amenity bags with the names of different cities served by Virgin America on them. I was given the choice of which "city" I wanted, including Chicago, Palm Springs, Portland, and Puerto Vallarta. I chose Portland.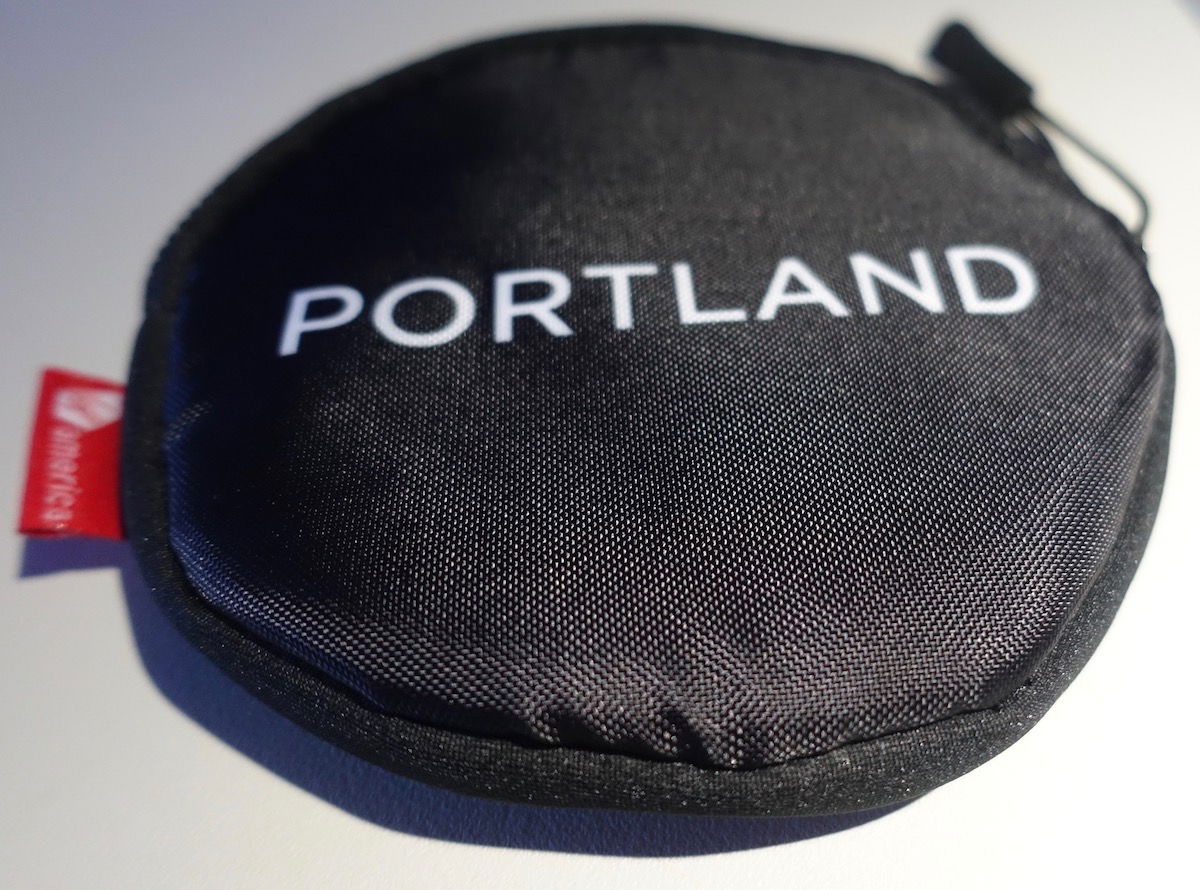 Virgin America first class kit
The kit had a pen and eyeshades. I guess it's a nice touch, though I'm not sure what purpose this is supposed to serve shortly before landing? It just seems quite random.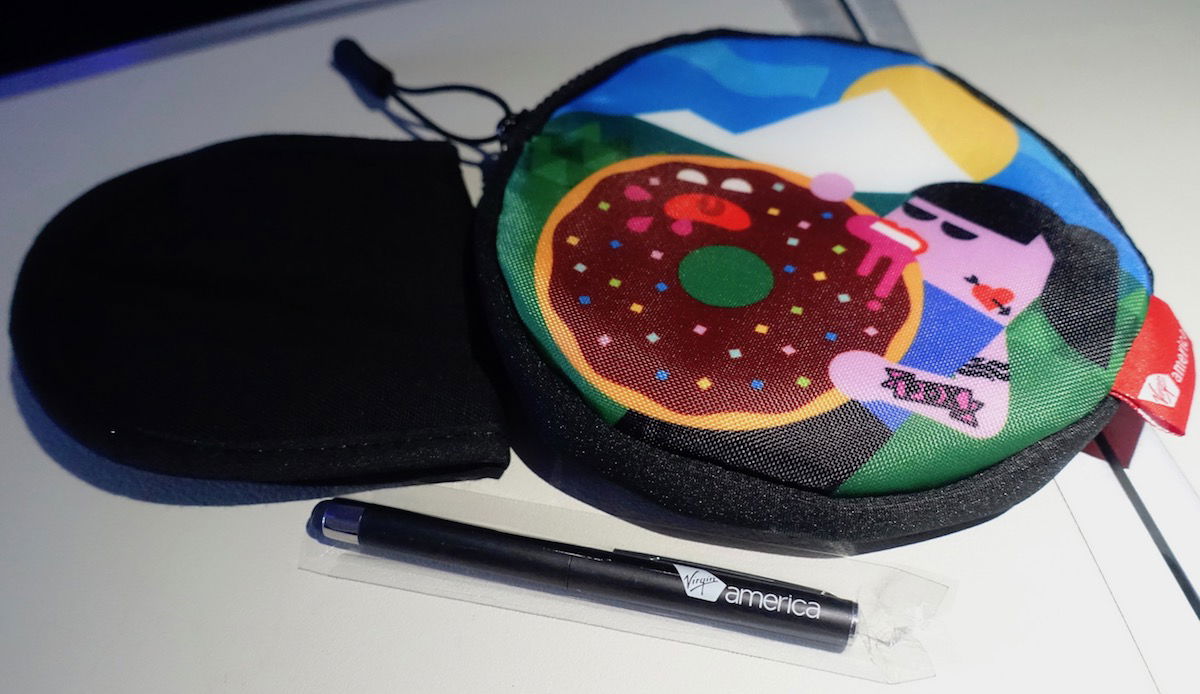 Virgin America first class kit
At around 6:45PM PT we began our descent. The descent was pretty bumpy, especially the final descent, as it was really windy in LA. We touched down at 7:20PM, and from there had a 10 minute taxi to our arrival gate.
Virgin America first class bottom line
It was nice to try Virgin America first class on a transcon flight before this product is discontinued in a couple of years. Overall I thought the soft product on Virgin America was pretty solid. The food was tasty and service friendly, though neither were over the top of memorable.
As far as the seat goes, it's a great product if you're not flying in a "premium" market, while at this point it's uncompetitive in premium transcon markets, when all other airlines are offering flat beds. For 25,000 miles last minute I consider it to be a good deal, but I can't believe the prices that Virgin America tries to charge. I find they're often more expensive than the other carriers in the market, even though they have recliner seats.
JetBlue continues to be the winner in the transcon market with their great Mint product. They have the best crews, best hard product, best Wi-Fi, and solid food as well.
If you've flown Virgin America first class, what was your experience like?