United made some changes to the MileagePlus program for bookings made as of November 1, 2017, and for the most part the changes were negative, with the cost of many popular premium cabin awards going up in price. However, there were a few positive changes, and I think one of those changes is worth writing a separate post about.
As noted by Travelling The World, you can now redeem just 8,000 United MileagePlus miles for a one-way economy award ticket within a region under the following circumstances:
You're traveling within a single region outside of North America
You're traveling nonstop
The flight covers a distance of under 800 miles
Assuming your flight meets those conditions, you'll now pay only 8,000 miles for such a ticket. This is a phenomenal value.
To give a few examples, you can fly from Johannesburg to Cape Town for just 8,000 miles one-way: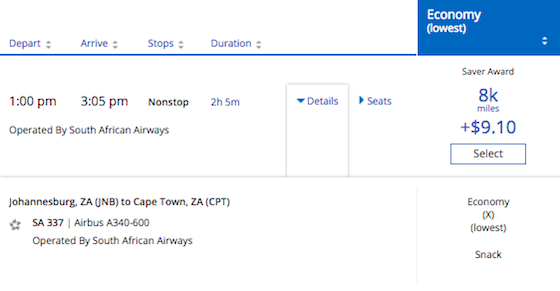 Or you can fly from Zurich to London for just 8,000 miles one-way: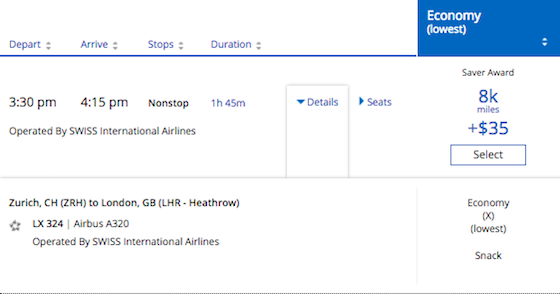 Or you can fly from Beijing to Shanghai for just 8,000 miles one-way: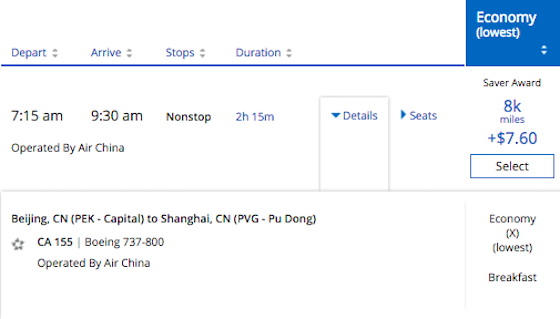 Or you can fly from Panama to Managua for just 8,000 miles one-way: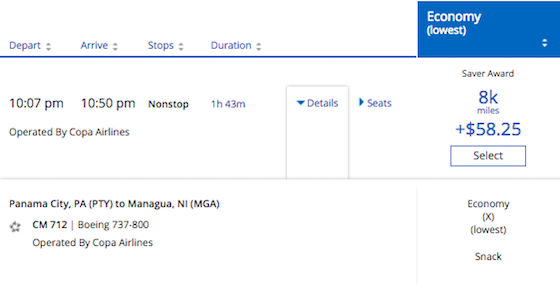 Or you can fly between any two points in New Zealand for just 8,000 miles one-way:

Keep in mind that not all of United's award zones aren't terribly intuitive, so if a short-haul award doesn't price at 8,000 miles, it's probably because the two countries aren't in the same zones. Here's how the zones break down:
| Region | Countries |
| --- | --- |
| Mainland U.S., Alaska and Canada | Mainland U.S., Alaska & Canada |
| Hawaii | Hawaiian Islands |
| Caribbean | Antigua, Aruba, Bahamas, Barbados, Barbuda, Bermuda, Bonaire, British Virgin Islands, Cayman Islands, Curacao, Dominican Republic, Grenada, Guadalupe, Haiti, Jamaica, Martinique, Netherland Antilles, Puerto Rico, St. Kitts-Nevis, St. Lucia, St. Maarten, Trinidad and Tobago, Turks and Caicos, U.S. Virgin Islands |
| Central America | Belize, Costa Rica, El Salvador, Guatemala, Honduras, Nicaragua, Panama |
| Mexico | Mexico |
| Northern South America | Colombia, Ecuador, French Guiana, Guyana, Peru, Suriname, Venezuela |
| Southern South America | Argentina, Bolivia, Brazil, Chile, Paraguay, Uruguay |
| Europe | Albania, Armenia, Austria, Belarus, Belgium, Bosnia-Herzegovina, Bulgaria, Croatia, Cyprus, Czech Republic, Denmark, Estonia, Finland, France, Georgia, Germany, Greece, Greenland, Hungary, Iceland, Ireland, Italy, Latvia, Lithuania, Luxembourg, Macedonia, Malta, Moldova, Montenegro, Norway, Poland, Portugal, Romania, Russia, Serbia, Slovakia, Slovenia, Spain, Sweden, Switzerland, Turkey, Ukraine, United Kingdom |
| North Asia | China, Mongolia, South Korea, Taiwan |
| Japan | Japan |
| South Asia | Bangladesh, Bhutan, Brunei, Cambodia, Hong Kong, Indonesia, Laos, Macau, Malaysia, Myanmar (Burma), Philippines, Singapore, Thailand, Vietnam |
| Central Asia | Afghanistan, India, Kazakhstan, Kyrgyzstan, Maldives, Nepal, Pakistan, Sri Lanka, Tajikistan, Turkmenistan, Uzbekistan |
| Middle East | Azerbaijan, Bahrain, Egypt, Iran, Iraq, Israel, Jordan, Kuwait, Lebanon, Oman, Qatar, Saudi Arabia, Syria, United Arab Emirates, Yemen |
| Central/Southern Africa | Angola, Benin, Botswana, Burkina Faso, Burundi, Cameroon, Cape Verde, Central African Republic, Chad, Comoros, Congo, Cote D'Ivoire, Democratic Republic of Congo, Djibouti, Equatorial Guinea, Eritrea, Ethiopia, Gabon, Gambia, Ghana, Guinea, Guinea-Bissau, Kenya, Lesotho, Liberia, Madagascar, Malawi, Mali, Mauritania, Mauritius, Mozambique, Namibia, Niger, Nigeria, Reunion Island, Rwanda, Sao Tome and Principe, Senegal, Seychelles, Sierra Leone, Somalia, South Africa, Sudan, Swaziland, Tanzania, Togo, Uganda, Zambia, Zimbabwe |
| Northern Africa | Algeria, Canary Islands, Libya, Morocco, Tunisia |
| Oceania | American Samoa, Cook Islands, Fiji, Federated States of Micronesia, French Polynesia, Guam, Marshall Islands, New Caledonia, Northern Mariana Islands, Palau, Papua New Guinea, Tonga, Vanuatu, Western Samoa |
| Australia and New Zealand | Australia (including Tasmania), New Zealand, Norfolk Islands |
This is a great new redemption value, especially given that short-haul tickets can often be disproportionately expensive. Do keep in mind that United MileagePlus charges close-in award ticketing fees for tickets booked less than 21 days before departure. The fee is $75 for non-status members, $50 for Premier Silver members, $25 for Premier Gold members, and the fee is waived for Premier Platinum and Premier 1K members. You'll get the best value for these awards booking in advance, given that $75 is a significant fee to pay for a last minute ticket.
For travel within North America on United, you can continue to redeem just 10,000 MileagePlus miles for travel on a short-haul flight of 700 miles or less. Unfortunately the new 8,000 mile pricing doesn't apply on United or Air Canada within North America, though.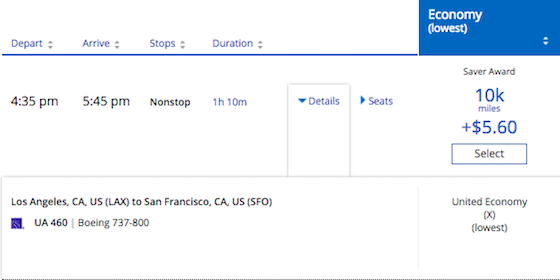 Could you see yourself taking advantage of United's new 8,000 mile short-haul award value?