Chinese New Year In Taiwan
---
We flew United economy to and from Taiwan. We actually fly United a lot, so I don't really think about it much. It's not glamorous by any means, but I maintain that long-haul economy can be quite tolerable under the right circumstances, like if you have a whole row of seats to yourself!
Instead of writing a traditional review of the flight, this is more of an amalgamation of both our transpacific flights, as well as a bit of my experience flying long-haul on United in general. Let's just say that it's hard for me to make notes of every nuance of the service — or lack thereof — while wrangling three little ones. And it's United. In economy.
Our outbound San Francisco > Taipei flight was on a 777 while our return Tokyo > Denver flight was on a 787.
Boarding
United has played with their boarding rules many times over the last few years in an effort to speed up the process. I guess it still takes awhile as United begins boarding very early.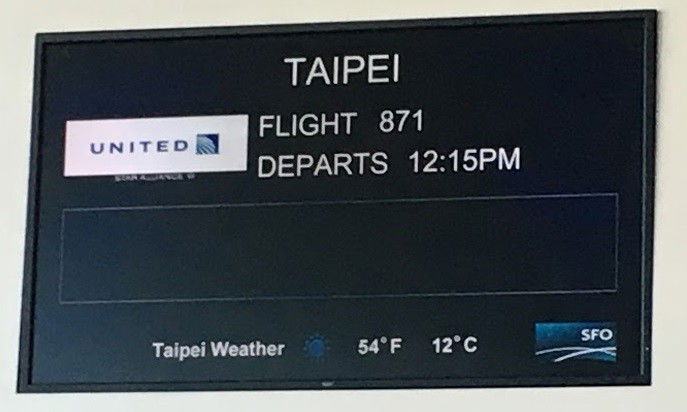 United 871 from San Francisco to Taipei
One of the recent changes was to again allow families to pre-board, which I have mixed feelings about. As a 1K, my family and I board in Group 1 anyway. In fact, we commonly board at the end of Group 1, which seems like a good compromise between getting settled and not spending too much extra time on the plane. But now if we're waiting near the back of the Group 1 line, we inevitably have gate agents (or other passengers) telling us that they are pre-boarding families, as though there's some sort of rule that we have to board then.
I don't know about you, but it helps my ego to know that I'm boarding as a 1K rather than as a family — I can momentarily be in denial that I drove to the airport in a minivan.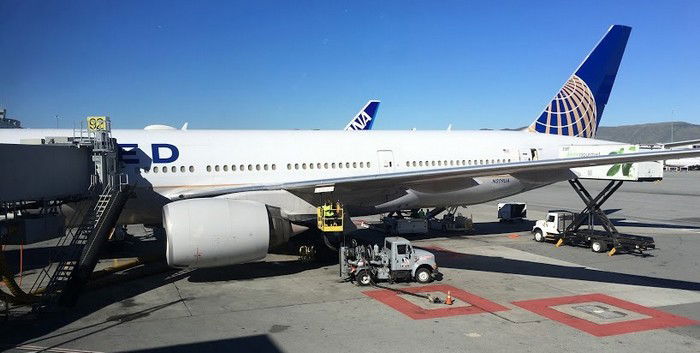 United 777 at San Francisco International Airport
My kids are at the age that they have started to realize that not all seats are created equal. On this flight, my 3-year daughter insisted that she wanted to sit in first class, not just business, but first. Good grief, has she been hanging out with Ben or what? My son, not to be outdone, informed me he wanted a seat that reclined in case he got tired and wanted to take a nap.
So I had to explain to them that although we sometimes fly in the big seats, this trip was in economy. I worry a lot about whether or not we're spoiling our kids, so we had that conversation too.
United Economy Plus Seating For A Family
I'm obsessive about seating. I've learned that the difference between reasonably enjoying a flight in economy and just surviving it is space. As in, the more the better. So I'm always trying to optimize our seating to give us the best chance of having empty seats around us. I've been been known to glare virtually across the internet at other passengers about to select seats next to us.
I don't believe you need to put much thought into which flights are likely to have light load factors — and thus which are likely to have lots of empty seats — when you go to buy your tickets. Instead, we let United's inventory management do our thinking for us.
You see, we're pretty much always flying on super cheap fares — as in it's cheaper to fly to Taiwan than Orlando style of cheap — that United will really only make available on flights that they don't expect to sell all that well. So the mere fact that the cheap fare that I want to book is available on a given flight probably means that economy is not likely to sell out. Generally speaking, at least.
We have adapted my strategy of consistently sitting next to an empty seat for a family of five.
For a plane configured with 3-3-3 seating such as the 777 or the 787, our approach is to take the aisle-window on one side, the aisle-aisle in the center section, and the aisle on the other side, in one of the last rows of economy plus.

The idea, of course, is to secure as many empty seats around us as possible. I should also note that we usually buy a ticket for the baby. Again, these fares are cheap-ish, so we see it as a good investment toward maintaining our sanity, particularly in the unlikely case where the flight turns out to be full.
The hope then is that the middles stay open such that we end up #occupying controlling nine seats for the five us. If that holds — and it did in both directions across the Pacific — we have three benches on which to lay down. It's basically poor man's business class, and honestly isn't that bad.
In the worst case, we just consolidate. We'll swap the singleton aisle on one side for the middle between our aisle-window on the other. Then in the center, we'll swap one of the aisles for the person in the center. So it's pretty easy for us to compress quickly if that's what is required. It's kind of like when your boss sends out an email announcing that they just hired a bunch of new people who have nowhere to sit, so they'll be shrinking your cubicle by a foot in each direction. You might grumble, but you do it.
Upon boarding, I watch the seat map on the mobile app constantly until the boarding door is closed so that I know if we should expect anyone in those seats. Yes, it makes it a bit stressful to be explaining to preschoolers that they might not keep the seat that they are currently in, but for a 14-hour flight, it's definitely worth it.
When everything goes according to plan, this is what it looks like.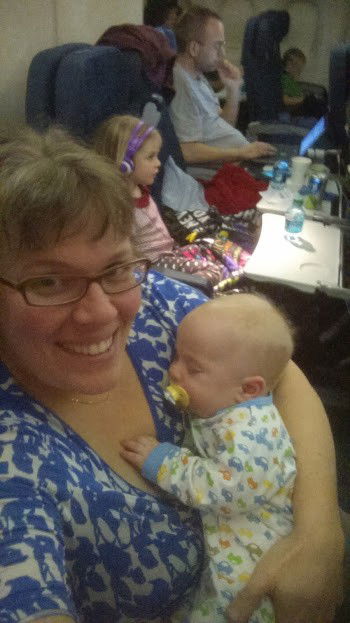 #Occupying row 22
When it fails, well, those are flights that you never hear about.
United Economy Transpacific Meal Service
United improved their food service in economy about a year ago. They bill it as a 3-course meal, which is true, at least in the sense that you get food at three different times.
First comes the beverage cart. I usually order a Dasani lime water with a side of water.
The meal starts with a pack of snack mix. Honestly, I've never tried it. I'm usually sort of full from eating the snacks (or even a meal) at the club such that I figure I can skip this course. I once asked a flight attendant what she thought of it, and she responded with "well, once I was really hungry…."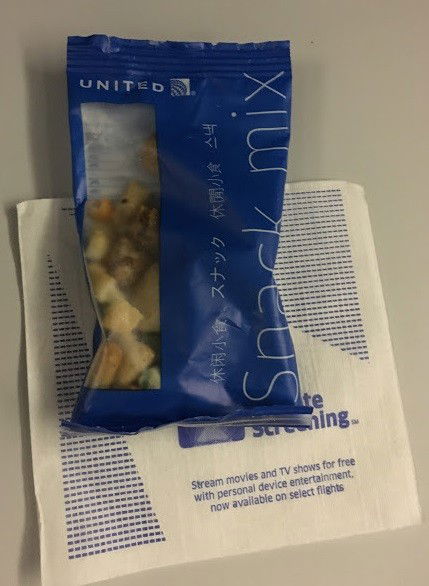 United transpacific snack pack
Next is the meal service. The time stamps on my photos indicate that the meal was served 52 minutes after the snack. I mean, who doesn't want a gourmet meal to last all evening?
There are usually two choices, frequently known as "chicken" or "pasta" of some sort. On this particular flight, I think the actual descriptions were "chicken and rice" or "pasta" — just pasta.
You can pre-order other meals, like a vegetarian option, but we never remember to do that. One advantage of pre-ordering though, is those meals are typically served first. That could cut your wait down to 45 minutes between courses. 😉
One of the upsides of traveling as a family of five is that between us, we can always order a "once around the menu". We don't have to resort to begging for seconds or thirds in order to sample everything! The real reason we do this is so if the kids don't like one entree, we can swap it for the other, with Dad always batting cleanup.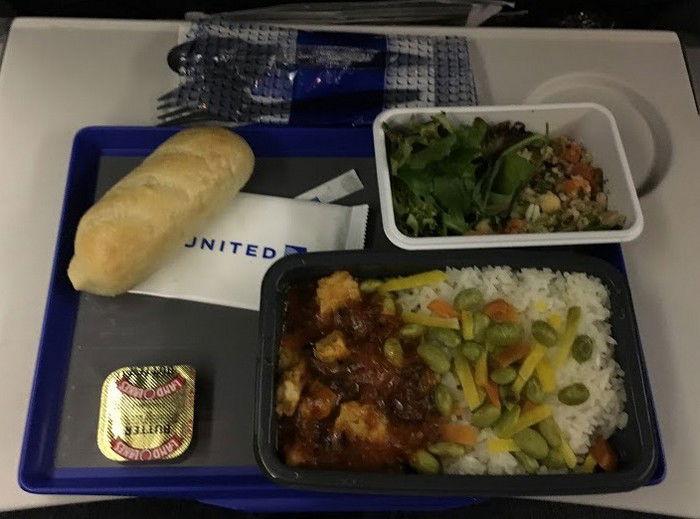 Chicken entree on San Francisco > Taipei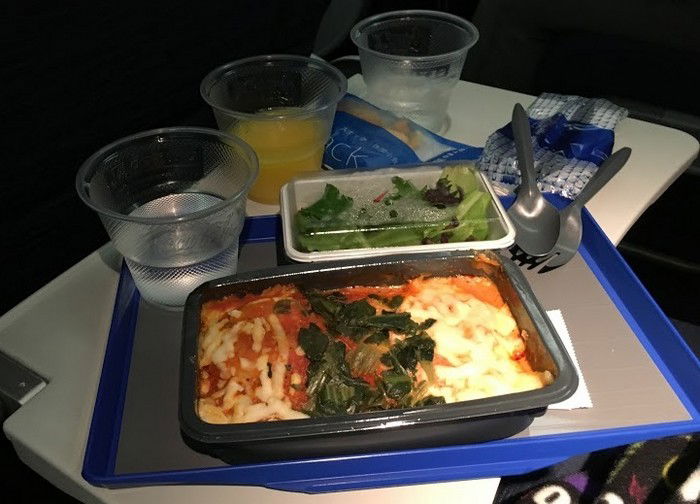 Pasta entree on San Francisco > Taipei
I'm not going to tell you that these meals are fantastic. But frankly, I think they are pretty good. Surprisingly good even. I almost always order the meat. It's usually drenched in some sort of sauce which probably isn't that good for you, but it's tasty, and is served with vegetables and rice. My son goes right for the roll because we don't usually eat bread at home.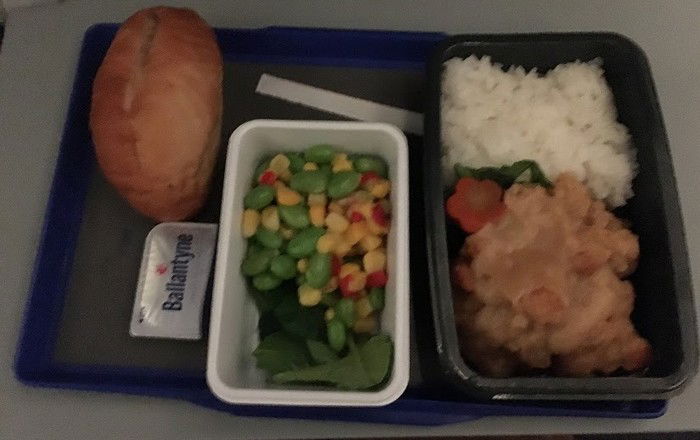 Unspecified meat entree on Tokyo > Denver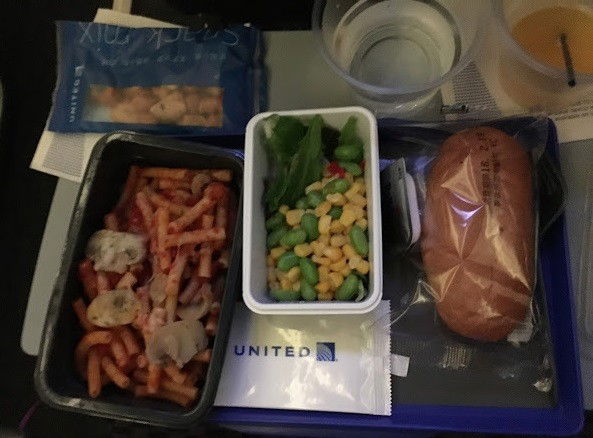 Pasta entree on Tokyo > Denver
United is also distributing mini bottles of water now at the end of meal service. It's a nice touch. But it's also an excuse for the flight attendants to hang out in the galley for the duration of the flight.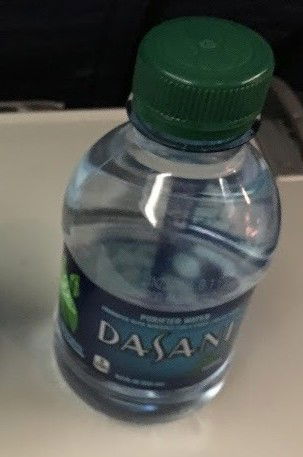 Bottle of water
The biggest upgrade with the revised meal service is dessert. A couple years ago United was serving a packaged brownie that was dry, crumbly, and honestly pathetic. Now they are serving ice cream. To me, that's a change I like.
But not just any ice cream
Now here's the thing. Going to or from Asia, United serves green tea ice cream — not exactly a mainstream flavor. Here's what I surmise happened:
MBA intern: We've segmented our customers, and almost all of our transpacific passengers are either Americans or Asians.
Catering Executive: Seems reasonable.
MBA intern: Virtually every American loves ice cream, and will eat it no matter the flavor. And virtually every Asian loves green tea, and all green tea flavored confections.
Catering Executive: Perfect! We'll provision green tea ice cream!
Brilliant, right? It basically boils down to this: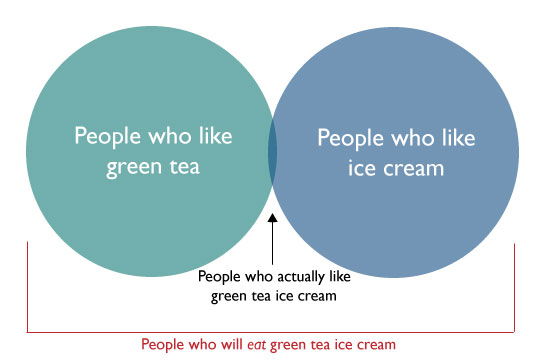 I don't particularly care for green tea ice cream — and I've had the real Häagen-Daz version in the Asiana lounge in Seoul and still felt meh about it — but I'll eat it because, well, it's ice cream. And from looking around, the Asians eat it too. I'm sure that both of us are thinking a bit "WTF?", but they are like "hey, it's green tea" and I'm like "hey, it's ice cream" so we both finish it.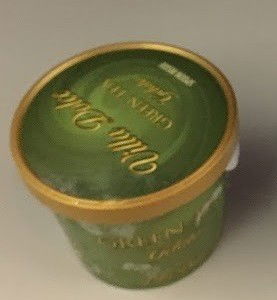 Green tea ice cream, ex-San Francisco
On the return, it was a different vendor. But still green tea ice cream.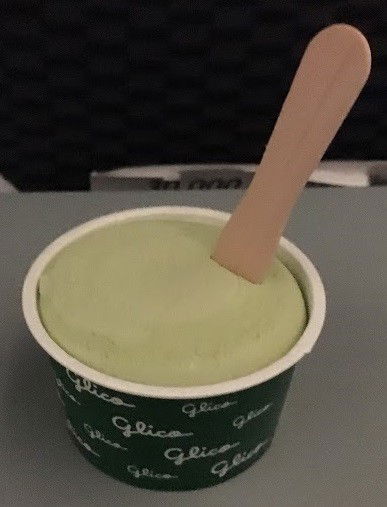 Green tea ice cream, ex-Tokyo
Snacks In United Economy
On our flight to Taipei, I went back to the galley to get a drink of water (see previous comment about the purpose of those bottles), and noticed that they had snacks set out, sort of like they do in business class. I think they had packs of cheese and crackers and maybe sun dried tomatoes. You know, decent stuff. But it was completely unadvertised, so you just sort of had to know to go looking for it.
There's also something served at the end of the flight. On a red-eye flight from Asia to the US, it's breakfast and consists of eggs and a sausage or noodles. Flying to Asia, you'll be arriving around dinnertime, yet you'll still be served breakfast. Why? I have no idea.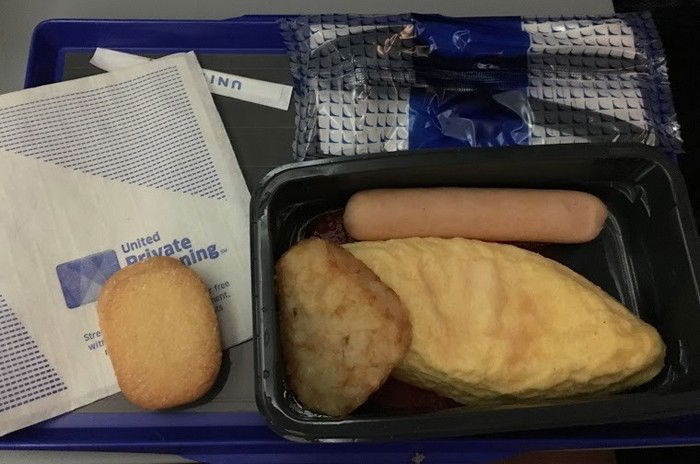 Pre-arrival snack, which is generally breakfast
United Inflight Entertainment And Wifi
This is one area where United really shines. They have the Panasonic system on their international aircraft, or are sloooooooowly continuing to install it. It's reasonably fast and the best part is that it only costs $16.99. For a 14-hour flight, that's a steal. Compare that to Gogo which now costs as much as $39.99 for a transcon flight!
The downside is that there are still a bunch of 787s that don't have it yet. I have no idea who thought it was a good idea to take delivery of a brand new plane without having Wi-Fi installed (oh, right, I know who — his name was Jeff, and he doesn't work here anymore).
It's sort of like buying a used car and seeing all those plastic squares on the console and wondering which cool options the original owner cheaped-out on.
Anyway if you get a plane with Wi-Fi, you'll be happy. But be careful with the 787s.
United's AVOD system is also pretty good. There is quite a bit of content to choose from, including for the kids. Even though we have a Kindle and a Tab loaded with some of their favorites, it's still nice to get a couple hours of shows that they haven't seen in a while. My son always likes rediscovering the animal factory game.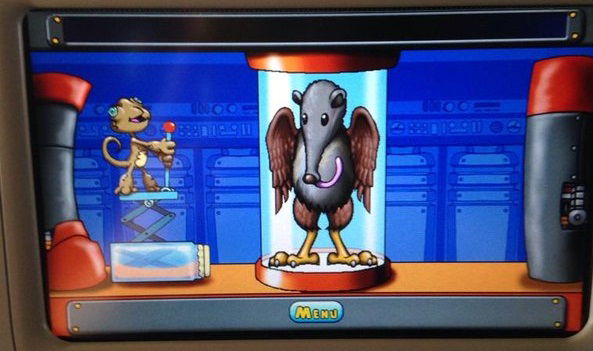 The head of a weasel and the body of a chicken. We named it Jeff.
United Pillows And Blankets
Each seat gets a pillow and blanket. The blankets are a little bigger now than the blankerchiefs of 2012, but are still about the same quality. If you're able to secure multiple seats, then you'll also score multiple blankets, which means you'll have a better chance of actually having enough gauze-like material to wrap up in.
We usually bring our own blankets for the kids — we've found that having a familiar blanket is helpful in the hotel, so we might as well use them on the plane as well.
Bottom Line
Flying long-haul in economy is really about space and that's one area where United really delivers, at least if you are a premier member. If we manage to snag nine economy plus seats for the five us, the flight is a success before we've even left the ground. If I have an empty seat (or three) next to me, I honestly don't care if the flight attendants never put down the People magazine.
I do like United's new "three course dining" in economy. Well, more accurately, I like ice cream. I also happen to think the entrees are pretty good.
The service is what it is — you get some food, you get something to drink, and hopefully they shut off the lights. What else can you reasonably expect in economy on a U.S. airline?
Overall, I think flying economy on any airline is about managing expectations. If you go in not expecting that much, you just might be pleasantly surprised. For us, the economy plus seats on United make all the difference. I have no doubt that ANA or Singapore have better service and better food in economy across the Pacific, but again, it's about the space for us.
It also helps to have a sense of humor. Because if you're flying United, chances are there will be something worth laughing about. Like weasel-y chickens…
What do you think? Would you fly United economy across the big pond?