Chinese New Year In Taiwan
This is one hotel that you are unlikely to ever see Ben review. Despite his affinity for Hyatt and his love of Asia, he's just not likely to stay here.
You see, it's haunted.
Quite haunted, in fact, to the point that it made the Telegraph's Top 28 Haunted Hotels of the World. And Ben has a documented aversion to things that go bump in the night, so I wouldn't expect to see him here anytime soon. As in, ever. Though supposedly he did consider it once.
We knew all this and booked it anyway. I'm a child of the '80's after all, so I ain't afraid of no ghosts! The fact that I could get a good rate and use a Diamond Suite Upgrade didn't hurt either, of course.
Booking Two Grand Suite Kings
We were meeting friends in Taipei, so we needed two rooms, or more ideally, two suites. I had an extra Diamond Suite Upgrade expiring at the end of the month — beyond the one I would use on our room — so I upgraded their room as well. Between our two families we'd have five kids under five years old, and needed all the space we could get!
Policies regarding how many Diamond Suite Upgrades you can use at one time, and whether Diamond benefits extend to a second room, are murky at best and a bit of a YMMV. Tiffany used Hyatt's "Guest of Honor" program on her recent trip to Thailand to formally ensure that her Diamond benefits transferred to the additional rooms.
The Guest of Honor program is for award bookings, not DSUs, so I used a different approach.
First, I booked my corporate rate for one room, and then called Hyatt to apply a Diamond Suite Upgrade to the reservation. Our friends dates were a subset of ours, in that they were arriving after and leaving before us. Once they had firmed up their dates, I booked their room, and called to upgrade it. Ultimately I ended up with two Grand Suite Kings booked in my name. So far, so good.
About a week before our trip, I emailed the hotel to confirm the reservations and make sure that all was in order. I asked for our two suites to be located nearby each other, if possible, and requested that my Diamond benefits apply to both rooms. I got a nice response confirming that both of my reservations had been upgraded to a Grand Suite King. Uh, thanks, but I sort of already knew that much. Oh well, no bad news is good news, right?
The Grand Hyatt Taipei
The hotel itself is a hulking monolithic structure.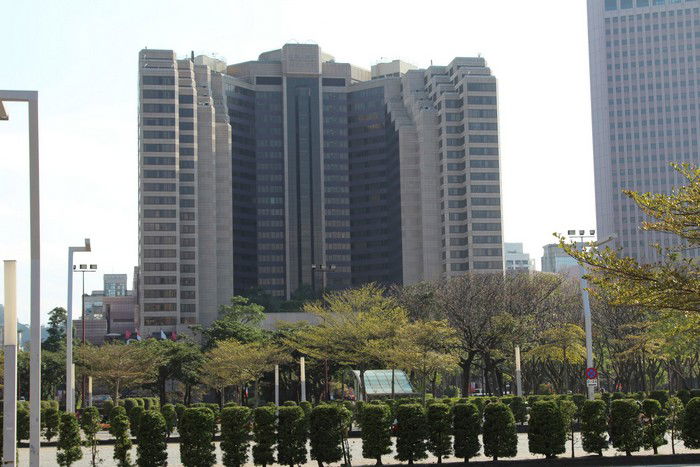 Grand Hyatt Taipei
It's literally located across the street from Taipei 101. Given that you can see 101 from just about the entire Taipei metro area, you can pretty much always look up and know which direction you need to go to get back to your pillow.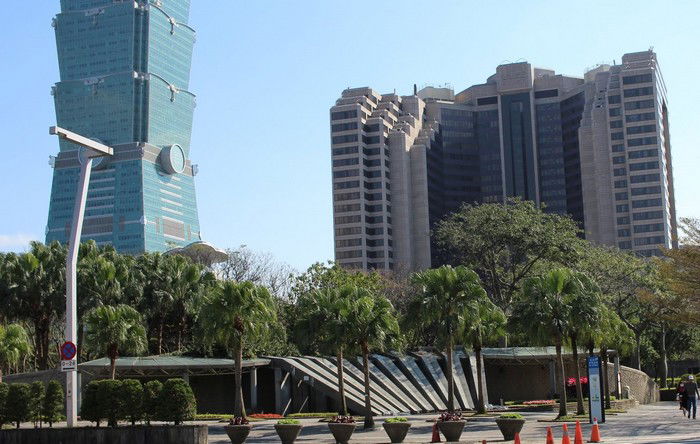 The Grand Hyatt Taipei is across the street from Taipei 101
Speaking of Taipei 101, this is the picture I took of the hotel from the observation deck.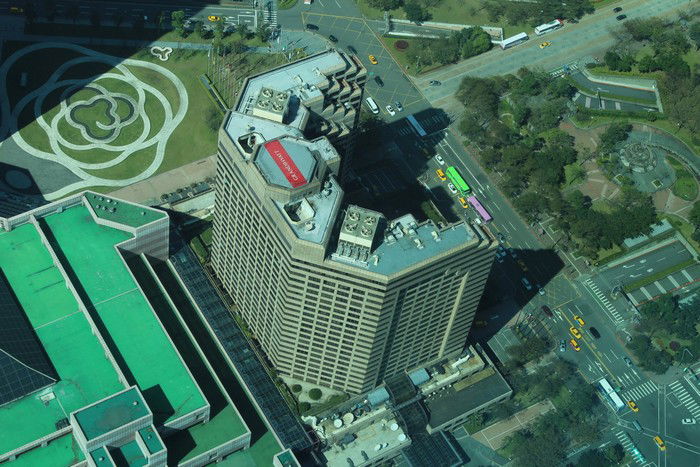 Grand Hyatt from Taipei 101
It's interesting to compare the photo I took to the image on Google Earth. Apparently the recent renovation included cleaning up the roof and putting the Grand Hyatt logo on the helicopter pad. Also note the park space to the left of the hotel has been redesigned into a pretzel shape that my kids loved running around.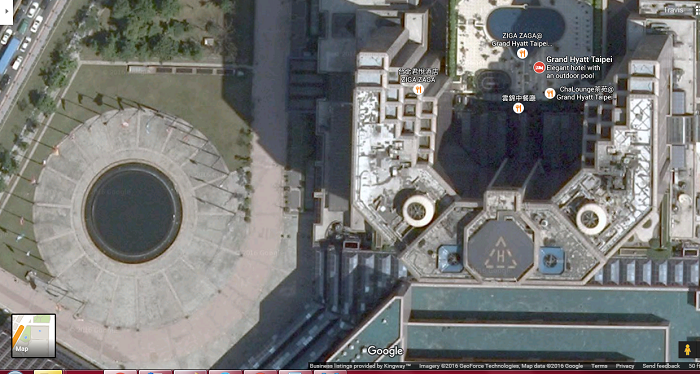 Grand Hyatt Taipei from Google Earth
Check In
We arrived at the hotel around 8:30 pm and were quickly met by a phalanx of bellhops who greeted us and collected our bags. The lobby area is quite impressive with an atrium spanning multiple floors.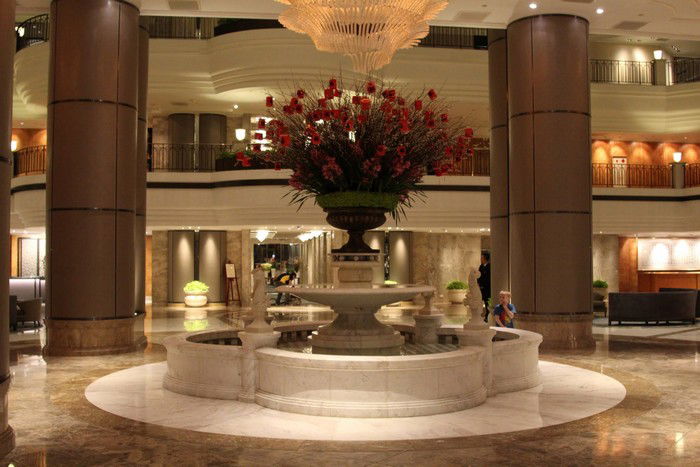 Grand Hyatt Taipei lobby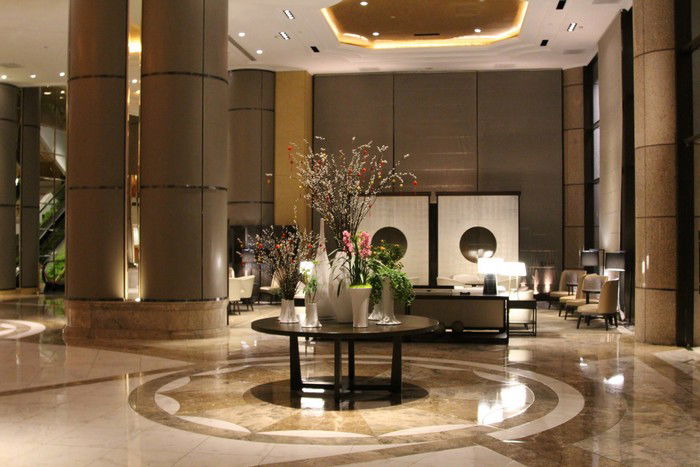 Grand Hyatt Taipei lobby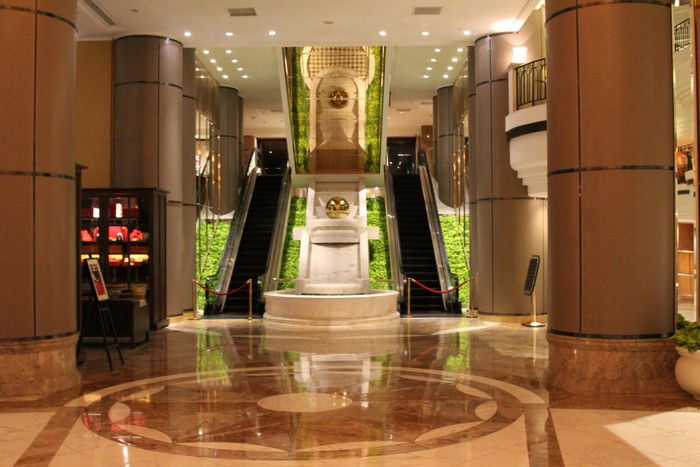 Grand Hyatt Taipei lobby
I inquired with the front desk as to whether Diamond check-in was there or in the Grand Club, and was quickly invited to head up to the 22nd floor.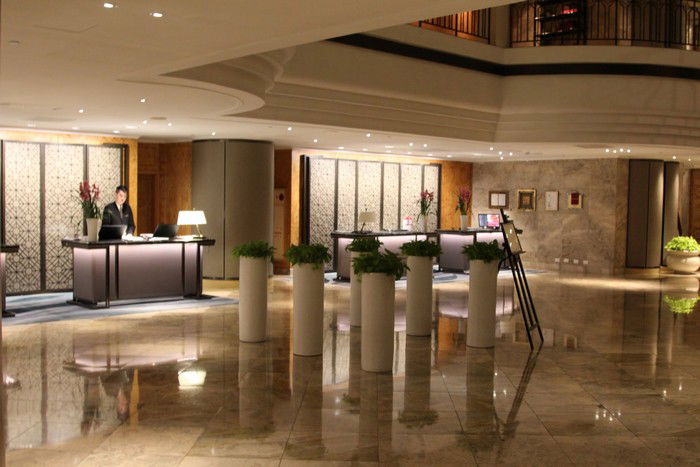 Grand Hyatt Taipei front desk
Upon arrival at the Grand Club, I took a seat to complete the paperwork while my wife and kids were ushered into the club, which was in the final moments of the evening buffet service. I was able to complete the check-in process for the second room then as well, despite the fact we wouldn't be taking possession of it until the next day.
We had been assigned adjacent suites with a connecting door on the 15th floor. The agent offered to provide a rollaway bed in each room at no extra charge for the children. She also advised that my corporate rate included breakfast in the Cafe on the first floor each morning, or we could take it in the Grand Club. I was offered a welcome amenity, but selected points instead, mostly out of habit.
We then headed down to the room.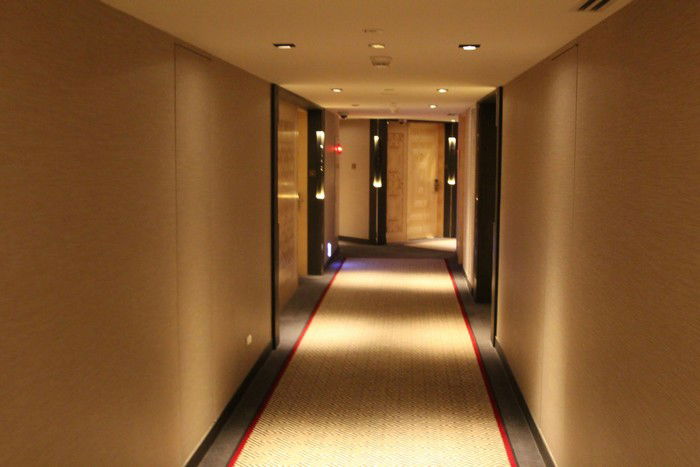 Grand Hyatt Taipei hallway
The hotel is shaped like a blocky-U composed of five straight segments. Our adjacent suites were on the concave side in the segment that joins the base to the sides. They were essentially mirror images of each other, abutting on the living room wall. The yellow box indicates the connector between the suites, while the green boxes denote the slider between the living rooms and the bedrooms.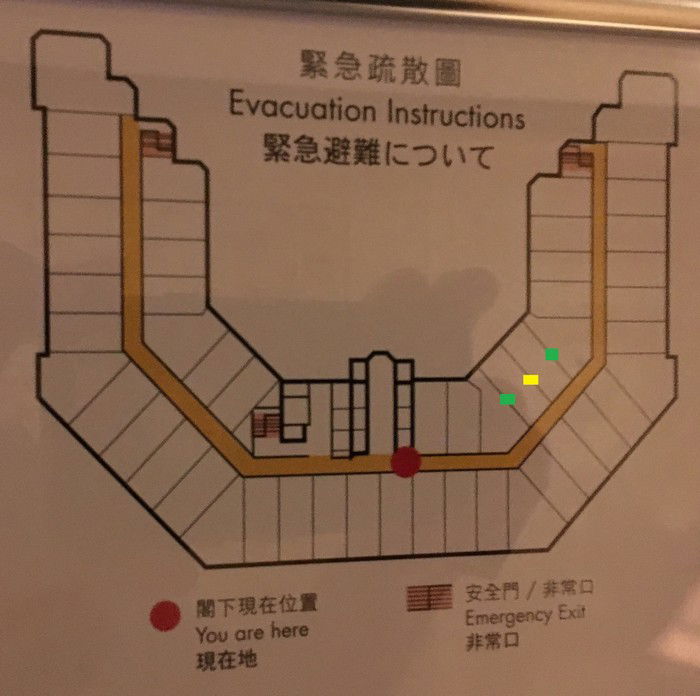 Grand Hyatt Taipei floor plan (showing our connecting suites)
The concave side of the hotel overlooks the pool below as well as Sun Yat Sen Memorial Hall (if you are on a high enough floor) while the convex side has more views toward Elephant Mountain, and perhaps Taipei 101.
It's important to keep in mind that whereas the Grand Hyatt Kuala Lumpur was designed to provide stunning panoramas of the Petronas Towers, the Grand Hyatt Taipei predates Taipei 101, so it kind of got what it got in terms of views and didn't have much say in the matter.
Our Grand Suite King
In the room there was a personalized welcome note and a small bowl of fruit. The latter really came in handy the first morning when our entire jet-lagged family woke up at 3:30 AM, a good three hours before breakfast started. The fruit was replenished each day, which I really appreciate — with three kids, it's great to always have a nutritious snack available.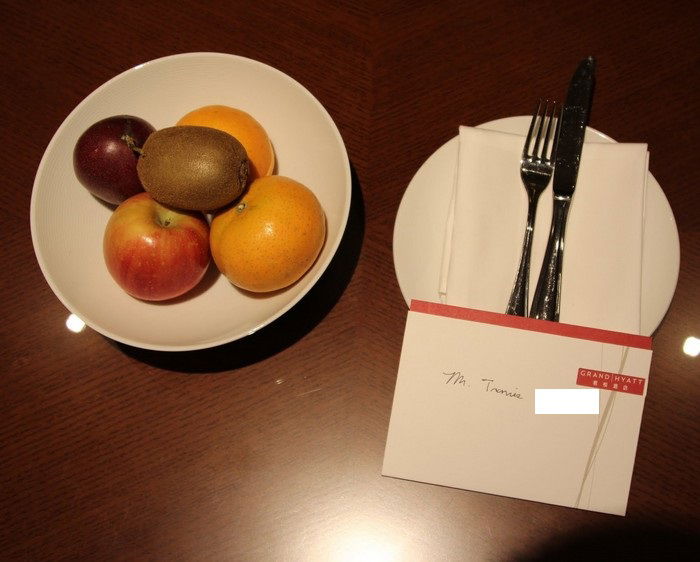 The fruit basket was restocked daily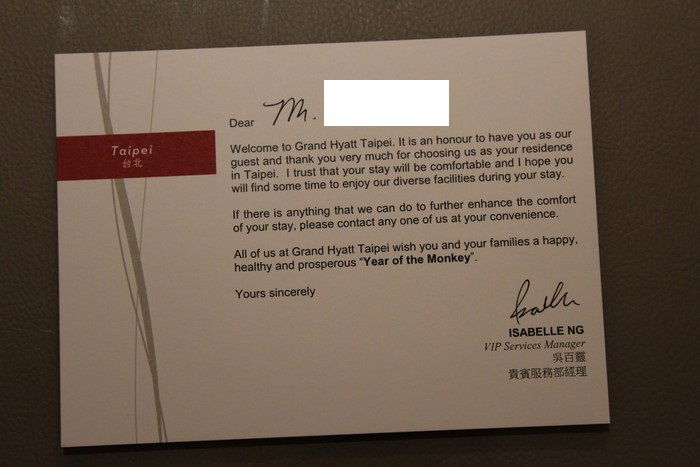 Welcome note
The living room was decently sized. Not nearly as large as we've had at other Grand Hyatts in Asia but perfectly fine nonetheless. The hotel recently underwent a significant renovation, and I'm assuming these were some of the renovated suites.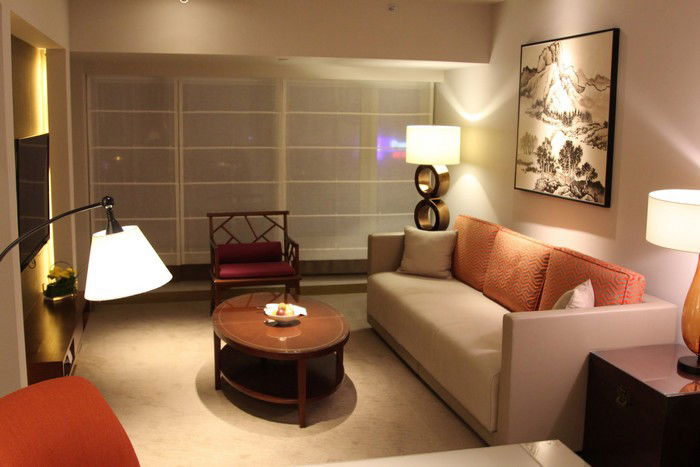 Grand Suite living room
There was a desk at the end of the living room. Just to the left of the desk in this picture was the connecting door to the other suite. And to the right, you can see the sliding door that connected to the bedroom.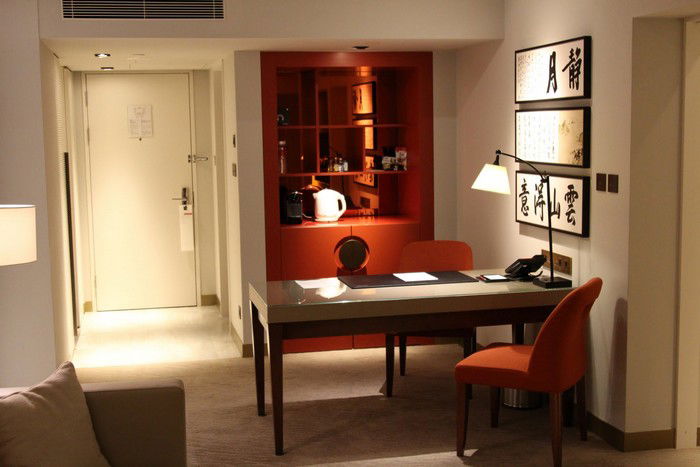 Grand Suite desk and chairs
There was a selection of cables inside the desk drawer which I thought was really cool and something I haven't seen elsewhere. (I think I carry every one of those except the VGA cable anyway.) Also the input connections for the TV were located at the desk, not at the TV itself.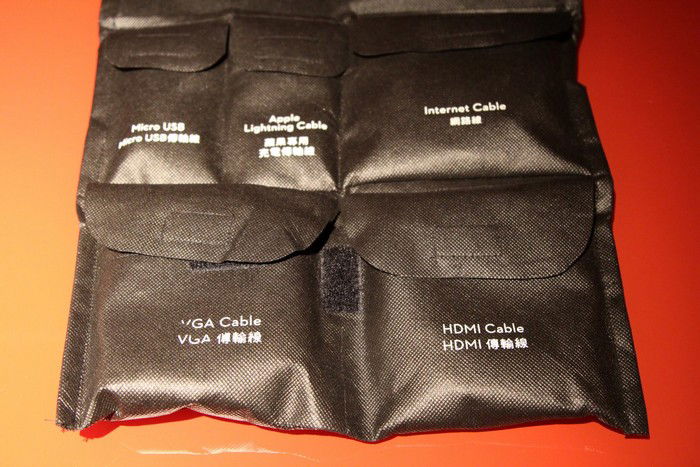 Assorted cables
Behind the desk was the mini-bar, a hot water pot, a Nespresso machine, and complimentary water which was generously restocked each day. The fridge had sufficient space for us to put some of our own drinks in it, and didn't have any of the annoying sensors that charge you if you so much as breathe on a can of soda.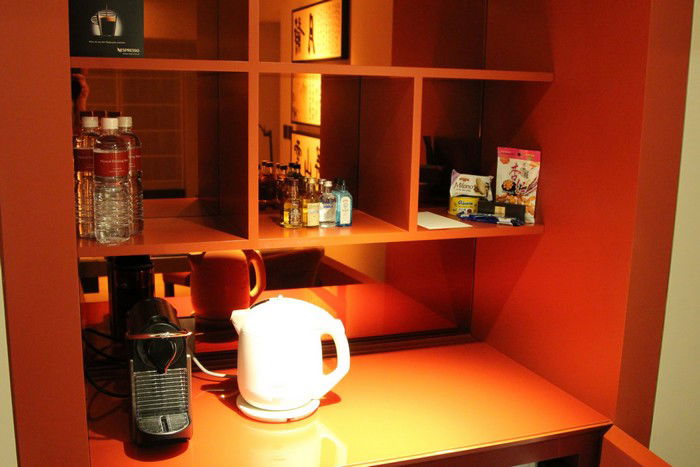 Hot water pot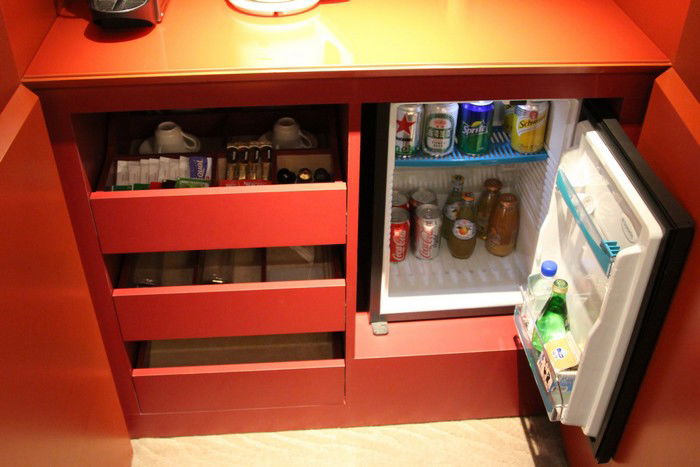 Mini bar
There was also a lavatory just inside the entryway.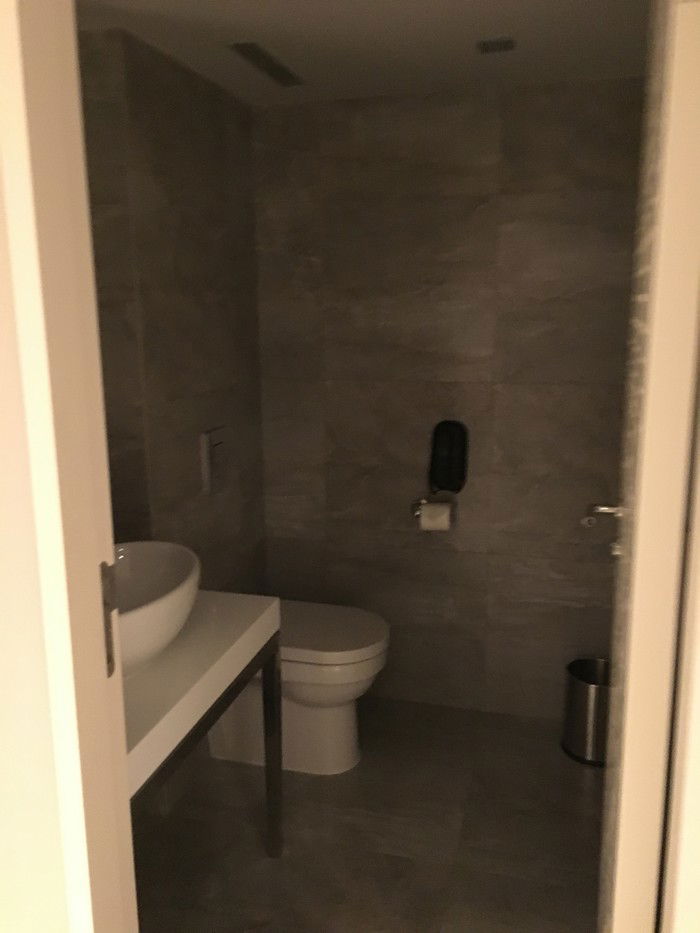 Lavatory
A heavy sliding door from the living room led to the bedroom. The bedroom had a small nook over along the windows with a chair. The bedroom is oriented at an angle to the living room because it is on the corner adjoining two different segments of the blocky-U shape of the building, as you may recall from the floorplan above.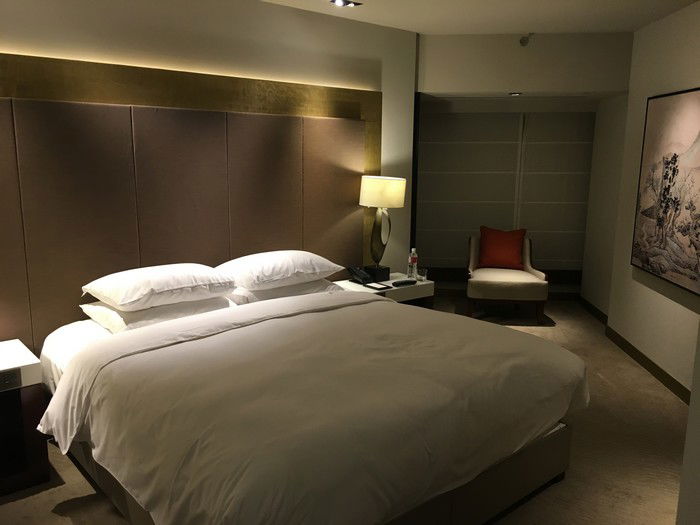 Grand Suite king bed
There was a walk-in closet with a safe, bathrobe, and somebody's EVA-branded slippers which had apparently been overlooked by housekeeping.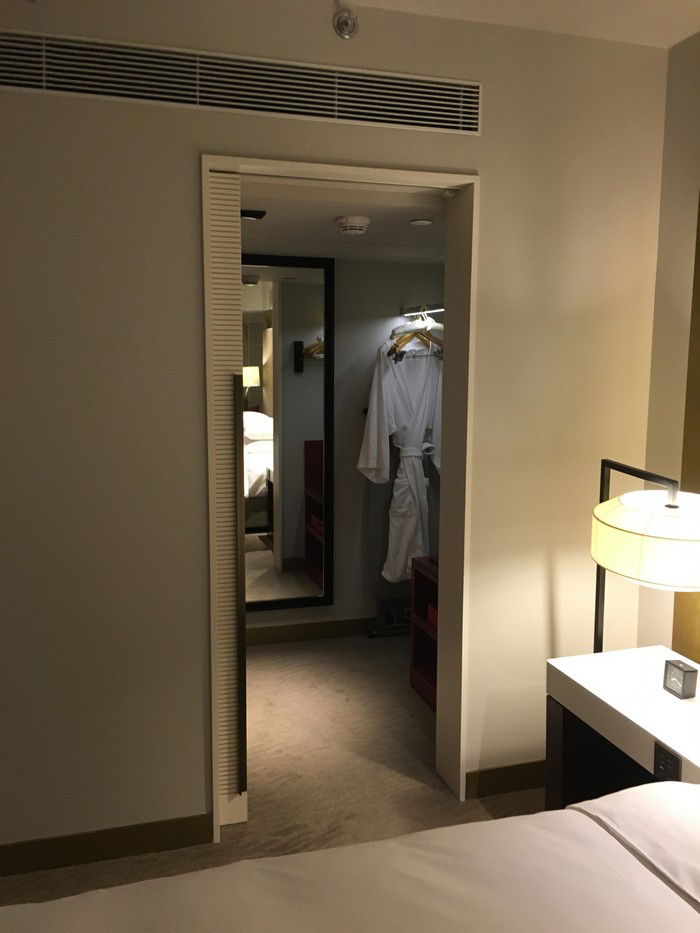 Walk-in closet
The bed sort of sits off-axis, at least when you look into the bedroom from the living room, owing to the triangular shape of the room.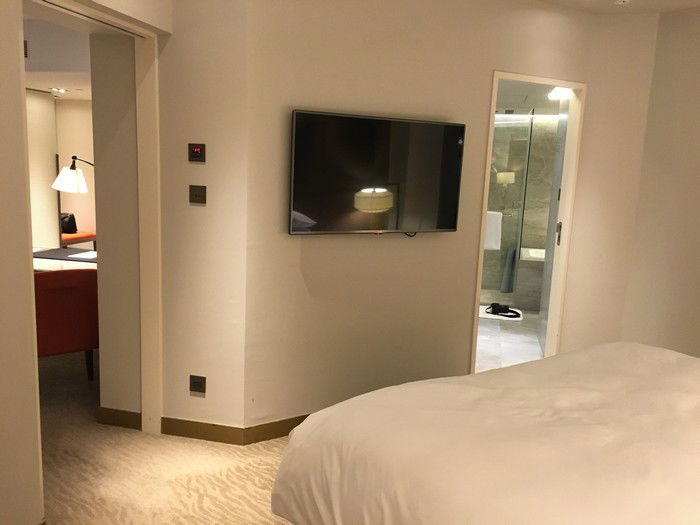 Grand Suite king bedroom
The master bath was located off the bedroom.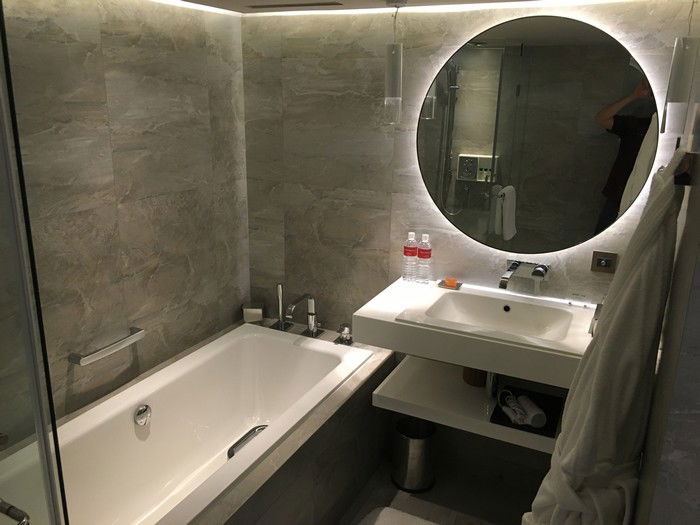 Grand Suite master bathroom
It featured a rain shower.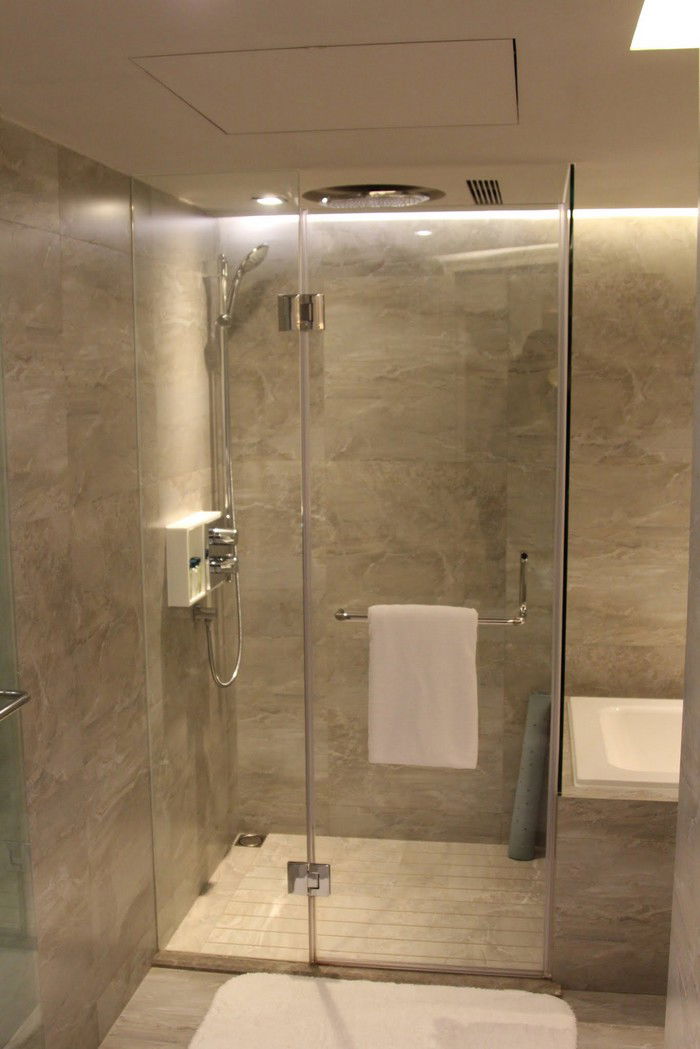 Rain shower
The primary bath amenities are Ferragamo, in the Tuscan Soul fragrance.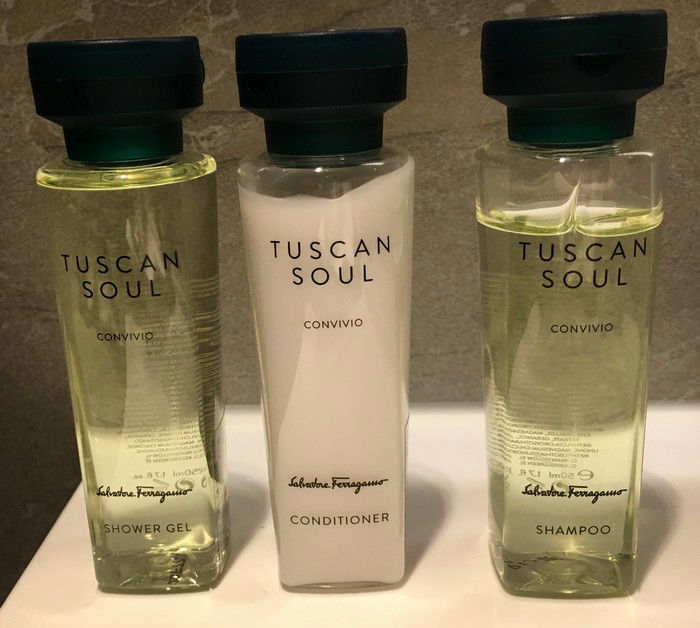 Bath amenities
When the check-in staff saw my kids, they offered to provide a complimentary extra bed. It took a while for the rollaway to arrive, which was kind of annoying given that everyone was so tired, but then again I could have done a better job of requesting it ahead of time. It was a high-quality single, and we positioned it along the windows in the living room, so we ended up with our two bigger kids in the living room — one sleeping on the bed and the other on the super-long couch — while the baby slept in our room.
The staff also sent up teddy bears. My kids have quite the collection of stuffed animals from various hotels around the world, and we're always happy to add another. I think it's a really nice touch. Housekeeping also gave them two kids cups and toothbrushes.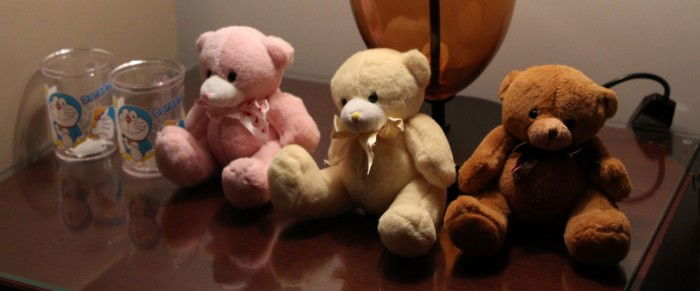 Bears for the kids
A monkey also arrived at some point, in honor of our Chinese New Year stay. It is the Year of the Monkey, after all.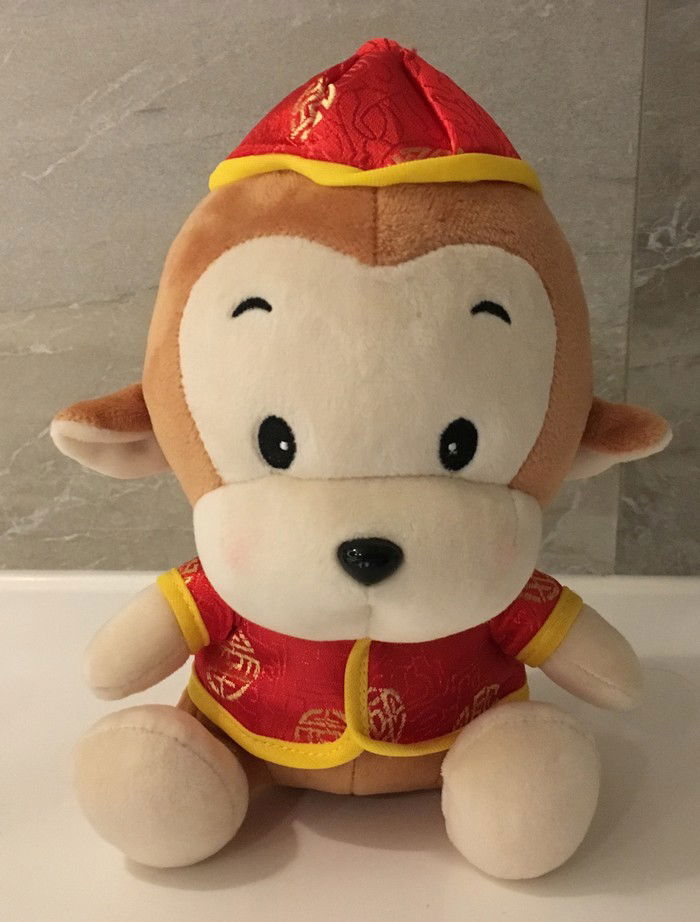 Chinese New Year monkey
Interestingly, the staff brought a second set of bath products along with the extra bed. And this time they were June Jacobs, which is generally the brand you can expect at pretty much every other Hyatt property in Asia. According to Nick, June Jacobs is really crappy, but to me, soap is soap (though my wife apparently likes it). At any rate, it seems odd Hyatt would they stock two different brands?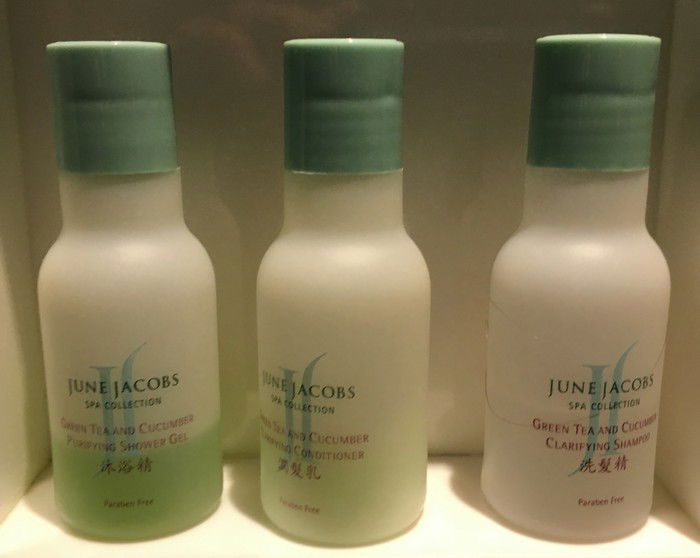 Alternate bath amenities
Cafe Restaurant
I think the hotel has five restaurants — there will once again be a period of my life when I get to enjoy fine dining, but this is not that time — so we only ended up frequenting the Cafe, where breakfast was served each morning starting at 6:30 AM.
On our first morning, we were actually in line waiting for the restaurant to open, having been up for three hours already courtesy of the aforementioned jet-lag. And yes, there was a line waiting for it to open, which would seem to imply that maybe they should open earlier.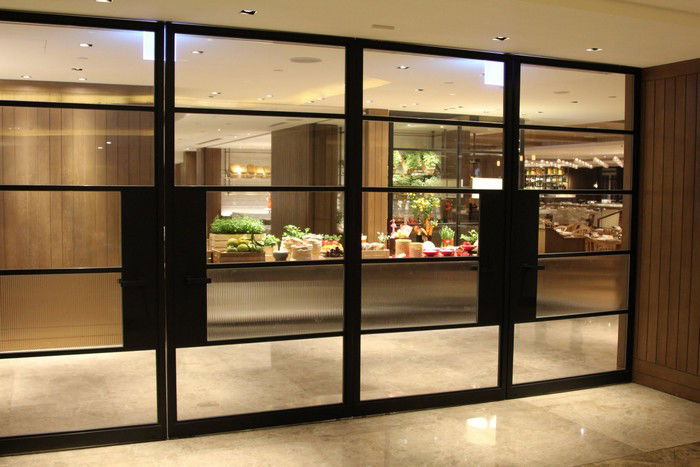 Entrance to the Cafe restaurant
It's a sprawling restaurant with a ton of seating.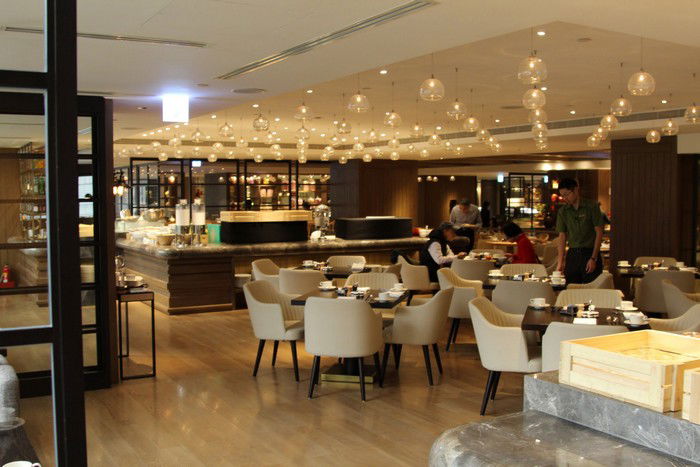 The Cafe
It turned out to be one of the most impressive breakfast spreads I've seen at any Hyatt. I would put it above the breakfast served by the Grand Hyatt Kuala Lumpur, though my wife said it was a tie.
I was actually surprised at the number of people eating in the Cafe each morning, though maybe a lot of rates include breakfast. There always seemed to be some tour groups that were there early. They would come in, grab as much as they could, sit down, eat, and quickly be gone. Then things would calm down a bit. Of course, this could have been a Chinese New Year holiday week phenomenon.
At any rate, it was an amazing spread. There were perhaps ten different stations scattered throughout the space with just about everything you could imagine. Our friend noticed they had her traditional Chinese breakfast items that she usually has when she comes back to Taipei, and said they were quite good.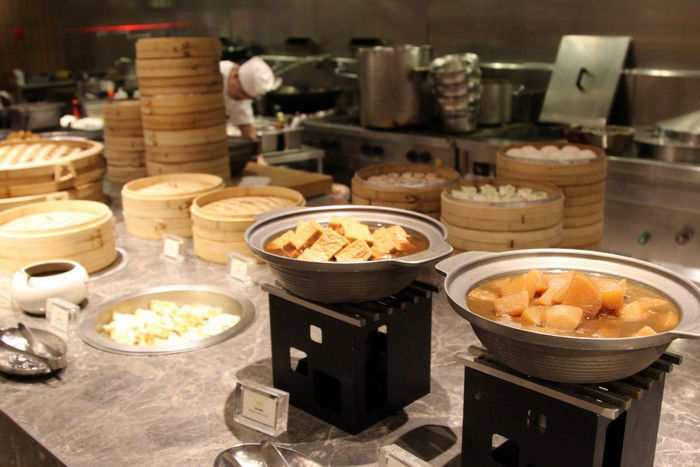 Grand Hyatt Taipei Breakfast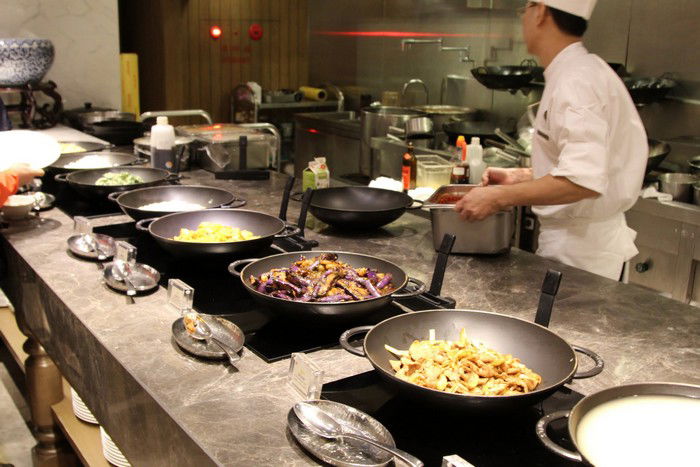 Grand Hyatt Taipei Breakfast
I don't have pictures of all of the stations, unfortunately. But I'll give a few comments.
The bakery station was a huge hit in our family, particularly the freshly made waffles and pancakes with vanilla butter and walnut syrup.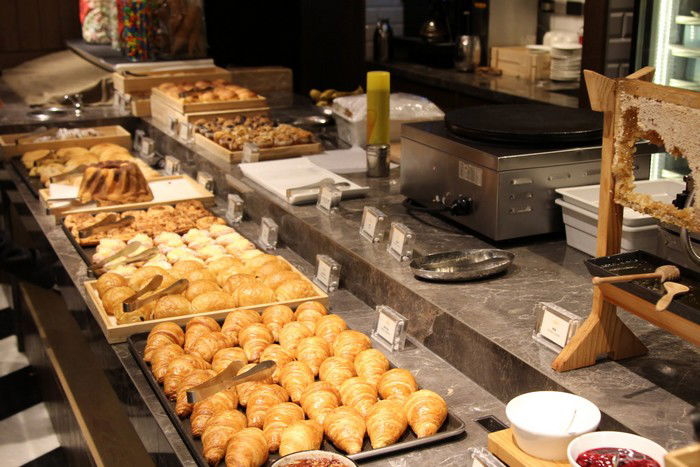 Pastry station at the Cafe
The egg station guys were very efficient, but with kids, we can't always wait for them to cook eggs to order, so it was nice that they had a plate of fried eggs cooked ahead of time.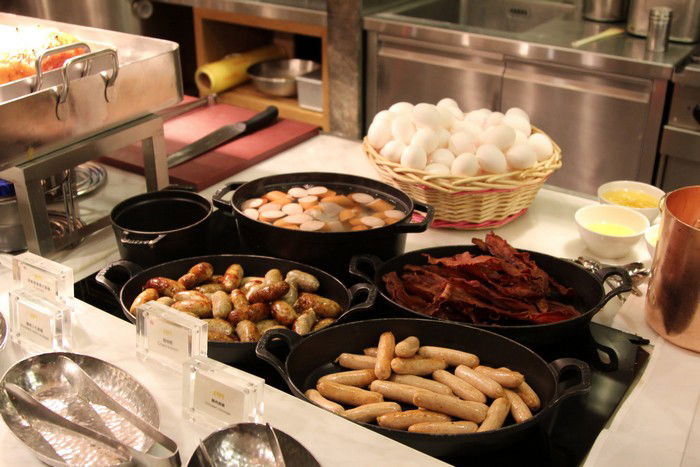 Grand Hyatt Taipei Breakfast
The charcuterie station had a typical selection most of the time, but the smoked duck was very elusive — if you see it, grab some, because it won't last long and it might be a while before more shows up.
Oh, and we were always seated along the back wall, next to the windows. We weren't quite sure why they always put us here, though eventually I decided they were giving us a booth for the kids. These seats are both good and bad — you get nice views of outside, and they are a little removed from the sometimes chaotic tour groups, but it's also a longer walk to the food stations. And when it takes about a dozen trips for mom and dad to get everyone satisfied, the steps add up. Or you get your exercise for the day, either way.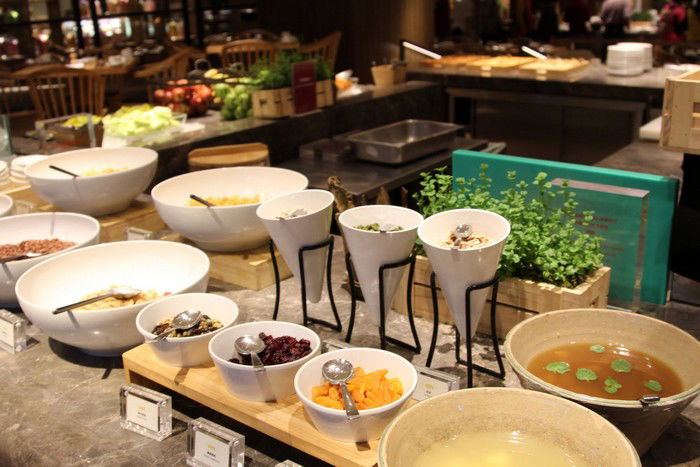 Cereal station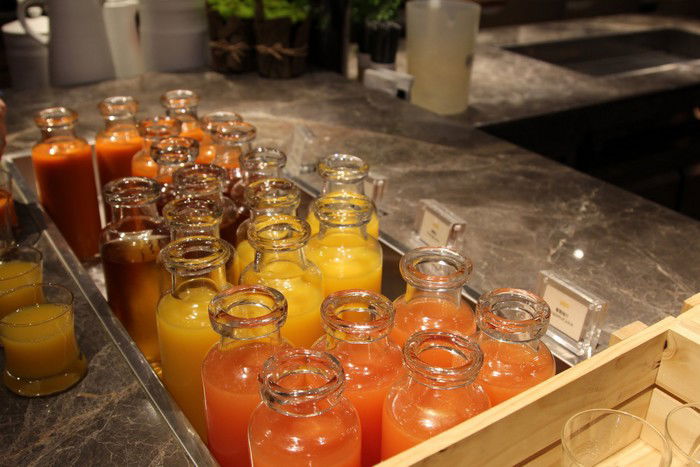 Juice station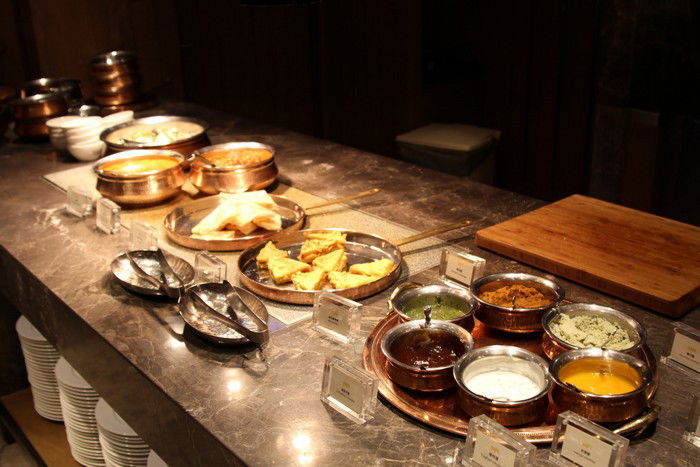 Grand Hyatt Taipei Breakfast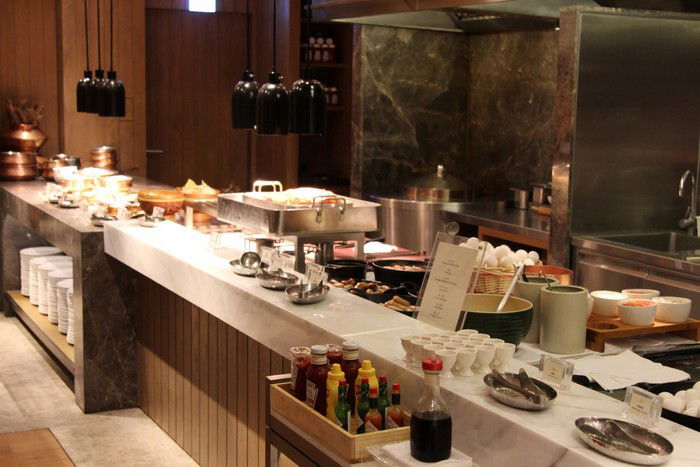 Grand Hyatt Taipei Breakfast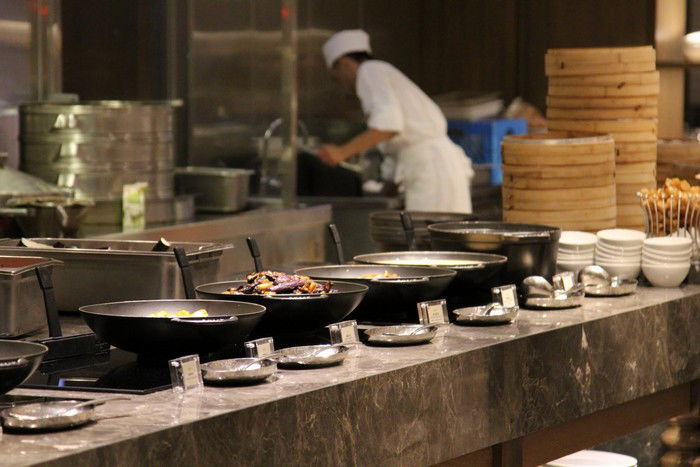 Grand Hyatt Taipei Breakfast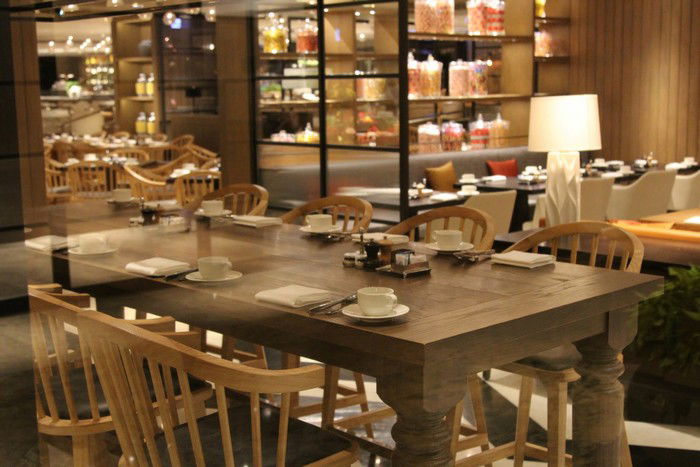 The Cafe at the Grand Hyatt Taipei
Grand Club
The Grand Club is on the 22nd floor. It's a nice space, but again, pales in comparison to some of the other Grand Clubs in Asia we've been to. I would speculate that this one was not purpose-built, but rather was converted from a row of rooms. Then again, I could be wrong.
At first glance, the club appears to be one long hall. Without much seating.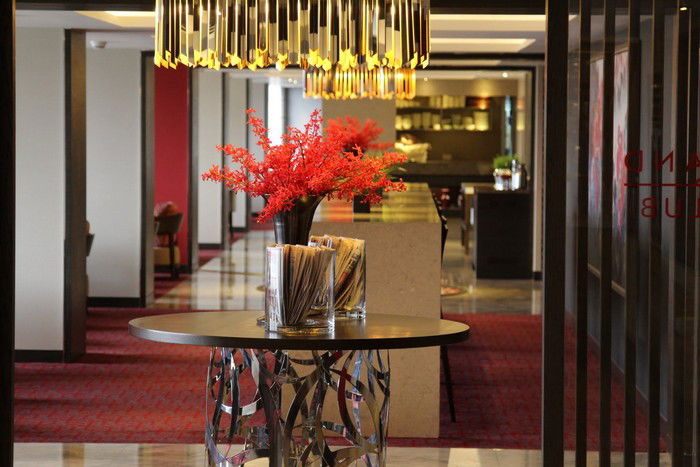 Grand Club at Grand Hyatt Taipei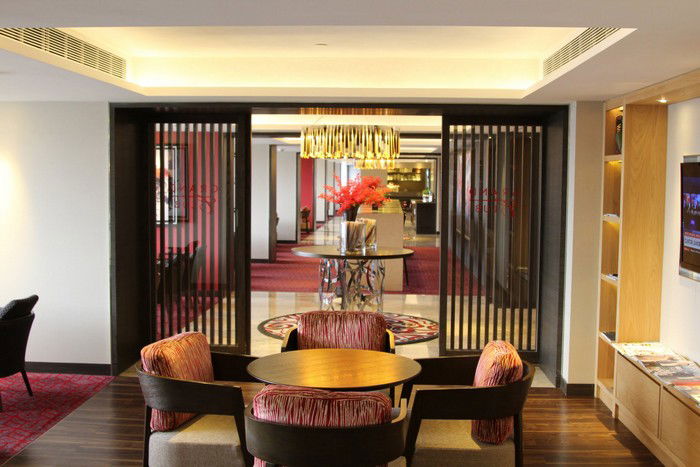 Grand Hyatt Taipei Grand Club
However, each of those dividers is concealing a semi-private space with seating for six to eight people. I'd say there were probably ten of these which amounted to a pretty decent amount of seating overall.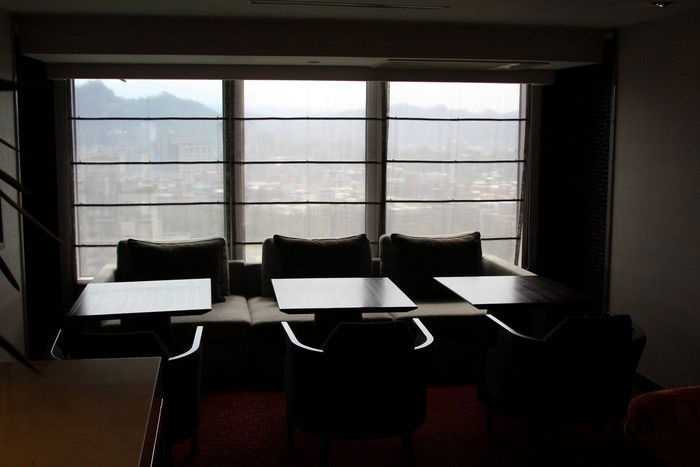 Grand Hyatt Taipei Grand Club
We only ate in the club on our final morning in hopes of doing a dine-and-dash for the airport. (Well, we actually showed up there for "second breakfast" on our first morning, due to the fact that we had woken up so early.)
The club kitchen was making eggs to order and had probably two or three other hot dishes, along with a nice selection of cold ones. Overall, it would have been a perfectly acceptable breakfast, much better than you'd get at most Hyatt clubs in the US. But if you have the option to eat in the Cafe, you should.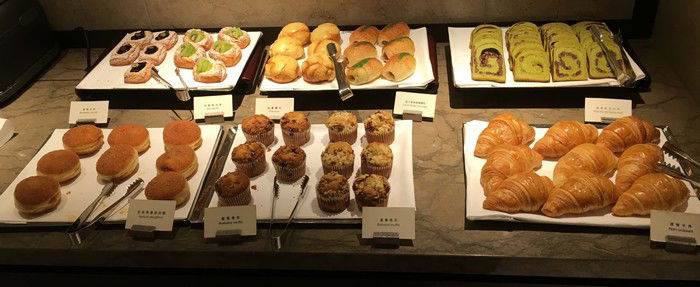 Grand Club breakfast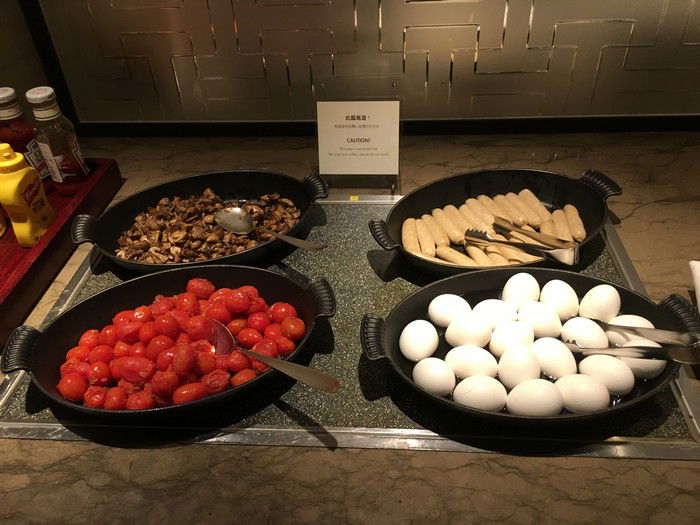 Grand Club breakfast
On the other hand, we ate dinner in the club most every evening. With young kids, it's just incredibly convenient and one of the reasons that we are willing to pay a premium to stay at Hyatts. Each night there was a selection of perhaps three hot dishes, and then a variety of cold ones.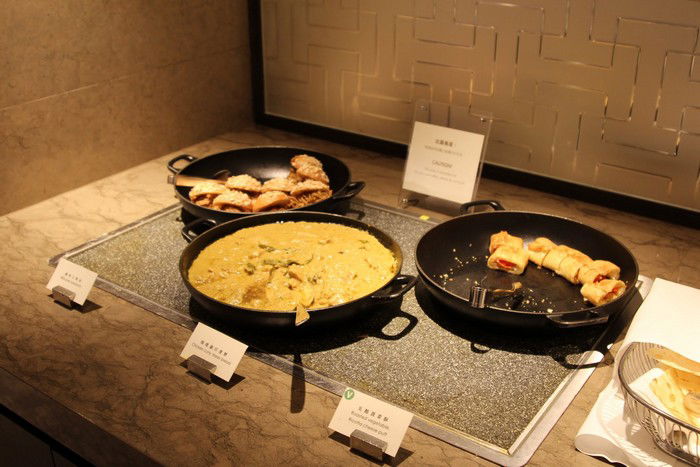 Grand Club dinner
They also had dim sum dishes coming out of the kitchen.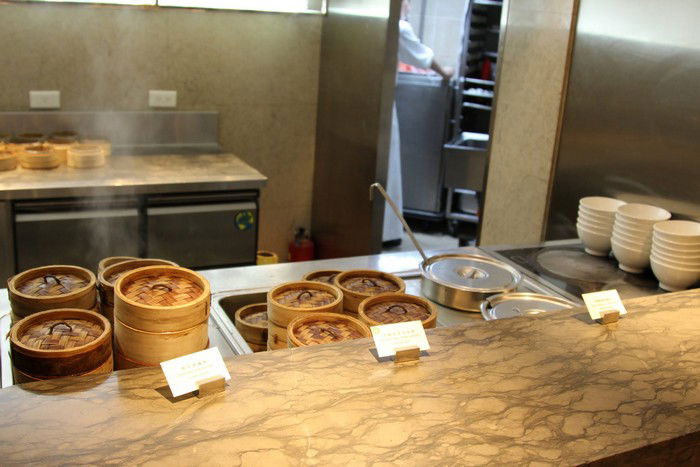 Grand Club kitchen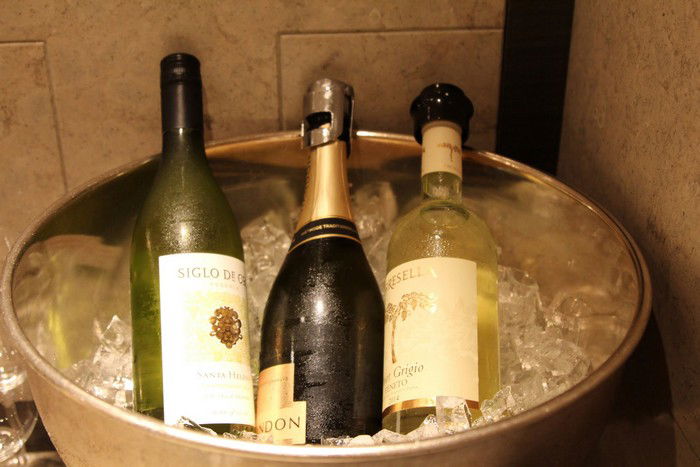 Grand Hyatt Taipei Grand Club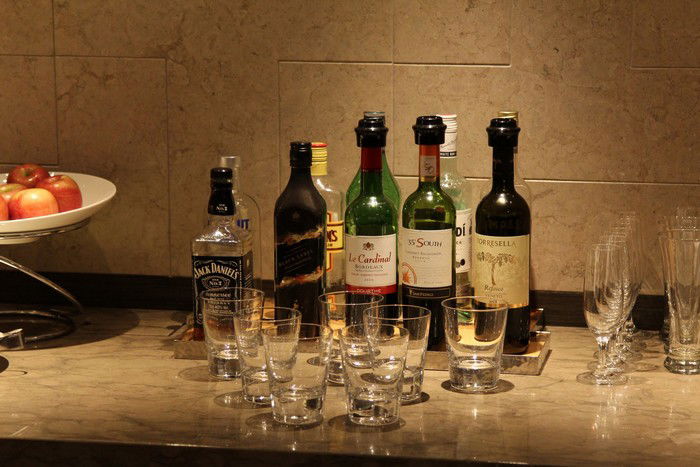 Grand Hyatt Taipei Grand Club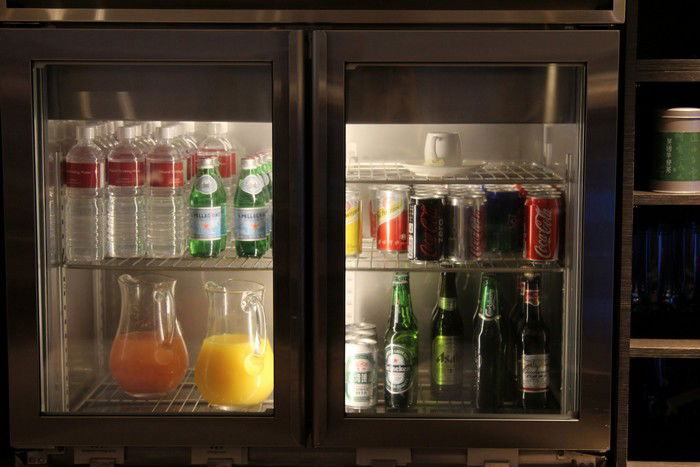 Grand Club beverages
And plenty of desserts that rotated throughout the week.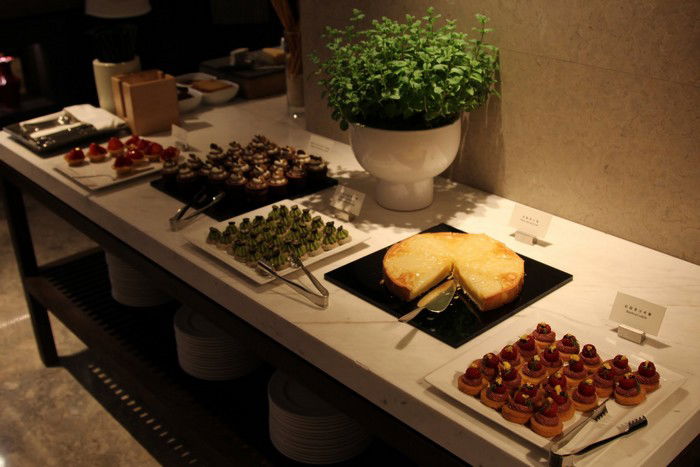 Grand Club desserts
And then there are cookies, nuts, and other snacks throughout the day.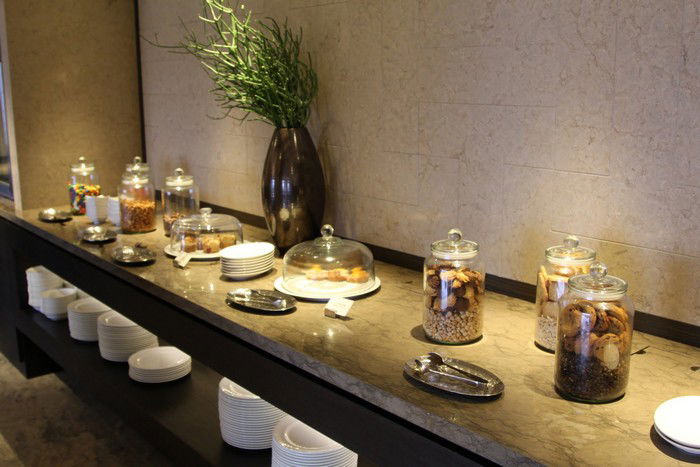 Grand Club snacks
And tea.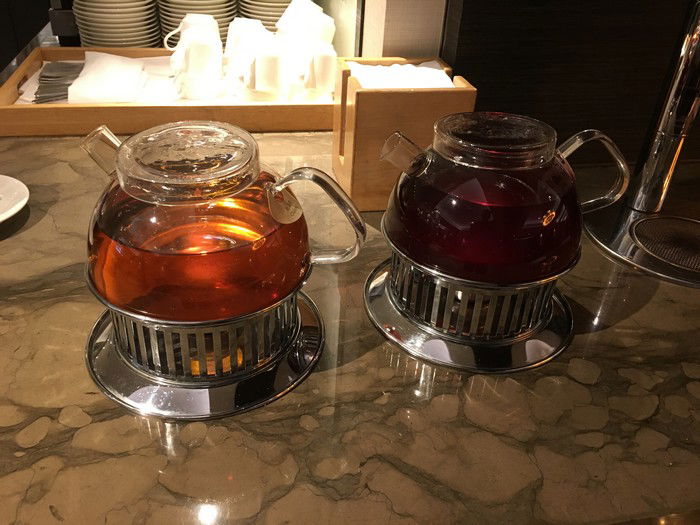 Grand Club tea
Perhaps the most disappointing aspect of the Grand Club are the views. Don't get me wrong, they are decent. You are on the 22nd floor, after all. But the staff seem to keep the shades drawn at all hours of the day, for reasons that I don't really understand.
I mean, Taipei 101 is right there, even if you are a bit close to get a really awesome view. So our first order of business upon arrival was usually to open the drapes in our semi-private dining area, which I can only assume annoyed the staff.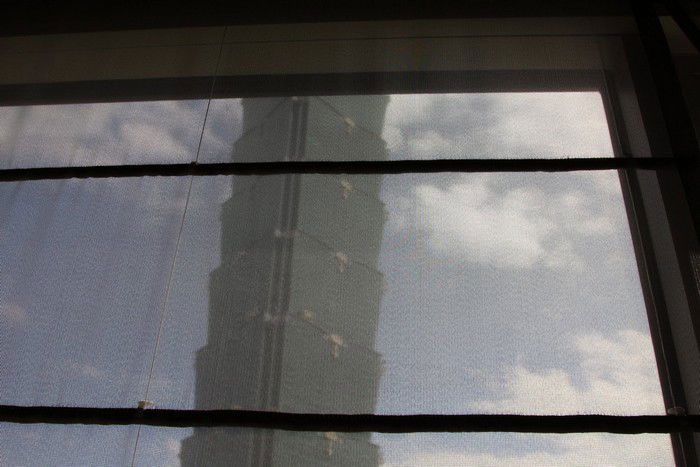 Taipei 101 from the Grand Club
Club Oasis
The 5th floor houses Club Oasis which includes the fitness center, spa, and outdoor pool. I only had a chance to work out once, which is kind of typical for our family trips.
The gym has good quality equipment, including sufficient cardio, weight machines, and free weights. The somewhat odd thing is that the gym is split across two rooms across the hall from each other. So I found myself going back and forth a bit. It's open 24 hours which is good because I tended to wake up early.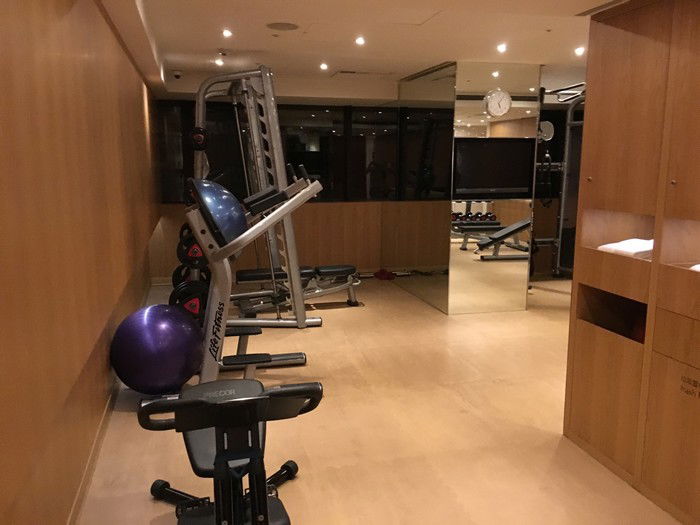 Grand Hyatt Taipei Fitness Center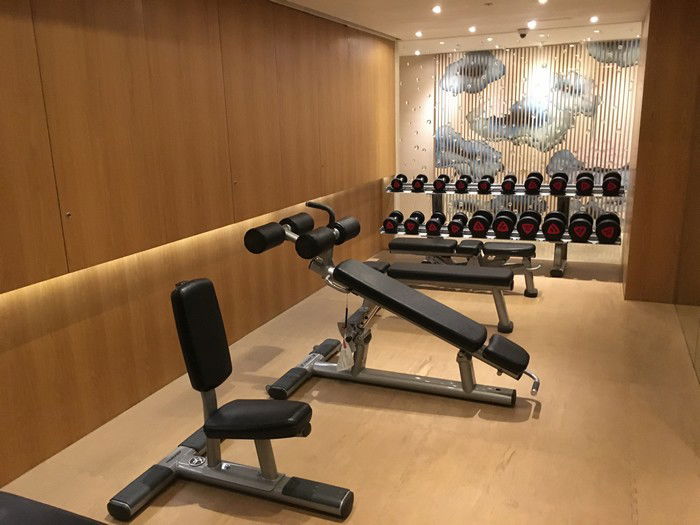 Grand Hyatt Taipei Fitness Center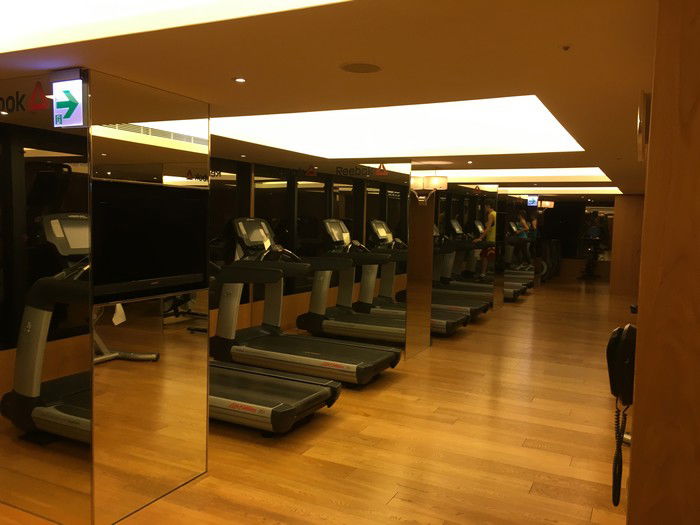 Fitness Center cardio
I also only had one chance to check out the spa. This area seemed like a nice place to hang out for a while.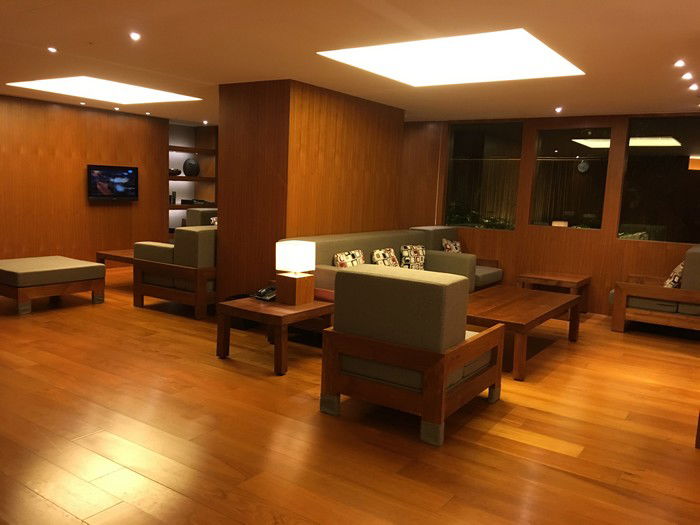 Club Oasis spa
As with most Asian spas I've been to, clothes are not allowed. The whole place is immaculate and very relaxing. There is a hot tub, cold plunge, and two saunas. The hot tub wasn't quite as hot as some I've seen in Asia, though definitely hotter than most I'd find at home.
Since I was there when it opened at 5:30 AM, I decided it would probably be OK to take a picture since no one was around. All I had was my phone, and…well, it didn't come out very well. Just imagine that it's really steamy and you don't have your glasses on (which is a good practice, in my opinion, for clothing-not-allowed spas.)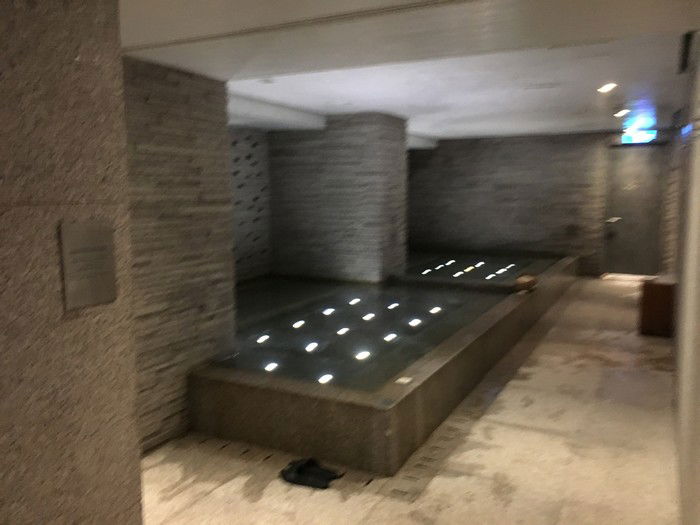 Grand Hyatt Taipei Spa hot tubs
The outdoor pool isn't all that exciting honestly and seems rather small for the size of the hotel. It is heated, though, which is a plus, otherwise we wouldn't have been using it in February. If you are into swimming laps, it'll be great. And there were several guys who swam laps religiously every morning.
If you're more into splashing around like my kids, however, it's rather limiting as they kind of confine that sort of nonsense to either side of the lined lap pool area. Still, the surrounding space is peaceful, and the pool attendant was always eager to provide pool toys for the kids, or help any way he could.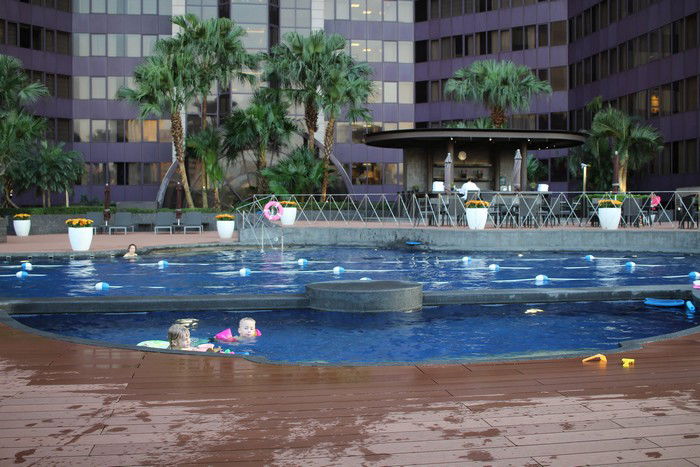 Grand Hyatt Taipei pool
About Those Ghosts
We spent six nights at the Grand Hyatt Taipei and I neither saw, heard, nor sensed anything of the paranormal variety.
I think I'm particularly qualified to make this statement given that I was up and even roaming the hotel at pretty much every hour of the day or night, at some point during the week. Between a 4-month old baby and many timezones worth of jetlag, contiguous blocks of sleep are just hard to come by for us right now.
It's not all bad though, as there is a certain tranquility that exists at 4 AM, even in a large hotel. It turns out that it's also a good time to take pictures for a review such as this — so if you've ever wondered how Ben gets all those perfectly framed shots with nobody in them…
Overall Impressions
We loved the Grand Hyatt Taipei, and it's a bit hard to explain why. Nothing about it is superlative — except maybe breakfast in the Cafe — but they do everything really well. The location was good for us in that it we could walk to Taipei 101, Elephant Mountain, and Sun Yat-Sen Memorial, and then take cheap 15-20 minute taxi rides to pretty much everything else.
The Grand Suite King served our family well, and the option to get connecting suites with friends was unique and really awesome. And the staff was always helpful and adored our kids.
We'll definitely stay here again on future trips to Taipei.
Have you stayed at the Grand Hyatt Taipei? Did you see any ghosts?