Chinese New Year In Taiwan
---
We really enjoyed our week in Taipei. Our trip coincided with Chinese New Year, and there were pluses and minuses to being there for the holiday. On one hand, traffic was very light around the Grand Hyatt, and some places had festive decorations. On the other hand, some attractions were very crowded, though I'm obviously not calibrated enough to know if it was any more crowded than usual.
The weather during our trip was fantastic. It was sunny and in the low 70s the entire time, which apparently isn't necessarily the case for Taiwan in February. That really helped us enjoy being outside, which is probably one of the best ways to beat jet-lag.
I thought I'd share some of our favorite family activities for the week. For reference, my daughter and son were 3.5 and 5, respectively, at the time of the trip. Our youngest son was 5 months old.
Elephant Mountain
Our family likes to hike and climb mountains, so a quick climb up Elephant Mountain was near the top of our list. The trail is very close to the Grand Hyatt, and would make an awesome early morning workout before a day of meetings.
The trail, which is locally known as Nangang District Hiking Trail, is located near the Xiangshan MRT stop at the end of Red Line 2. That's just one stop away from the Taipei 101 stop (the nearest station to the Grand Hyatt) but we chose to walk over given it was early in the morning on our first day and we wanted to have a look around the neighborhood.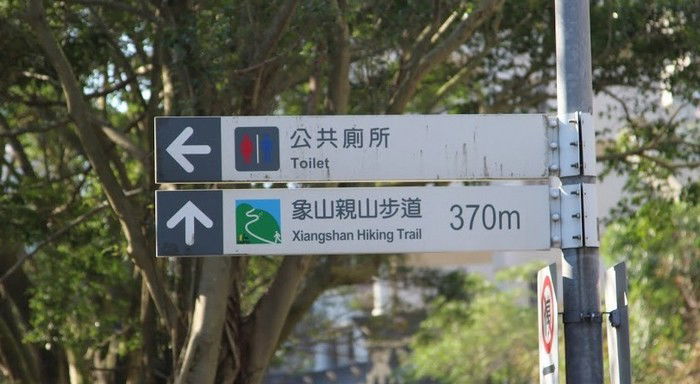 Elephant Mountain trail is straight ahead
We had watched some YouTube videos about the hike as a family before our trip — that's what constitutes trip planning for us nowadays — and our kids were totally psyched for the climb. We had watched one of the videos about ten times, so the kids had pretty much memorized the landmarks needed to find the start of the trail.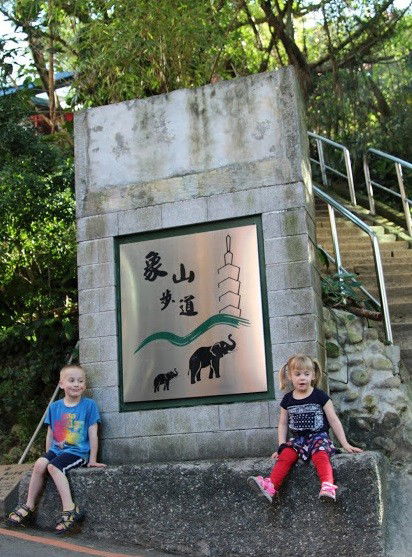 The start of the Elephant Mountain trail
The hike itself is a good one and consists of lots and lots of steps that at times seem to go straight up the hillside. It's quite shaded and there are plenty of benches along the way to rest, so if you're in decent shape, you won't really have any problems. There were lots of folks walking the trail that morning, and a good number wished us a "Happy New Year" as we trudged by.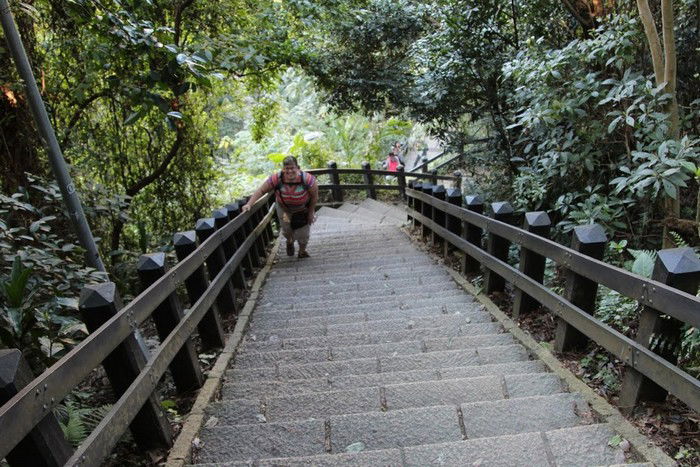 The Elephant Mountain trail is steep in places
It took us about 30 minutes to get to the top, including breaks, and with two preschoolers climbing under their own power. The views from the top were awesome.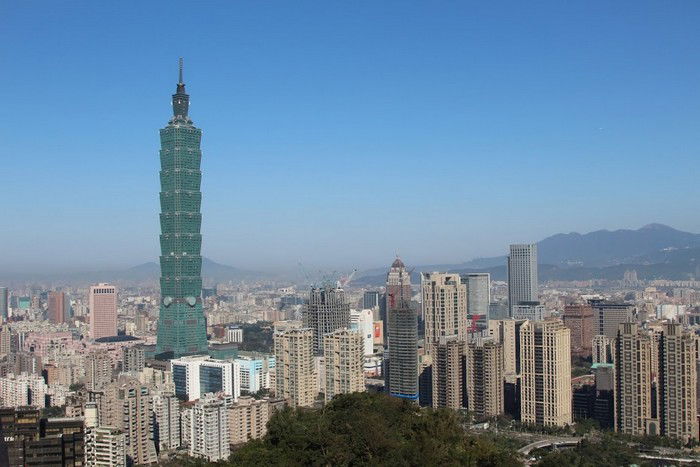 View of Taipei 101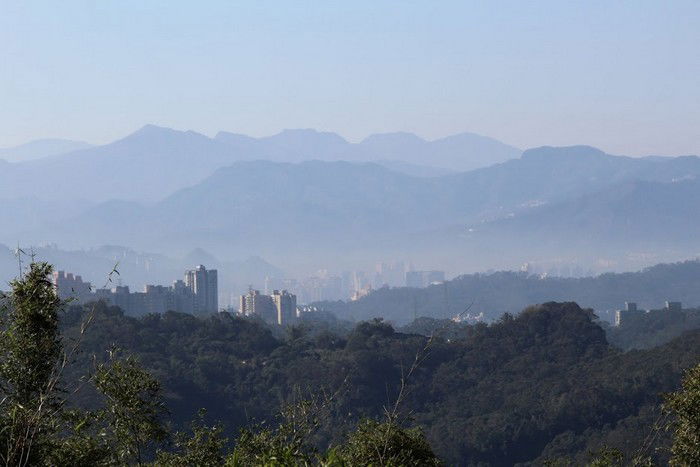 Taipei is almost surrounded by mountains
Given two sets of tired little legs, we opted to catch the subway back to the Grand Hyatt, arriving just in time to grab a second breakfast up in the club.
Taipei 101
We had gone up in the Petronas Towers during our trip to Southeast Asia last year, so of course we weren't going to miss an opportunity to check another tall building off the list.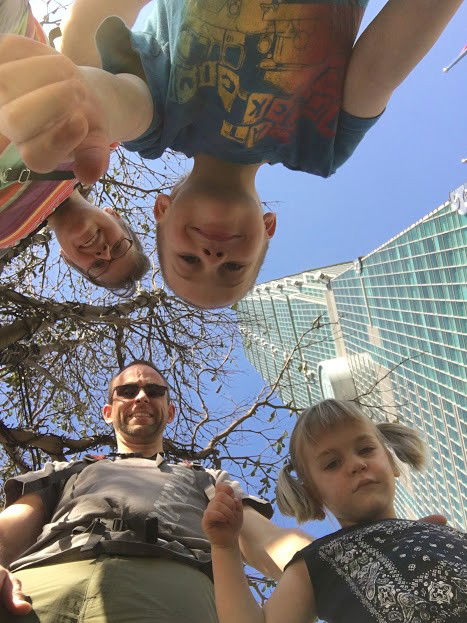 Family photo (baby is on Mom's back)
We headed over to Taipei 101 first thing in the morning of our second day.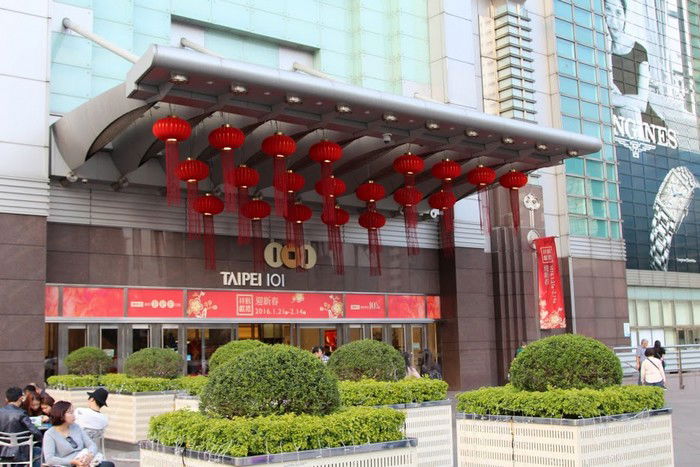 Entrance to Taipei 101
That turned out to be a good decision as the lines were noticeably worse when we came down. In general, you wait in a relatively short line to buy the tickets, and then you wait in a longer line for your turn to ride up to the observation level. But once you're there, you can seemingly stay for as long as you want. The elevator is basically a form of flow control.
Tickets cost $15 for adults, with only a slight discount for kids, unless they are under 115 cm tall, in which case they are free. Luckily, our son slouched at just the right moment and squeaked under the bar.


Child discounts are based on height
We waited about 30 minutes for our turn to ride the fastest elevator in the world. And just like that, we were at the top.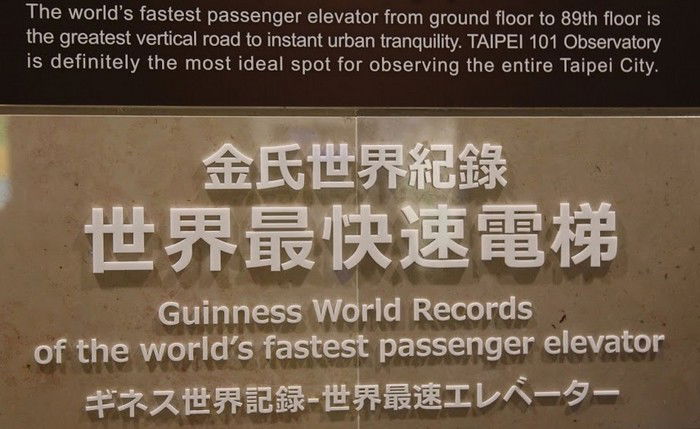 Taipei 101 has the fastest elevator in the world
The observation area occupies the entire floor. We spent most of our time on the main floor which is enclosed entirely in glass so you have views in every direction.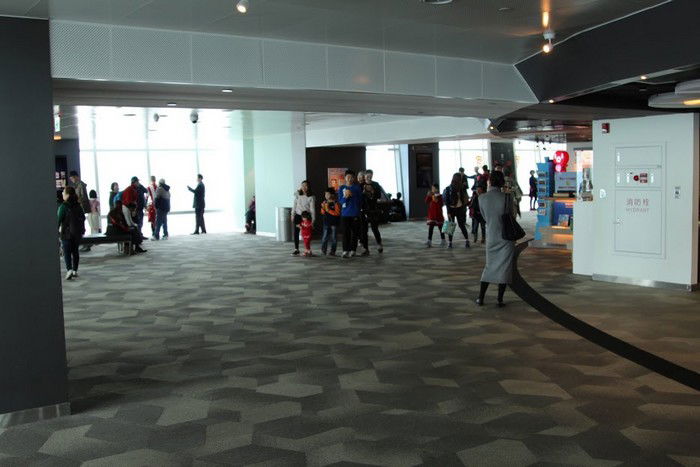 Observation floor of Taipei 101
Then you can go up to an outdoor observation area, which is definitely worth doing because:
You can
It's as high as you are going to get
But otherwise it's not all that exciting. The views through the glass on the main floor are much better.
Assuming the weather is good, you'll get some great views of the city.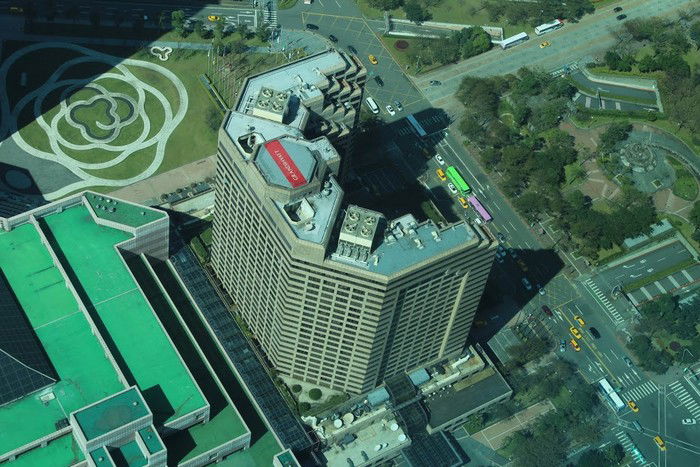 Grand Hyatt from Taipei 101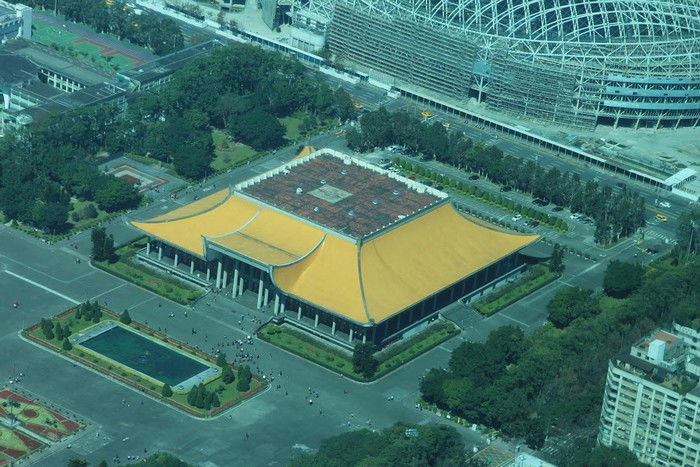 Sun Yat-sen Memorial Hall
We then headed downstairs to get a closeup view of the giant tuned mass damper ball that reduces how much the building sways during high winds or earthquakes.
As an engineer, it's really fascinating to see this and learn about how it works. They even have some videos of the damper in action during a typhoon, with the hydraulic cylinders expanding and compressing by what appears to be a foot or more. The crazy part is that there seem to be tourists in the viewing gallery at the time! No thanks.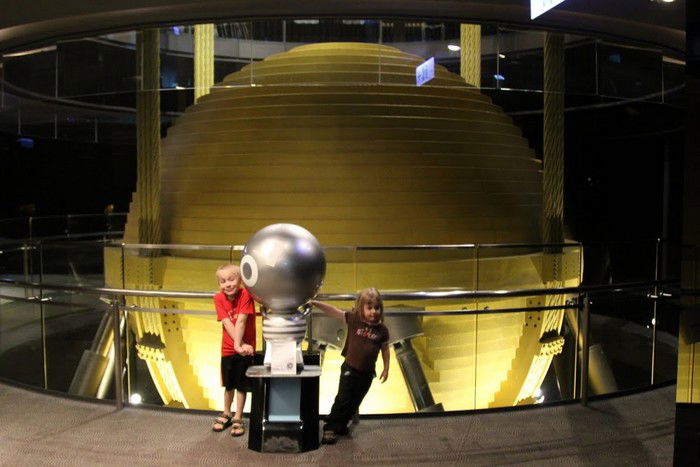 Taipei 101 damper baby, with the namesake mechanical device
Apparently I'm not the only one who thinks the damper is cool, as it has been personified through four cute "damper babies" mascots.
My kids, of course, fell in love with them and ended up watching the video where the damper babies explain how their namesake ball of iron works about ten times.
In a row.
Despite it being in Mandarin.
The only way I could pry them away was to pull out my iPhone and make a bootleg recording of the video so that we could watch it over and over again at home. But hey, my kids are celebrating engineers, architects, and general geekiness, so who am I to complain?
The one annoying aspect of our Taipei 101 visit was that the official exit is through an overgrown coral and jade jewelry shop. Like really, how the heck did that get up there? But since we had our stroller, we got to avoid this sideshow by boarding the elevator directly from the main observation floor.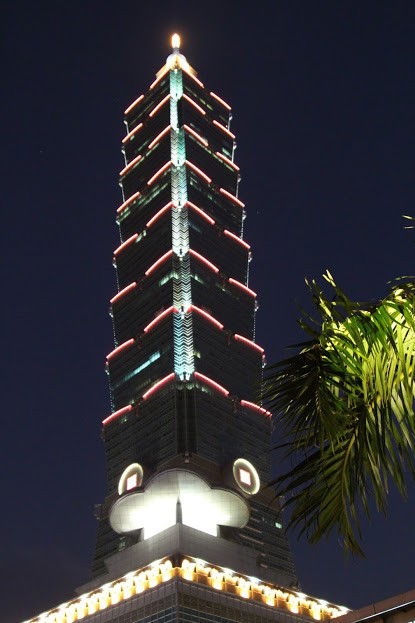 Taipei 101 at night
Taipei Zoo
The Taipei Zoo purports to be the largest zoo in Asia, so it seemed like a place our kids would enjoy. Plus, they have pandas and koalas, neither of which are to be found in our local zoo back home.
As zoos go, the admission is incredibly cheap. Like you'll probably think you did the currency conversion wrong. I think it was under $2 for adults, with the kids free.
I'm not sure if it was due to the Chinese New Year holiday week or if it's always this way, but the zoo was packed. The line to get tickets wasn't bad, but once we were inside, there were people everywhere. And it was hot and humid– at least by winter standards — probably in the mid 80s.


Entrance to Taipei Zoo
We soon downscoped our agenda to just the koalas and pandas. That is, until we realized you were supposed to get a separate panda house ticket. Or at least that's what it seemed the attendant was trying to tell us. Eventually we were given what I can only assume was the "gringo treatment" and were waved through.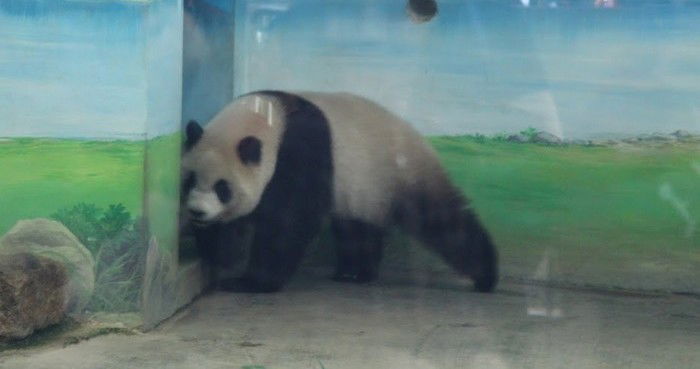 Taipei Zoo panda house
Having said hello and goodbye to a couple of pandas, we decided we'd seen enough of the zoo.
Don't get me wrong, it seemed like a fine zoo. The grounds are well kept, the animals seem well taken care of, all of that is great.
It's just crowded. And built into a side of a hill which can become tiring for little legs. Or big legs that are pushing a stroller loaded with tired little legs.
The Maokong Gondola is located adjacent to the zoo so we had planned to head there next. But the line appeared to be long — surprise, surprise — so we decided to save it for the next day.
Maokong Gondola
YouTube had convinced my kids that the two best things to do in Taipei were to climb Elephant Mountain and to ride the Maokong Gondola. After bailing the previous day due to the long line, we came back the following morning, conveniently before the zoo opened. That seemed to have been a good plan as the line was quite manageable, maybe 15 minutes.
The cool thing about the gondola is that it is basically part of the public transportation network so not only does it show up on the metro map, but you can also pay with your fare card. That would seem to indicate that some people use the gondola as a means of commuting up and down the mountain, though on this day I would wager that most of the folks were joyriding, just like us.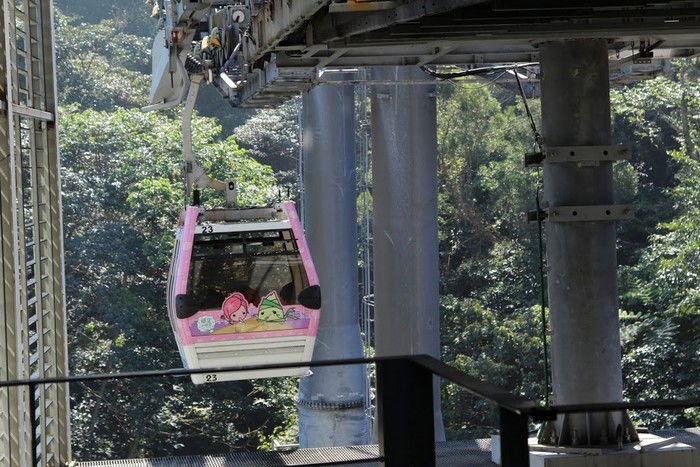 Maokong Gondola car

And what a joyride it is! For about $4.50, you get what amounts to a 20-30 minute cable car ride up and down the thickly forested ridges. You can even opt for a glass-bottomed car, though our son specifically requested we not do that. Maybe next time.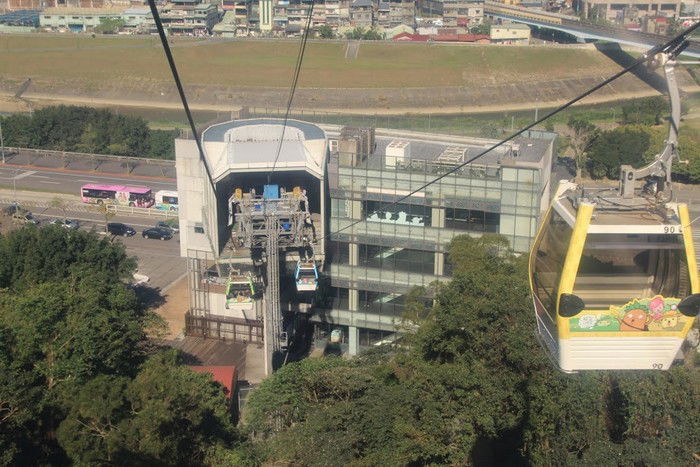 Up we go
You can generally put eight people in one car — and yes, babies count — though since we had the stroller, we were assigned our own private car for the journey. As you'd expect, the views are awesome, particularly of Taipei 101 which seems to grow from behind a ridge as you continue to gain elevation.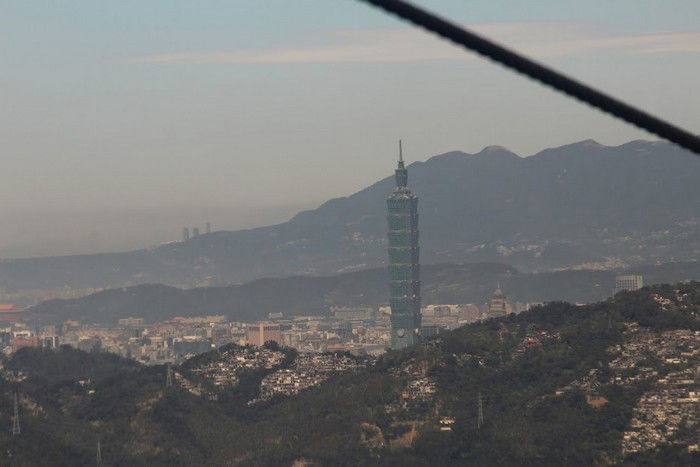 Views of Taipei 101 are everywhere
Although you can get off at a couple of stations along the way, including a back entrance to the zoo, we rode all the way to the end which is kind of a little hilly retreat from the city. We would have liked to do a little more exploring as it seemed like there was some cool trekking to be had in the area, but we settled for some snacks from the food stalls lining the road before heading back.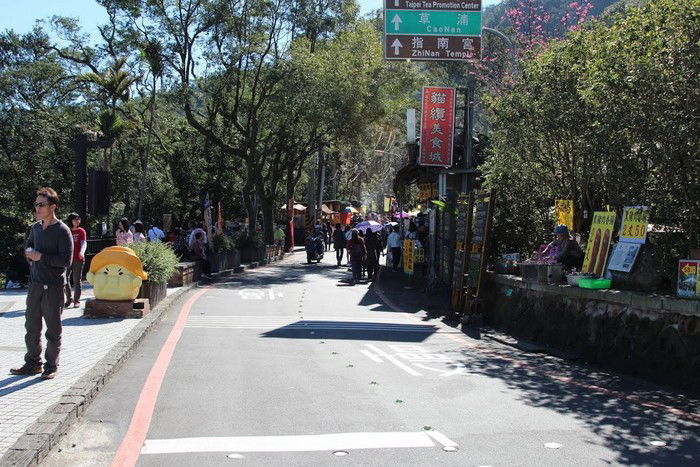 At the top
There was no waiting at the upper end; we were able to board almost immediately.
And that might turn out to be the best tip — if you find yourself just wanting to ride the gondola, but don't want to wait in the line at the bottom of the hill, consider grabbing a taxi up to Maokong and ride one-way down from there.
It seems that would let you skip the line, and you'll get just as fun of a ride.
Lin An Tai Ancestral House
The Lin An Tai Ancestral House was a recommendation from the cousins of the friends we were traveling with. I'll admit that it sure didn't sound like the kind of place we normally take our kids. The words ancestral house conjured up images of our son running between rows of priceless heirlooms and artifacts like a bull in a china shop.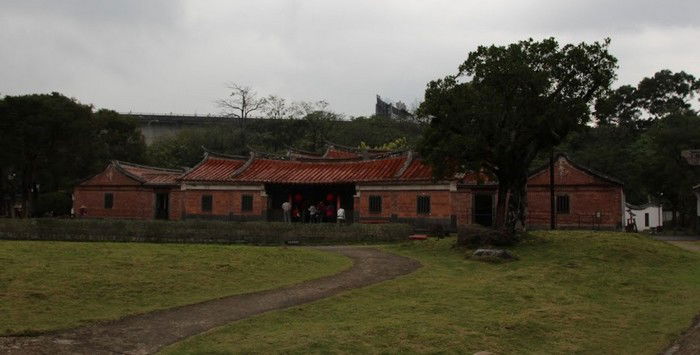 Lin Tai Ancestral House
On the contrary, it actually turned out to be a surprisingly kid-friendly place.
By my understanding, the buildings have all been moved to the current location and reconstructed such that it's not really a historical site per se.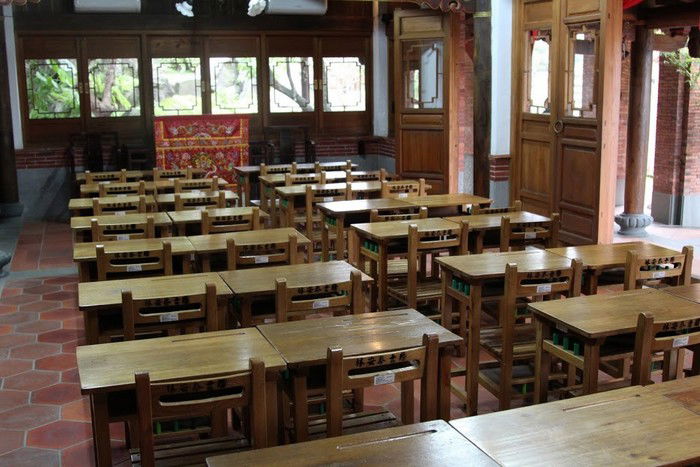 Schoolhouse
But they've done a nice job of creating a patch of tranquility in the midst of several highways (the Songshan airport is also very close). One of the ways they've done that is by creating a couple of fake rock hillsides, complete with paths, steps, and tunnels, which our kids had a blast exploring.


Fake mountain (look closely)
The buildings are of course the main reason you go and they are certainly interesting to wander around in, and do provide a feel for what life in Taipei might have once been like.

Plenty of cool architecture to explore
Finally there are some lagoons and gardens with trails and footpaths.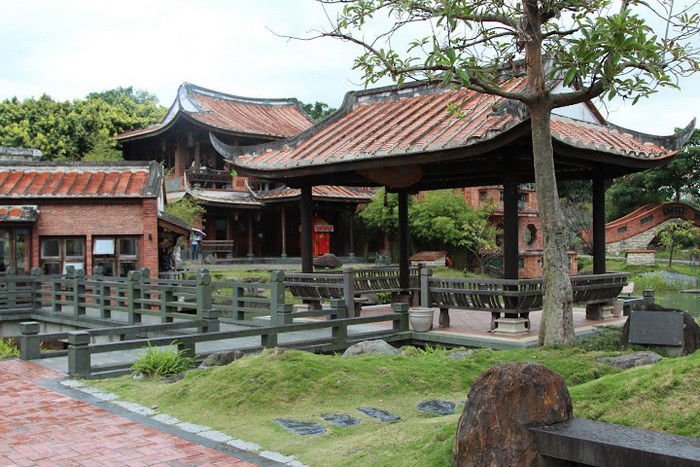 The grounds are very pretty
Overall, you probably don't need more than an hour here, but it's free, quiet, and we felt worth the visit. In contrast to the crowded zoo, we had Lin An Tai almost to ourselves.
Longshan Temple
There are a lot of temples in Taipei, but we only visited one. Longshan Temple was really crowded — presumably due to Chinese New Year — so we basically walked through and headed on our way.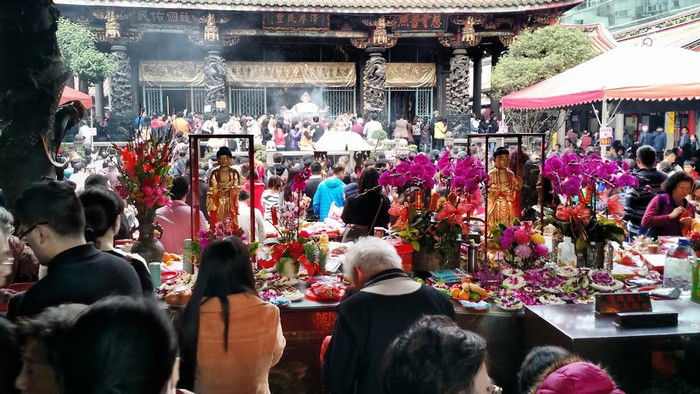 Longshan Temple
About the only way to get a picture without people in it was to look up….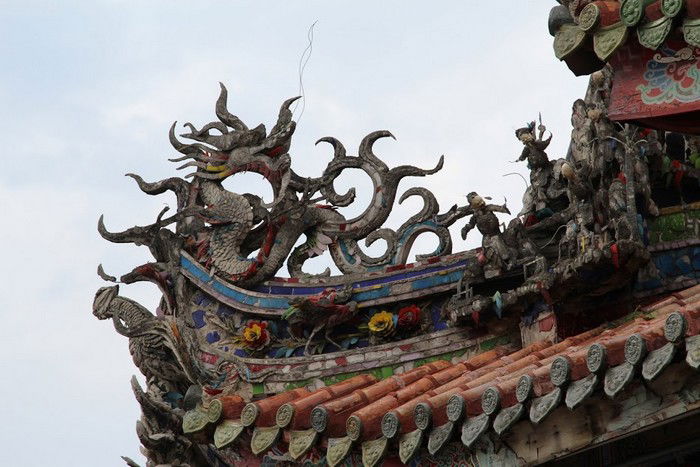 Longshan Temple
Longshan, or really any temple, isn't the greatest place to visit with kids. But we tend to think that exposure to traditional religious beliefs of cultures is beneficial to them, even if only briefly.
Mostly though it was the crowds that made it less of an enjoyable visit.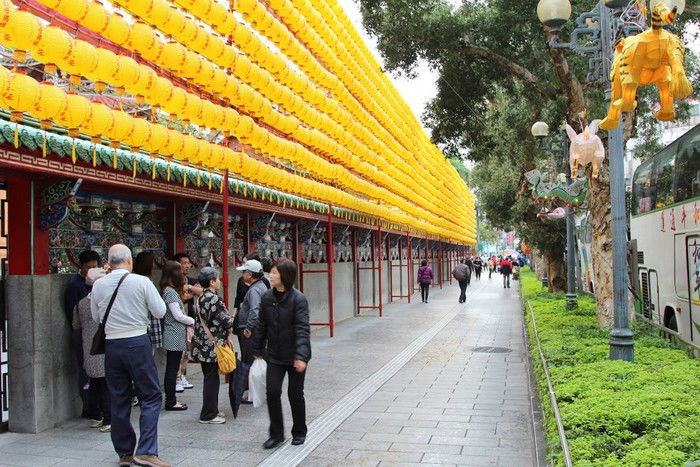 Longshan Temple decorated for Chinese New Year
Getting Around Taipei
We rode the MRT a couple of times, but found it quite crowded, again perhaps due to Chinese New Year. Still, it's impressively clean, tourist friendly, and incredibly cheap.
But we soon realized that it was a bit of a pain to get anywhere considering that we had two preschoolers and a baby — with stroller – in tow. The elevators in and out of the stations, and between lines, are fairly small such that there was often a line of strollers waiting. They even have markings on the floor to indicate where "priority" passengers (wheelchairs, strollers, disabled, etc.) should wait, and where "general" passengers should wait.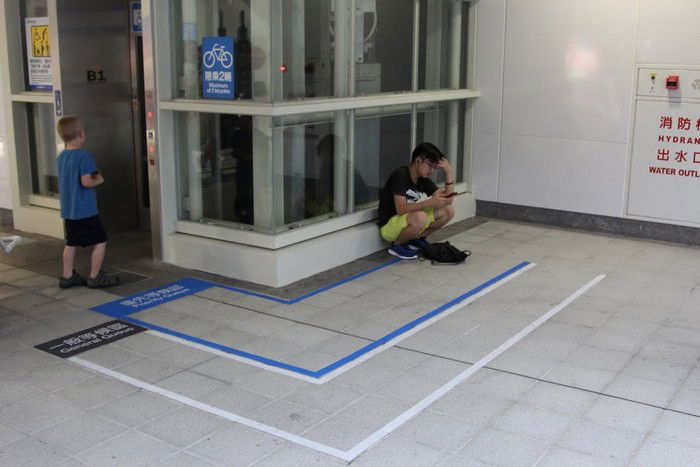 Priority boarding in the blue lane, general in the white
Of course, everyone waiting was a "priority" passenger, so it sort of felt like being in United's boarding group 1 waiting to board a flight from Chicago to San Francisco on a Monday morning.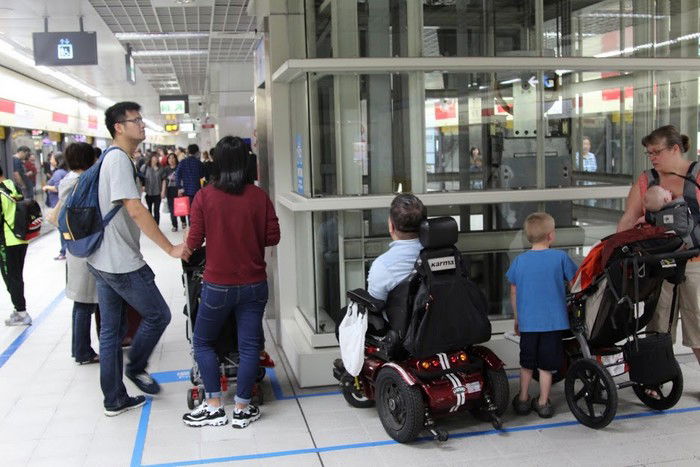 "When everyone is elite…."
We soon switched to taking Uber, and occasionally just regular cabs. From the Grand Hyatt, it seemed we were never more than 15-20 minutes from where we wanted to go. And I never paid more than $6 for the ride.
Sure that's about 4x as much as it would cost our family to ride the MRT, but it's still only $6!
Things We Didn't Do
We had hoped to take the kids to a night market, but we never made it. Our kids pretty much were in bed every night by 6pm, even towards the end of the trip. We don't really push them too hard to adjust because we've found that the less we adjust there, the easier it is to get back on our time at home. So the night market, given it takes place at night, just never happened.
Our friends did make a day trip out to Pingxi for the lantern festival. We decided to pass as the hour train ride each way would just be a lot for our three under age five (though to be fair, they had two under age four themselves). I'm sure it would have been awesome, but apparently the crowds were crazy, especially on the train where our friend had to stand and hold her two year old son the entire time.
Perhaps we'll get back someday, and until then we'll just watch Tangled a few times.
As I explained, we tend to stay in the cities on our trips. It's not that we don't like to explore the countryside — we absolutely do — it's just a challenge with the kids. I think one place we would have liked to check out was the Beitou hot springs which are very near the city.
Bottom Line
We had a wonderful time in Taipei. We found it to be a kid-friendly city with a surprising number of cool things to do. My wife said that the gondola ride was the highlight of the trip, though our kids certainly enjoyed the damper babies of Taipei 101 a lot too.
We'll be excited to go back someday, when hopefully logistics — meaning kids consistently moving under their own power — will make it easier to explore the rest of the island, as it's a really beautiful country.
What are your favorite things to do in Taipei?