My wife and I used to do a lot of premium cabin trips but now that we are a family of four, we mostly fly economy. We just don't see the point of spending more miles (or worse, money) to fly up-front. When you've got two preschoolers in tow, you're not going to "savor the experience" or "enjoy zie ambiance" (as Mr. Schlappig would say) no matter where you sit. Most of the time, it's not about the food, the sleep, or the service, it's about trying to survive.
That said, the one thing that does make a huge difference for us is space. Last month when offering tips on how to get hotel suite upgrades for free, I wrote:
The single most important factor in terms of traveling with young children is… space. Be it on the plane, in the hotel, or in the car, more space is better!
Unlike hotels, you're not going to get upgraded on the plane just by having status, by asking for it, or any of the other tips I offered. Airlines just don't operate that way anymore.
But all is not lost.
There's no doubt that planes are very full these days, but contrary to what the gate agent or flight attendant says when trying to get you to gate check your luggage to your final destination, most flights aren't completely full — most still depart with at least one empty seat.
Somebody is going to sit next to that empty seat — why shouldn't it be me? (Or you?)
On a long-haul international flight, a strategically "placed" empty seat between various members of my family can give us the opportunity to stretch out. To get comfortable. To lie down and get proper sleep. It truly can be poor man's business class.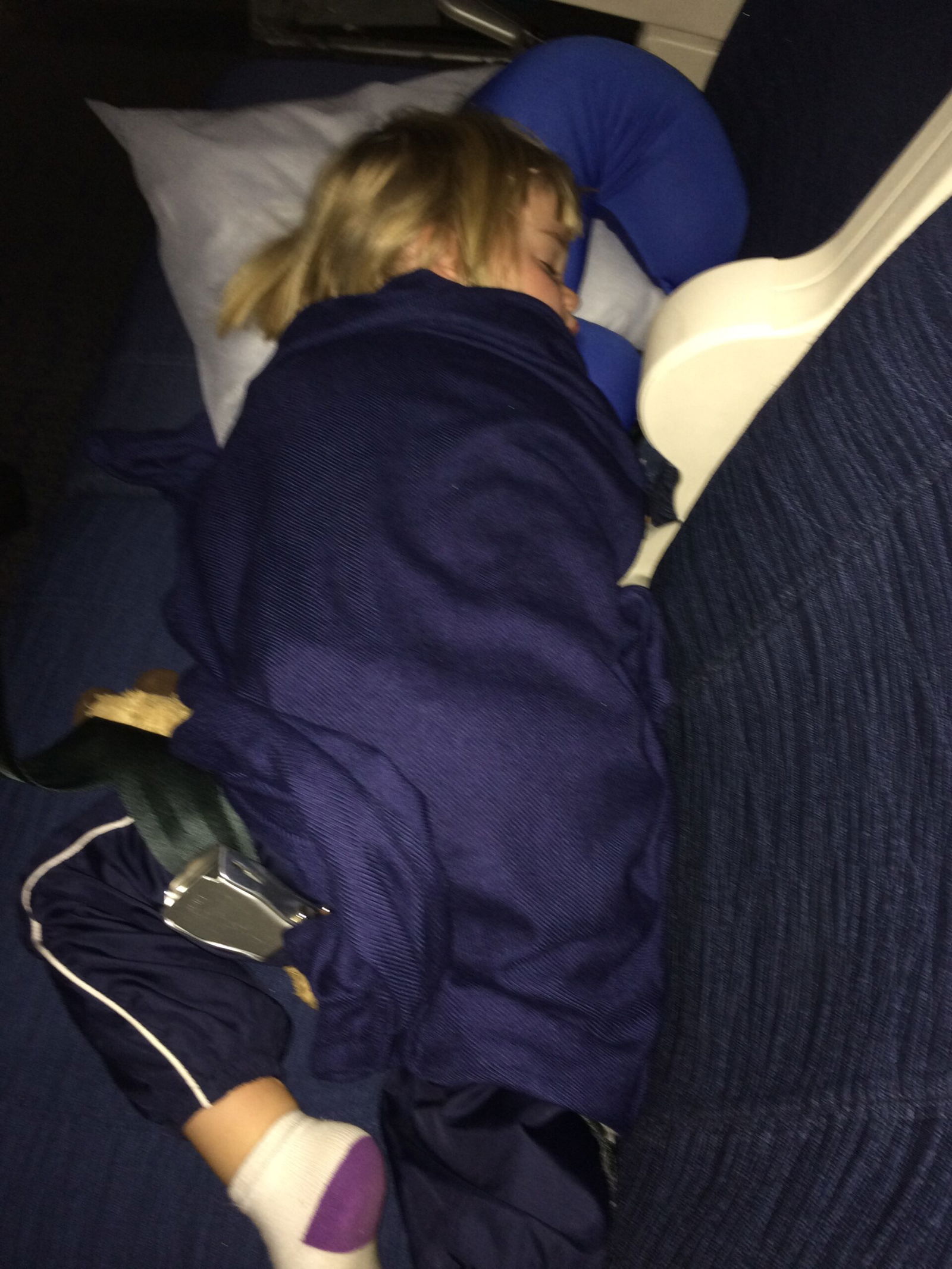 In December, my family flew from Houston to Tokyo on a United 777 to start our Southeast Asian Adventure. There were literally two empty seats on the entire plane — one was between my son and I, the other was between my wife and my daughter.
My family is currently in Copenhagen. We flew a United 767 from Dulles to Zurich. There were three empty seats on the entire plane — two of the three were between members of my family. (The final seat map showed only two empty seats, but apparently there was a third as well.)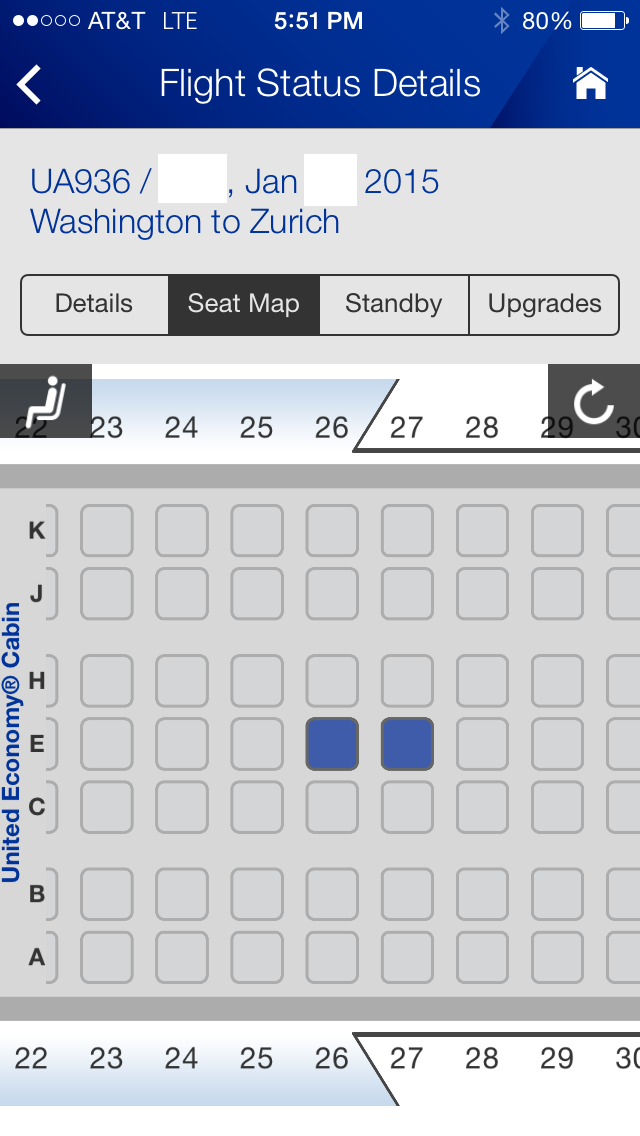 My family claimed the extra space on the plane for ourselves on consecutive international trips. This isn't a coincidence. You can do it too.
Extended Legroom Seating
No, I'm not just talking about extended leg room seating, but it factors into the strategy, so we should discuss it.
If you have elite status with an airline, you most likely have access to extended legroom seating for free, either at time of booking or when you check-in. It's called Economy Comfort, Main Cabin Extra, or Economy Plus on Delta, American, and United, respectively. If you aren't elite, you can usually pay extra for a seat in this section. But what's the fun in that?
And besides, this post is about getting a whole extra seat for free, not just a few lousy inches.
For the remainder of this post, I'm going to refer to extended legroom seating as E+ and regular economy as E-, regardless of the airline.
Order In Which Seats Fill
To position ourselves such that we're likely to be seated next to the empty seat, we really have to think hard about how seats on a plane fill. These are my observations after hundreds of thousands of miles of flying.
Seats Fill Front To Back
All else equal, closer to the door is better as it gets you off the plane sooner. This is true of both E+ and E-.
E- Fills Before E+
This is not a hard and fast rule. (And it is often not true on domestic flights which are dominated by business travelers who have elite status or an expense account in which to charge the E+ fee such as San Francisco – Washington DC for United.) But in my experience, regular economy fills before economy plus on most international flights.
If you need to be convinced, consider this: hub-hub routes in the US have the most premiers because you have a population at both ends that are, to some degree, forced to fly the airline. Now think about a route like Houston – Austin. It's got a population of people at both ends who fly a lot, but the people in Austin actually have a choice — the flight is likely to still have a lot of premiers, but maybe not quite as many because the people in Austin may split their flying between American and United. (Or they may just fly American in general.)
Now think about a route like Houston – Lima, Peru. This is like Houston – Austin, as in it's a hub to outstation, but now that outstation is in a country where most people a.) don't fly as much, and b.) certainly don't fly United as much. That leads to far fewer people in E+
All that said, if we want to have a better chance of having the empty seat next to us, we should sit in the back of E+. If we don't get E+ for free, we should sit in the back of E-. (If we are on a route where E+ fills first, we could think about voluntarily downgrading ourselves to the back of E-, but I don't usually recommend that because if it doesn't pan out, well, you're stuck in E-.)
For international flights, it is not uncommon to see E- completely full well before the departure date. That typically means that there are people who don't have a seat assignment because they don't want to pay more for a seat in E+, yet that's all that's left. The procedure then is for them to go to the airport where they are assigned a seat either at check-in or at the gate. This is typically done automatically by the computer which just so happens to assign seats from the front to back of E+. If there are standby's they too will be assigned seats from front to back.
That means we want to sit in the back of E+ if we hope to get the lone empty middle next to us.
Aisle → Window→ Middle
For whatever reason, a majority of people prefer aisles over windows. I imagine it has to do with having unfettered access to the loo. Windows are the next most popular, and are certainly the first choice for a good number of people (just not the majority). Finally, nobody wants to sit in a middle seat.
That means that if we want the best chance of getting Mr. No One sitting next to us, and we're traveling as a party of two, we should select an aisle and window in the back of E+. (Or E-, if we must.) In fact, there's no reason not to always do this.
If the middle seat becomes occupied, you can always trade the aisle or window for it. I've even had gate agents do this for me automatically without asking; one told me that in all her years, she'd only ever heard of two cases where the middle seat guy wouldn't switch– one was OCD and insisted on sitting in the seat that was printed on his boarding pass, and the other was afraid of flying so he felt safer with people on both sides of him.
You can assume that neither of those guys will be on your flight.
The Middle Seat In The Back Center Section Is The Best Seat To Bet On Being Empty
Any middle seat in the center section of a twin-aisle aircraft is a decent seat. It's better than the middles on either of the sides because you never have to let anyone out, and you have two options for getting out yourself. Yet most people treat it as just another middle. That means they fill the middles front-to-back, row-by-row, generally without regard to whether it's in the left, center, or right section of the aircraft.
That means we should want to bet on a middle in the back of E+ being the last seat to fill. The questions is, will it be on the left, the right, or in the center?
I don't really know, and I think it's probably a crap-shoot. But you should bet on it being in center section anyway. Here's why:
If you bet on either side section and miss, you are going to have to do a swap such that you and your partner end up in either aisle-middle or middle-window. In either case you are either responsible for letting a stranger out, or have to ask the stranger to get up when you want out.
If you bet on the center middle being open and miss, you and your partner swap for an aisle-middle in the center section. And that is far superior to either of the swaps that you make on the side. So while we don't know where the empty middle will be, we should bet on it being in the middle because it minimizes our downside risk.

This is the seatmap for Denver – Tokyo one week out. E- is rather full. The aisles and windows in E+ are full. I posit that the last empty seat on the plane will be a middle in Row 22. I just don't know which section.
Putting It All Together
To summarize everything I've said above, you want to:
Select two aisle seats,
In the center section,
In the back of E+.
That should put the middle seat in the center section of the back of E+ between you and your companion. That seat is likely to be one of the last seats to be filled which means we should want to sit on either side of it. If we bet wrong, our downside risk is minimized as we still have an aisle (or aisle – middle if traveling with a companion), with only one person that we need to let out.
So if you ever book yourself onto a flight that has a seat map which looks like this, plan to stop back and say hello. Just don't even think about taking those middle seats!

Do you try to get an empty middle, and if so, what methods do you use?