In case you missed it, I'm testing out the idea of adding contributors to the blog. This isn't intended as a means of replacing me (hopefully), but rather as a way to add new and interesting perspectives, which I think you guys will enjoy.
My first new contributor is my good friend Travis, who will be writing a post every Wednesday to start. I've known Travis for years, and don't know anyone else who travels the way he does. He gave an overview about his family and approach to travel last week, so please check that out if you haven't already!
---
The lap child rule has to be one of the greatest deals of all time when it comes to air travel. It's sort of like an All You Can Jet pass that is given to you on your birth day and is valid for two years. It's unlimited. And domestically at least, it's unrestricted. Oh right, there's this one little caveat….
You have to find an adult who is willing to, you know, let you sit on their lap for an entire flight!
OK, and you don't earn miles. That's kind of a bummer. But:
Unlimited.
Free.
Travel.
What could be better?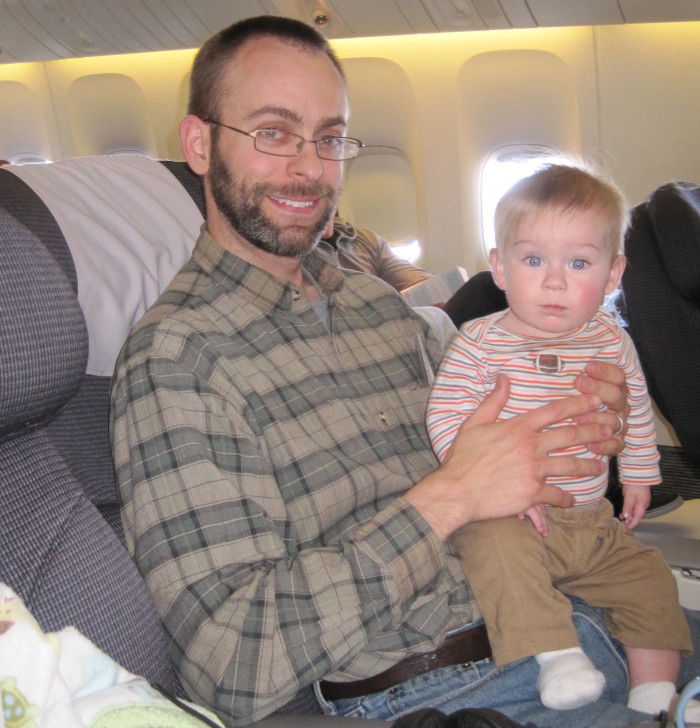 Flying with a lap child.
All jokes aside, flying with lap children is a somewhat controversial topic, mostly due to concerns over safety. I'm not saying you should or should not lap-child, but it's worth being aware of the policies.
Personally, my family has done a little of both; sometimes we buy a seat, and sometimes we lap-child. It just depends on the circumstances such as how long the flight is, and how much the extra seat would cost. It's a cost-benefit analysis, as always.
For the rest of this post, I'm going to address the most common questions surrounding this policy. This is not meant to be an exhaustive reference on the topic, but rather some tidbits that we've learned along the way.
Where can I sit?
Since you must be at least 15 to sit in an exit row, that immediately precludes lap-children. And that makes sense because it would be pretty hard to open a 40 lb door without dropping the baby.
A much more subtle rule is that there can only be one lap child per row per side of the plane. The reason for this is that there is only one extra oxygen mask on each side. Now even this gets tricky—some equipment only has the extra mask on one side, and on a few aircraft, they are only in designated rows (which of course, are not marked!)
So if the flight attendant tells you that you can't sit there with a lap child, this is quite likely the reason. Also keep in mind that this rule can bite you even if you've done your homework and chosen seats on the proper side of the plane for the given equipment – you never know when the person next to you will have a lap child! (The reason for this is that as you'll see next, most lap children on domestic flights aren't declared until check in.)
How do I declare a lap child?
For domestic flights, it's really simple. At the check-in counter, just tell them that you have a lap-child. For some airlines, it's possible to declare a lap-child at time of booking, but we've never done that for domestic flights. The agent may ask for the child's name and birthdate, but no formal identification is required. (You can leave the birth certificate at home, unless you've got a big kid who looks like he could be over two and you want to be able to provide proof.)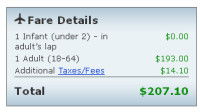 No charge for a lap child on a domestic flight.
What about international flights?
This is a much different ball game. Lap children are typically charged 10% of the adult fare for international flights.
Now this opens up a bit of an ambiguity since there is no single adult fare for the flight. Is it the fare you paid? Is it full fare for the cabin? This can depend on the airline, but most of the time it's 10% of the fare you paid.
I recommend ticketing the infant at the time you book your ticket such that you pay 10% of the fare you paid.
(If you wait to declare the infant until check-in, you could end up paying 10% of full fare, which could means the lap-child fee could be more than the price of your ticket!)


Lap child fee for an Economy revenue ticket SFO-NRT
Remember that all children traveling internationally require a passport.
What about international award tickets?
This is the real gotcha in the lap child world. The lap child is still generally charged 10%, but now the adult ticket has no fare basis, so it can be unclear how much you'll pay. It could be 10% of the lowest fare available in your ticketed cabin, or it could be 10% of full fare for the cabin. And that can be a lot, especially if you fly in business or first. In the example below, United was charging 10% of the lowest fare for the cabin.


Lap child fee for an Economy award ticket SFO-NRT
Lap child fees in premium cabins can be pricey.


Over $1000 for a lap child in United first on SFO-NRT!
Maybe this is why Ben is single???
Do they get a meal?
Generally not on US carriers. Lap children are not included in the catering, but you could ask if there is an extra meal available. There are some international carriers that will provide a small lap child meal if requested.
What if the flight is empty?
Can I bring the car seat onboard and use it? Well, that depends. Technically, I can only assume the answer is no. One option is to ask the GA. Maybe they'll say yes, but if they don't, well, you were told.
The other option is to take your car seat on-board anyway.
Now I would only advocate doing this if you have checked the seat map religiously, know that the seat next to you is empty (that's what mobile apps are for), know that the standby list has already been cleared (again, mobile app), and are mostly convinced that the seat will remain empty. Because if you end up guessing wrong, you get to make the walk of shame back to the boarding door with all those other people who brought more crap than they could fit in the overhead bins. And if it's just you with the kiddo, you get to do that while trying to wrangle your child. Not so fun. But potentially worth the risk.
Is flying with a lap child safe?
Like I said at the start, everyone has their own opinions on that topic. From the earliest years, I rode between my parents on the front bench seat of our Plymouth Valiant.
I guess I survived.
Is lap-childing less safe than sitting in an FAA-approved rear-facing child restraint? Sure, but I try not to get caught up in the physics of small numbers.
Is it worth it?
Again, only you can decide that. Our experience is that it is relatively easy to fly with infants during the first six months.
They sleep a lot. They can sleep anywhere. And they like white noise. (Apparently airplanes generate such high quality white noise that they now make apps which simulate airplane noise to help you sleep at night!) So lap childing at this age is pretty easy.
As you approach the age of 2, the game changes. You are no longer holding a little blob who will pretty much melt into your chest, but rather an opinionated little woman (or opinionated little man) who may or may not enjoy sitting on your legs for hours on end.
We took a short 1-hour flight recently when our daughter was 22 months… she was sleepy due to the bedtime hour, and she managed to watch Frozen the entire time. Even though she's not that big for her age, she still spilled from my wife's lap to mine (I think I got the feet.)
What about other countries?
This is where it can get obscure. We once had a BMI flight from London to Dublin where the flight attendant insisted that our 1-year be attached to my wife using something like a seat-belt extender. She claimed it was the law.
Now this probably would not have been such a big deal except for the fact that my daughter actually had a paid seat, and her car seat (Graco infant bucket) was securely installed next to us. So rather than fly rear-facing in her FAA-approved car seat, the BMI flight attendant was adamant that my wife take her out of the car seat and lap-child her for takeoff and landing. Because it was safer, she said.
Makes no sense to me, but the point is that as you travel around the world with your kids, sooner or later you will find policies like this that seem ridiculous. And you too will be faced with making a scene – being that parent—or just doing as you are told. I assure you, I'm not always the latter.
Is there a minimum age?
I believe most airlines say one week. But I would rather discuss that with my doctor rather than rely on the policy of an airline. I believe our kids were about six weeks old at the time of their first flights.
Will there be a bassinet? Who gets to use them?
This is a hard question. Most of the bassinets I've seen were on international carriers. Anecdotally, it seems that carriers of other countries go out of their way more to accommodate those traveling with kiddos.
For example, we flew Thai on some regional flights with two lap children. Upon seeing the kids at check-in, they proactively switched our seats to those in a bulkhead. (We didn't need a bassinet, but those were available too.) Among the US carriers, those bulkhead seats are generally considered premium and assigned (or sold) long before the day of departure.
The bassinet weight limits tend to be on the small side, so there's a fairly narrow window in which to use them.
Do I get extra an extra carry-on bag allowance for the lap-child?
Most airlines allow a diaper bag at no extra charge in addition to the carry-on bag allowance.
---
I hope this primer on lap-children was helpful. I'll also have a follow-up post in the future with more specifics regarding booking infants on award tickets.
I'll try to answer any questions you may have. And I'm also curious — do you lap-child? How did it go?