Chinese New Year In Taiwan
---
I've already covered most of the things we did with the kids in Taipei. But I thought our visit to Baby Boss City deserved its own review as it is a fairly unique attraction, at least for those of us in the US, and I would have liked to have had more information to help plan our visit.
Baby Boss City is a simulated city where children aged 3-12 get to role play various jobs and get paid (in funny money), sort of like the real world. The idea is that it gives kids the opportunity to explore a variety of different occupations, and learn a few things along the way.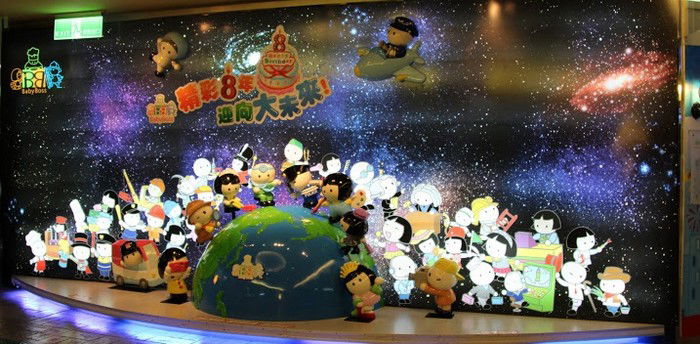 Baby Boss City Taipei
Apparently these type of "edutainment" attractions are becoming a thing. By my understanding, Baby Boss City is basically a copycat of Kidzania, which debuted in Mexico in 1999 and has since spread to 16 locations around the world. But there still aren't any Kidzanias in the US, nor anything similar, at least that I'm aware of (the Kidzania wikipedia page says that one is opening in Pensacola, Florida, later this year).
Baby Boss City is not just an indoor playground, children's museum, or amusement park. In fact, it's nothing of the sort. The activities — or role-playing jobs — are highly structured affairs that occur at scheduled times throughout the day. Each job is led by one or more staff members and lasts for 20-35 minutes.
The jobs themselves typically start with the staff helping the kids get into uniforms, and then explaining what the job entails. The kids role-play the part, and at the completion are paid in Baby Boss Bucks. Parents are spectators at Baby Boss City and can't actually take part in the activities (except the airline activity, where they play the role of passengers).
Arriving at Baby Boss City Taipei
Baby Boss City is located on the 7th floor of the Core Pacific City mall.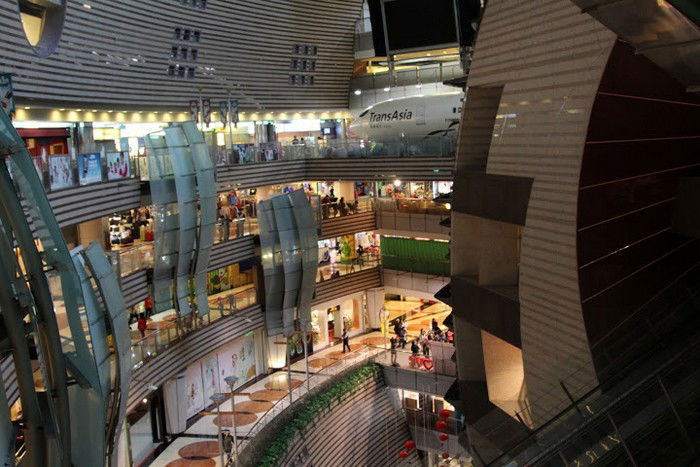 Baby Boss City is on the top floor of a large mall
The ticket booth is outside the entrance.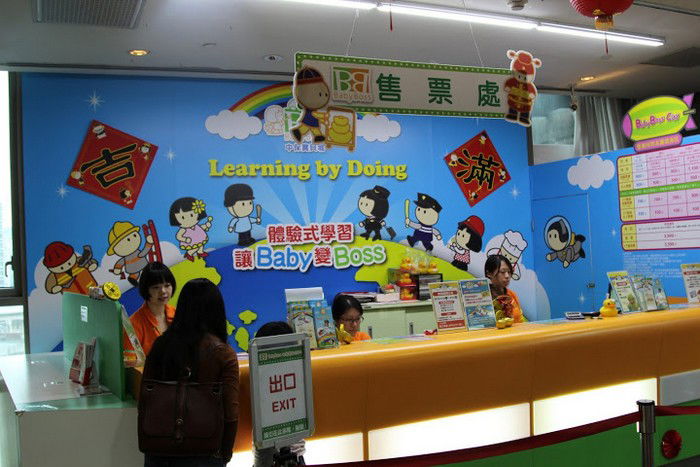 Baby Boss City ticket counter
It's important to think about your arrival time:
For weekends and holiday periods — like Chinese New Year — the day is split into two 5-hour sessions, 10 AM- 3 PM, and 3PM – 8 PM meaning your admission is good for one or the other
On regular weekdays, however, your ticket is good all day
The price is the same regardless of whether you do a half day on the weekend or a whole day during the week, so that's something to consider. It's worth noting that although the staff are mostly bilingual, the instruction is virtually all in Mandarin, though the staff assured us that keywords would be repeated in English.
It seems Baby Boss sort of realizes that non-native speakers may get somewhat less out of the experience, as there is a reduced admission for those with a foreign passport. At least that's the only reason I can think of, as I'm more used to it being the other way around — locals get a discount, while foreigners get gouged. Either way, we were happy for the reduced rate as it is slightly expensive, at least by Taipei standards. There is also a charge for adults, even though you aren't actually going to be doing anything other than schlepping your kid from one role to the next.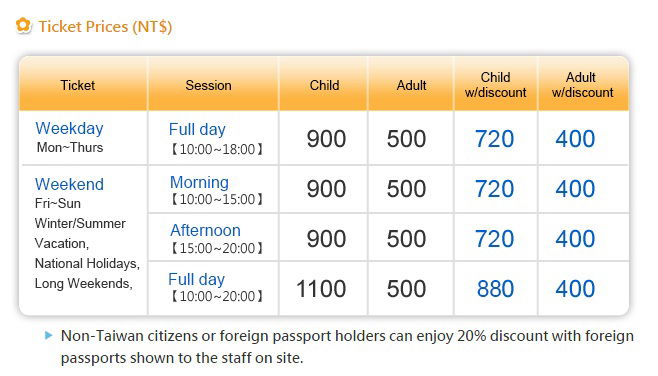 Baby Boss City ticket prices (2016)
With tickets in hand, we were ready to enter.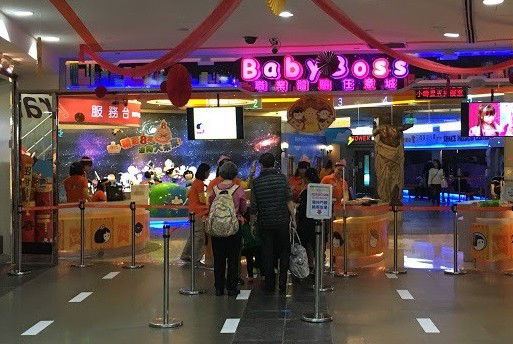 Baby Boss City entrance
Optimizing the Schedule
Upon entry, we were handed a schedule for the day. It listed each of the jobs, the start time and location, how long it would last, the maximum kids per session, and some other information like whether it is suitable for non-native speakers.
All packed onto a single sheet of paper. Frankly, it was a little overwhelming.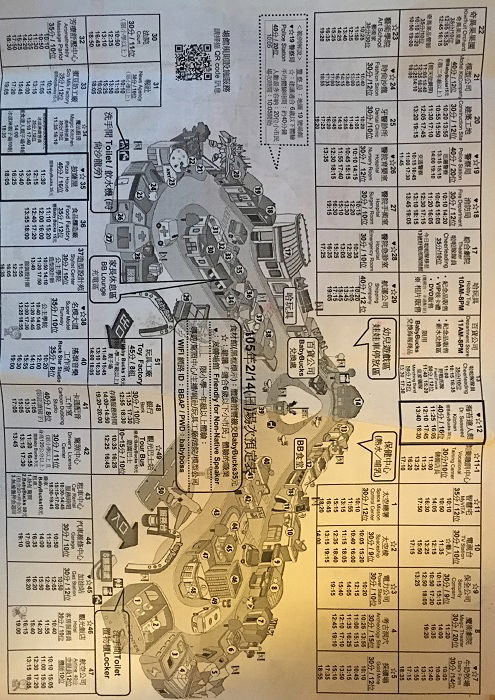 Baby Boss City Taipei schedule
And that is why it's worth investing a few minutes into planning before you arrive. Since your kid is probably only going to get to do 6-8 jobs out of the 30 to choose from, you'll want to talk over which are most interesting to them. Otherwise you run the risk of getting to the end of the day and still not having had the chance to go into space, put out the fire, or whatever it is that they had their heart set on doing. I was almost paranoid about this.
Here's roughly what you need to know:
Each job lasts 20-35 minutes
The start times are mostly random
There is a limit to the number of kids that can be in each session for a job
Some jobs are repeated often, others not so much
It can take a few minutes to walk from one job to the next
Popular jobs may have a line
Since it was not at all busy on the day we were there, our kids were generally able to finish one job, and then get in line for the next that was starting maybe 5-10 minutes later. In other words, we had minimal downtime. And there are digital clocks everywhere to help you stay on schedule.
It felt like we were hyper-scheduling our kids — something we don't do at home — but it was either that, or miss out on some cool stuff and not get our money's worth.
A Sampling Of The Baby Boss City Jobs
My son did five jobs while my daughter squeezed in six. Some of them they did together, while other times my wife and I split up so they could have some independence.
They started with TV Studio, mostly because it was starting right about the time we arrived. It was more language intensive, and given it was the first job of the day, I'm not sure they quite got the idea of what was going on.

Baby Boss City TV Studio
Then my son went to Gas Station, where he got to take a turn pumping gas for a customer. Of course, that job hasn't existed for perhaps twenty years in most parts of the US, so he was probably even more confused.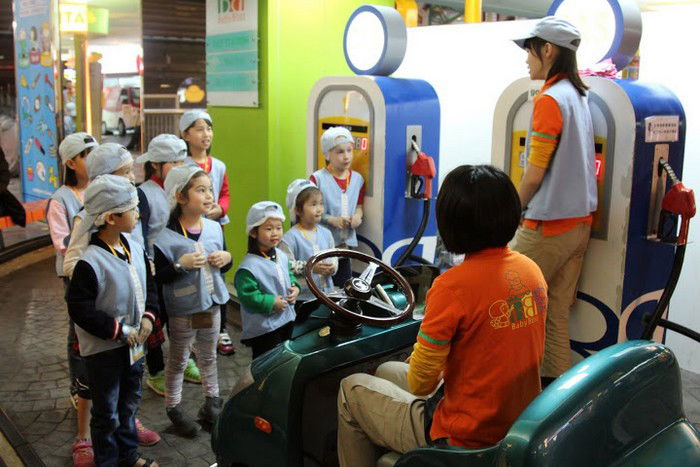 Baby Boss City Gas Station
Then he got to fly the Spaceship on a mission to collect moon rocks.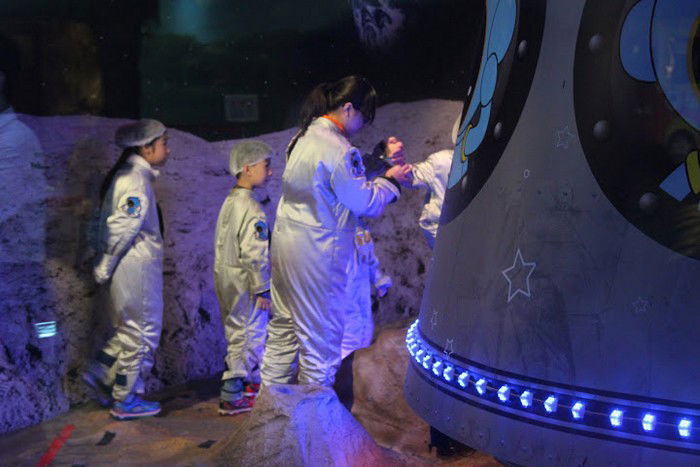 Baby Boss City Spaceship
After going into space he got to see what it's like to be a mission controller back on Earth. His mom is a rocket scientist, so of course, the space activities were a blast for for him.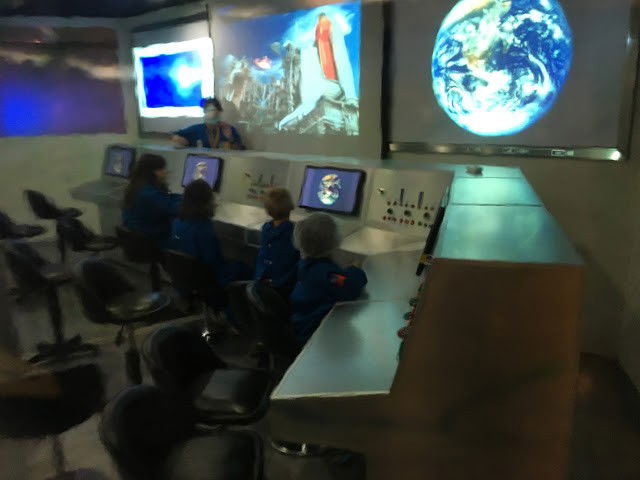 Baby Boss City Space Mission Control
Our kids did Fire Department together, which was one of their favorites. It starts by sliding down a fire pole and then piling into the fire truck to ride to the scene.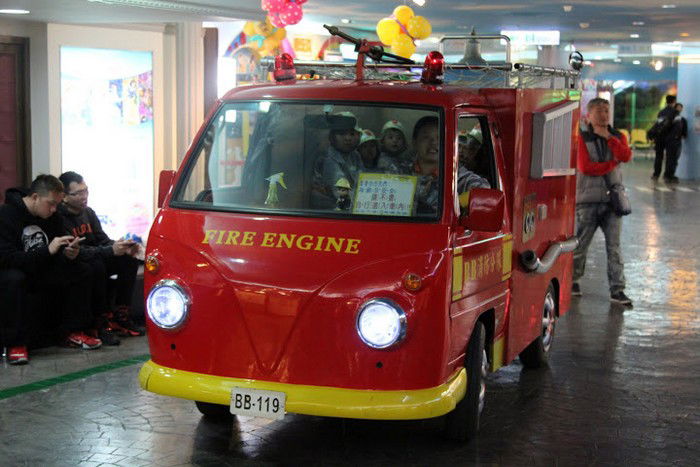 Baby Boss City Fire Department
My son was upset that, try as he might, he couldn't get his water canon to extinguish the fake fire.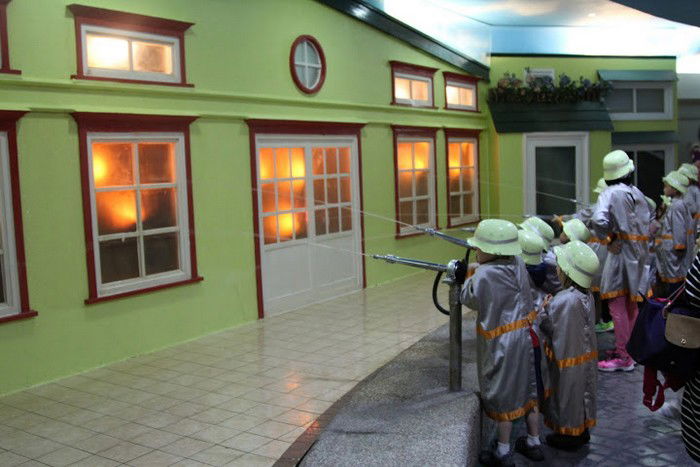 Putting out the fire
My daughter did Archaeology which involved going into a dark room to dig in the sand. This photo is of the TV monitor that the parents get to watch.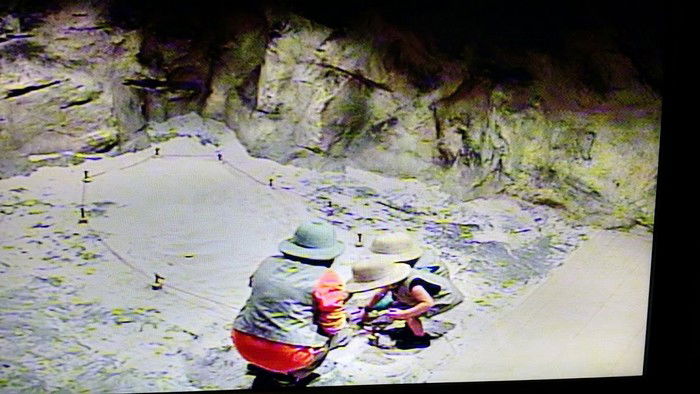 Baby Boss City Archaeology
Then she was an EMT, which started with the kids riding in the ambulance to help the patient.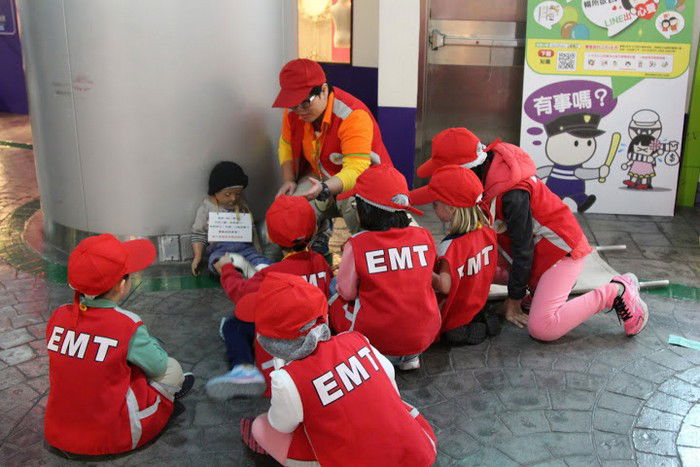 Baby Boss City EMT
At Food Factory she got to make (and take home) two bottles of soy sauce. This one costs some funny money because you get to take something home with you. There was only one other kid in this session with her, so she got a lot of personal attention.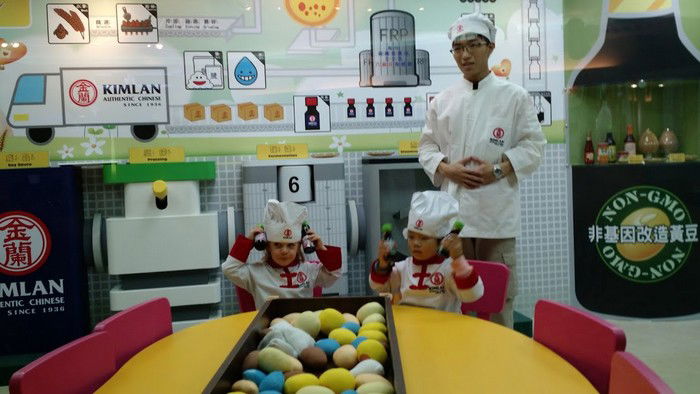 Baby Boss City Food Factory
Finally Art Studio was mostly sitting around and drawing pictures. It didn't have many kids in it either.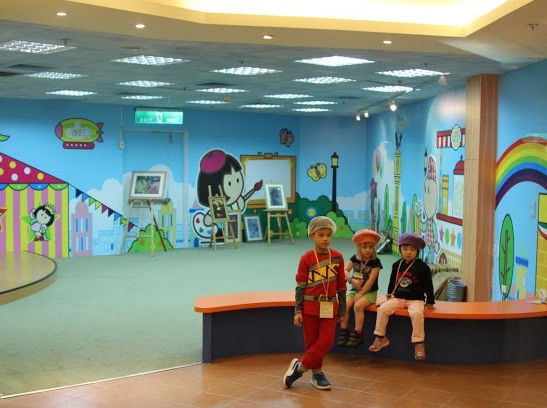 Baby Boss City Art Studio
Baby Boss Bucks
Just like the real world, the kids get paid for doing their jobs.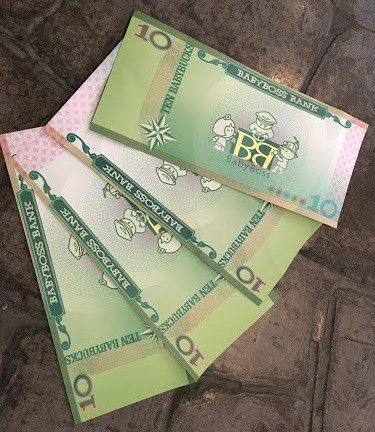 Baby Boss bucks
Our kids, aged 3.5 and almost 5, weren't much into the money but rather just wanted to have fun at their "jobs." Which come to think of it, is not a bad philosophy for life. I think all the jobs paid the same, regardless of whether you were pumping gas or flying a spaceship. Bernie Sanders would be proud.
At the end of the day the kids can make a visit to the Department Store to buy souvenirs with their earnings. Our kids pooled their money to buy some stickers.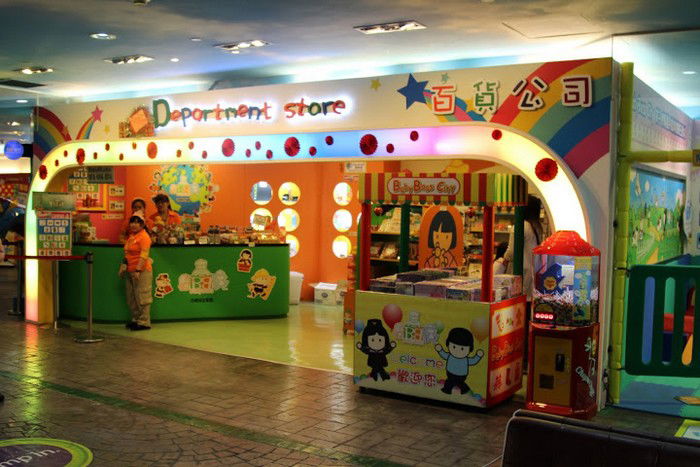 Baby Boss City Department Store
Safety and Hygiene
We had minimal concerns about safety because it wasn't very busy when we there so there was never a crowd for our kids to get lost in. But even so, the staff seemed to have procedures in place to ensure security. Upon entering, both adults and kids were given matching bracelets indicating you belonged together. A special tool was required to remove the bracelets upon exiting.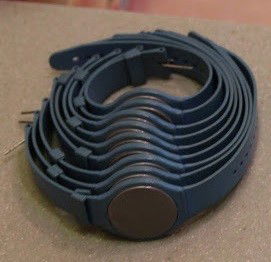 Baby Boss City wristbands
I was also impressed by the hygiene. The instructors all had bottles of hand sanitizer and every job started with the kids wiping down their fingers. They also distributed hair nets for the jobs that involved some sort of hat or helmet. We always feel leery of taking our kids to the children's museum or Chick-Fil-A play place back home as about half the time we end up with a sick kid a few days later. I'm sure Baby Boss City has its share of germs, but at least the staff seems vigilant.
Adult Lounge
No review on One Mile at a Time would be complete with a mention of the lounge!
We didn't actually get to spend any time here because our kids needed help getting from one activity to the next — and we were really interested in seeing what the jobs were like. But I can imagine that if our kids were older, it would have been a nice place to relax, or possibly do some work.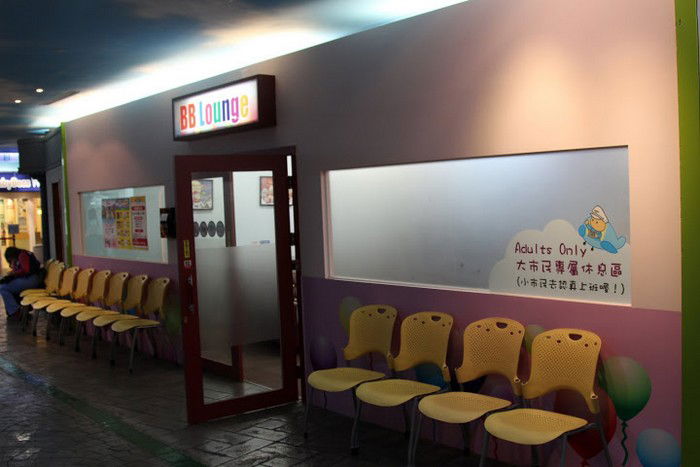 Baby Boss City adult lounge
The lounge, like the rest of Baby Boss City, had WiFi. And there were even massage chairs, which I hear Ben likes.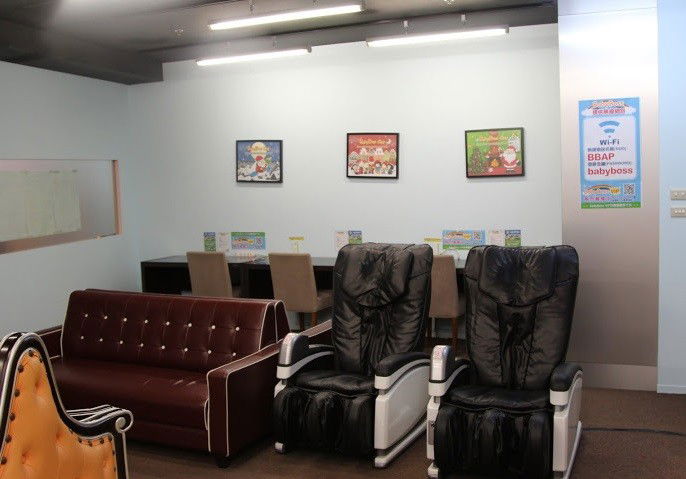 Baby Boss City adult lounge
Conclusion
Our kids really enjoyed our time at Baby Boss City, and I think they got a lot out of it. I wish I had known a bit more about it prior to our visit so that I could have better planned our time and prepared our kids for what to expect. That said, the staff was very accommodating and one instructor even took me aside to recommend the best jobs for our non-native language kids.
Possibly the two jobs that I think I my kids would have enjoyed are the airplane and cargo ship. Then again, with how much our kids fly, maybe that would have been boring to them. I was told that it's one of the most popular, so if it's on your list, plan accordingly.
Overall I'm sure we'll do one of these again sometime. I'll be interested to see how well the concept does in the US.
Have you taken your kids to a role playing city like Baby Boss or Kidzania? What did you think?