(Full disclosure: Park Hyatt and American Airlines, sponsors of the Masters of Food & Wine Event, comped my airfare, hotel, and admission to the events)
After being dropped off we proceeded to American Airlines check-in, which was not yet open. The agents were in the process of setting up, so within about 30 minutes or so check-in finally opened.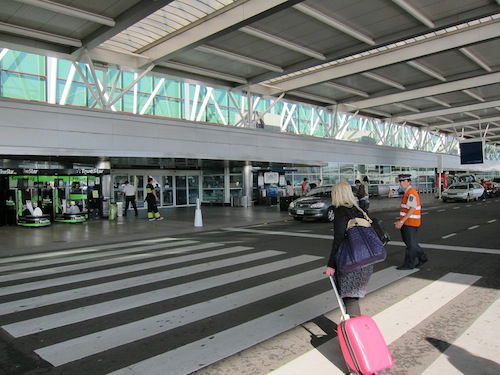 Terminal exterior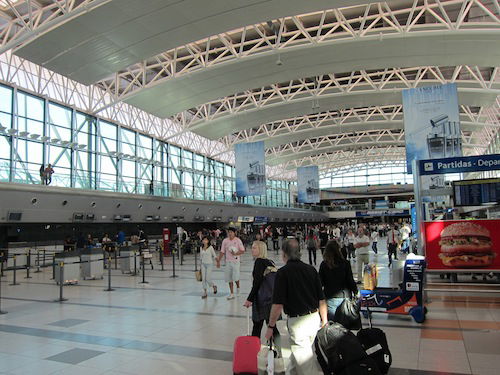 Terminal interior
Given how early we were, we were the first in the business class line. Once check-in opened we first proceeded to the initial "questioning" podium, where we were asked the nonsensical security questions about whether we packed our own bags and all that other fun jazz.
Check-in was pretty efficient beyond that, and in addition to being given the boarding pass, I was given the departure form and US immigration form.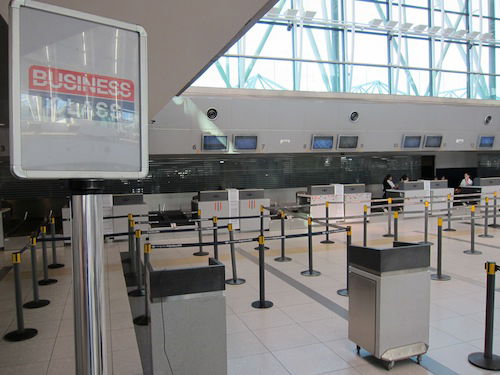 Check-in
Frustratingly, the departure form was pretty long, and it has to be filled out before getting airside, meaning there was really no practical place to fill it out. So I first spent about five minutes filling out the form, then cleared security, and then spent another 20 or so minutes in line for an immigration agent. There was no premium line as far as I could tell. The worst part of the whole experience is that half of the immigration agents were sitting in their little cubicles playing around on their phones for several minutes between passengers.
Once that was complete I found myself in the departure hall, where there were plenty of duty-free shops. I was excited to finally be able to get some work done again, so headed straight for the Admirals Club, which was a bit of a hike.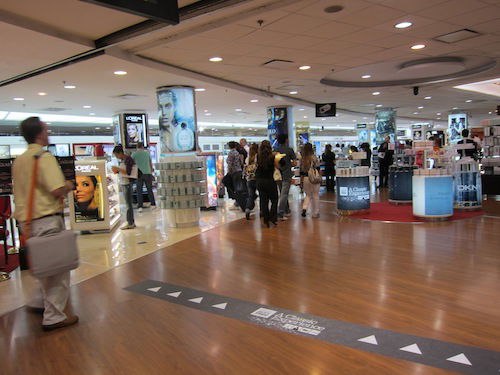 Duty Free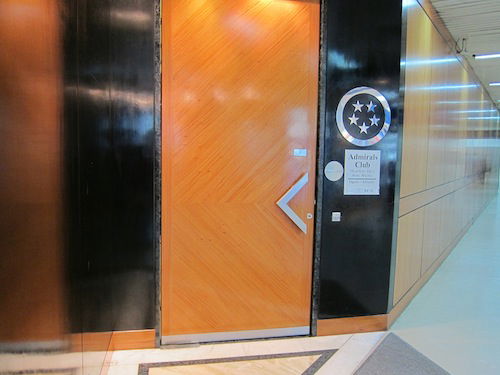 Admirals Club
I was promptly admitted into the rather shabby lounge, though couldn't have cared less, as long as I finally had a decent internet connection. The lounge was fairly large, though could definitely use a renovation.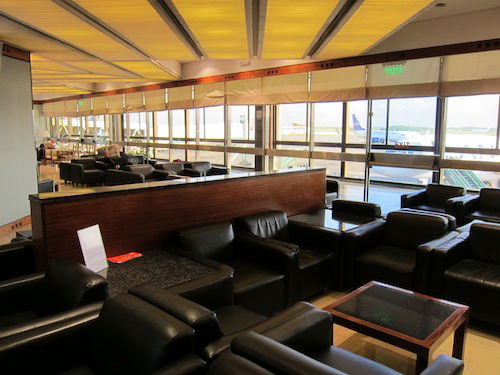 Admirals Club Buenos Aires
Most surprising was that the snack selection was no better than any domestic Admirals Club or Red Carpet Club. They had cookies, chips, and cheese cubes with crackers. The only difference was that the booze was self-serve.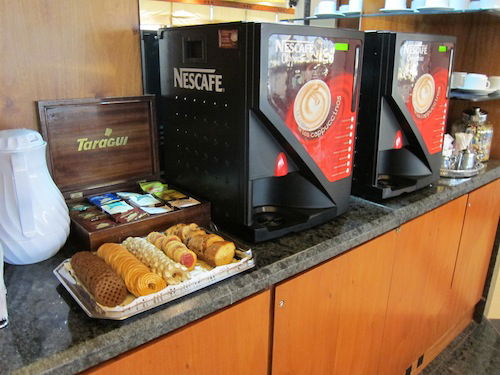 Snack selection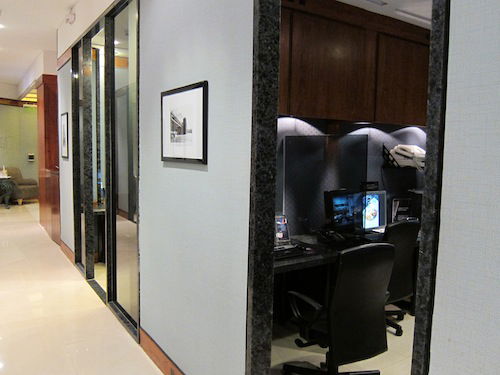 Computer room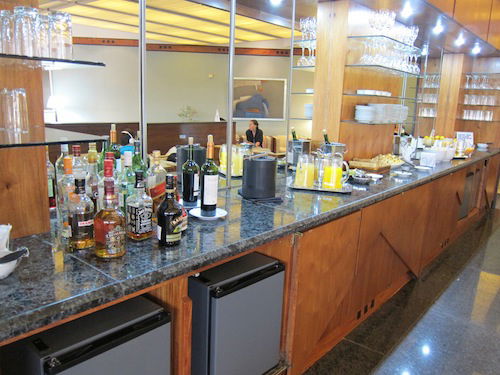 Snack selection
The bad news is that this lounge literally had the slowest internet connection I've ever experienced. It took five minutes to load up a normal webpage. So unfortunately the internet was basically useless.
Given that it would be an unproductive evening, I decided I'd pay the American Express lounge a visit. American Express has a dedicated lounge in Buenos Aires, so I was kind of curious about how that would be. I figured at the very least the internet couldn't be any slower.
The lounge was about a five-minute walk away, though after about 30 seconds I left. Since I have a Platinum card I was invited into the "Platinum room" and given a special key for it, though that proved pretty pointless given that the door to it was open. The whole lounge didn't have a single empty seat, and half of the chairs even had two people in them.
The terminal was starting to look like the most relaxing place at this airport.
I headed back to the Admirals Club, where the internet speed had picked up marginally. I mostly worked on uploading and resizing pictures, just so the internet speed wouldn't drive me crazy.
At around 8 PM I headed to the gate, at which point most of the plane had already boarded.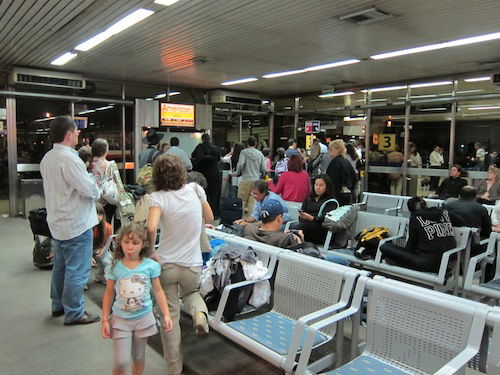 Departure gate
American Airlines 900
Buenos Aires (EZE) – Miami (MIA)
Sunday, April 3
Depart: 8:25PM
Arrive: 4:35AM (+1 day)
Duration: 9hr10min
Aircraft: 777-200
Seat: 9B (Business Class)
Just like on the flight out, I had the bulkhead aisle seat in business class, which I found to be pretty comfortable. At my seat was a pillow and blanket, along with a menu, amenity kit, and bottle of water.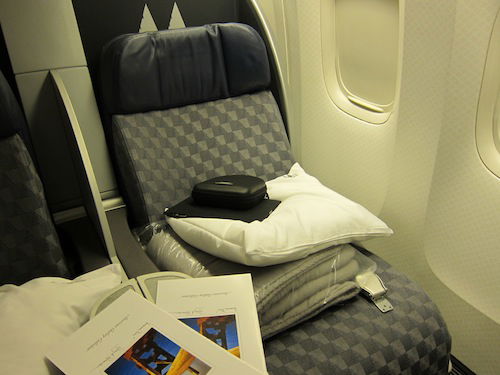 Seats in row nine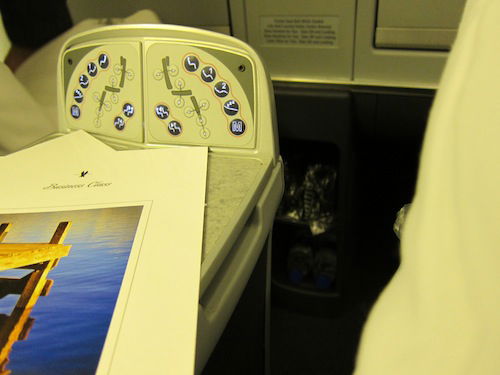 Menu and seat controls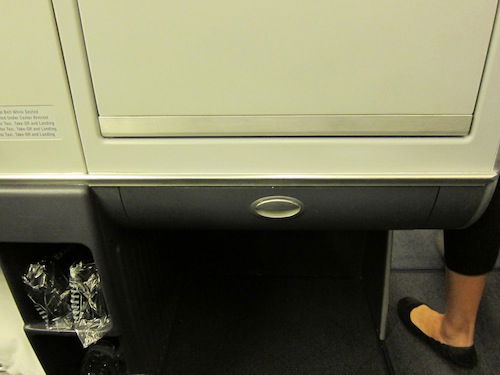 Row nine legroom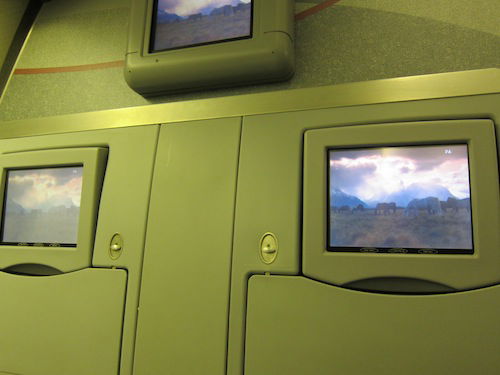 Row nine entertainment system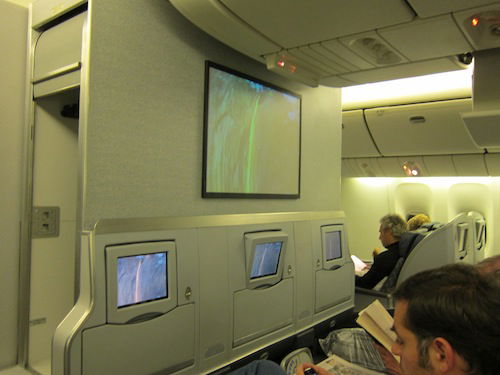 Cabin view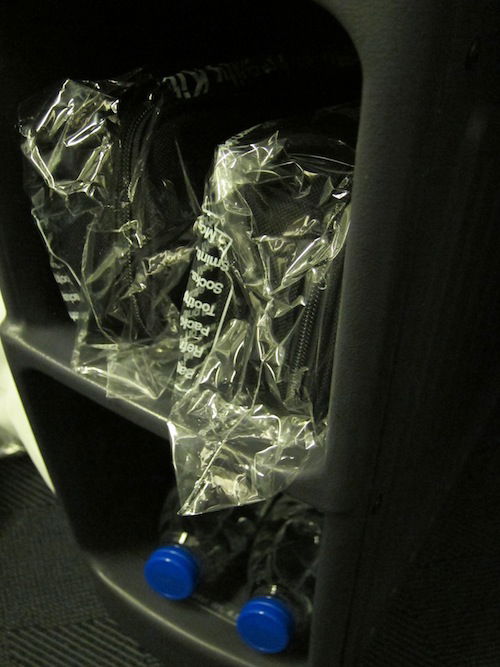 Amenity kit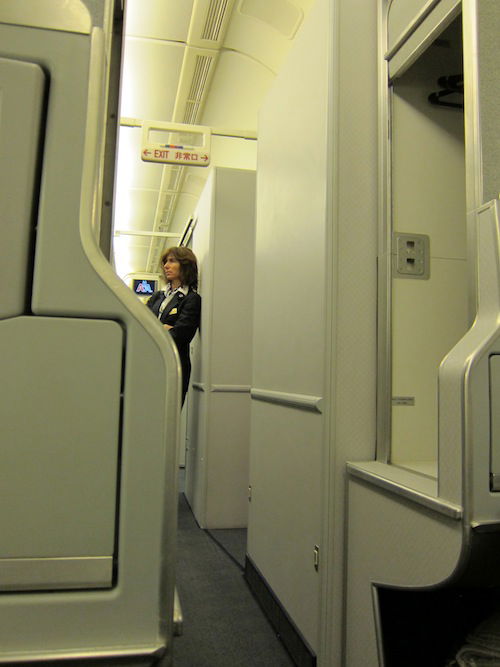 View from seat
Within a few minutes of settling in I was offered a pre-departure beverage. I went with some sort of orange juice which was rather refreshing.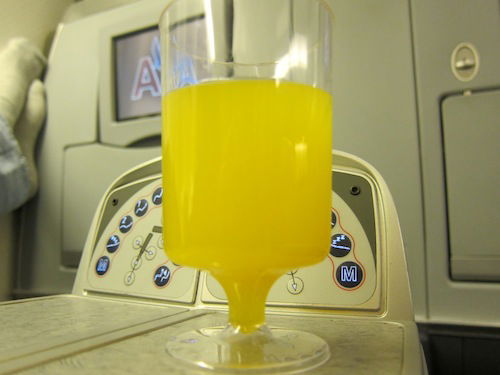 Pre-departure beverage
Shortly before departure time rolled around the captain announced our flight time of 8hr30min and gave a detailed explanation of our flight path for the evening.
We pushed back on time, taxied to the runway, and blasted off. About 20 minutes after takeoff the seatbelt sign was turned off, at which point the flight attendants started setting up the drink carts.
Service started with hot towels and noise-canceling headphones, followed quickly by the beverage cart.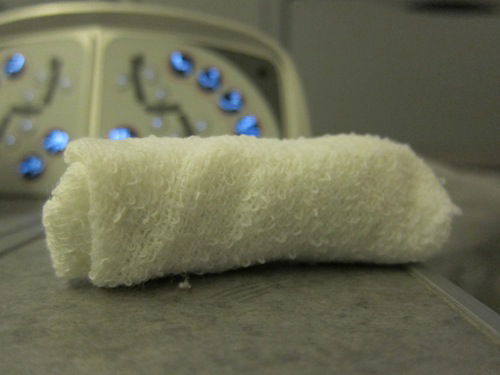 Hot towel
Once the beverage cart rolled around I requested a Diet Coke, though the flight attendant informed me they were already out (not sure how that's possible, when I'm the first person being served, but whatever). It was of course served with a delightful ramekin of nuts.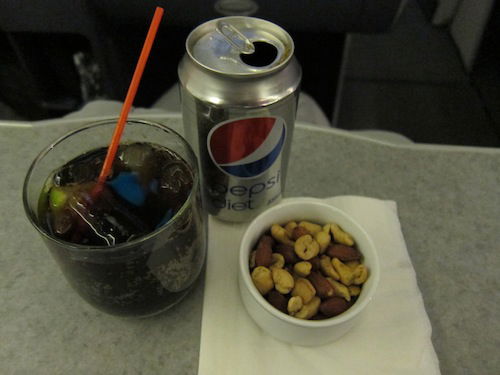 Diet Pepsi with warm nuts
While the flight attendants that work the South America routes aren't overly friendly, they seem to have their game down. From what I could tell, most of the flight attendants working the flight seemed to work it pretty often, so they had the service down to a "T." I even recognized one of the flight attendants from my outbound journey, as he was actually based in Buenos Aires.
Once drinks were served the dinner cart came around. The menu read as follows:
Dining Service

To Start
Warm mixed nuts

Salad
Fresh seasonal greens with asparagus, sundried tomatoes, peppers, and mozzarella, offered with creamy garlic herb dressing or premium extra virgin olive oil and balsamic vinegar

Bread Basket
Assorted gourmet breads

Main Course
Steak au Poivre
Seared fillet of beef offered with a green peppercorn sauce, haricots verts, and dauphinoise potatoes

Portuguese Codfish
Portuguese-style codfish prepared with onions and potatoes, accompanied by a black and green olive tapenade offered with white rice

Vegetable Gratin
Oven-roasted zucchini, eggplant, and carrots topped with Provencal tomato sauce and mozzarella cheese

Cream of Chickpea Soup
A creamy chickpea soup enhanced by bacon and garnished with spring onions

Dine Upon Request
You may choose one of the featured entrees to be served with a salad and/or dessert, presented all at once, at any time you wish

Dessert
Ice cream
Granizado ice cream with strawberry coulis

Fruit and Cheese
A selection of fine cheeses offered with seasonal grapes
And for those of you that are interested, the wine list read as follows:
Champagne

Pommery Brut Champagne

White Wines

Scarbolo Chardonnay

Groom Lenswood Sauvignon Blanc, Adelaide Hills, Australia

Red Wines

Salentein Reserva Malbec

Chateau Teyssier Saint-Emilion Grand Cru

Dessert Wine

Graham's Vintage Port
While some might complain about the fact that the whole service is on a single tray, I far prefer that in business class for a redeye of this length, so that I can get a half-decent night of sleep. What I found interesting was that the meal service was more limited than on the flight out, despite the flight out being a "late-night supper service," and this being a "dinner service." Don't get me wrong, the meal was still plenty filling, though I'd be curious as to the reasoning of that. On the flight out there was soup and also chicken on the salad, while on the way back it was just a slightly larger salad without the soup.
Anyway, I went with the steak and the salad with creamy garlic herb dressing.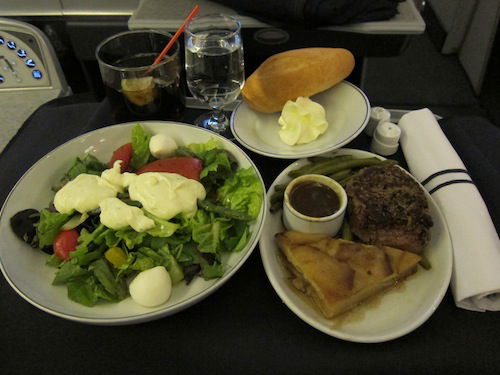 Dinner service
For dessert was ice cream, a choice you just can't screw up.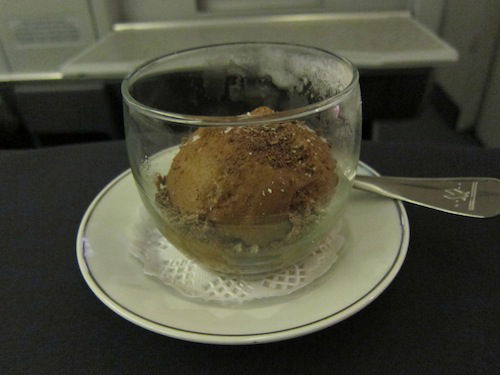 Ice cream
Dinner service was done about 90 minutes after takeoff, at which point I decided to watch a bit of TV. I watched a few episodes of "Curb Your Enthusiasm." I'm embarrassed to admit that I've never watched more than five minutes of the show before, despite it being in just about every airline's in-flight entertainment library. It was hilarious, so I watched two or three episodes.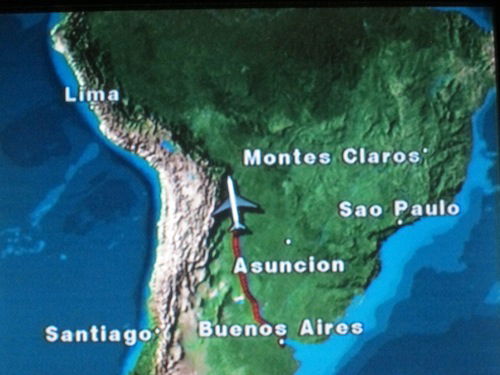 Location after dinner
At that point I decided it was time to sleep. While I was exhausted, I just couldn't bring myself to sleep, so I tossed and turned for a while before finally falling asleep.
I woke up about 30 minutes out of Miami, which was too late to have breakfast. I know, I feel like a total loser, not being able to report back on how American's omelet tastes. Please forgive me. 😉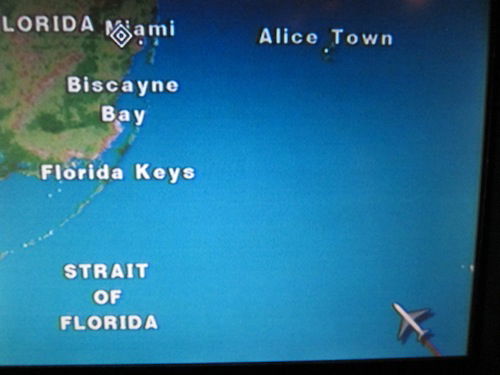 Location when I woke up
For those of you interested, the breakfast menu read as follows:
Breakfast

Select From

Ham and Cheese Omelette
A fluffy ham and cheese omelet served with tomato sauce, sauteed mushrooms, and parslied potatoes

Yogurt
Creamy fruit yogurt

Cereal
Kellogg's cereal with milk

All options are offered with fresh seasonal fruit

Breakfast Breads
A selection of breakfast breads

Express Breakfast
Served 45 minutes prior to landing to allow you to sleep as long as possible
Warm breakfast breads, seasonal fruit, and your choice of beverage

Pre-Arrival Beverage

For Your Enjoyment
Chilled sparkling or still water with a fresh citrus garnish
Shortly after waking up we began our descent and I rushed to the lav to freshen up before landing. We had a smooth touchdown a bit early, and despite it being something like 4:30 AM in the morning, everyone raced to immigration.
Immigration was quick and I wasn't asked too many questions. Once through immigration I had to walk outside the terminal to get to the concourse for my domestic flight. There was virtually no line at security, and I didn't even have to get groped to fly, which is a good day in my book.
While I didn't have all that much time, I headed to the Admirals Club for some juice and a couple of mini-muffins.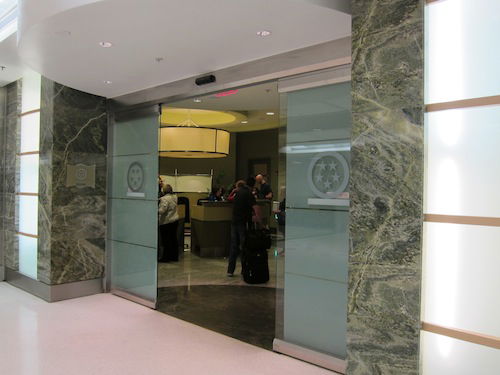 Admirals Club
Upon check-in I was offered a Wi-Fi card and also a drink chit. One of the nice things about American's "drink chits" is that they can be "redeemed" for bottled drinks, including water, soda, etc. It's nice to pick up a bottle of water to take with you. Then again, American is the only US legacy carrier that doesn't offer unlimited complimentary beer and wine in their lounges, for those that drink.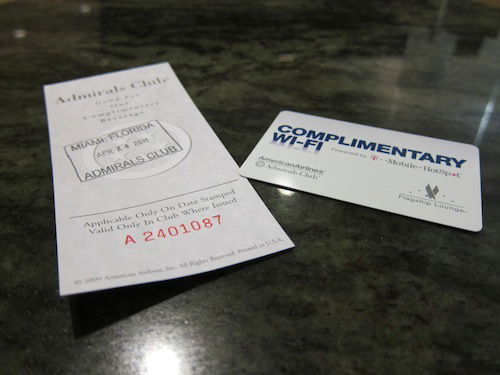 Drink chit and Wi-Fi card
The Admirals Club was modern and spacious, and given the early hour, totally empty.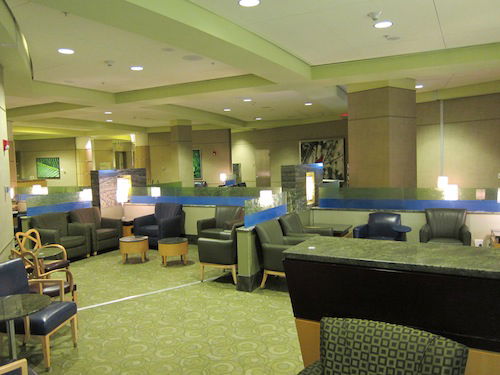 Admirals Club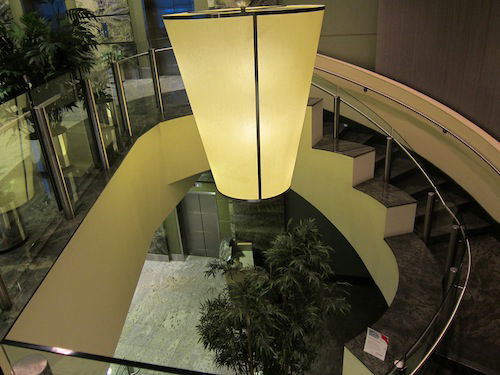 Admirals Club staircase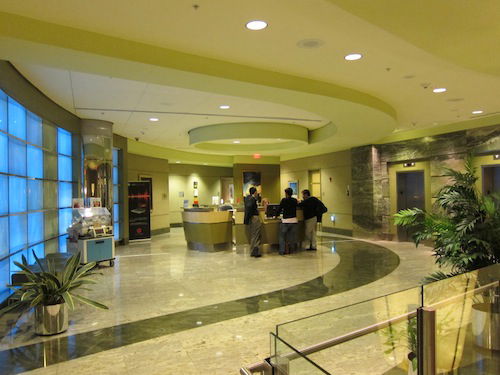 Admirals club reception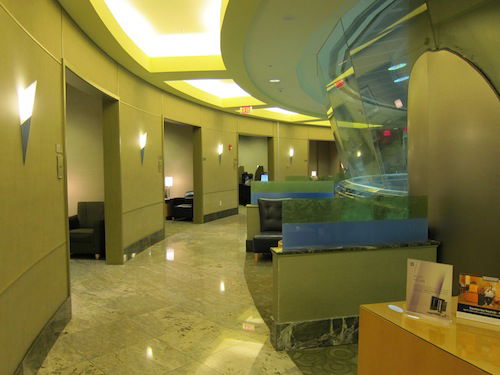 Admirals Club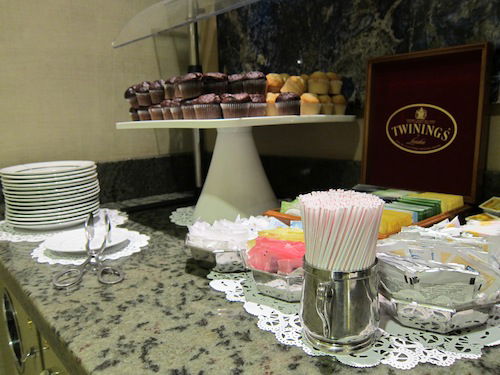 Delicious breakfast buffet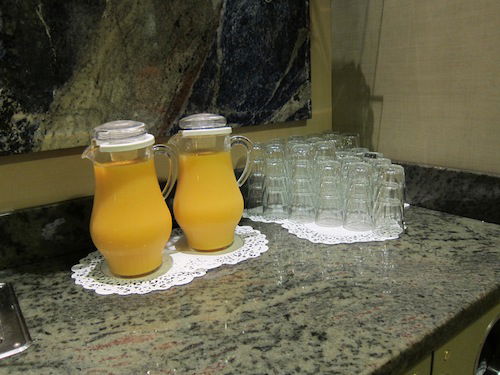 Orange juice
At around 6 AM I headed towards the gate. Miami is quite possibly the biggest maze of an airport ever. I'm actually convinced that the designers intentionally built it in order to maximize the amount of exercise (both physical and mental) passengers get when making connections. At least that's the only logical explanation I can come up with for the design. Transitting Miami is like being on a Stairmaster and playing sudoku at the same time.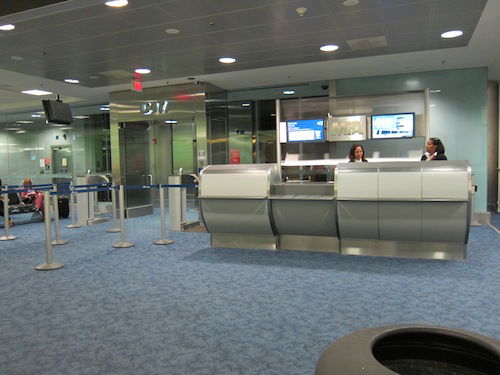 Gate
At around 6:10 AM boarding was announced.
American Airlines 404
Miami (MIA) – Orlando (MCO)
Monday, April 4
Depart: 6:40AM
Arrive: 7:45AM
Duration: 1hr05min
Aircraft: 757-200
Seat: 2E (First Class)
These short intra-Florida hops are incredibly predictable, so there's nothing exciting to report here. The flight was about 35 minutes once airborne. While there's no service in coach, there is a beverage service in first class. I had orange juice and biscoff. We landed in Orlando a few minutes early.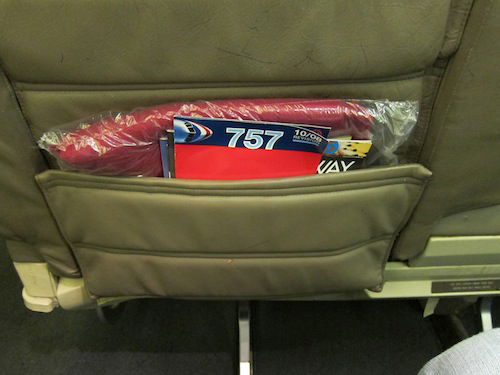 Upon landing, I called for the shuttle to the place where my car was parked. The guy in the shuttle asked me where I was coming back from. I said Argentina, at which point he scolded me for not speaking proper Spanish. He then proceeded to loudly talk on his cell phone (in Spanish) for the rest of the ride. You can guess what his tip was.
I was thrilled to find my car in one piece, given the rather shady place I parked.
After a 90 minute drive I made it home, and after a quick shower was ready to go on with the rest of my day… ah, the joys of premium cabin travel.