---
(Full disclosure: Park Hyatt and American Airlines, sponsors of the Masters of Food & Wine Event, comped my airfare, hotel, and admission to the events)
After an hour long drive through Buenos Aires we were dropped off at the domestic airport. We proceeded to the Aerolineas Argentinas check-in counter, where we were promptly checked in. I got assigned an aisle seat towards the back of the plane.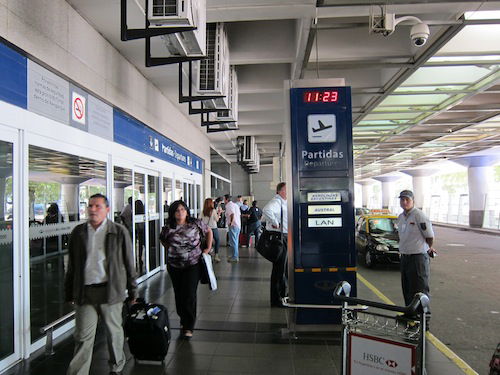 Airport exterior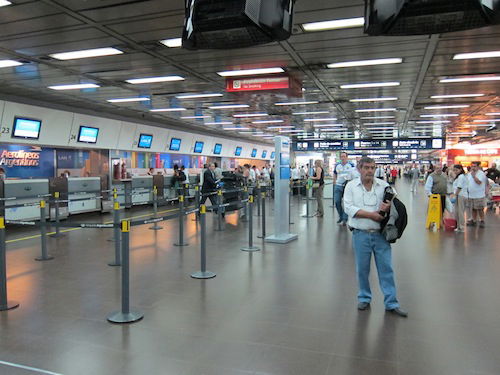 Terminal
We had about three hours before our flight, which proved a daunting prospect without Wi-Fi or a lounge. Our gate wasn't posted yet, so we ended up just sitting in the gate area. It was a good opportunity to get started on the trip report, given the lack of distractions otherwise. It was quite entertaining, however, to be with a handful of fellow web addicts that didn't have internet.


Terminal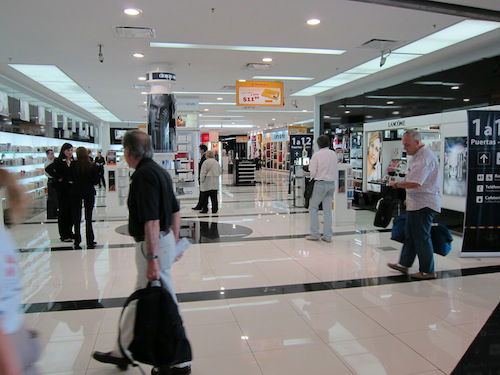 Shopping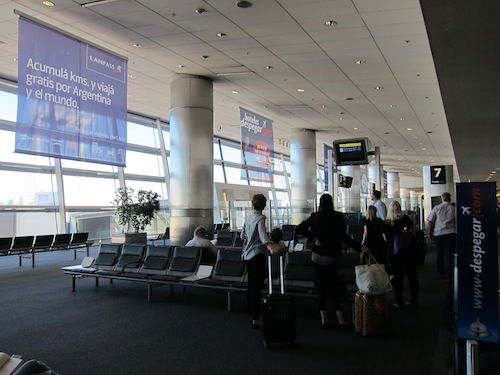 Gate area
Watching the traffic at the airport was especially interesting since it was mostly airlines I don't get to see a lot of, like Austral, Aerolineas Argentinas, LAN, etc. Furthermore, this airport is pretty close to the city, so you have the nice backdrop as well.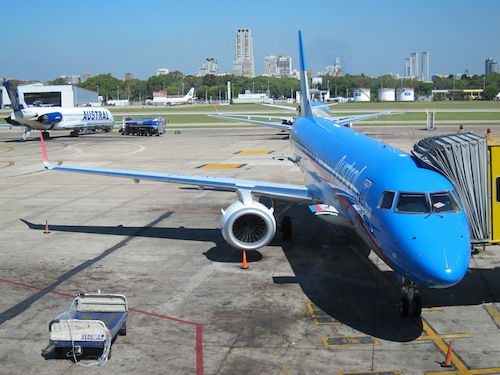 Tarmac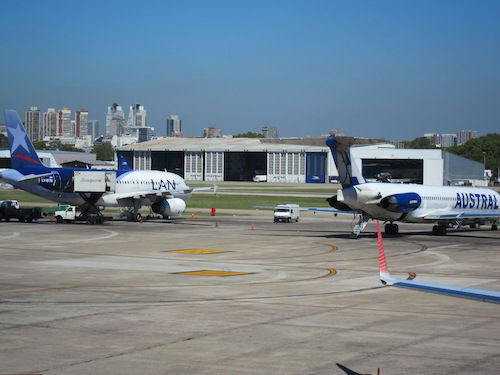 Tarmac
While boarding was supposed to start at 1:50PM, it was about 2:05PM before boarding was actually announced. If you think people crowd around the gate at US airports, you need to head over to Argentina. As soon as boarding was announced literally every passenger jumped up and got in line, though in fairness it was well organized and there was no pushing (unlike in some other countries).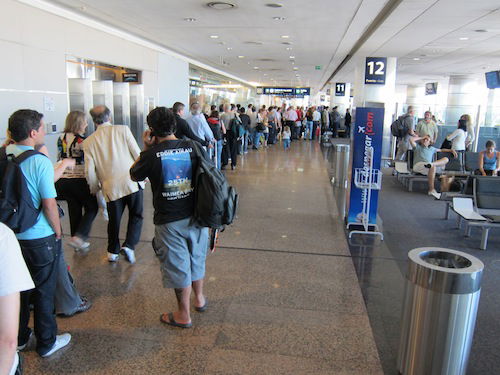 Boarding
While it looked as if we were boarding through a gate, we were actually directed down the stairs towards buses, since we were leaving from a remote stand.
Aerolineas Argentinas 1418
Buenos Aires (AEP) – Mendoza (MDZ)
Thursday, March 31
Depart: 2:20PM
Arrive: 4:10PM
Duration: 1hr50min
Aircraft: MD-80
Seat: 25C (Economy Class)
After a five minute bus ride we pulled up to our MD-80, which had the Austral name on it (which seems to be the name of Aerolineas Argentinas' domestic airline). While most of the Austral planes I saw at the airport had a fresh paint job, this one obviously belonged to Aeromexico previously, as they didn't even bother to repaint the plane. Ouch.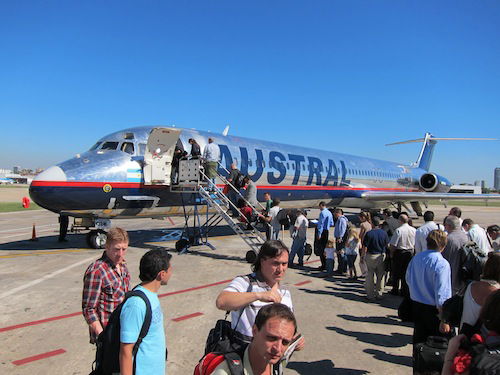 Austral MD-80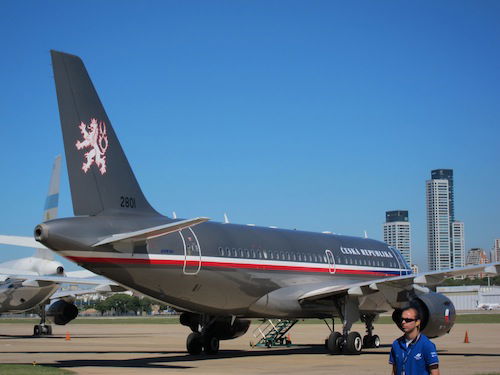 Anyone have a clue what this plane is doing here?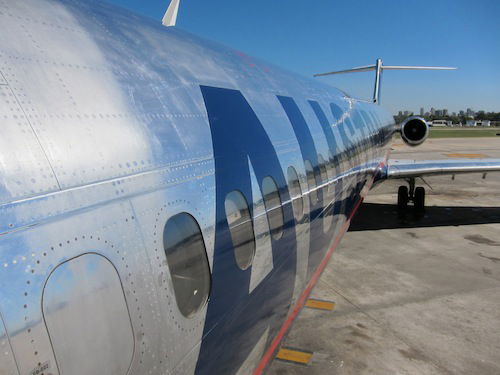 Our modern marvel
In the forward section of the aircraft were three rows of business class, obviously in no way refitted since their Aeromexico days.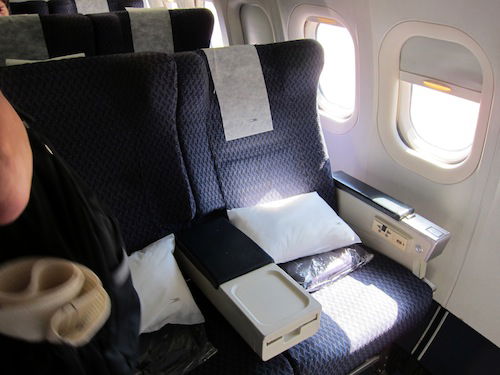 Business class
After taking the longest walk back on a plane that I've taken in a very long time, I made it to row 25. While I had the aisle seat, one of the other people in our group had the window seat, and I think we lucked out with the single empty middle seat on the whole plane, since it was packed.
The legroom was actually surprisingly good, well above average coach pitch (then again, I might not be the best judge of coach pitch anymore). 😉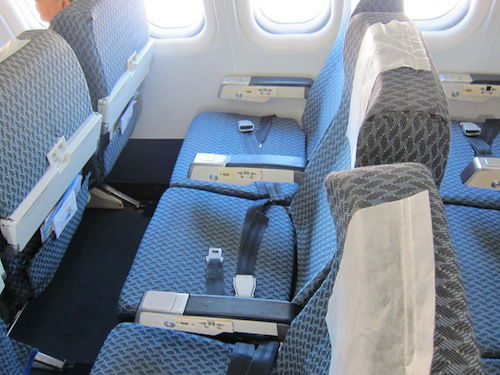 Row 25 seats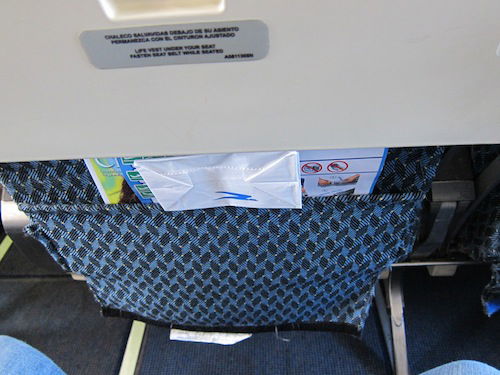 Legroom
As I settled in I noticed just how damn hot it was in the plane. It must have been close to 100 degrees, as they had absolutely no air running.
By around 2:30PM we pushed back and the safety demonstration began, and we were quickly cleared for takeoff.
One of the advantages of the domestic airport in Buenos Aires is that the views of the city are spectacular.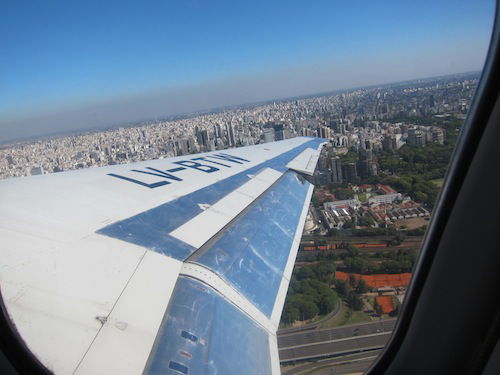 View shortly after takeoff
Once we leveled off the captain announced our flight time of 1hr35min, anticipating a slightly late arrival due to our late departure.
The flight attendants quickly began their service, consisting of complimentary soft drinks along with a snack. I went with a Diet Coke, as usual.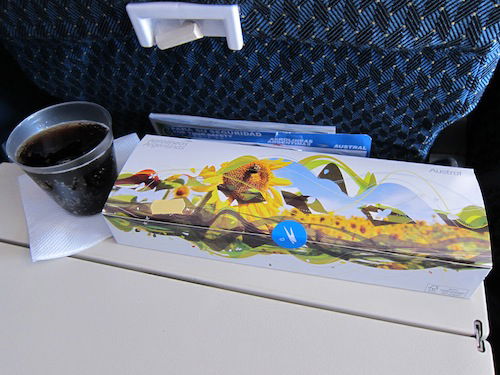 Diet Coke and snackbox
The snack consisted of a rather dry sandwich and a cookie sandwich type thing, along with caramel candy. While by no means gourmet, it's a lot better than what you'd get on a US airline for a flight of a similar length (which would be… nothing!).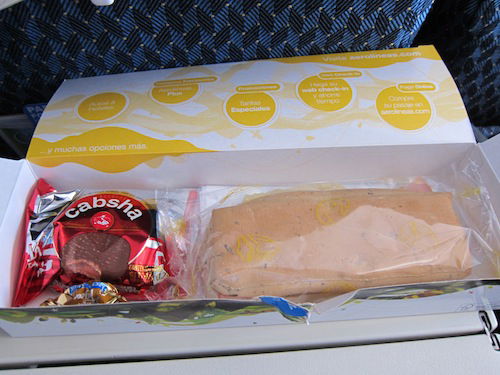 Snack
About 30 minutes out the seatbelt sign was turned on and we began our descent into Mendoza. Interestingly, the purser announced that the captain had informed her that someone had their cell phone on, and it needed to be turned off. Odd, I always thought that was a myth.
The views were amazing on descent, including of the Andes mountains, only further building my anticipation for the weekend.
Mendoza Airport is tiny, and we were the only large jet there. I think there was one other private jet, but that was the extent of it.
Waiting for us in the arrivals hall were a couple of people from the Park Hyatt, who got us to the Park Hyatt within about 20 minutes.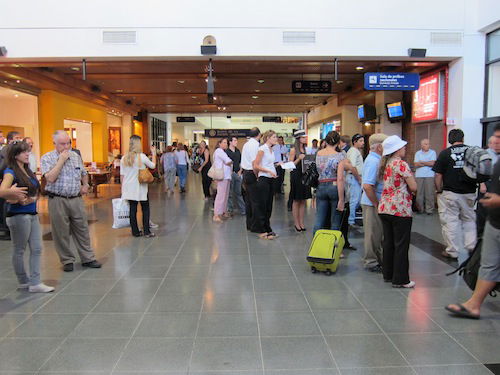 Arrivals area
And with that, the real fun began…