—————————————————————————————–
In early March I was invited to attend the Masters of Food & Wine event in Mendoza, Argentina, which was being held from March 31 through April 3. I couldn't turn down the opportunity, especially since it would be my first time in South America. I wasn't familiar with what the Masters of Food & Wine Event is, so I'll let their website summarize:
Park Hyatt Masters of Food and Wine Tour of the World 2011 is an unparalleled food and wine tour executed in the most sophisticated and refined fashion at four premier Park Hyatt locations around the world where award-winning chefs masterpieces pair with the best wines.
This is a pretty spectacular four part event being hosted all over the world this year, showcasing some of the best chefs and wineries out there, at some of the best Park Hyatts. The first event, which I attended, was in Mendoza. Then there are three more this year, in Washington, Zurich, and Shanghai, all of which will be hosted at Park Hyatts in those cities.
My business class airfare, stay at the Park Hyatt Mendoza, and admission to all the events were comped, given that Park Hyatt, American Airlines, and all of the wineries we visited are sponsors of the event (and I'll be sure to disclose that in every subsequent post on the subject, though hopefully y'all know me well enough to know that I'm quite outspoken about my impressions, and I have no plans to hold back here).
In the end my itinerary looked like this:
March 30, American 1873, Orlando to Miami, 8:55PM-10:00PM
March 30, American 943, Miami to Buenos Aires, 11:15PM-9:15AM (+1 day)
March 31, Aerolineas Argentinas 1418, Buenos Aires to Mendoza, 2:20PM-4:10PM
April 3, Aerolineas Argentinas 1417, Mendoza to Buenos Aires, 1:18PM-2:50PM
April 3, American 900 Buenos Aires to Miami, 8:25PM-4:35AM (+1 day)
April 4, American 404, Miami to Orlando, 6:40AM-7:45AM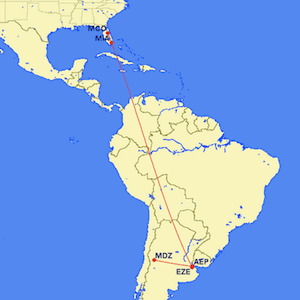 A long weekend in Argentina touring scenic wineries? Awesome!
My travel was to start on Wednesday evening, and that afternoon I had a bit of an "oh crap" moment, as it was 3PM and I realized that I hadn't started packing for my trip yet. So after running around like a mad man trying to tie up a bunch of loose ends, not to mention to pack for a five day trip, it was off to Orlando Airport at around 5PM.
Stay tuned for what was an incredible journey… more to come shortly.