(Full disclosure: Park Hyatt and American Airlines, sponsors of the Masters of Food & Wine Event, comped my airfare, hotel, and admission to the events)
After a good night of sleep and breakfast at Bistro M, we left for the airport at around 11 AM. After a quick 30 minute ride we made it there, only to find that check-in had not opened yet for our flight.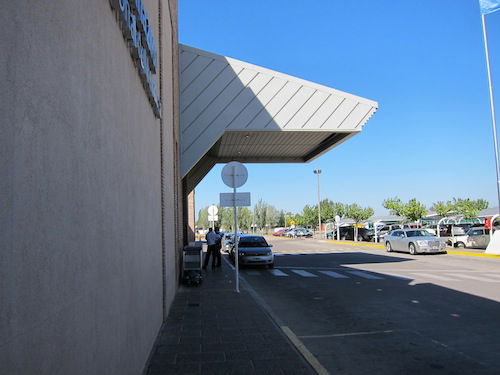 Terminal exterior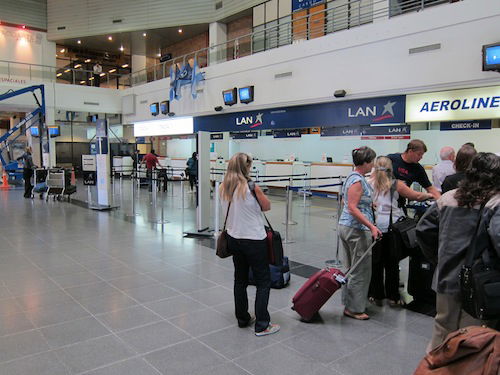 Terminal interior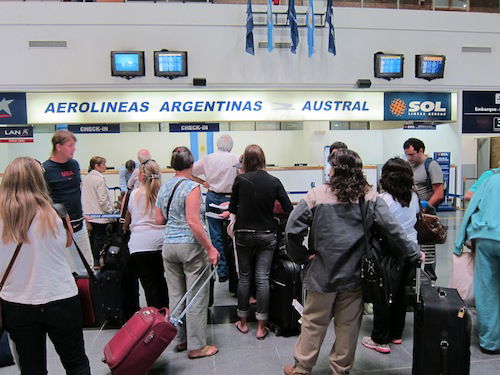 Waiting for check-in to open
Within about 20 minutes check-in opened, and the whole process was pretty quick. I was given seat 4D, an aisle seat in the second row of coach.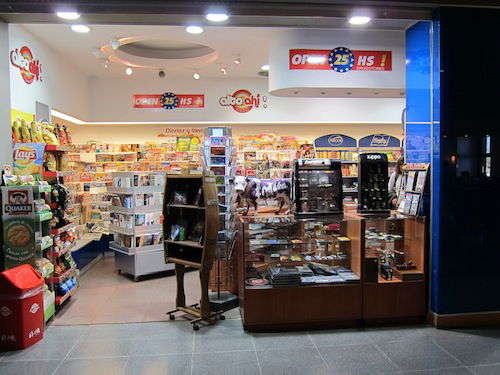 25 hours, not bad!
Security didn't open until around noon, so we had to wait a bit longer before they let us through the checkpoint. Liquids are allowed on flights within Argentina, and as is the case in many places, laptops stay in the bags, shoes stay on, etc.
Once through security, there was just a tiny gate area without a whole lot else.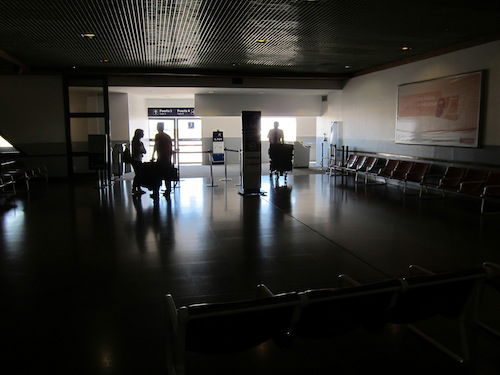 Gate area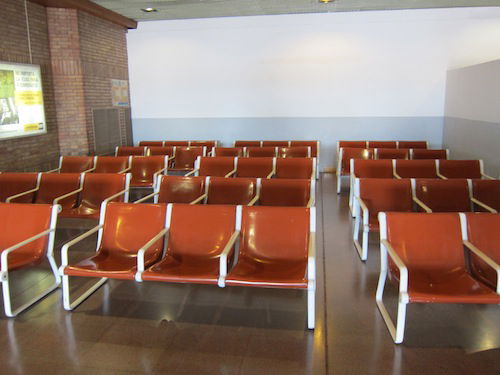 Gate area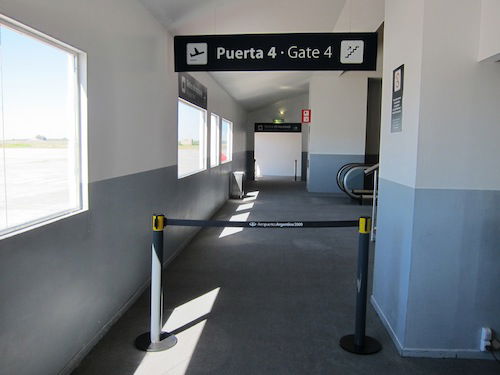 Gate four
At around 12:45PM our plane landed and pulled into the gate, at which point everyone jumped up to get in line to board.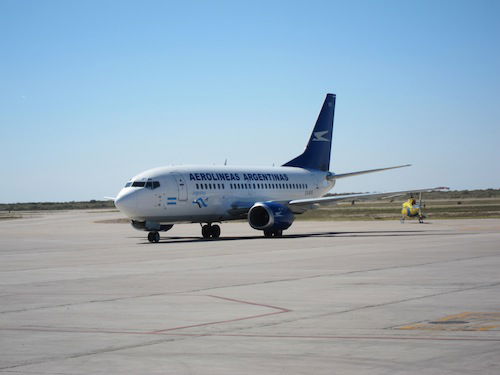 Plane arriving

Boarding time
Boarding didn't actually begin for several more minutes, so I stayed seated until just about everyone was in line.
Aerolineas Argentinas 1417
Mendoza (MDZ) – Buenos Aires (AEP)
Sunday, April 3
Depart: 1:18PM
Arrive: 2:50PM
Duration: 1hr32min
Aircraft: 737-500
Seat:4D (Economy Class)
While the outbound flight, which was operated by an MD80, had "real" domestic first class seats, this one just had a Euro-business class cabin, meaning the two rows of business class were just normal coach seats with a blocked middle seat.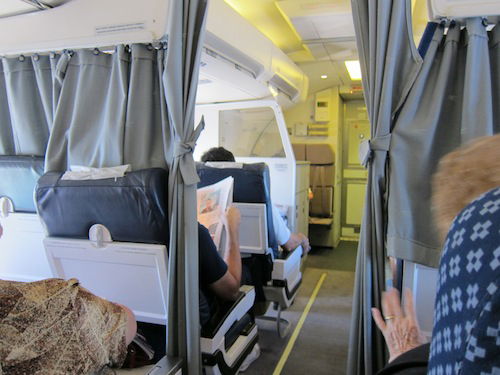 Business class
While the pitch on the MD80 on the way out was surprisingly good, the 737 was especially tight. The pitch couldn't have been more than 30 inches or so.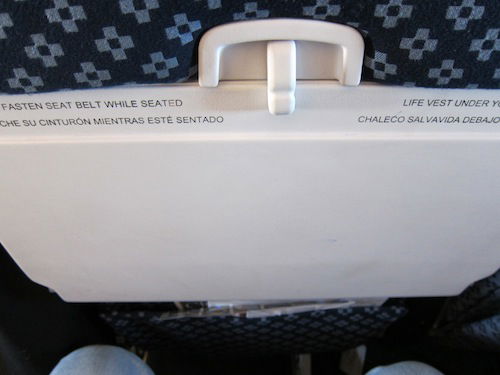 Legroom
I sat next to an older couple from Sacramento that were traveling around South America for a couple of weeks, who kept me pretty entertained for most of the flight.
After takeoff was a very similar snack to the one on the flight out, consisting of a bland mystery meat sandwich, cookie sandwich, and some sort of caramel candy. Then again, for a 90 minute flight it's a whole lot more than you get on a flight within the US.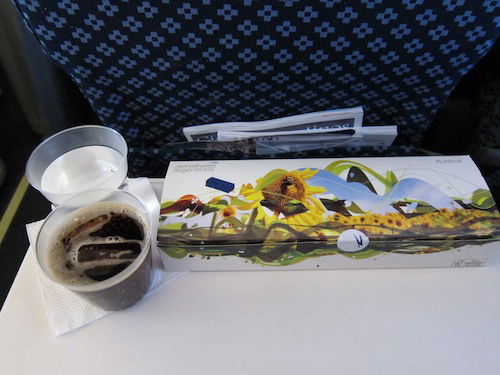 Snack

Snack
The flight was uneventful in every way. We landed in Buenos Aires right on time, with some nice views on approach thanks to the fact that we were landing at the domestic airport. Unfortunately we were parking at a remote stand, so we had to be bussed to the terminal.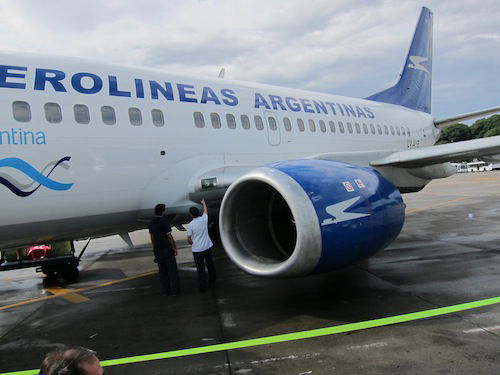 Plane upon landing
Upon landing we spent a few minutes waiting on our checked bags. Once in the main terminal there was a driver waiting for us to bring us back to the international airport for our flight to Miami.
As we drove through Buenos Aires I was just itching to visit. The city looked gorgeous, and is now at the very top of the list of cities I want to visit. It almost made me sad to drive through the city without actually being able to visit.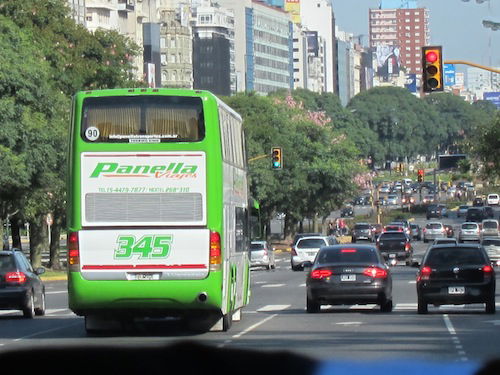 Buenos Aires
By the time we made it to the international airport it was around 4:30PM, leaving us plenty of time to get some work done before our flight back to the US… or so I thought.