---
(Full disclosure: Park Hyatt and American Airlines, sponsors of the Masters of Food & Wine Event, comped my airfare, hotel, and admission to the events)
After the long rush hour drive to Orlando, I made it there at around 7PM for my 8:55PM flight. Since I had to park my car I checked out aboutairportparking.com, where I found "Park To Fly" available for $4.99 per day. I ended up prebooking it, though upon arrival couldn't help but feel it was a bit shady. All the parking was in the grass next to what appeared to be a trailer park, though based on the number of positive reviews it received I still decided to park there, a bit against my conscience.
After the quick shuttle ride to the terminal I proceeded to American Airlines check-in, where I used a kiosk to print my boarding passes.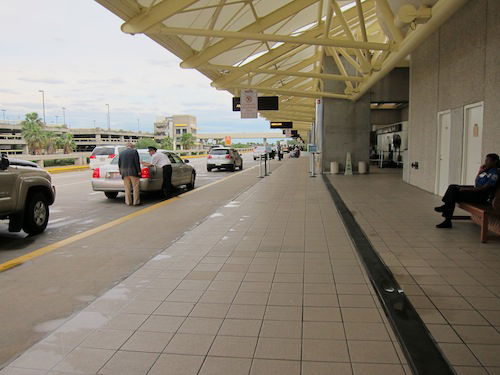 Orlando terminal exterior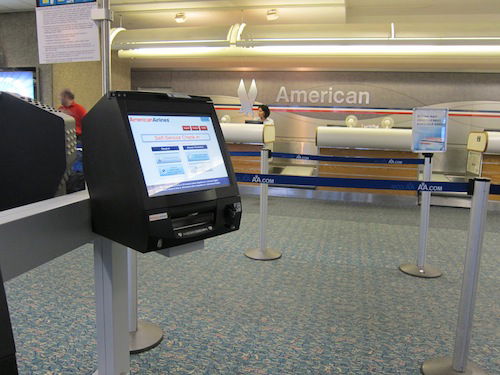 Check-in kiosk
I proceeded towards the security checkpoint, which had an elite security line, saving me a few minutes of waiting. The line had a full body scanner, and as usual I opted out and requested a private pat down. Little did I know the guy giving me a pat down would only have one arm, as I outlined in this post. I'm all for the TSA hiring disabled workers, but c'mon, put employees in a position they feel comfortable in.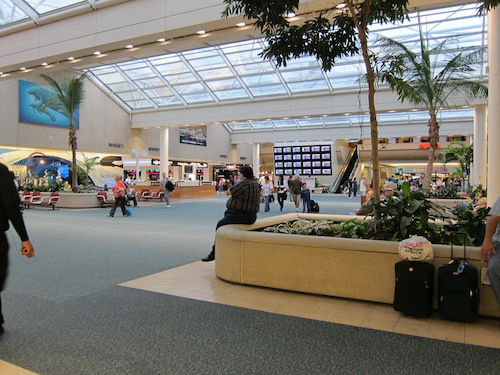 Terminal
I made it to the gate by around 7:30PM, well before my scheduled departure time. I used Orlando Airport's free Wi-Fi, which was incredibly slow.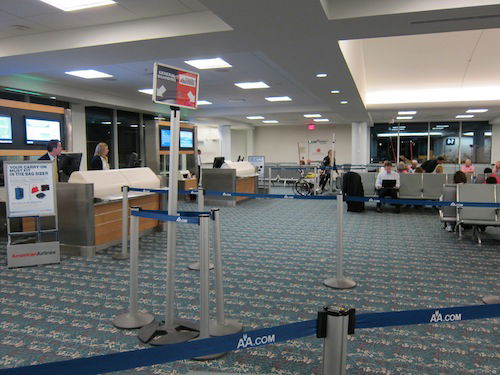 Gate

At 8:25PM, which was the posted boarding time, the gate agents announced a delay until 9:15PM.
At around 8:45PM the late inbound aircraft arrived, and after a quick deplaning boarding began, at around 9:00PM.
American Airlines 1873
Orlando (MCO) – Miami (MIA)
Wednesday, March 30
Depart: 8:55PM
Arrive: 10:00PM
Duration: 1hr05min
Aircraft: 757-200
Seat: 3B (First Class)
I turned left on the 757 to seat 3B. American has the super-old style first class seats, though fortunately they seem to have recently reupholstered them. While they're perfectly fine for a one-hour flight, I would hate to be stuck on one of these for a redeye, given the lack of a headrest.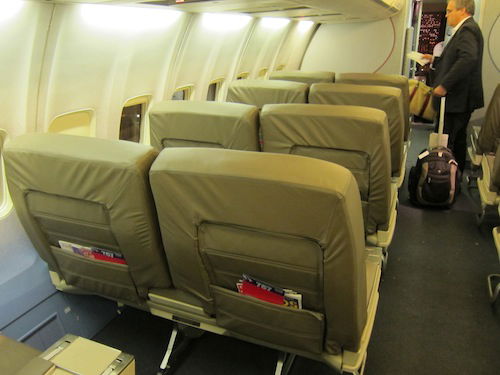 757 first class cabin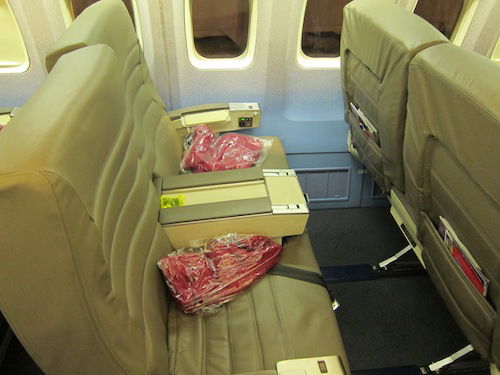 Row three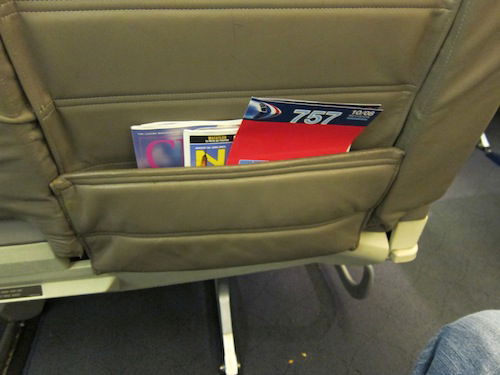 Legroom
Waiting at my seat was a blanket and earbuds.
Once settled in I was offered a pre-departure beverage of choice, as the purser explained that it's supposed to be bumpy on the way out, so he may not be able to serve anything after takeoff. I ordered a Diet Coke with lime.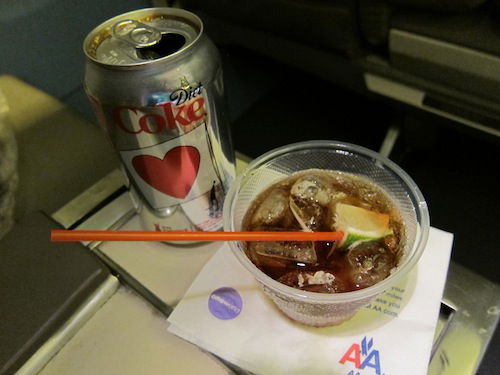 Pre-departure drink
First class ended up being about half full, and the seat next to me was empty. Interestingly, I was the only passenger in first class not speaking in Spanish.
Eventually the captain came on the PA to apologize for the delay and announce our flight time of 37 minutes and cruising altitude of 23,000 feet. The safety video began, starting with the 30 second "we're glad you're here" clip, which I think is a really great idea:
American's safety videos are so long though. Not only is the English safety video long, but then they play it again in Spanish. And that's on all American flights.
After a quick taxi we were airborne. The initial climb out was indeed quite bumpy, though after about ten minutes the purser managed to do a drink run in first class. I ordered water, which was served with American's snack mix. I was offered refills on both, though declined.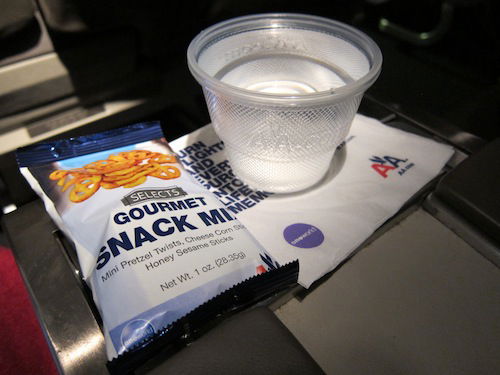 Water and snack mix
For landing I took the window seat, given how nice Miami looks at night.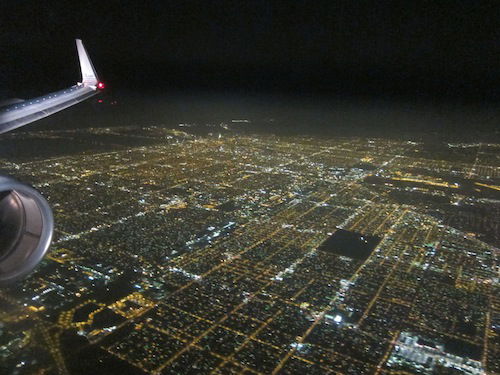 Approach into Miami
Shortly after 10PM we touched down in Miami, and after a fairly long taxi made it to the gate by around 10:15PM.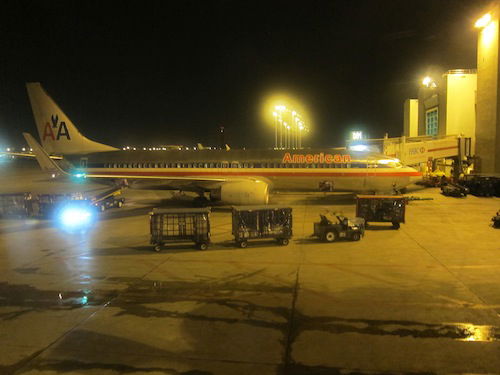 Plane parked next to us at gate
My connection was at 11:15PM, though boarding was posted for 10:15PM. We arrived in the high "D" gates and my flight left from D14, so I took the train over to the far end of the "D" concourse.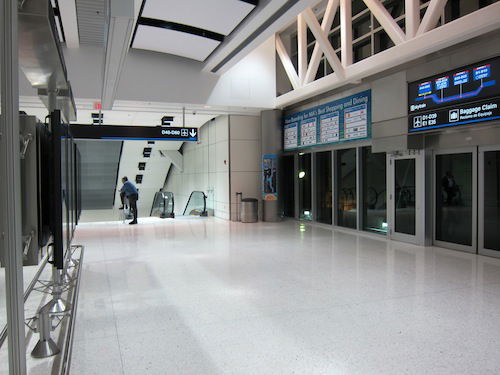 Train
I made it to gate D14 by shortly after 10:30PM, at which point they were already boarding seating area four. I proceeded straight aboard, though American doesn't really have a Red Carpet lane like United, in the sense that passengers were boarding both via the premium and general boarding lane.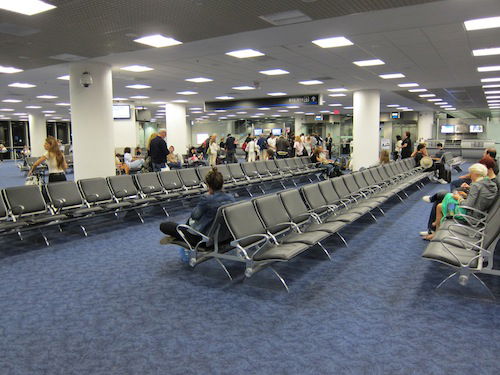 Gate D14
The line in the jet bride was incredibly long, so it was another 10-15 minutes before I was actually on the plane.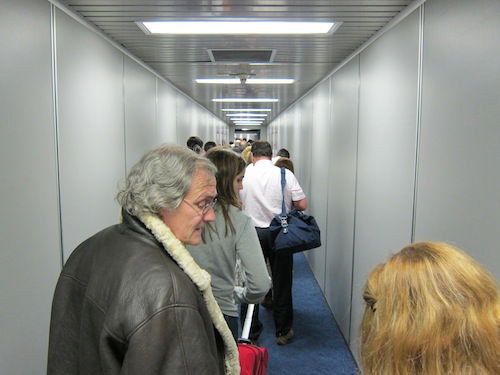 Jet bridge
American Airlines 943
Miami (MIA) – Buenos Aires (EZE)
Wednesday, March 30
Depart: 11:15PM
Arrive: 9:20AM (+1 day)
Duration: 9hr05min
Aircraft: 777-200
Seat: 9B (Business Class)
This was my first time on American in business class, and before the flight I was told that the food is inedible and the seats suck. I actually found neither to be the case.
As I took my seat 9B, which is an aisle seat in the first row of the business class cabin, I was actually surprised by how spacious the cabin felt. American does only have slanted flat beds in business class, but the seats are practically designed. The seat has a large center console with retractable armrests on both sides, a fairly large personal television screen, and good privacy.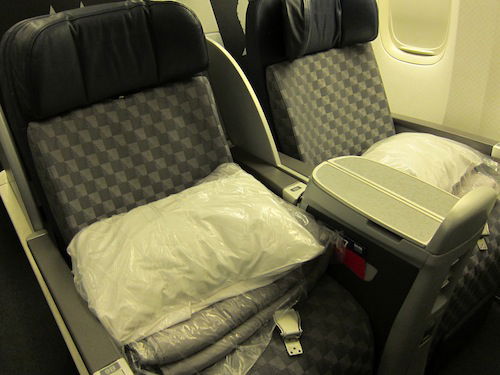 My seat
It's worth noting that despite 9B being a bulkhead seat, it's really not. Your legs aren't against a wall, but instead the bulkhead has the same "casing" as in any other row, so it's really no different than any other seat.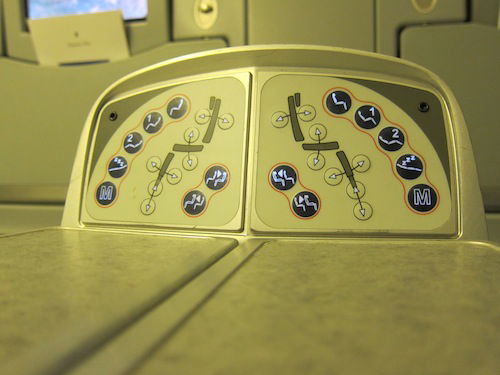 Electronic seat controls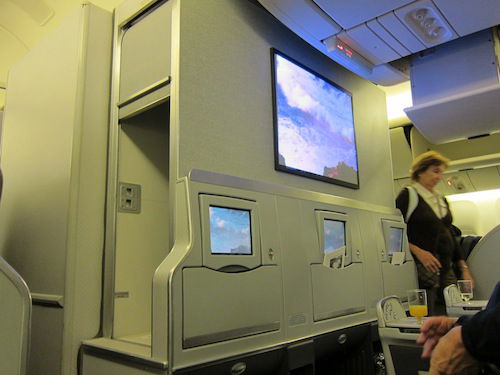 Center section of row nine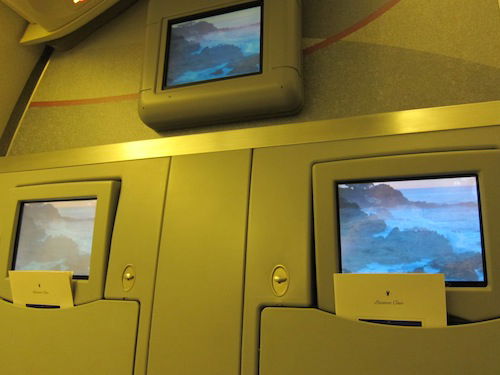 Bulkhead
Waiting at my seat was the menu, amenity kit, and a blanket and pillow.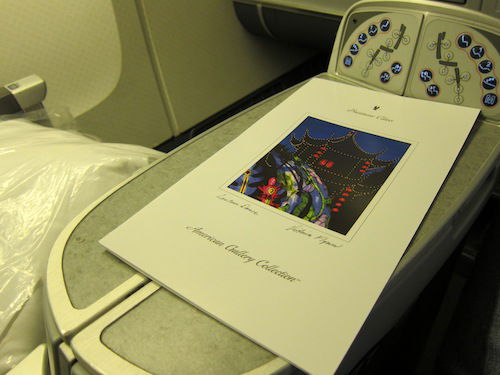 Menu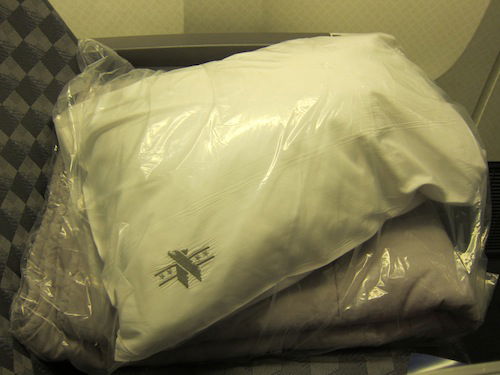 Pillow and blanket
As boarding finished up a rather strange lady settled in next to me. I wasn't sure what her deal was, but she was a bit on the strange side in the way she communicated. Our conversation was limited to her asking me if I was Irish, me responding "no," and her saying "oh." We were offered champagne or orange juice, which was quickly followed by Argentina immigration cards.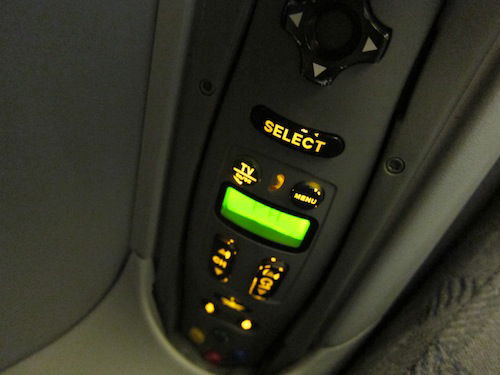 Entertainment controls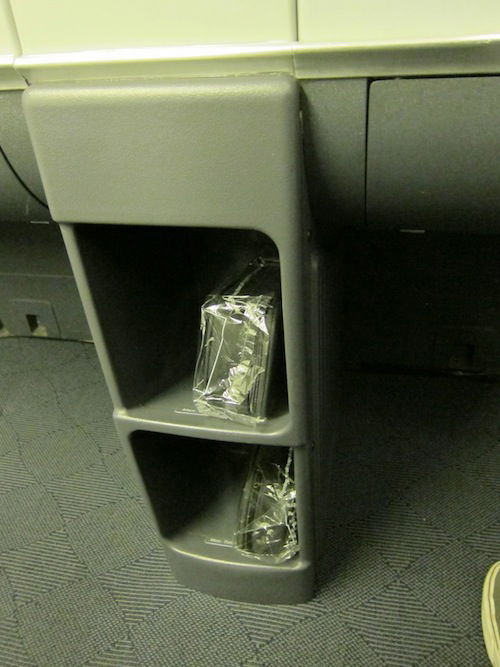 Amenity kit in storage area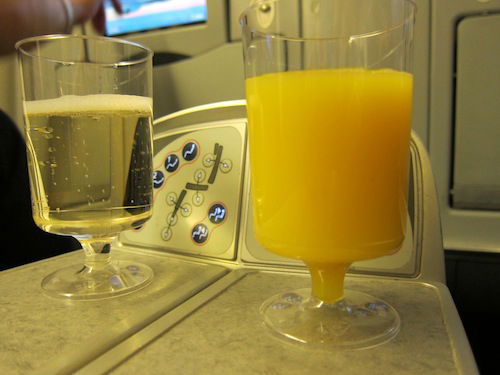 Pre-departure beverages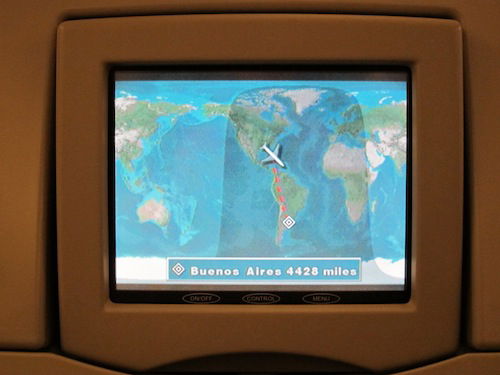 Flight path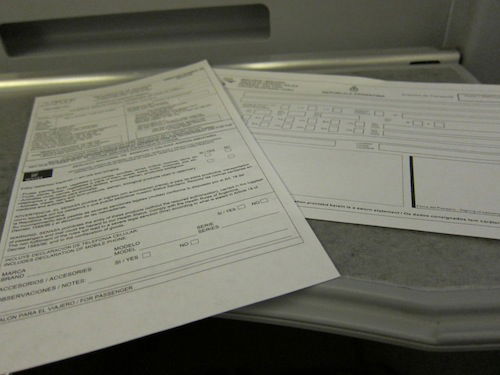 Immigration cards
At around 11:15PM the door closed and the safety video started playing, though there was no movement. At about 11:30PM the captain announced the flight time of 8hr32min and also mentioned that we had some cargo aboard and he wasn't exactly sure what it was, so he needed that information. He further said that the dispatcher's computer system was down, so he had to do the work manually. The delay took about 45 minutes, and right at around midnight we pushed back. Due to the delay the flight attendants passed out the Bose headphones while still on the ground. Kudos to American for offering real headphones in their international premium cabins.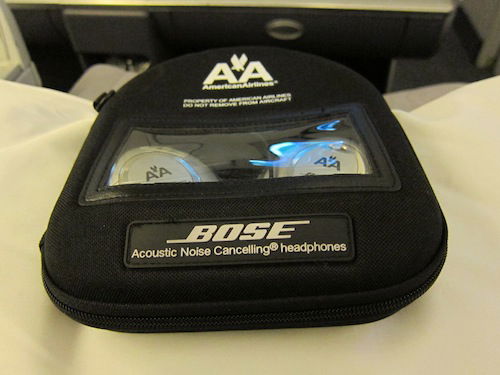 Bose Quiet Comfort 15 headphones
One of the nice things about American's entertainment system is that they let you start using it on the ground, which makes delays a bit more tolerable. I started watching "Little Fockers" while filling out my immigration card, which helped pass the time.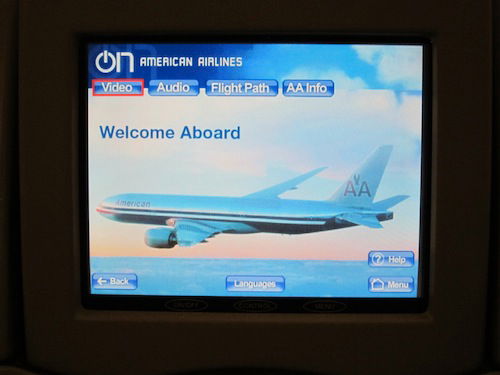 Entertainment system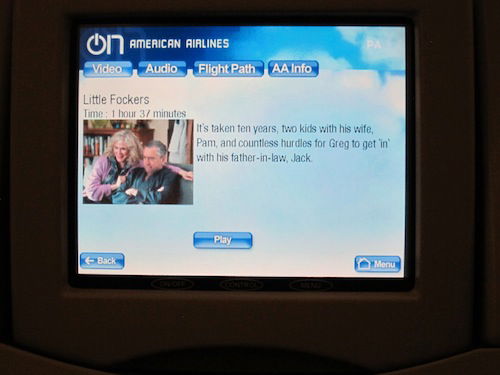 Little Fockers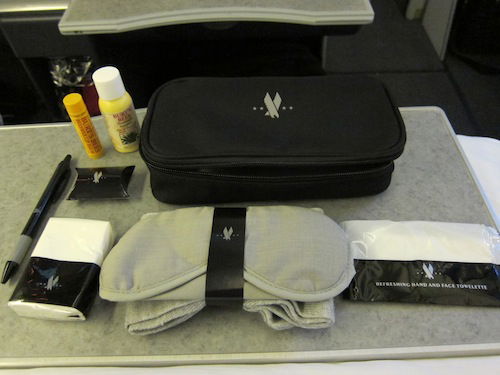 Amenity kit
We were airborne shortly after midnight, and after a smooth climb out the seatbelt sign was turned off.
Service began almost immediately, starting with hot towels followed by drinks and hot nuts. I ordered a Diet Coke with lime. For those of you that are nut nuts like me, American has a pretty good nut mix. The mix seems to differ from United's in that there are more almonds, they have pistachios, and they don't have macadamia nuts.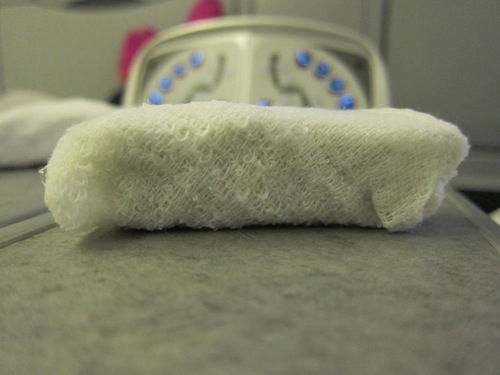 Hot towel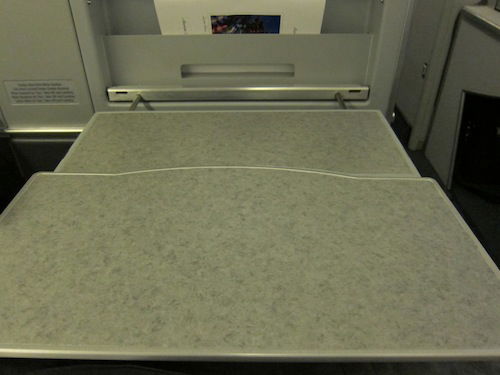 Table extended (part of it comes out of console in front, part comes out from side of seat)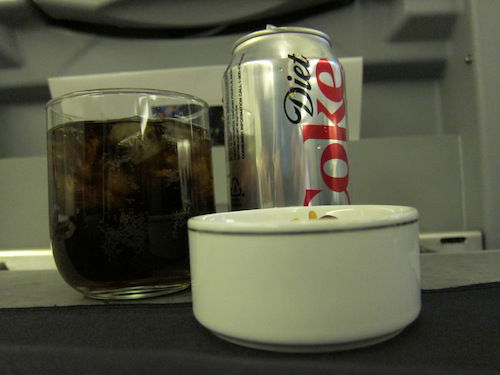 Diet Coke with lime and nuts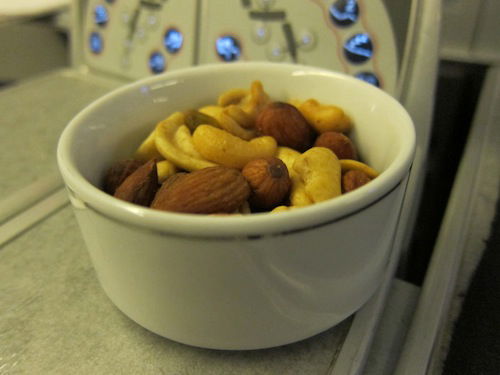 Hot nuts
Within five minutes of the flight attendant finishing up the drink service, the dinner cart was brought through the aisle. The menu read as follows:
Late Night Supper

Thank you for choosing American Airlines. It is our pleasure to offer you a variety of dining options on today's flight. Select from a flexible menu especially designed for our premium Late Night Supper service.

To Start
Warm mixed nuts

Dining Service

Please customize your meal from the following options:

Soup
Lemon Grass Consomme
A delicious lemon grass infused soup garnished with shiitake mushrooms and green onions

Salad
Fresh seasonal greens featured with kalamata olives, tomatoes, artichokes and pepper roasted sliced chicken breast, offered with premium extra virgin olive oil and balsamic vinegar

Bread Basket
Assorted gourmet breads

Main Course
Hoisin Lamb Medallions
Hoisin marinated lamb medallions presented with grilled zucchini, grilled tomato, grilled bell peppers and herb rice

Potato Chip Crusted Halibut
Halibut rolled in potato chips, baked, and served over roasted red pepper-thyme and caper-parsley sauces with a vegetable medley and roasted paprika potatoes

Rosemary Chicken
Rosemary chicken served with guajillo capellini pasta cakes enhanced by a teardrop tomato vinaigrette

Fruit and Cheese Plate
A gourmet cheese plate featuring caciotta, cheddar and Gorgonzola cheese with strawberries, seasonal grapes, walnuts and dried apricots

Dessert
Ice cream
Vanilla Heath Bar Crunch with cocoa dusted almonds

Fruit and Cheese
A selection of fine cheeses offered with seasonal grapes
And for those of you that are interested, the wine list read as follows:
Champagne

Pommery Brut Champagne

White Wines

Scarbolo Chardonnay

Groom Lenswood Sauvignon Blanc, Adelaide Hills, Australia

Red Wines

Amalaya de Colome Vino Tinto

Chateau Grand Destieu

Dessert Wine

Graham's Vintage Port

Since it was a late night flight, the whole meal was served on a single tray, which I was happy about given that I wanted to get some sleep. I guess this is where my expectations differ a bit in terms of first class and business class. In business class I prefer an edible meal that's served fairly quickly so that I can get back to reclining my seat and watching a movie or sleeping, while in first class I prefer the meal to be an "experience," not only in terms of the quality of the food, but in terms of the service.
I ordered the soup, salad, and chicken. Now, American uses the "FEBO" system for meal priority, meaning on even numbered flights they start taking meal orders in the front of the cabin, while on odd numbered flights they start taking meal orders in the back of the cabin. Strangely, the flight attendants didn't take meal orders, and started in the front, which is the wrong way around on an odd numbered flight. What struck me as odd was that they were out of chicken. No clue how that happened since I was the first one they served, but I was just as happy with the halibut.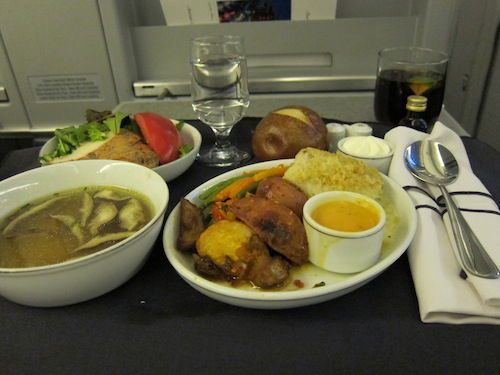 Dinner
The salad was tasty, and I was happy to see they had some protein on it (I wish United would do that). The only other interaction I had with my seatmate was that while we were both having our salads. She ate all of the lettuce in her bowl, and then lifted the chicken that was on the salad with her fork, asking me if I wanted it as she moved it towards me. When I declined, she said "well, I hate to see it go to waste." So do I, though maybe you should have thought about that before!
The soup was also tasty, though I found it a bit strange how they served it – the "solid" part of the soup was already in the bowl, and then the flight attendant just poured on the "liquid" from a canister. It tasted good so didn't bother me, but just found it a bit weird.
The halibut was also tasty, along with the side of potatoes and veggies.
A variety of breads were also offered with dinner.
For dessert was the choice between a fruit and cheese plate and ice cream. I went with the ice cream, which was indescribably delicious. So many airlines complicate desserts, why not just keep 'em simple?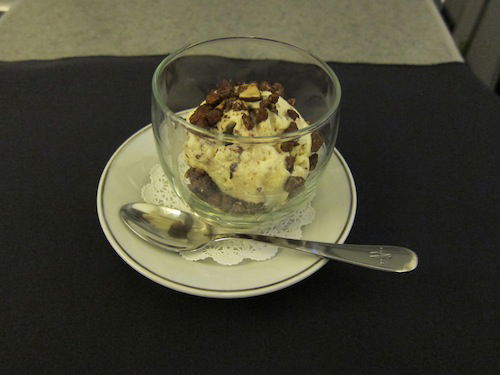 Dessert
After dinner water bottles were also distributed.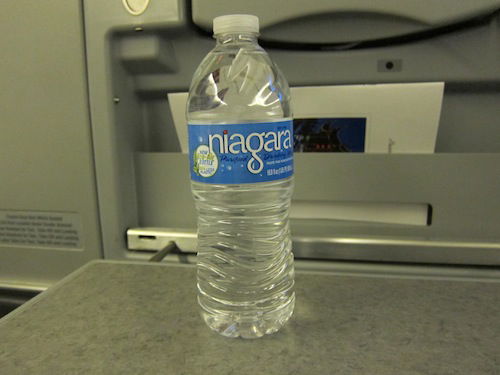 Water bottles
Thanks to dinner service being on one tray, I was able to go to sleep only a bit over an hour after takeoff. I changed into more comfortable pants, reclined my seat all the way, and unwrapped my pillow and blanket, both of which were fairly comfortable for business class.
Now, the seat is angled flat, so not as good for sleeping as United's business class. However, what annoys me about United's business class is that the seats are so close together, so while you have a flat bed, you're basically on top of the person next to you. Don't get me wrong, the bed wasn't as comfortable, but I felt like the personal space was better – I couldn't see my seatmate, and felt like I had a bit of privacy when reclined. So while United is a bit better in terms of their hard product, there are advantages to American as well.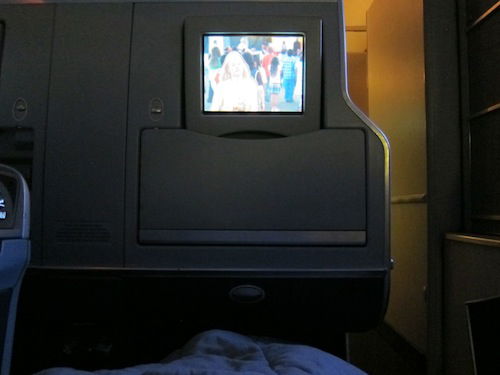 Little Fockers
While it took a few minutes to get used to sleeping at an angle, I did manage to fall asleep within about 20 minutes, and slept until they started the breakfast service about 90 minutes out of Buenos Aires. So I guess that means I got about five and a half hours of solid sleep, which is rare for me on an airplane.
The breakfast menu read as follows:
Breakfast

Select From

Croque Monsieur Sandwich
Croque monsieur sandwich with ham, Swiss cheese and bechamel sauce, topped with roasted tomatoes

Yogurt
Creamy fruit yogurt

Cereal
Kellogg's cereal with milk

All options are offered with fresh seasonal fruit

Breakfast Breads
A selection of breakfast breads

Express Breakfast
Served 45 minutes prior to landing to allow you to sleep as long as possible
Warm breakfast breads, seasonal fruit and your choice of beverage

Pre-Arrival Beverage

For Your Enjoyment
Chilled sparkling or still water with a fresh citrus garnish

For breakfast I ordered the fruit plate, yogurt, and sandwich. The fruit was fresh, though the yogurt was warm and the croissant cold. Not sure how that happened given that I was the first row they were serving. The sandwich was tasty, though something a bit healthier would have been nice.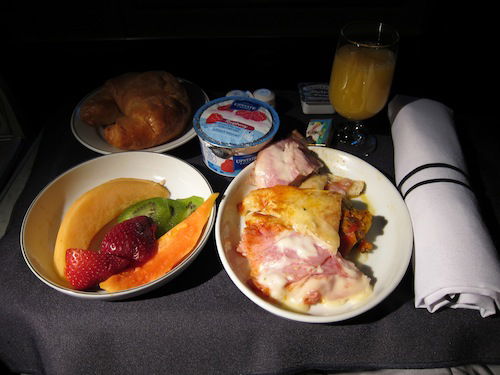 Breakfast

Sandwich
About an hour out I started queuing for the restrooms, which is always the challenge in business class on a 777, be it American or United. They only have two lavatories for around 40 people, all of which want to use the lav before landing. I snapped a couple of quick pictures of the business class cabin, given that there was finally a bit of light.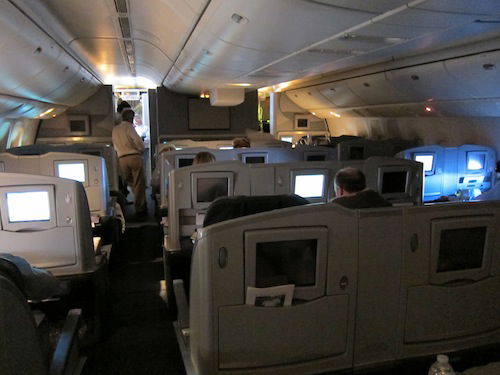 Business class cabin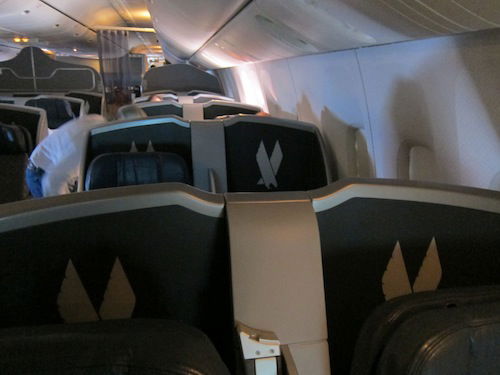 Business class cabin (looking back)
About 30 minutes out of Buenos Aires the flight attendants started collecting the Bose headsets, and shortly thereafter the captain turned on the seatbelt sign and announced we would be about 30 minutes late landing due to the late departure.
Now, a bit about the crew. What I always find interesting about American's Miami base is that you think you're flying a foreign airline. The crews typically communicate in Spanish among each other, and they instinctively talk to passengers in Spanish. Interestingly enough, American has a flight attendant base in Buenos Aires, so about half of the flights attendants were based there.
The crew was extremely efficient, though not overly friendly.
Upon landing in Buenos Aires we taxied over to our gate, where we parked next to a Continental 767-400 in United colors.
What I found interesting was that the flight attendants blocked business class until first class had deplaned, as most "proper" international airlines do. I've never seen them do that on United. The only downside in this case is that 2/3 of the passengers in first class were flight attendants in uniform, and each of them had to give the two flight attendants at the door a hug and two-cheeked kiss, which took a couple of minutes.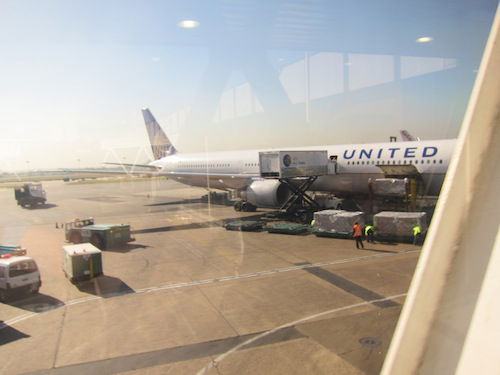 Continental 767-400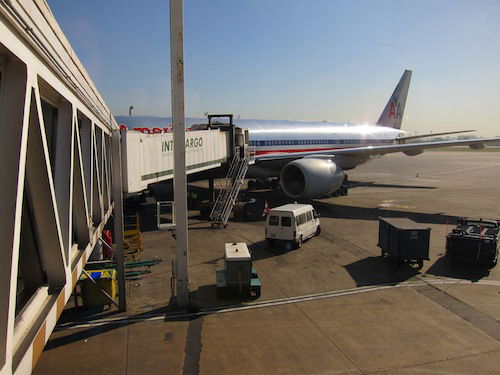 Our plane from Miami
Waiting for me at the jet bridge was an American Airlines agent with a sign that had my name on it. She introduced herself, though we waited for the other passenger who she was also supposed to pick up. After a few minutes and no sign of him she suggested I just go through immigration on my own, before the lines get too long. I agreed, though that turned out to be a mistake.
I proceeded towards immigration, where there was virtually no line. They have a line for Argentinean citizens (and residents of a few other countries in South America), US and Canadian citizens, and then a separate line for citizens of other countries. Fortunately I have a German passport, which not only saved me time since the line was shorter, but also saved me about $140, as Germans aren't required to get a visa.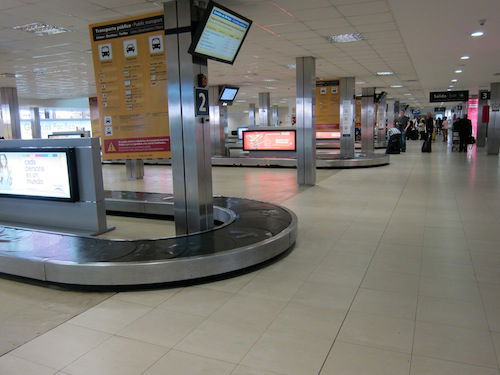 Baggage claim
There were some duty free shops in the arrivals hall, which I don't think I've ever seen before (I can't imagine a lot of people want to go shopping upon arrival).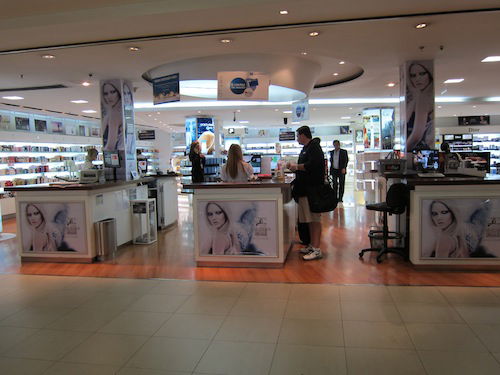 Duty free shops
Once in the arrivals hall I was supposed to meet some of the other people heading to the event, as we were all flying to Mendoza together, though first needed to transfer to Buenos Aires' domestic airport. That turned into quite a challenge, as I couldn't find anyone with a sign with my name on it. My phone wasn't working (and I don't have a proper international plan), so I ended up paying a guy a couple of bucks to use his phone. Sadly I think I kept everyone else waiting in the process, which I feel awful about, though in the end it all worked out.
A handful of us took a van to the other airport, which took about an hour. I had never been to Argentina before, so was happy to just see a bit of Buenos Aires from the interstate, though obviously I'll have to return to Buenos Aires on my next trip.