---
Our layover in Luanda was scheduled to be 4hr45min, as we were arriving from Lisbon at 6:30PM and departing for Sao Paulo at 11:15PM. Luanda Airport doesn't have any jet bridges, so from the remote stand we were driven to the terminal in a separate first class bus. Once inside the terminal the immigration checkpoint was straight ahead, while international transit passengers could follow signage to the left.
Those entering Angola have to go through a yellow fever vaccination check before getting to the immigration checkpoint.
Historically getting a tourist visa to Angola is nearly impossible (though that will be changing), and we were curious if we could talk our way into the country. Of course we only had a short layover so we weren't necessarily looking to actually go into the city, but rather we were curious to see just what was possible.
For details of that process, see my previous post. We (obviously) weren't willing to bribe someone, but it sure seems like that's what was being suggested by the "official."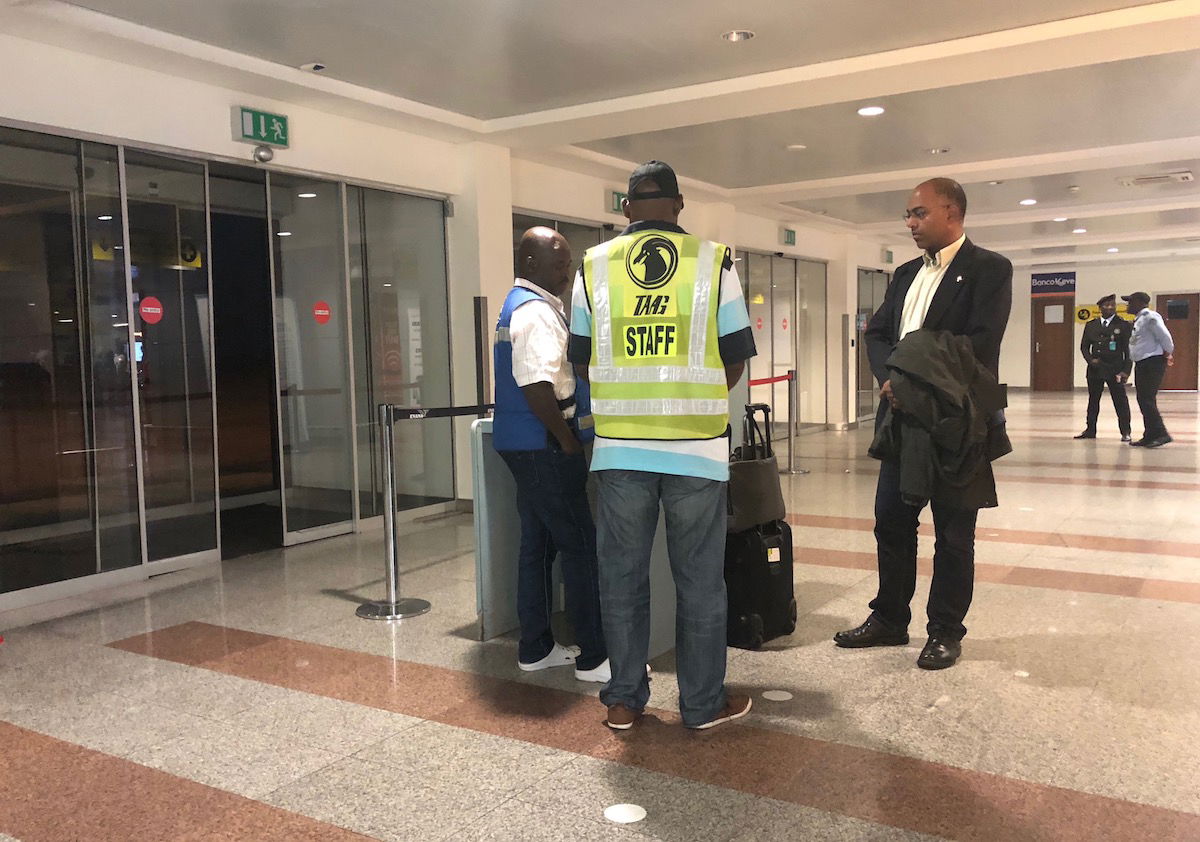 Yellow fever vaccination check Luanda Airport
The actual Luanda Airport terminal is tiny, so after our experience talking to the "official," we turned left and headed to the security checkpoint. There was no queue there (almost no one connects in Luanda, it seems), and past that and to the left was the entrance to TAAG Angola's lounge.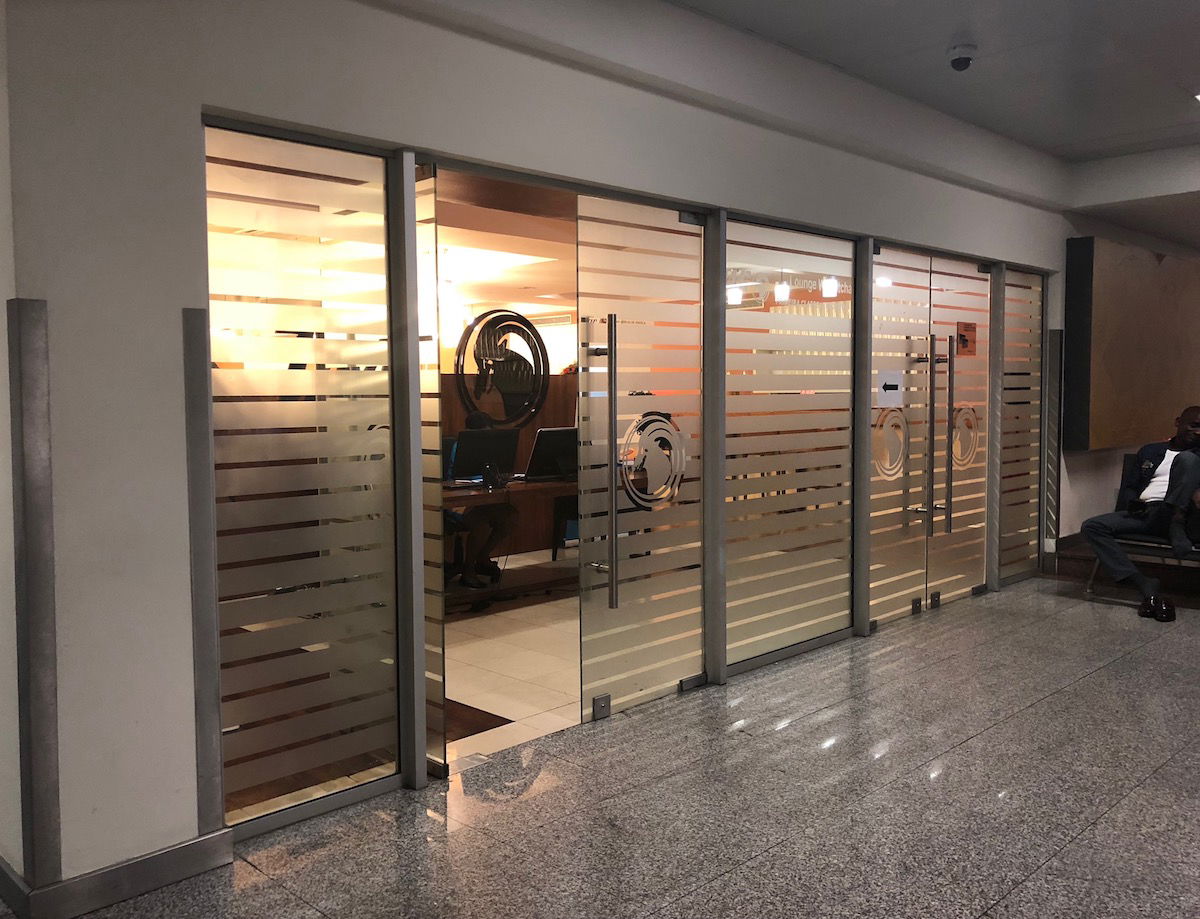 TAAG Lounge exterior Luanda Airport
TAAG has a shared lounge for first and business class passengers, and at the desk the two ladies welcomed us in and told us that there would be a boarding call for our flight.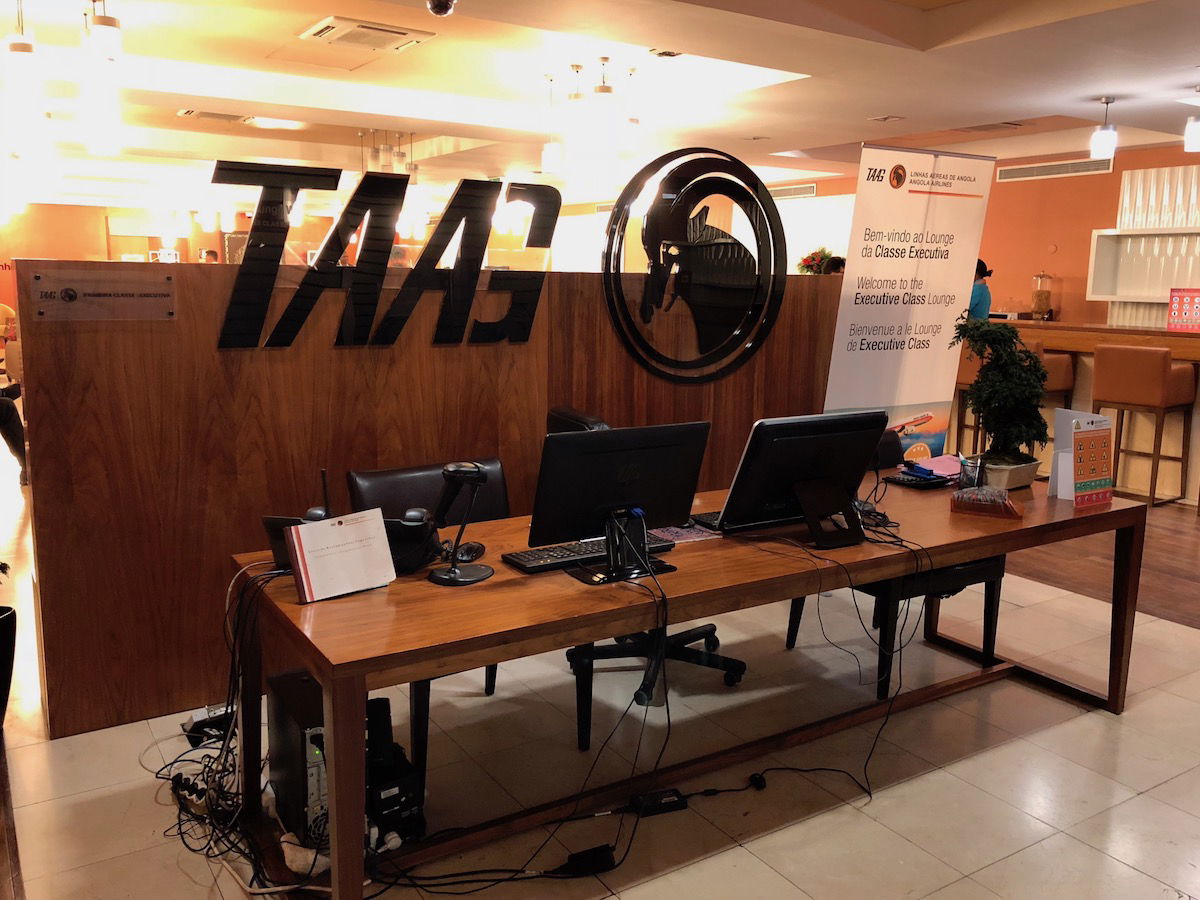 TAAG Lounge reception Luanda Airport
To the side of the welcome desk was a large banner that mentioned that TAAG is a 3-star airline. Generally that's not something you see airlines promote, but…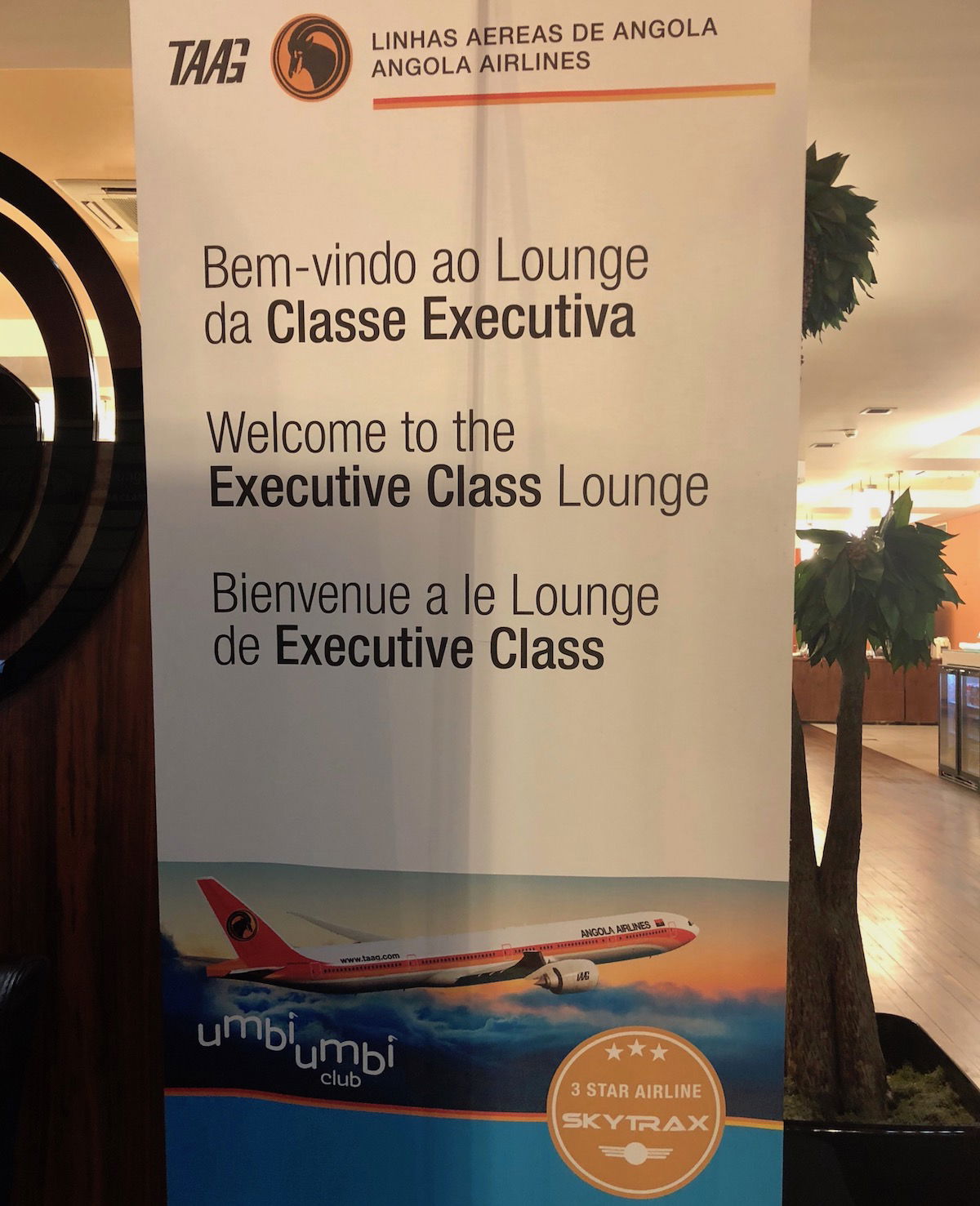 TAAG Angola, a proud 3-star airline?
The lounge itself consisted of one big room with very orange walls. The lounge was a good size, mostly with leather chairs facing one another. There was very little privacy in the lounge, and I think the pictures cover the general seating arrangement sufficiently.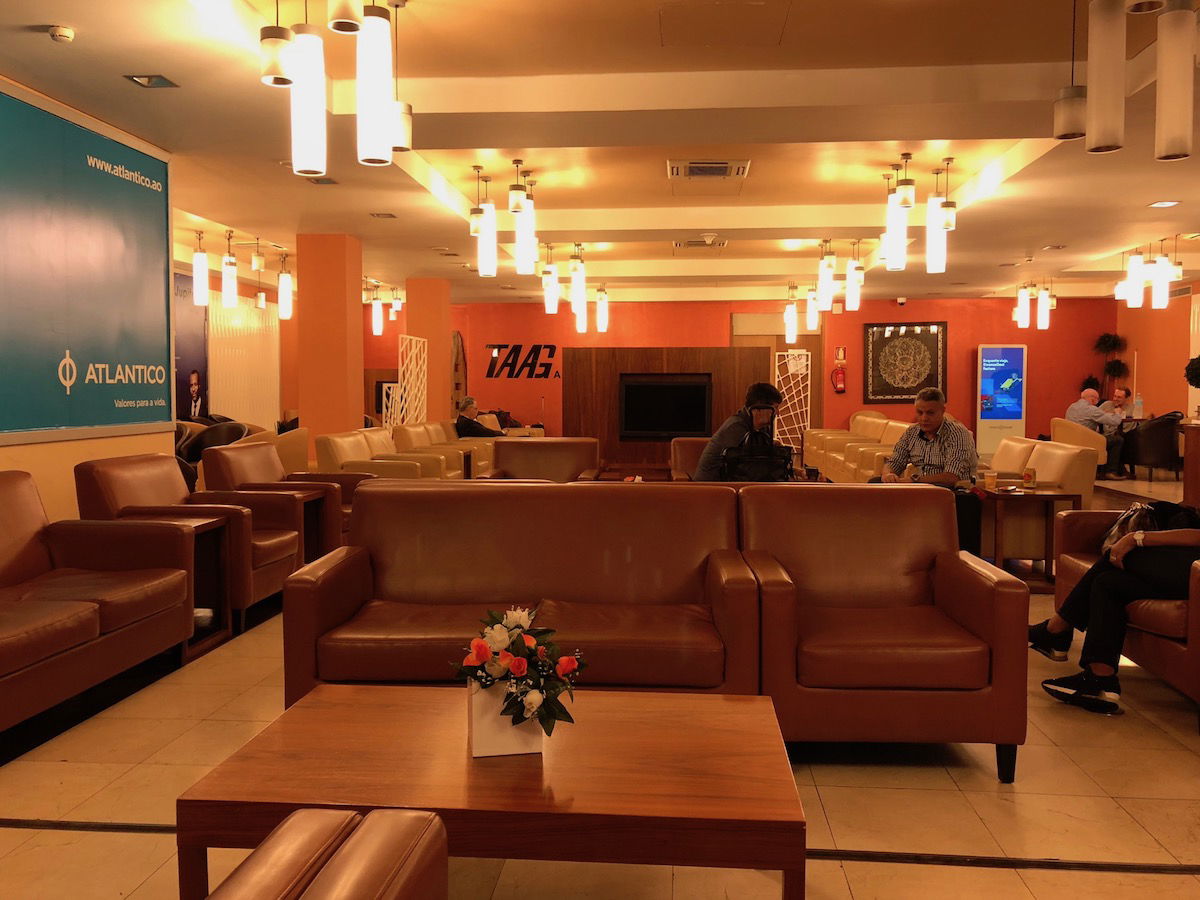 TAAG Lounge Luanda Airport seating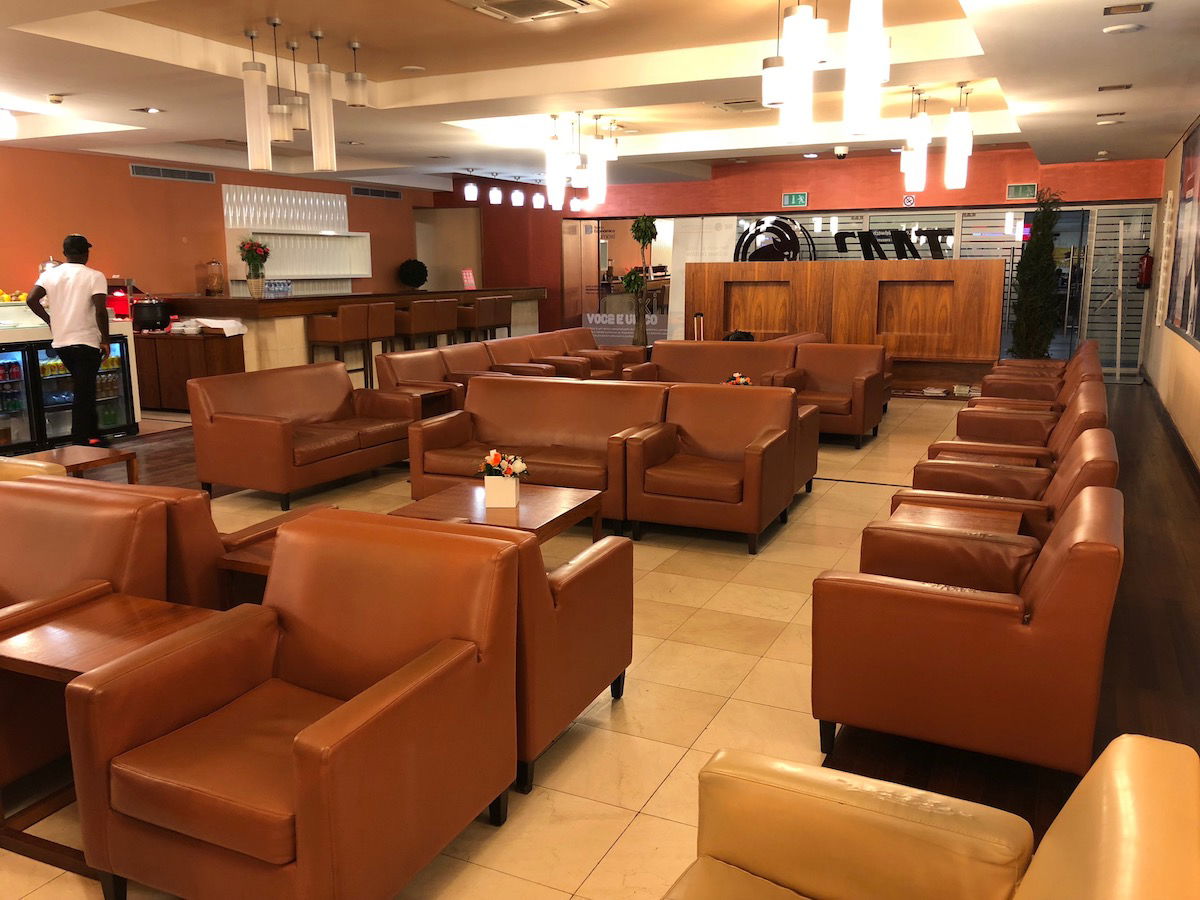 TAAG Angola Lounge Luanda Airport seating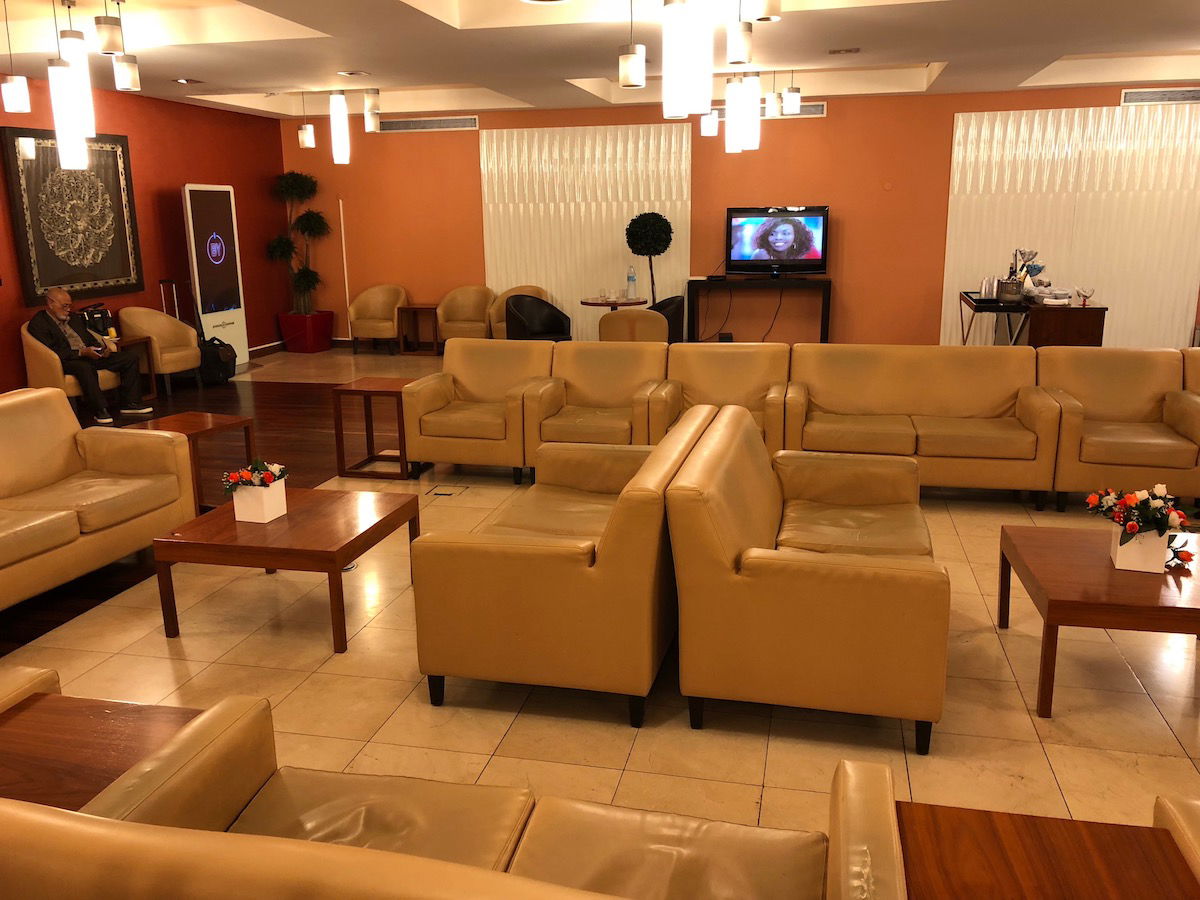 TAAG Lounge Luanda Airport seating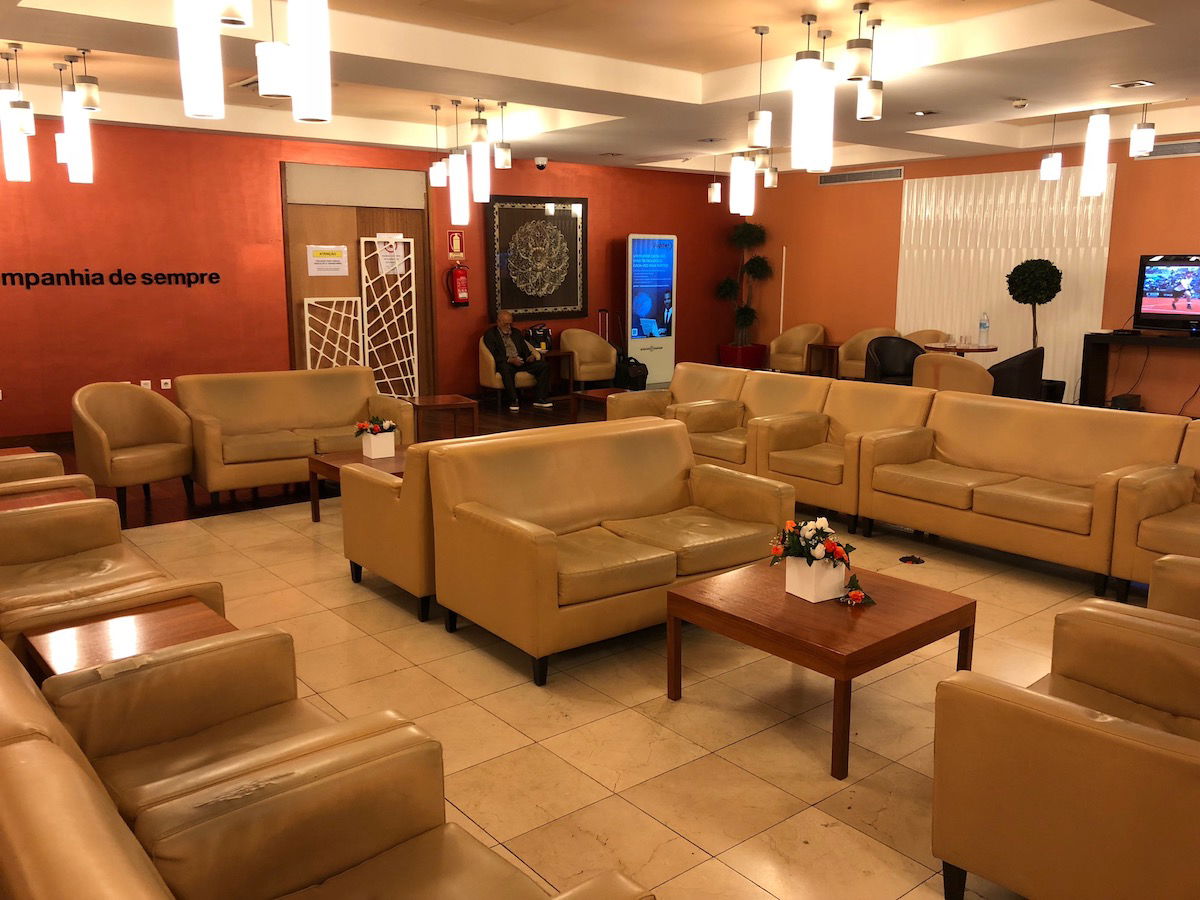 TAAG Angola Lounge Luanda Airport seating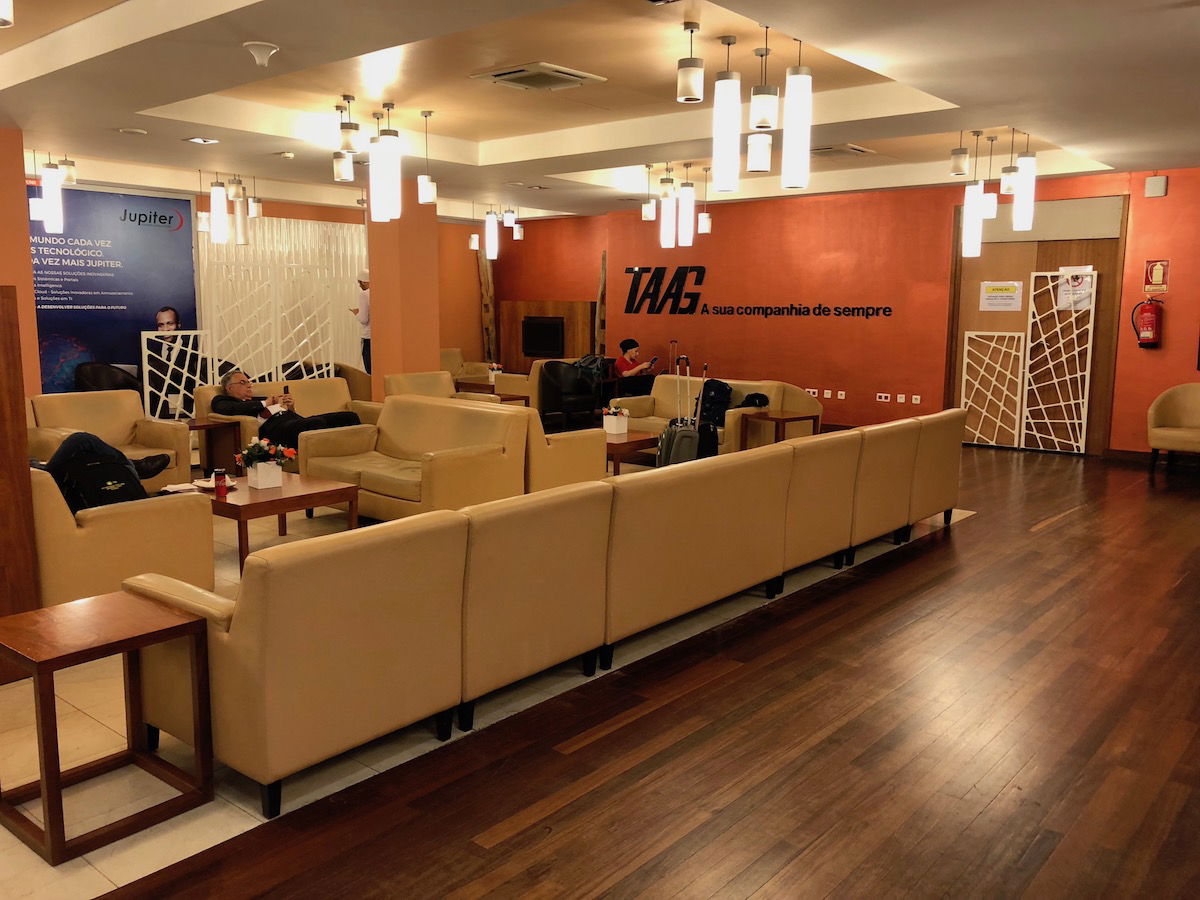 TAAG Angola Lounge Luanda Airport seating
In the corner of the lounge was a small area with a few more chairs, which is where we eventually decided to sit.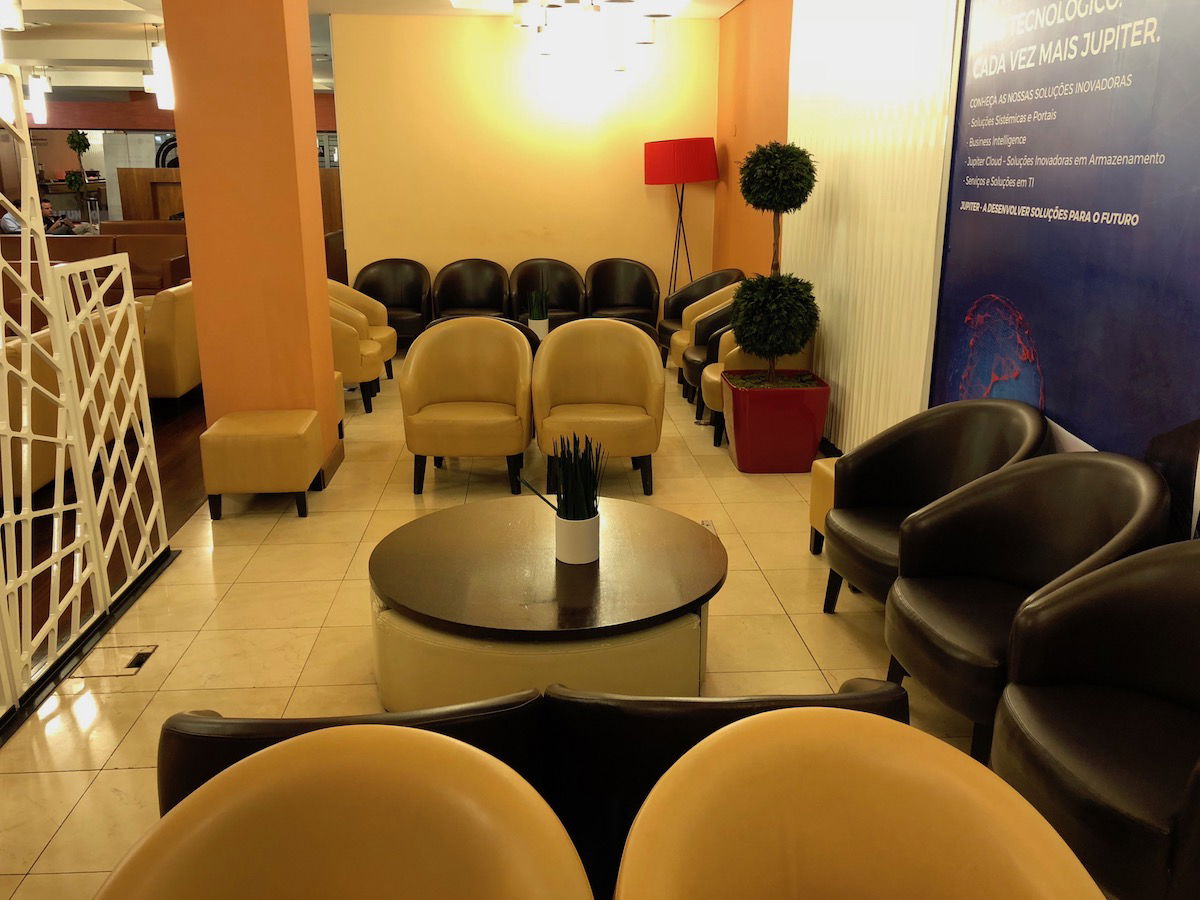 TAAG Angola Lounge Luanda Airport seating
As you can probably tell based on the pictures, the furniture was all really worn, with discolored leather. The lounge looked nothing like what TAAG's website suggested the lounge would look like.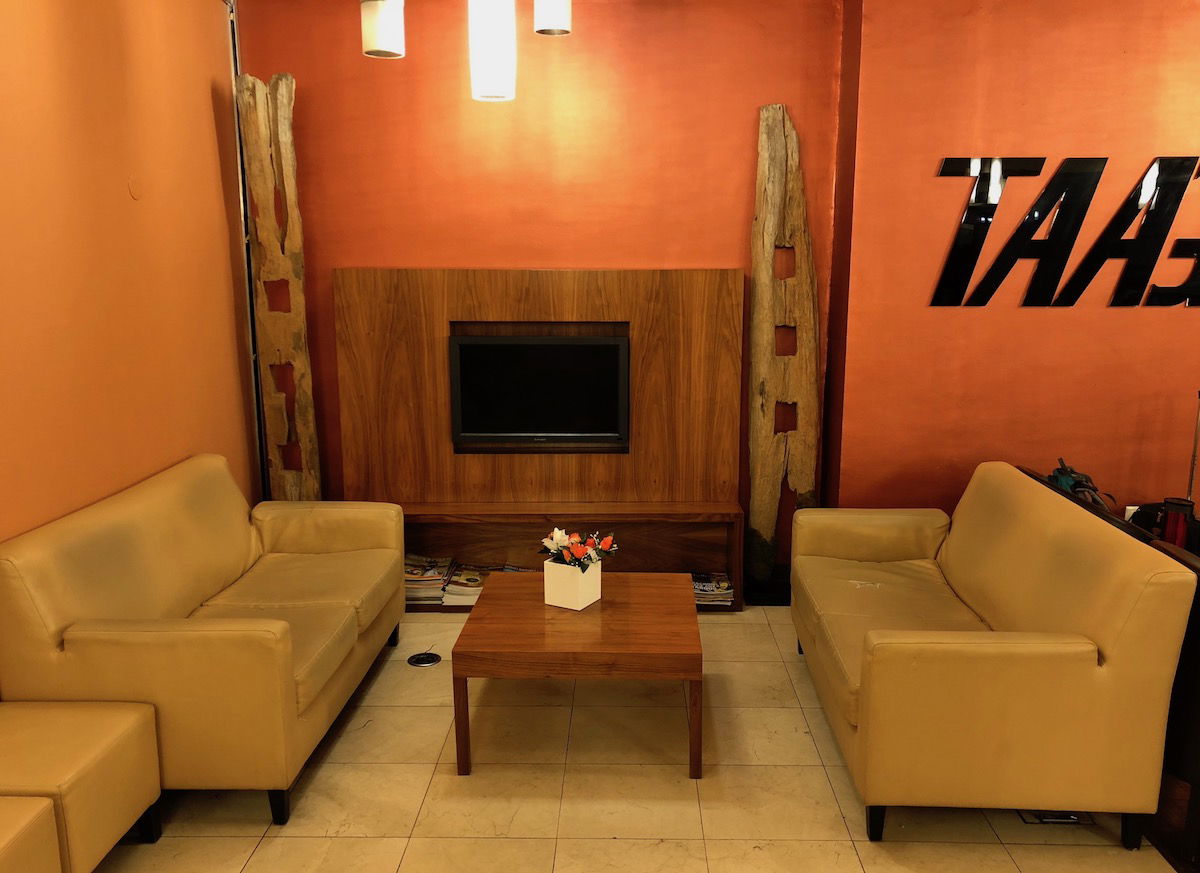 TAAG Angola Lounge Luanda Airport seating
I've gotta give them credit for their commitment to the orange wallpaper, though.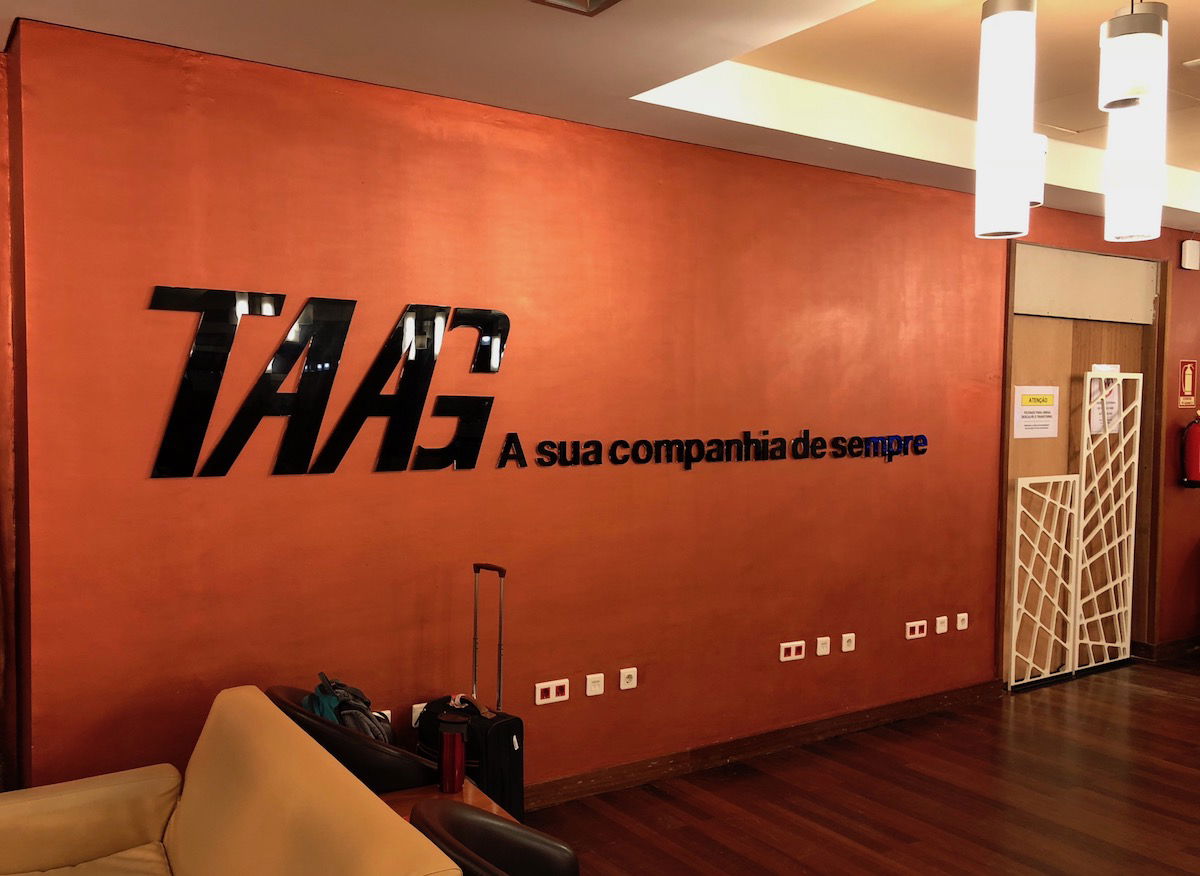 TAAG Angola signage
The lounge is supposed to have bathrooms, though they were under renovation. I'm not sure if they've been under renovation for a week, a month, a year, or several years, but that was quite inconvenient. The entire terminal has a single set of bathrooms, and they were in terrible condition, so you had to leave the lounge to use them.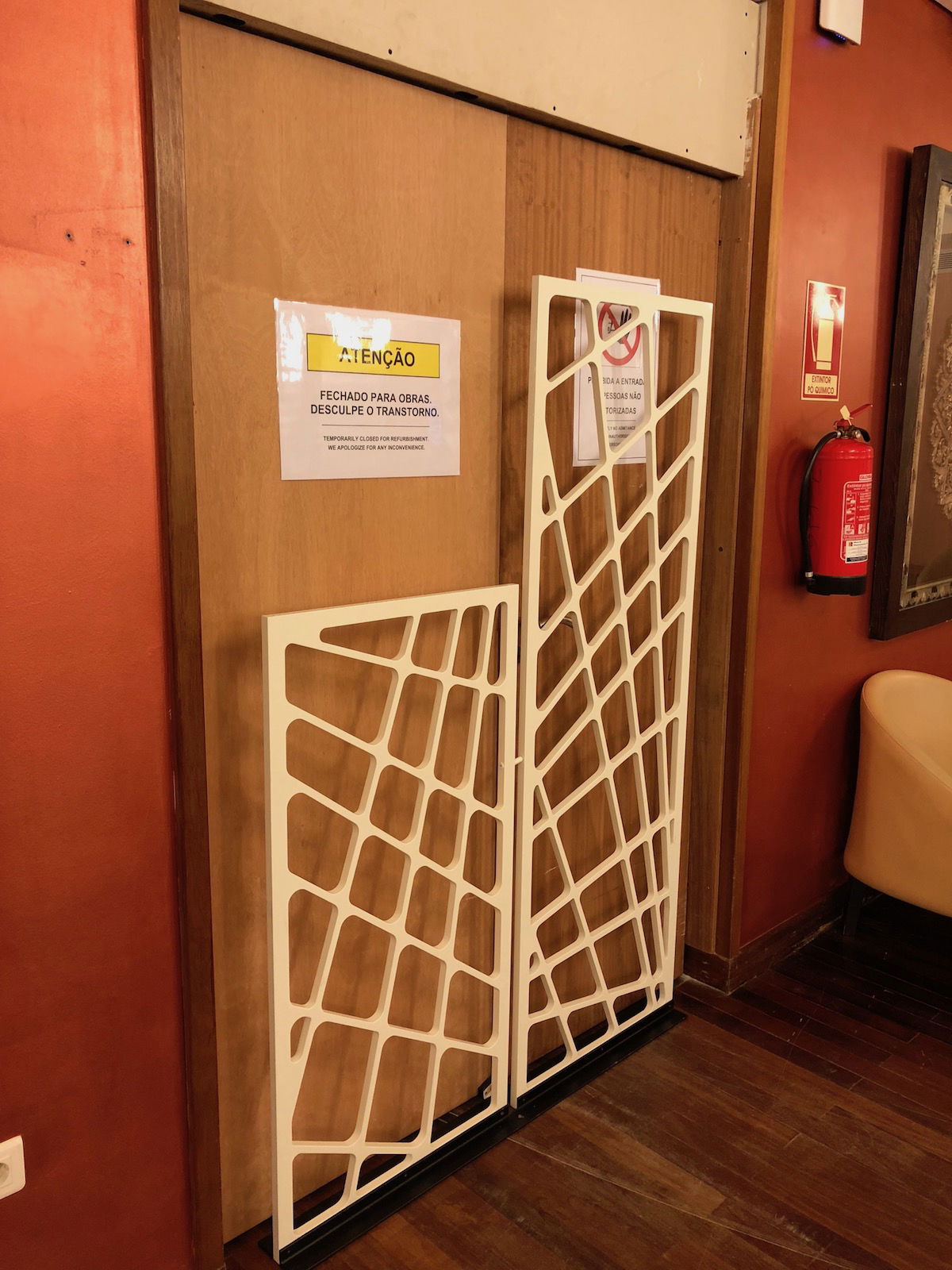 TAAG Angola Lounge bathroom closed
There was a bar area back near the entrance, though it wasn't staffed, and for that matter didn't really have anything, as all the food and drinks were self serve.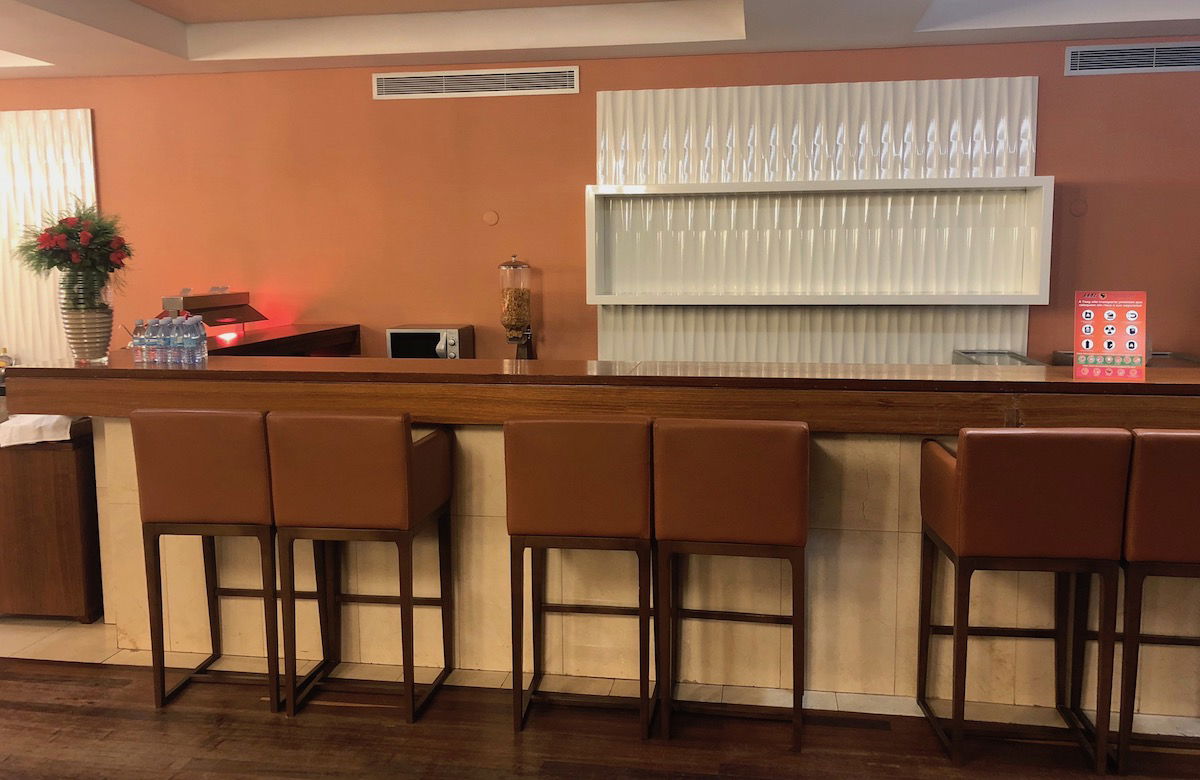 TAAG Angola Lounge bar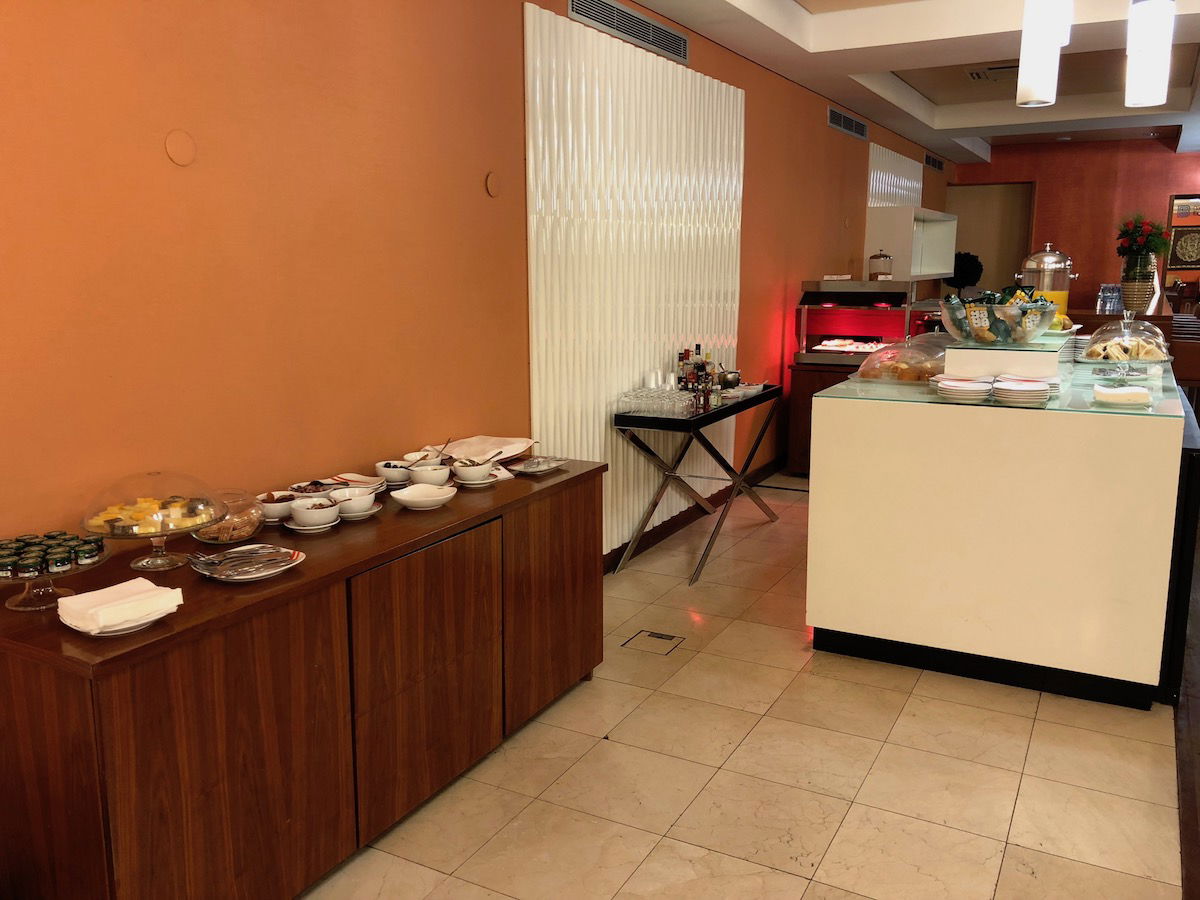 TAAG Angola Lounge buffet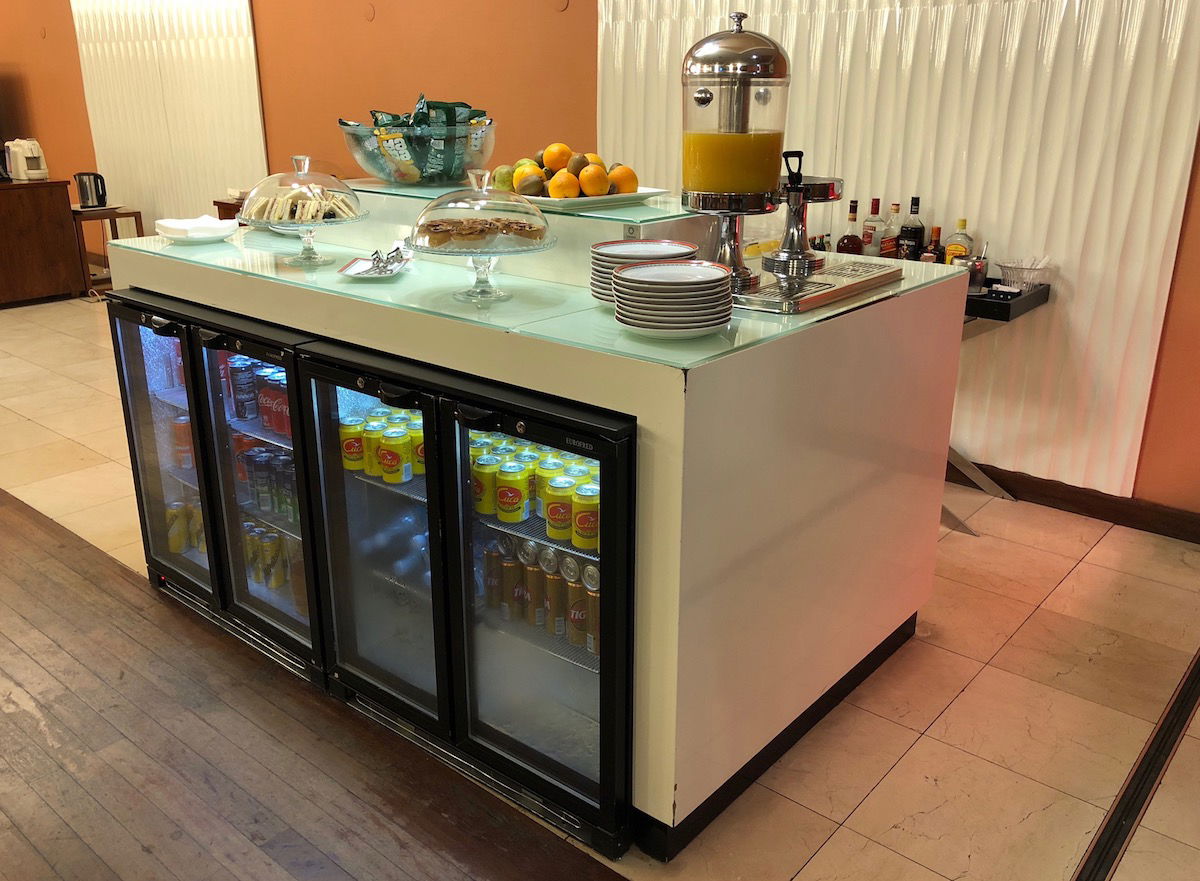 TAAG Angola Lounge buffet
The food and drink selection in the lounge was reasonably decent. There was liquor, both in big bottles and also in minis, which I'm surprised they put out, since you'd think people might take them.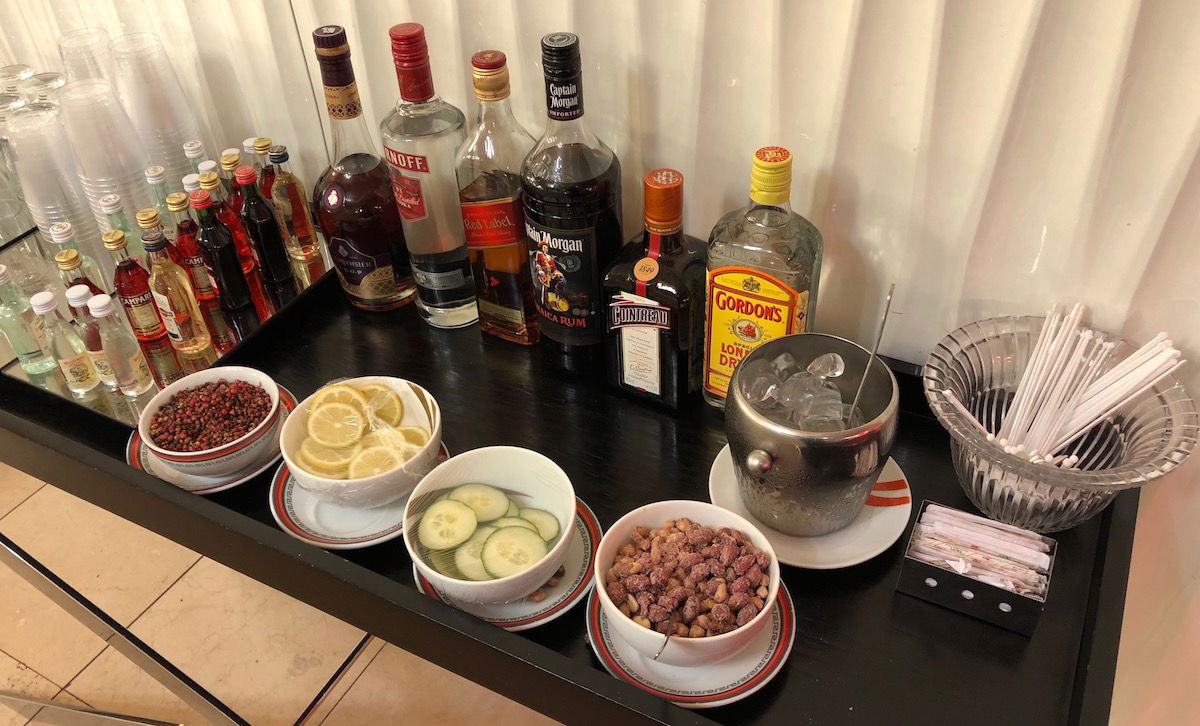 TAAG Angola Lounge buffet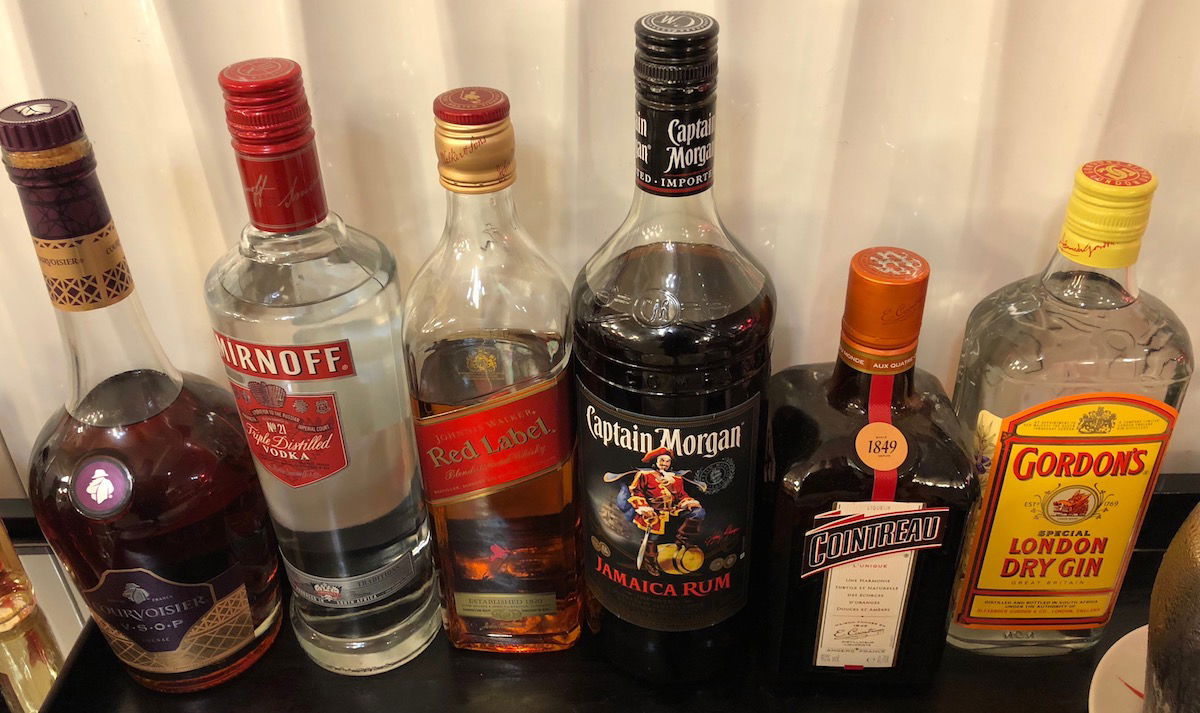 TAAG Angola Lounge drink selection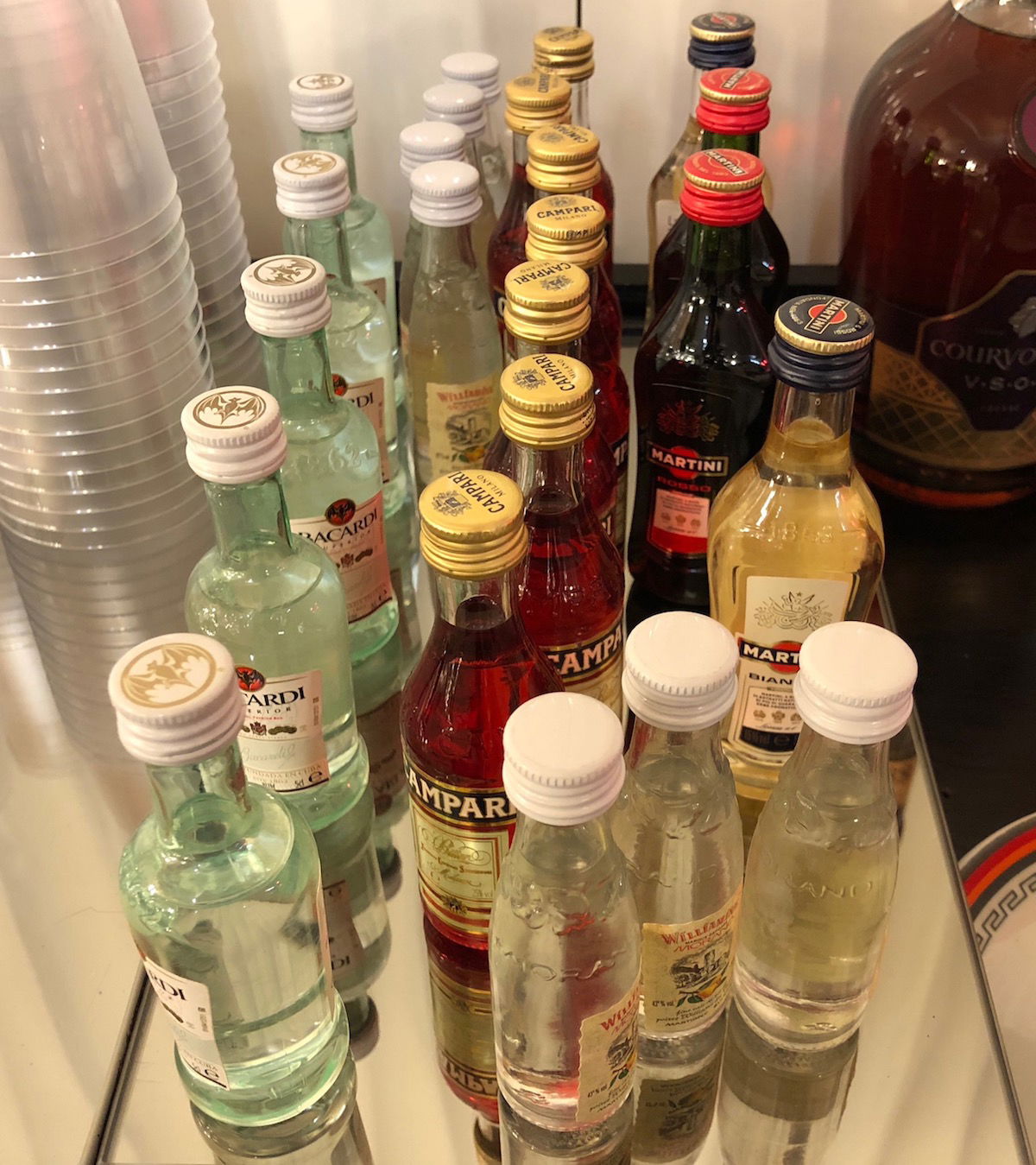 TAAG Angola Lounge drink selection
There were also a few wines to choose from, including Laurent Perrier champagne. That's the same champagne they served onboard in first class, so I found it pretty impressive that they just had a bottle sitting around in the lounge. They don't serve Laurent Perrier in business class, so that means for business class passengers the champagne is better on the ground than in the air.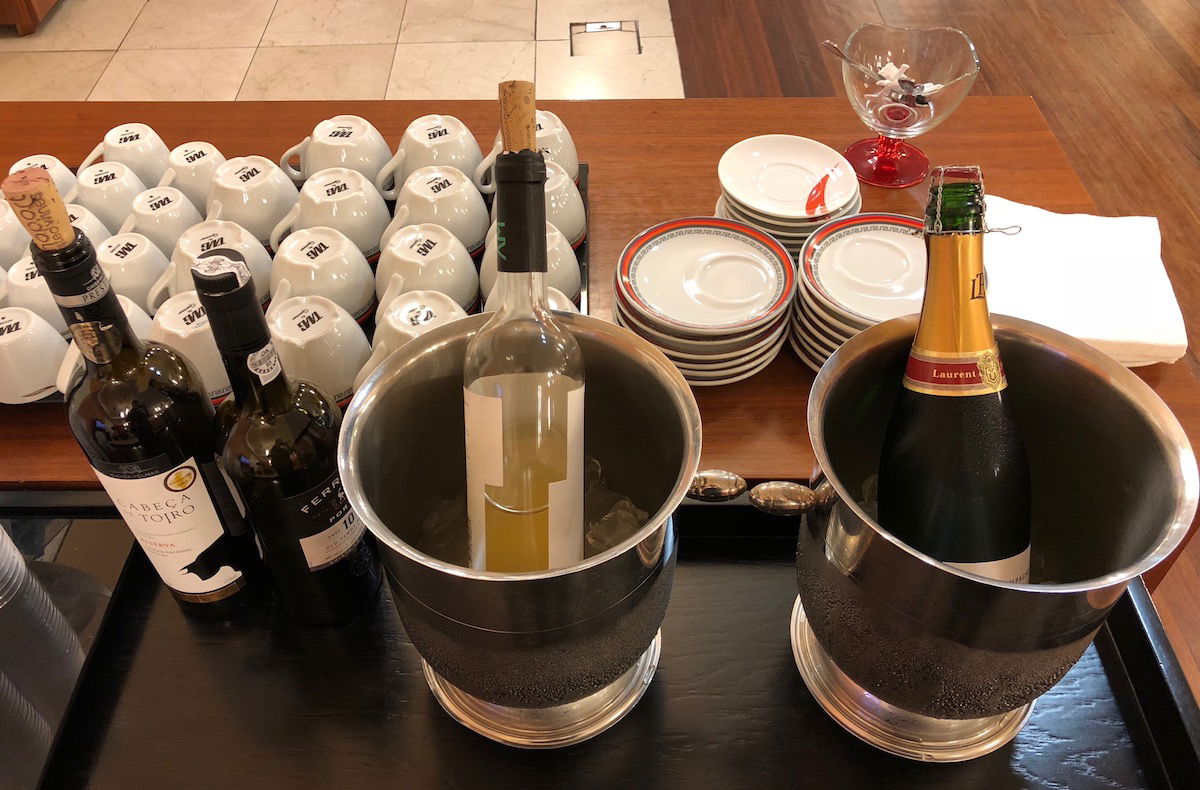 TAAG Lounge Luanda drinks
There was also a coffee and tea selection.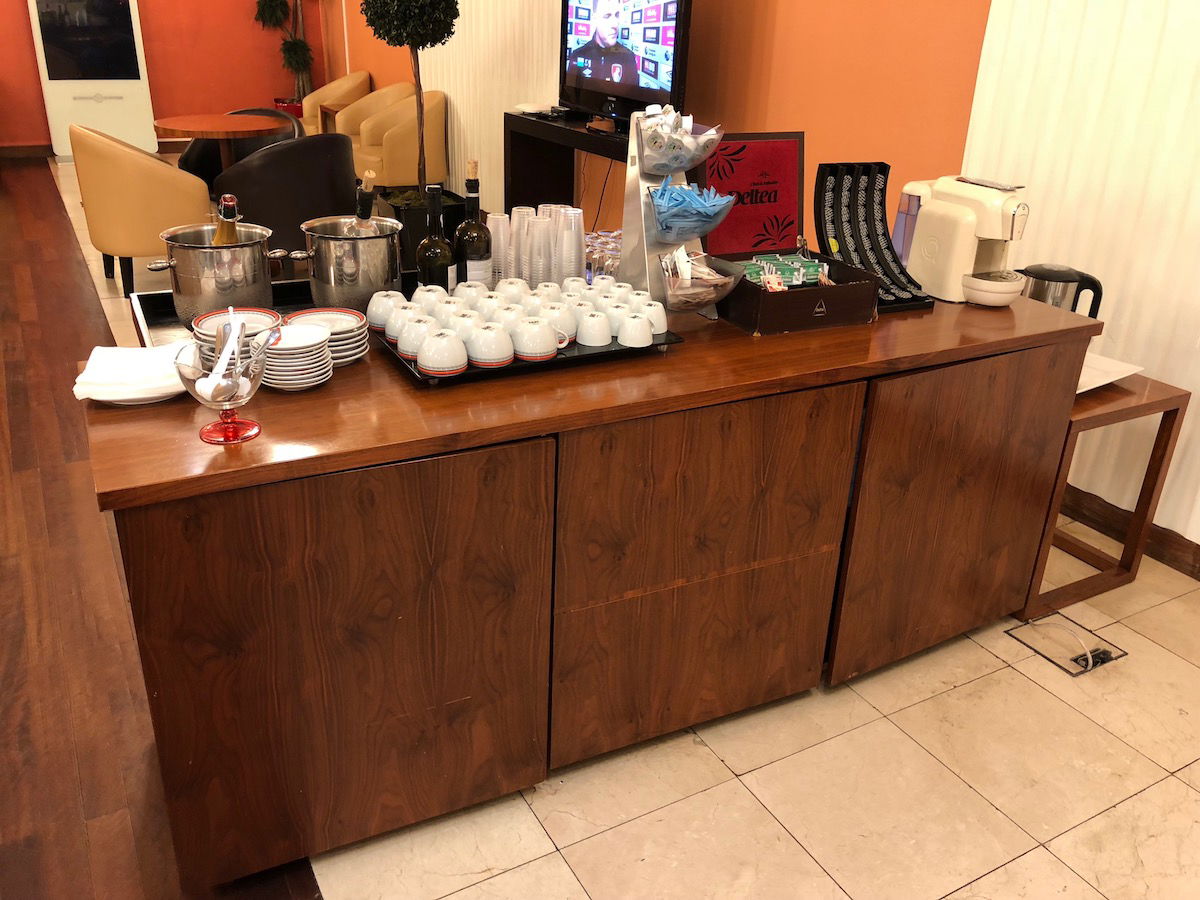 TAAG Lounge Luanda buffet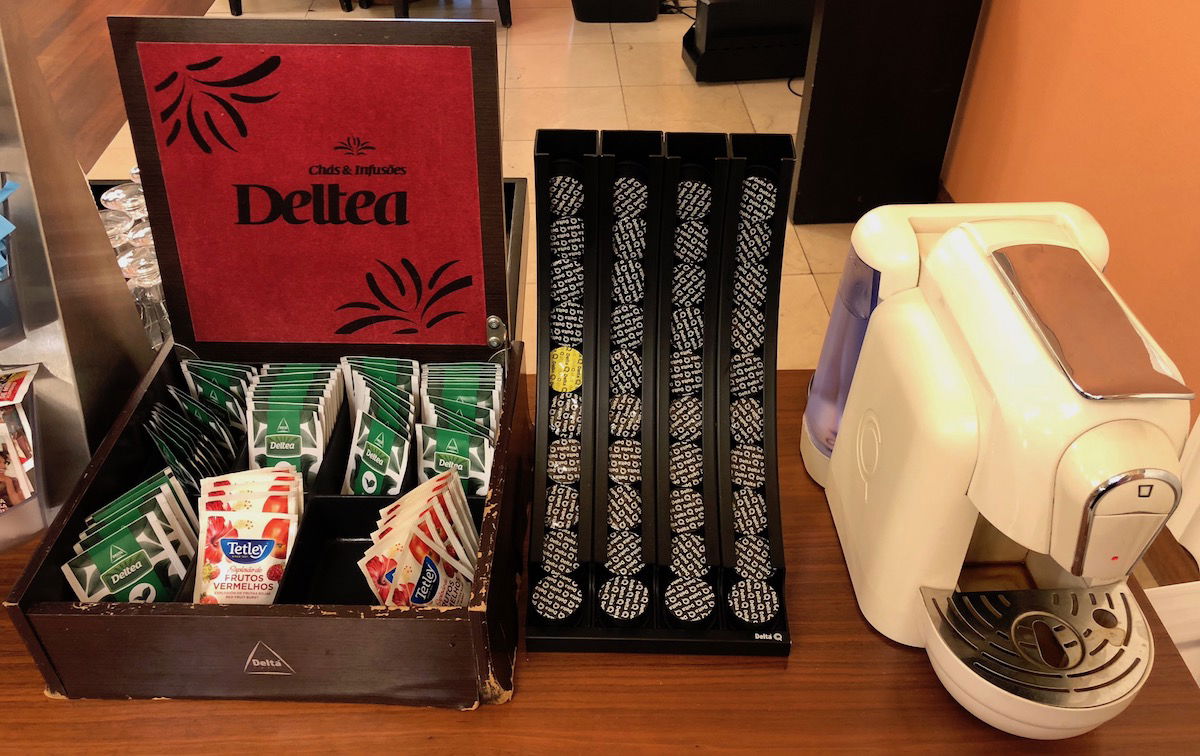 TAAG Lounge Luanda tea
There was a selection of soft drinks and bottled water.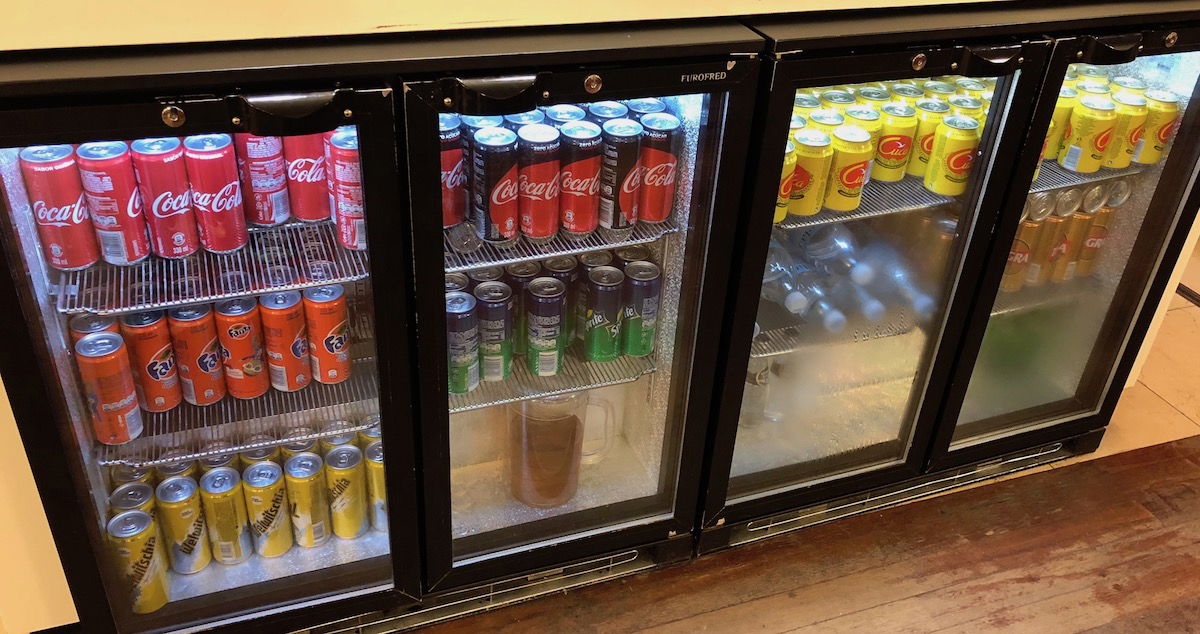 TAAG Angola Lounge drinks
The buffet had hot and cold food options.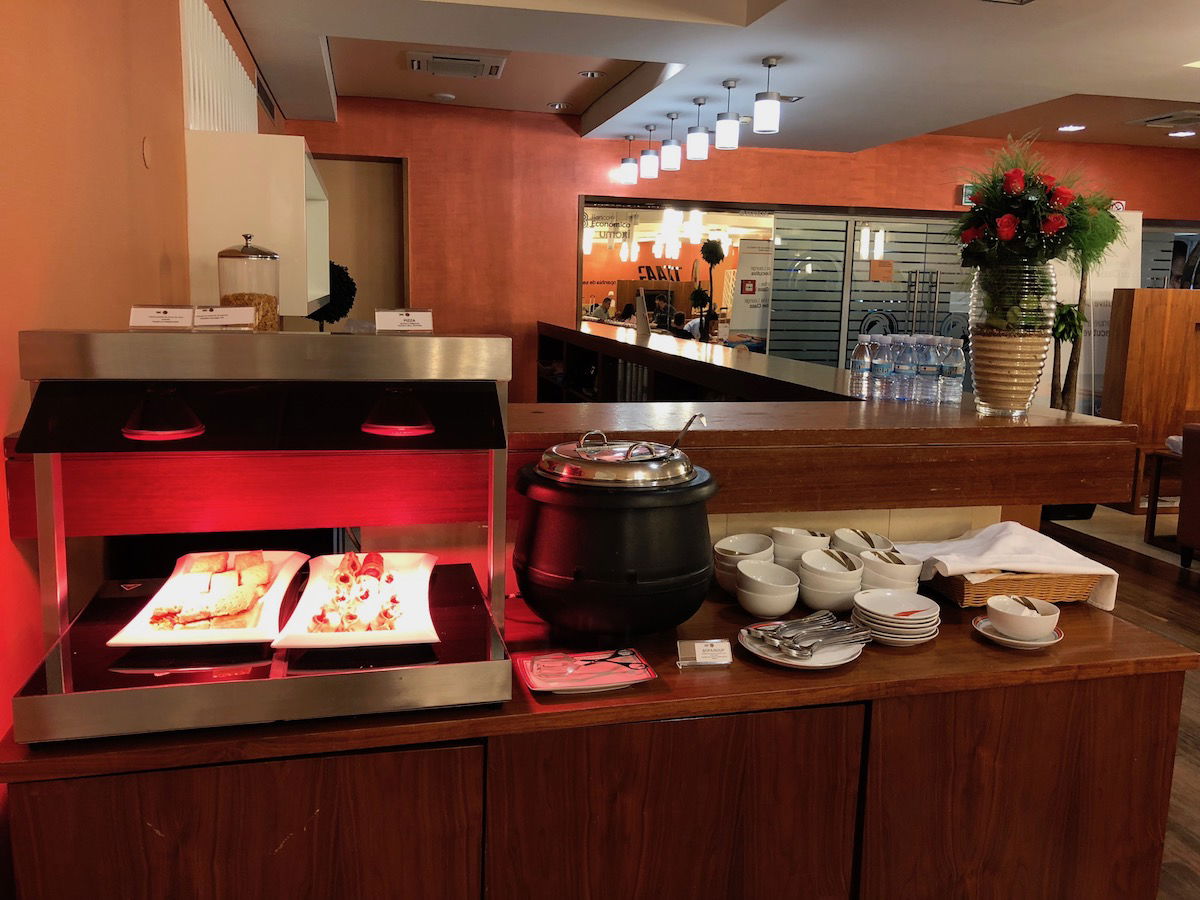 TAAG Angola Lounge buffet
Hot options included a panini with roast beef, a chicken sausage roll, and a carrot and ginger cream soup.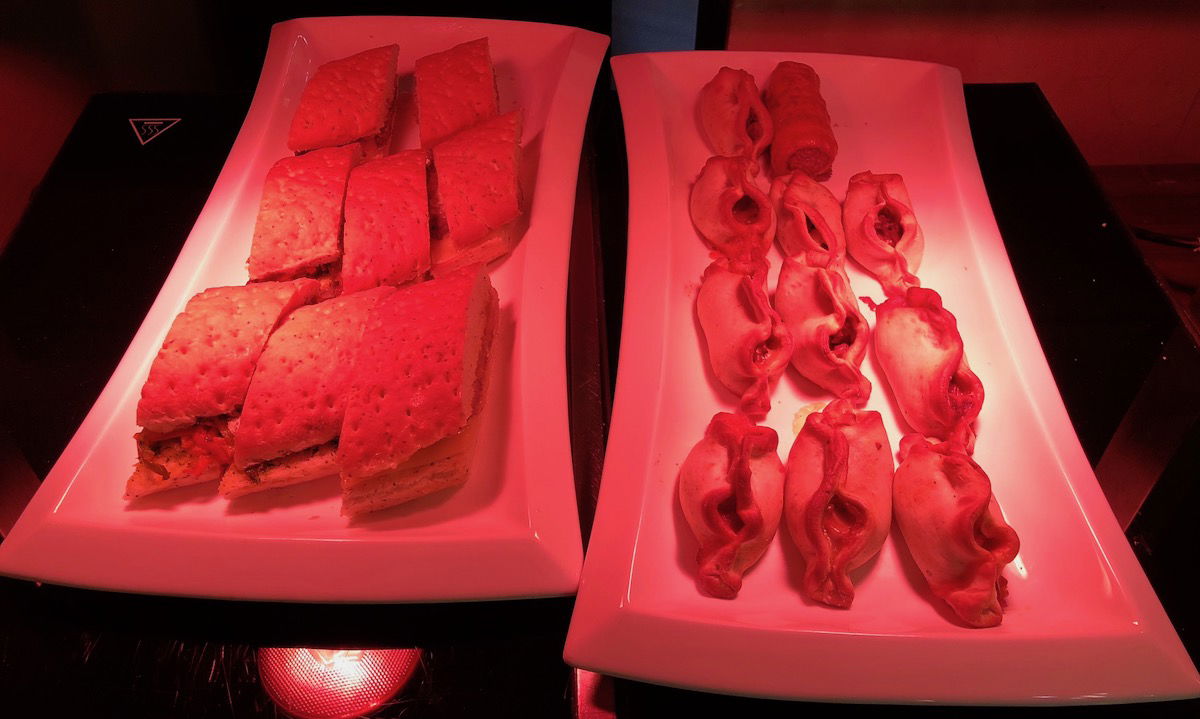 TAAG Angola Lounge buffet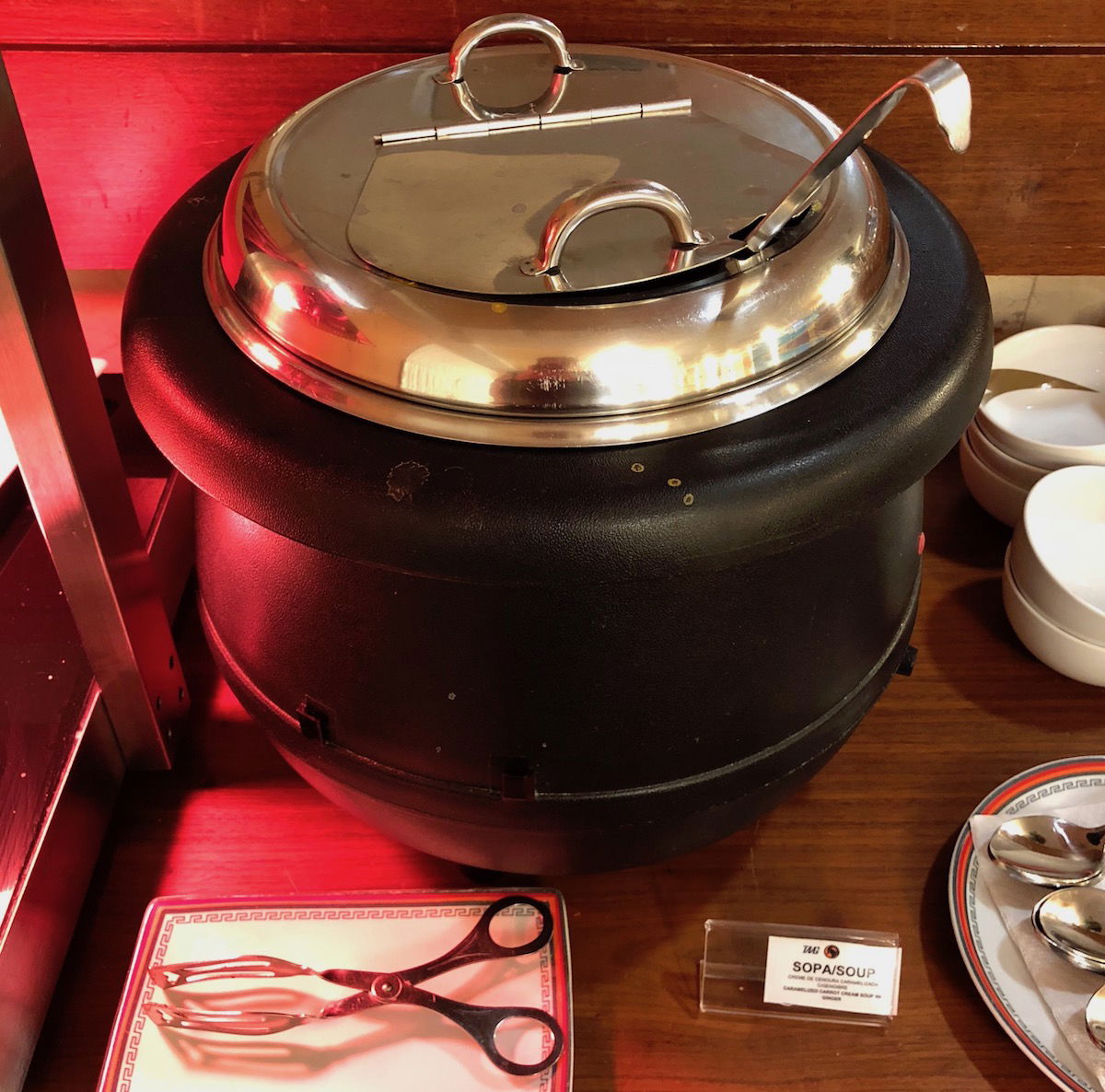 TAAG Angola Lounge buffet
Then there were finger sandwiches, egg tarts, whole fruit, bags of chips, bread rolls, a selection of desserts, cheese, nuts, hummus, veggies, and more.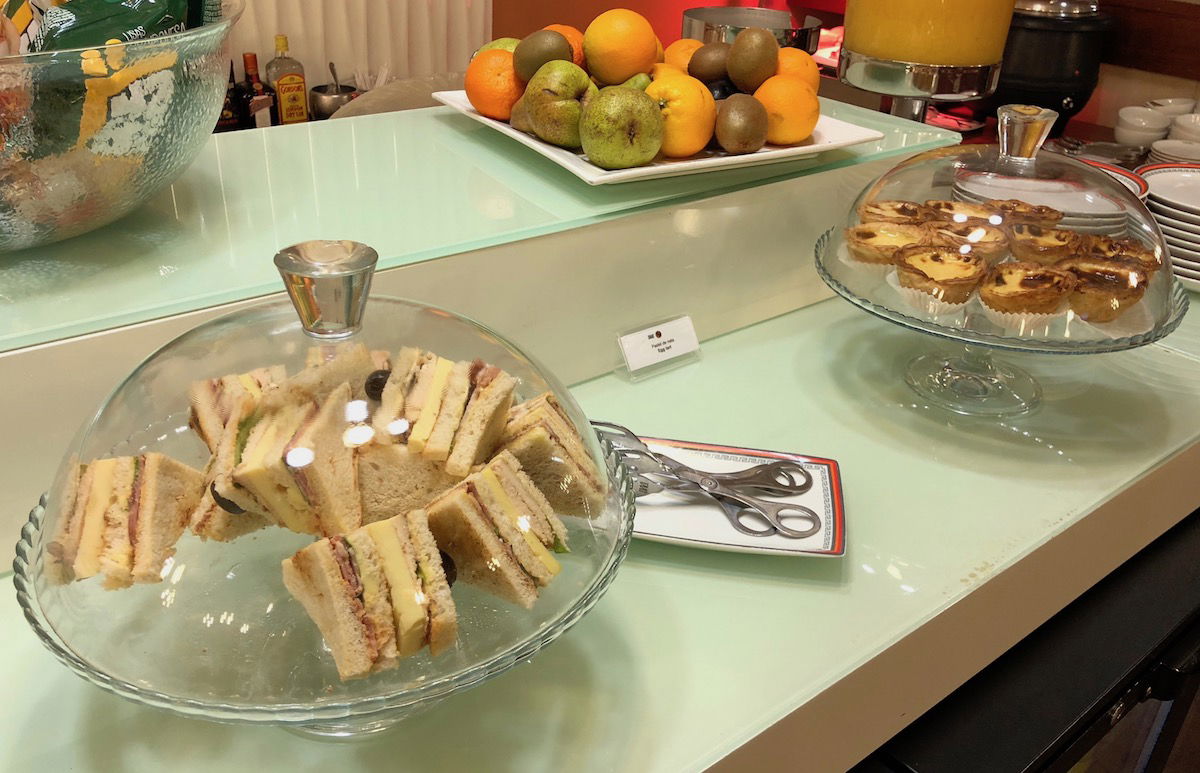 TAAG Angola Lounge buffet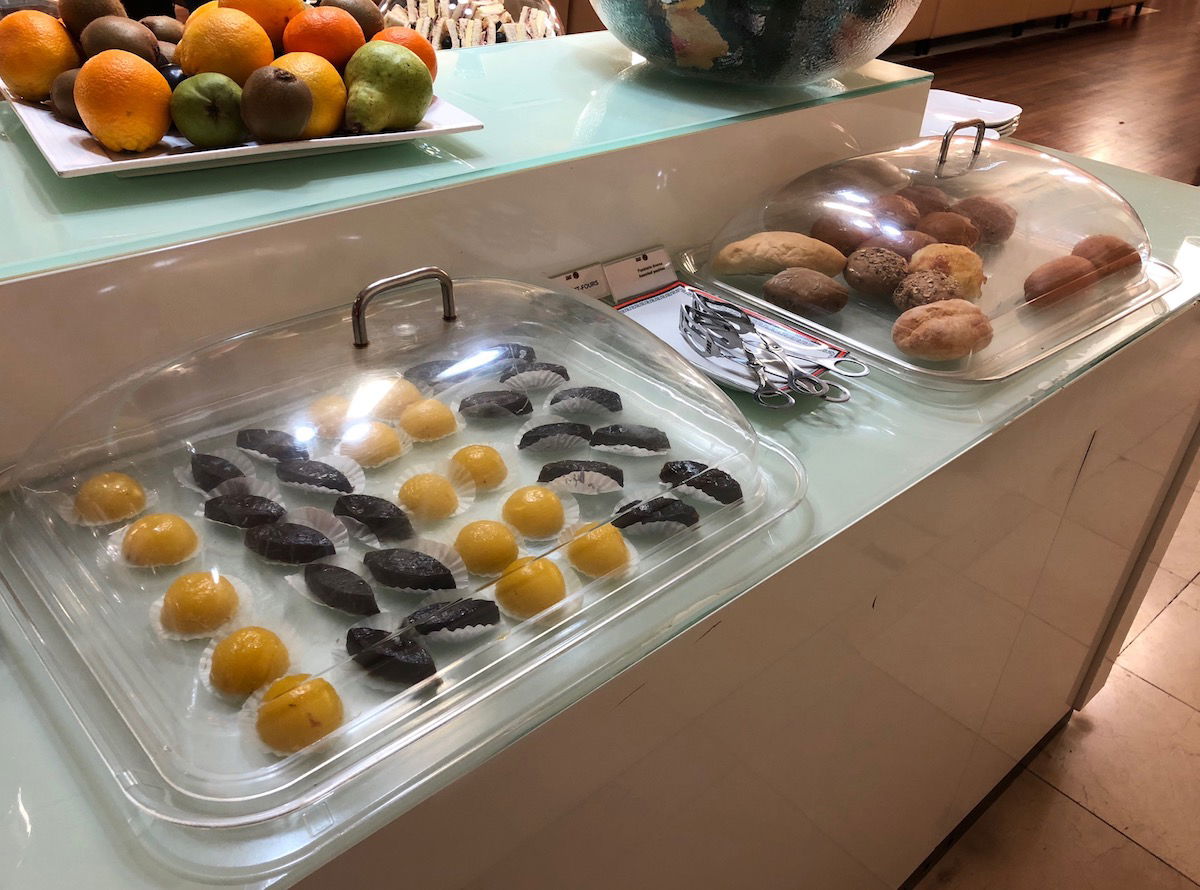 TAAG Angola Lounge buffet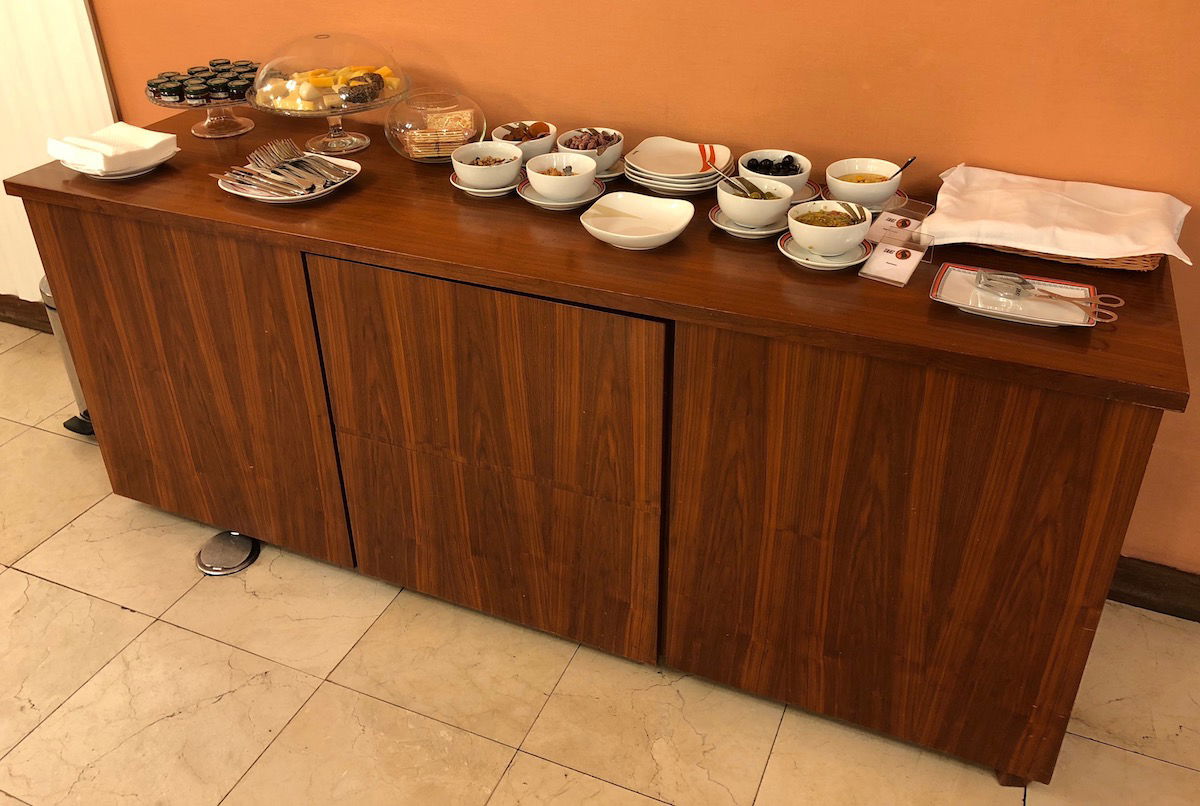 TAAG Lounge Luanda buffet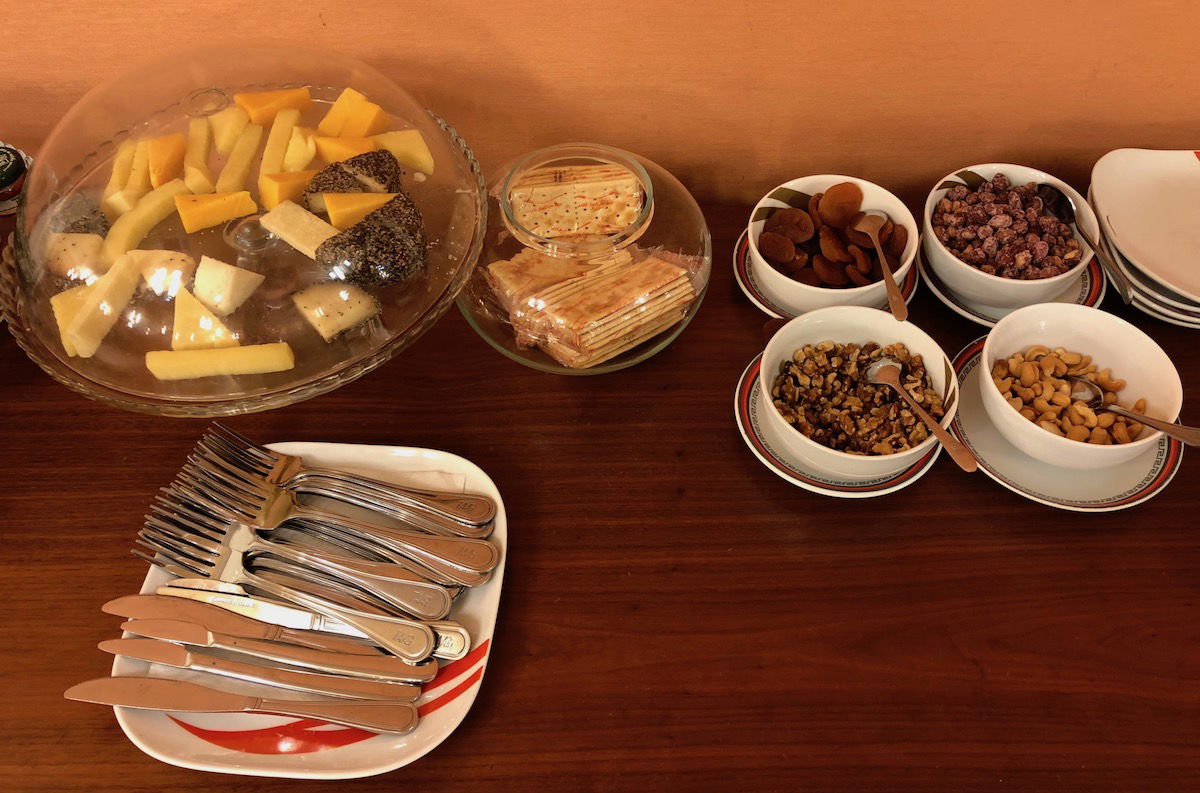 TAAG Lounge Luanda snacks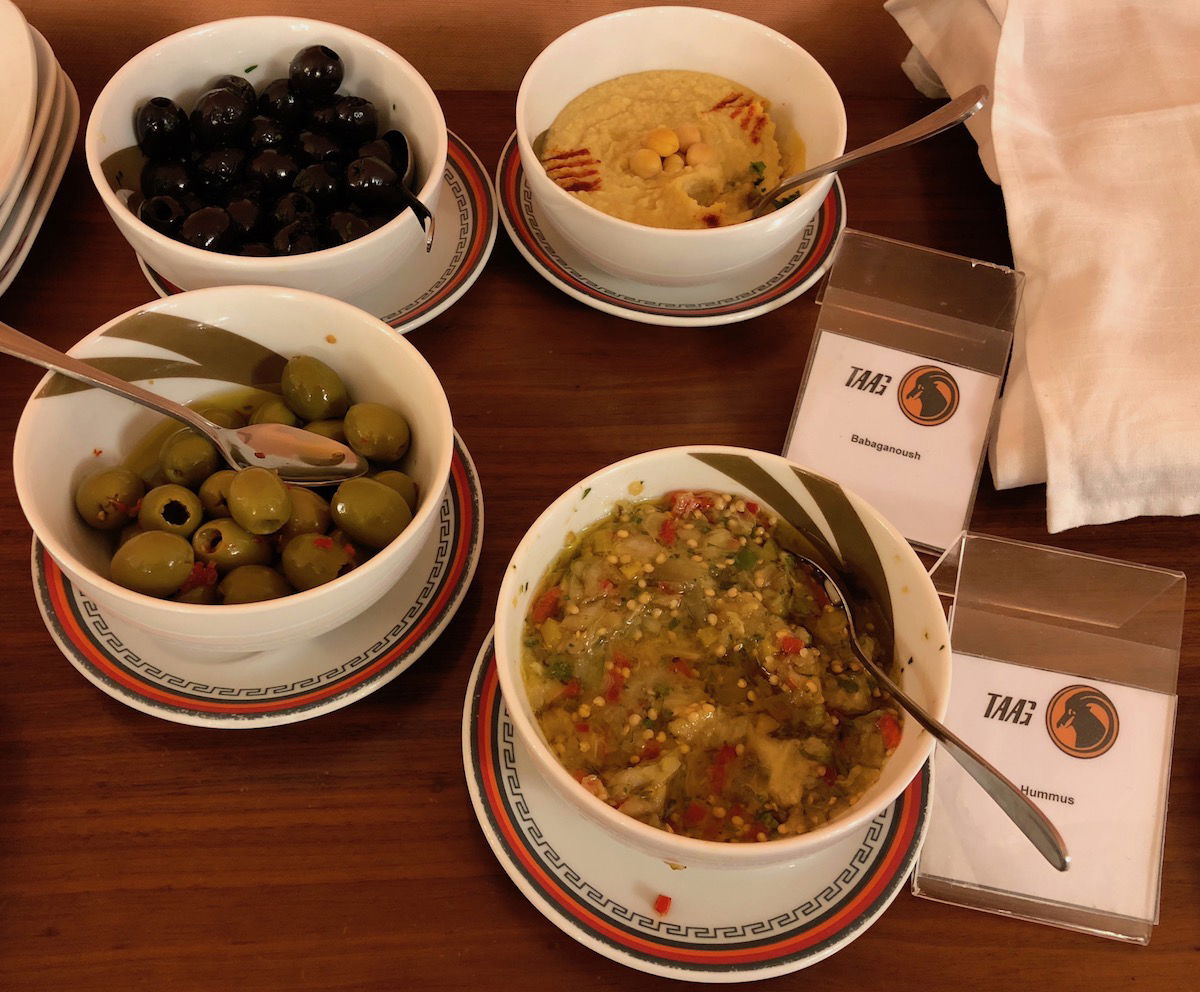 TAAG Lounge Luanda snacks
The lounge had Wi-Fi that was easy to connect to, though unfortunately it was slow. At times it worked reasonably well, and then when the lounge filled up a bit it got uselessly slow. Clearly the lounge only has enough bandwidth to handle a couple of devices.
The lounge stayed pretty quiet for most of the evening, and at most there were about a dozen people in it. About half of the people in the lounge seemed to be locals, while I got the impression that the other half (or so) were oil workers of some sort.
The lounge attendants were generally friendly. At one point one of them firmly asked why I was taking pictures. My friend responded in Portuguese explaining that I write about airlines, and she seemed happy with that response. She did keep looking over at me when I was taking pictures, but never said anything else.
After being in the lounge for a couple of hours we decided to roam the terminal.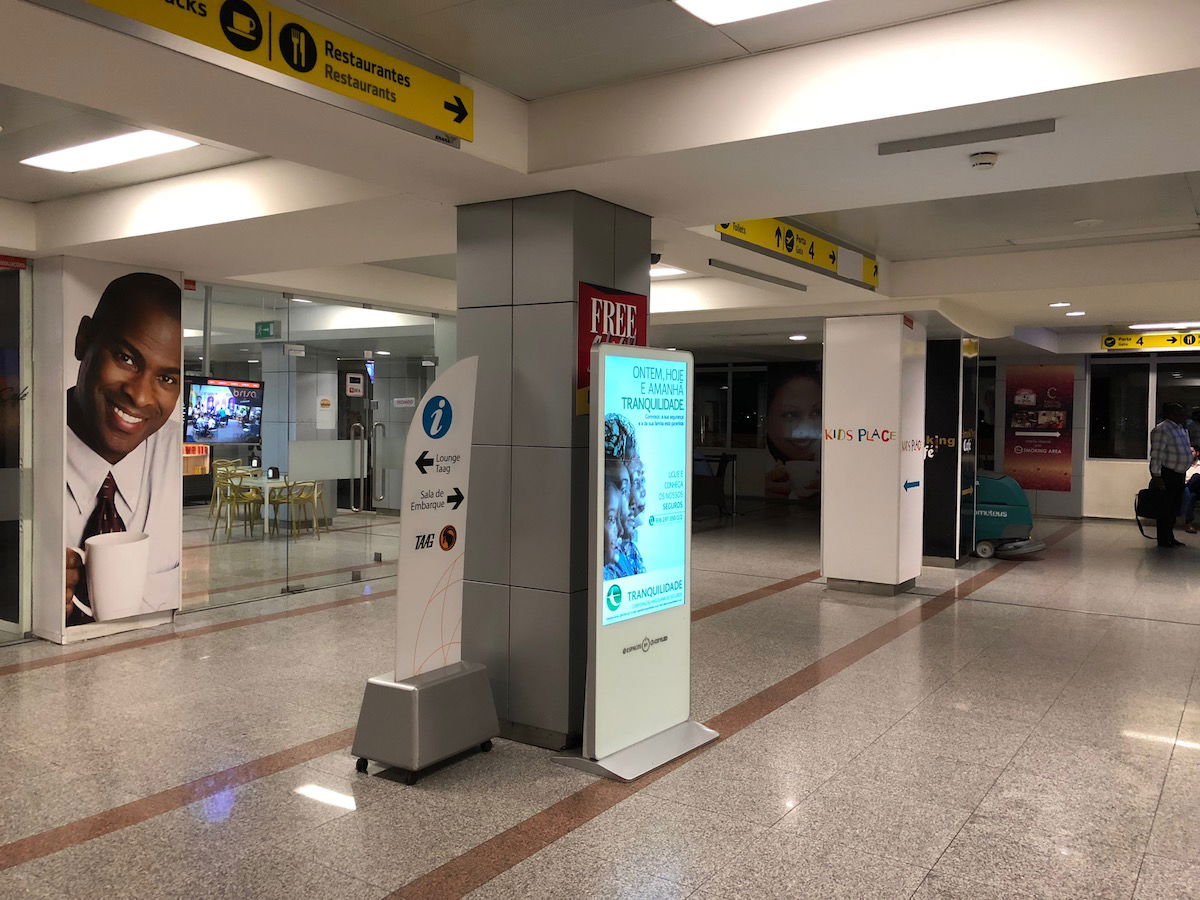 Luanda Airport terminal
Luanda Airport's terminal is small. Just outside the lounge were some tables with chairs, as well as some rows of seats. The terminal was nicer than LaGuardia, but that's about all I can say…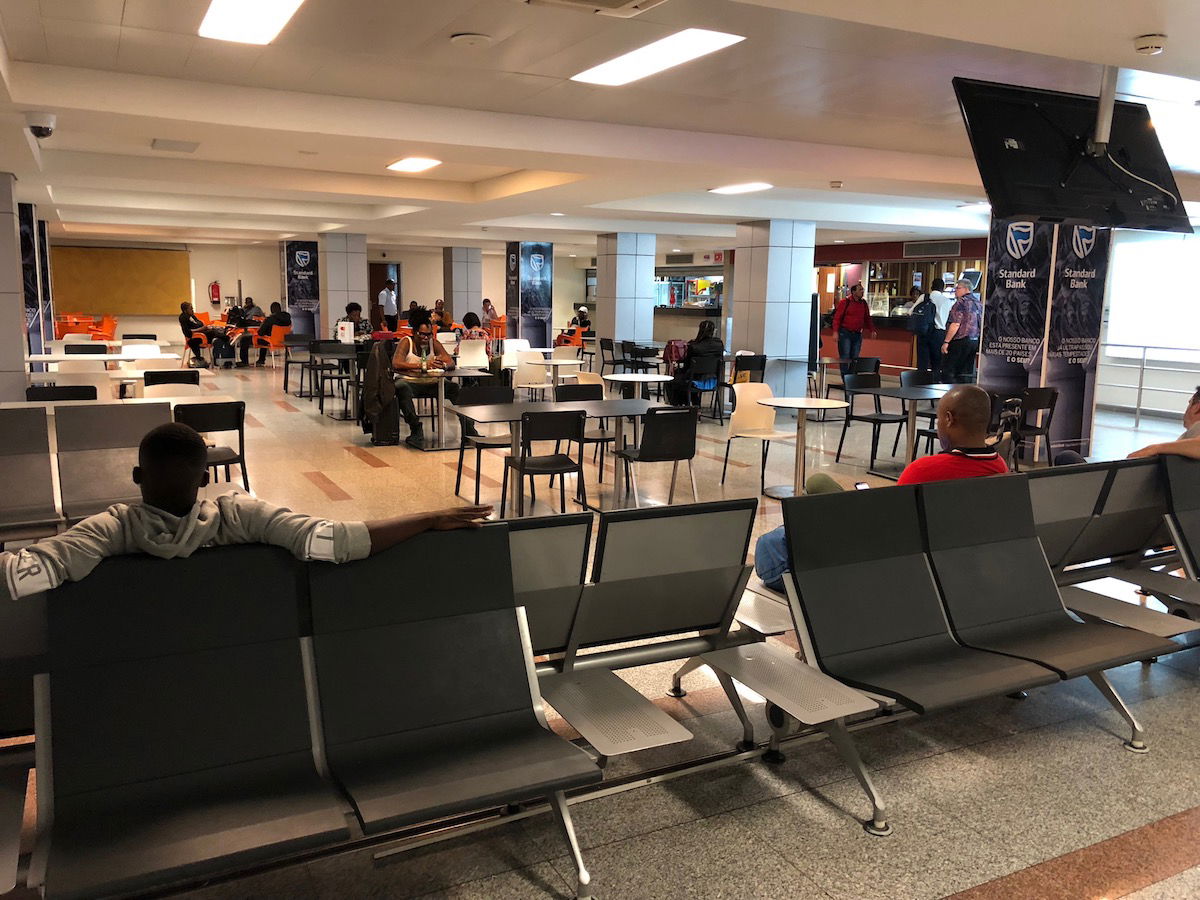 Luanda Airport terminal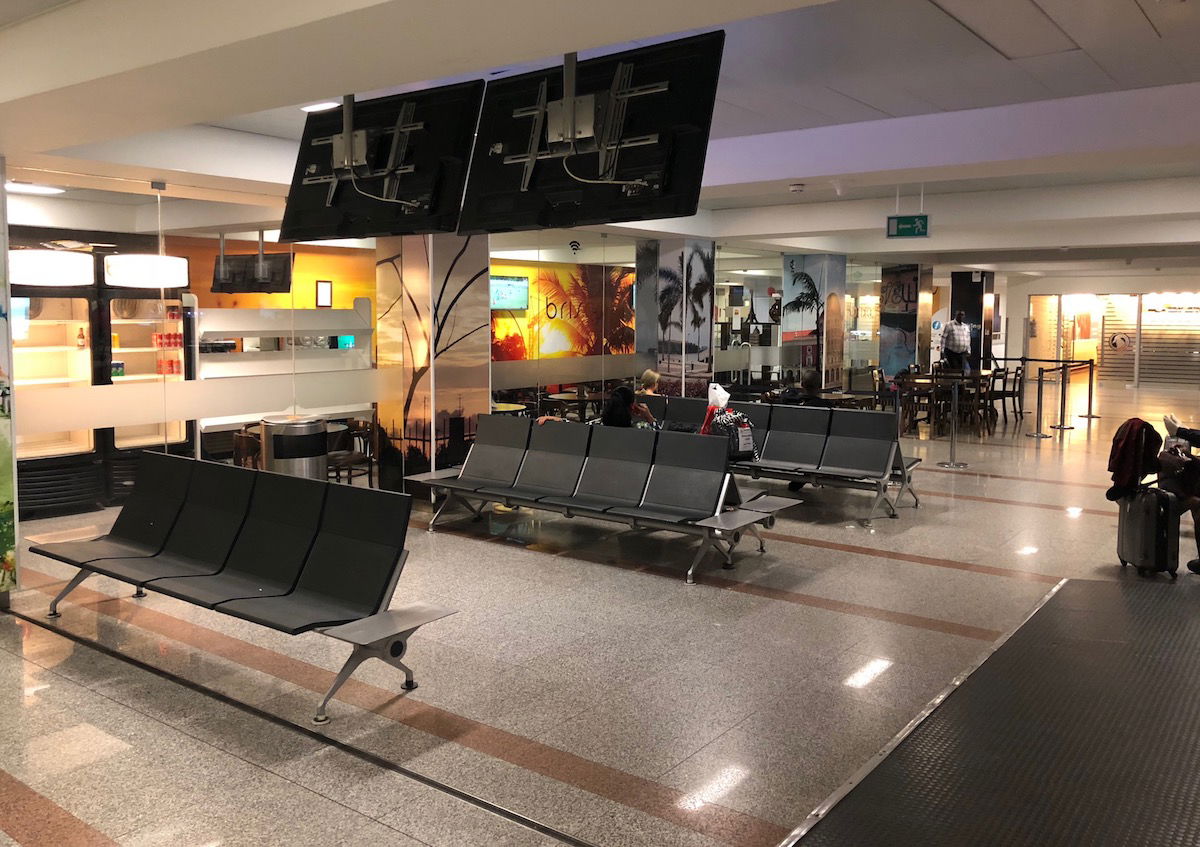 Luanda Airport terminal
Past that was the area with a restaurant and some duty free shopping.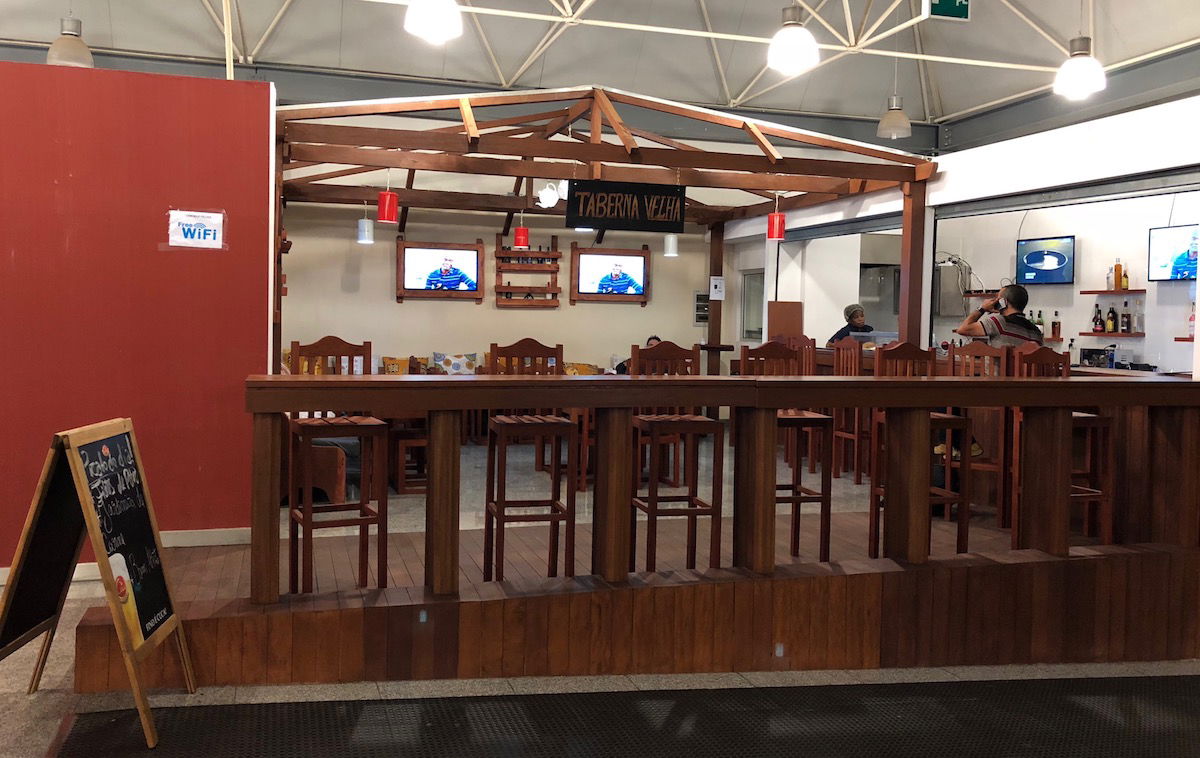 Luanda Airport terminal
I was surprised to find that a vast majority of the shops were closed, given how many redeyes depart from Luanda.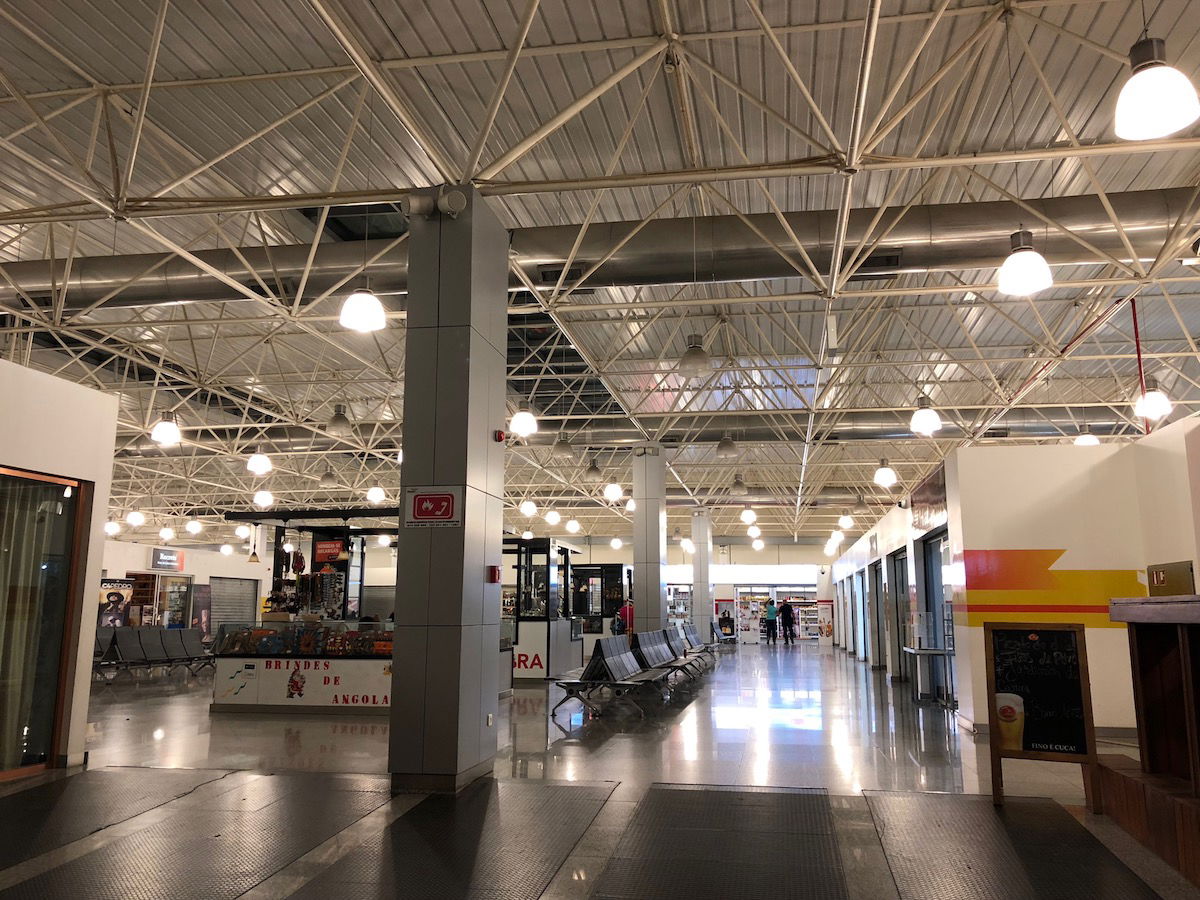 Luanda Airport terminal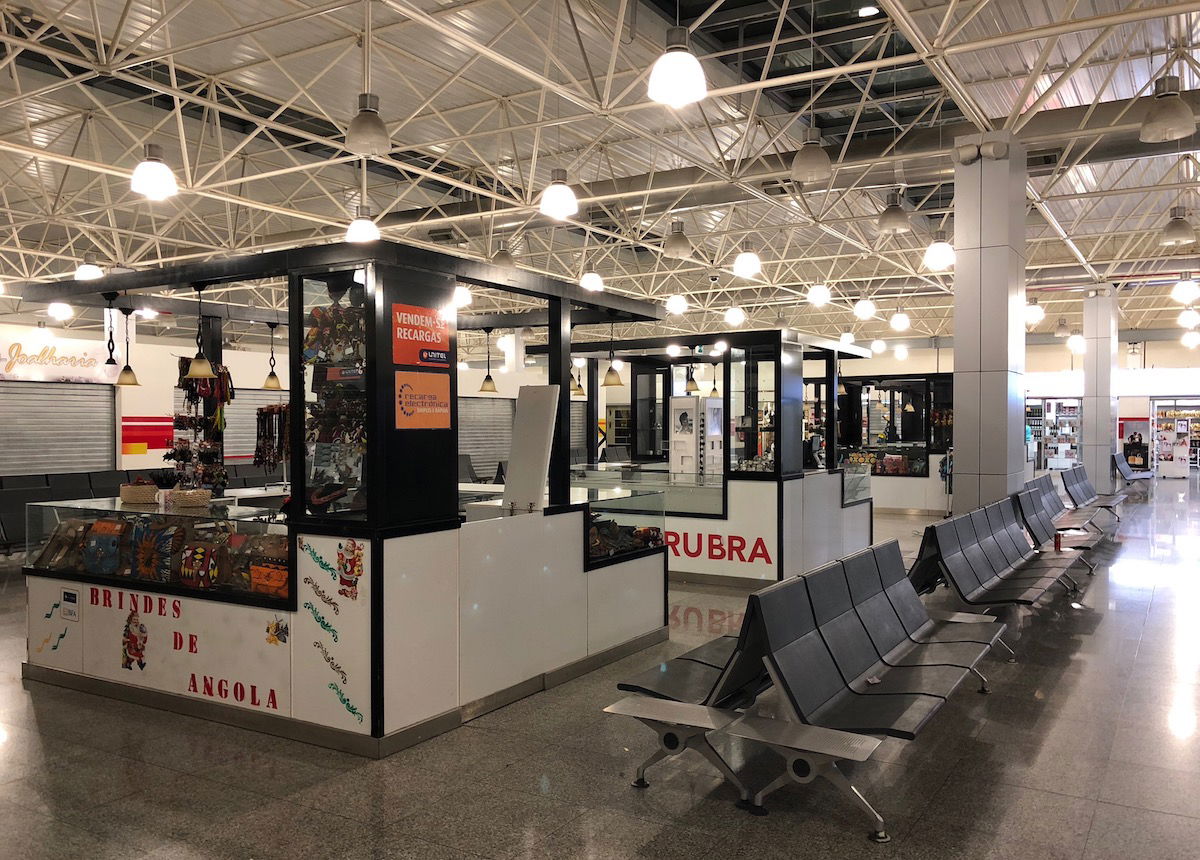 Luanda Airport terminal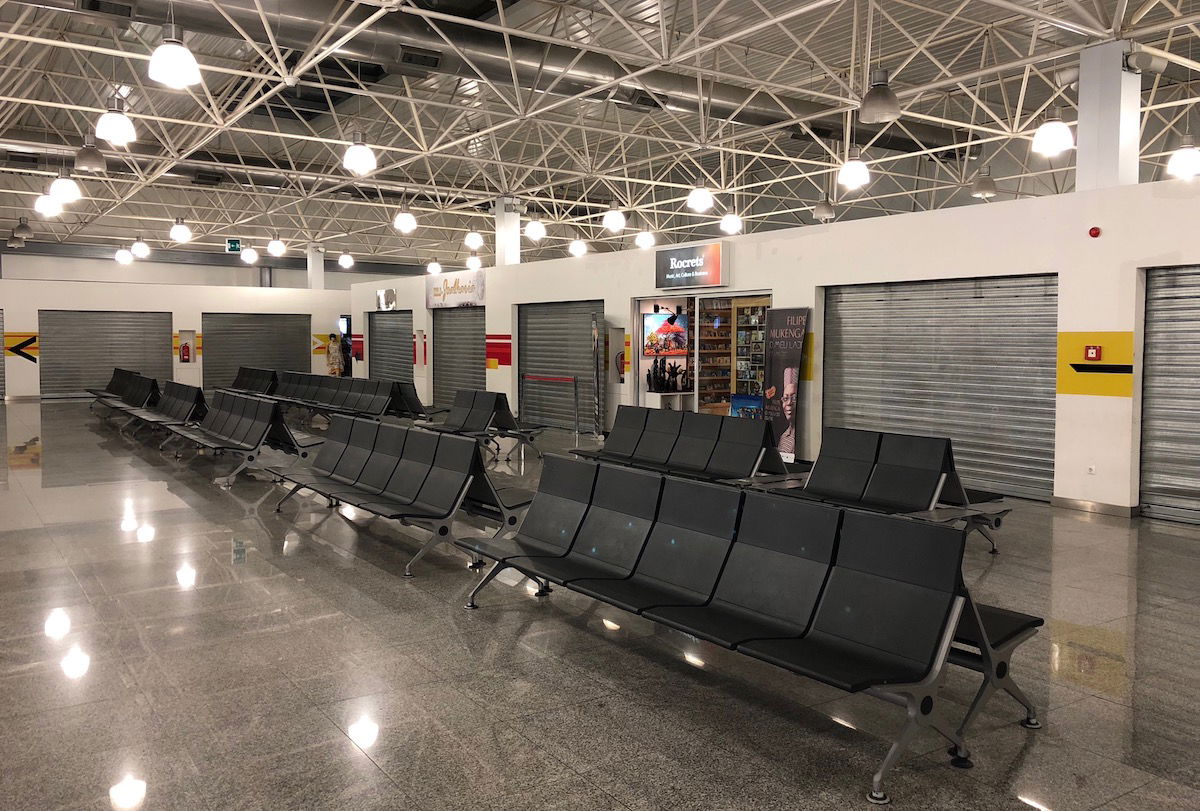 Luanda Airport terminal
There was one duty free shop open, so I had to check out the prices. Luanda is known for being one of the most expensive cities in the world, and that's largely due to the difference between the official exchange rate and black market exchange rate. I wondered whether the prices at duty free reflected that.
A bottle of Dom Perignon 2006 that would retail for about $150 in the US cost $475 here. Holy cow!!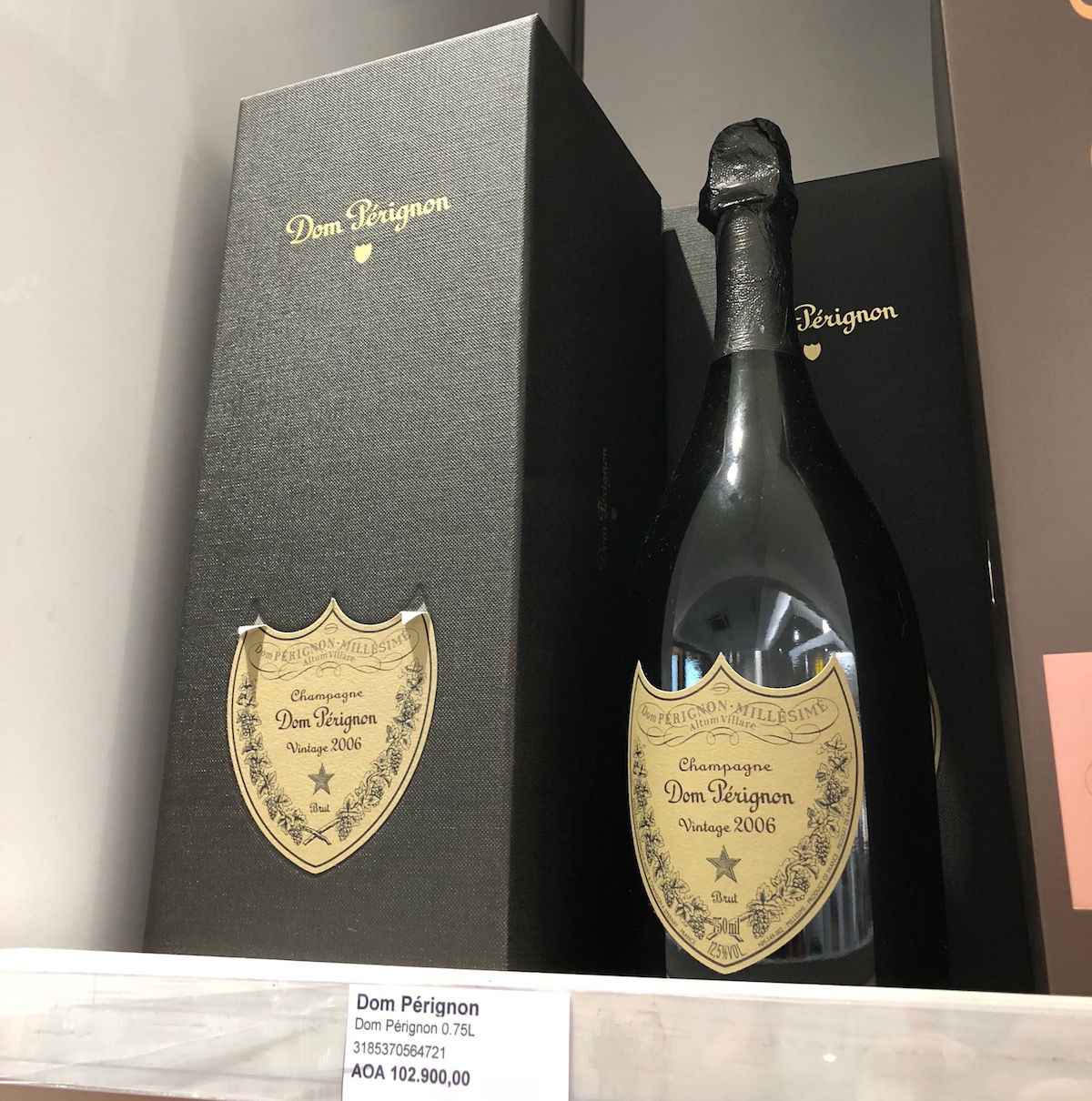 Luanda Airport duty free prices
Meanwhile a bottle of Moet & Chandon Rose cost about $115 here, while it would cost about $45 in the US.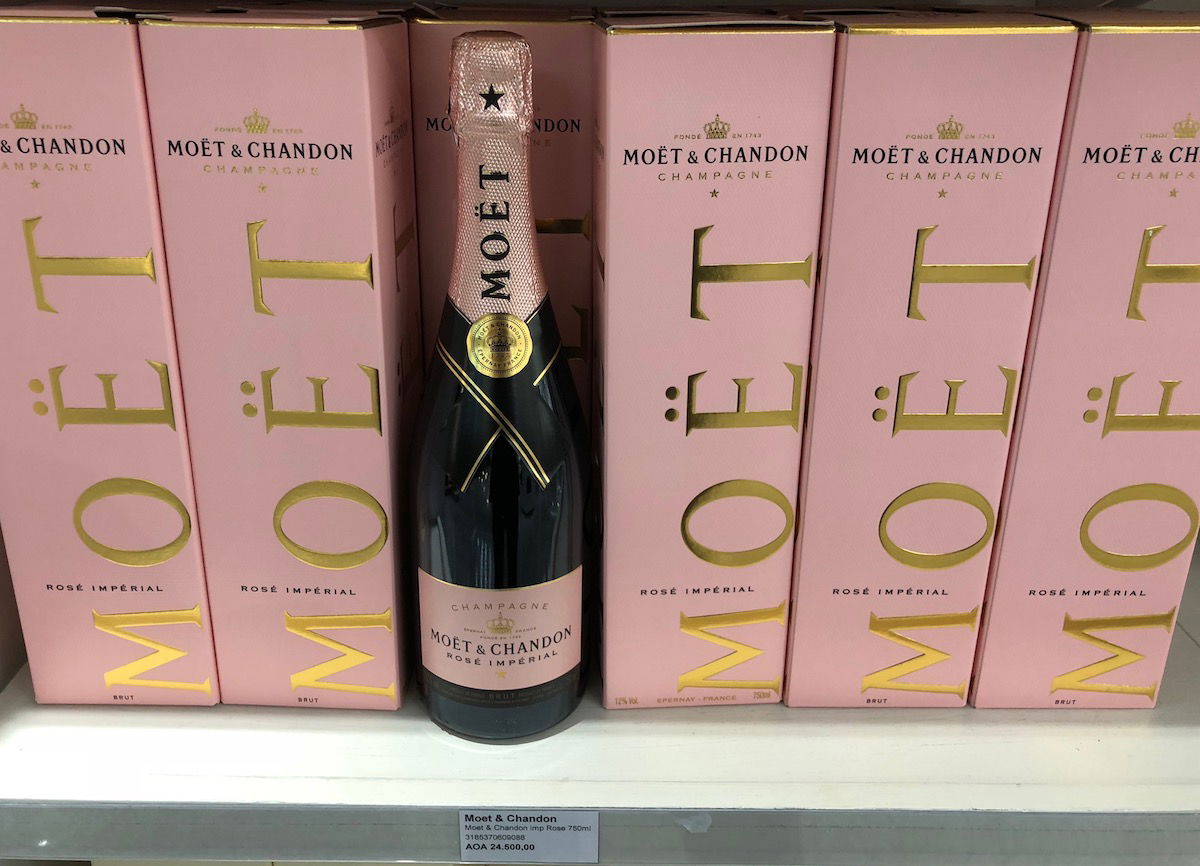 Luanda Airport duty free prices
I asked the shop attendant how much it would be in USD, and he confirmed the official exchange rate.
While our flight was only scheduled to depart at 11:15PM, the boarding pass indicated that boarding would start at 9:45PM. Given that we boarded over an hour early in Lisbon, I figured we might as well go at the posted time, since I was once again hoping to be first onboard to snap pictures.
Our flight was scheduled to depart from gate four, so we headed in that direction. As it turns out, gate four might just be the only gate at the airport, as it's what all flights seemed to be using (which doesn't seem ideal, when you have two 777s leaving 40 minutes apart).
The gate was just down the hall from the lounge. We got there at 9:45PM, though were told we couldn't yet enter the gate area. That's because the flight to Havana (ooh na-na) was in the final stages of boarding. Finally at around 9:50PM they let us into the gate area after scanning our boarding passes and checking our passports.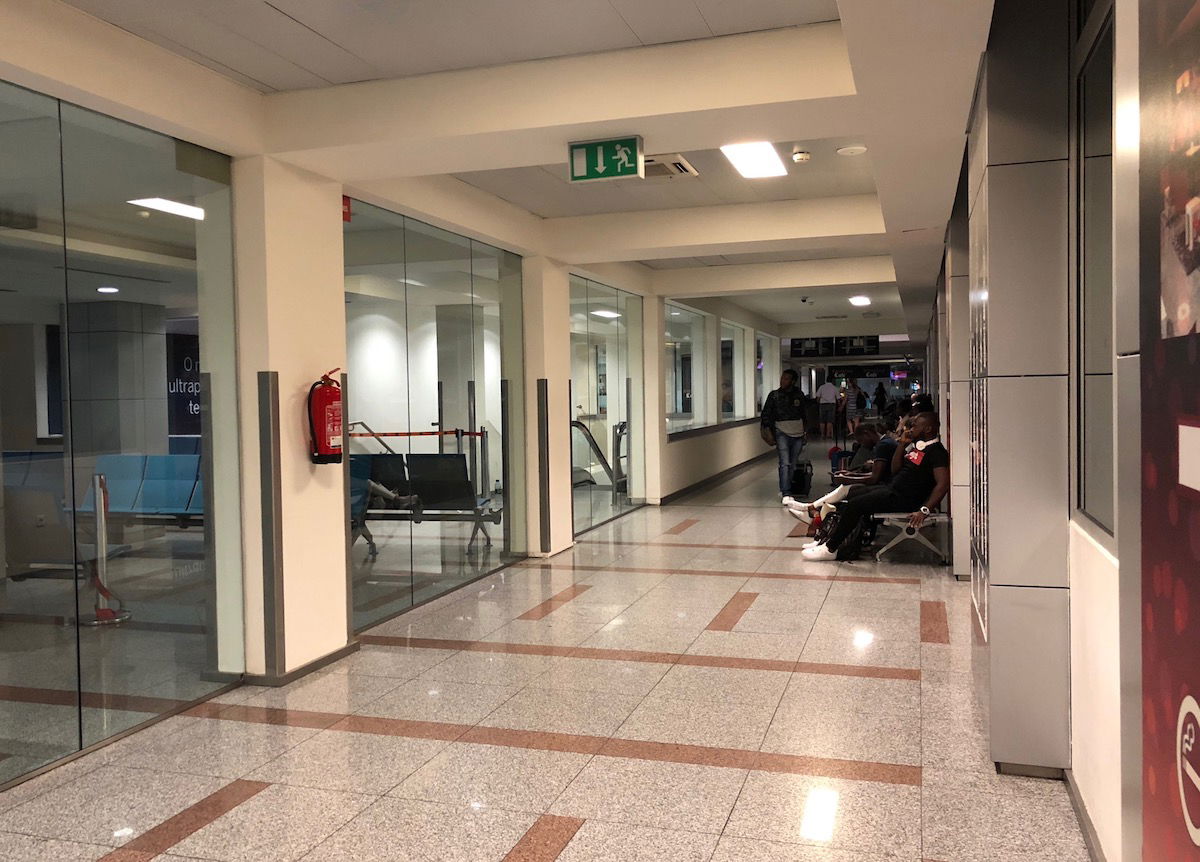 Walking to Luanda Airport gate
I feel like TAAG should have maybe had someone proofread before printing their "Firts Class" signage?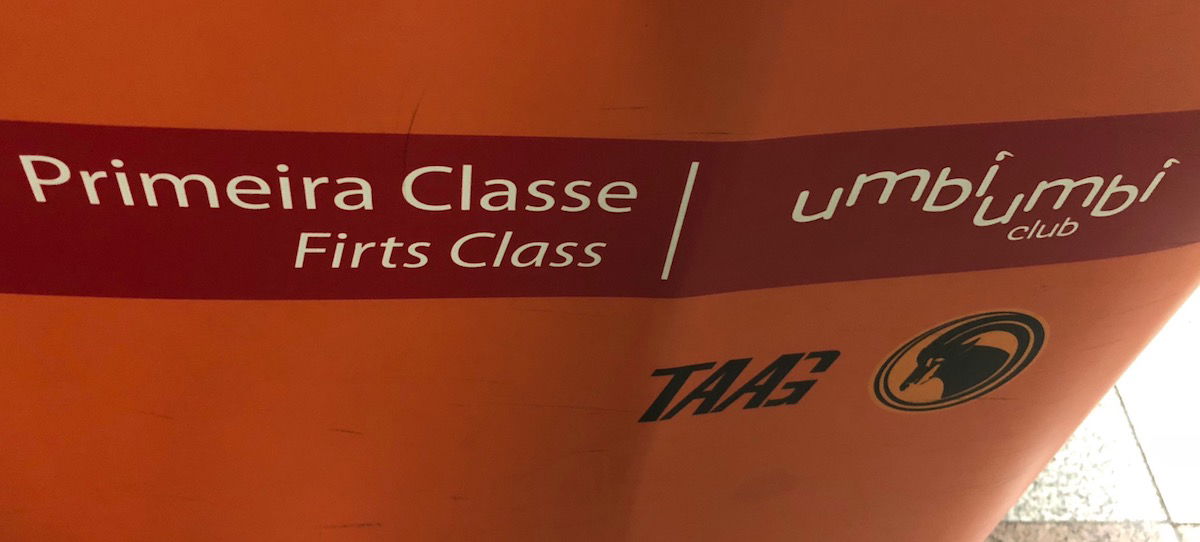 TAAG Firts Class signage
The airport's gate is a single room that doesn't have nearly enough seating for a full 777. At first we didn't fully realize that we were just being let into the "sterile" gate area.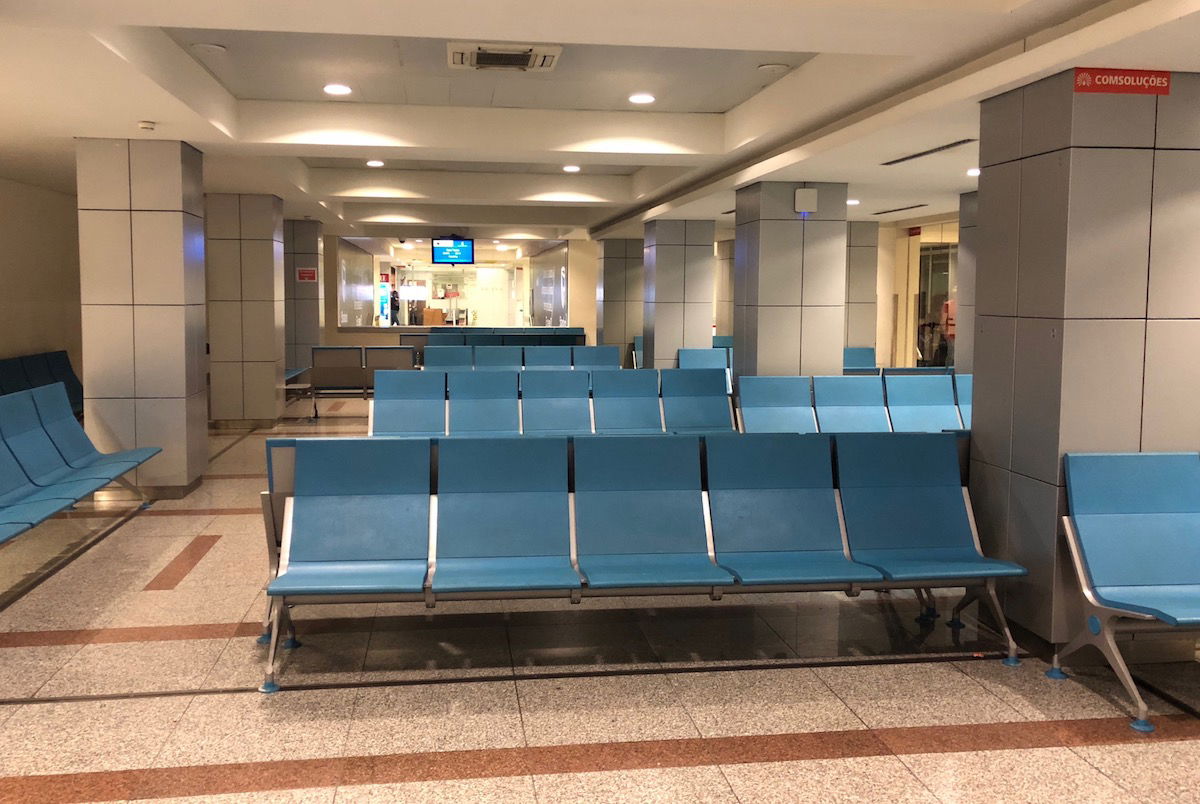 Luanda Airport departure gate
As time passed, the gate continued to fill up. At 10:30PM boarding still hadn't started. At 11PM boarding still hadn't started. At 11:30PM (at this point past our scheduled departure time) boarding hadn't started. Actually, they just started boarding the flight to Lisbon at the time, which turned into a huge mess, since only the passengers for one flight are supposed to be in the sterile zone at once. That doesn't even account for the fact that there were now two 777s worth of passengers in this small area
We kept trying to ask ground agents for more information. When we asked they either ignored us, or just said "boarding soon." They kept saying it would be another 5-10 minutes. Over and over. We asked the reason for the delay. They said the inbound flight was late.
Shortly after midnight it was announced that boarding would start at 12:45AM. We asked once again what the cause for the delay was. This time they said it was a "technical problem." As I'm sure you can imagine, at this point we became worried. If this flight ended up getting canceled, we'd have a very unpleasant night, since we didn't have a visa to enter the country.
There was a scene at the gate, given that the gate agents weren't exactly forthcoming with information.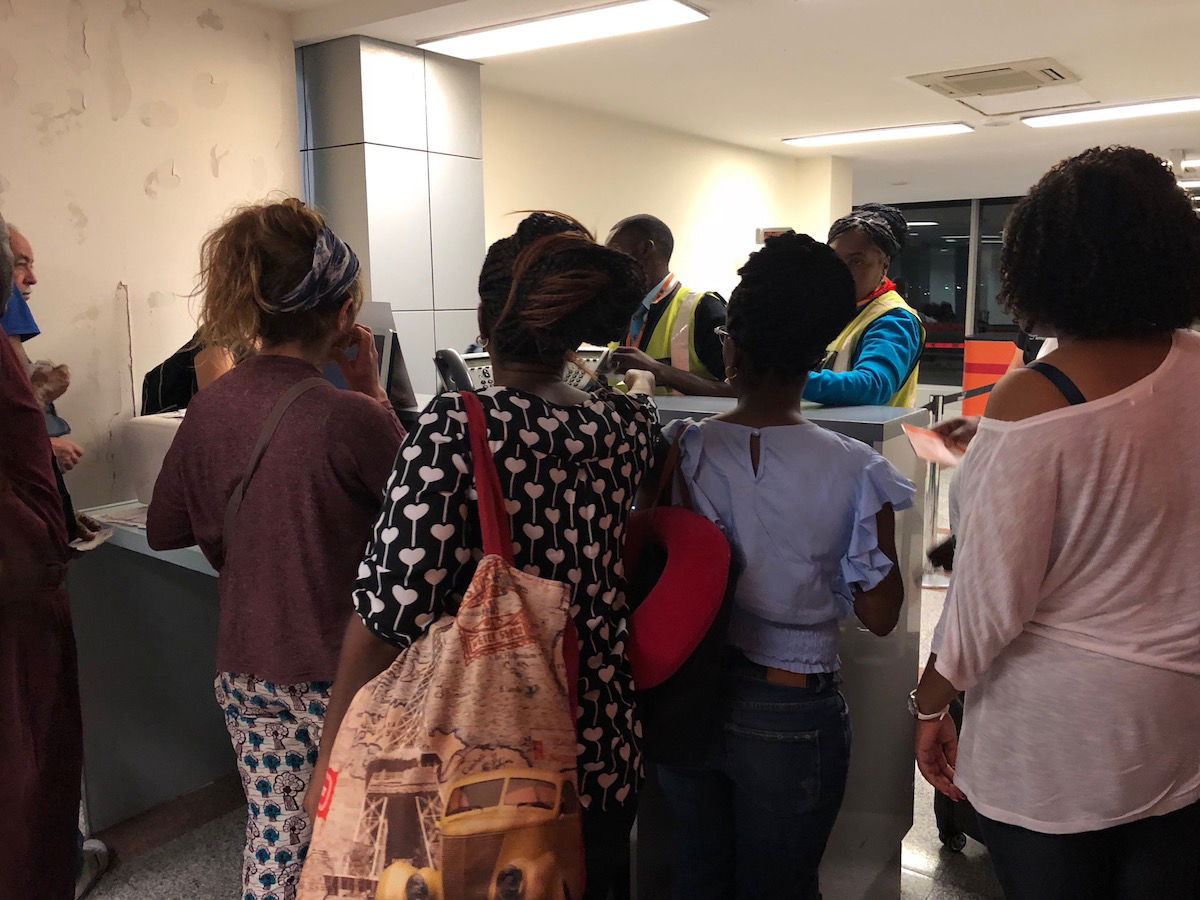 People unhappy about delay
They also weren't very good at updating the departure monitor. An on-time 11:15PM flight is boarding at 12:27AM? Really?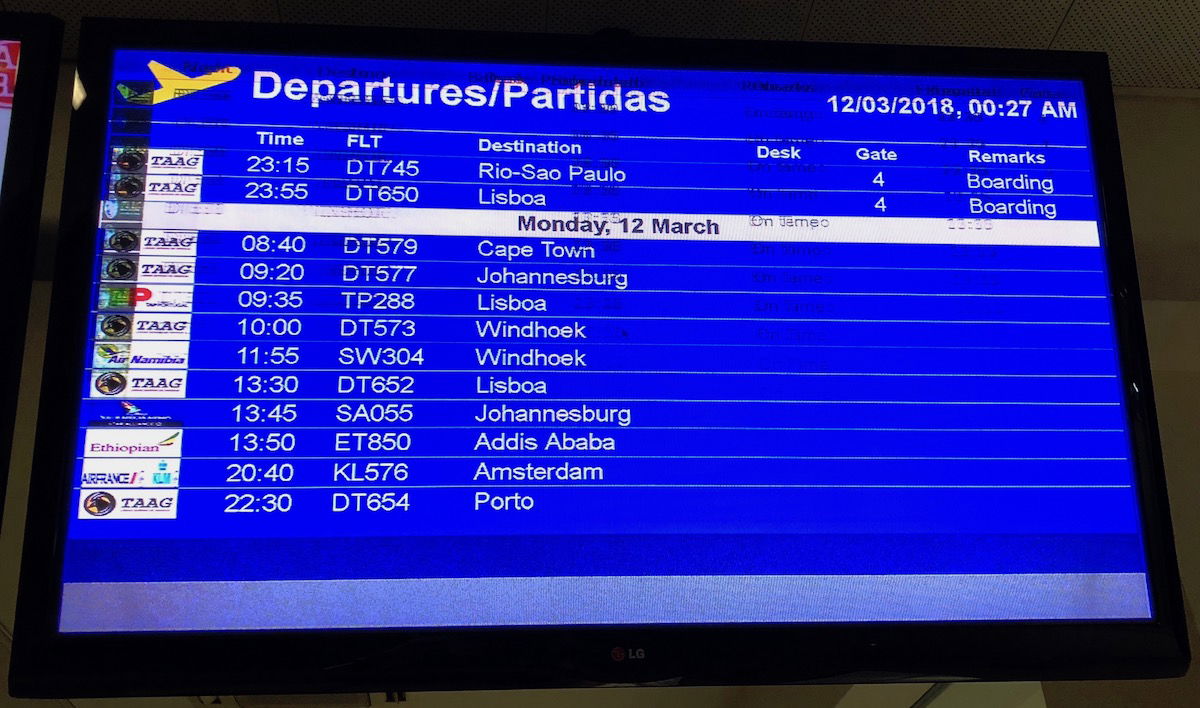 Luanda Airport departures board
However, I was thrilled when at 12:50AM (three hours after we entered the gate area) boarding did indeed begin, and I hoped we'd make it out of Angola.
TAAG Lounge bottom line
Luanda Airport is quite small, so the airport is easy to transit. The lounge itself was alright — it was worn, but the food and drink selection wasn't bad, and the lounge was at least spacious. The delay we had on our flight wasn't ideal, and for a moment it scared me a bit, since I knew I wouldn't be able to enter the country. That's always a risk you face when transiting a country you don't have a visa for. The lack of information from the gate agents didn't help either. The TAAG Lounge doesn't rank anywhere near the best airport lounges in the world, and I don't see myself rushing back here.