Going back several years, Lufthansa and Swiss first class award seats used to be among the easiest of any airline to snag. I remember back in the day Swiss would often make all eight of their first class seats available for awards. Similarly, back when Lufthansa had first class cabins with 16 seats, it wasn't unusual to see eight or so first class award seats per flight.
Then things drastically changed a couple of years ago, unfortunately. Swiss completely stopped releasing first class award space to partner airlines, so the only way to book Swiss first class was through Miles & More. Lufthansa also drastically cut back on award availability for partner airlines, and began only releasing first class award space to partner airlines ~15 days out at most.
Nonetheless Swiss still releases a fair amount of award space to Miles & More members, often 1-4 first class award seats per flight.

However, today they've made a radical announcement, that starting on January 1, 2014, only Miles & More Senator and HON Cirlce members will be able to redeem for Swiss first class:
As a Miles & More member (holder of a blue Miles & More service card) or Frequent Traveller you can redeem your miles for an airline ticket with SWISS in Economy or Business Class as usual. However, from 1 January 2014 it will no longer be possible for you to redeem your miles for a SWISS airline ticket in First Class.

Nevertheless, the mileage upgrade award will still be available to you and with this you can book an upgrade from Business to First Class. In taking this action SWISS is reacting to the prevailing market situation.

From 1 January 2014 you will only be able to book flight awards for First Class by calling the Service Centre.
Look, Swiss first class is excellent — the food and service is generally top notch, and the seats are good as well. But is it so good that only top tier elite members of their native program should be able to redeem for it? I mean, even Emirates and Singapore don't protect their premium cabins that way. The most puzzling part is that really award availability is entirely up to the airline, so I find it rather arrogant that they wouldn't even release this space to their own members a day out when the seat would otherwise go out empty.

Swiss first class
While Swiss is usually considered the premium airline of the Lufthansa "family," what's puzzling is that nowadays Lufthansa first class is probably better than Swiss first class. Lufthansa's hard product on many of their planes is hands down better, and Lufthansa also wins with their ground services.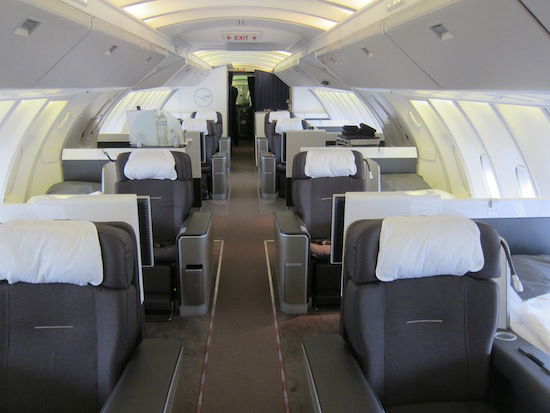 Lufthansa first class
So while we haven't been able to redeem for travel in Swiss first class through partner airlines for quite a while now, my bigger concern is what this means for Lufthansa first class award space. We've gone from seeing plenty of award space available to partner airlines months in advance, to seeing space available to partner airlines only 15 days out at most, and even that's getting tougher.
What's next, Lufthansa first class only being available to Miles & More members? Or maybe first class awards only being available to Miles & More Senator and HON Circle members? I hate to say it, but it really wouldn't surprise me…