Starlux Airlines has been offering a status match campaign since the airline started operations. With this, you can get top tier status with no flying requirement, assuming you have status with another airline.
Starlux Airlines has now emailed members to inform them that the status match program will be ending on October 31, 2021, so this is your last chance to request a status match (I wouldn't be surprised to see another status match campaign in the future, but that's the plan as of now).
What is Starlux Airlines?
For those of you not familiar with Taiwan-based Starlux Airlines, it's an awesome airline that launched at the beginning of 2020 (in retrospect, it probably wasn't a great time to start an airline).
I had the chance to fly Starlux Airlines business class between Taipei and Penang at the beginning of 2020, and had an incredible flight. While most startup airlines seem to be low cost, Starlux markets itself as being a detail-oriented luxury airline, and I just love it.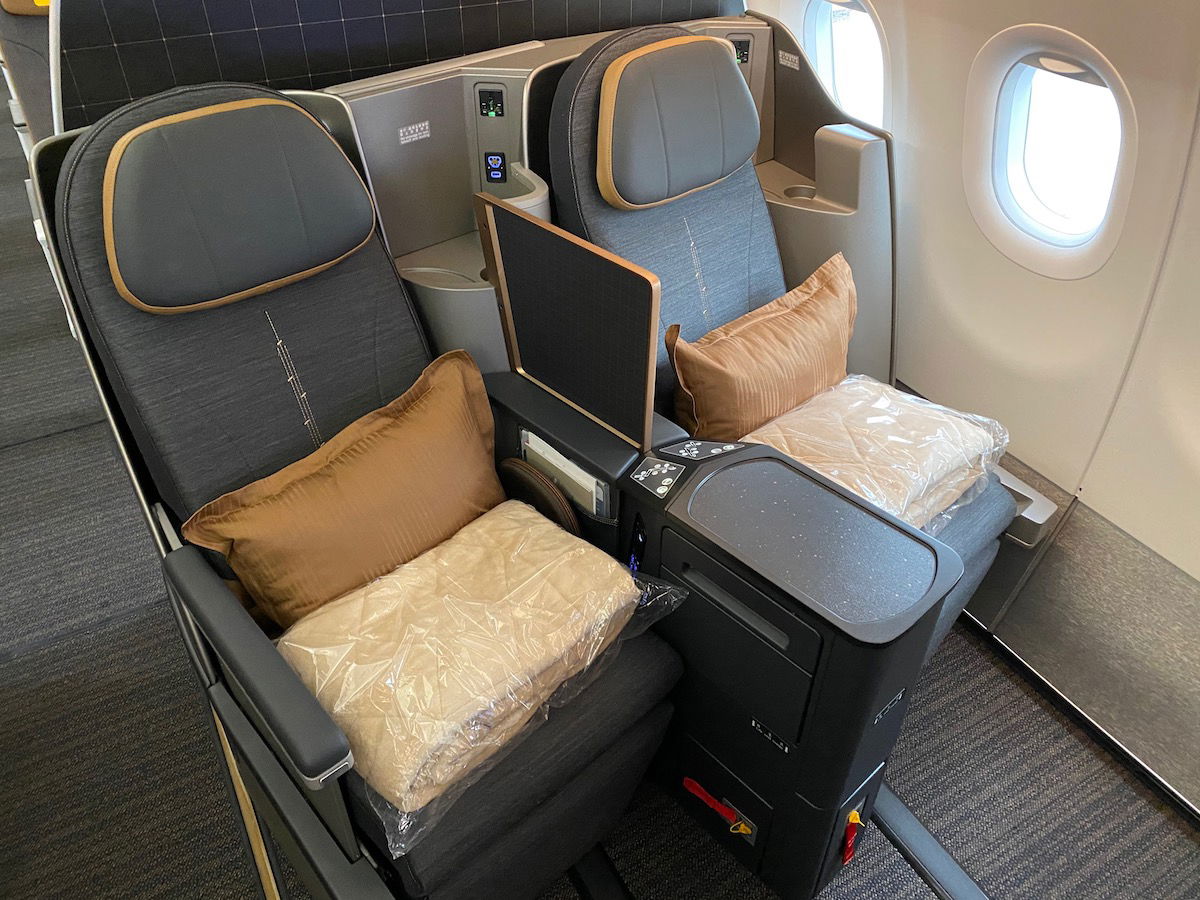 The airline currently flies A321neos, but has A350-900s, A350-1000s, and A330-900neos on order. The airline will even have a first class product on its A350s, and plans to start flying to the United States in the not-too-distant future (it looks like LAX will be the first destination, most likely as of 2023).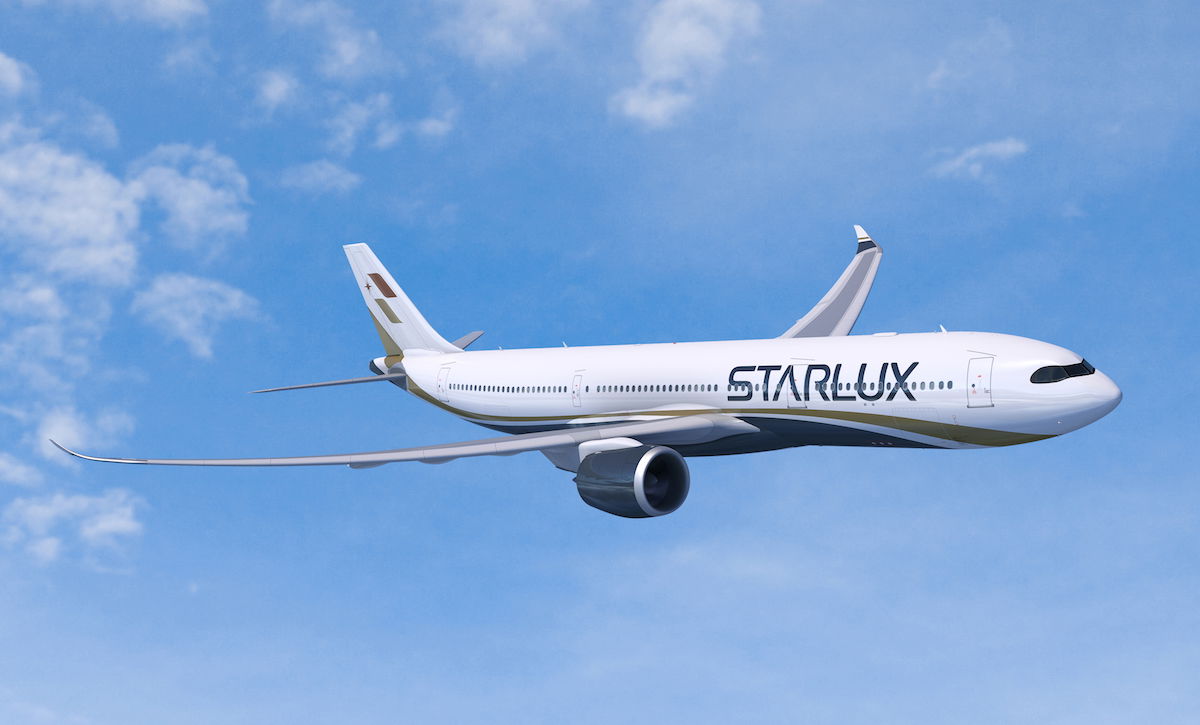 Starlux Airlines' status match campaign
Starlux Airlines had a fully developed frequent flyer program before it even launched, including the ability to status match. It's normal for many airlines to offer status matches as a way of luring customers from competitors. But Starlux Airlines' status match opportunity is on a different level:
The program offers status matches all the way to top tier (Insighter status), with no flying requirement; heck, I even got a gift in the mail when I requested a status match
Status matches requested in 2020 offered status that is valid for four years, while status matches requested in 2021 are valid for two years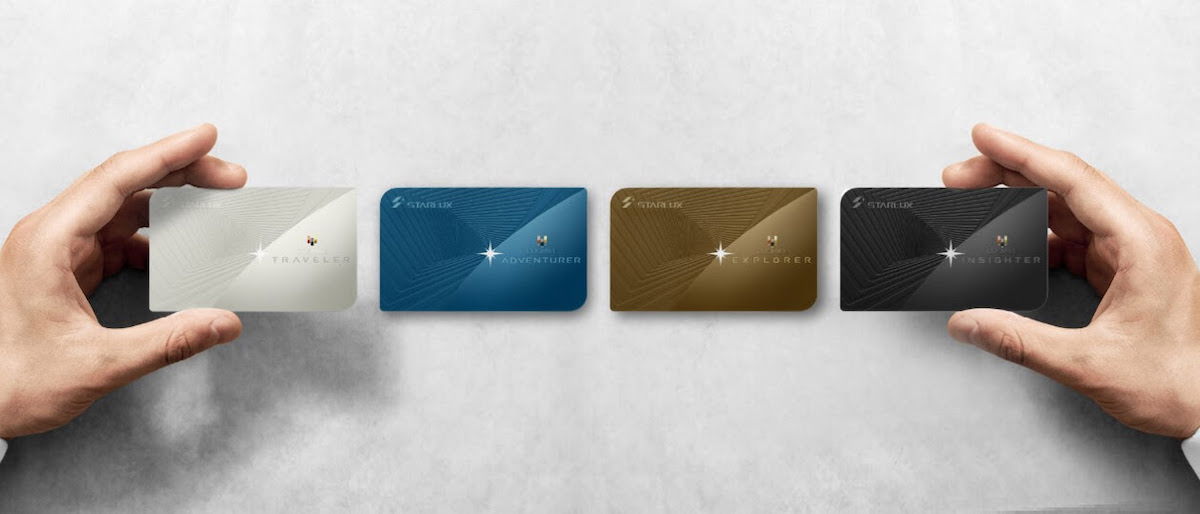 As I said above, this is the last chance to request a status match, as the current campaign will be ending as of October 31, 2021. To submit a status match, fill out the status match application form, and include a copy of the other airline's member card and a flight record.
For context, Starlux has three elite tiers — Adventurer, Explorer, and Insighter — and all tiers offer perks when traveling on Starlux Airlines.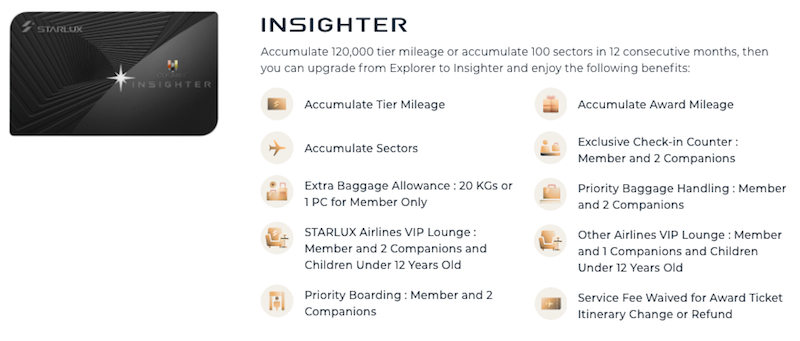 My experience with a COSMILE status match
In early 2020 I did a status match with Starlux Airlines. I'm not a serial status matcher, though in the case of Starlux Airlines I couldn't help myself.
I happen to think Starlux Airlines is the coolest startup airline ever. Furthermore, who wouldn't want to be a Starlux Airlines COSMILE Insighter member? Is that the coolest name for an elite tier, or what? I guess I'd also love to be a Cayman Airways Sir Turtle Rewards Gold member.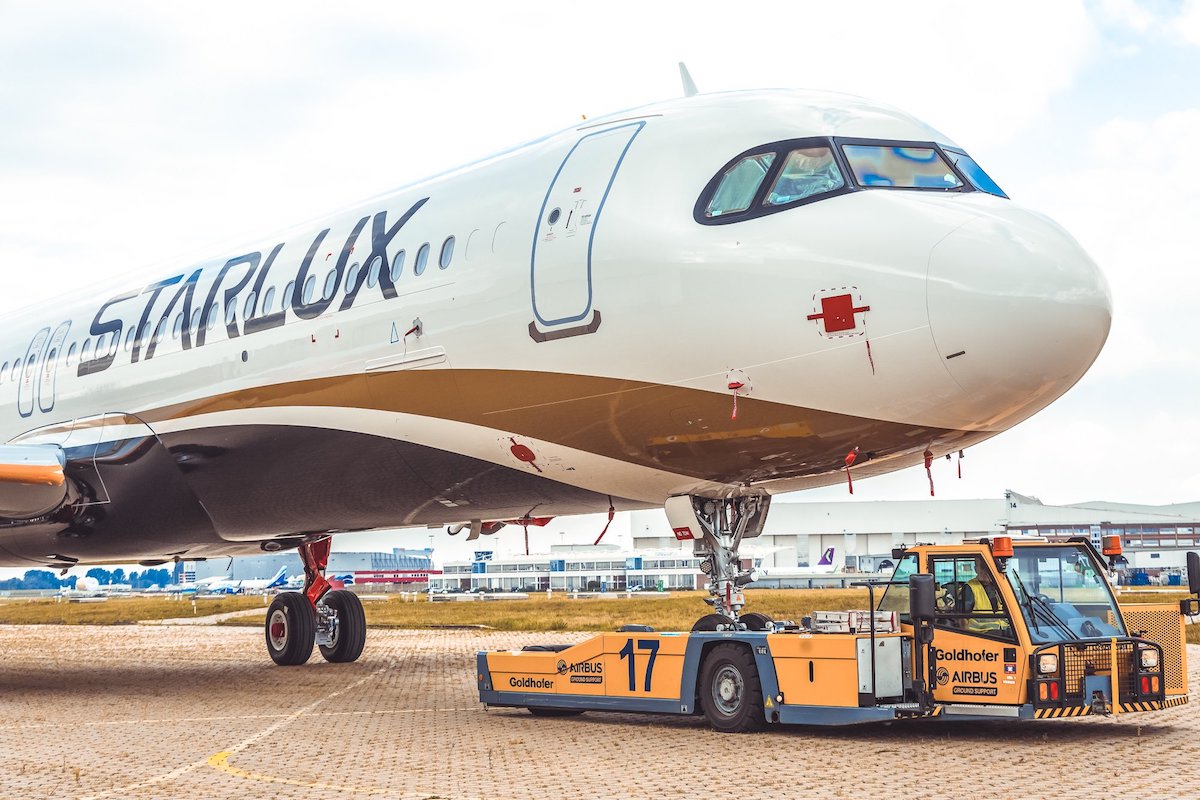 For some context on how my status match worked at the time, on January 1, 2020, I submitted my Starlux COSMILE status match request. I emailed attachments that included the status match form, a picture of my AAdvantage Executive Platinum elite card, and a picture of my flight activity with American over the past year (which included very little travel to & from Asia, for what it's worth).
Three days later I received an email stating that it could take up to 30 working days to get a decision on my application:
We have received your application and our related department is working on your case. It takes approximately 30 working days to complete the whole process. Afterward, we will inform you of the result.
Sure enough Starlux took its time, and finally in early February 2020 my status match request came through. Here's what the email that I received said:
Thank you for your waiting.

We are glad to inform you that your application of Other Airline Member Card Tier Match has been approved. Your card tier will be upgraded to Insighter. For the validity of your current card tier, please refer to the upgrade notification sent by COSMILE system.

An Insighter member can enjoy benefits including extra baggage allowance, priority baggage handling and accessing STARLUX Airlines VIP Lounge with 2 companion.

For more details about the benefits of Insighter, please refer to STARLUX Website- COSMILE – Tiers and Benefits.

Hope you have a great day.
When I logged into the Starlux website it immediately reflected my Insighter status.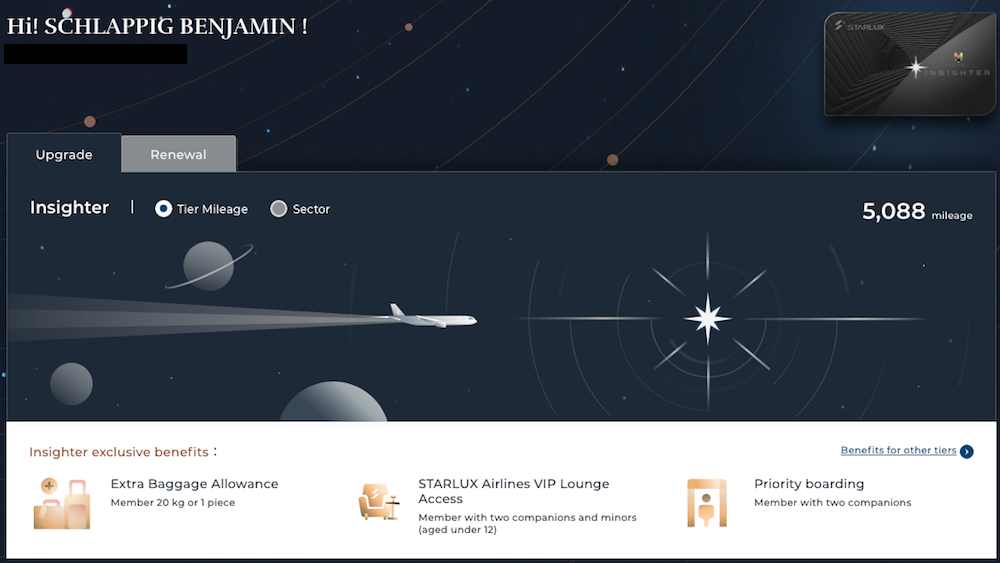 In the "Renewal" tab, it states that I need to accrue 120,000 points before February 10, 2024, to renew my status. In other words, my match was valid for four years from when it was approved (however, matches in 2021 are "only" valid for two years).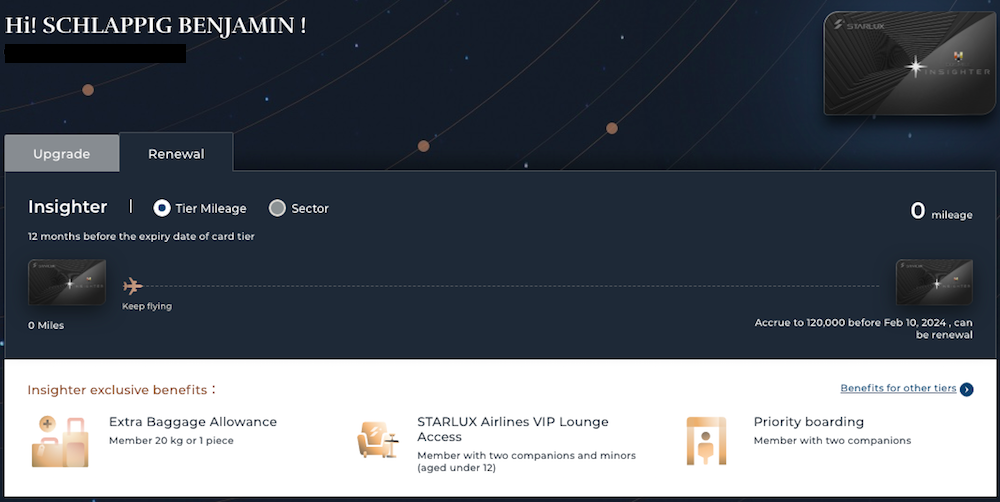 Bottom line
Starlux Airlines will be ending its current status match campaign as of October 31, 2021, so this is your last chance to request a status match. The COSMILE program is offering a match all the way to top tier, and if approved, status will be valid for two years.
If you have plans to eventually travel on Starlux Airlines and love the airline as much as I do, this could be worth it.
Will I ever actually get value out of this status? I don't know. I do plan to fly Starlux Airlines again (especially when the airline gets wide bodies), but the reality is that elite perks are limited if you're paying for business class anyway.
Nonetheless I can't help but just be amused by this whole thing, and am excited about being a COSMILE Insighter member. I think this is now officially the most exciting airline status I've ever had. 😉