What a 24 hours it has been, flying TAAG Angola from Lisbon to Luanda to Sao Paulo. As I said before, I was so excited about this trip, given that I had no clue what to expect going into my TAAG experience. TAAG has one of the few international first class products I haven't yet flown, and I don't think there's a single review out there about their first class.
Both of our flights were operated by Boeing 777-300ER aircraft, though they featured two different first class cabins. First let's talk about the seven hour flight from Lisbon to Luanda.
TAAG had a beautiful eight seat first class cabin on this 777-300ER, in a 1-2-1 configuration. While the suites weren't fully enclosed, they were quite private.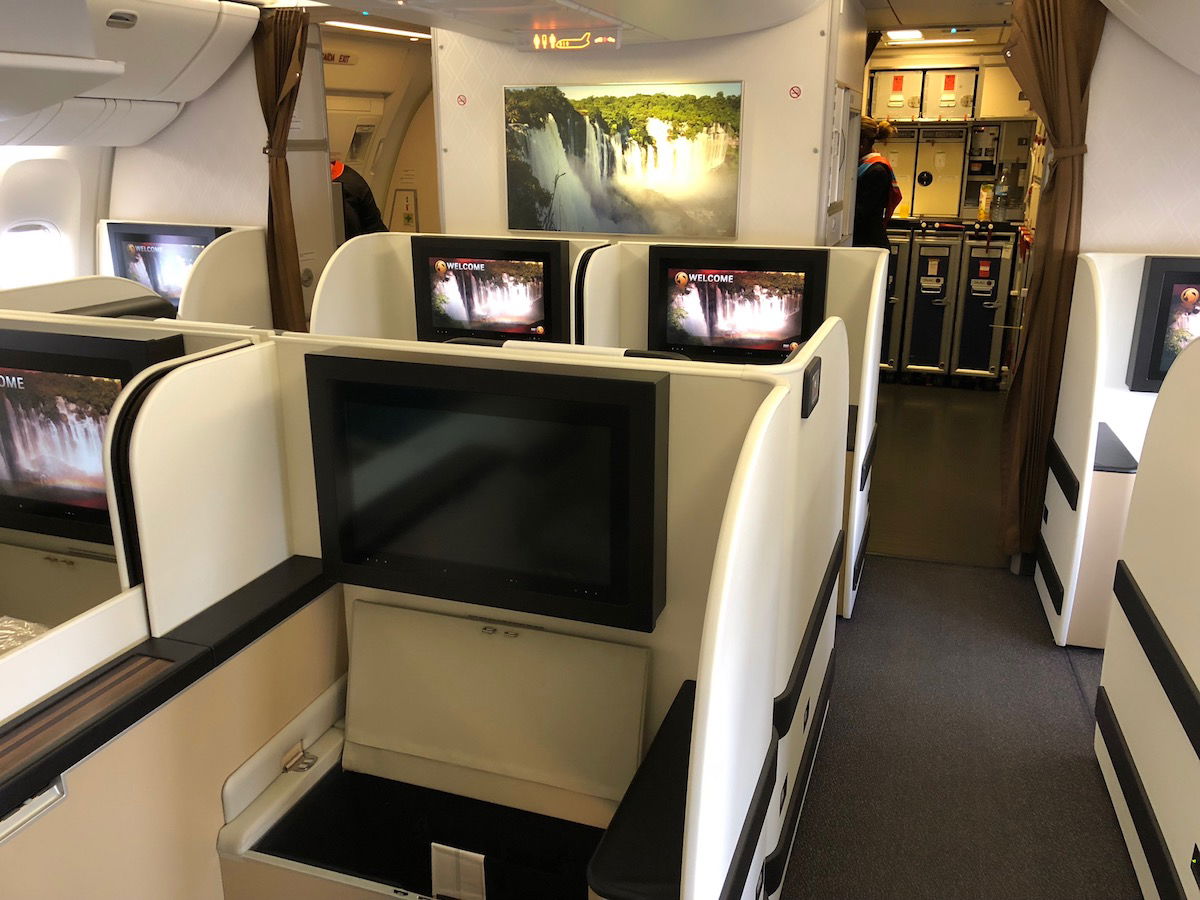 The cabin exceeded my expectations, and perhaps the coolest part was that I didn't even realize they had a cabin like this. TAAG's website and advertising show their older first class, which we had on the second flight.
The seats were spacious and had lots of storage, though they were also quite firm.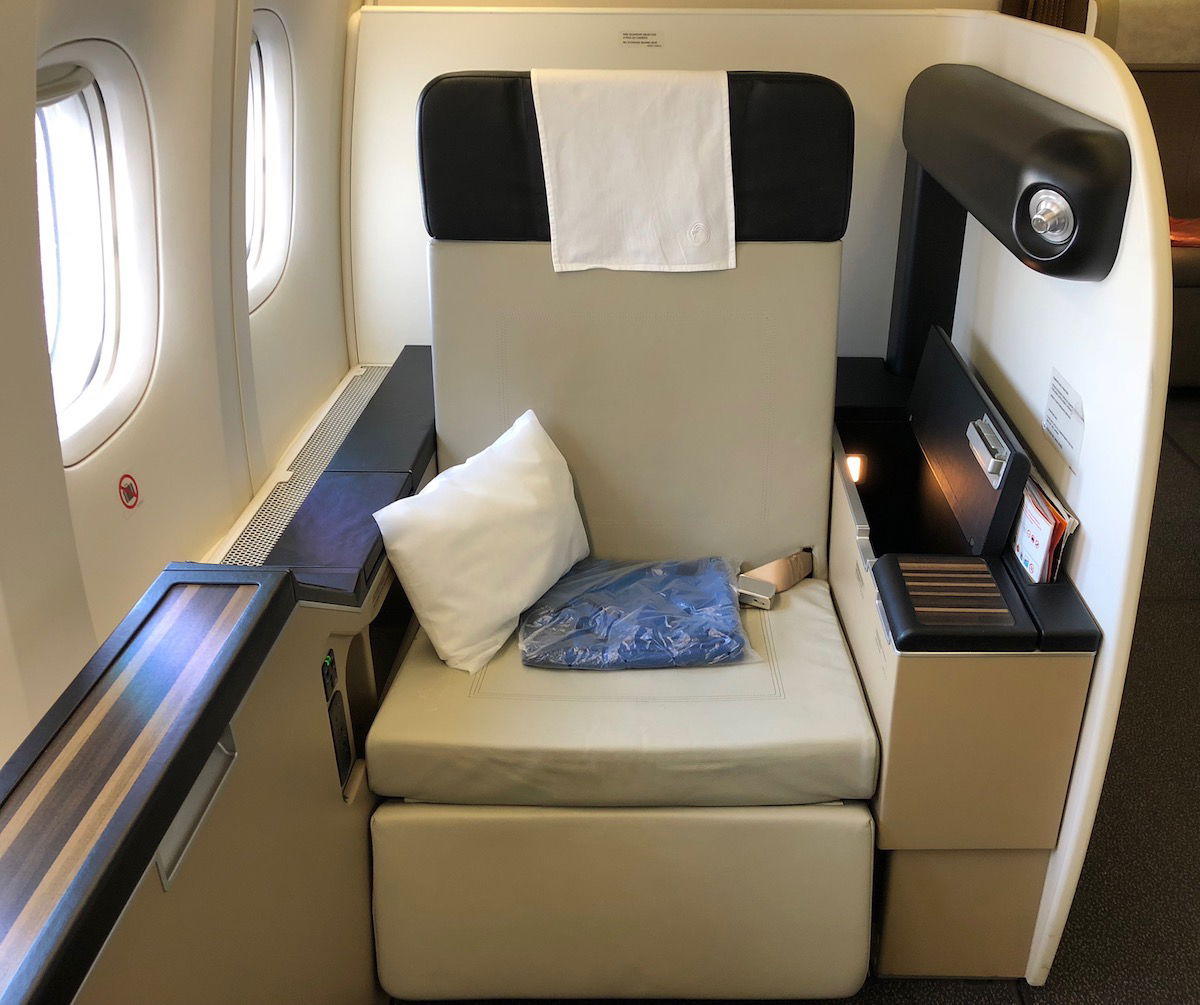 Adding to that issue is that the bedding was awful — seriously, this is the bedding they have in international first class?!?? Worst of all, the bedding in business class was even worse, believe it or not.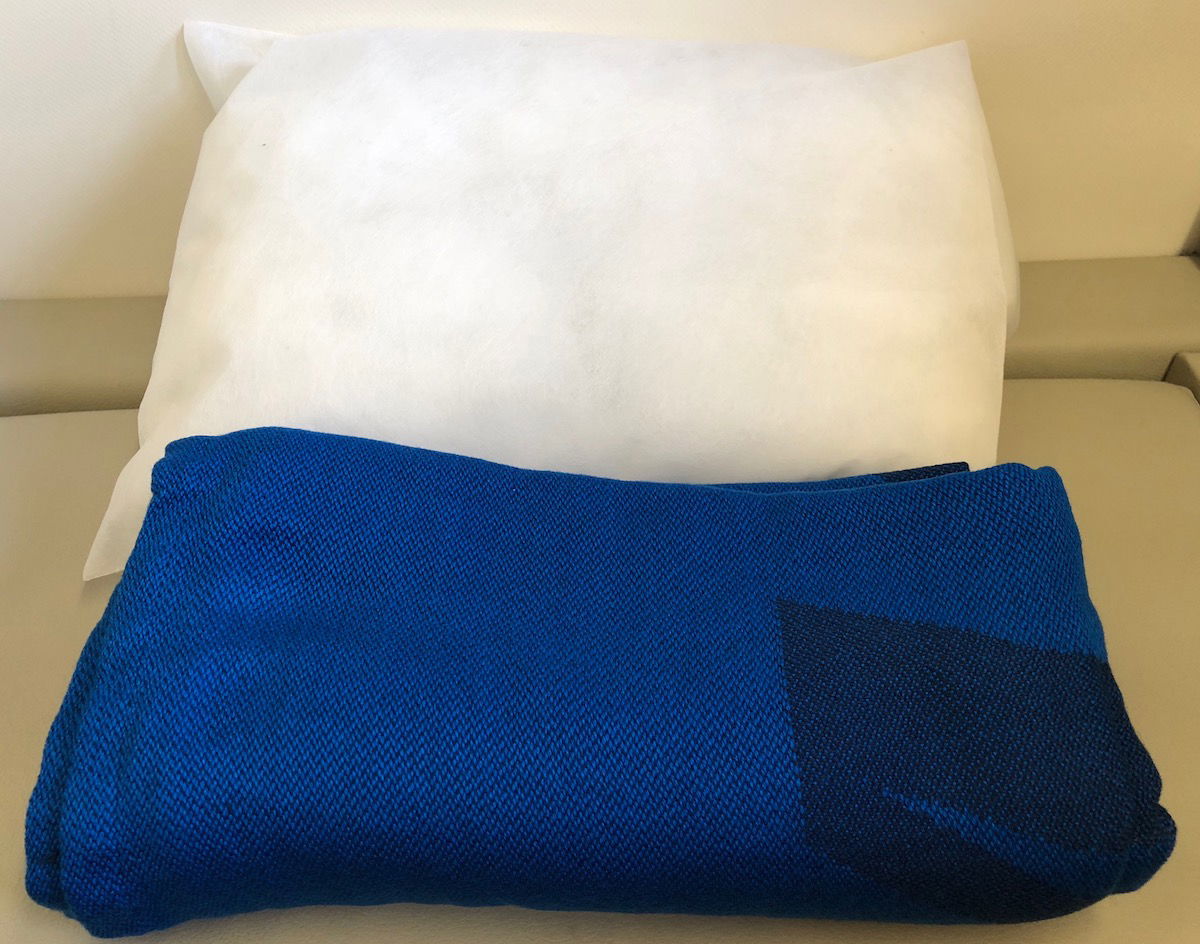 So while there was a spacious flat bed, the bedding didn't exactly make for great sleep, not that sleep was a priority on this daytime flight.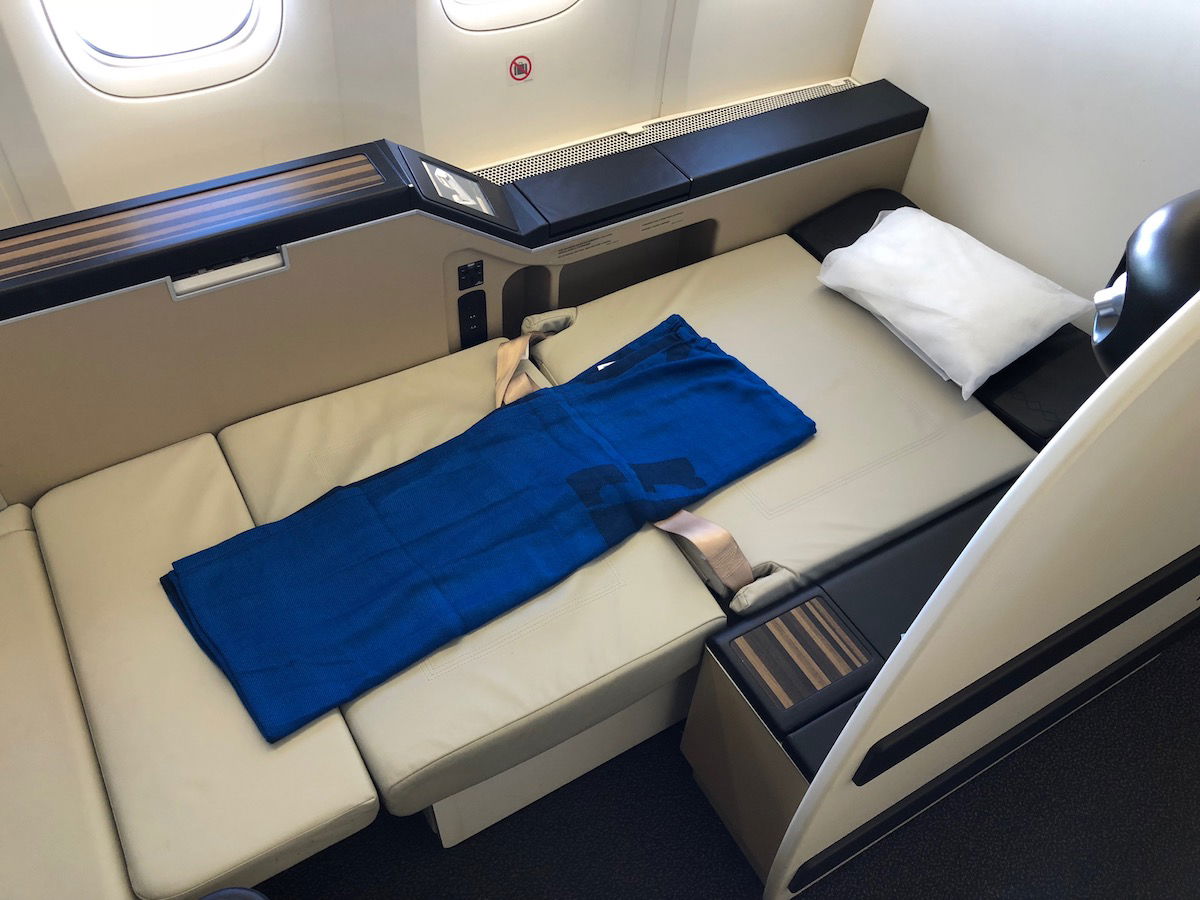 For anyone curious, TAAG also has a new business class product on this plane. The seats are fully flat and in a 2-3-2 configuration, and I thought the cabin looked comfortable.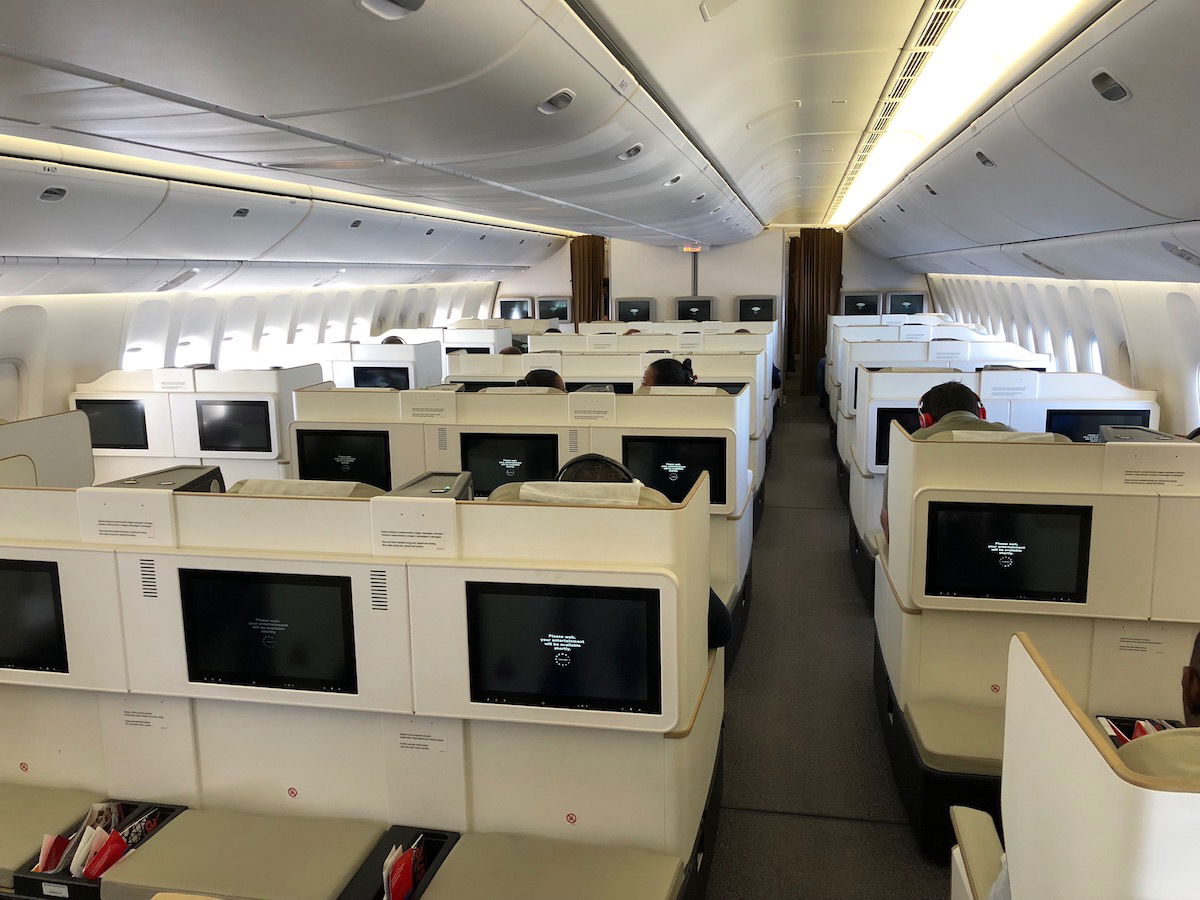 As far as amenities go, there was a fairly nice amenity kit with Aigner toiletries. There were no pajamas or slippers or anything else.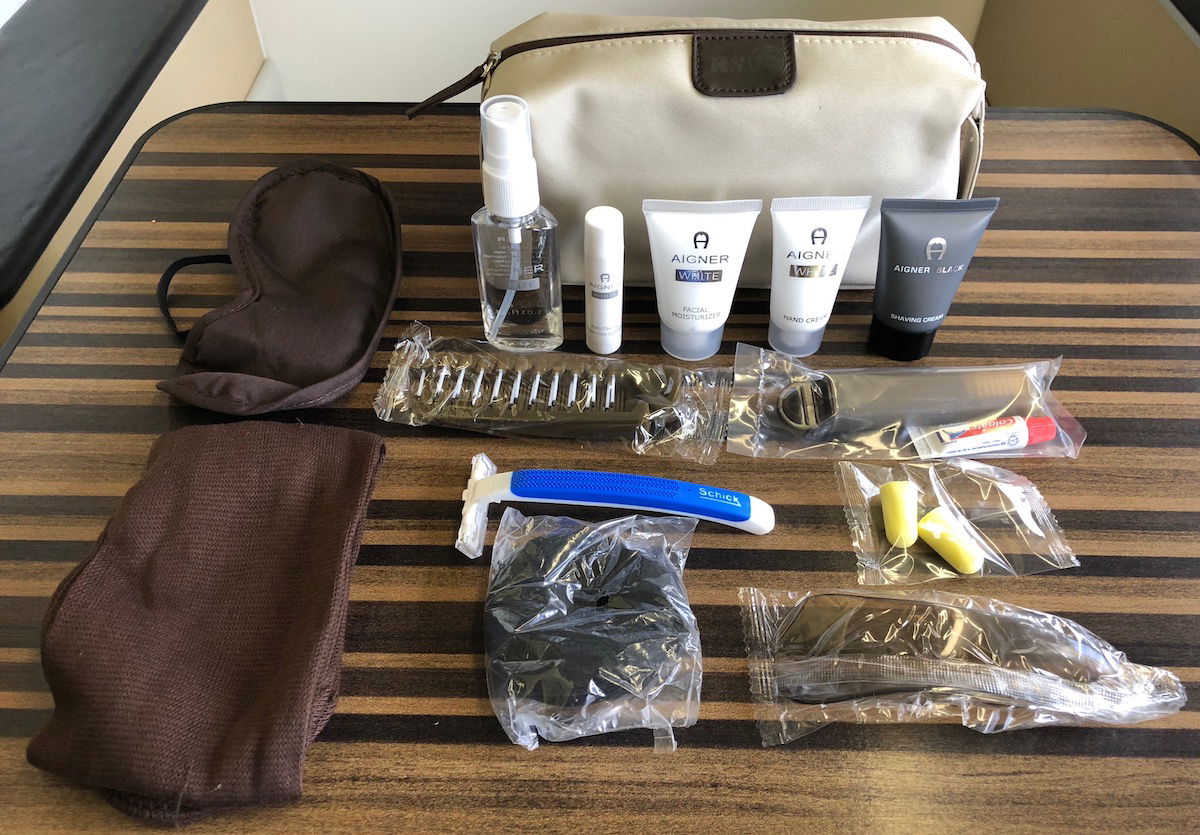 There were no menus in first class, but rather there was just the choice between chicken, beef, and fish.
The meal started with some canapés. I had a glass of champagne — TAAG serves non-vintage Laurent Perrier, which is better than I was expecting.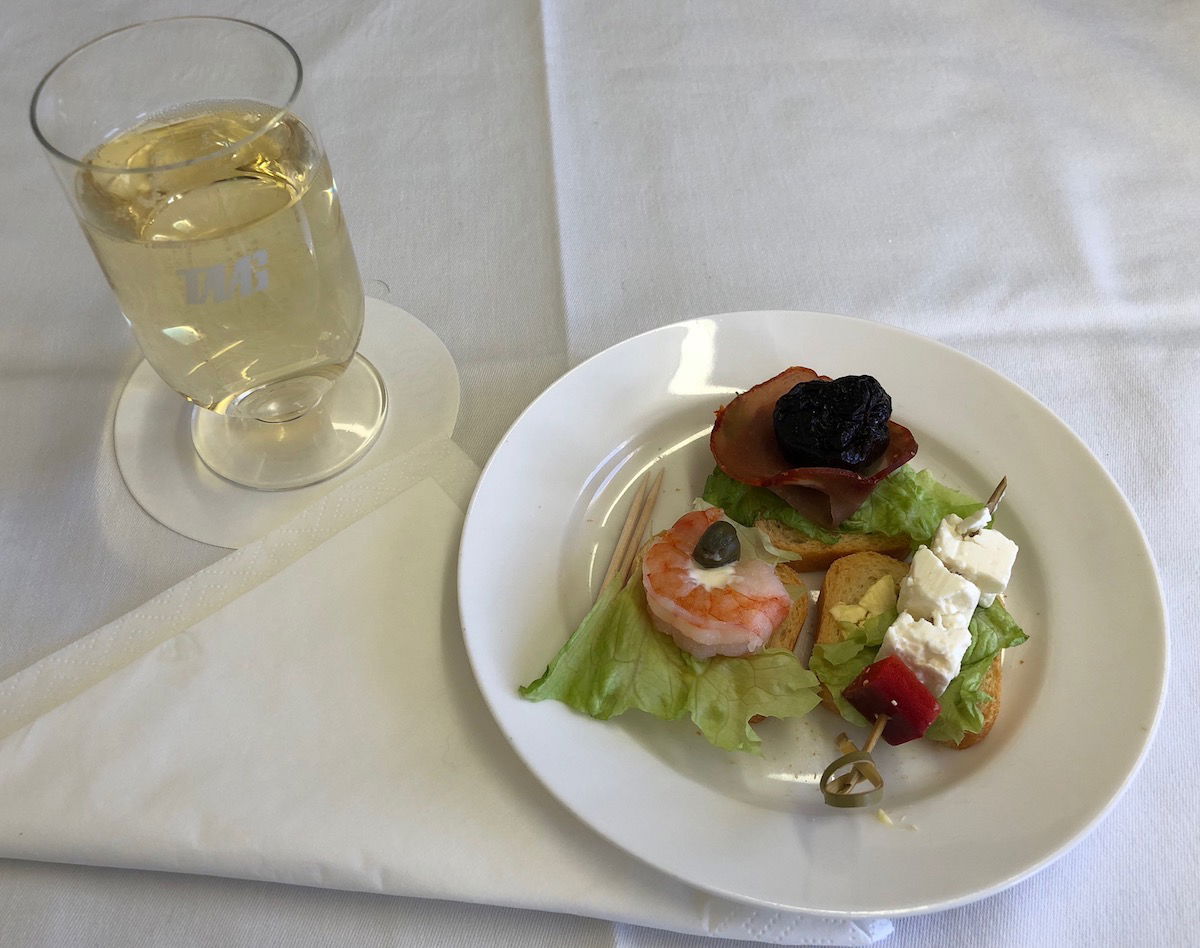 Next up was a side salad and a choice of appetizers, with the option between shrimp and roast beef. It was perfectly edible but not especially gourmet.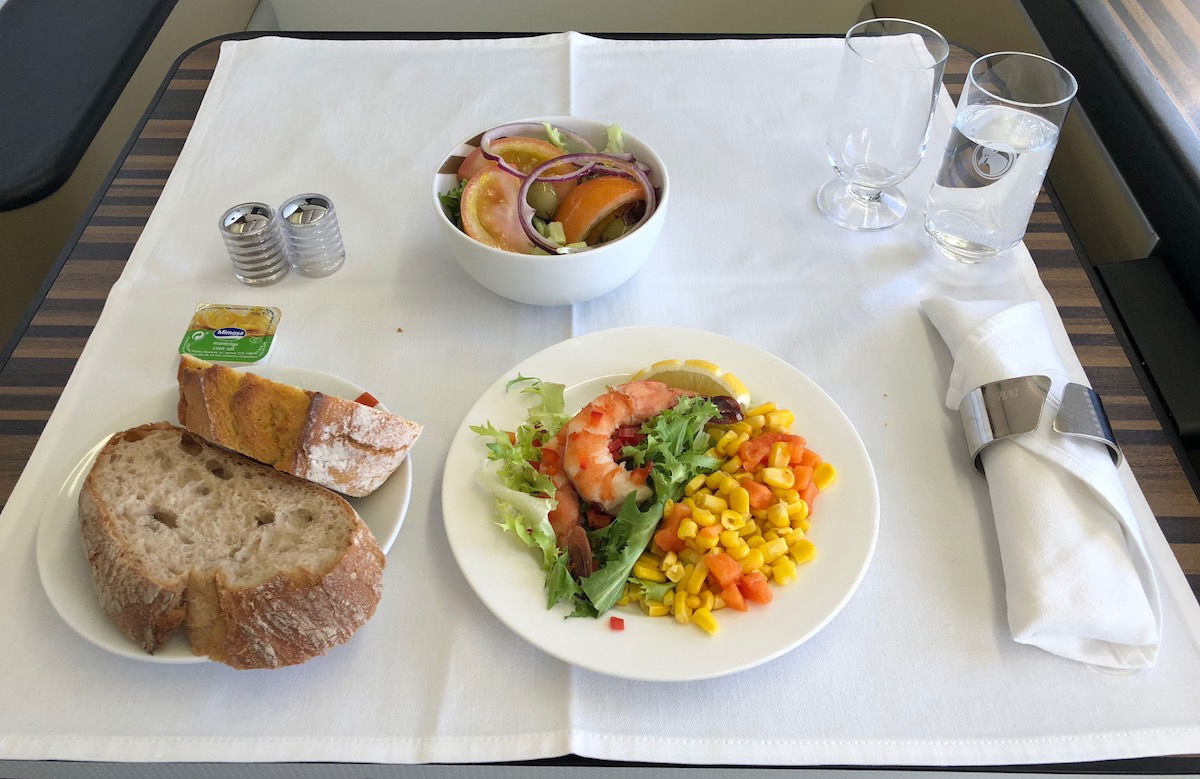 For the main course I wanted the fish (more on that later), though ended up getting the beef. The beef was quite good.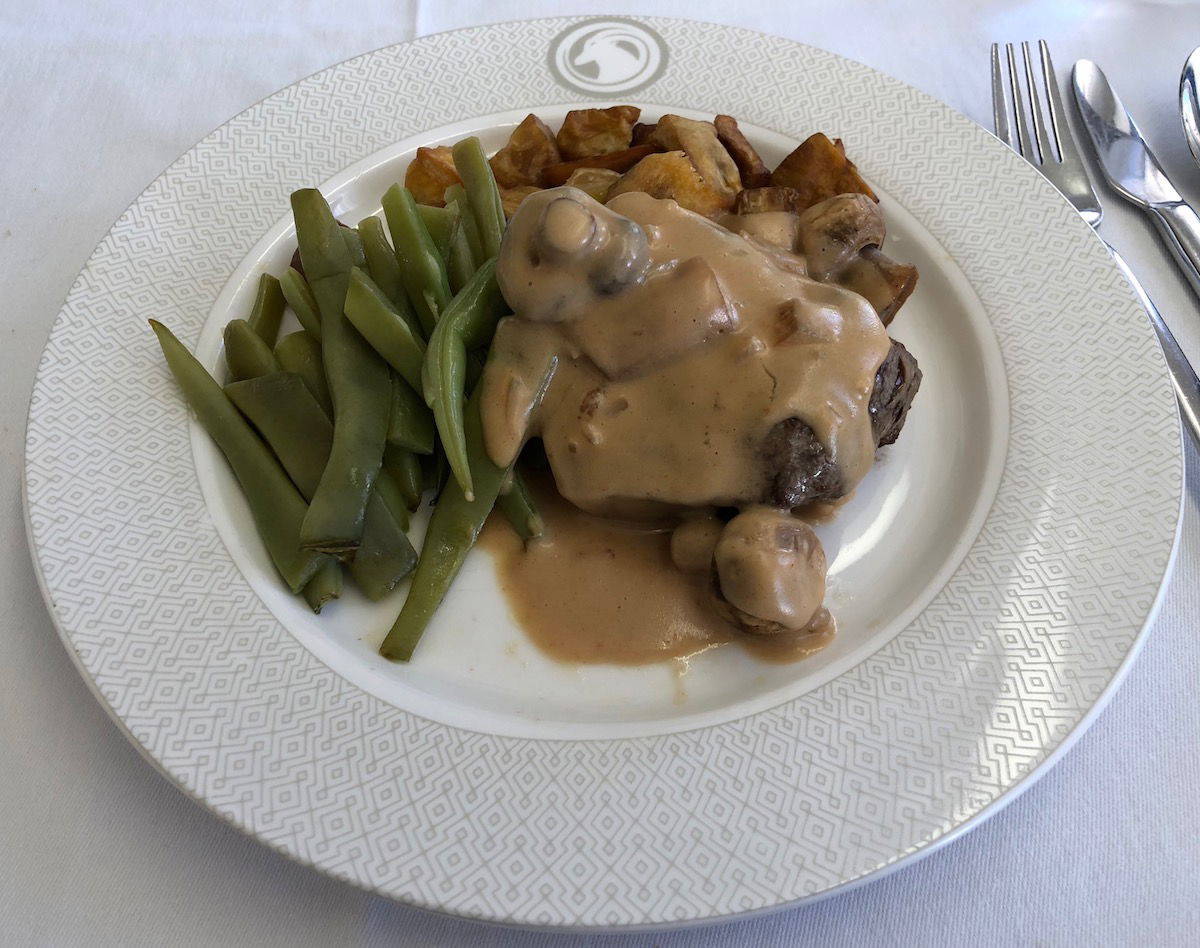 For dessert there was the choice between chocolate cake, a cheese plate, and fruit. All were tasty.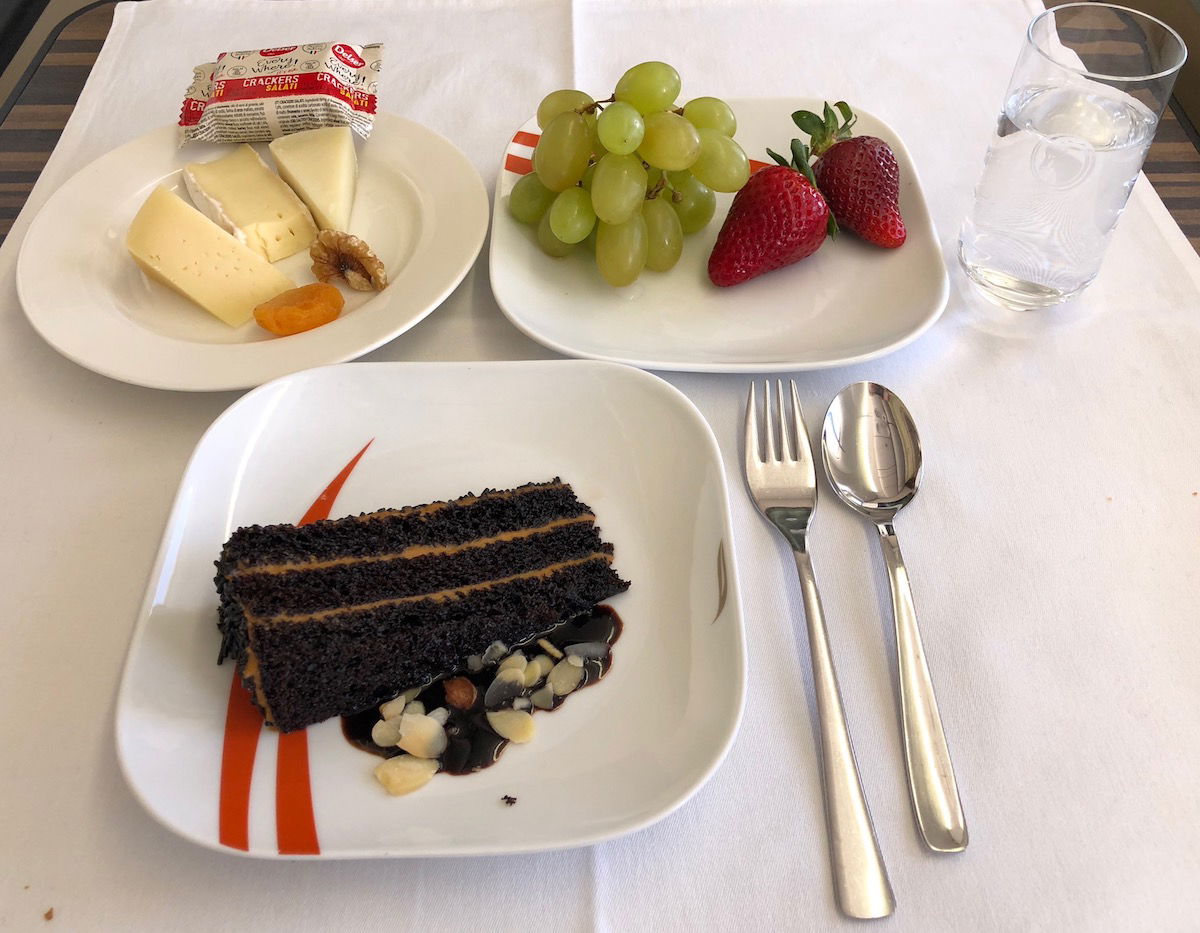 The other pleasant surprise of the flight was that it had Wi-Fi. I couldn't help but text a few people, and the response from everyone was the same — "TAAG has Wi-Fi?!?" I was surprised as well. 100MB costs $30, which isn't cheap, but it lasted me for quite a while.
What else stuck out about the experience? For one, I've never had a takeoff roll like I had on this flight. I've flown empty 777s on 40 minute flights, but this takeoff roll was on a whole different level in terms of acceleration. Does TAAG train their pilots on aircraft carriers? OMG!
As far as the service goes, the crew on this sector wasn't bad. They let us take pictures without issue, and more than anything I think they just thought we were weird (which is fair enough). One of the flight attendants was reasonably well intentioned. She wasn't especially friendly, but she generally seemed interested in ensuring our flight wasn't actively unpleasant.
There were definitely some things that were off, though. For example, they claimed that they ran out of the shrimp appetizer for one of my friends, and claimed they had no fish anymore for the main course. Later in the flight we saw the crew eating one of the shrimp appetizers in the galley. As far as the fish goes, the flight attendant said they had loaded three, and I looked at the plates of the other passengers, and only one had the fish.
While the service wasn't great, in comparison to our next flight, this flight attendant was like a rockstar who should be promoted to head of onboard service for the airline.
All-in-all this was a pleasant flight. The cabin was better than I was expecting, and the Wi-Fi was a nice treat. The food was alright, as was the service.
I get why TAAG first class isn't great — there's not much competition, and they're mainly shuttling people to/from Luanda. They're not trying to be Emirates. As far as first class goes, it seems to mostly be intended for employees and wealthy Angolan housewives, and I'm guessing the airline doesn't have to work hard to win their business.
I think TAAG's approach to service can be summed up with this sign in their lounge: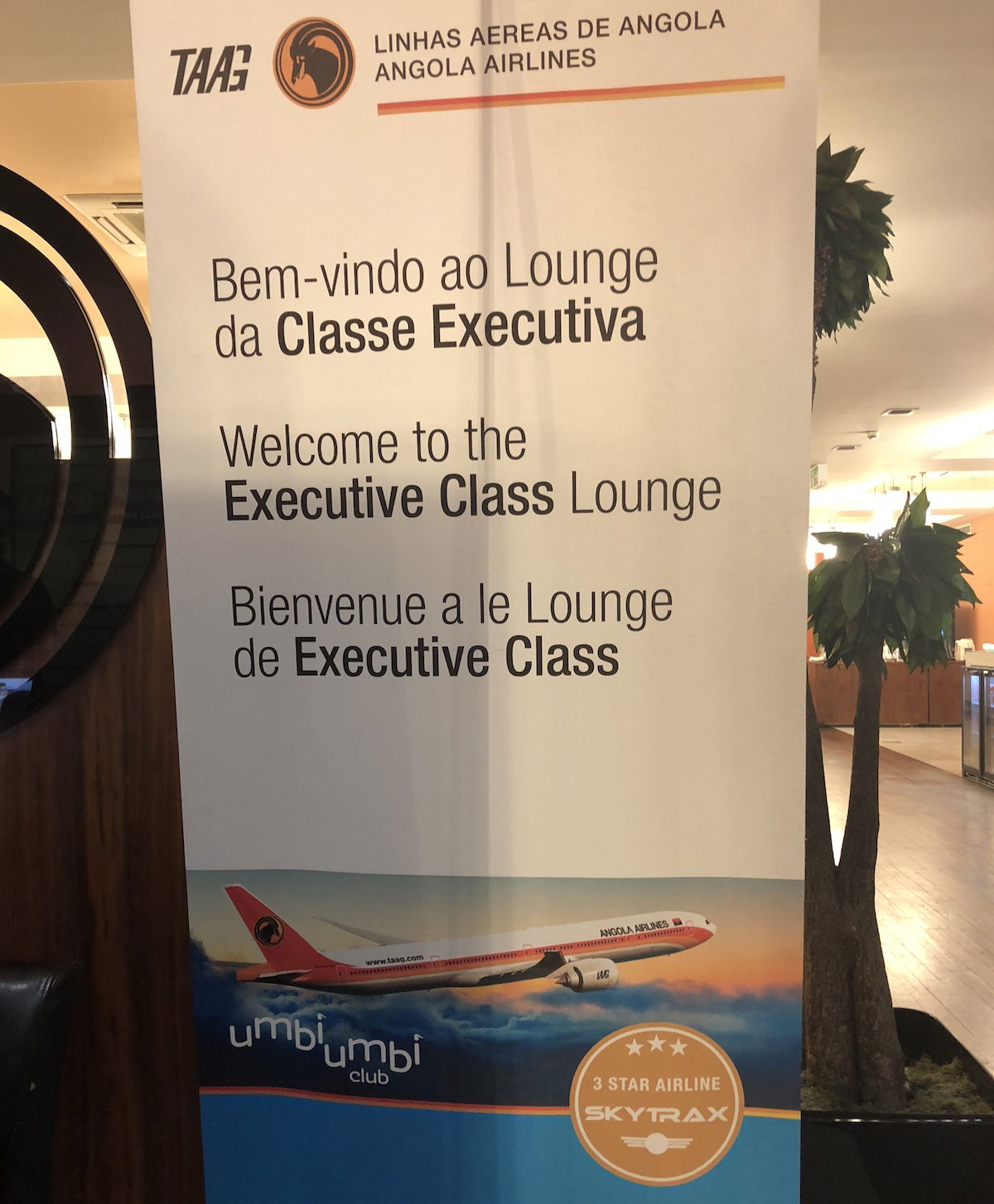 They're a proud Skytrax 3-star airline. That's basically like saying "hey, we're better than Air Koryo!"
How does this compare to what you were expecting from TAAG Angola?