---
With an overnight flight in economy and a pre-dawn arrival into Atlanta's Hartsfield-Jackson International Airport (ATL), we were more than ready for a reprieve.
ATL is basically a Sky Club museum, with lounges of every variety dotting every terminal. While I usually fly through here at least once a month, I was delighted that our flight arrived into Terminal F, which is arguably the airport's best Sky Club – and one that I hadn't visited in years.
Terminal F serves mainly international flights, and was a veritable ghost town when we arrived. But it sure was a pretty ghost town: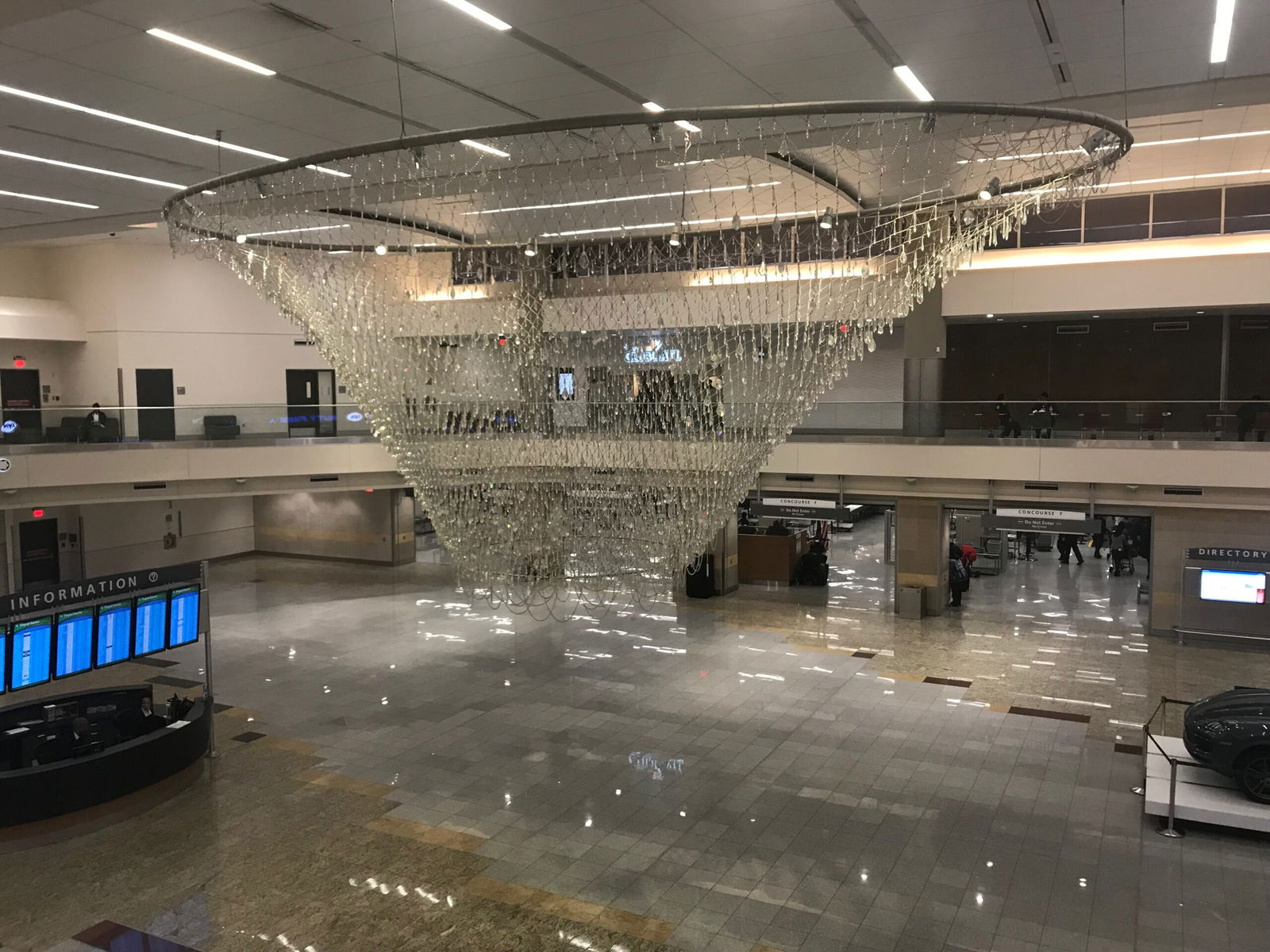 After some pretty weak lounge experiences in Santiago, I recognize that it didn't take much to impress me, but even the signage had a premium feel to it.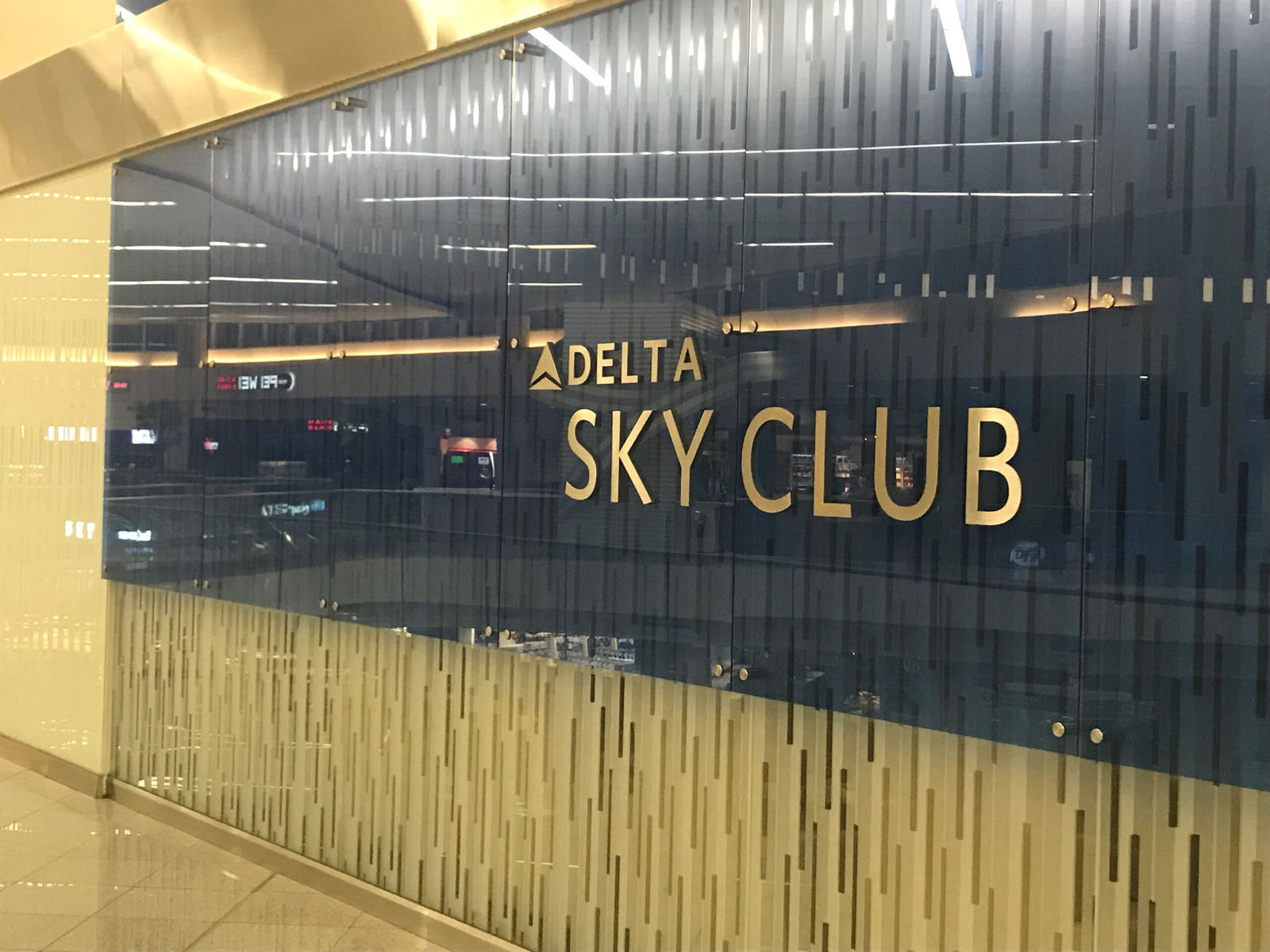 We were able to access the Sky Club free of charge with our Sky Team Elite Plus status, due to the fact that we were coming from an international itinerary. However, there are several credit cards that offer complimentary access to airport lounges, including Sky Clubs, provided you are flying on a Delta itinerary.
Sky Club Terminal F seating
Once inside, I was impressed at how empty the club was – although I suppose it's no surprise, given how the rest of the terminal felt at that hour. Like most renovated Sky Clubs, there was an abundance (and diversity) of seating: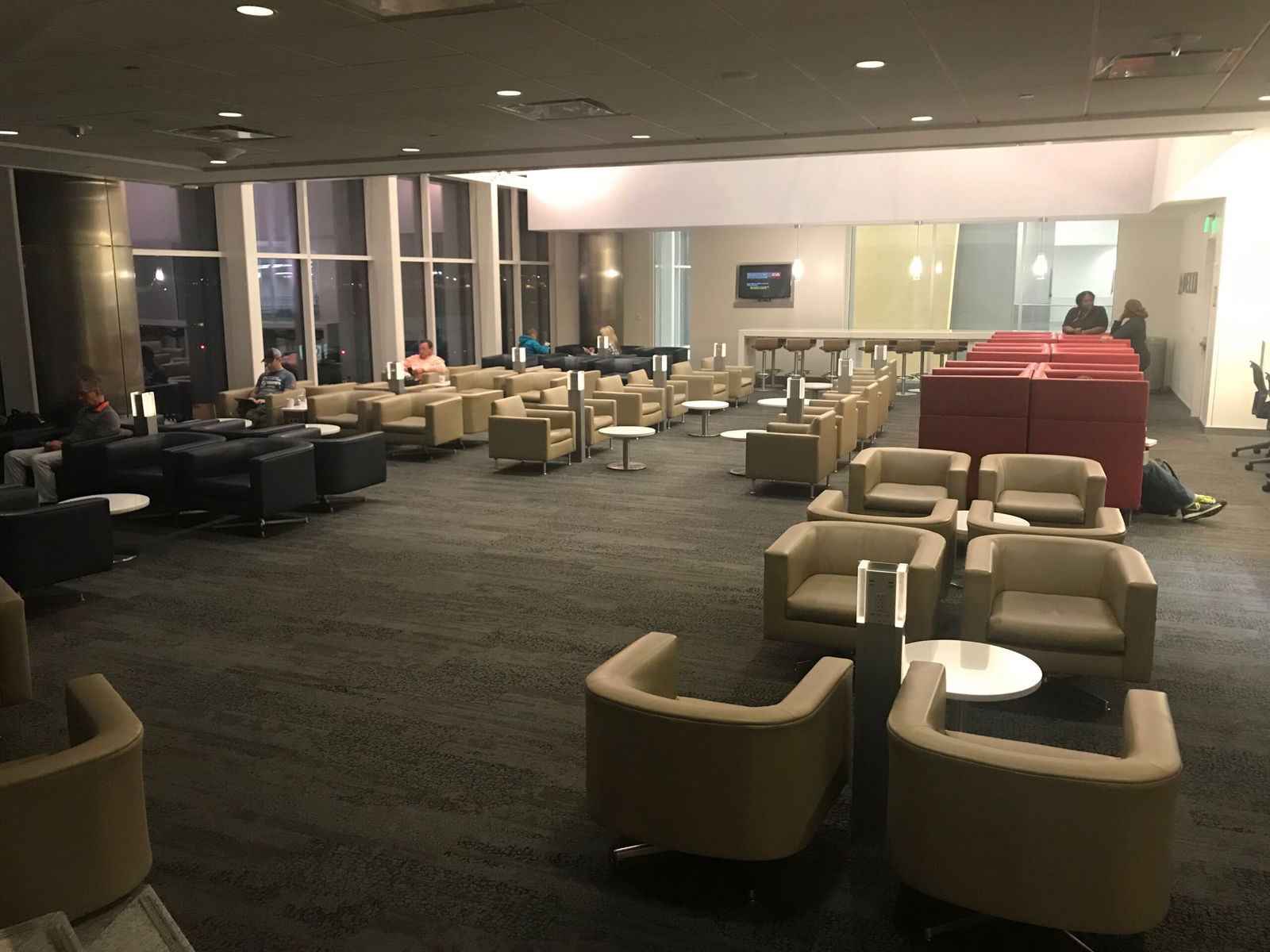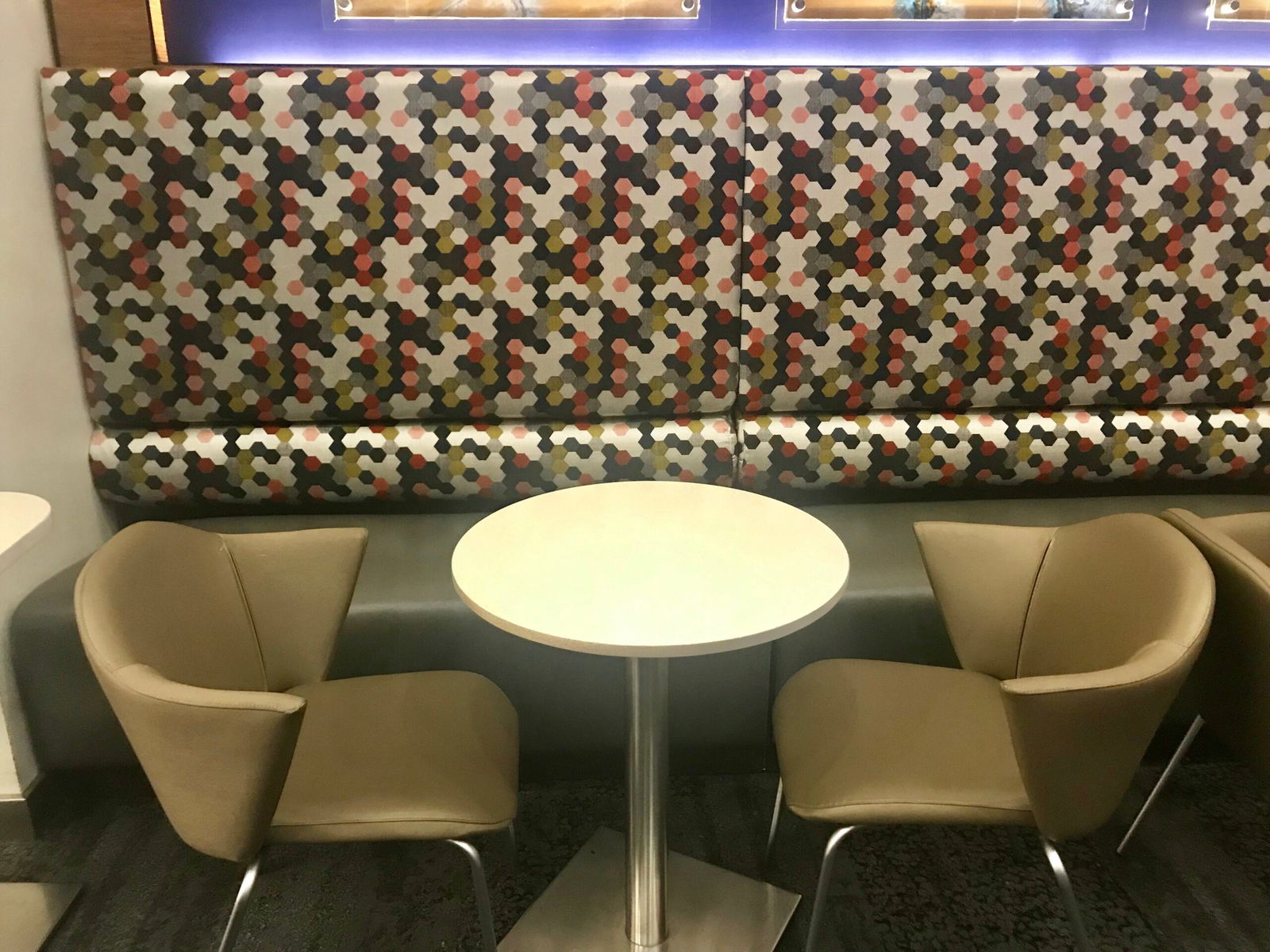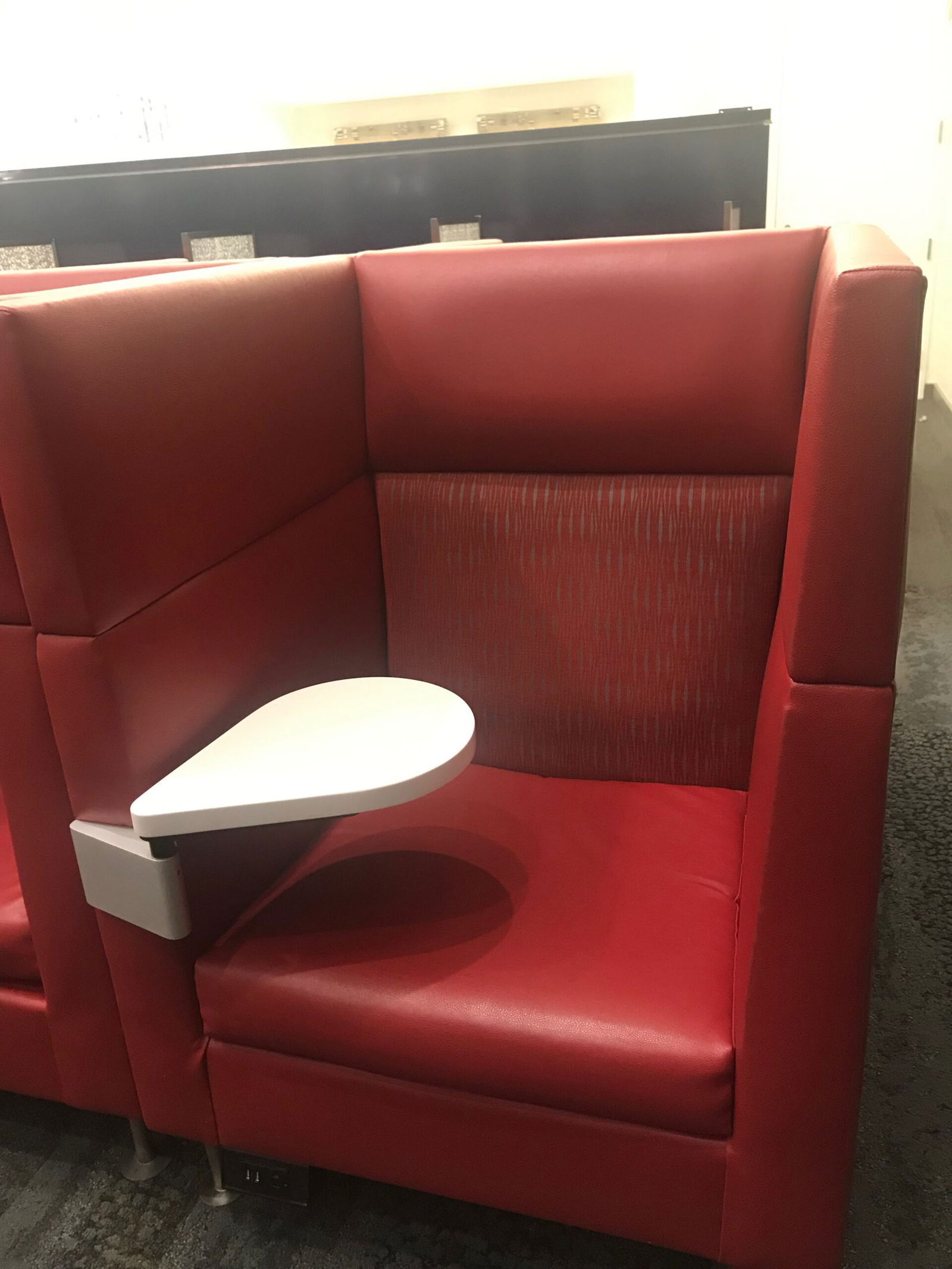 When I'm traveling solo, I usually opt for the red cube of seclusion. This time, however, we found ourselves an upper mezzanine section that remained almost completely empty, even as the club started to fill up.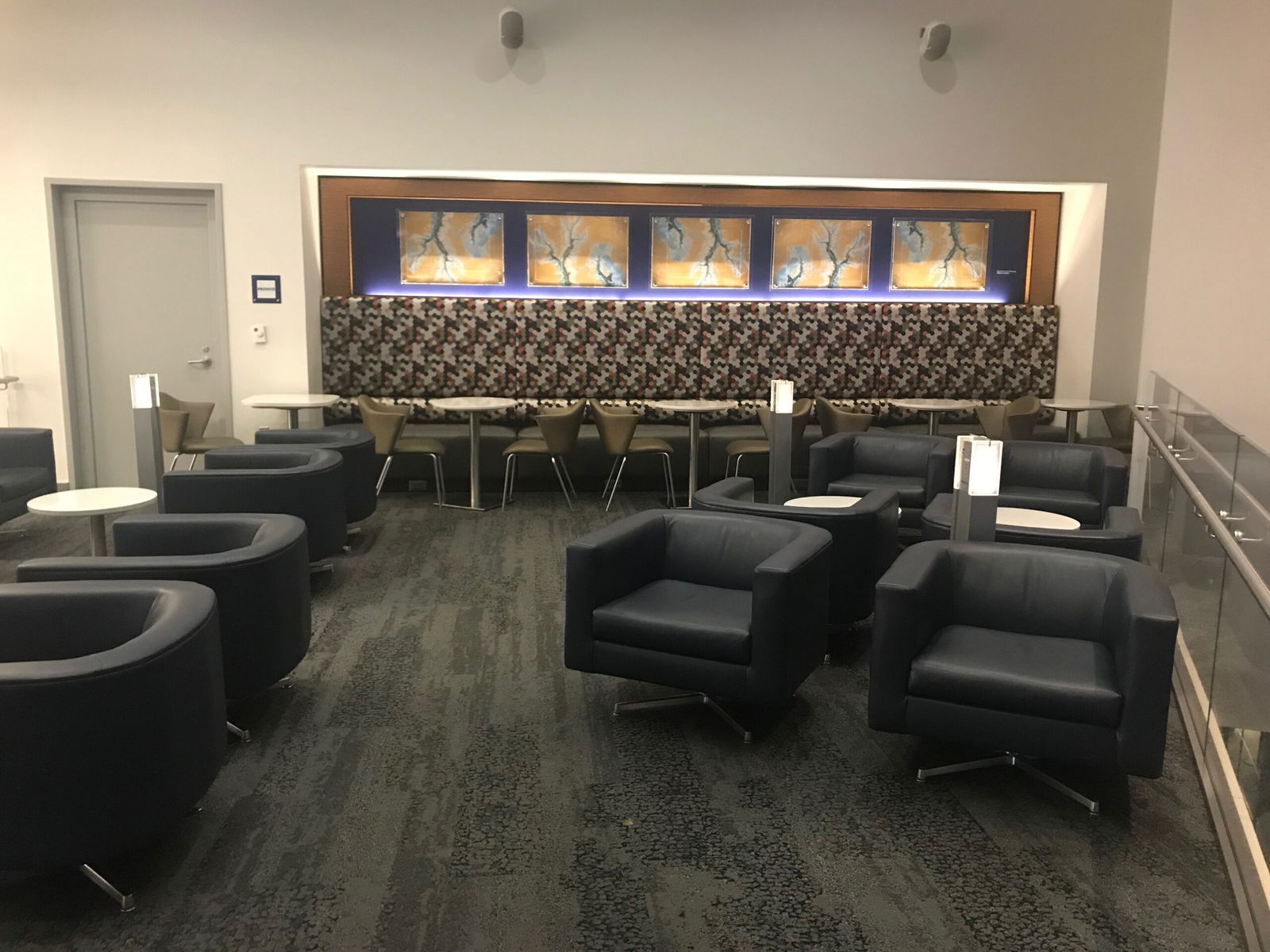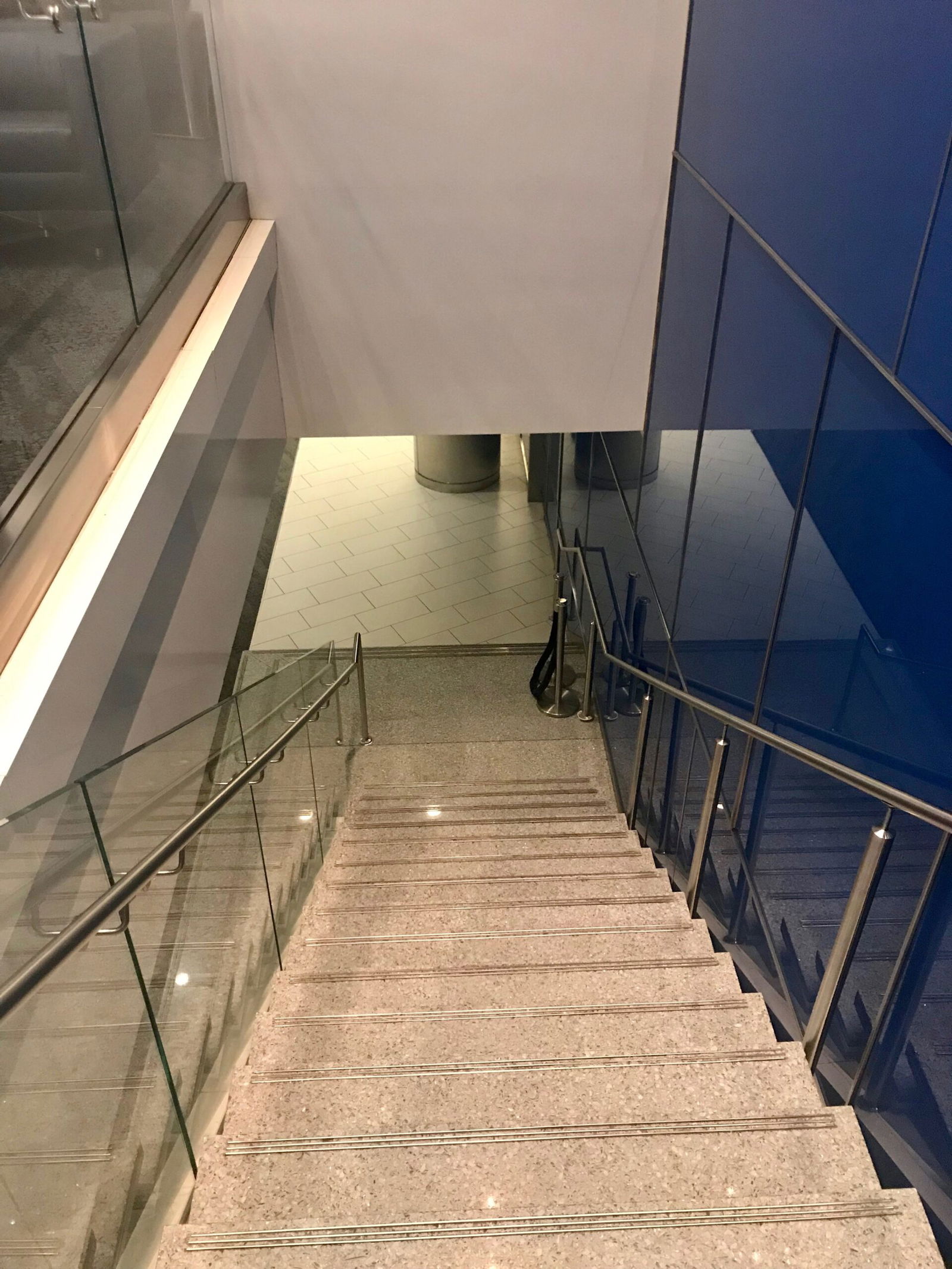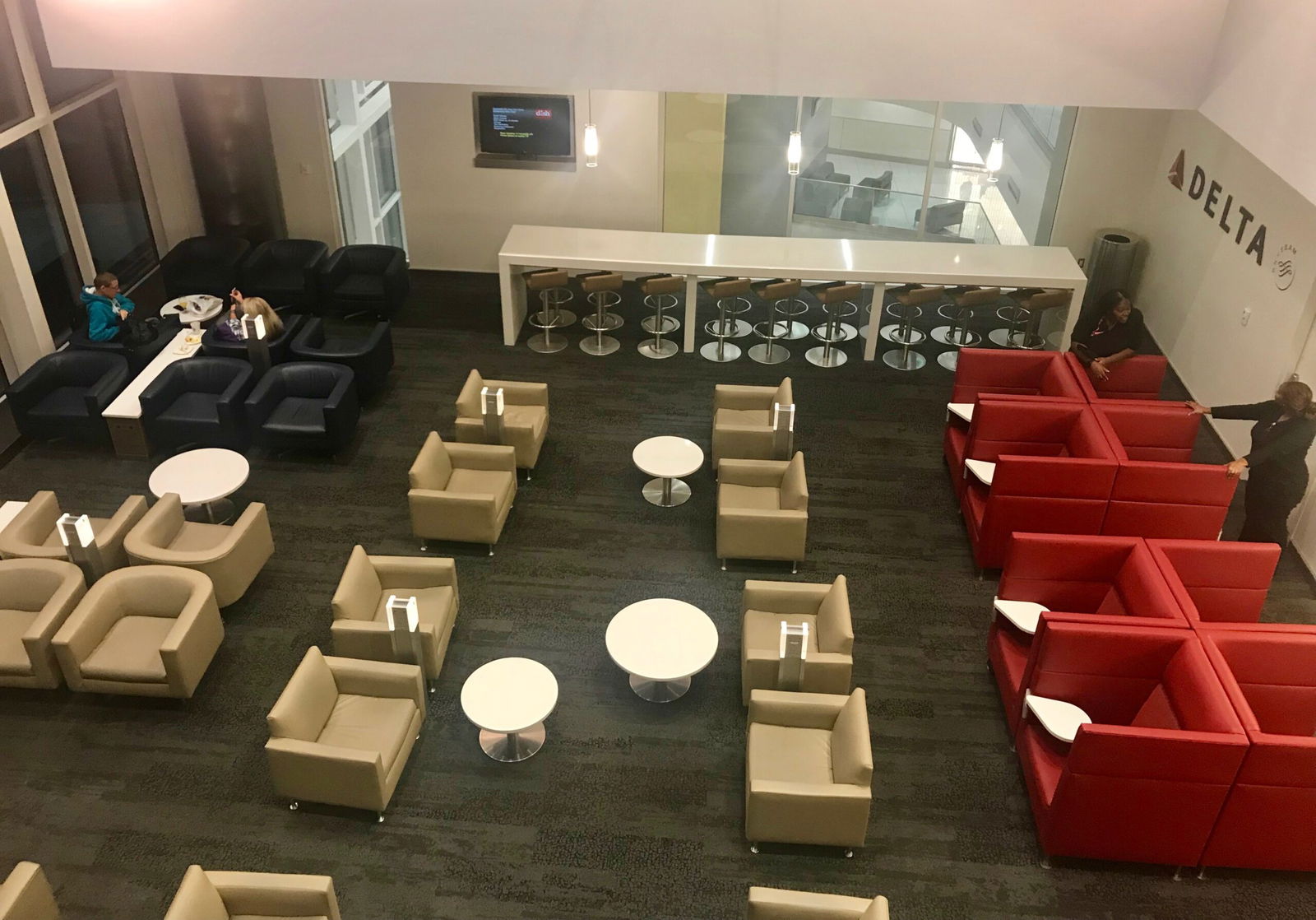 I'm not sure if our relative solitude was due to peoples' aversion to taking the stairs, or the guy seated across from us who was apparently getting paid by the "F bomb" on his Very Important phone call. Either way, I appreciated the privacy.
Speaking of privacy, there were a couple of other features here that you don't see at most Sky Clubs, including a nap area: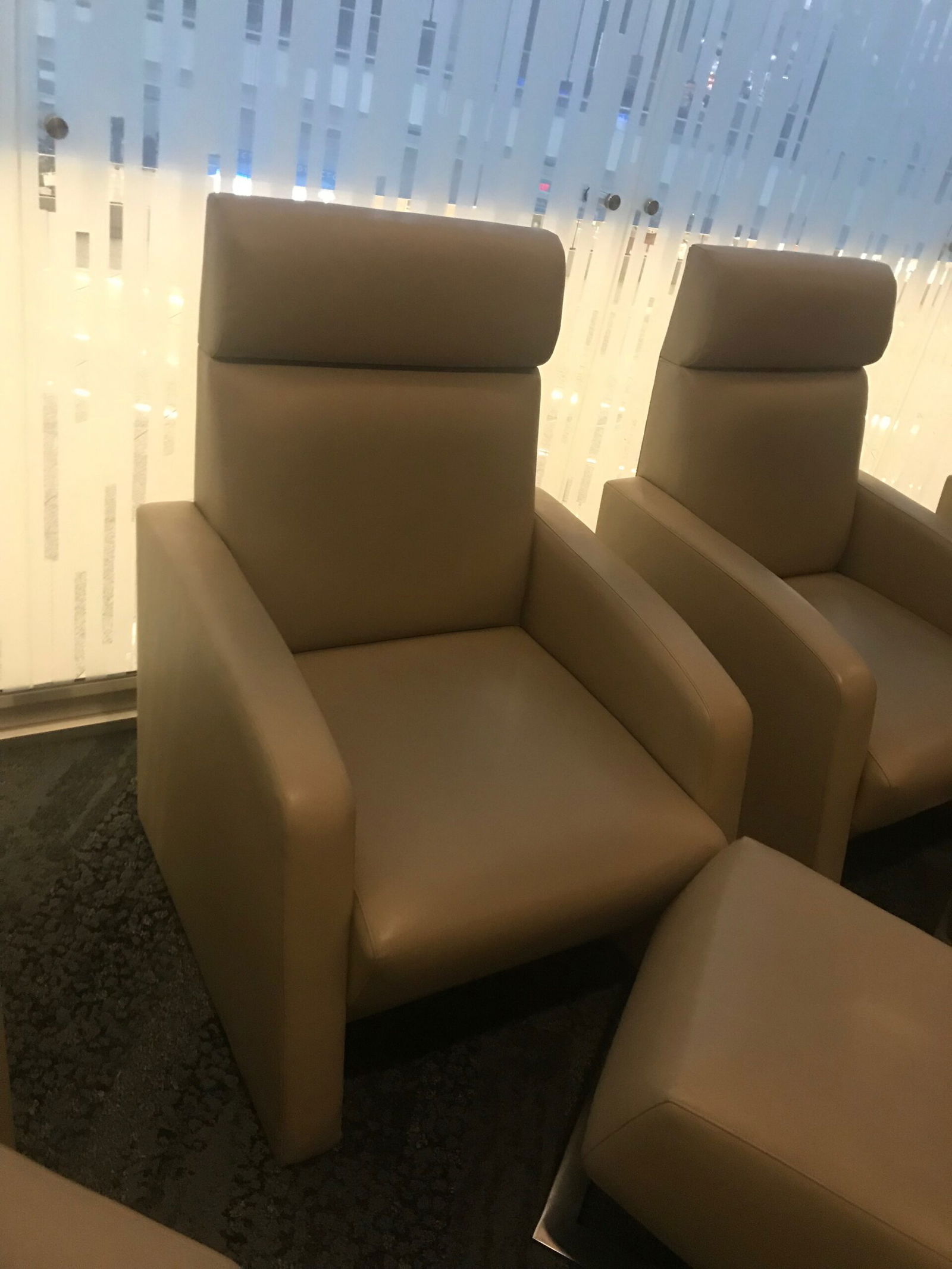 …and an outdoor deck.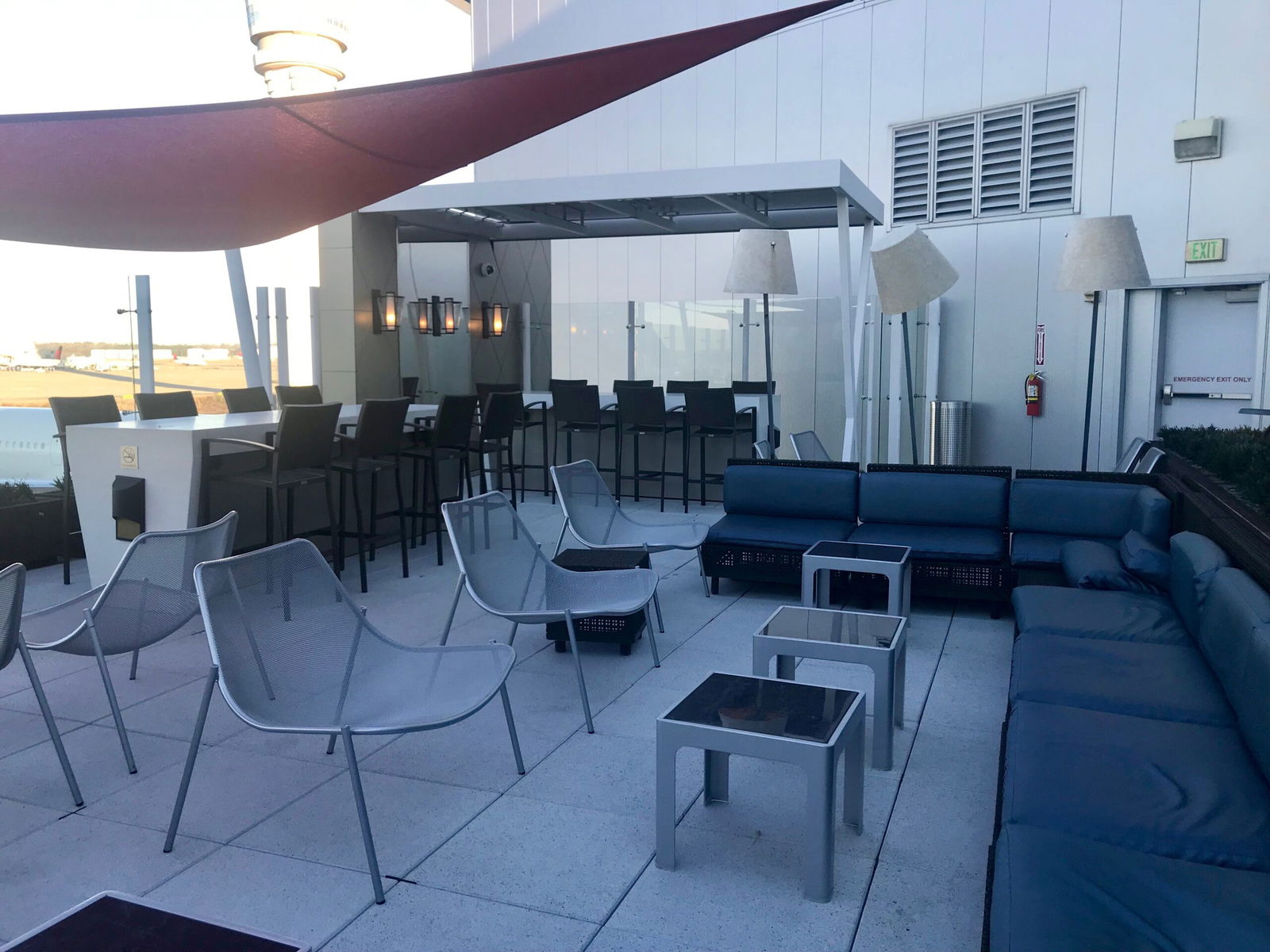 Despite it being a balmy 60-something degrees in Atlanta, the chosen air freshener of Eau de Exhaust Fume kept me from spending too much time here. Still, if you don't mind the odor (and the fact that the lamps look like they came from a Dr. Seuss book), this could be a pleasant place to kill the time and watch the (air) traffic go by.
Sky Club Terminal F food
We were there for breakfast, which was…typical of what you would expect from an airline lounge in the U.S. That is to say, reminiscent of a three-star hotel continental breakfast, but with slightly prettier packaging.
There were your typical cereal towers: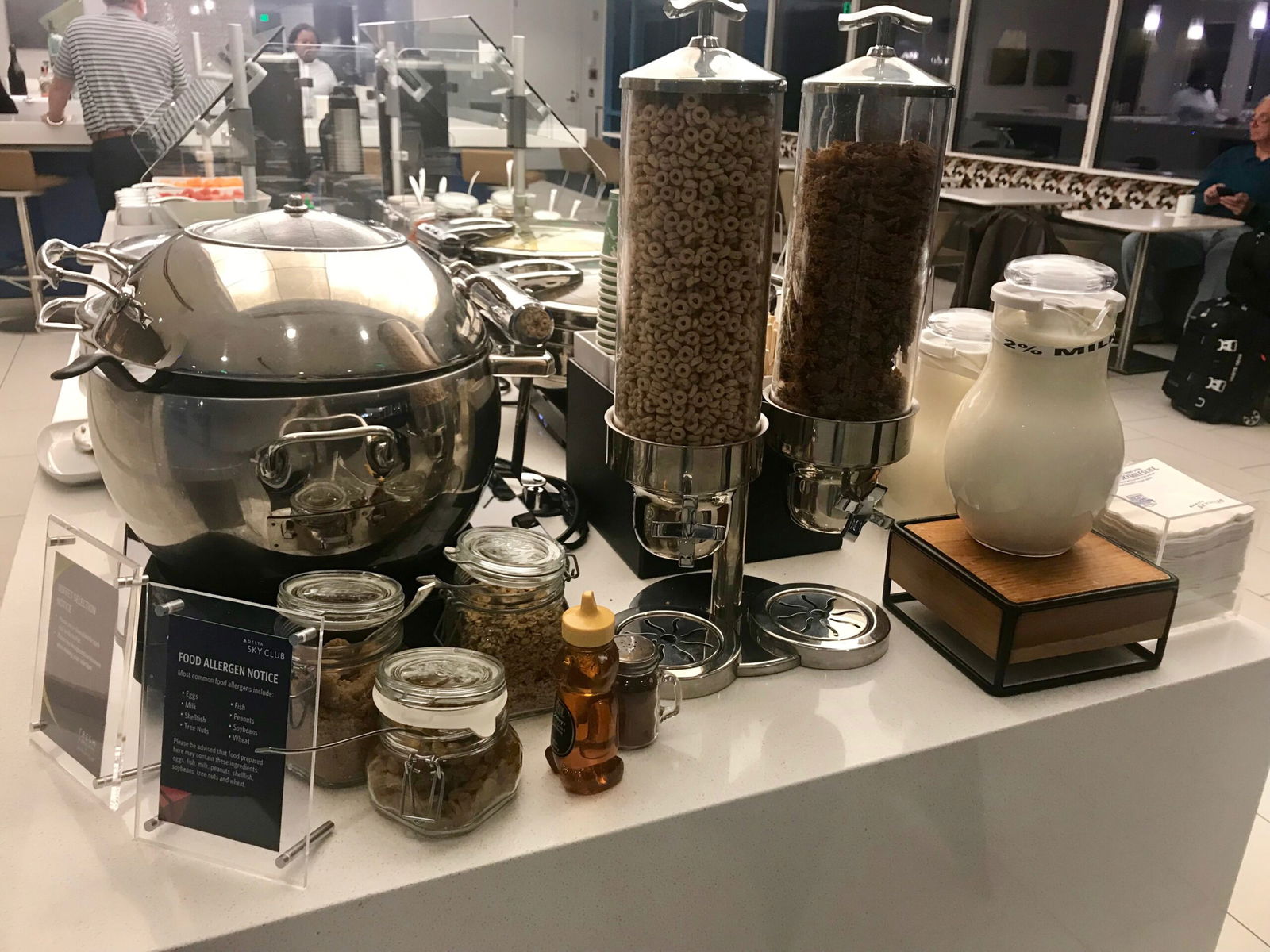 …pastries: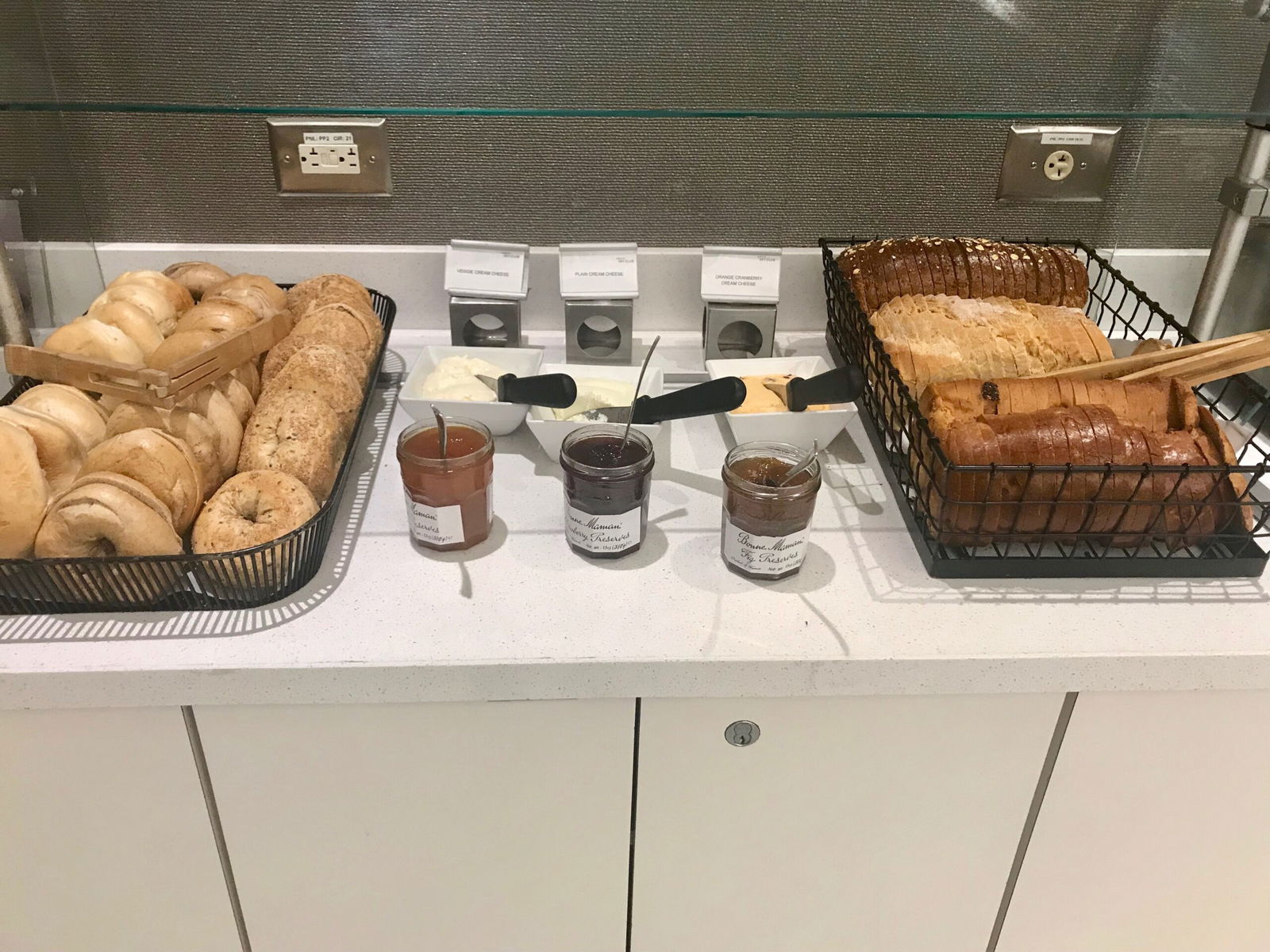 and less healthy pastries: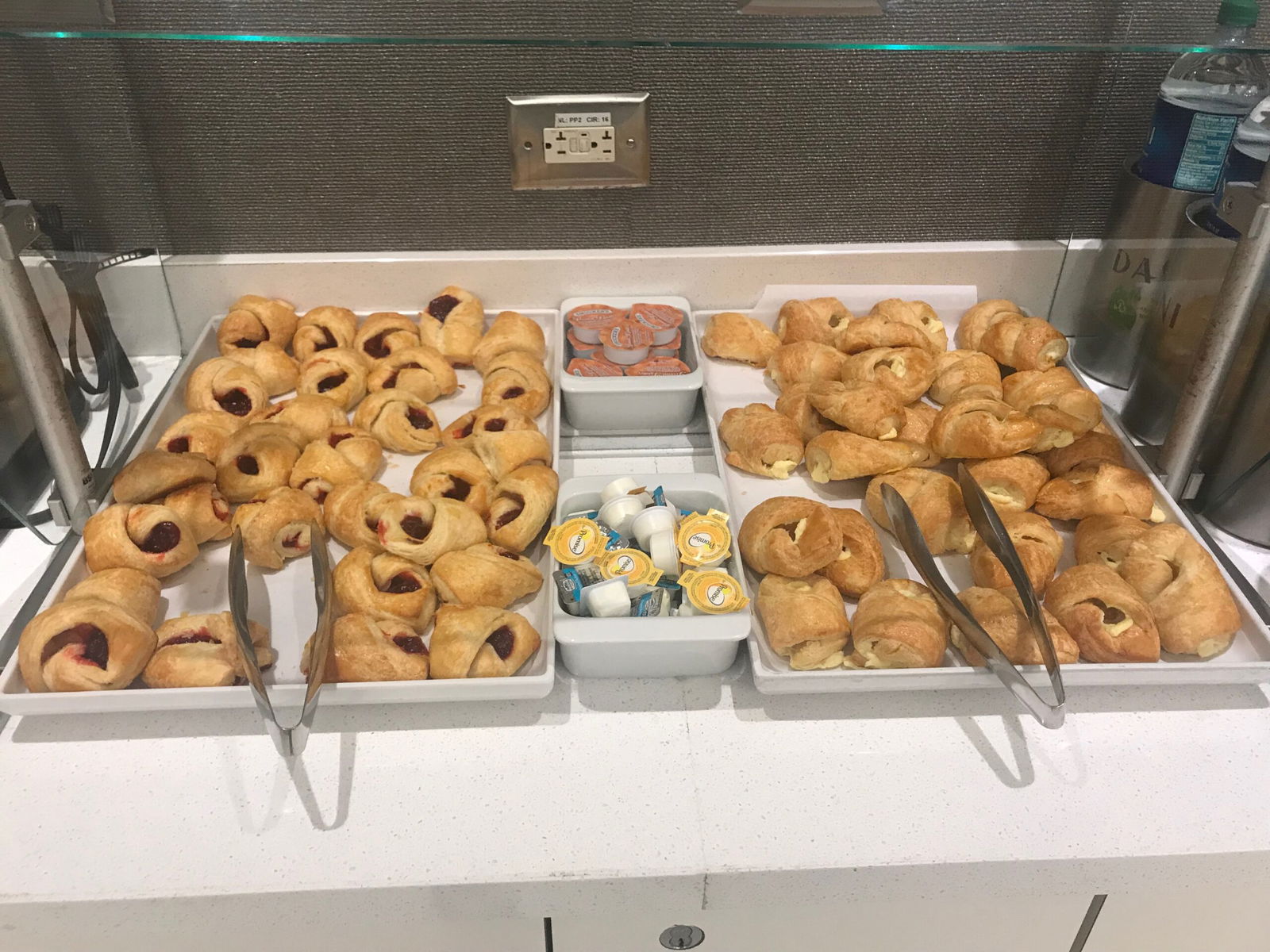 There was also yogurt: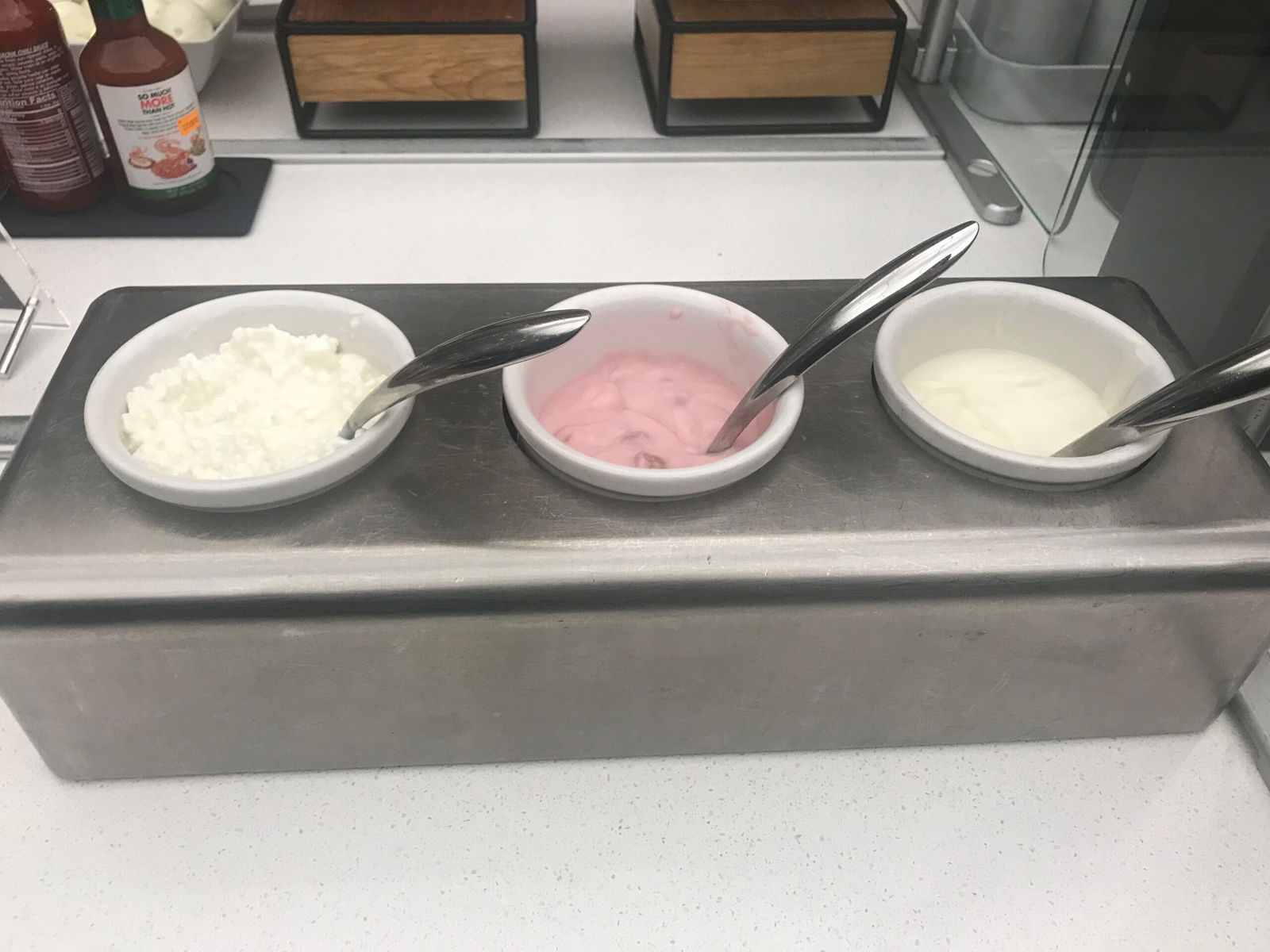 And, given that we were in Atlanta, we had the requisite oatmeal/grits station, along with all of the accouterments: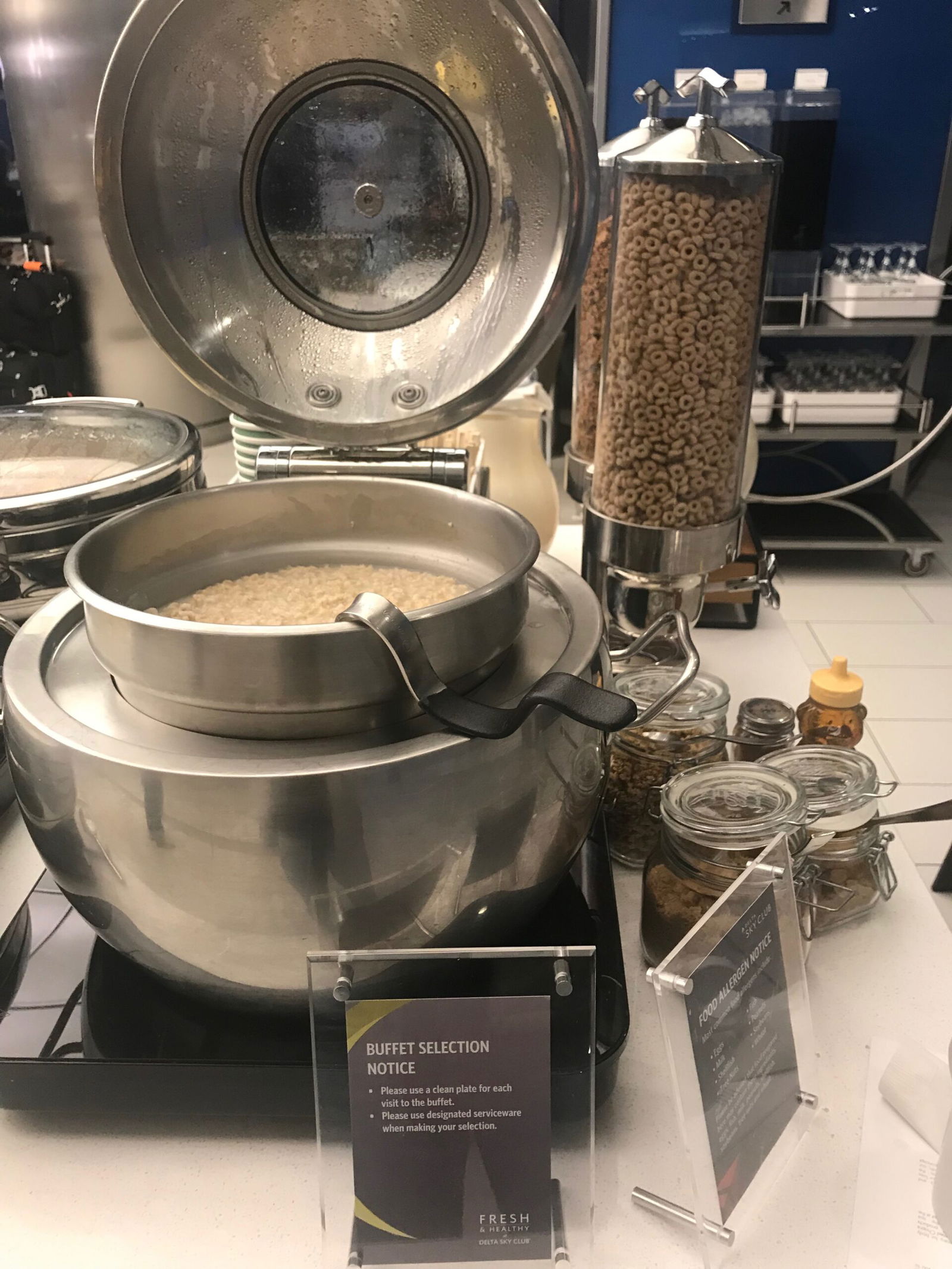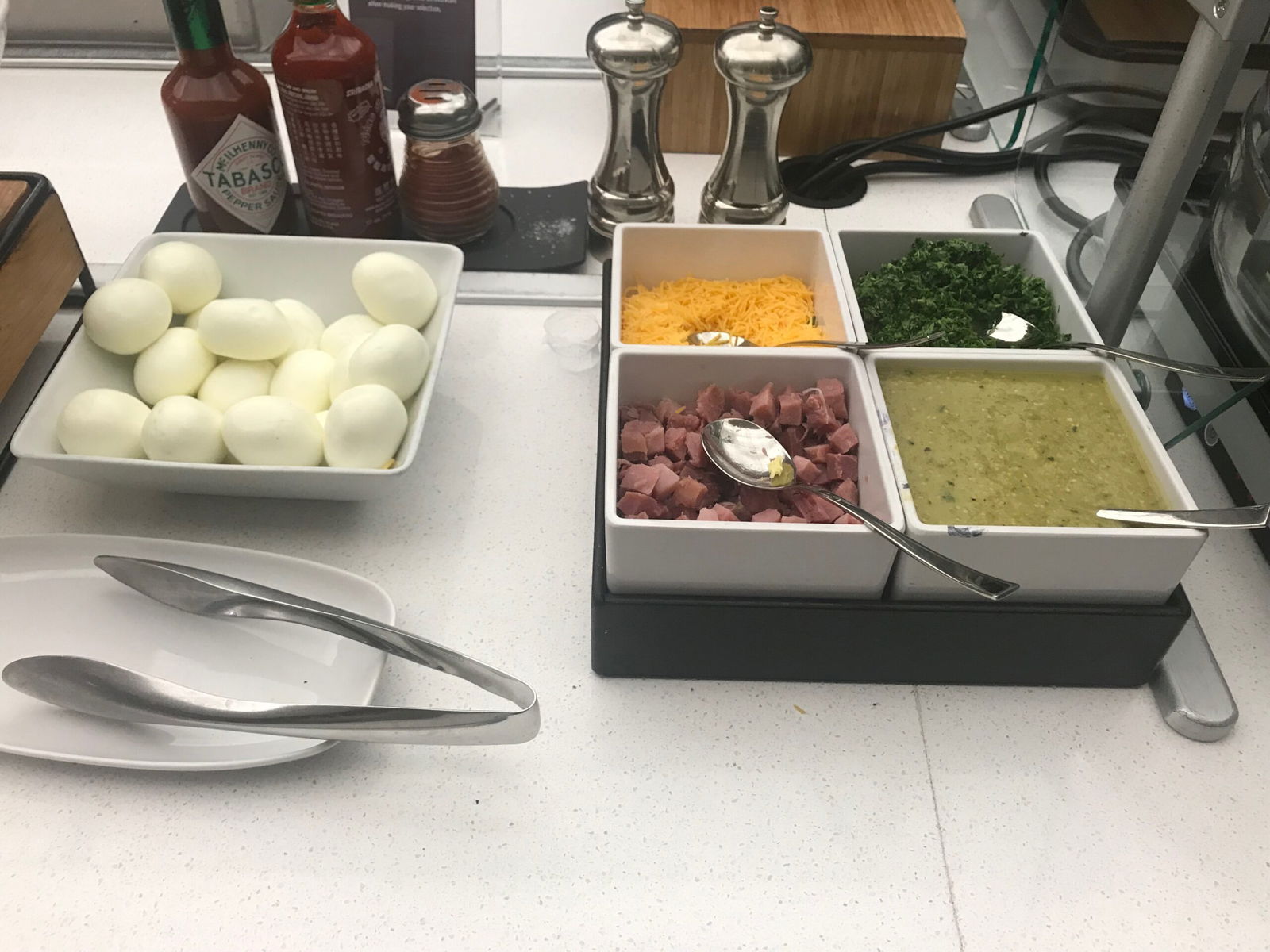 While I'm not much of a greens, eggs, and ham for breakfast kind of person, I do appreciate the local touches.
Speaking of local touches, it wouldn't have been an Atlanta-based Sky Club without the Sweet Tea (although I would have paid good money to swap one of those containers out for cold brew):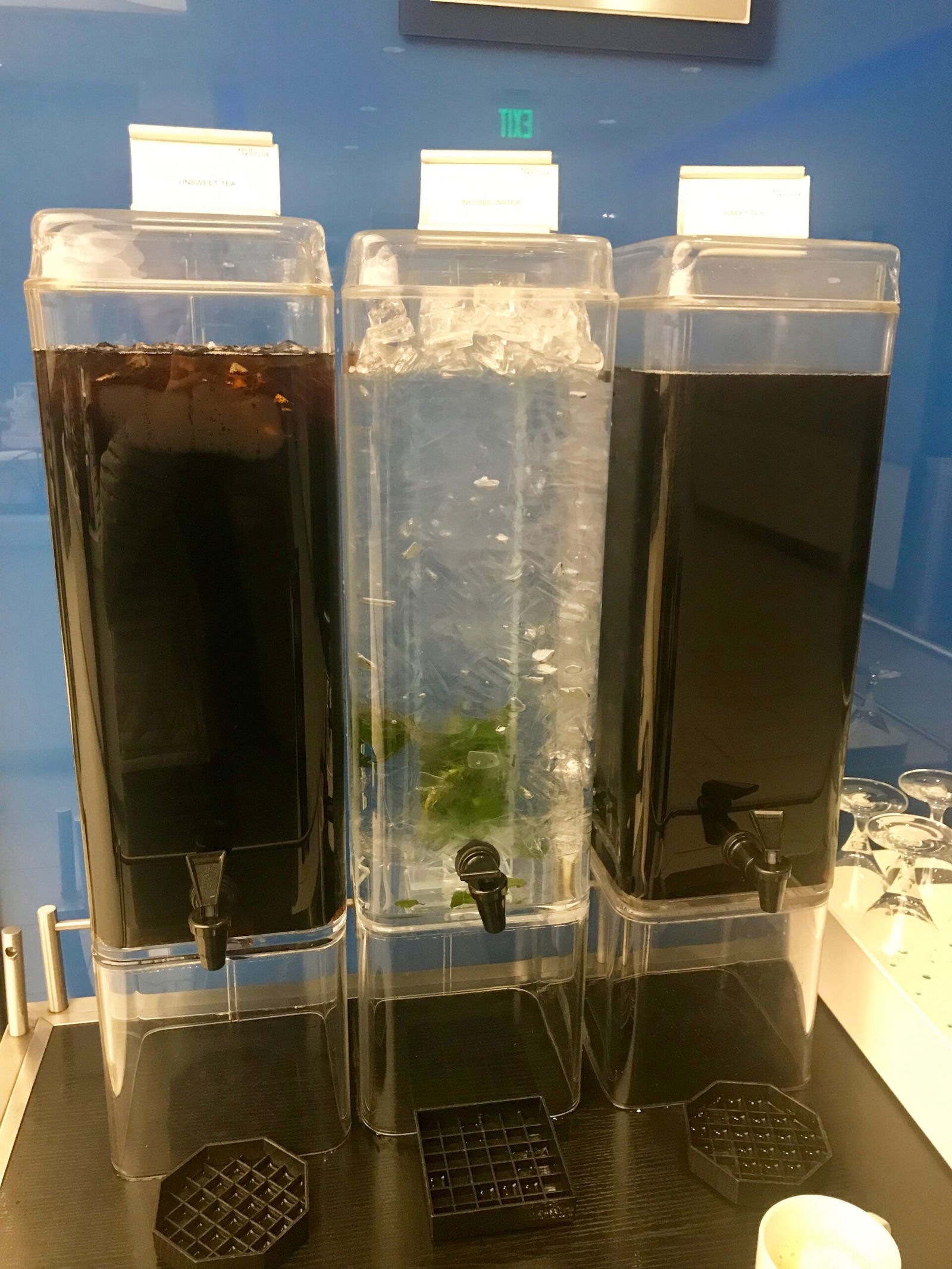 And like most Sky Clubs, there was an espresso machine that remained fully functional for the duration of our visit: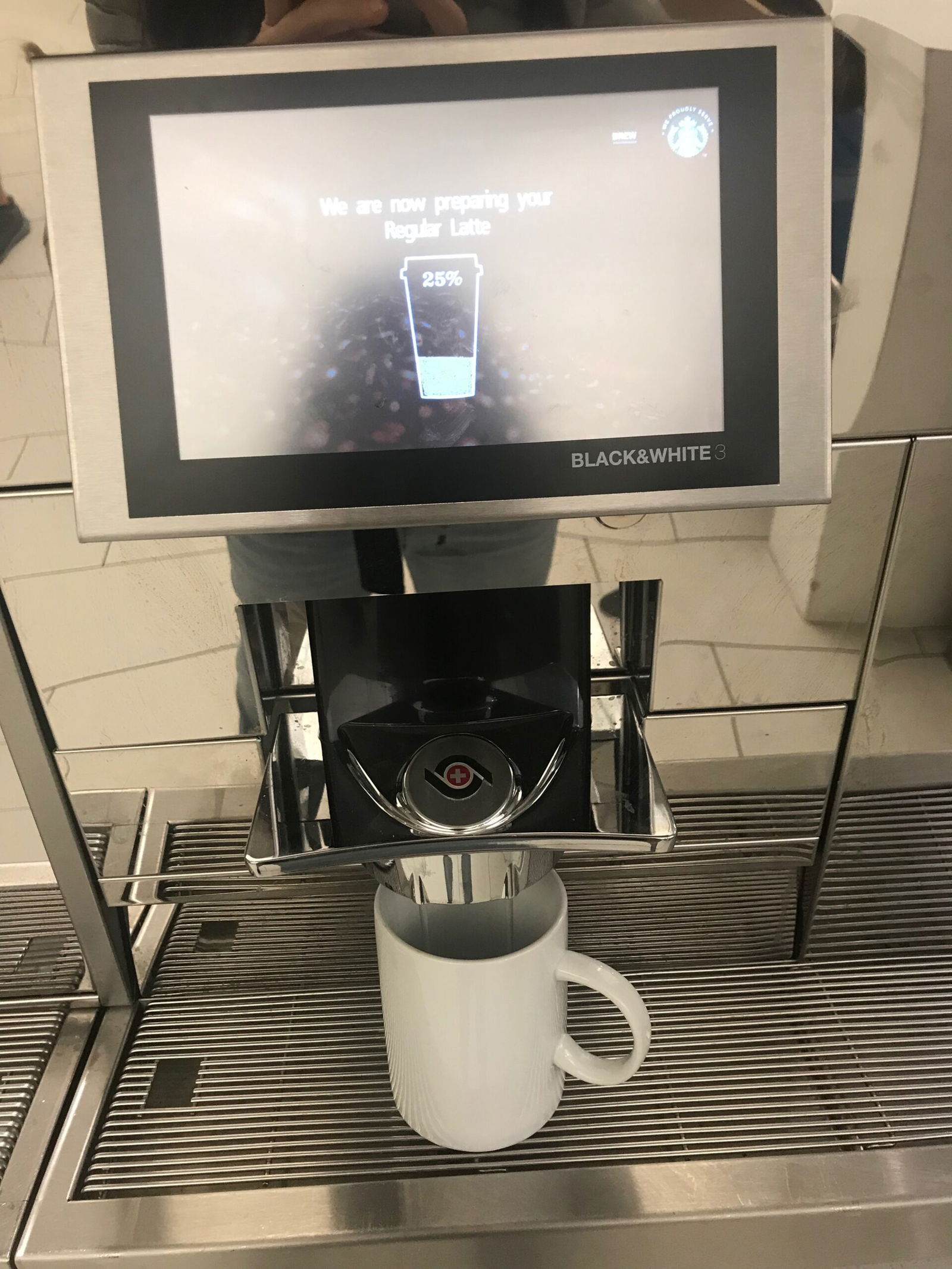 Finally, the centerpiece of the dining area was flanked with a full-service bar that was surprisingly void of Bloody Mary and mimosa drinkers.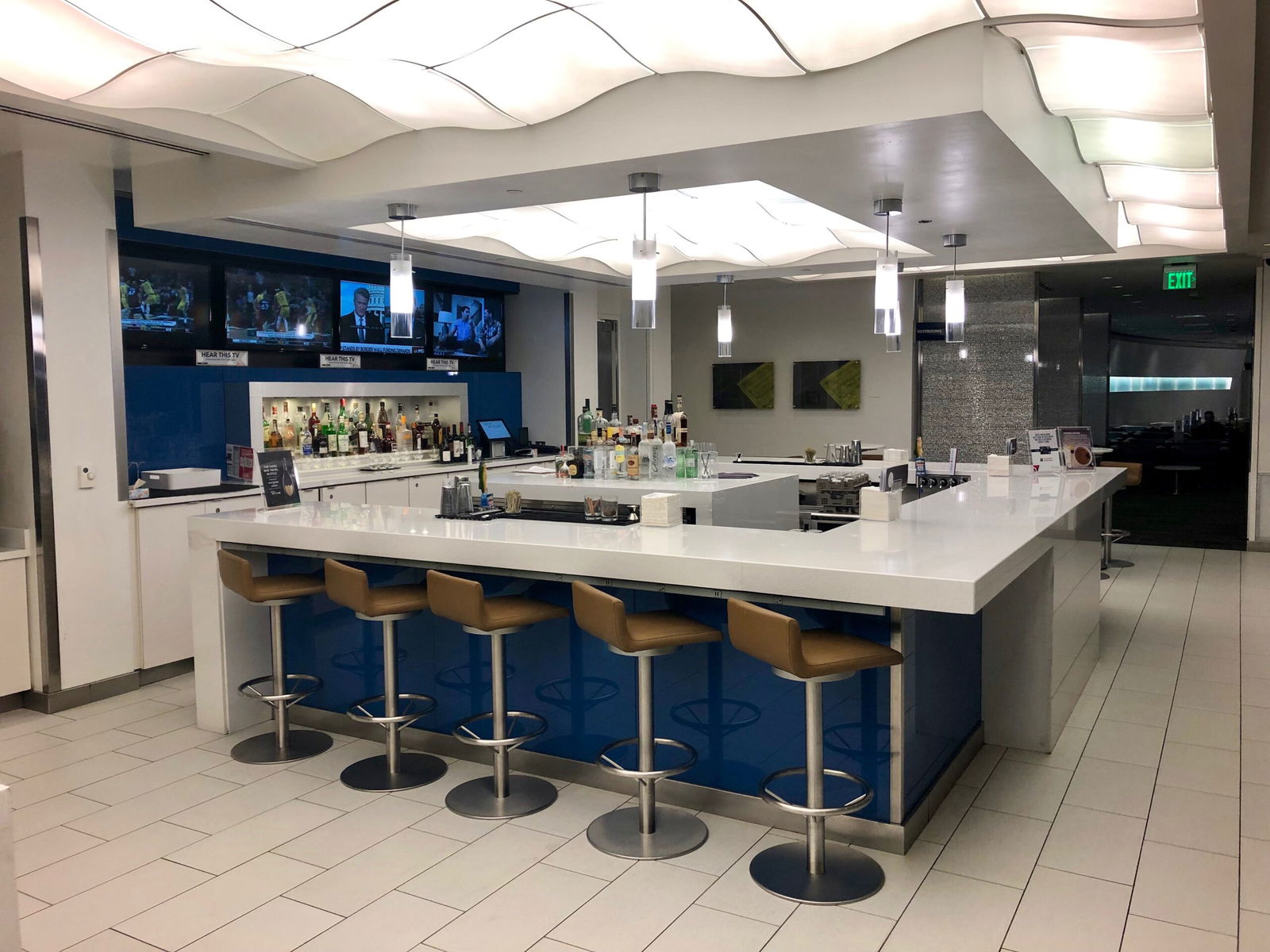 All in all, breakfast was…serviceable. While we've come a long way from the snack towers of sadness, there's only so much carbo-loading a person can do if their only run of the day is from terminal to terminal. And while the grits provide a nice local touch, they aren't necessarily everyone's cup of, well, grits.
Still, there's only so much complaining I can do with unlimited lattes at my fingertips.
Sky Club Terminal F amenities
Fully fed and caffeinated, I decide to take a tour of the bathroom and shower area. Despite this being one of only two Sky Clubs in Atlanta to offer showers (the other being nearby Terminal E), the area was, once again, completely empty.
The shower attendant, while perhaps confused with my fascination for photographing red subway tile, was more than happy to show me both the standard shower: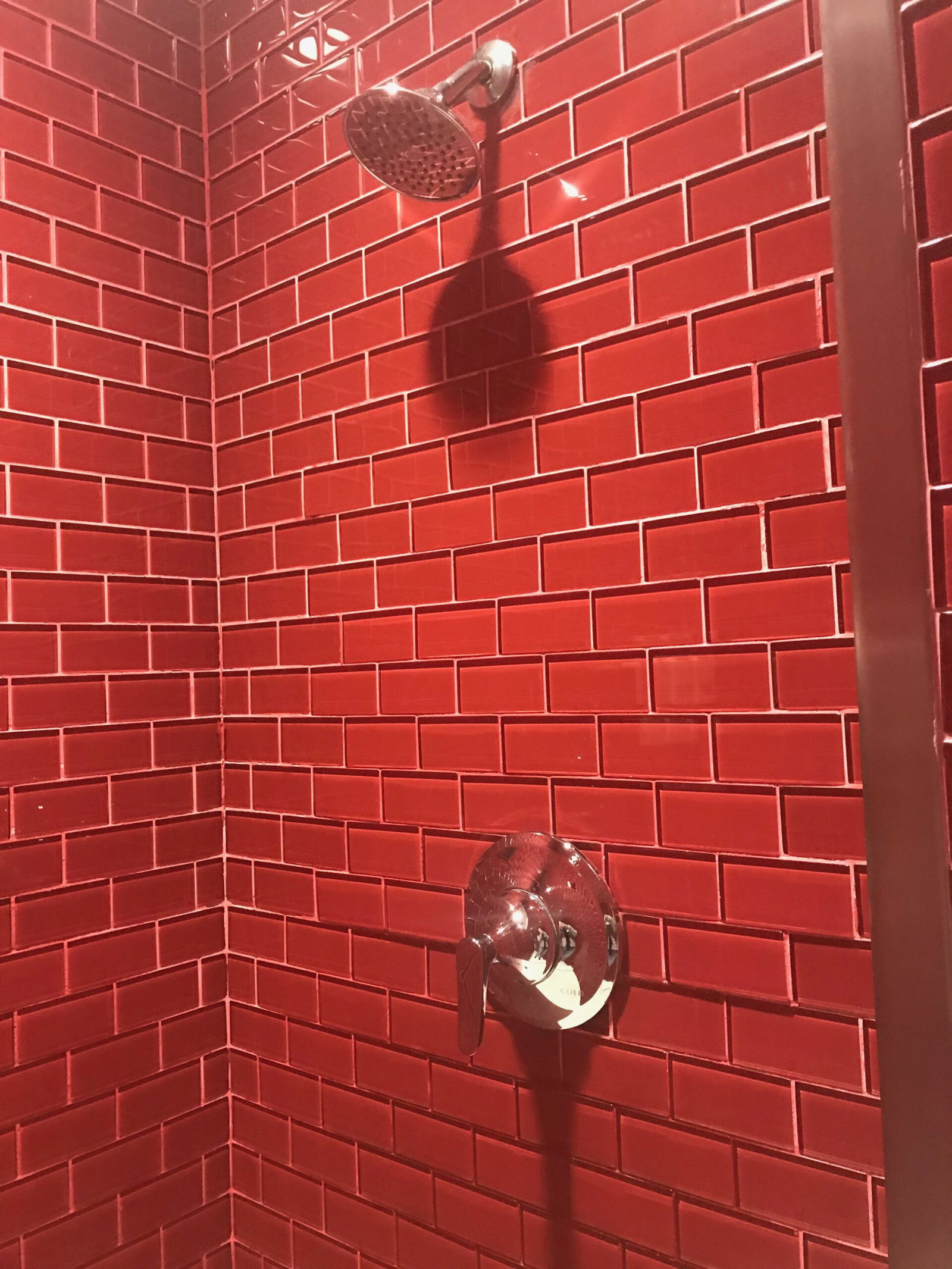 …and the ADA shower: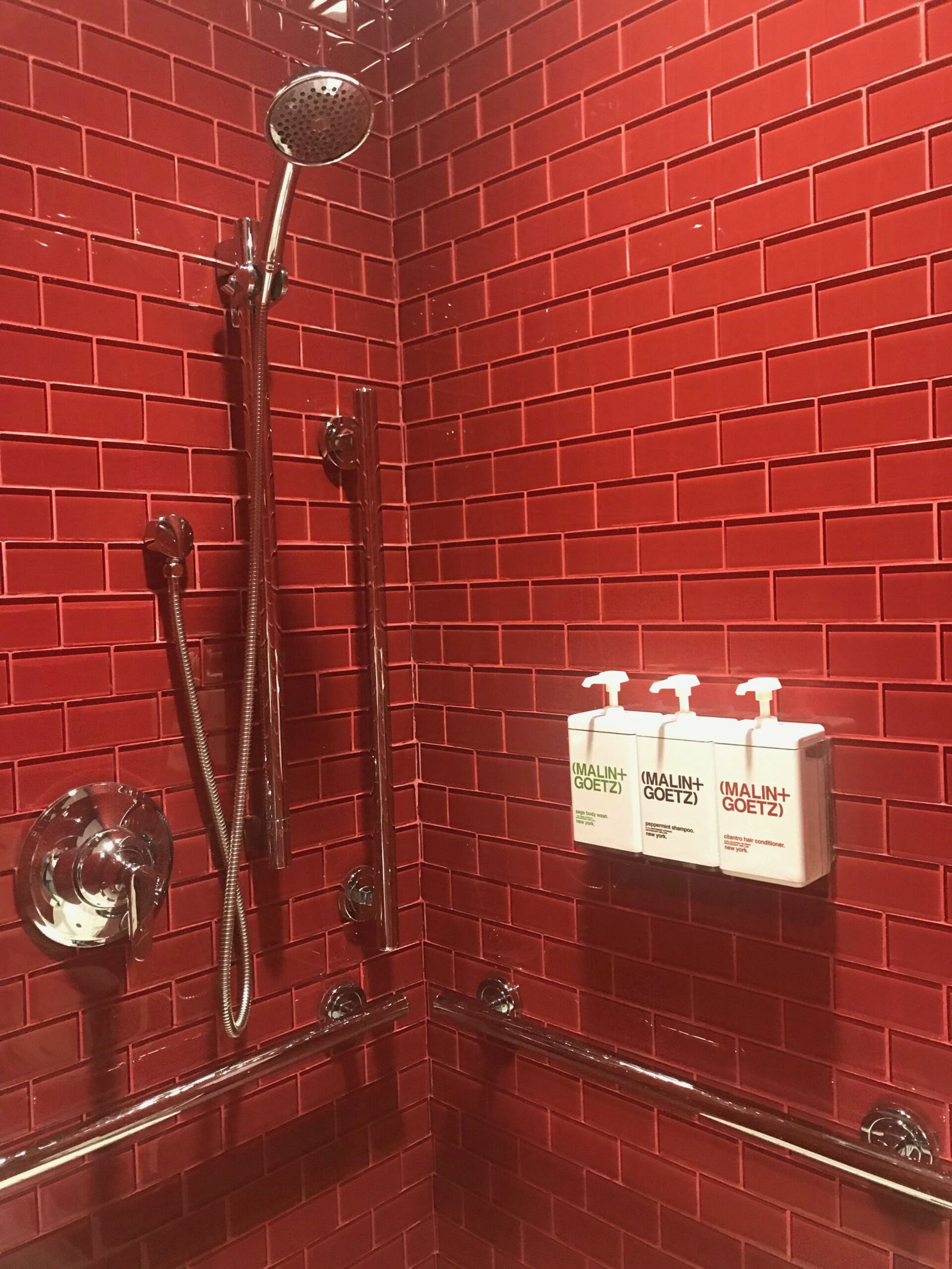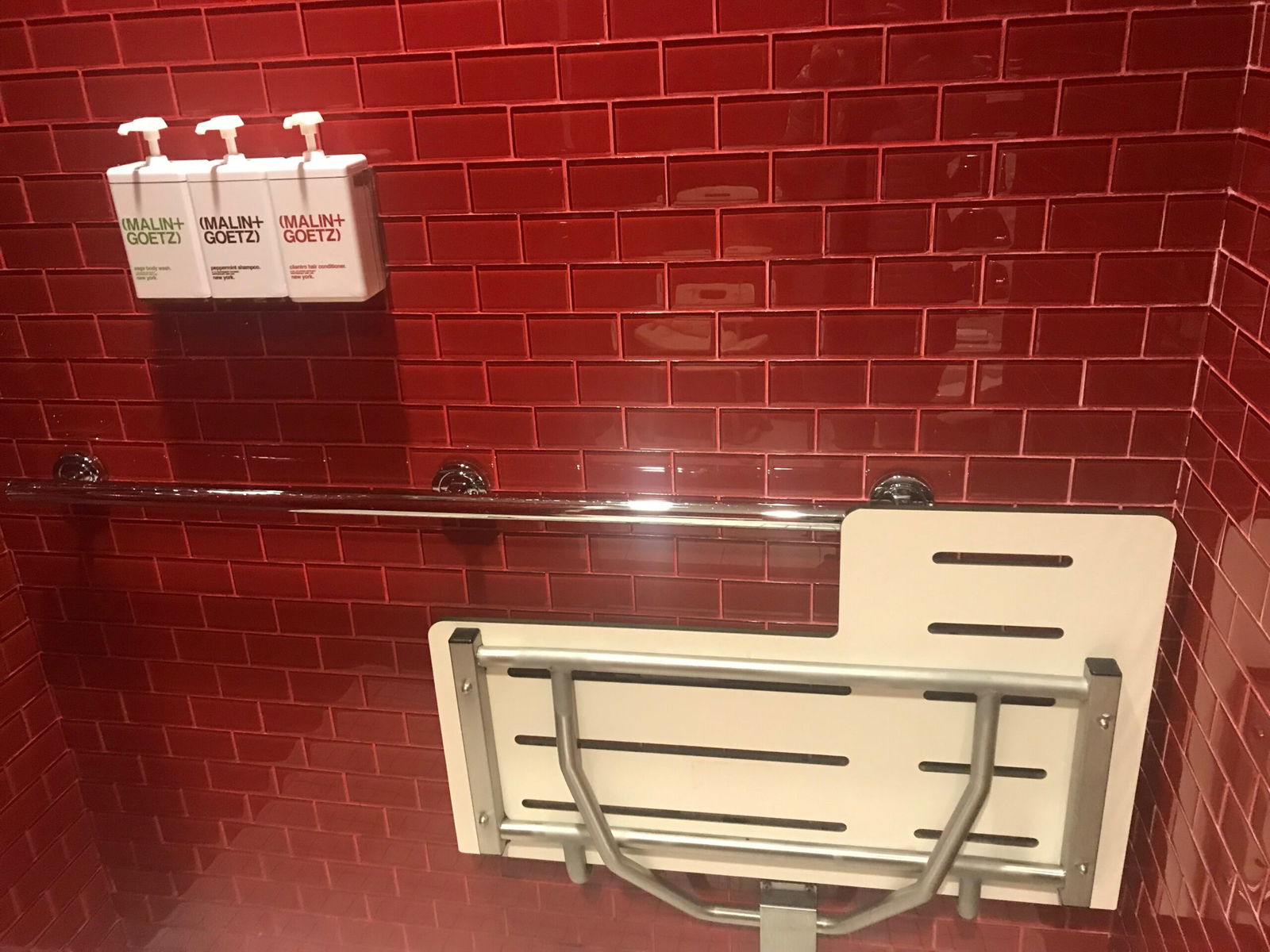 This being a Sky Club, both showers offered Malin+Goetz products (naturally). They were also found in the nearby restrooms, keeping the succulents company: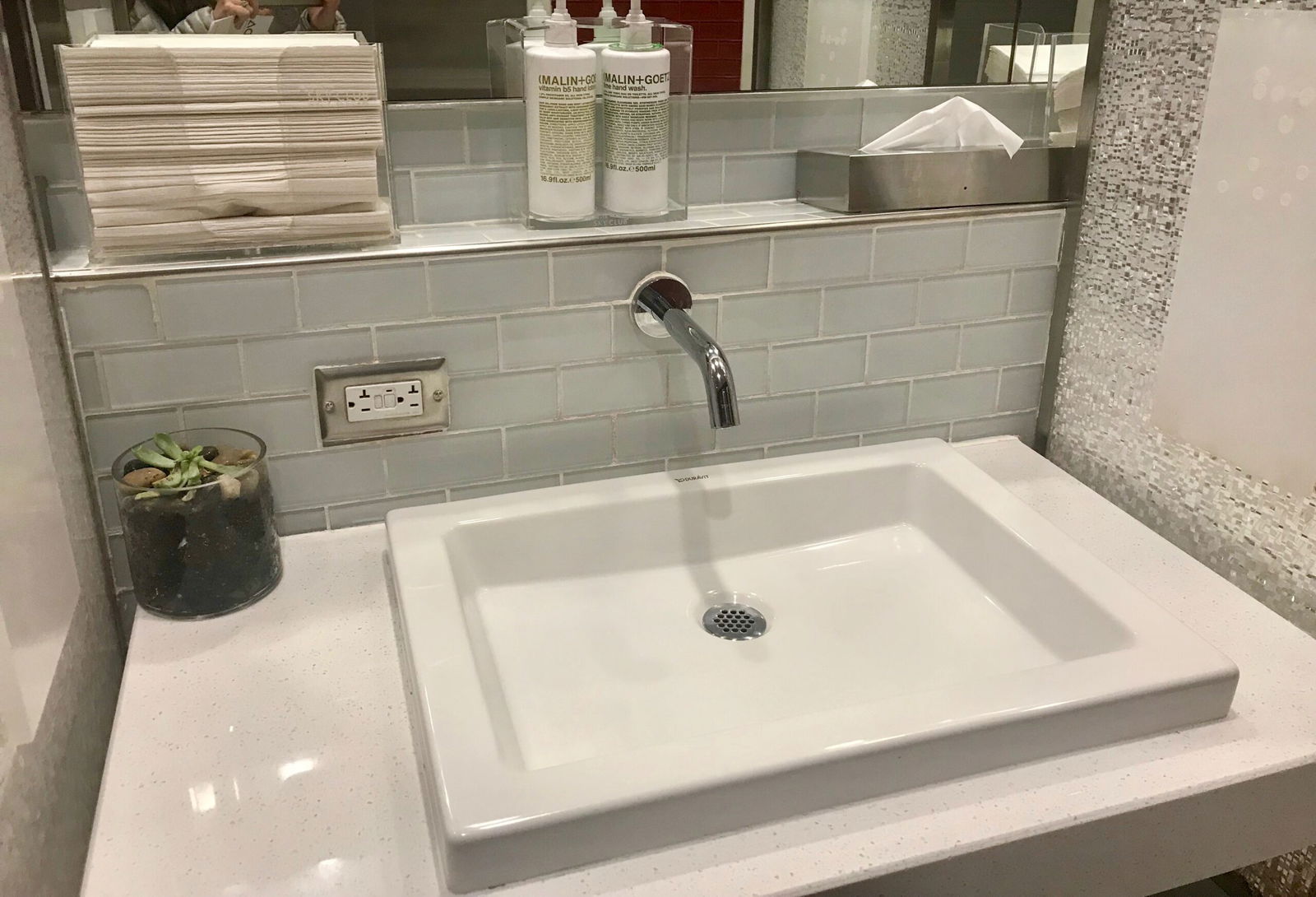 Otherwise, the facilities were pretty similar to other renovated Sky Clubs: nice sinks, lots of privacy, red subway tile that looks really cool but I would never actually renovate my bathroom with.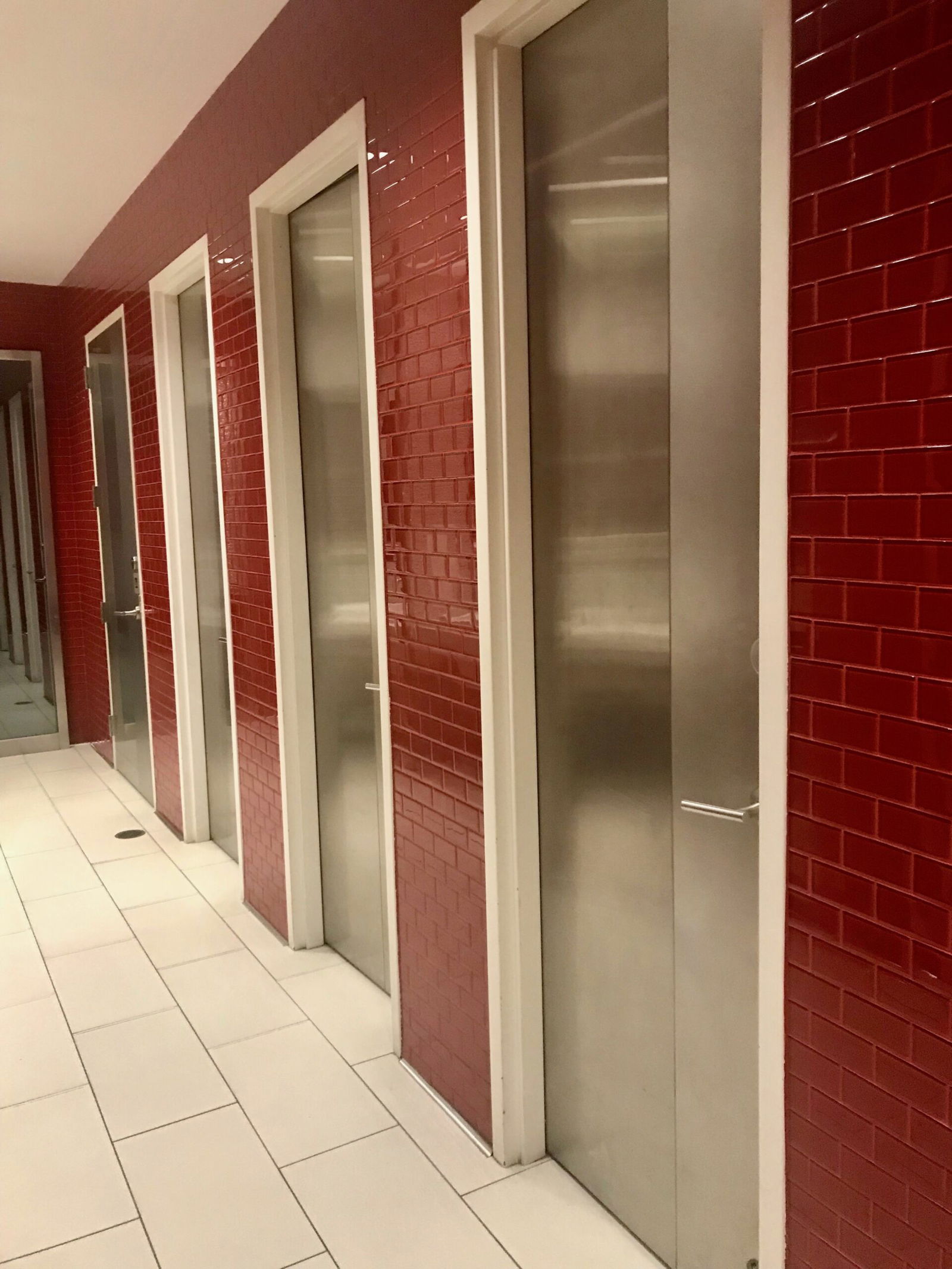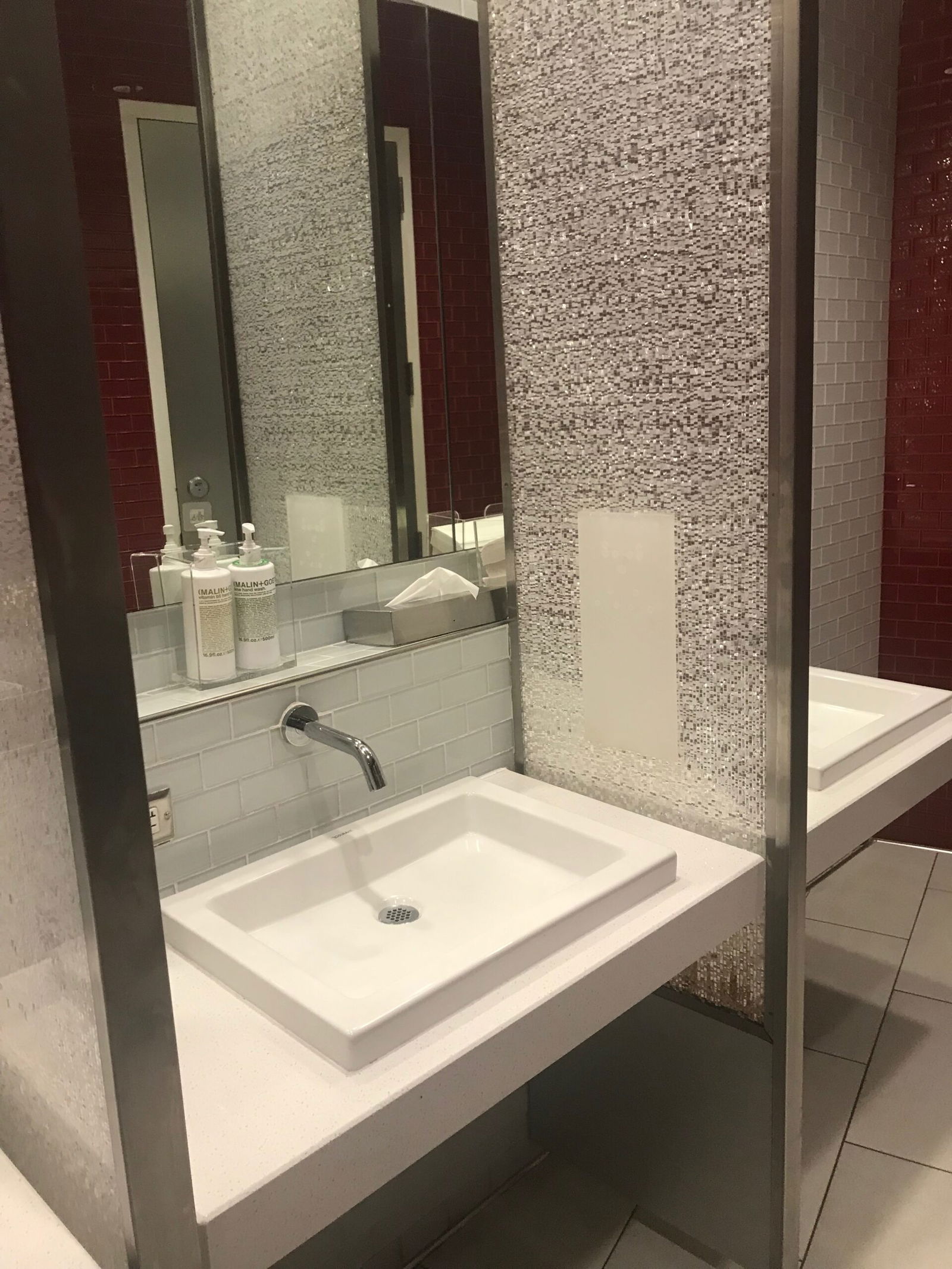 And it's nice to see a U.S.-based lounge with full-service shower facilities.
Sky Club Terminal F bottom line
Between the mezzanine, the sleeping area, and the outdoor deck, this is easily one of the nicest Sky Clubs in Atlanta, and probably beats the nearby Terminal E club if you value space over spa. Sure, if your goal is coffee, internet, and a charger, most clubs here will do – and the experience here probably varies a bit based on the time of day.
All that to say that if I'm connecting through T, which is basically in Alabama, I won't be going out of my way to come here. But if I'm here on a longer layover – or even connecting through nearby terminals D or E – I wouldn't hesitate to make the detour.
What's your favorite Sky Club?